Do you want to quickly convert HEIC pictures to JPG or PNG? In this case, we have to bring your attention to Heic Converter Software. Now let's read more about its features!
Check also the best CDR to PNG converter apps.
First of all, Heic Converter runs on both platforms – Windows and Mac.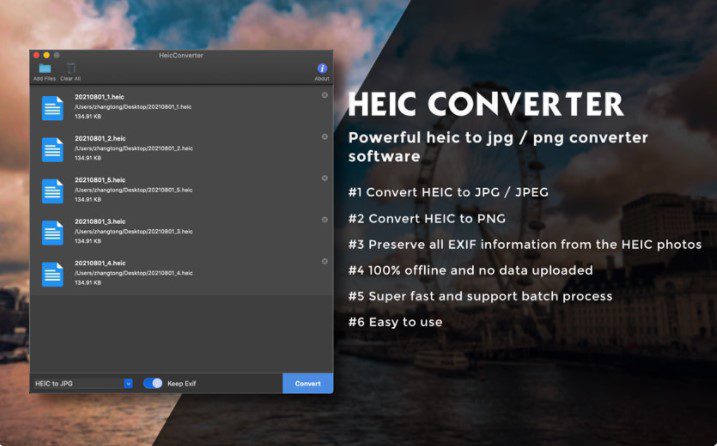 So, Heic Converter allows users to convert all the Heic pictures to various other formats- for example, jpg, png, gif, etc. Additionally, if you want, you can also preserve all EXIF data. One of the best parts there – Heic Converter can convert hundreds of pictures and does not harm pictures quality.
If you don't want to download the program, we advise you to open the official website to convert all HEIC files in an online mode. For this, you should drop or download a HEIC image, choose the output format and the quality.
Moving on, the developer stands firmly behind the users' protection. All the HEIC files are not uploaded to the end-server. No doubt, this is a great bonus!
We have to mention that Heic Converter is a stable and reliable program. While working with this tool, we have not faced any lags or bugs. There is no need to worry if you don't have a constant internet connection, as the software can work offline.
As for the program's interface, it is very simple to manage. Thus, we can surely say that even novice users will quickly find out how everything operates there.
However, in case of any technical issues, the developer allows you to contact very responsive customer support. The customer specialists will do everything to help you at any time!
You can also explore Free JPG to PDF Apps for Android & iOS.
To sum up, Heic Converter is a must-have tool for everyone who has to constantly work with pictures. We have not found any negative comments about this tool. So, we believe you will fully like it as well!