If we're talking about the RPG classic, then we simply cannot miss the Clash of Clans game. All the fans of this genre have probably already tried it – and if you haven't yet, you definitely should! The game is remarkable for its authentic idea, cool gameplay, and catchy graphics.
However, as they say, nothing lasts forever in this world and most fans are tired of Clash of Clans, or, what is more, there were many problems which were caused by the recent update of the app. Players were losing their accounts and achievements.
You may also like: 9 Best Anime Games Like Danganronpa for PC
Following all the information above we would like to suggest some alternatives of this popular game – some are more different and some imply the same classic RPG idea. Anyway, everyone will find out something special for them!
1. Sky Clash: Lord's of Clans 3D
The first game we are going to review is Sky Clash. Sky Clash is an online strategy about flying islands in steampunk style. This game looks different from the original Clash of Clans, because of various interfaces, changed money systems and it makes this game unique leaving the original type and sense of the game.
You need to develop your base, adding new buildings, protective towers, and walls, because any time enemies can attack your base and reject their attack you need to make your base bigger and bigger, stronger and stronger.
Moreover, you can attack other players, like you. To win battles you will need to expand your army, training new stronger soldiers.
Investigate new warriors and structures to reinforce your base. Explore the world, open new islands and build your entire empire.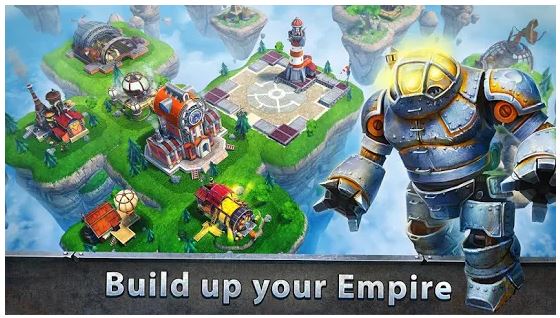 And at the top of all, as this game is a strategy, you need to use tactics, because you can not just casually sketch your defense towers in your base territory or just randomly spawning your soldiers in front of the enemy base. You need your own strategy for winning battles and it makes this game so exciting to play.

You may also like: 11 Best Offline Strategy Games for Android
2. Boom Beach
Another good alternative to Clash of Clans is Boom Beach. This game is from Supercell, Clash of Clans developers and it is immediately giving the game a wonderful and colorful interface. The way of playing is practically the same, and the main difference is that your playing, creating your base, and attacking enemy bases on the island. Sounds cool, doesn't it?
There are lots of interesting daily events to speed up the development of your base. Various soldiers, heroes, and buildings.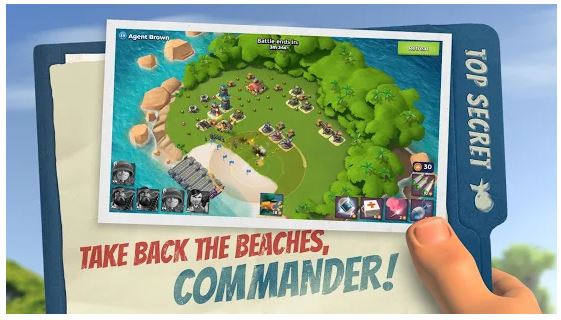 When you are attacking someone's base, your army arrives on the ship to the enemy base and land on their island and the enemy needs to fight off you from his island. If you win, you get the award for the battle. If you lose your opponent gets it and becomes stronger, so it is really important to be in progress to win fights and develop more rapidly.
Try this game for free and join lots of players all around the world in big battles in the oceans.

3. Clash of Lords 2: Guild Castle
Clash of Lords 2 is about the magical world of powerful heroes and epic combats with other players in the Middle Ages. There are more than 40 available heroes and a bit more than 10 types of battles.
You can operate battles yourself, taking your soldiers under the control, giving your heroes this or that special battle skill. Hiring mercenaries to your army or training them yourself you may form your unstoppable army.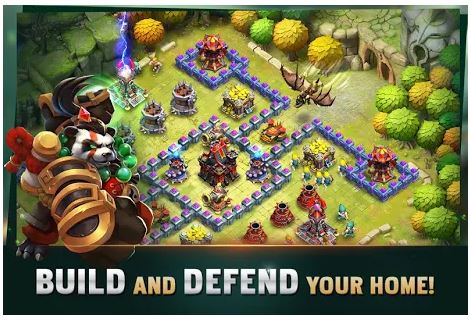 Some of the kinds of fighting are non-stop, developing in the league of overlords, resource fights, and just single battles in the arena to become the legend of the game.
Another real good feature of this game is guilds. To have fun with your friends or find new once you can join a guild and have fun winning side by side with your teammates.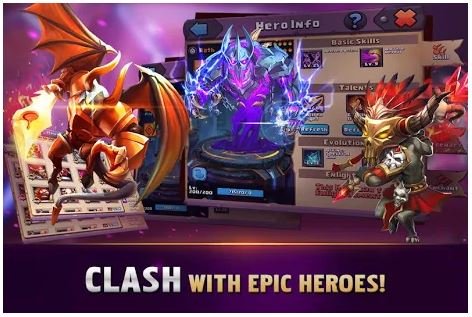 It is a fantastic addition to any game because it makes the game more sapid and diverse for players. Do not forget that playing with your friends gives you more resources, so joining a clan would be one of your best decisions.
And the last thing about it is that this game is free-to-play. Playing every day and taking part in competitions you will get new resources and coins.

4. X-War: Clash of Zombies
Be ready to tons of zombies and try to survive in X-War. They will attack you from every side, so growing up your base is the most important thing here to do.
It has a great interface, colorful heroes, zombies, and effects. Being interesting to people, keen on DC and Marvel film and comics it has lots of world-famous heroes from both universities. There are more than 50 legend heroes to collect and upgrade.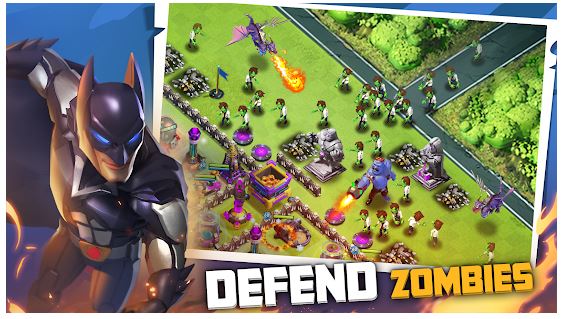 As you need to defend from waves of zombies you can shoot them, blow and ignite them. Developing your heroes you will see how your base will be becoming stronger, but there is no time to relax, because every time zombies are stronger, too. The amount of zombies is growing up so rapidly.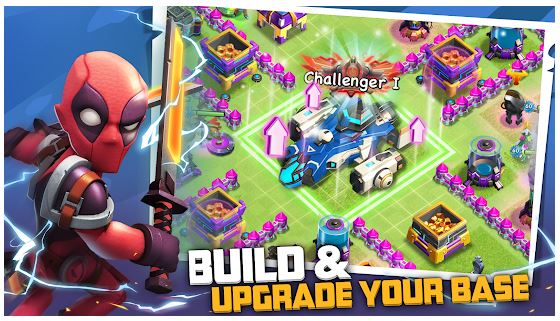 However, it is just beginning. You can fight bosses with your friends receiving unfathomable rewards. Take part in global zombie challenges conquering the empires and castles.
Challenge your teammates in breathtaking duels with each other to see who is the best warrior and king of this war. Join big alliances to get additional awards for your skills and tactics. Build your great empire together and become the legend.

5. Castle Clash: Guild Royal
Join legendary battles of Castle Clash. Train your soldiers, defend your city, and crush your enemies. Game pleases players all around the world for more than 6 years. Millions of people play this game and trying to become the greatest leaders in the world. The game supports many languages.
Help your friends and win battles with their help. Kill bosses along and together with your teammates, getting more resources. Train your army of elves, mythical creatures, dragons, etc. Grow the number of your powerful warriors and upgrade them in your town.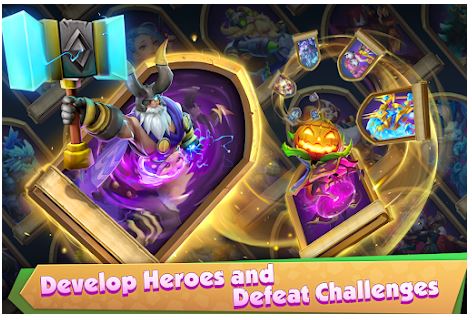 Employ new characters with different effects and strengths. Give them new outlook, armor, weapon, and skills. You can develop the base in different ways to make your it stronger from that or this type of enemy. If you are a creative person, you may make your base in addition nice looking with colorful skins, well-structured buildings, and walls.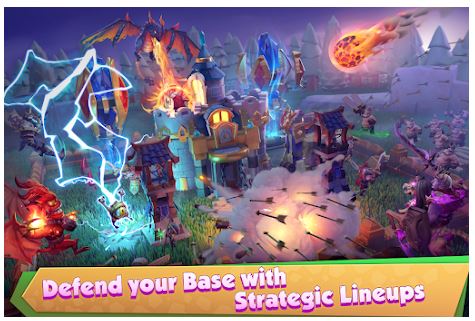 Gain wealth and glory, fighting in the battle for Torch, Fort attacks, and battles of guilds. Evolve charming pets and make them your unconquerable companions. They might be a good helper in hot fights and cool events.
Militate in Coliseum using your heroes. Face with the most severe players and try to become the president. Unite with other players to beat Archdemon in the unique event of a new version of the game to achieve new heroes, coins, armor, and save your server.

You may also like: 11 Best Games Like RuneScape
6. Jungle Heat: War of Clans
Actions in the game are taking place in the jungle, where towns are trying to beat each other to get the treasures, more coins, and improve your heroes abilities.
Jungles are full of gold and oil, but too many people want to get it, so be ready for a fierce battle for these precious goods. So obtaining all the resources is becoming the most important part of your survival.
This game is about guns and modern weapons, adding some futuristic things, like combat robots. You can attack enemies, avenge them for your or your friend's ruined base.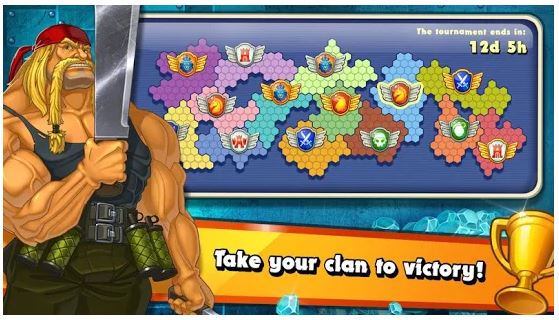 Tactics mean a lot here because if you are a good and fast-thinking commander you can destroy a base having just a small group of real brave warriors. Or another way of showing your good tactic skills is making your invincible base.
Compete for first place in various tournaments and global events. Joining clans will also give you more chances to take part in competitions and get more exchequer.
Spectacular colorful graphics and a dynamic atmosphere will not give you a chance to get bored with it. Get higher in your region rating and worldwide one and become the king of the jungles.

7. Rise of Kingdoms: Lost Crusade
Rise of Kingdoms tells the stories about Julius Caesar's times and the age of the Great Rome Empire. Also, besides the Great Rome Empire, you will meet 10 more historically huge, and powerful countries, which you can play, and more than 34 heroes.
Each war in this game will be an event, where you will need tactics, bravery, cleverness, and a big powerful army to smash all your enemies.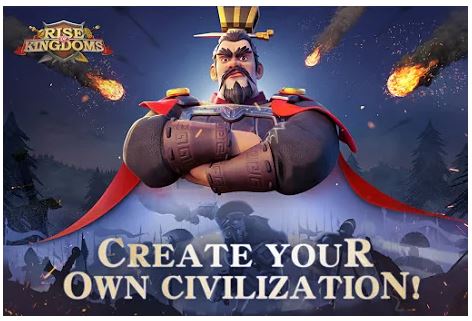 Battles in this game are with real players in real-time, so it does not mean how enemies army is bigger, if you are the wise ruler and general you can beat an opponent with your cunning and smart tricks.
All the players are landed on the global map of the game, so you can find and attack anyone anytime.
Making clans and combining with other players will give you a chance to fight a person with a bigger base and stronger soldiers. Playing together is much more interesting, funny and easy to do.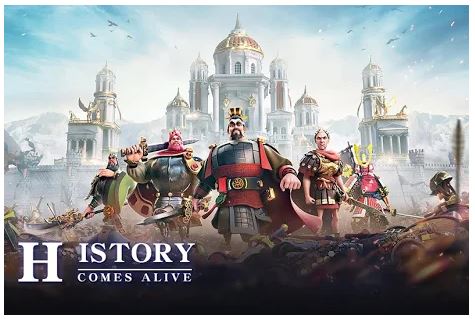 Start developing bases with your clan members and soon make your clan the greatest on the world stage, but it is not that easy. Alliances give them the ability to chat with the members, making plans and capturing all the resources together, and gaining team achievements.
Research ruined bases, dungeons, and caves fool of dangers. There you can find necessary for your development things. It is truly one of the best alternatives to Clash of Clans with interesting mechanics and verily fantastic graphics of maps, buildings, heroes.

8. Caravan War: Heroes and Tower Defense
Have never heard about Caravan War? It is one of the best games in the style of tower defense games. You can add various towers, structures, characters, and walls to your base to stop anyone from beating you down and taking all your goods.
The best commanders of this university are waiting to lead your army to the top. For winning battles you get the best prices for your further progress.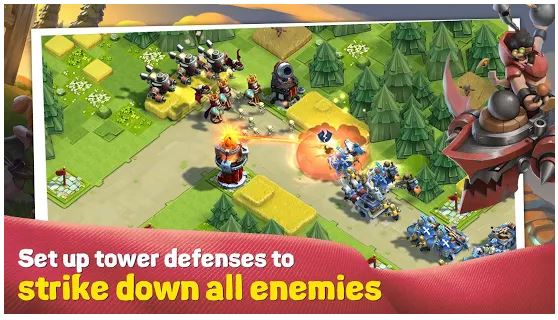 So a big variety of towers can make you an unbeatable base. Upgrading towers is not straight forwarding and you need to choose which ability would be better for your base.
Except fighting alone with others you can join or create a clan and attack, defense big cities together in real-time, going to the top of the best. Or just run an interesting campaign. Level up your base towers and new ones with found money and stuff.
Make clever attacks and defenses to beat the strongest players with your brain and a small amount of weapon.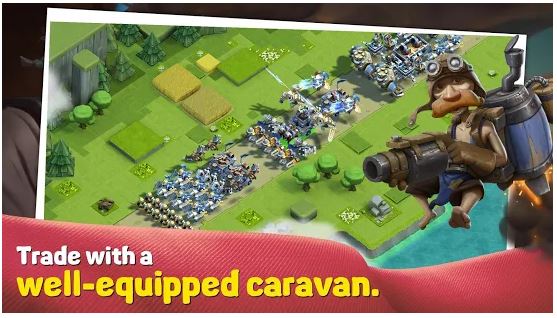 Build even empires and biggest metropolises, join the raids to dangerous bosses in the dungeons. Pass daily and monthly events around the game. Pump up the new system of battle passes with infinite missions and awards.
Pretty interested in this game now? Download it for free in Google Play and App Store and start building your empire.

9. Era of War
The era of War is super similar to Supercell real-time game even its out view, kinds of players and their skills, towers, and walls.
Start from a small village with a few soldiers and develop into a big empire with a giant army of strongest heroes and subdue all the world. Conquer other players to gain reputation, go up in the list of the strongest players of the game.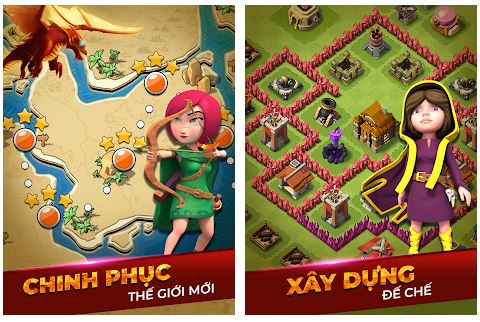 Increase your army with training more than 10 unique units and interesting way of levels upgrades. Form clans and invite there your friends or find new ones in the game, because a reliable friend here is the best support for surviving living.
Challenge opponents from anywhere and find out who is the best yourself, or join global clan wars with other clans to see where the members are working more harmoniously and decently. Win and take all awards straight to your base to win further battles and beat next enemies less complicated.
A lot of players appreciated this game, so what is about you. Try the game for free and become the best of the best in attacking and defense.

10. Empires and Allies
Be ready to beat your enemy, because he is so near. Empires and Allies is a strategy for playing alone and with your team. The game is about modern tanks, soldiers, weapons, and laser guns. Control the biggest bases with only your finger touching. Interested? It is only the beginning of your journey here.
Try playing in clans wars with your loyal team of real warriors. You can play with 100 of your guys in real-time and maybe you will get the ability to control the whole world and start developing more rapidly.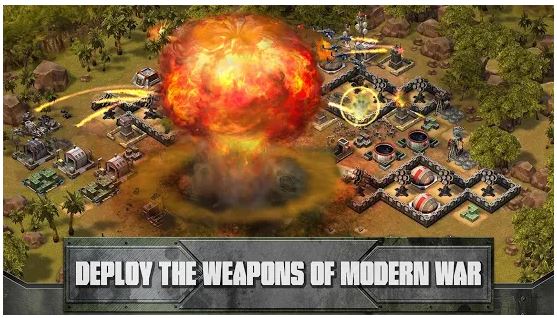 Muster up strong guns, bombs, and even atomic bombs, which destroy everything near with the explosion. Ion cannons and invisibility generators can turn over any fight and give you an easy win. Create a perfect unstoppable army, which can destroy even full clans.
Or on the contrary try to kill all the bad guys to make a peace around the world, but to make real peace you have to win a lot of complicated battles.

You may also like: 11 Best Games Like Dragon's Dogma
11. Total Conquest
Last, but not the worst game, conversely one of the most interesting games we are going to review is Total Conquest. The game where all the fights between real players, difficult raids, and hard bosses will be in ancient Rome.
Dozens of units starting with great gladiators and ending with the creatures from the myths, like cyclops, minotaurs, orcs, dragons, and others to choose and use.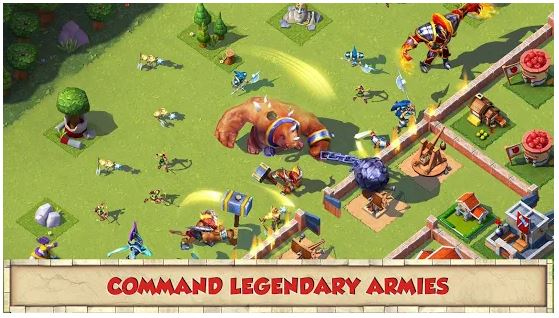 Use tactics to build the best impenetrable base ever or taking under the control same enemy bases. Create a legion and achieve supreme power.
You will be glad of its 3D spectacular graphics, easy interface. The whole province is in your power: build your warlike policy. High walls, towers, traps, and troops in the garrison will reliably protect your city.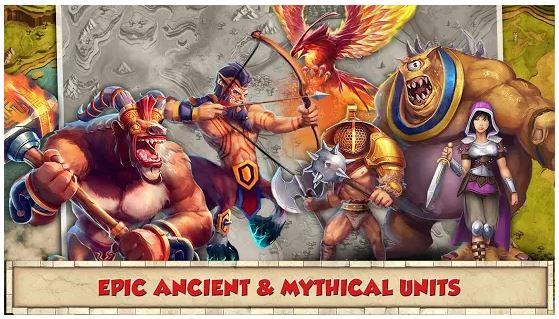 You can even ask your Facebook friends to play and have fun with you.
The ability to create a legion with other players and support each other in battles. Joint warfare against other legions. The best generals will lead their legion to power and receive generous rewards. The list of the best players in the game itself will give you an idea of how much you need to get into this top.