Are you tired of having a basic clock widget on your phone? Do you crave something with a little more pizzazz? Well, you're in luck!
We've rounded up the best clock widget apps with seconds you could try. In fact, some of those apps let you add weather widgets and even World Clock ones!
From sleek and modern to quirky and whimsical, there's a clock widget out there that's ideal for you. Say goodbye to your boring old clock and hello to the world of colorful and customizable timepieces. Let's dive in!
Simple Clock
Tired of waking up late and feeling groggy all day long? This app can help! It has everything you need to regulate your daily life and get a good night's sleep. Whether you need a clock widget, alarm, or stopwatch, it has got you covered.
The widget is fully adjustable, so you can enable and disable seconds, and switch through design options till you find the now that caters to all your needs. You can pick the shape of the widget to match your style, and even toggle between 12 and 24-hour time formats.
And with the ability to display times from other time zones, you'll never miss a meeting or call again. The alarm tool is top-notch, with all the features you'd expect like day and ringtone selection, and even a snooze option (because let's be real, sometimes you just need those extra few minutes).
But this app isn't just about waking up on time. You can also use the timer to monitor your cooking or any other events you need to be reminded of. Plus, with the option to prevent your device from falling asleep while using the app, you can be sure that your alarm won't be accidentally silenced.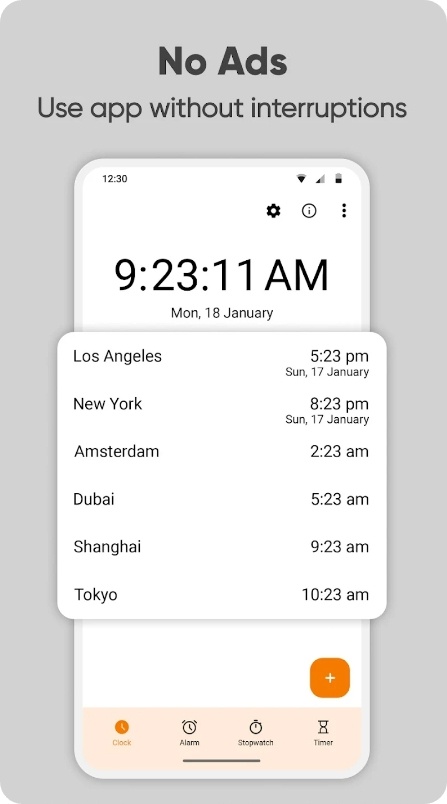 You may also like: Top 10 Always ON Display Apps
Clock Widgets
This app will be a nice addition to anyone's home screen. It has a beautiful digital clock display that refreshes in real-time, so you'll never have to squint at your phone again to check the time. The added feature of seconds display only adds to the slickness of this widget, making it a no-brainer download for anyone who values real-time accuracy.
One of the standout aspects of this one is the variety of theme styles it covers. Whether you're into a sleek minimalist one, or something a bit more colorful and funky, this app has got you covered. There are so many options to pick from, you'll never get bored with your clock again.
But perhaps the most impressive too is the hourly chime. Not only will your phone tell you the time every hour, but you'll be treated to a real human voice announcing it. It's a fun and quirky touch that adds some personality and charm to the app.
Overall, it's a clock widget that's both functional and stylish. It's easy to use, highly adjustable, and adds a touch of personality to your screen.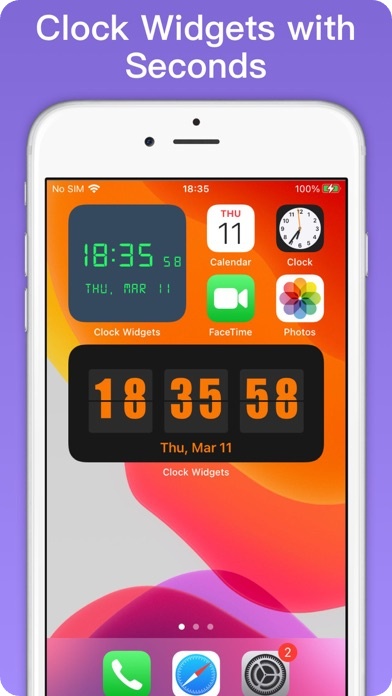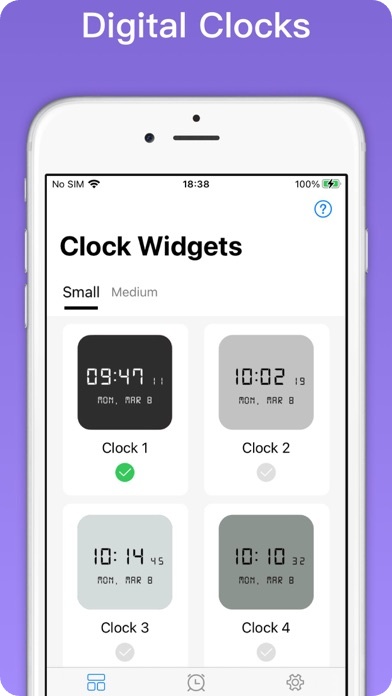 Clock Widget
This app is an all-in-one solution to stay on top of your schedule. First off, let's talk about the basics. With this one, you get a sleek digital clock display that shows not only the time but also the date and battery status.
But wait, there's more! You can also adjust the display shade to match your personal style. And did we mention that this app is completely free and ad-free? That's right, no annoying pop-ups interrupting your day.
But what really sets this clock widget apart is its added tools. Need a countdown to an upcoming event? You've got it. Want to set an alarm to make sure you never oversleep? Consider it done. And with the optional seconds display, you won't miss a single tick of the clock.
It is a must-have for anyone looking for a stylish and functional way to monitor their time. So why settle for a basic clock app when you can have it all with this one? Give it a try and start enjoying the future of timekeeping!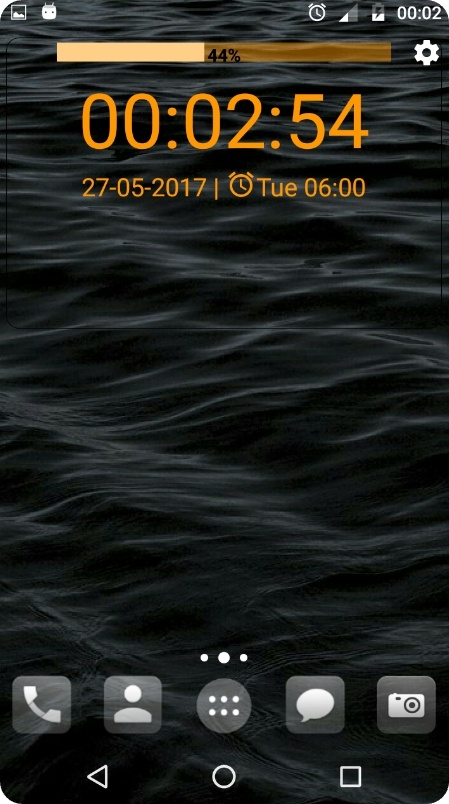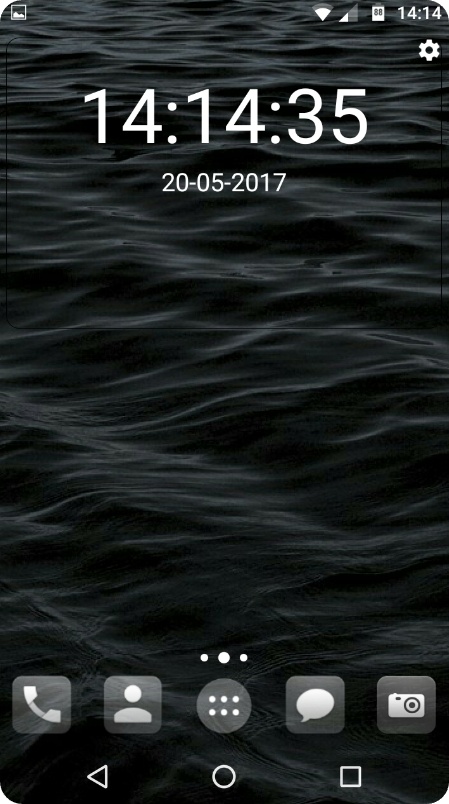 Flip Clock
On the lookout for a desktop digital clock that's sleek, stylish, and functional? Don't get past this one, then! It's an app you should certainly add to your collection. This minimalist clock is the ideal choice for anyone who wants to monitor time while also spicing up their desktop with a trendy and modern widget.
One of the top aspects of this one is its versatile time display options. It lets you pick between 12 and 24-hour modes based on your personal prefs. You can also toggle the seconds display, and access a full-fledged calendar that syncs up with your desktop to keep you up-to-date on your next important meeting or appointment.
But that's not all – the app is packed with a variety of useful functions. It has a smart alarm that adjusts the volume automatically and covers diverse themes to cater to your needs. Additionally, you can benefit from a timer and stopwatch with countdown tools, as well as the Pomodoro technique to help you focus on your tasks.
The clock widget displays seconds and even a calendar right on your home screen. Plus, if you ever get tired of glancing at the clock, you can easily switch over to any of the cool screensavers to try.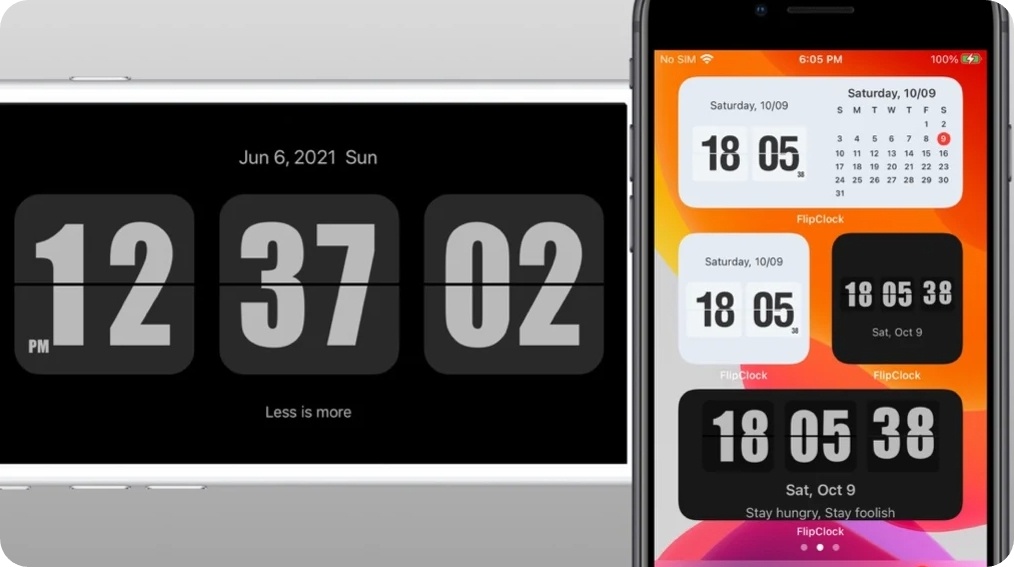 Clock
This app is here to help you become the time master. This little genius packs a punch with its time-taming powers. First up, there's an alarm tool. It's not just about waking up; it's about conquering the day. Multiple alarms, repeating ones with an attitude, and snooze for alarm enthusiasts (no judgment!).
Next, the app covers a world clock that is a treat for travelers. It's like having a time-traveling companion with you, no DeLorean required. From Tokyo to Timbuktu, it's time-zone surfing made easy. You can also regulate the widget by adding seconds or switching themes.
Now, let's talk stopwatch. It's ideal for timing workouts, cooking extravaganzas, or any other time-bound challenge. And hey, if you need to copy the result, just swipe and conquer!
Oh, did we mention the timer? It's a multitasker's dream. Run multiple timers at once, like a time wizard. Set presets for your morning workout and evening meditation. Time is on your side. Now, we know you're concerned about privacy. Good news! The app respects boundaries. It only asks for two optional permissions, nothing sketchy here.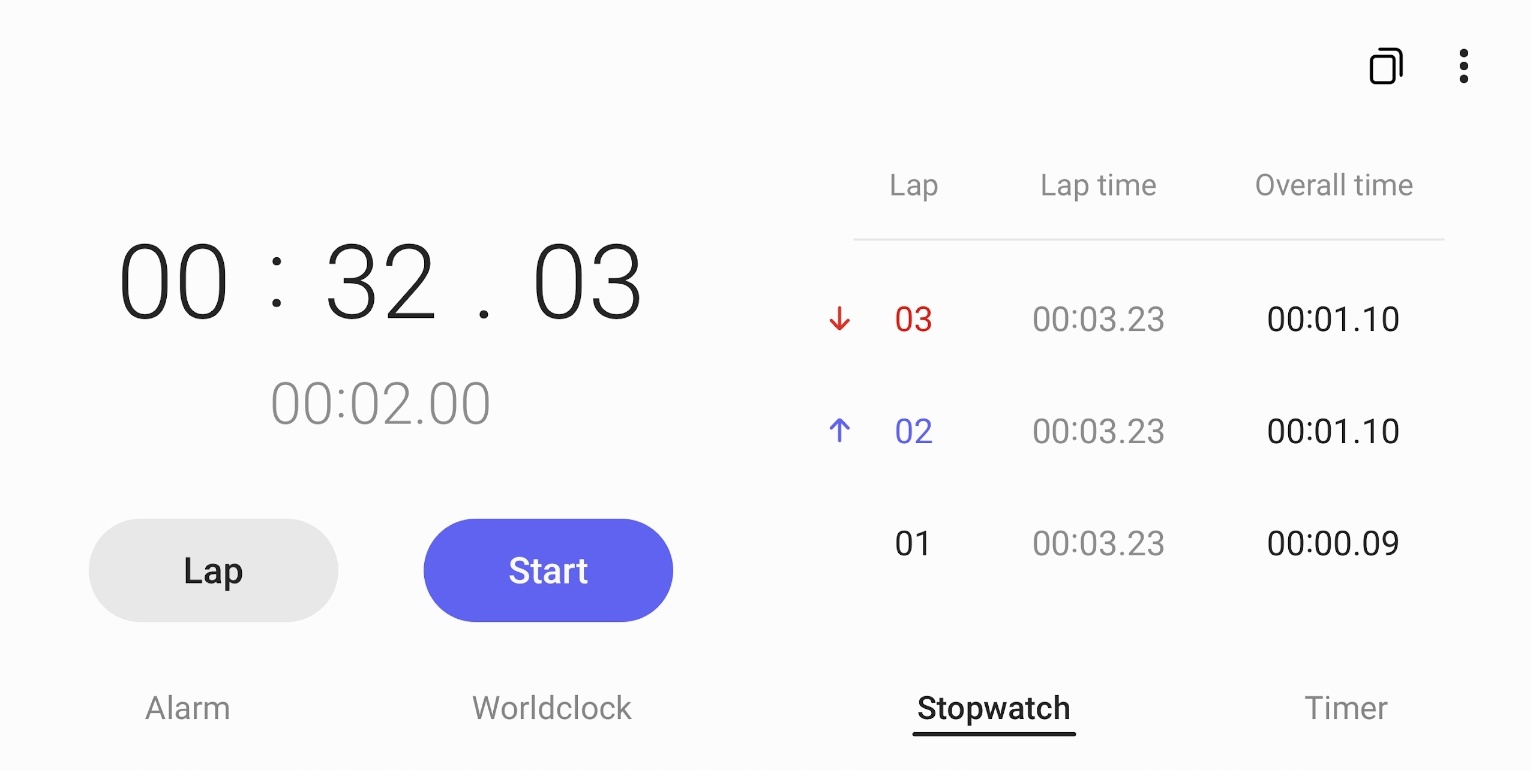 Check also: Top 10 Alarm Clock Apps with Math Challenges
onca Clock Widget
That's a clock widget that combines both digital and analog features. This app brings a minimal and flat design to your screen that's sure to impress. You can really make our screen as cool as James Bond's gadgets.
The free edition lets you play around with font size, transparency, and element color. You can even launch apps by tapping on the clock or date. Talk about feeling like a secret agent!
But hold your horses, there's more to come! Upgrade to the PRO and unlock a whole new universe of tools. Pick how your hours are displayed: digits, ring, or point. The same goes for your minutes. You can even show off colors and time zones, and add minute marks and background circles. It's like having your own clock masterpiece!
Oh, and did we mention it's intuitive too? The app adapts to your system settings for both time and date display. Plus, you can optionally set the app to show seconds (for the true connoisseurs). You can alter every detail about the app to fully cater to your prefs.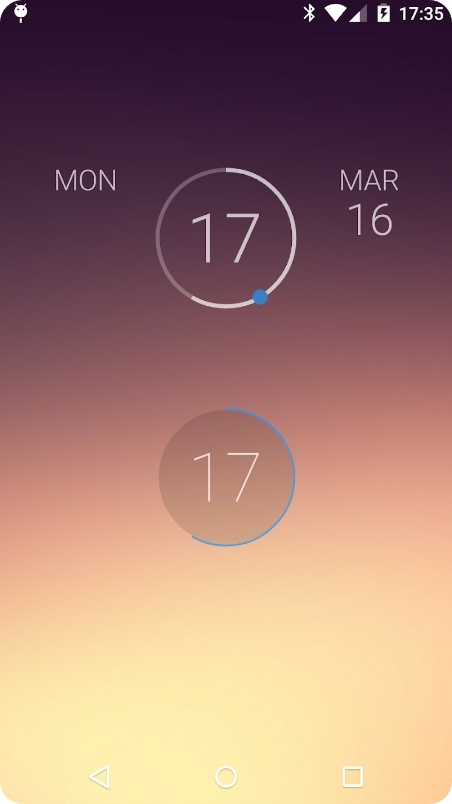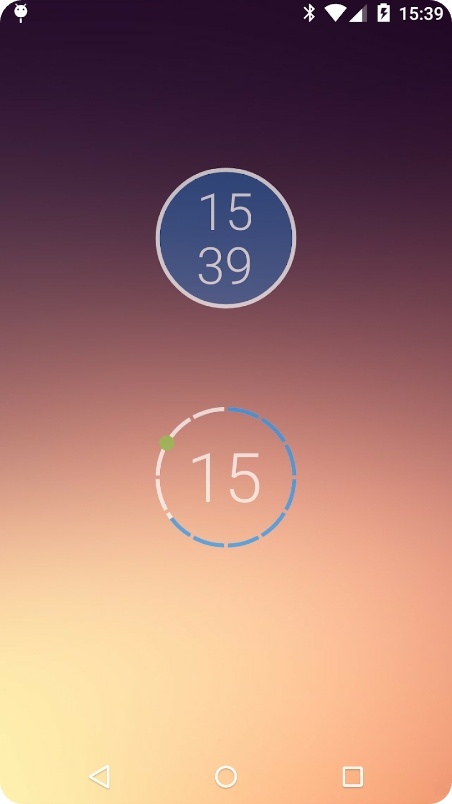 Digital Clock
Feel like your home screen clock could use a little upgrade? Give this app a try, then! It's an ideal companion for those who seek style and functionality in their daily lives.
Let's start with the obvious: this clock is a beauty. Its digital display is sleek and modern, making it a nice addition to any setup. Plus, you can switch between 12 and 24 modes, so no matter your prefs, this clock has got you covered. You can also display seconds if needed.
But wait, there's more! Do you hate seeing the weekdays on your clock? No problem, you can simply hide them. The same goes for the date, if that's not your thing. This clock is all about giving you the freedom to customize it to your liking.
And don't even get us started on how easy it is to use. Simply download the app, add the widget, and voila! You've got yourself a fancy new clock that will make you feel like a tech-savvy superstar (even if you're still struggling to understand TikTok).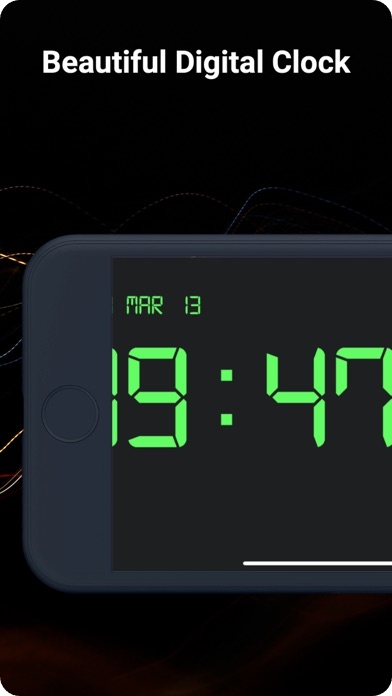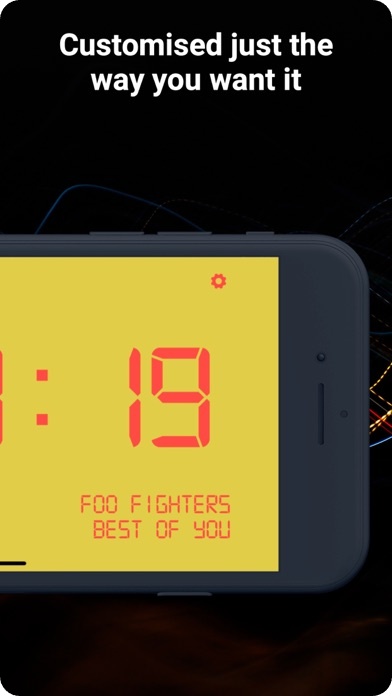 World Clock Widget
Tired of constantly losing track of time passages when traveling? This app is here to ensure it won't happen. This nifty little tool is like having your own personal timekeeper in your pocket, ready to assist you in converting any time zone with ease.
Equipped with a timestamp for any city, the app is ideal for those who are always on the move. Whether you're tracking Eastern or Mountain Time, it has got you covered. And don't worry about the MD clock displaying diverse times, the World Clock widget has got it all sorted out.
The app even has an additional feature that will pleasantly surprise you. It doesn't matter if you have a clock or an accurate atomic clock, this widget will help you keep track of time like a pro.
With remote work becoming increasingly common, this time zone converter app is a must-have for any modern person. And with a simple double-tap, you can find out your own time zone and get UTC time now. World clock with seconds, any world time zones, and current mountain time – all available on one screen!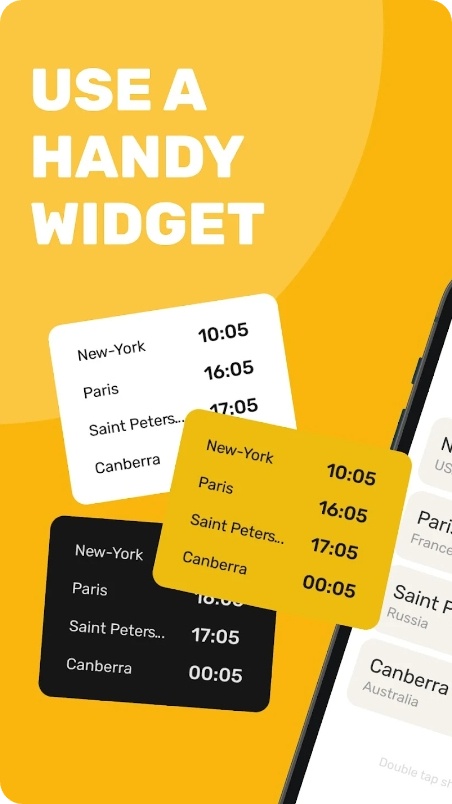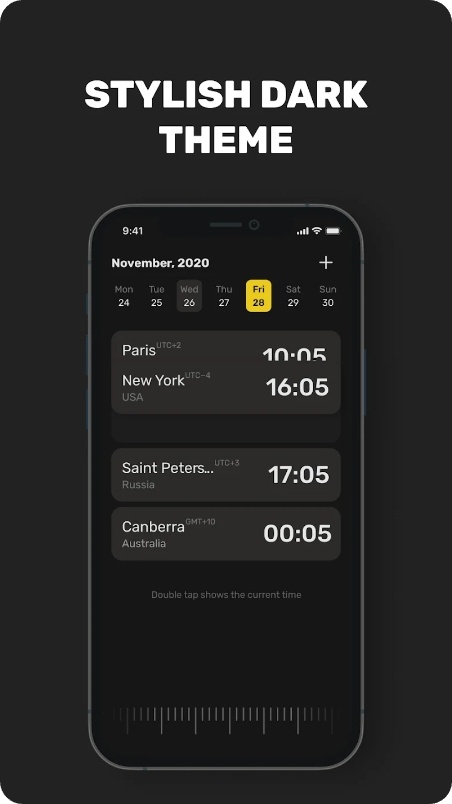 Minimal Clock
Fed up with cluttered, busy-looking clocks taking up space on your home screen? This app is for you, then! It is the best solution for those who want simplicity without sacrificing functionality.
This lightweight widget boasts a sleek, uncluttered design that is both visually pleasing and easy to use. With adjustable colors and text, you can personalize your clock to suit your style. And with a 2×2 resizable widget option, you can tailor the size to fit your needs.
But the beauty of the app isn't just in its appearance. It displays the hour, day of the week, seconds, and even battery life with a simple, intuitive design. For those who want even more customization, there are optional 24-hour format, battery percentage, and date format settings available.
You can easily reach the settings and quickly moderate your clock at any time needed. And for those who want even more functionality, there's even an optional tap-to-launch selected app feature. But let's not forget the warning about the high-resolution widget. While it will give you even crisper graphics, it will also decrease battery life more than the regular widget. So, choose wisely, my friends.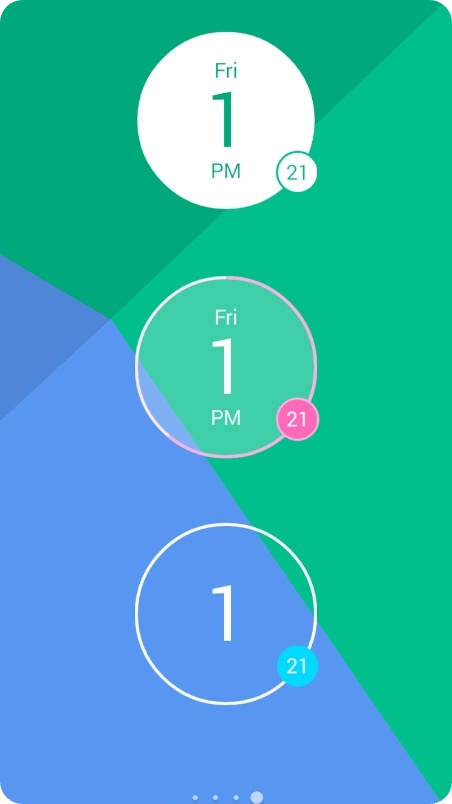 3Cats Clock Widget + Seconds
Wanna get the lightest, most transparent clock on the market? This might be the one to go for. Not only does it рфму a stunning transparent color widget with a custom launcher, but it also includes seconds and blinking for added flair.
But that's not all. This app has the flexibility to toggle between a 24 or 12-hour clock (AM/PM) and even displays the date and day of the week. Plus, it's been fixed for optimal reliability and minimal resource usage. You can even set it up to display seconds if needed.
And if you're worried about the widget taking up too much space on your screen, fear not: just a long tap to resize it, and the text will remain centered at all times. You can switch all the details t ensure the clock looks just like you want it to.
This app is a treat for anyone in need of a sleek and functional clock. With its reliable performance and adjustable tools, you can't go wrong with this handy little tool. It's also free, and you won't be bothered by annoying ads and all that.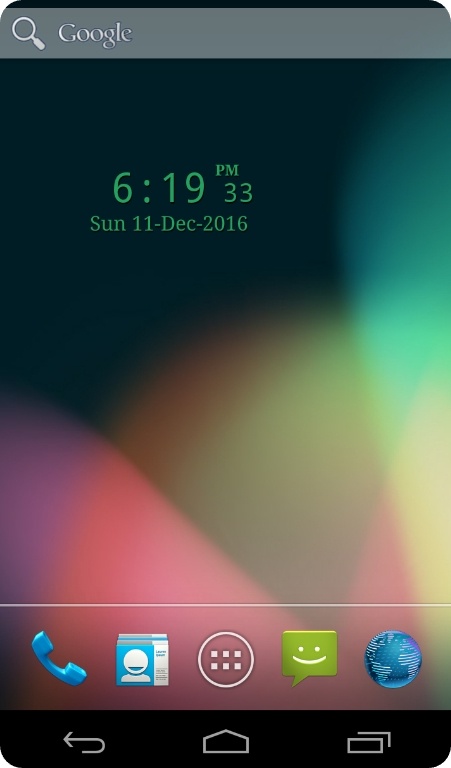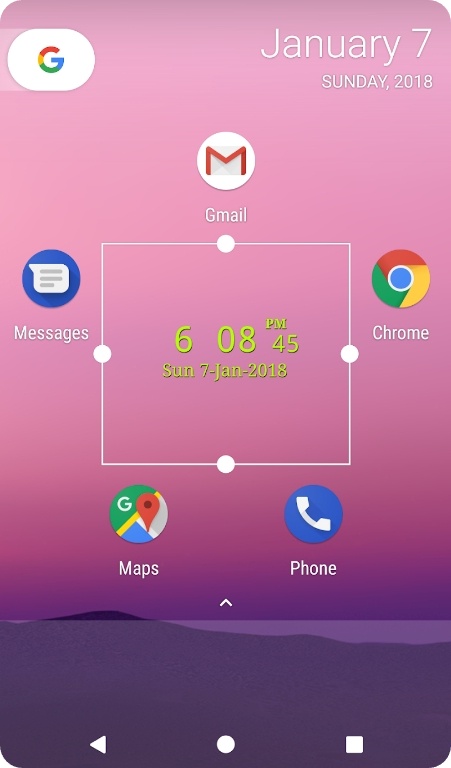 You may also check: 11 Best Floating Apps
Simple Analog Clock
To wrap up, we have a stylish and easy-to-use analog clock widget for your screen. This nifty little widget supports a second hand, making it a breeze to keep track of time down to the second. Despite this handy feature, the app has a low battery drain and will even stop the clock once your screen goes to sleep.
But what really sets this app apart is the adjustable settings. Whether you want to modify the clockface, adjust hand thickness, or toggle the date display, there's smth for everyone. And with widget size options ranging from 1×1 to 3×3, it's easy to find the ideal one to fit your screen.
But wait, there's more! You can even switch the color theme to a sleek and stylish dark mode, ideal for those late-night scrolling sessions. And with the ability to remove the notification icon, you can enjoy a clutter-free home screen.
The app is lightweight, easy on the eyes, gentle on the battery, and packed with tools that are sure to please. You won't have to pay for it and the ads are fully bearable.