Do you like archery? Or maybe you like watching archery tournaments on TV? Or are you doing it yourself? No matter the reason, the fact that you are here means you're interested in this kind of sport. And it's really cool – it's unusual and exciting.
You may also like: 11 Best Games Like Dragon's Dogma
But what if you want to try archery, but all the training and the equipment are way too expensive and you just physically don't have a possibility to try it? That is no problem – you can always go digital and play one of the best archery games that we picked up in the article down below. You will see – they feel just like real life!
1. The Archers 2: Stickman archers, Games for 2 and 1
A fantastic game about stickmen, simply made in graphics just sticks and a circle who are fighting with each other. You are playing for a stickman who is trying to beat the waves of enemies shooting them with a bow and gaining coins, which are useful in the game shop, where you can buy armor and better bows. As the enemies are stronger every time, you need to have a better weapon, too.
There are different kinds of enemies. Starting with archers and warriors, who fight with swords and even going to the dangerous bosses, like wizards, best archers, and giant Vikings.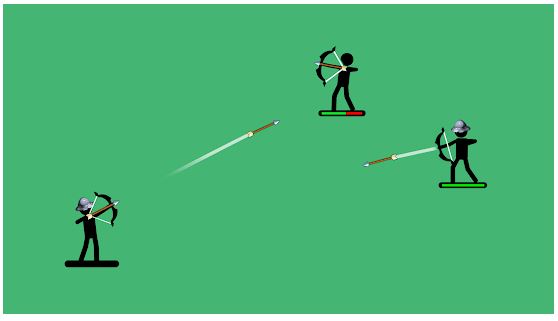 Stickmen randomly appear on your screen and you need to defeat them, but it is not that easy. To shoot a bow correctly you need to know the physics of the arrow and practice it.
The main thing is that attacking opponents to the body you will inflict only half of the damage you need to kill stickman, so you will need to shoot twice, and if you want to do it once you will need to get your air straight to the enemies head. And it is not all about it, enemies can have armor and before shooting to themselves you will have to break their armor first.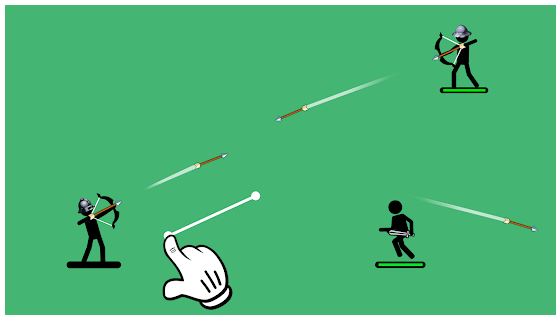 And the last good feature about the game is that you can play it with your friends offline on one mobile phone with various maps.
So this game is a great mobile offline shooter where you need skills, getting game money. And there are lots of modes of game to choose from: campaign, game for 2 players, and the survival mode, where you need to stay alive as much time as you can and make new records.

You may also like: 11 Best RTS Games Like Red Alert 2 for Android & iOS
2. Bowmasters
Bowmasters is a world-famous game about archers fighting with each other in duels. You are at a certain distance from the opponent and the best archer wins. You need to shoot the enemies sometimes to defeat him. It also has interesting mechanics of fatality.
Fatality is the last and the main hit the player does to another if the other one's heal is ended. It is always a cool way of winning the battle with a spectacular ending.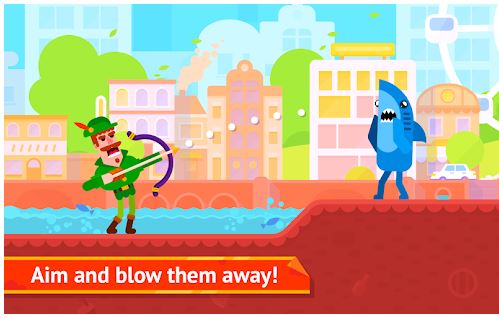 There are 41 unique characters in the game and each of them has its weapons and abilities. There are such characters as a fireman who is throwing the burning bottle with the fuel. Archer is shooting with the arrows. A guy in the costume, who is throwing the position and much more interesting players, sharks, Vikings, alliances and you can try them all during playing the game.
There are modes of game-like online game vs a real person, the game vs a computer bot, and the mini-games like shooting the apples on the head of the characters and shooting birds in the sky.
The game has a memorable cartoon interface and most people enjoy it. The gameplay is addictive and you will like the time spending in this game.

3. Archero
Archer is a popular action archery game, where you will be playing for a brave archer in the colorful world of the various creatures. You will start with no strong abilities with the simple bow and low skill. The enemies will not be dangerous, too.
But going farther and farther you will face more and more complicated levels and enemies, bosses, and dangerous dungeons. To continue the passing of the game you will buy new bows for the coins you are getting from the mobs, upgrade your weapon, buy stronger armor because if the enemies will be near they will start to attack you and not defeat you need more health.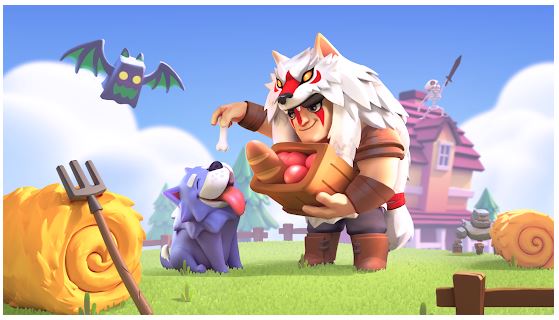 Opening new abilities is another important thing. You can make three arrows out of one or blow up every one or lots of other abilities for you to choose from are in the game. Gain the experience, earn money and become stronger. Open new biomes with other creatures.
Find the bosses and try to kill them as you can get more useful stuff. The game has a very long story and levels to pass, so the game will please you for long funny hours.
Use tactics to fight with the enemies. Except for the thing that they can be so powerful, there are can be so much of them and you can take them to one side you blow at once. You will enjoy great graphics of the game, sound effects, animations, and the process at all.

4. Archery Battle 3D
Archery Battle 3D is another great archery game. Here you can take part in duels with other people shooting straight to the target in various fields, different distances, and obstacles, which will make your game more interesting to play and hard to train your skills.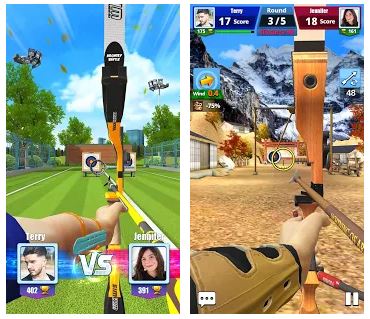 Duels are between real players in real-time mode. Who gets more points wins and gets the reward and goes farther to the top of the best players. Getting the reward and winning is important. You gain the game currency and buy new bows with better characteristics.
Except playing will other players all over the world you can invite your friends in the game and find out who is the better archer.
Also, there is a campaign in the game, which has more than 80 levels in different locations, and at every level, the difficulty rises. And with passing the levels you are going to learn the physics of arrows, bows and be ready to compete with the others in the duels and championships.
The graphics are good enough for the relaxing game. Of course, the game is accompanied by sound and visual effects. Statistics of the duels with a score, rounds, and some information about your opponent. The game will be perfect to relax after a hard day.

5. Ninja's Creed
Ninja's Creed is an epic game about a silent ninja whose goal to complete the mission and to defeat some people. They are tons of various weapons, levels, and bosses, maps in different biomes and structures.
You are paid assassin. After successful completion of the mission you get money and able to buy new weapons for your battles. You can choose any weapon you want be it shurikens or crossbows. And develop the system of special abilities of your ninja, which are helpful to stay just a shadow.
You will need to fight and defeat the dangerous gangs of bandits. Control the areas with villages and collect the tribute from the peaceful people who are safe until they pay you to defend them from the bandits and killers, or other ninjas.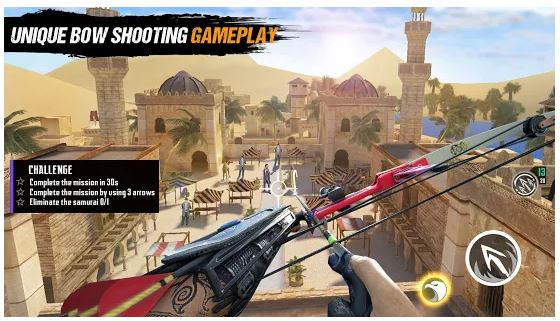 The team of developers united so many modes in one full of action fresh game. You can survive in the open world and develop villages and open new weapons bypassing complicated missions at once.
In each area you can meet missions to kill some small bosses and one final boss, who has a strong army of powerful warriors, so be safe not to become a victim. Be careful in your decisions and it is always better to be silent and start attacking the enemies when they do not see you.

You may also like: 11 Best Offline FPS Games for Android
6. Archery Master 3D
Archery Master 3D is just a relaxing sport archery game about shooting the target and trying to develop your skills. You have two types of the game: normal when you have just to hit the target and get more points them your opponent and the challenge mode, where some things will challenge you in shooting a bow like balloons.
There are four areas in the game: pine forest, archery field, mortal desert, and tropical rain forest. Also, the game has over 20 various props for decorating their levels and more than 100 unique levels are waiting for you to try.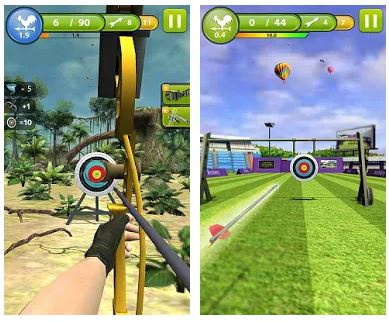 The designers tried to make realistic graphics in the game. It is okay with the realism of the game, sound effect, locations, arrow physic, but the quality of graphics is not as good as some of the games in this list, which has realistic graphics, too. So the team of creators has some things to do more about their game and the game will be cool.
The game has a shop system, where you can buy new bows, arrows, archers, and parts. About buying equipment or characters you can see their skills and features and upgrade them.
So winning the battles and earning the money is another important thing after your skills in the game. You can use tactics and combine various bows, arrows, and characters in one perfectly balanced setup.

7. Archery Big Match
Archery Big Match is one of the best archery simulator games. Starting with the simple target you should hit you will go to the moving targets far away from you and to hit them and take as many points as you can, you need to practice a lot in this game especially in case that there too many levels to play.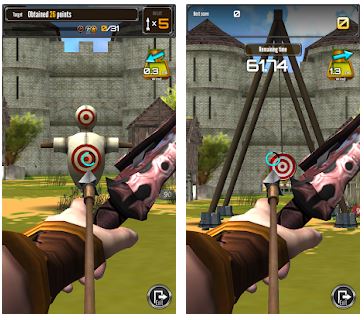 The game is realistic and a lot of players, who played appreciated it with good feelings after a good time in this game. Except for the moving targets, you are going to face the problem of the wind. It can be strong or not enough.
On the whole, with the difficulty of the distance of the target, its height, and the wind it becomes nearly impossible to make new records or even hit the target without training. It has the system of your developing and upgrading. You can buy new bows, armor and open new maps during the gaming process.
And at the top of all as the good addition to the game is a game top where you can append in case of long training, good bow, or maybe luck. Try this game and call your friends to play with you and even compete in the rating of the best archers in the game.

8. Archery World Club 3D
This game is a real archery simulator, where you will need to learn how to shoot a bow. You will be trying to heat the target, which will be a different distance from you, and get as many points as you will able to.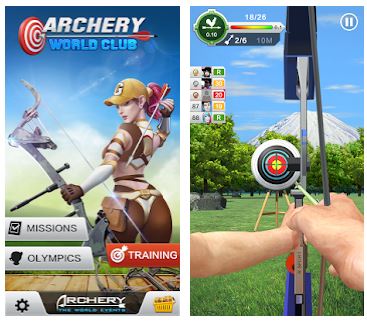 As the game is a simulator the main point in shooting is to know about the physics of the game. Such things like the wind will interfere with you.
There are two modes of the game. The first one is training. Here you need just to practice your bow shooting. From different distances, the strength of the wind. And the second mode named Mission you will rival other players. Get more points to win and get the prize.
With the money inside the game, you can buy new customized and better bows. There are many more interesting features in the game like cool 3D graphics and the Olympics. So there are so many things to do and the game will not give you a chance to get bored with it.
There is a list of the best players in the game and it is also showing you what place at the top you are. Can you become the best archer in the game and take first place in the world? Download this game for free and try to check your skills.

You may also like: 11 Best Games Like Banished for Android & iOS
9. Tiny Archers
The last game on our list is about the Middle Ages in a fantasy world full of mythical creatures like elves, orcs, and trolls. You are going to defend your kingdom with the elves, people, dwarfs, and the lord of beasts from the hordes of orcs and trolls, who want to take over the world.
Here you can open new heroes and become the greatest archers. The most important skill you need is archery, it can save your life and many others' lives. You are going to defend your tower from the waves of enemies during 4 stunning stories.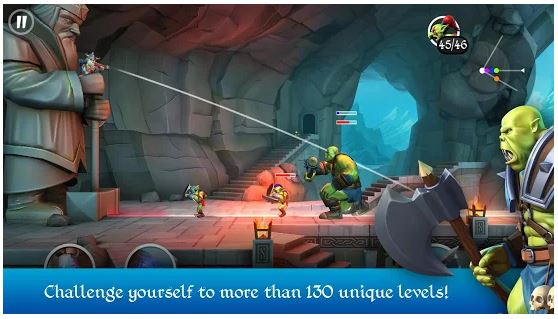 Beat the enemies with special arrows and abilities. Upgrade your bow, arrows, tower with fighting more and more enemies. Open various types of traps and super abilities, which will help you to kill more enemies.
Practice your archery skills at every level, because you will have situations, where you will not have a chance to miss arrows and shoot the head to inflict more damage than just shooting to the body.
Make your plan and strategy of battle, take the right arrows, and set traps in the best places. At every level you will feel the rising difficulty of the game and that you can not just shoot randomly to continue your journey in this world.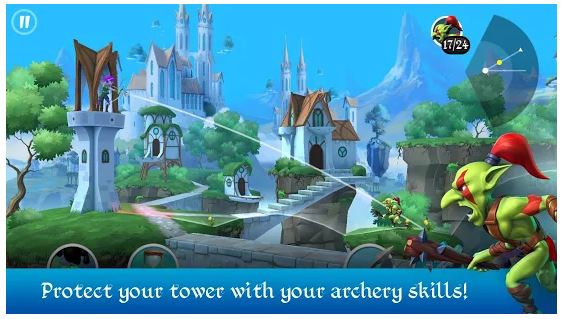 Take part in different modes and mini-games in this one game. One of them is where you need to hold out as much time as you can and make your new record or even go on the list of best players. Explore the world and find new places like elven cities, gnome-mines, valleys, forests, and cemeteries full of ghosts.
Communicate with the players in the game, make new friends and invite your friends in the game. Share pictures and make up the plans together. Ask your teammates for help and help them.