Is anybody out there who doesn't like math? We're sure there is a lot of people like that. We shouldn't judge them because it's really often a case when students don't really see the purpose of solving those tasks. Luckily, math word problems always make more sense here.
However, they can be more tricky to solve. It turns out that students, especially kids, don't understand them and give wrong answers – but it's necessary to know how to solve those tasks for the test.
And if your child is facing such a problem or you're a student yourself, you should know that there are great apps out there that can help you to solve any task of this type.
You may also like: 11 Best Apps to Learn a Word a Day for PC, Android, iOS
In the article down below we tried to find all the specific apps which would help you to solve the math word problems.
1. Solve Math Word Problem Solver
Let's open our list with the most specific app in this category. The app is really simple and easy considering the functions part, but hey, it really works.
The first thing that you need to do when you first open the app is to select the difficulty level. The learning method is first the app lets you understand and memorize one concept, then it gives you another concept which is based on another one and so on.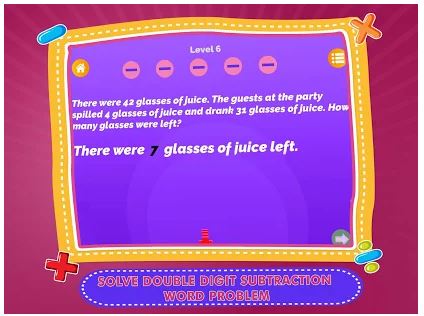 The app allows you to start with the very basic math, such as adding and subtracting, then go to time evaluation, money calculation therefore giving examples of the real-life so everything is clear for kids. Solve Math Word Problem Solver provides all kinds of math word problems so the students wouldn't be afraid of them anymore.
The design of the app is quite nice but it's made in a style that is more suitable for little students. The large-scale fonts are easy to read and click on. First, the app will demonstrate a question and if you're not sure that you can answer correctly you can first check the answer and then a solution itself.
The app is free, it has some amount of ads, but it's not critical. What is more, it has positive feedback from all the users on Google Play and App Store, so it's really worth your while.
Essentials:
Classic math word tasks
User-friendly interface design
Ability to choose the difficulty level


You may also like: 11 Best Memory Card Games for Kids (Android & iOS)
2. Photomath
This is one of the most popular apps for math and probably only a person really far from the app world isn't familiar with it. This is a universal math app that includes everything that is necessary for math solving – you can practice doing math tasks yourself, or you can ask the community to help you with the tasks – any way you're going to get your math issue solved.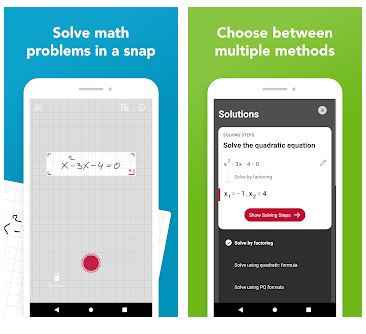 We could describe all the features of this fine app, such as scanning of the pages of the books and automatic search of tasks, its scientific built-in calculator, interactive graphics, but since here we are focusing on the word math problems, let's stick to those.
First, if you don't know how to solve a certain task, you can always upload it to the app and find the solution. Second, you can always find the full information on this topic or ask other users to help you with it. Photomath includes the information for all kinds of math: geometry, trigonometry, linear algebra, basic math, and many more.
It will be fair to say that the app will be suitable for older students who face more difficult tasks and search for deeper knowledge in general. What is more, the interface design of this app can be too little too harsh to handle for kids. The previous app is recommended for children.
Essentials:
Solvation of all the math issues
Get consultancy from the real people
Scan books and find the answer


3. Microsoft Math Solver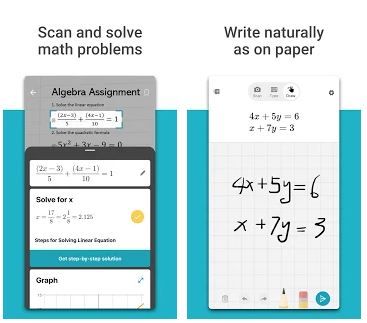 It seems like nowadays there is everything by Microsoft and even the math solver. The section of math word problems here is not that great as in the two previous apps, but it's still enough to help you with it.
The way how it works is also a little bit different. You need to take a picture of the task and then upload it to the app – it will convert it onto a digital text automatically and then will give you salvation. Or, you can just type in the task and find the solution.
One of the main advantages of Microsoft Math Solver is that it can provide you with a very detailed step-by-step solution to the task. In this app, you will find the best explanation of each topic. In order to test your knowledge, you can also solve quizzes that you will find in the app.
Essentials:
Detailed explanation on math
Converts scans into the text


You may also like: 9 Best Memory Card Games for Adults Android and iOS
4. Brainly
You can see that Brainy is more a general app for helping students with their homework, however, it provides a nice amount of information about all the math word problems. As a result, Brainly is based on a more question-answer system.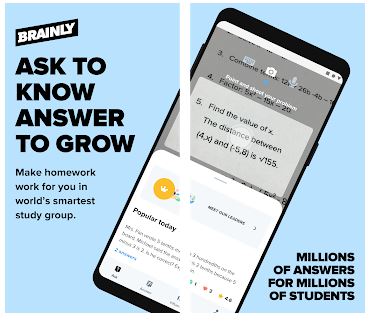 You just upload a task with which you need help with and then the app itself or other users will try to help you to solve it. It's like the knowledge exchange. The resource is absolutely free so all the students can have an access to it. However, it will still be more suitable for a more grown-up audience.
The only trick of Brainly is that it makes you buy special points so you could ask the questions and lots of users are unhappy with it. But you can earn those points by helping someone else, so it's fair to claim that the app is free of charge.


5. Mathway
Another ultimate guide for you into the world of math. The app is also quite popular in digital stores along with the fact that it has already helpt millions of students with their math homework.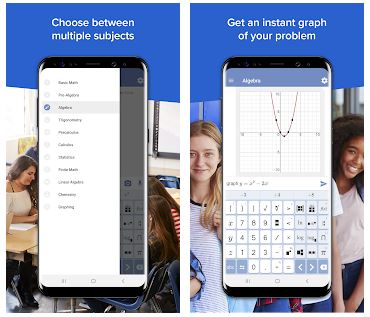 You can easily find the math word problems solutions here – you just need to take a picture of your task, then highlight the area with the text, and upload it to the app. Then it will turn the picture into the text and the task will be published in Mathway.
You will recieve step-by-step explanations by the experts of the app. If you want, you can always ask additional questions in order to get all your issues resolved.
Another great advantage of Mathway is that it includes all the parts of math: algebra, statistics, geometry, trigonometry, and many more. Just in case, if you will need something else except solving the math word problem tasks.
The only thing is the interface design is a little boring and the font is too little and might be difficult to read. Except this feature we didn't find any significant drawbacks of the app.


6. Cymath – Math Problem Solver
A little bit more difficult in usage than other apps, nevertheless, still a decent math solver. Just like in many previous apps, here you need to upload your question to the app, and then Cymath will provide you step-by-step guidance on the solution.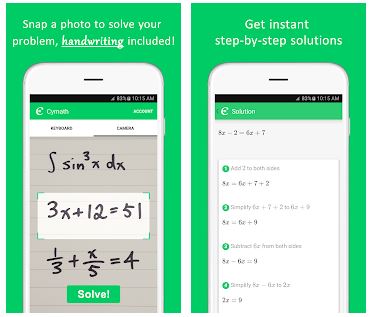 In addition, the app is capable of much more than just solving the word math problems: it can help you with the solution of almost any math task. What is more, Cymath saves the history of your search (which is quite a unique feature) so you can review your last inquiries again and again.
The support services are available 24/7 and if you haven't found anything from the information that is already there in the app, you can always ask them. All in all, Cymath is not the best app for solving math word problems specifically, but it is still a good app to check out.


You may also like: 11 Best Anatomy Software for PC
7. QANDA: Free Math Solutions
And the last app that we have on our list today is QANDA – quite a nice math solver, which is not worse than the previous one. The project was initially launched in South Korea and became so successful that it became international.
The algorithm of work here is simple – you just need to upload a picture of the task and the community of math enthusiasts there in the app will assist you with solving it. It will be especially beneficial for difficult math word problems.
And the virtue that distinct QUANDA from all the previous apps is here the video connection is also possible and you can also watch video tutorials right in the app. Plus, it's good for all kinds of students – as for graduates, and for elementary schoolers as well.
There is a lot of college students in the app, who can easily help you with a difficult school task (in case you're in school). And QUANDA is available in several languages, so students all around the world can get access to it.