Have you ever had that Rubik's cube? If so, you know how authentic this thing is. It seems so simple and plain, however, it is capable of captivating the attention of anyone for hours! It always seems like you're so close to the salvation of the riddle, but you're never are! Or, are you?…
If you've never tried it, we highly recommend it to you – it helps to evolve your creative skills, your logical skills, reaction, and many others. Plus, it's cool that nowadays you don't even have to buy a physical version of it – why when you can simply download an app with this game!
You may also like: 9 Best Box Puzzle Game Apps for Android & iOS
The market provides a great variety of Rubik's cube games nowadays – in different shapes, variations, colors, and so on. It's always up to you which one to choose. While picking up the right app for yourself, look for its correct functioning, logical correctness, and time of the game.
In the article down below you can select from the best 7 cube puzzle games.
1. Magic Cube Puzzle 3D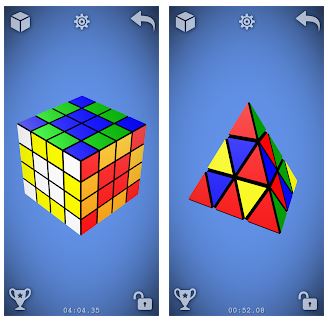 One of the most popular games for Android in this category, where you can actually choose which figure you want to work with. In this app, everything is perfectly simple. You just choose a figure, and then you see it in the 3D model and start revolving and viewing it.
This is, probably, the most realistically-looking game on our list. Revolve the parts, see how they match together and maybe you will compile the figure in its perfect look. By the way, at the first sight, the controls might seem difficult, but with a little bit of practice, you will get used to it, and playing it will be easy as a breeze.
Another cool feature here is that you can "undo" the step so you can always go back to the previous position. The app has all the positive reviews on it, so it's highly recommended!


You may also like: 7 Best Horror RPG Puzzle Games for PC, Android, iOS
2. Magic Cubes of Rubik and 2048
This game includes more features than the previous one and it will be suitable for those who want to have the bigger diversity of cube puzzles and figures.
From the name of this app, you can see that it incldues the following games: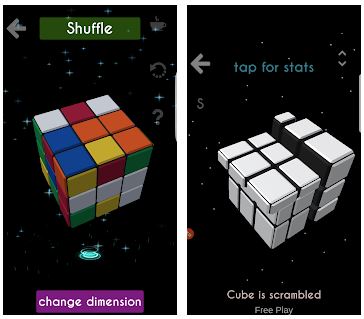 The significant feature of this game is that it contains a lot of theoretical information about those games. At first you might think if you never need it, however, it can be quite helpful, especially in the section where they tell you how you can solve the Rubik's cube.
The design of the game is extremely simple, it's even boring in some parts – in the previous app the developers definitely did a better job on that. However, this flaw can be compensated by the diversity of games that you will find.
By the way, you can also choose the megamix section – and all the games will be replacing one another – it can be quite funny when you're feeling playful. Plus, Rubik's cube is customizable and you can choose the colors for it, which is cool.
The app contains some amounts of ads, however, they're not frequent.

3. Cube Solver
If you're looking for an app that would gather any type of cube games – this is the Cube Solver app. Here you will find the following games: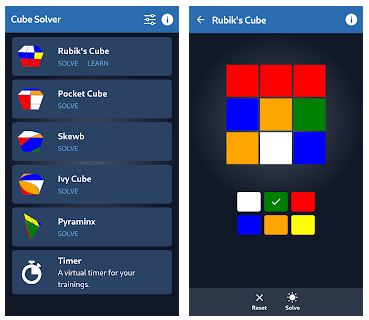 Pocket cube
Rubik's cube
Skewb
Ivy Cube
Pyraminx
The games are performed in 2D graphics, so playing them can be a little bit more tricky than in previous cases. What is more, here you're revolving the cube not manually – you just pick up the colors and patterns you want to move and then the app is doing it automatically.
The distinctive feature of Cube Solver is that it takes a detailed count of all your attempts and carries general statistics of the game. What is more, the app is remarkable for mainly positive feedback by its users.

4. Cubik's – Rubik's Cube Solver, Simulator, and Timer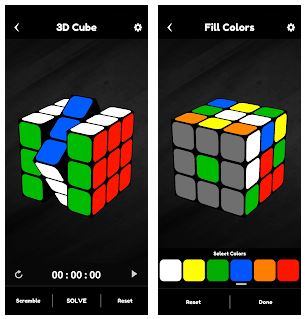 The one app is really similar to the previous one. In terms of interface, the idea, the looks, everything. The main feature that is really different is that here you can set up the timer when you try to solve the riddle once more.
Thus, Cubik's will be more suitable for the advanced users who already have experience with this game. If you want to challenge yourself and your skills, then we definitely recommend setting up the timer.
On the screen, you will see a 3D model of a Rubik's Cube and you need to click on its part to revolve them. The controls are really easy here. And just as in many previous games, the cube here is customizable and you can choose how it's going to look.
There are different methods that allow you to complete the task with Rubik's cube and you can find the information about them right in the app. We definitely recommend reading about them since it does help to solve it much faster.

5. Magic Cube Variants
Unfortunately, most of the apps of this category are going to be only for Android. We're not sure about its reason, but there are definitely more cool cube games on Google Play.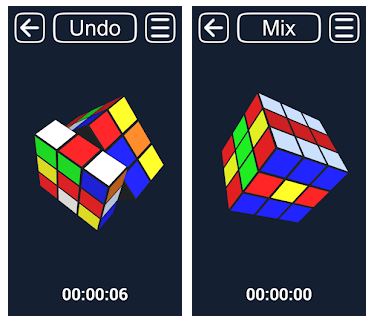 Here the app is simple. You just get the classic Rubik's cube in front of you in the 3D format and you can revolve it and change parts in the way you want – the ultimate goal is to make all the colors match with each other.
There is an "undo" function that helps to cancel the last move. In addition, in the lower part of the screen, you will see a timer that will show you how much time you've spent trying. In the main menu, you can choose different shapes of figures – it can be not only the classic cubic shape.
Overall, the design is extremely simple and this app will be suitable for those who don't want anything too heavy for their devices.

You may also like: 9 Best Ship Building Games for PC, Android, iOS
6. VISTALGY® Cubes
Another interesting app that we recommend trying if you like solving riddles with Rubik's cube. Just like in the previous app, here you get only a cube, but it's made much more complicated than you're used to.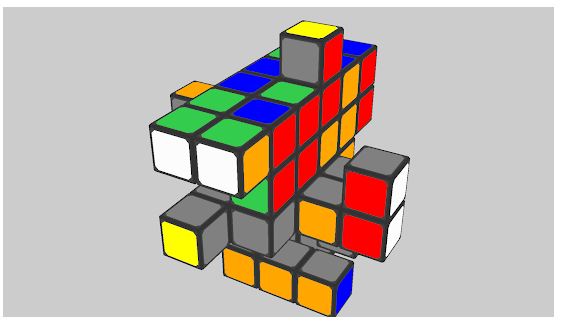 First of all, there is just one cubic model of a figure but it's presented in a very decent 3D shape so you can view it from any angle and you also have accelerated control over it. You can change parts in detail, leave them in the intermediary position and view your results.
What is more, you can zoom in on the image. There are no ads in the app and the feedback itself is all positive.

You may also like: 11 Best Games Like Minecraft for Android & iOS
7. 3×3 Cube Solver
This app is different from others and it works in a little bit different way. It can both serve as an instruction to the physical Rubik's cube or you can discover the 3D model in the app and try to solve it as well.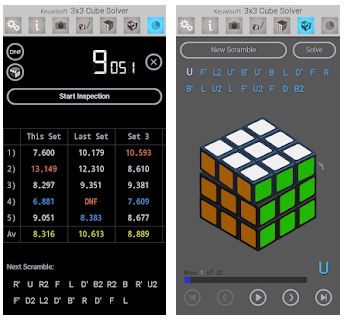 Plus, you can actually turn your real cube into a 3D model. Just take pictures of it from each side and the app will do everything automatically. Then, when the image is created, adjust the colors. We should really pay attention to the extended customization here – you can choose all the shades of colors.
What is more, Cube Solver allows you to set up the timer. For beginners – there is a solution mode that includes step-by-step guidance when you're not really sure what to do. In the info mode you can find out everything about the app but it's not necessary.
This is probably the best app out of all for beginners to learn to understand the point of Rubik's cube game and learn how to think strategically. Because of the detailed explanatory and well-structured guidance, it's really easy to learn.