Apple is considered one of the best and most reliable manufacturers of mobile devices and similar equipment. However, due to certain circumstances of using the device, some of its functions can fail.
Small problems you can fix on your own, using for this purpose extra features, which has a lot of services. Here we have reviewed the best iPhone sound booster apps. They have many useful tools, thanks to which you will solve the problem.
We also recommend you the free oscilloscope software to analyze the phone's sound performance.
Equalizer Fx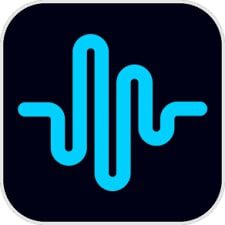 The Equalizer Fx app integrates with music players. It supports channel virtualization and knows how to customize presets.
It does everything to make you believe that your smartphone is capable of turning into a music machine. There are few settings here, and they are mostly about notifications.
Along with that, you can use the automatic activation and deactivation of the app, without affecting the system settings. There are three windows in total: equalizer, effects, and profiles.
The first has five equalizer bars, the second has volume gain, and the third window offers profile management. You can not only create a new one but also edit or delete existing ones.
Amplitude-frequency characteristics are adjusted classically – with sliders – and quite finely. Not only megahertz are available, but also decibels.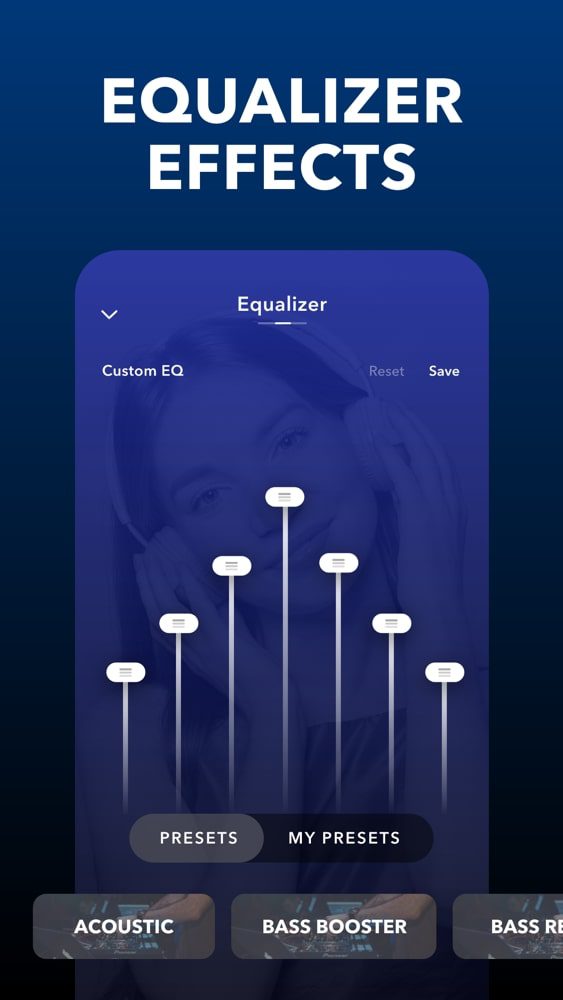 As for effects, a volume amplifier and virtualization are available here. To add a profile, you need to click "+" in the corresponding window, then come up with a name for it, and if necessary, assign it as the default profile. The EQ settings will be saved automatically.

You may also like: 7 Best Apps to Play Youtube on the Background on iOS
Bass Booster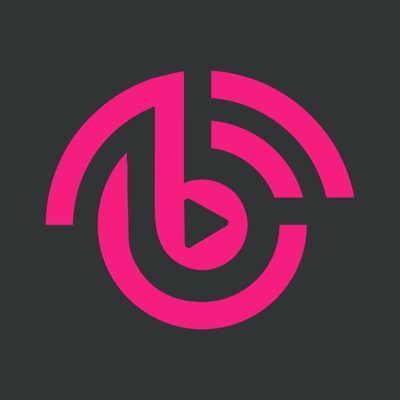 Bass Booster is an excellent equalizer with a wide range of functions. Thanks to this program you can hear your favorite music exactly the way you want.
For this purpose, a huge number of presets have been integrated into the app, which you can customize according to your preferences. In the same vein, a 6-band equalizer can be found in Bass Booster.
The paid version of Bass Booster Pro has the ability to customize and control the app directly on the desktop.
Besides, there is the ability to configure unlimited crossovers. Customize the sound profiles of your phone. If you decide to customize audio files, then creating or installing re-sets, the app remembers this setting for this track.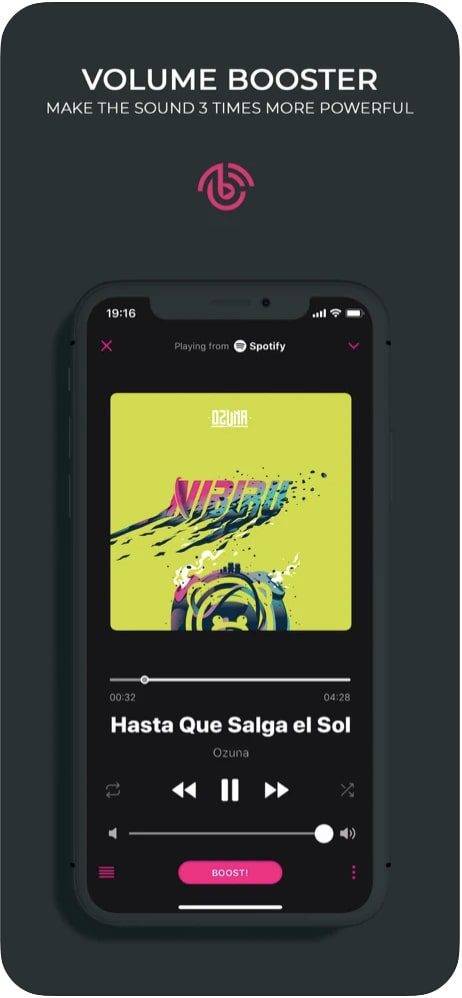 So, if you set one re-set for your favorite song, if you want to hear it again, you will hear it in the exact setting in which you set it before.

Volume Booster – Equalizer FX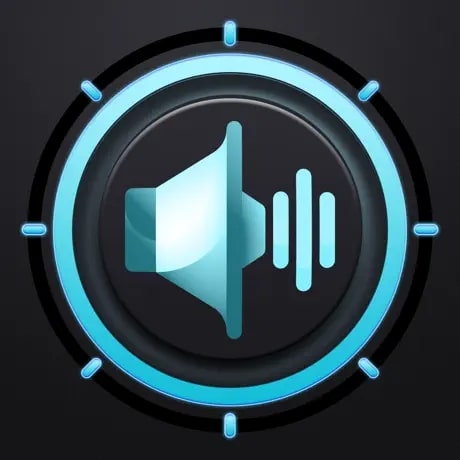 Powerful sound booster for your iPhone in the Equaliser FX app. Listen to your favorite hits at full volume, plug in your headphones, and get perfect sound quality.
The app works as a full 10-band equalizer. Use the bass booster if you want to enjoy loud music at a party.
You can even improve the quality of your tracks using the Bass Boost option.
Choose one of the sound types to give you the right atmosphere. Enjoy classical, dance music, hip-hop, and more.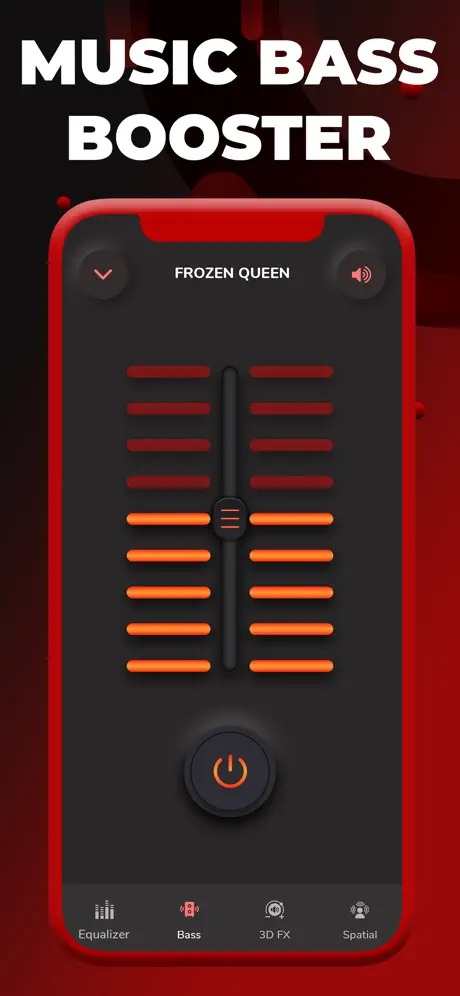 Use the audio player to listen to your tracks in your preferred order. Choose from random playback, single artist tracks, or entire albums. 8D effects help you get the perfect sound experience. Equaliser FX supports most audio formats including mp4, aac, mp3, mov, and m4a.

KaiserTone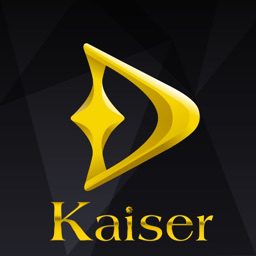 Let's move on to the next app – KaiserTone. It will not only increase the volume on your iPhone but also improve its sound.
Make it more expansive, use the noise reduction feature, and choose your preferred sound quality. One of the things that makes this app awesome is the supported Apple Music App format.
Many different playback formats are available here, including continuous. Use the sound spectrum analysis tool.
We would like to point out that this service works with speakers, headphones, docking stations, Bluetooth, and even AirPlay. Several types of equalizers are available to suit your purpose.
Volume can also be adjusted by adjusting the balance between the left and right speakers, choosing the gain level, and more.
It needs to be said, that this app is also a great music player. Music can be played from your iTunes library. Sort it by artist, genre, album, playlist, and more.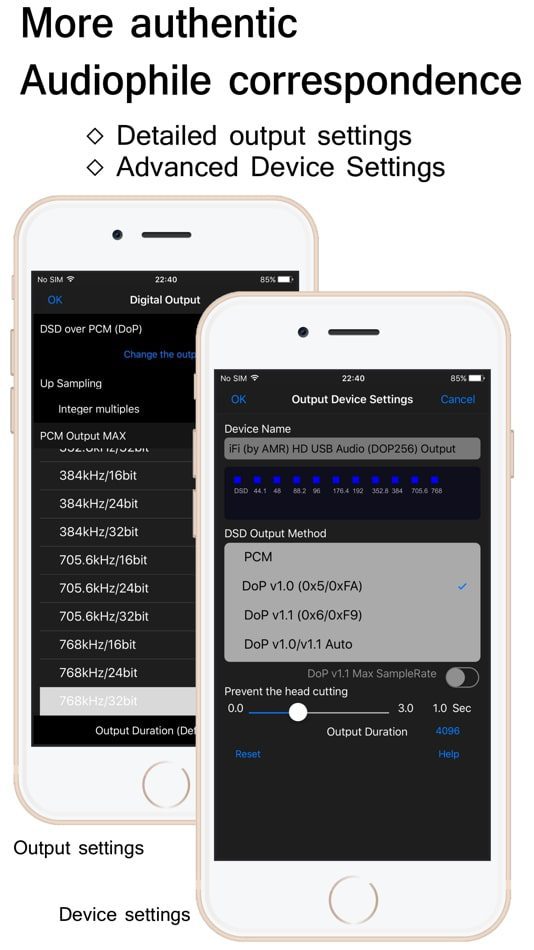 It is impossible to list all the functionality of this application in one review. We would like to mention that KaiserTone will do an excellent job of boosting the sound of your iPhone.

Onkyo HF Player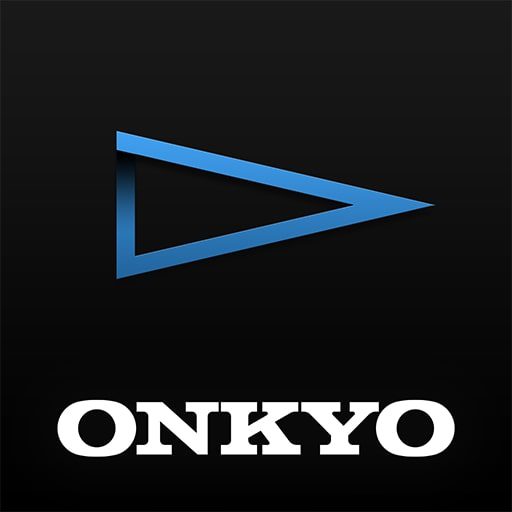 The Onkyo HF Player app has many features and settings, including several sound enhancement modes.
The range of supported formats is huge. At first glance, it looks like a simple audio player. But behind the unassuming appearance of the player, there is a high-quality playback of music of any style.
You will be able to play music in DSD format in addition to the basic audio standards. Use the high-precision multiband equalizer. The clever control system is suitable for creating and adjusting playlists as you see fit.
This player has a pleasant interface with a dark design theme and intelligently designed menus. The main advantage of the player is that it does a great job with Hi-Res formats. Other players cannot read them properly.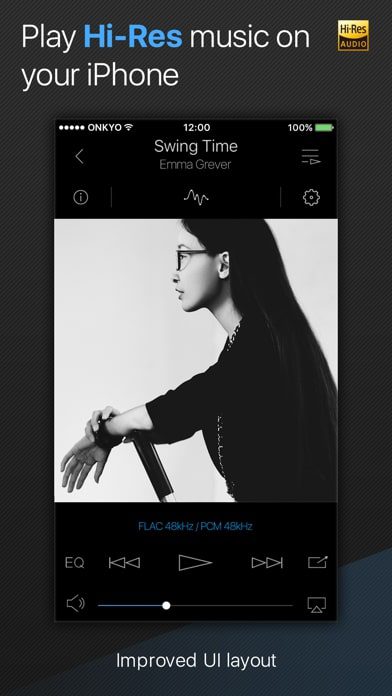 As a result, the player's sound is incredible. Along with that, this feature allows improving the sound quality of your iPhone. All this allowed this application to be included in our review.

You may also like: 11 Best Apps to Extract Audio from Video (PC, Android, iOS)
Volume Booster + Bass Booster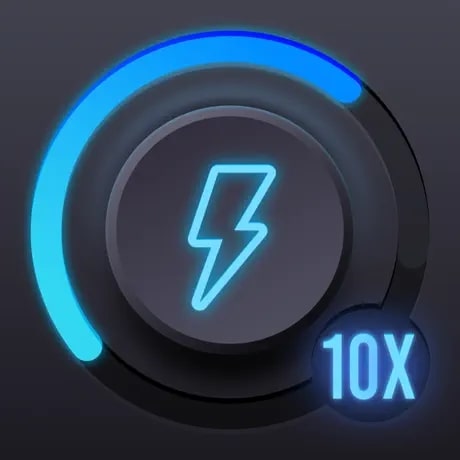 The feature-rich Volume Booster+ app allows you to get loud and high-quality sound without extra hardware. Install the app on your iPhone or iPad and adjust the settings.
Change the sound quality, increase the volume by several times compared to the factory settings, and get only positive emotions from your favorite music.
Listen to songs, podcasts, voicemails, and audiobooks. The app supports over 20 different formats. Convert your files to other formats.
Save the received tracks, listen to them on other devices, and share them with your friends. Easy sorting allows you to find the track you want within seconds.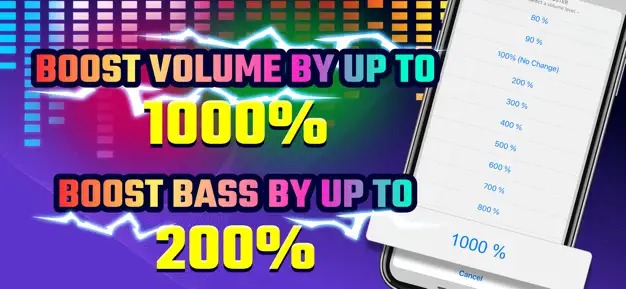 Use the bass amplifier to get a richer sound. The intuitive menu lets you quickly get to grips with the basic settings. Listen to your favorite hits without distortion with Volume Booster+.

Equalizer+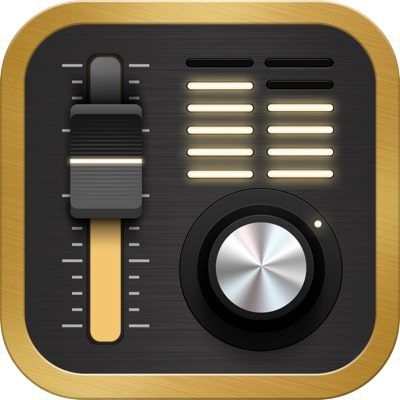 In the Equalizer+ app, the main tool is presented in parametric form.
However, its main difference is that it is not even a player, but a miniature music editor for sound enhancement.
Once you've synced up with your music on your iPhone, you can upload a song to the app for editing.
You can make it louder, add a bass, and apply effects. As an added feature, you can record the entire process of changes. Press REC and adjust the sound while the song is playing.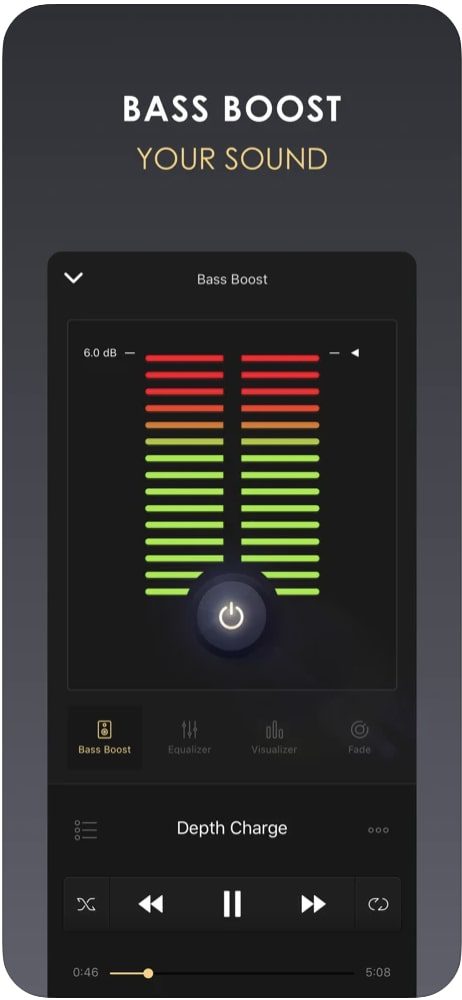 The recorded fragment is saved to mp3 and is available in the app.

Boom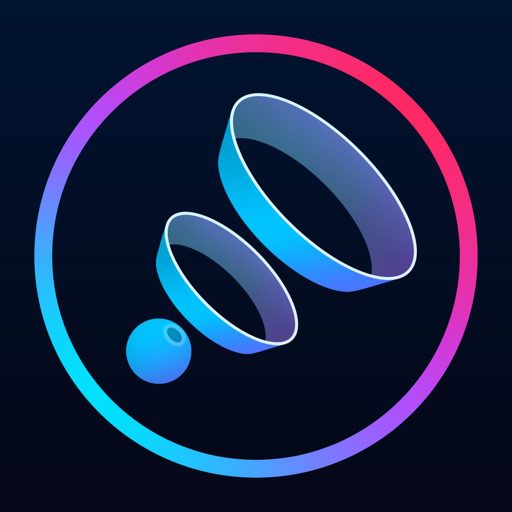 The Boom app is considered one of the best apps for improving your phone's sound quality.
It allows you to amplify the bass and use the EQ capabilities. In the same vein, you can create your own presets to customize your music player.
This way, you get surround sound in your smartphone speaker or headphones. Use the 29 equalizers presets available in this app to customize them. Create your own equalizer and share it with your friends.
Boom works with Tidal and Spotify. To be more precise, the app integrates music from these services and allows you to listen to them in a better sound.
It also allows you to listen to the radio, download music from Dropbox and Google Drive, and play it via CarPlay. It's a free application that perfectly performs the main function we need – sound boost.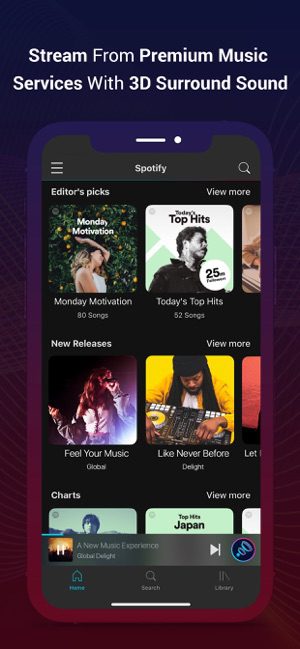 Along with that, Boom has an easy-to-use interface that is attractive to anyone. You can also buy a subscription to get access to extra features.

You may also like: 4 Best M3U Player Apps for Windows, Android, iOS
AmpMe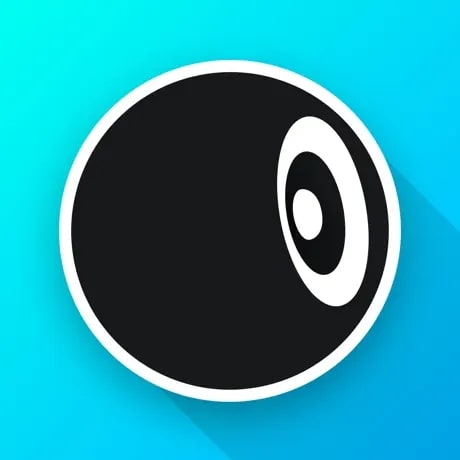 AmpMe is an app that is mainly designed to sync music on your iPhone.
However, its capabilities are almost unlimited, so you can use it to amplify your sound.
It is able to sync not only with your phone speakers but also with Bluetooth speakers and headphones and other devices.
This app is used by a huge number of people and there is an understandable explanation. It can integrate music from Spotify, YouTube, SoundCloud, Deezer as well as from your music library.
Connect many devices and listen to your favorite music with your friends, making your party even louder. Create your profile via Facebook or Google.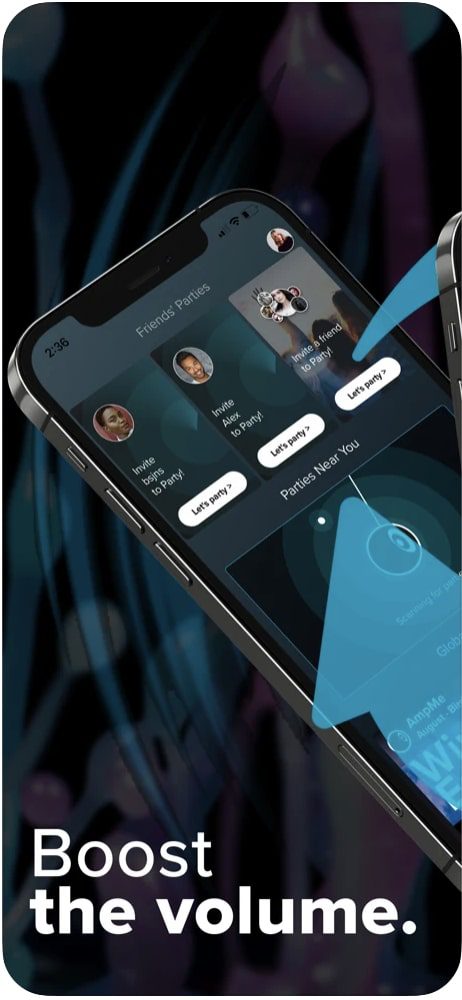 In conclusion, the AmpMe service, like previous tools, allows you to amplify the sound of your iPhone qualitatively. This app also has many useful features.