The majority of us like to sing karaoke sometimes and would do that on every occasion. The problem is sometimes these karaoke apps consume lots of mobile data since you have to load vids and audio. But this problem can be solved if you use offline karaoke apps.
And in case you haven't found the karaoke version of the song you like you can create it yourself, there is a special software for that. You can use the help of the vocal remover apps and create more or less decent karaoke versions of your favorite song.
KaraFun – Karaoke Party
We could respect this app even only for the fact that it produces its own instrumentals for karaoke versions of the songs. Indeed, it is a decent karaoke app, but here you will only be able to get access to its abundance of songs if you buy a subscription that costs not so much.
Moreover, when you have a subscription to this app you can also sing karaoke offline, but for that, you need to save the song in the phone's cache in advance. And make sure you have enough memory space for that.
Another distinctive feature of KaraFun is that its karaoke versions come with guide melodies. You can turn the background voice down if you want to.
Among all the karaoke apps on our list, the menu design of the KaraFun was the one we liked the most. All the songs are grouped in a compact way, and you can see an overview of the top 10 songs, most popular artists, etc, without any extra details. KaraFun isn't overloaded with extra features.
Summary of all the features:
App produces its own karaoke versions of songs
Instrumentals have guide voices
Offline mode is available
Large database of songs
Best interface design
Requires payment for access to all the features
Cross-platform app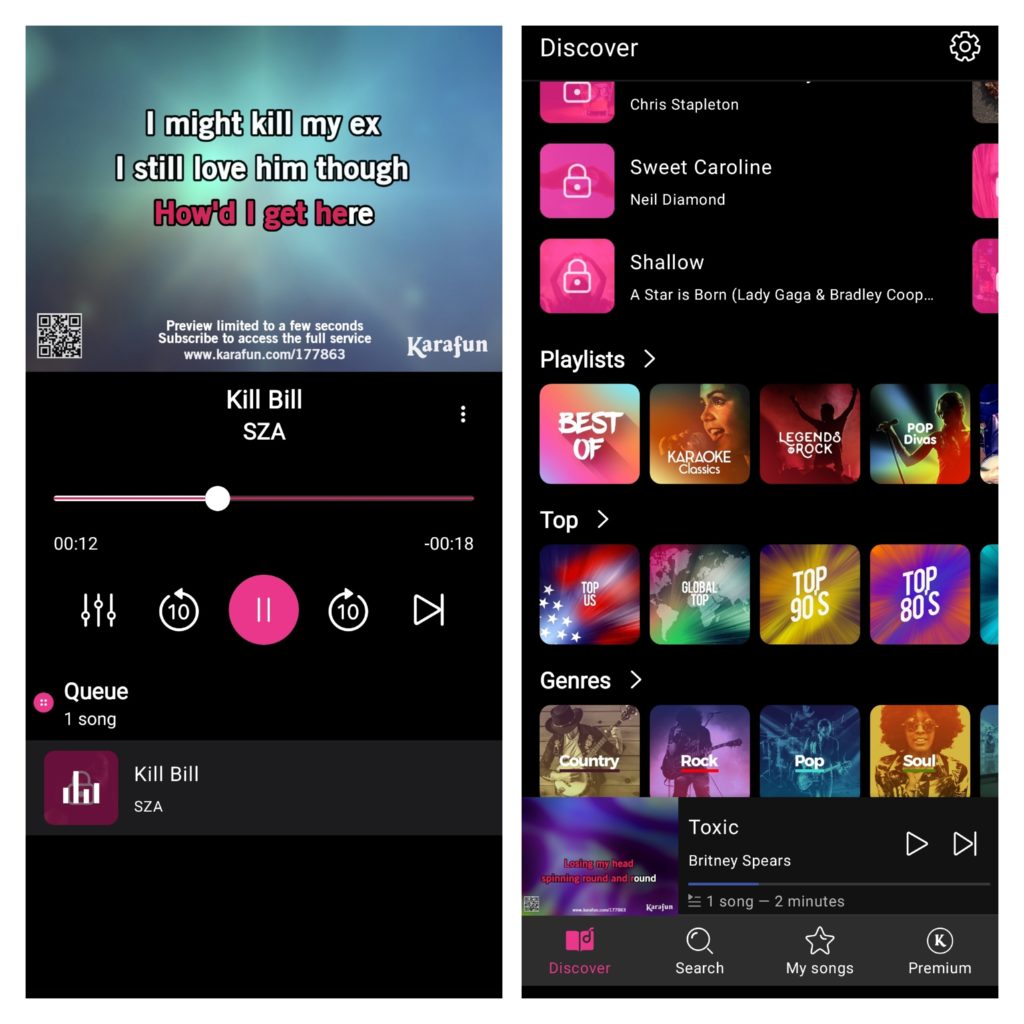 You may also like: 11 Best Sheet Music Writing Apps in 2023 for Android, iOS, PC
YouTube
We know it's quite a straightforward choice, but actually, YouTube is one of the most used services for online and offline karaoke. Where would you look for a karaoke version of your favorite track if not here?
Nowadays the karaoke thing is the whole industry on YouTube and a number of channels try to create their unique karaoke videos. The majority of those vids include lyrics. Moreover, artists' fans often post the instrumental version of their favorite songs on their own, marking the cool lyrics videos for them.
YouTube gives you a chance to find several karaoke versions of one song, compare them all, and only then choose the best one to sing to. In addition, you can add videos to the playlists and favorites so you don't lose them.
Another aspect is that those who have a YouTube Premium subscription can save the videos to the cache and therefore, watch them offline. It means if you have this subscription, you have an opportunity to sing karaoke offline.
Of course, in comparison to specified karaoke apps and services, YouTube doesn't provide the opportunity to record your vocals while singing.
Summary of all the features:
The largest database of karaoke songs
Ability to choose several versions of instrumentals and select the most suitable one
Sing karaoke offline with YouTube Premium subscription
No possibility to record your vocals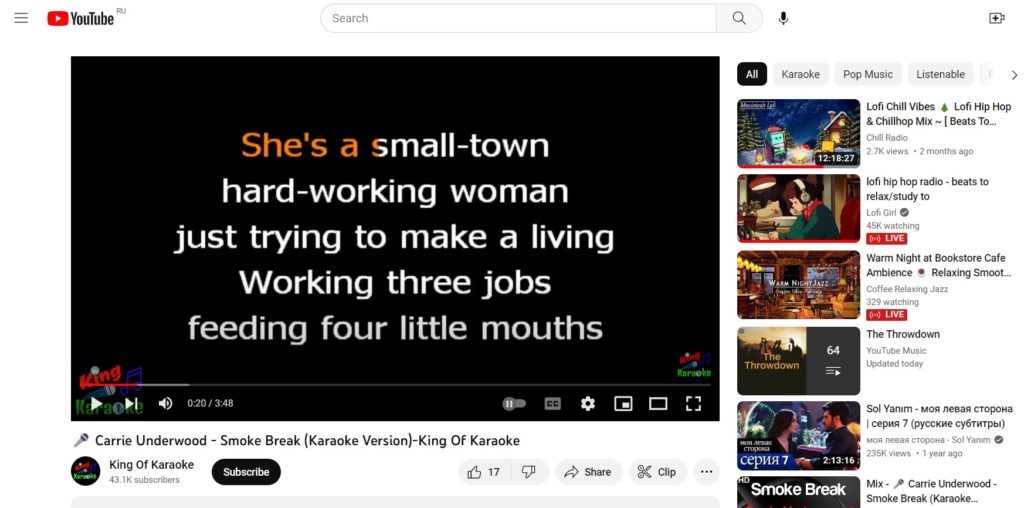 iSing – Sing & Record Karaoke
Frankly speaking, this is quite a mediocre karaoke app. It still has quite a large database of songs and decent instrumentals. The main advantage of it is that here you don't need to go through any extra procedures to just start singing karaoke.
You can just open the app, find the song and then go straight to the singing. The only thing is you will not be allowed to record your voice without the premium subscription. But you will see the text on the screen and there is a guide Melody to help you to sing.
If you want to remove that melody, once again, you'll have to go for the premium subscription. Another not-so-pleasant feature of iSing is that the app contains ads and in order to remove them you have to pay.
In all other aspects, the app is quite basic, there is no offline mode and there is no possibility to edit your voice after the recording.
Summary of all the features:
Simple karaoke app
Instant access to the songs
Large database of instrumentals, good quality
Instrumentals contain guide melody
To get access to all the best features and remove ads you need to buy the premium version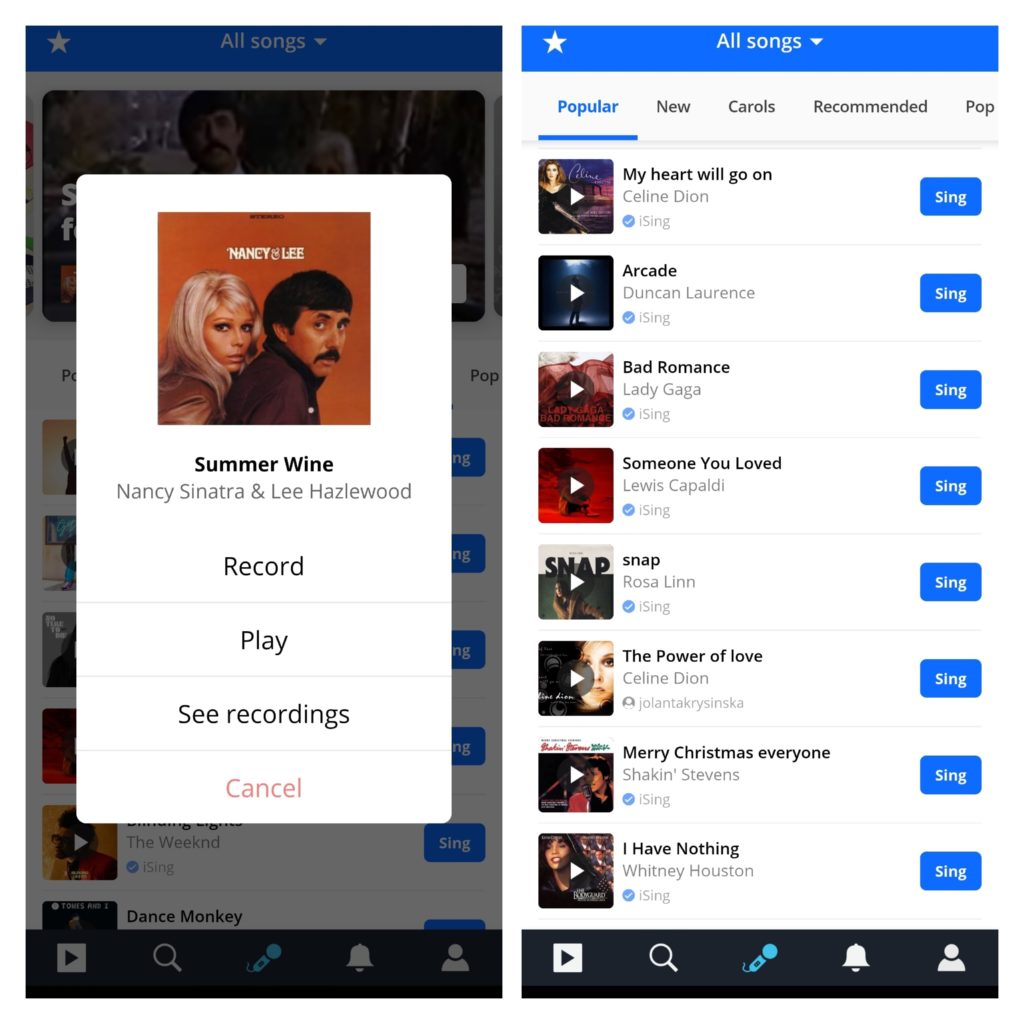 Smule
No secret that Smule is probably the most versatile and most popular karaoke app in the world. It's not just your other karaoke app, it's a whole karaoke community where you can sing with other people and even with celebrities!
You will need to create your account first and then you can go explore what this app has. Depending on your region, Smule will show you the most popular karaoke songs typical for your area. But you're not limited just by your GPS location, you can explore all karaoke in the world.
Smule includes the largest base of karaoke versions of the songs. It often happens, that one song can have several karaoke versions of one song.
When you are singing, you see the lyrics on the screen. Smule's karaoke doesn't have a guiding melody and that's definitely a plus.
In case you have the free version of the app, you can only sing in the duet with someone – but it's a lot of fun because you get to meet people from all around the world who share your passion!
By the way, the Pro version here costs basically nothing and we would definitely recommend paying for it since it will give you access to all of Smule's amazing opportunities.
You will be able to record solo karaoke sessions, also edit your vocals in the special editor after and choose, whether you want to record only your voice, or you also want to make a video.
The quality of recordings is amazing – of course in this case a lot depends on the type of microphone of your device. In case you have better gear, you basically have your own sound recording studio. But even with lower quality, it's possible to be fixed with the effects.
Smule also is something like a social network for singers, where others can see the recordings of your karaoke sessions (if you keep the status of the video open) and give it a like or leave comments.
For the Pro version, there is a possibility to save the karaoke tracks for offline usage. You can save the track to your phone's cache.
Summary of all the features:
Millions of tracks
The biggest community of karaoke enthusiasts
High-quality recordings
Users can sing together with random people
Each song contains lyrics, but no guide melody
Because the app has so many aspects, it can hang from time to time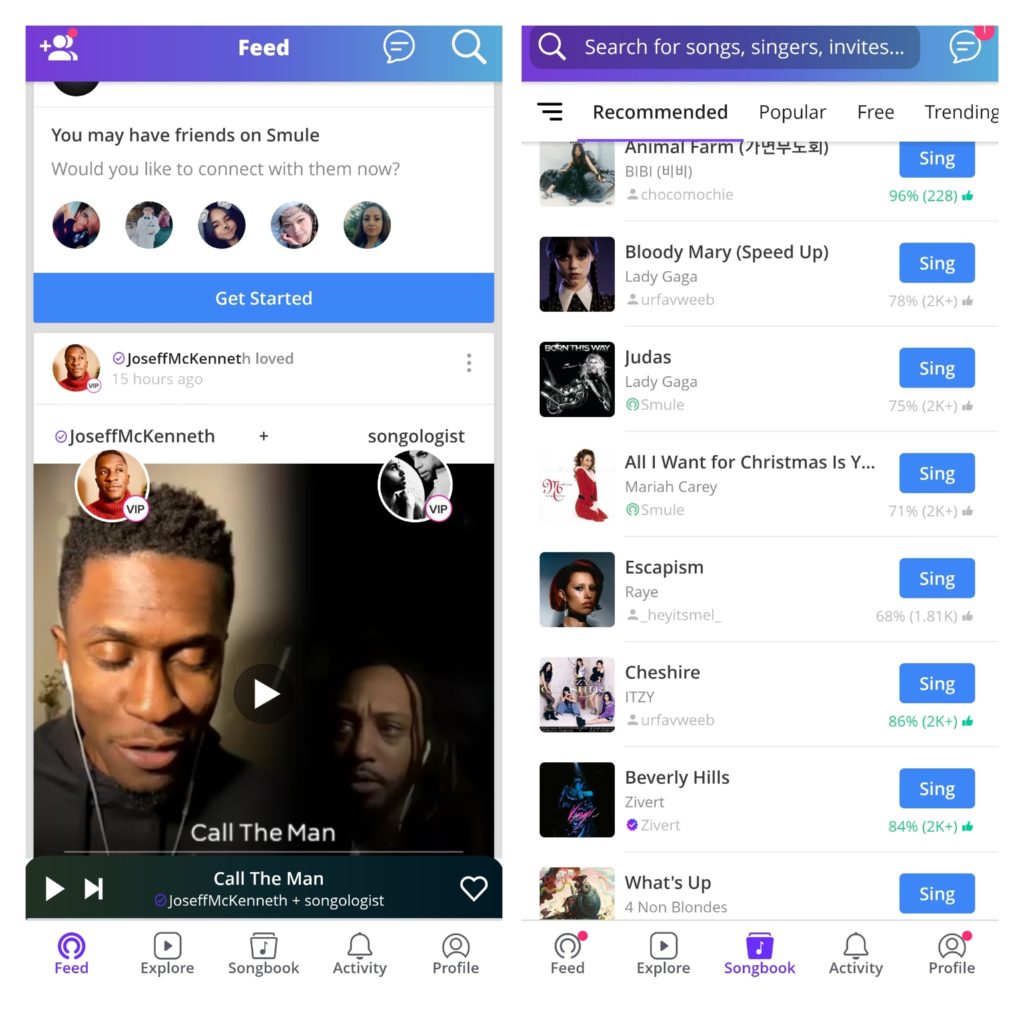 You may also like: 9 Best Multitrack Recording Apps for Android & iOS
StarMaker
StarMaker is basically an analog of Smule, but the main difference is in StarMaker you can find the karaoke rooms for different purposes. There are different challenges every day and people create new rooms for that.
So you see this is a social karaoke app. n all other aspects, it worked exactly like Smule, here you can search for the karaoke versions of songs that you can sing alone, you with someone. It is also possible that more than 3 persons would sing a single song.
By the way, in StarMaker you don't have to create your account to start singing. You can just open the app and start right away or you can use your social media accounts to log in in a second.
The special effects for your voice in the recording are also available here but you will need to buy the premium subscription for that. Here you cannot save the melodies to the phone's cache and play them offline.
The only thing is StarMaker has a tendency to hang and even crash from time to time and this factor annoys many users.
Summary of all the features:
Sing karaoke with friends and family in special karaoke rooms
Daily challenges
Special effects for karaoke
Millions of songs
The majority of bonuses are only available in the VIP version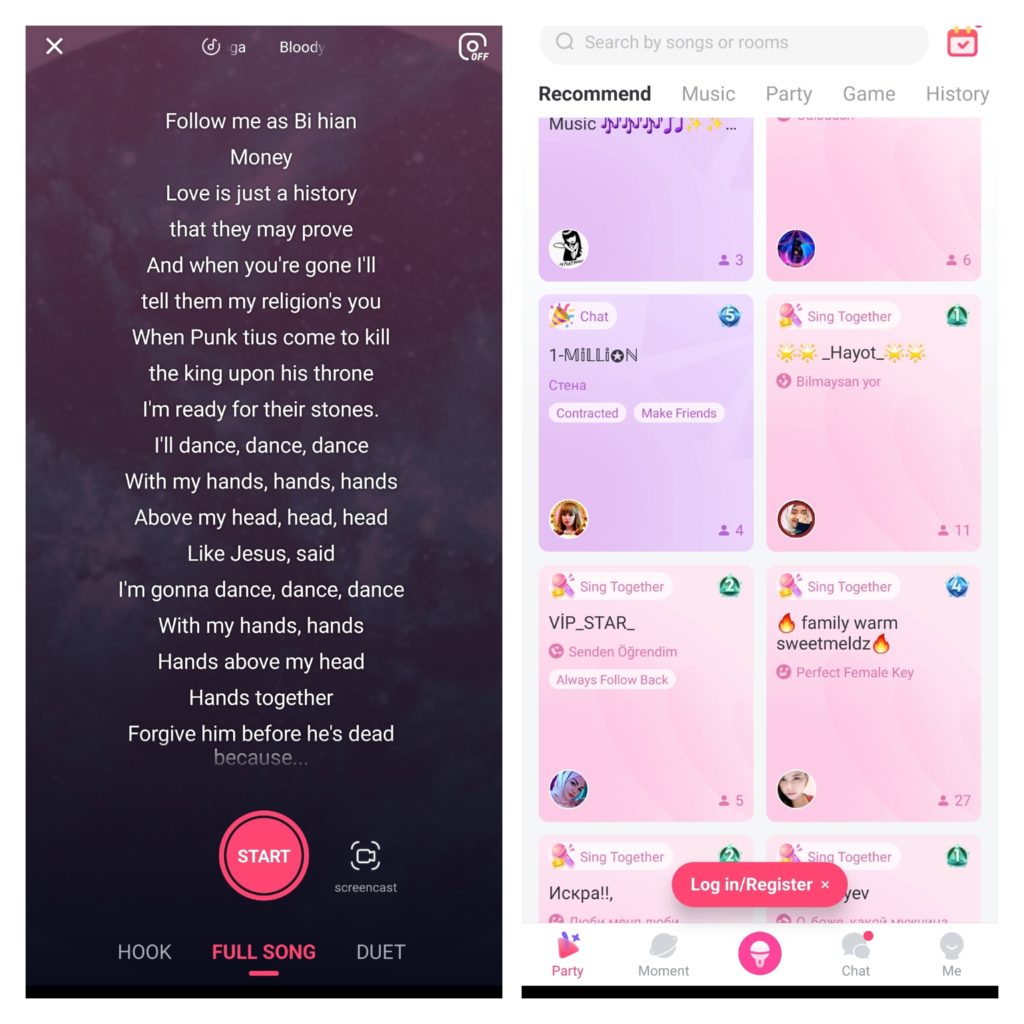 Sing Karaoke, Sing & Record
If you find all those social karaoke apps overwhelming with all their features, you're not alone. For you, there is a great app where all you have to do is to sing songs. You can also make the recording of your voice while singing or even make videos.
However, all the karaoke versions of songs here are basically YouTube videos. The quality is acceptable, but the melodies could be more similar to the original versions.
An interesting fact is that there is an "offline karaoke" mode where you can import instrumentals either from your phone's storage or from cloud storage, for instance, Google Drive and then sing karaoke in the app offline.
We really liked the fact that there is nothing extra in this app – you open it, find the song you would like to sing, and, if necessary, make recordings.
Summary of all the features:
Millions of songs by hundreds of artists
Easy and simple interface and functionality
Offline karaoke mode
Users can record their voice or even make vids
The app is totally free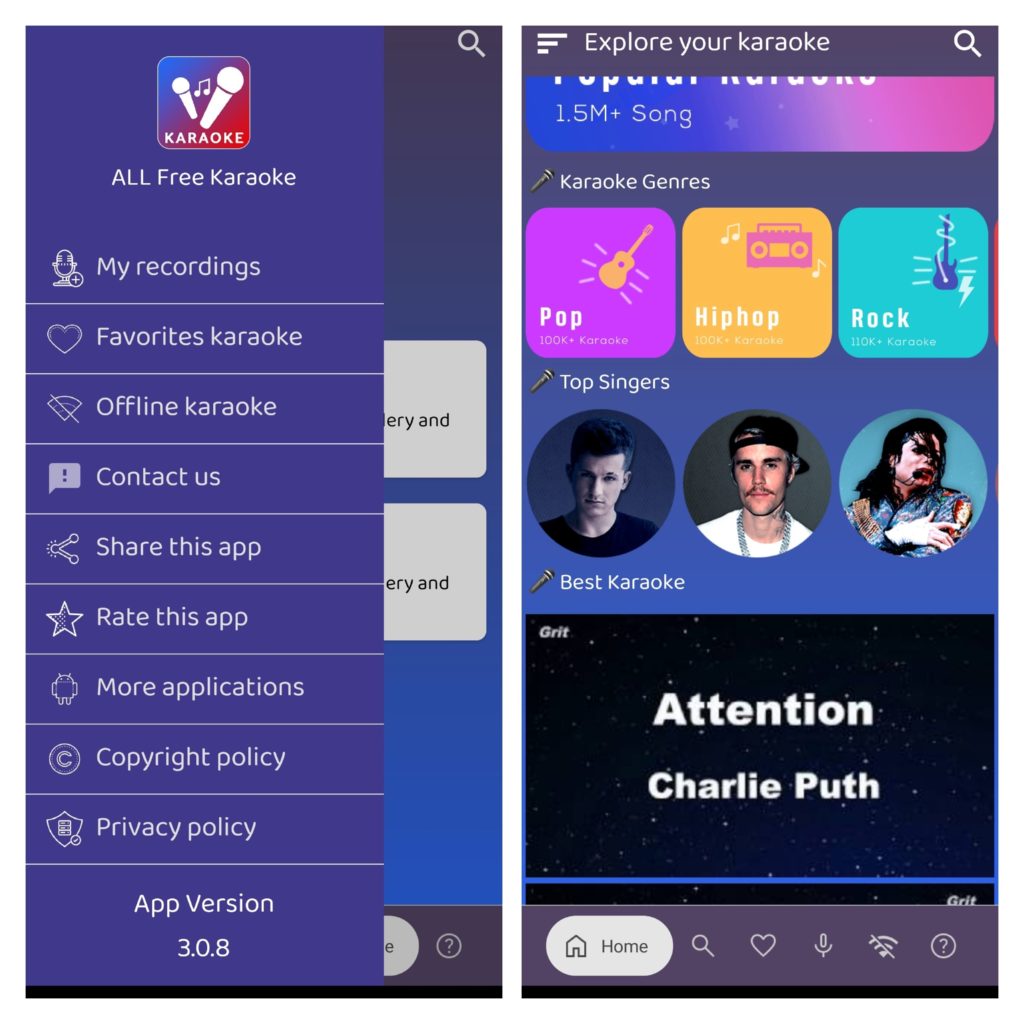 Mixit
This is one of the most unusual and authentic karaoke apps on our list. Starting with the fact that it offers you not just to sing the karaoke versions of your favorite song as usual, but it provides several instrumentals of a song in different styles.
For example, you want to sing Black or White by Michael Jackson. The app includes several instrumentals of this song, in hip hop style, 80 styles, piano style, Indie style, acoustic style, and even more. Before committing to any of these versions, you can listen to it in advance.
And of course, you can also stick with the original version of the song. Then you go to a separate karaoke room where you can start singing. You can either use the camera or just record your voice. It's better to use headphones when you just recording the voice.
The app doesn't require you to create a separate account, however, in the free version only one minute of which song will be available for karaoke. In order to be able to sign the full versions, you have to go for the VIP subscription.
The quality of recordings is nice and the voice editing possibilities are impressive and you can almost achieve studio-like quality.
After that, you can save your recordings to your device. All the songs in the app are divided into categories and that's an additional plus because therefore it's so easy to navigate.
Mixit doesn't have any extra features such as social character and so on. Here you will not find the offline karaoke feature, but it has an artificial intelligence text maker, that can make you any lyrics according to the topic you give to the app.
For example, you can choose the theme of love and in a minute the app will compile a song about love. We thought it would compile the music too, but it turned out that you can just sing this song to any popular instrumentals.
Summary of all the features:
Millions of songs
Each instrumental comes in several styles
Good recording quality
Full versions of songs are only available in the VIP version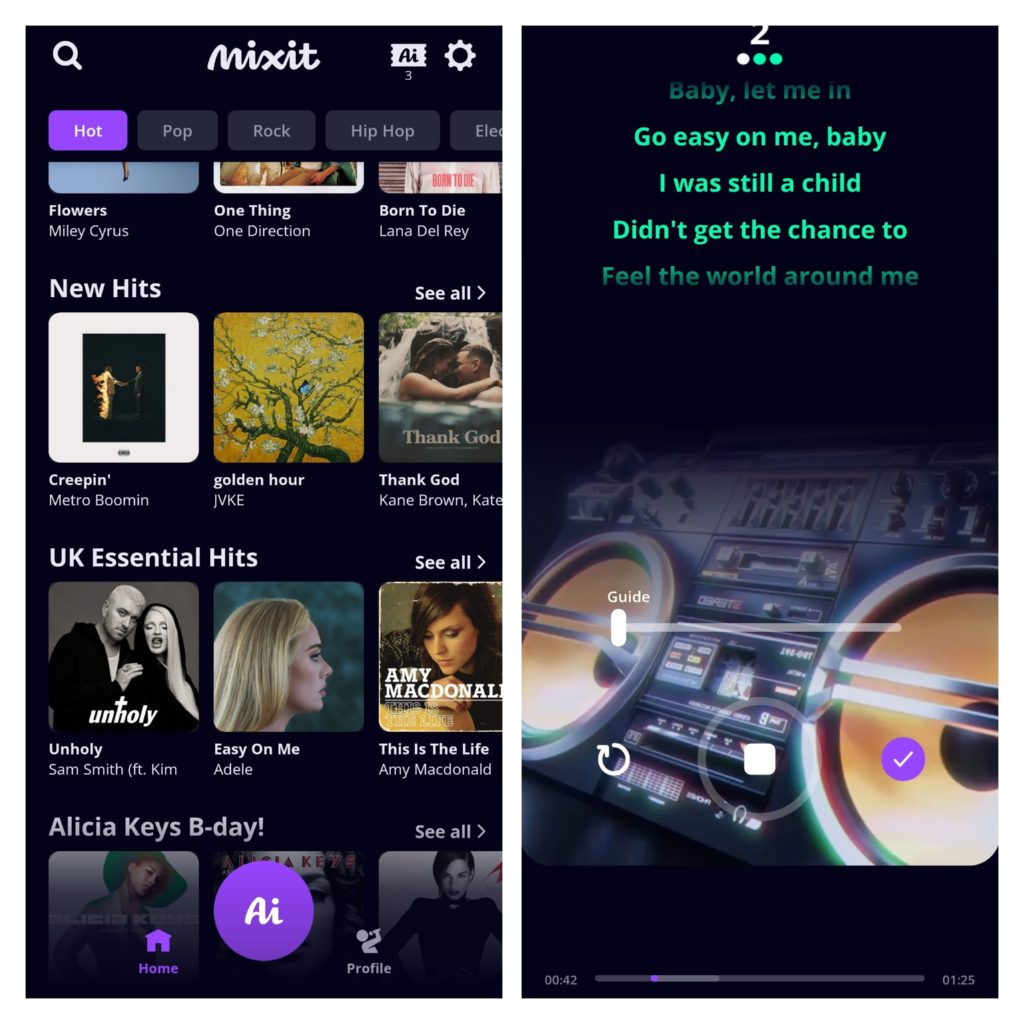 Yokee
This is also quite a popular karaoke app and if you want so you can go for it. But keep in mind that this app doesn't have an offline karaoke feature. The interface design is quite trivial, but everything is clear and it's easy to find what you need to find here.
As you open the main menu, you see the top list of the most popular karaoke songs and you can also browse through the categories. One aspect of your key that we really liked is how many categories it has so it's always convenient to browse for new songs to sing.
And when you find the song that you like, you can just click on it and then start singing. You can record your singing just on the microphone or on camera. Later on, you can share the recording in the app's community so if you want, others can also view your singing video.
And in another section, you may discover the singing videos of others if interested. The free version of Yorkie contains some amount of fats but it's not overwhelming.
And in case you go for the premium subscription you will get some additional bonuses but come on, unfortunately, the offline mode will not appear.
Summary of all the features:
Simple, but pleasant karaoke app
Decent database of songs
Good quality of instrumentals and recordings
Everything is available for free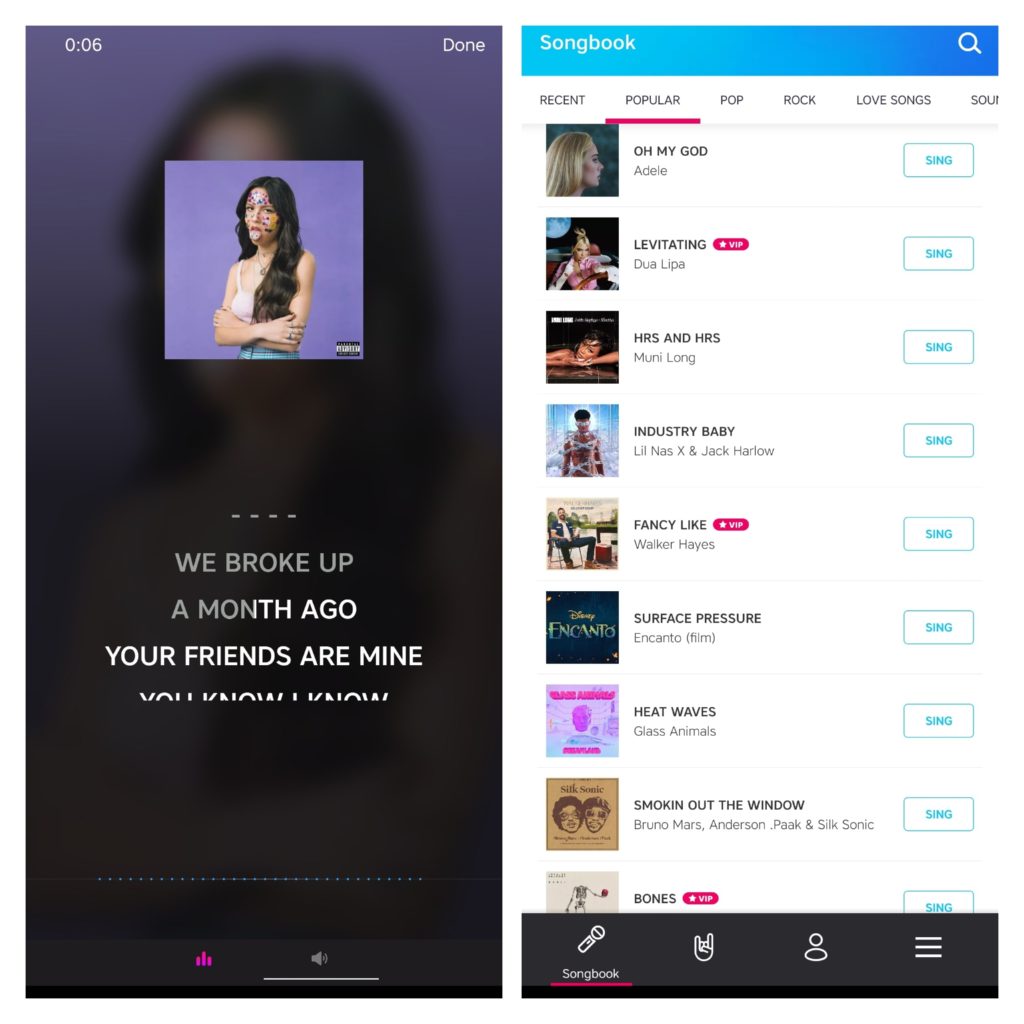 Singing Machine Karaoke
Another karaoke app that is quite an average player. When you just open the app, you get impressed by its decent interface design and that it's actually easy to use in general, but when it comes to actually singing the karaoke, you see it is a bluff.
Well, not to be so harsh on this app, it's still a karaoke app that does its job, but it makes no difference with the same YouTube app because what it does, is it just plays the karaoke videos from YouTube when you just want to sing a song.
Moreover, these karaoke videos are so obsolete and they contain that silly background videos that usually have nothing to do with the theme of the song. And in the free version, you can only sing the karaoke for 30 seconds.
It really didn't make any sense to us because we just can open YouTube and find the full version of this karaoke and then just sing there for free. Maybe the main difference is that here you can add the lead vocals to the instrumentals but this is only the option for the Pro subscription.
The offline karaoke mode is not available here. All In all, these Carol cap has the potential, but the Developers need to reevaluate the pack of features that they deliver at the paid subscription because there's seriously nothing valuable in it.
Summary of all the features:
Instantly open the app and start singing
Good quality of instrumentals
The full versions of songs are only available in the VIP version
You can find the same full versions on YouTube for free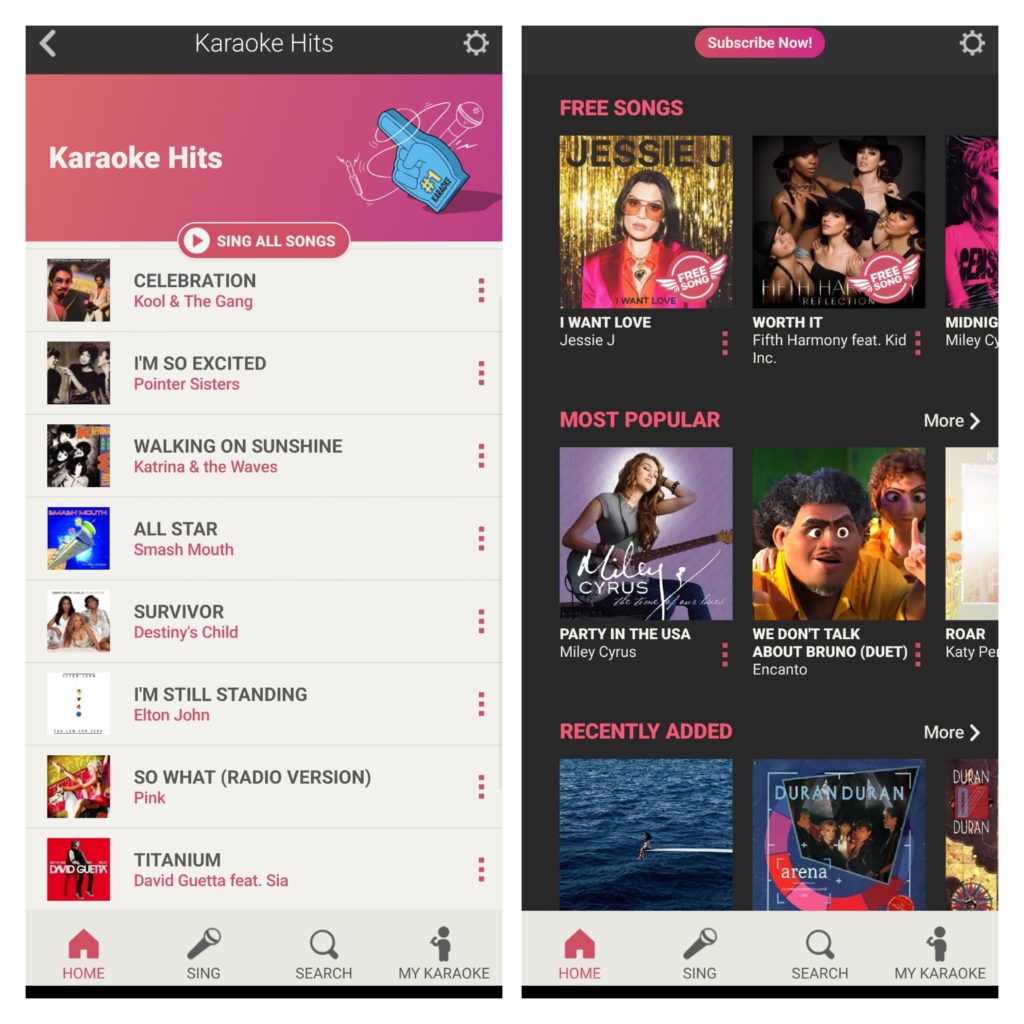 Karaoke Offline Sing & Record
Let's get straight to the point with this app we tested it immediately in offline mode and yes it allows you to sing karaoke when you don't have an internet signal. However, we would say that it's better never to use this app with an internet signal at all.
The number of ads that it has a simpler the biggest among all the other options on this list. Therefore, if you have an internet signal, each time you click the "play the song" button, you will have to first watch an advertisement video of low quality. But in offline mode, the app does what it says.
However, keep in mind that the quality of instrumentals is super basic, these are the typical 16-bit karaoke tracks with a guide melody and they are quite boring to sing. On the other hand, because all the instrumentals here have the midi format, the app doesn't occupy tons of space in your device's memory.
The karaoke mechanism is quite typical and convenient to use. The database of songs is a little bit weird and you will not find the latest releases there, but you can surely find the most popular hits. You can also record your voice during singing.
Summary of all the features:
Offline mode
Instrumentals in a midi style
Tons of ads in online mode
Instrumentals have a guide melody
The database of songs is limited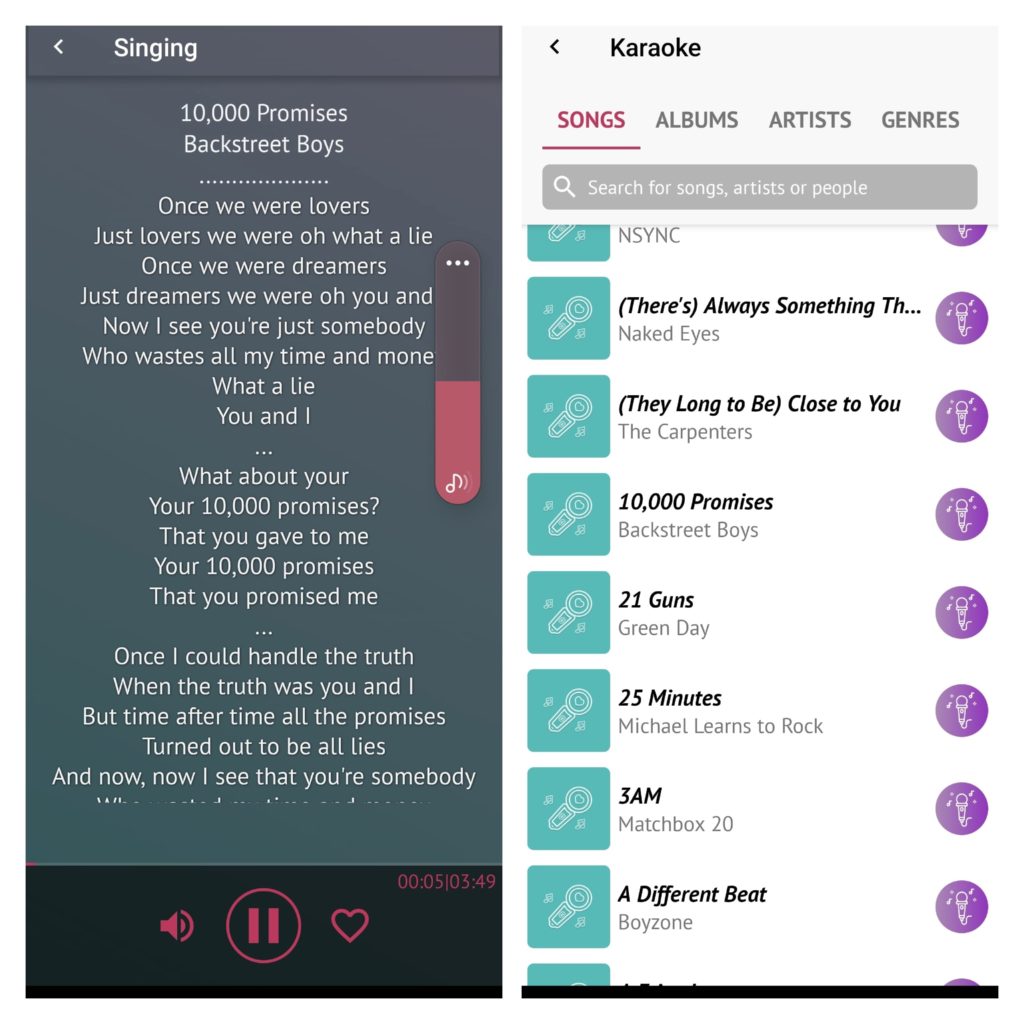 You may also like: 11 Free Apps Like Tempo To Edit Music Videos On Android & iOS
Sing Karaoke Offline
Last but not least up to cause by a surprise. We thought it would be something similar to the previous offline karaoke app but it turned out it works in a completely different way.
So what it does is it scans all the songs on your SD card or memory of the device and it can basically erase the vocals from any of those songs period and, to be honest, the AI here does really well.
Sometimes you cannot really distinguish between the instrumental version and the version that just has the erased vocals. The only thing is that this way you don't have a text for the song. But while you're singing, you can make recordings and you will need headphones for that.
Thus, in case if you have a decent library of mp3 tracks on your SD card, you can definitely download this app and use it as an offline karaoke, because it will just erase the lead vocals from this song and you can sing anything.
Summary of all the features:
Scans the tracks in your phone's library and erases the lead vocals using the AI feature
Users can make recordings with headphones
The quality of the tracks with the erased vocals is more than decent