Our Birthdays are one of the best days of the year (hopefully). Do you know a person who wouldn't try to make this day special?! Especially in teenage years – each detail matters and every moment wants to be perpetuated on camera.
In this list you're going to find the best Birthday frames – in case you want to keep this tradition of making the trivial sweet Birthday pics in frames – our top 11 is definitely where you will find the best of them. Make collages, put a picture of yourself into a beautiful and elegant frame – make a photo remind of your birthday forever.
You may also like: 8 Best Apps to Animate Still Photos on Android & iOS
Please note: this list is going to include more Android apps since the market is bigger there.
1. Happy Birthday Frame
One of the most popular apps in this category on Google Play. It is a little bit old school, but if you were looking for those a little bit silly traditional Birthday frames – this app is definitely a "must".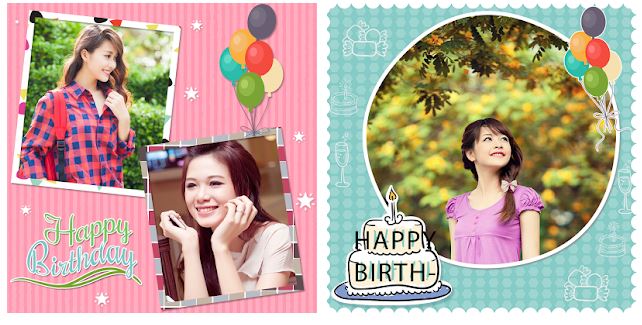 It includes a number of frames where you can place one, two, or three pictures at the same time. Another thing we need to mention is the color palette and the overall style will be more suitable for the female audience. All in all, the app is extremely lightweight and simple – but it's the classic one, so that's why we placed it first on our list.

You may also like: 9 Best Apps to Remove Glare from Photos on Android & iOS
2. Birthday Photo Frame
Basically an analog of the previous app, but for iOS. However, here the iOS users will discover a little bit greater diversity of frames and colors. Here you can customize each frame you choose – choose a color, add stickers, and text.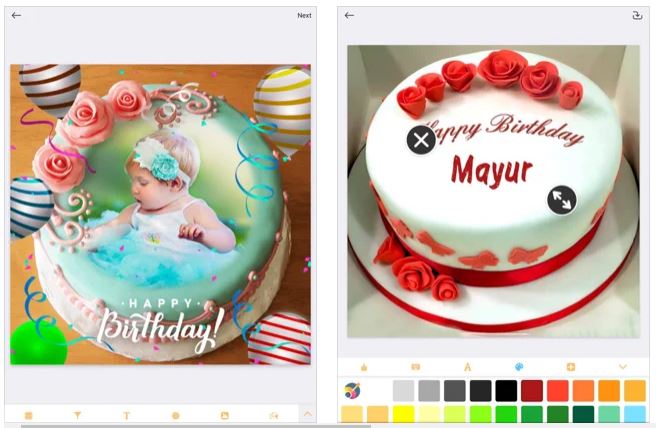 In total, you will find around 150 birthday frames in the app – more than enough taking into consideration the fact of customized frames. You can also create a photo on the Birthday cake or create a Wish image – in other words, here you can create all types of images for the Birthday.
Plus, the app is remarkable by the only positive feedback from users on App Store. For the classic Birthday frames – it is a perfect choice for iOS.

3. PicsArt Photo Editor
You must have heard of this extremely popular photo editor. It is a multi-functional editing tool where you can also find lots of frames, including the Birthday theme.
PicsArt is good for as a general editor, not just a frame app.
Before placing your picture in the frame, you can adjust the light and colors of it, adjust your shapes, maybe edit the background and add funny stickers. Then, you can layer beautiful filters to your pics that PicsArt is so known for.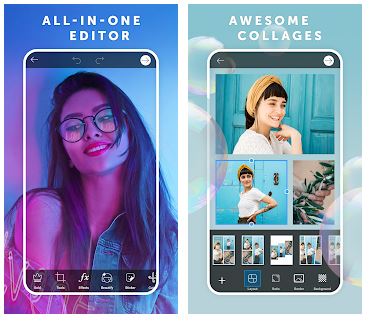 After your perfect Birthday picture is made you can just go to the frames section, find the ones that belong to the Birthday category, and apply them. The diversity won't be that great as in the previous specific apps, but on the other hand, you will get an ultimate photo editor and a frame app – all in one.
You can also customize the frames and make them bright-colored, so they would fit the birthday theme.
Moreover, there is a possibility to add lots of effects to the picture, such as glitter, light, etc.
The only drawback of PicsArt is on Android phones it tends to diminish the quality of the picture as long as you edit it. In order to get access to all the features, you will have to buy a premium version.


4. Happy birthday photos frame‪s
When you want to find a Birthday frame app for Android that really works, this one is a nice choice. It suits the iPad best and there you will find hundreds of funny frames. This is not a photo editing app, just an app for frames, as you wanted.
But don't worry the app is adapted for iPhone as well.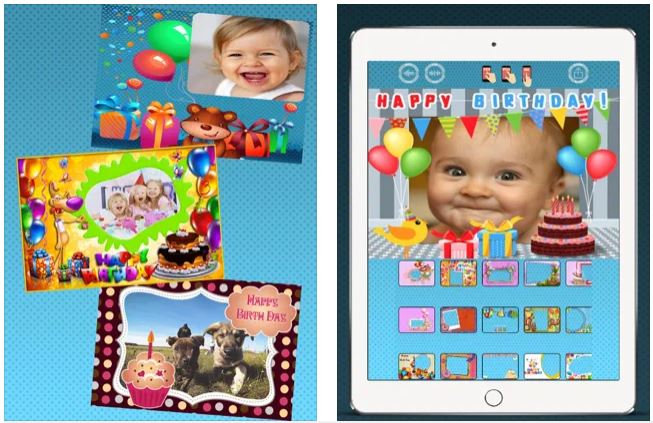 What you need to do here is to upload one Birthday photo that you want to put into a frame and then start trying various frames out, until you find the one that fits perfectly!
Collages are not possible here. You can only upload one photo at once.
After you're done with editing a picture you can share it on your social media immediately.
All the users are genuenly happy with Happy birthday photos frames so it's definitely reccomended!

5. Birthday Frames
If you've been looking for an analog of a frame app but for Windows, we found it for you! By downloading this app from the official Microsoft store you will also be able to edit your birthday pics by adding funny frames.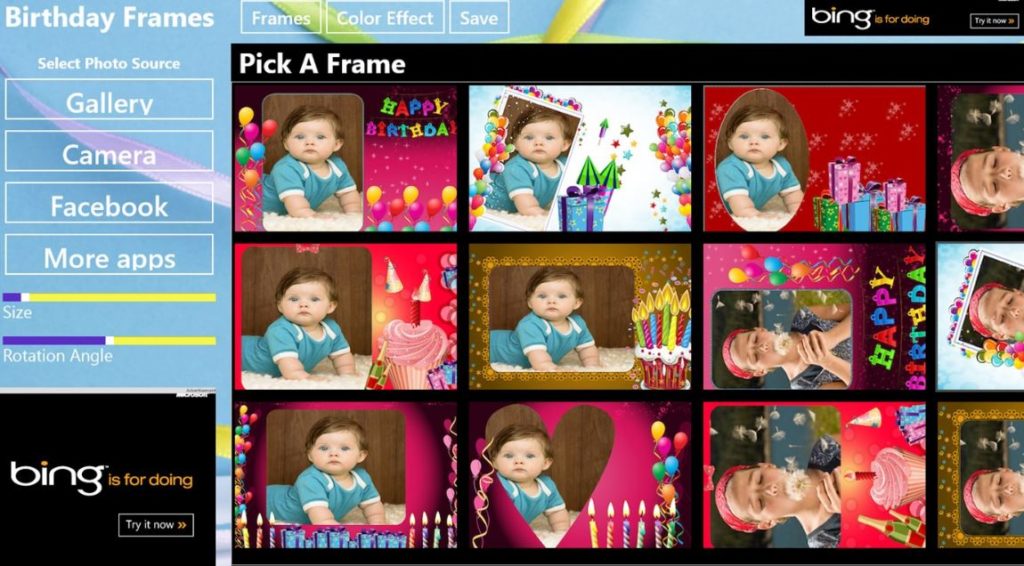 All the frames and aditing features that you'll discover here will be quite standard, and Birthday Frames is for those who are looking for the old school classic frames to add to their photos. The minimal set of editing features is still available: you can add the sepia effect, make a pic black-and-white, add green, red, or blue filters.

6. Birthday Frames
If you want to place a picture into a Birthday frame and you need to do it quickly then you should pay attention to this app. It is another classic Birthday frame app for Android that doesn't involve any extra features except placing your photo into a frame.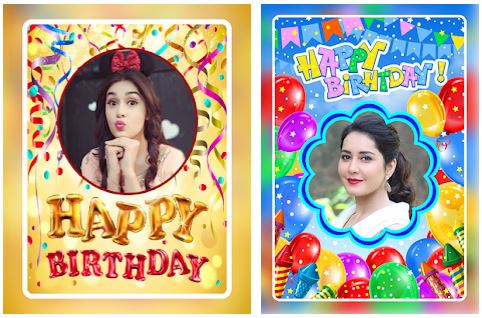 You can upload a picture from your phone's gallery or just take a pic in a moment. Apart from the frames, you can also add stickers to the pictures.
We wish we could say more about this app but it is really that simple. One more thing: in the comments, you can see the users complaining about they cannot zoom their pics in the app. Keep that in mind before using it.

You may also like: 11 Best Gender Swap Apps for Android & iOS
7. inPixio
In most cases, you can find the specific Birthday frame apps only for mobile devices – and in the case of apps for PC, they're just adapted in APK format. However, if you want to make a high-quality picture from your Birthday you can use this excellent software for editing.
As you can see, inPixio is a complete photo editor that allows you to apply correction to your pictures in a professional way. You can adjust the light angle, remove objects from the background, add filters, adjust brightness, change shapes, and many more.

The remarkable feature of inPixio is that its interface is designed especially for non-professionals – so the regular users who aren't familiar with photoshop could edit their pictures easily. You will find that using this app is easy and doesn't require much effort to understand.
Considering the birthday frames – you can add geometric shapes to the picture with bright patterns that would remind you of a birthday theme. We chose inPixio for the purposes specified, because it is so easy to use.

8. Birthday Frame Photo Edito‪r
Going back to basics, we have another classic frame editor. This is a nice app in this category for iOS where you can also discover lots of cute birthday frames.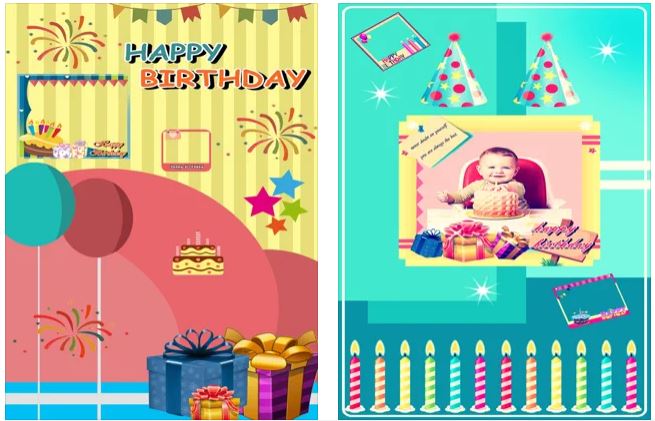 Compared to the previous apps, this one doesn't include that many frames (only 27) so that's the reason it's not on the top of this list. However, this flaw can be compensated by the fact that all the frames are more or less customizable.
You can add your stickers to the frame/canvas and adjust colors. Moreover, here it is possible to make collages. After you're done, you can share a pic via messengers or social media immediately.

9. Happy Birthday Picture Frames
Could be another typical birthday frame app on this list, however, you will see that the style of the frames that you will find here is more "grounded". Here you won't find any crazy patterns and eye-popping frames – but still, it is easy to see that they are the Happy Birthday ones.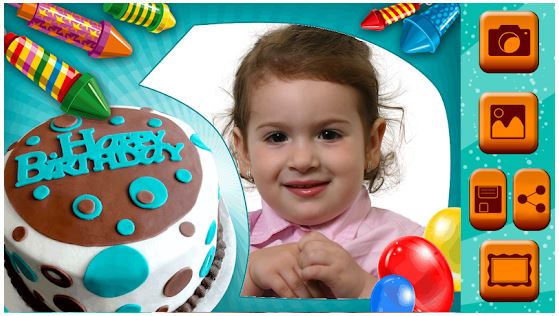 What is more, the frames that you will find in this app are remarkable for their high quality – a fact that you don't always find in this category. In general, the frames will be more suitable for kids' birthday pictures, since there is a lot of school and sports themes.

10. Photo Frame Editor Collage
There are not so many photo frames app for PC, so for getting yourself a birthday frame you will have to use some sideways. This app is a nice editor that allows placing your pics on frames. The best part is the frames are customizable.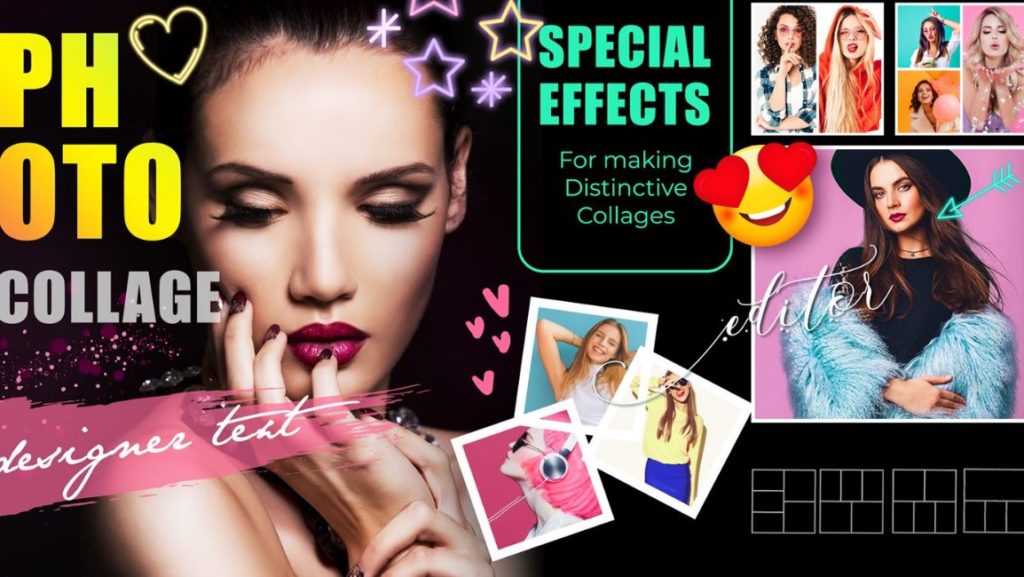 Therefore, you can choose the pattern that reminds you of the Birthday theme and place your pictures there. Moreover, you can use stickers and text to enhance the effect. It is possible here to make collages, unlike in other cases.
The elements of the general photo editor can be found as well – add filters to your pics for a better impression.

You may also like: Top 10 Face Swap Apps & Websites in 2021
11. Appygraph – Birthday cards + stickers for iMessag‪e
Last but not least on our list we have an app that can add extremely cute frames to your pictures! Here you will find more than 100 designs of frames, especially for Birthday themes. Appyhraph is good both for making pictures in frames and making Birthday wish cards.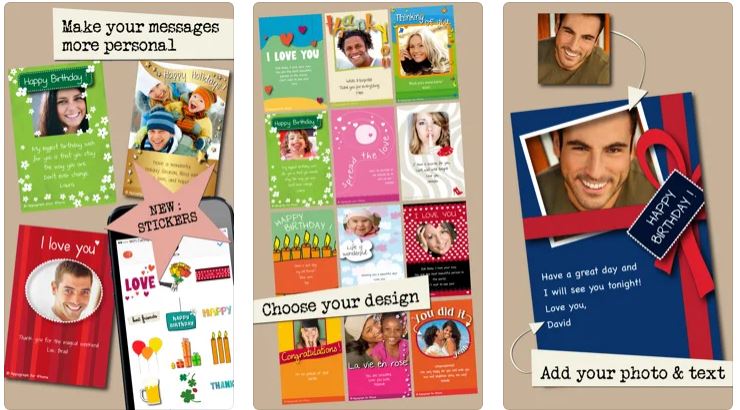 All the designs that you will find here are remarkable for the high quality. You can go for the minimalistic design or choose a more eye-popping card to place a picture of someone who has a Birthday in there.
What is more, you can add birthday stickers to photos and text – more than 40 types of fonts are available. The only aspect that you need to be aware of is all the features will only be available in the PRO version.
The app is available for iPhone users only.