Though the subject of hidden recording apps has been disputable over the last several years (because of privacy and personal data issues), the number of secret recording apps tells us that people are still deeply interested in them.
Remember that famous scandal with the secret recording of Donald Trump's conversation? No one would ever hear that if a person wouldn't use a hidden recorder. And though that file didn't stop him from winning the election, it caused serious damage to his image and became one of the most revealing recordings ever.
You may also like: 6 Best What's Your Name on a Contact List Apps (Android & iOS)
And though they're not even legal in some countries, there is always a way to make a secret recording even with a regular app for voice notes. However, this list wouldn't be interesting if we wouldn't pick up the best-hidden voice recording apps that will help you to make secret recordings everywhere and anytime you want.
Please note: the majority of apps that you will find on this list are going to be regular recording apps that can be put in the background. You almost never meet "hidden voice recording" apps on the market because they're considered to be illegal.
1. Voice Recorder – Recording Ap‪p‬
This is a multi-functional voice recording app for iOS. This is truly the leader of our list because here you can do any type of recordings with no effort – and though this app officially isn't a secret recorder you can turn it into one because it allows being put in the background while working.
Moreover, the recording here is getting activated by the sound of the voice – so you don't even need to click anywhere and worry about controlling the process. All the recordings will be saved in special cloud storage, so they won't occupy your phone's memory space.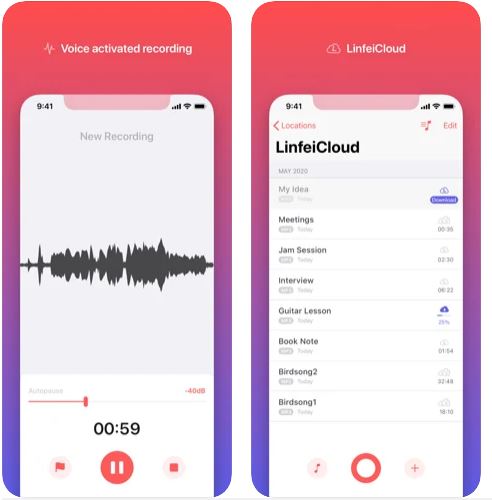 What is even better, this app is able to convert any voice recordings into text – right in the app. The interface is designed perfectly so any type of user will be able to handle the app and understand its key functions.
In addition to that, you can even record someone's talk with the music playing from your device in the background. The app will separate external noises and put the main voice first so it can be identified on the record.
The app also allows you to edit recordings and highlight all the essential moments on the record. What you need to do for that is to pause the record and then put marks on the moments that you want to highlight or edit. After that, you can choose what you want to do using the options in the upper corner of the screen.
You can save recordings in various formats which will be available right after you press the "stop" button. You will be choosing between MP3, M4A, AIFC, WAV. This voice recorder also supports the shortcuts to Siri.
All these features are accompanied by the ability to share records via messengers and social networks, marking them as favorites, renaming, speed changing, filtering and searching, and even more. We highly recommend this app for all the recordings you're going to make including the hidden ones.
Overview of features:
Automatic recording
Recording in the background
Recording with the music playing in the background
Editing
Converting voice notes into the text
Cloud storage

You may also like: 11 Best Apps Like CallMultiplier for Android & iOS
2. Smart Recorder
This is another excellent voice recording, but this time it's for Android users. It has several differences, but they are not critical – and totally adapted for the Android system.
One feature that makes it an advantage in front of the previous app is its ability to record even phone calls. Officially, it is not allowed, and the app is supposed to stop at the moment of a call automatically, but this feature can be turned off in the settings.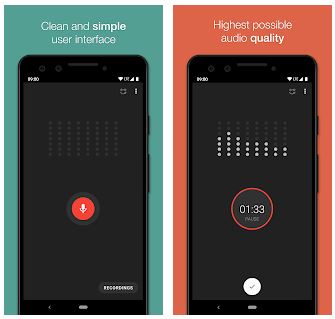 The interface design is quite simple. On the main page, you can see the record button right away and then start recording. All the recordings will be saved in the internal memory of your device or on the SD card.
You can easily put this voice recorder running in the background and no one will know. And just like in the previous Voice Recorder this app can do an automatic recording, detecting when someone speaks and then starting the process.
Recording time is unlimited as long as you have enough memory space on your device. And you also have the possibility to edit your recordings, as you have all the standard features like sharing recordings via social networks, renaming files, and so on.
Overview of features:
Phone calls recordings
Automatic voice recording
Editing
Recording in the background

3. Smart Recorder and transcribe‪r‬
Another recording app for iOS that can run in the background so they will never know that you're actually recording.
The interface is a little bit more complex here, but just because the second main feature of this recorder is the voice-to-text transcriber. Thus, you can create a secret voice recording and then turn it into a text immediately.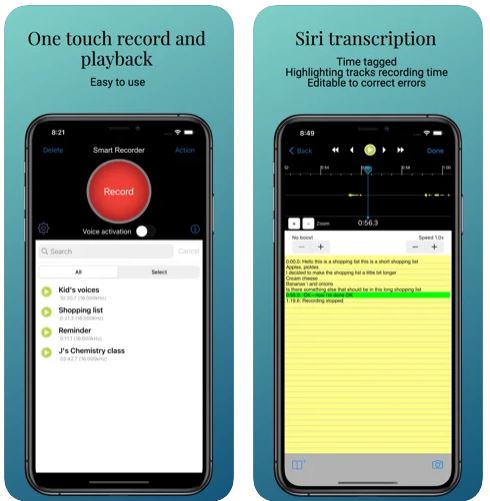 When you first access the app you just click on the big red button and you start recording. All the recordings will be saved to your device's internal memory, however, it is also possible to synchronize Smart Recorder with the cloud storage.
What is more, when the process is over you can always choose in which format you prefer to save the record: CAF, WAV, AIF, or MP4. One nice feature that we noticed and which makes this app stand out from the crowd is the step-by-step guide with an overview of all the features that you can find here.
And just like two previous apps, this one can also work in the automatic mode, simply starting recording when someone starts talking. Thus, it won't record any pauses in the conversation and will prevent the waste of your phone's memory space.
When the recording is done you can also highlight all the important moments on it. All in all, the feature range of Smart Recorder is quite broad and includes the possibility to categorize the recordings, edit recordings, export of recordings, geo-tagging of recordings, and many more.
Overview of features:
Recording in the background
Voice to text transcribing
Various formats of recordings
Synchronization with the cloud storages
Automatic voice recognition

4. Secret Voice Recorder Pro
Now here we have a truly SECRET recording app. It's not just another recorder that you can secretely put running in the background.
First of all, this app looks in a way you would never guess it's a recording app. You are free to choose the look of recordings saved – you can make them look like songs or as text messages. The recordings can be saved in multiple formats.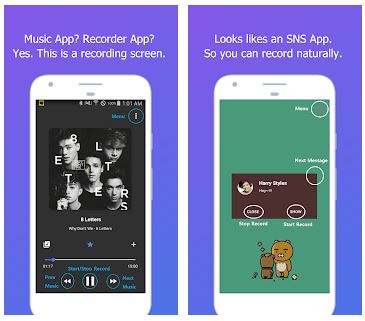 One more extremely interesting feature of Secret Voice recorder pro – is that you can actually schedule the recordings – it is possible in the Pro version. It means that you can just leave your device at the spot where you know the essential conversation will take place and it will start recording when needed.
You can literally make this app look in the way you want – lots of themes and interface designs are available in the menu and get updated on the regular basis. The app can still record even when you exit it.
Moreover, here you don't have to worry if your important secret recording is going to be interrupted by a phone call – the app has the ability to block them. And you are enabled to set the passwords on the app so no 3rd parties could even access it.
And in case you're going to record for so long that your device can run out of battery charge – the app has a mode where it will automatically shut down the app to prevent the phone from dying.
Please note that such recording scheme can be illegal in a number of countries.
Overview of features:
Secret icon
The app can look like a music player, messenger, etc.
Records even if you exit the app
Records in various formats
Scheduled recordings
Possibility to set up a password

5. Awesome Voice Recorde‪r
Let's get back to basics and explore one more classic voice recording app that you can put running in the background and forget about it.
Using it is simple. You just open the app, see the recording button and then record everything you need. Later, you will find the track saved in the app – they will be stored in the memory of your device.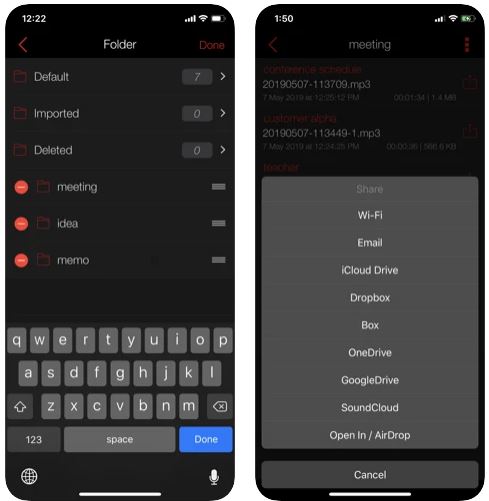 It is remarkable that the app provides extended possibilities for editing the records. In the editing mode, they're displayed on a large scale thus it's so easy to highlight the part you need and do the editing.
Classically, you can save recordings in various formats, such as MP3, WAV, and M4A. It is important to mention that Awesome Voice Recorder provides a decent quality of recordings and their weight can also vary depending on the quality you choose (you can do that in the settings).
Unfortunately, you can't record phone calls with this app.
One more positive feature that will help to make your secret recordings more qualitative is automatic noise reduction. If you want you can synchronize the app with the cloud storage and save everything there.
Overview of features:
Recording in the background
Several recording frequencies
Editing of records
Cloud storages synchronization


6. Automatic Call Recorder
Moving on, expect that we have more and more apps for Android in this category because the iOS system usually has more privacy protection issues and so on.
In case you want to record specifically someone's call on an Android device, you will need this app. When you first install it, you then need to open the app and switch the recorder on. It's important to say that the app works better for outgoing calls since you have time to start the recording before you make a call.
When you have an incoming call, it might be tricky. Many users complain that the app doesn't always record the sounds in this case.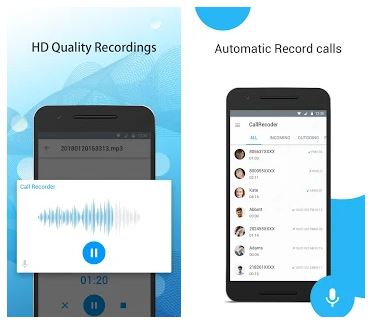 The time of recordings is only limited by your device's memory space. What is more, here you can also save files in several formats: AMR, 3GP, MPEG4. The quality of the recordings really depends on the type of your device – if the in-built mic is originally powerful then the sound will be clear.
One little bonus that this app provides is the caller ID. It will show you who is calling and will identify the spam calls. One more feature that distinguishes this app from all the previous ones is that here you can actually choose the source of recording: microphone, camera, or voice call.
You can't really edit your recordings here, only standard functions are available: renaming, adding to favorites, deleting, and so on. The app is totally free.
Please note that your device can have some apps preventing Automatic Call Recorder from working.
Overview of features:
Call recordings (incoming and outcoming)
Caller ID
Ability to choose the sound source
Saving recordings in various formats

You may also like: 11 Best Microphone Apps for Android & iOS
7. Automatic call recorder ‪●
Basically an analog of the previous app, but for iOS. It is interesting that even though it is more tricky to secretly record calls on this OS, the users are more satisfied with the app than in Android's case.
You need to install the app and then switch it on and adjust the settings so the recording could be done automatically. An interesting feature here is that you can edit the voice on the recordings later. Plus, you can share them on Slack.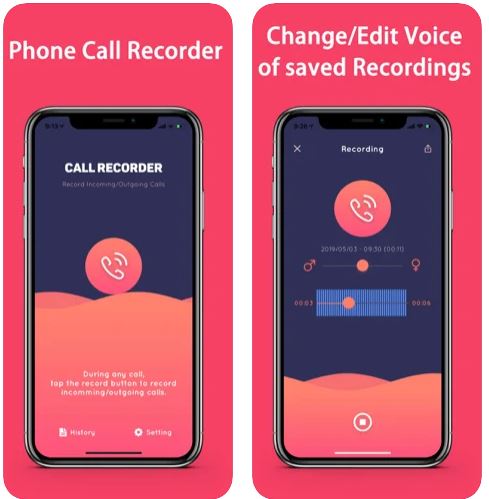 Initially, all of them are going to be saved in the memory of your device, but you can synchronize the app with the cloud services, such as iCloud or Google Drive, and upload files there later.
Plus, this Automatic call recorder has the function of transcribing speech into the text and this feature is supported in more than 50 languages! Not to mention some basic functions as renaming and sharing files.
The interface design is quite pretty for the app of this level and it's another advantage of this call recorder. The app comes with a 3-day free trial period and then a one-week subscription costs $6.99.
Overview of features:
Incoming and outcoming calls recording
Transcribing speech into the text
Can work with no Internet
Synchronizes with the cloud services

8. Voice Recorder & Audio Edito‪r‬
Another classic recording app that will be suitable both for iOS and Android. It's been on the market for a while, so it has a little bit of obsolete user interface design, but still, it can serve as a well-hidden voice recorder.
You can just press the record button and then put the app running in the background. You will also need to block your screen so no one would see an icon of the app (if you want the recording to be truly secret).
The time of each recording is unlimited, as long as you have enough memory space on your device. And like in the previous apps, this one can be synchronized with cloud storage as well.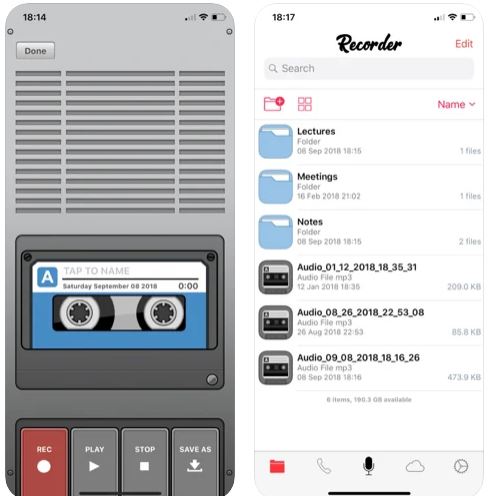 However, the advantage of Voice Recorder & Audio Editor‬ is it has the speech to the text transcriber. In case you're looking for a hidden voice recorder with more simple functions and such transcriber this one is a decent choice.
And as you can see from the name of this app, this app also includes the extended range of features of the editor. You'll be able to trim and loop your recordings, change their speed, and so on. Moreover, one more interesting feature is that here you can add text notes to different recordings.
The app is convenient in usage because it gives you a chance to start recording right from your home screen. Thus, if you're in a situation when you need to start your secret recording quickly, you can just pull out the phone from your pocket, make one click and you're good to go!
Plus, Voice Recorder & Audio Editor‬ is also a call recorder – which is quite rare for the apps which are available both for iOS and Android. The app can record both outgoing and incoming calls. Along with that, some basic features are available such as sharing via social media, renaming, etc.
Overview of featuers:
Recording in the background
Extended audio editing
Speech to text transcribing
Cloud storages synchronization
Quick access
Call recordings


9. Easy Voice Recorder
The easy voice recorder is one of the most popular apps on Google Play – in case you want to use it for hidden voice recordings nothing will stop you from that. It's quite a standard recording app with a standard range of features, that can be put running in the background.
When you first access the app you can see the big red button in the middle of the screen, click on it and start recording immediately. When you're done, the recording will be saved in the internal memory of your device.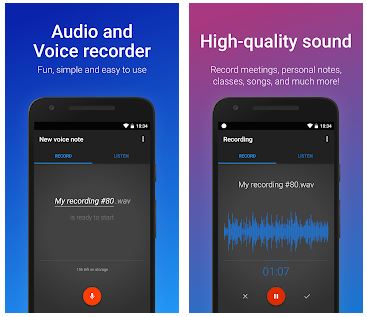 The remarkable feature of Easy Voice Recorder is it does make the top quality recordings in Mp3 and AAC formats. If you upgrade the app to the Pro version you will get access to even more various formats.
What is more, you can adjust the recording settings, and the app will automatically delete all the gaps on the record, will increase the volume, and so on.
You can synchronize Easy Voice Recorder with DropBox or Google Drive and save your recordings there automatically.
What is more, you can make recordings here using the Bluetooth microphone. In addition to that, you will find the set of the standard features, such as sharing files via messengers and social media, import/export, and so on.
Overview of features:
Records in the background
Mp3 and AACC formats
Cloud storages synchronization
Skips the gaps automatically
Good recording quality

10. Rev Voice Recorder & Memo‪s
This is a standard voice recorder for iOS and you can make it secret if only you will hide your phone in your pocket while talking to the other person. And even though the hidden recording functions of this app are quite weak, the quality of recordings will be more than decent, and overall, the app is incredibly convenient in usage.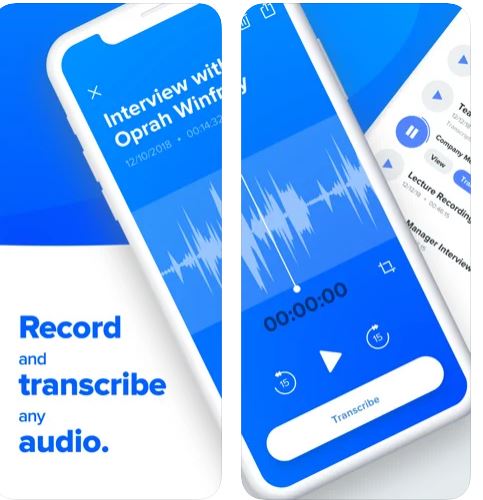 You just open the app, press the record button and then block the screen. Rev Voice Recorder & Memos also includes the feature of transcribing the speech into the text. However, one remarkable feature of the Rev app is that here your speech is going to be turned into text by a team of special people – not just by a machine.
And yes we know that it could be quite an exotic choice of the hidden voice recording app, but maybe you hope to get that one crucial recording that you will need to turn into the text later?
The app can be synchronized with cloud storage. Plus, you can share recordings via messengers and social media. Obviously, an app like this won't be totally free. You will have to buy a subscription.
Overview of features:
Recording in the background
Speech to text transcription
High quality of recordings and text transcription
Cloud storages synchronization

You may also like: 11 Best Apps to Extract Audio from Video (PC, Android, iOS)
11. iRecorder
Judging by the name of this app you might think this app was actually meant for iOS but it's an Android app only. It allows you to make recordings quickly without quality loss.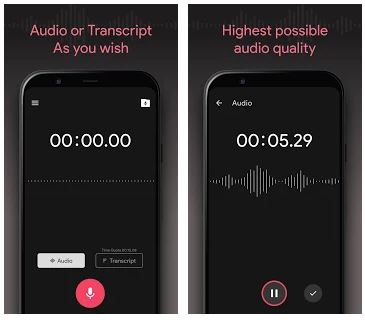 And though this app might look simple at the first sight, in fact, it involves lots of features. The app can be put running in the background and work even with the lock screen. When there the conversation pauses, the app stops recording as well, therefore, there are no empty gaps on the record at the end.
iRecorder works with two formats: Mp3 and WAV. Here you will also find the feature of the text transcribing. Plus, in the app, you will find a number of editing features that will allow you to speed up/slow down the recording, trim it, etc.
You can also hear all the recordings via messengers. All the files will be saved in the internal memory of your device and unfortunately, the app can't be synchronized with the cloud services. In general, iRecorder is quite a simple hidden voice recording tool that you can use if you're not looking for something complicated.
Overview of features:
Works with the locked screen
Speech to text transcribing
Editing of recordings