Sharing your funny photos is a new trend on social media, and now it's time for you to do it too.
A special service changes your face with the face of another person in the photo, and it leads to a funny result, but only if you do it right.
You may also like: 11 Best Gender Swap Apps for Android & iOS
In this review, we have collected face swap apps & websites so that you can try this feature out for yourself.
PhotoFunia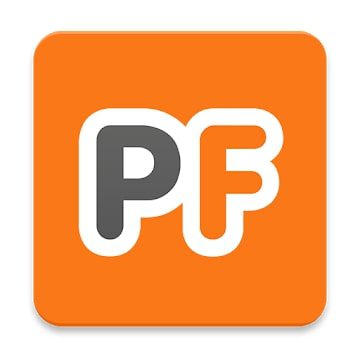 PhotoFunia is a rather interesting application that allows you to apply various filters, effects, and frames to your photos, create funny collages, calendars, and photo tricks.
The developers have provided the ability to search through a database of effects, shared access to ready-made images.
PhotoFunia is a photo processing utility that will make you smile. With PhotoFunia you'll appear in an instant on a large billboard, a small postage stamp, or in a modern art museum in the image of Andy Warhol's works.
The interface of the main menu of the program is represented to the users by the screen panel on which the folders with the structured distribution of effects for photos are located. All of the controls in the program are performed using the fingers of your hand.
To impose a particular effect on a photo, you need to select the appropriate folder, the effect. After that, select a photo from the gallery of the smartphone or camera and press OK.
When you click on a special soft key on your smartphone, a functional menu of the program appears, containing only one item needed to optimize the work with the program.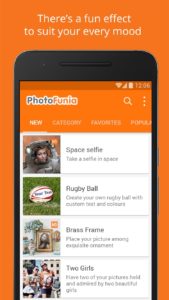 Overall, this application is very easy and pleasant to use, and the face exchange function is amazing in its clarity.
You may also like: Top 10 Gender Swap Software for PC
Reflect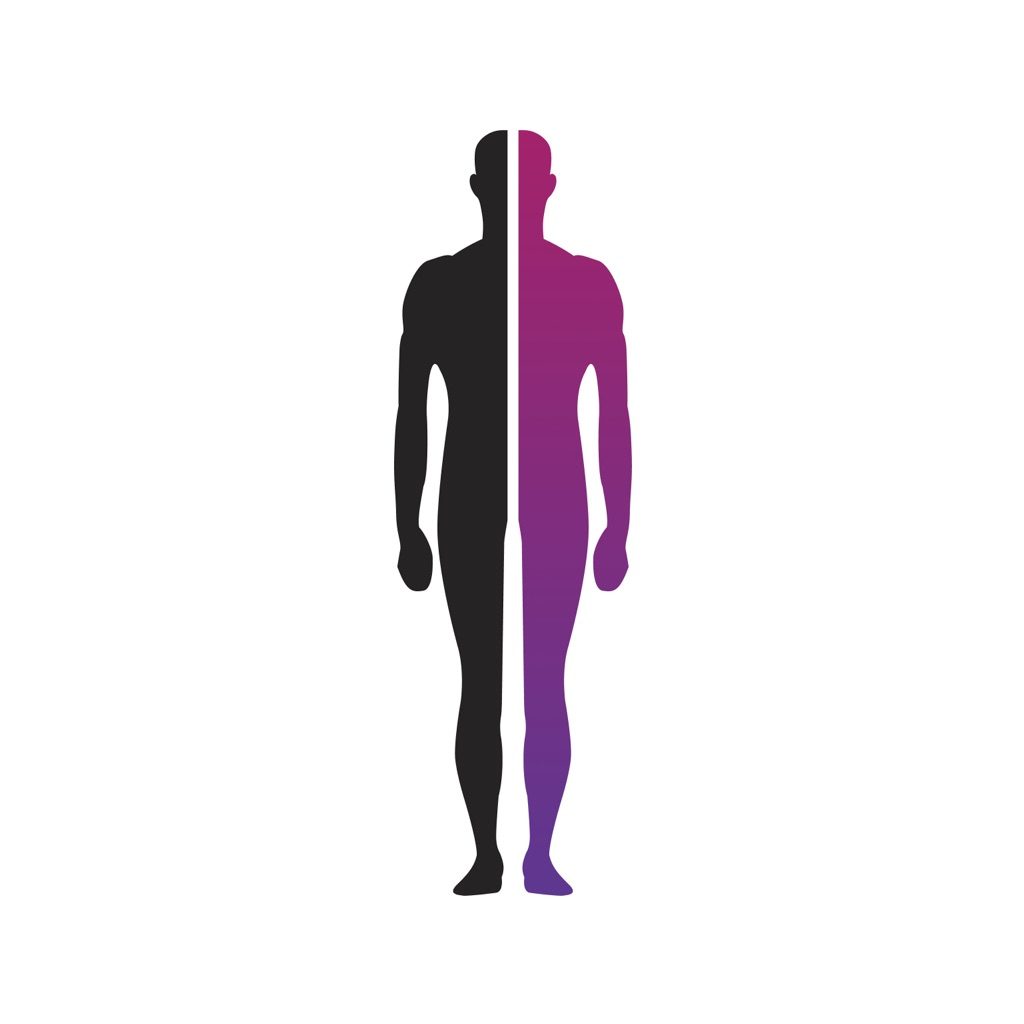 This is a very cool and easy-to-use application that allows you to replace the face in any image.
You can take your own face and "attach it" to some recognizable media image, or you can take the face of a famous person.
A gallery is available for experimentation, where selections are already available, but you can also use your own photos.
The result is very naturalistic. However, it is important to choose the right angle, so that the actor continues to look like himself and not distorted.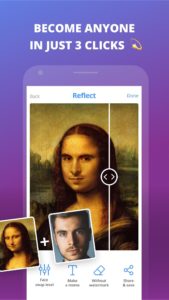 You can download the app and use the basic feature for free. But you'll have to pay for the advanced functionality.
Snapchat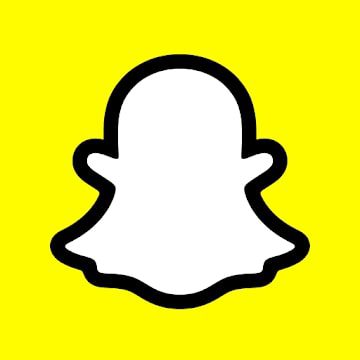 Snapchat is a program that is actively gaining popularity around the world.
The basics here are that you send messages to your friends, which, after viewing them, self-destruct. Messages on Snapchat are video, photo, and text. The emphasis, of course, is on video.
Photos and videos can be edited in all kinds of ways, and they can only be vertical. The sent content does not clog the memory of the phone, is not stored without your knowledge, and does not remain in the recipient's phone.
Communication on Snapchat can be one-on-one or broadcast to all subscribers. There are no likes, no number of followers, no comments. It's a messenger first and foremost.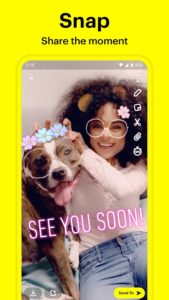 This is a great app that has face sharing in its arsenal, but its popularity is largely due to its extensive functionality. Try all the features and enjoy using them.
Face Swap Booth
Face Swap Booth is a smartphone face swap app that allows you to swap faces with celebrities using either your own pictures or those from the app's pre-loaded library.
This app is a great option for someone looking for more advanced face-swapping effects.
Face Swap Booth gives you more control over the end results. There are many options to tweak and change images, as well as many celebrity photos and faces you can use.
The best part is that you can swap different characteristics instead of entire faces. For example, you can swap someone's noses or ears and leave the rest of their faces untouched.
You don't even need to use two separate pictures.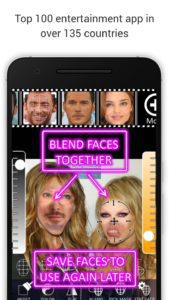 Face Swap Booth allows you to swap the features of the faces of two people from the same image. That can be very useful if using a group picture to create a fun collage for your family or friends.
ChangesFaces.com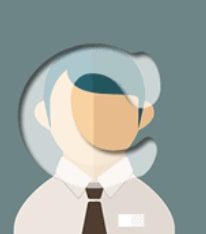 ChangesFaces.com is another service for online face swap. The site lets you use the background and faces to make interesting images.
Firstly, you can pick the scenes for an amazing background. There are hundreds of scenes to use. Also, you can select faces from the list.
If you wish to add your images then you can import them from your computer.
Then, you can adjust the face with the background. You can flip the face vertically, horizontally, zoom in and out of the image. To make the image interactive, you can add text and bubbles. Then, save the image in PNG, JPG, and PDF. Also, you can send images by email.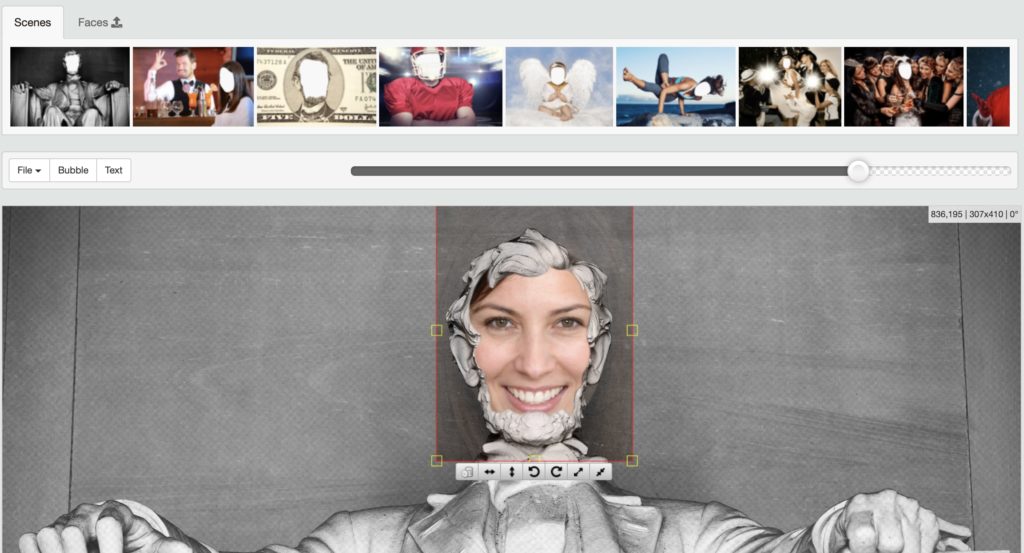 To make the image interactive, you can add text and bubbles. Then, save the image in PNG, JPG, and PDF. Also, you can send images by email.
You may also like: 11 Best Mouth Talking Apps for PC, Android, iOS
Face Swap Online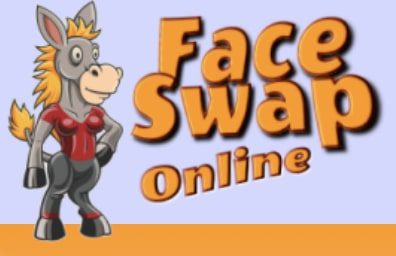 Face Swap Online is a light version of Deepfake (replacing faces on video with neural networks).
It is not as cool and deep a face swap but uses far fewer resources to achieve the final result.
To use the full functionality of the site, you just need to take a photo. The only point is that you have to use selfies.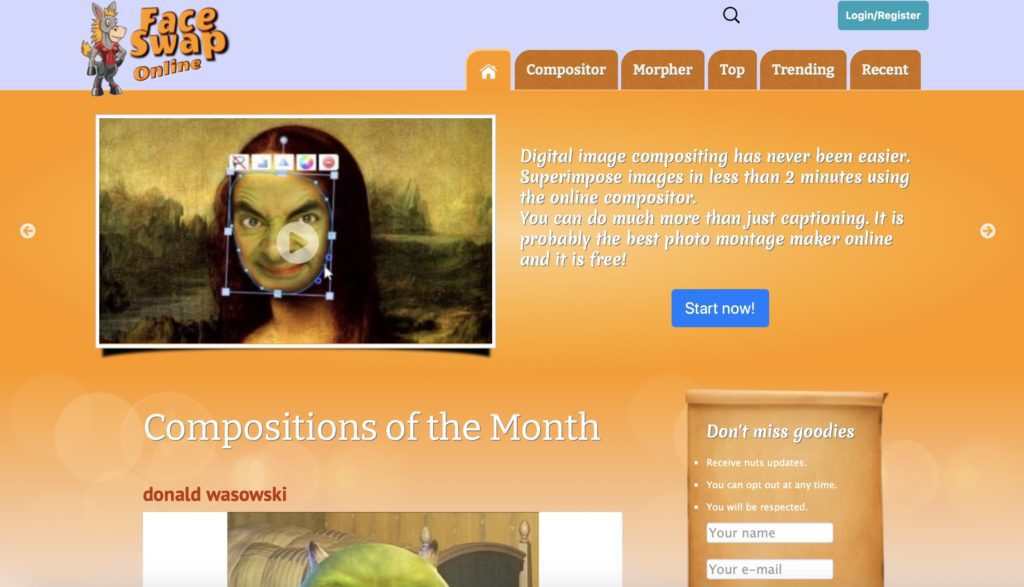 Photos of your friends will not work here. Next, you need to choose one of the popular GIF animations for the substitution.
SWPR: Live Face Swap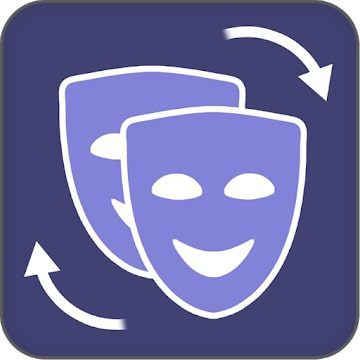 When you run this application, you need to take a selfie, which you will later use when replacing it. Don't worry, instead of a photo, you can choose an image from the gallery.
Then, on the home screen, we can select the GIFs in which we want to replace the face. There are lots of them, broken down by category and by popularity.
If that's not enough, by going to the second tab, you can find the GIF animation you want by keywords, which is certainly handy. But in order to upload your own gif, you'll need a PRO account, which is available by subscription.
In the next tab, you'll find your "faces" that you can use in the future. In addition, favorite GIF-animations can be added to favorites, so that later, if necessary, they are not long to find.
Now, let's move on to changing the face. We choose your favorite GIF-cou and choose a face. The masterpiece can be shared with your friends on social networks or saved to your device. At the time of saving you will have a choice – save as a video or save as a GIF, which is very convenient.
The application is absolutely free. Of course, there is a PRO version that will remove the watermark from your videos, remove ads and add some other benefits.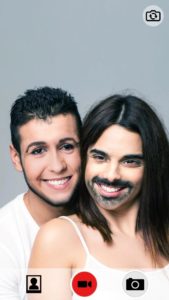 Perhaps the most annoying thing here is advertising during video creation. This can be solved either by buying the PRO version.
Reface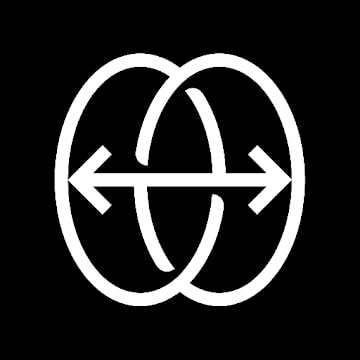 The REFACE app is gaining popularity online – it changes the face in famous videos to yours.
The app replaces faces in videos using artificial intelligence and machine learning algorithms, the developers say.
Download and open the app, take selfies, and then just choose the videos you want to be in.
You can save the video to your smartphone or immediately share it on social networks.
The app is free – the first time you run it, you need to close the window offering a subscription. From there you can use it for free with occasional splashes of advertising. There is a pro-version where you can save gifs.
Cupace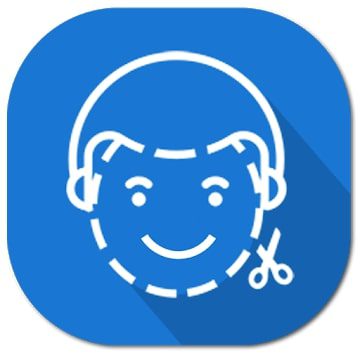 Cupace is a good app for cutting and pasting faces into photos. It will allow you to create a face-sharing effect.
Cupace is good for creating memes to laugh together with friends or for your own home use.
There are three buttons in the app. "Cut Face" is the feature that allows you to cut a face from the photo you want. Just click on this tab, then select the photo with the face you want to cut, circle the face, and cut.
"Face Gallery" is the tab where all the faces you've cropped are stored.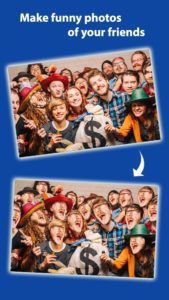 "Paste Faces" is where you choose the photo you want to put the face in, then the photo itself appears, and at the bottom is a list of faces you've cut out. The application is good, but there are ads.
You may also like: Top 9 Apps to Play Youtube on the Background on Android
B612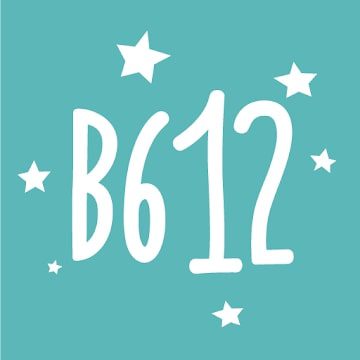 The B612 utility was created by the developers of the popular messenger Line specifically for taking selfies.
The monotasking nature of the program is its main convenience. It is specifically tailored to work with self-portraits, and with saving time. For example, you can "try on" filters while taking pictures.
Thus, it is already clear in advance how the picture will look like, and whether it will suit you in this form.
The app also has another attractive feature – the ability to create photo collages of the desired shape and form the desired number of frames. All you have to do is select the framework of your future work and take photos for it. The B612 shows you exactly where your picture should go.
There are also dozens of color filters in the application, from slightly increasing the saturation of the picture to turning it into a loom. In addition, you can use the functions of this app to add a vignette.
There's even an automatic mode that selects the best settings for your picture. The program remembers which filters you use most often and then offers them at the beginning, so you don't have to leaf through the whole list.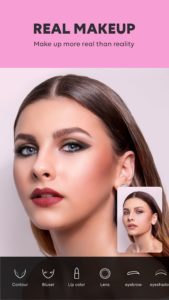 B612 is even suitable for video recording – the app can shoot 3 or 6-second clips to upload to Vine or Instagram.