If you are a fan of simple and practical monitoring of servers and network resources, we offer you the easy-to-use Advanced Host Monitor program. Ideal solution for monitoring the health of servers and various network resources. You can get started without registration. It is enough to install the program on the developer's website.
Check also the best software for store management for Windows 10.
After you install Advanced Host Monitor, you will see a small list of configured resources for monitoring on the screen. All this should removed and you should start creating it yourself.

The main page of the application has 3 control panels. The main top panel contains various functions of the section, such as "File" "Monitoring" "Search" "Tools" "Help".
HostMonitor offers over 140 test methods – it can check Windows and UNIX systems, Cisco and Juniper routers, NetApp NAS devices, Hewlett-Packard servers, UPS devices, VMWare host, and guest systems, and much more.
It can ping a host, check a route, monitor Web, Mail, or DNS server, check the domain and certificate expiration date, monitor temperature, voltage, and fan status on various devices.
HostMonitor can check the available disk space, amount of free memory, CPU usage, monitor size of a file or folder, check the integrity of your files and website; HostMonitor can find Windows process that uses most of the system resources, test your SQL servers, and more.
On the left side of the program, you can see the folders and the specified path. In the center of the screen is the main working environment where the monitoring results and other important actions displayed.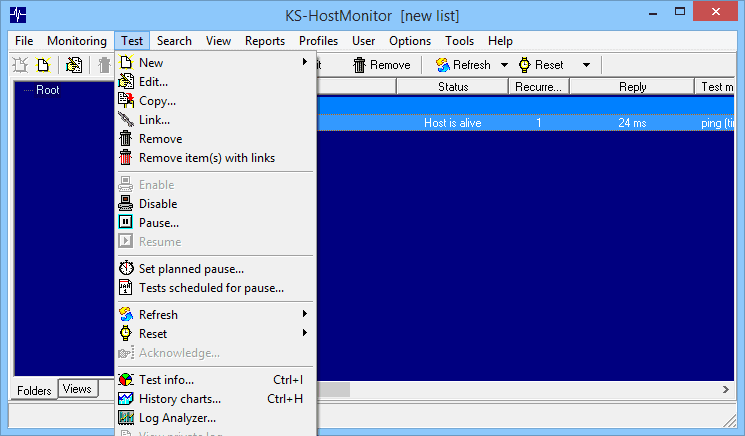 There are Network Discovery and built-in Replicator; 36 alert methods; Web service and Remote Control Console.
HostMonitor can check remote hosts directly or using Remote Monitoring Agents (RMA) installed in another network. There are RMA agents for Windows, Linux, FreeBSD, AIX, Solaris and macOS.
If you have questions or problems, the program has its own support where you can easily contact. It is enough to describe the problem and the specialists will offer you a solution in a few minutes
You can choose any colors for the interface according to your preferences. The interface is pretty simple and easy to use. Classic style without unnecessary distractions.
Also package includes Disk Meter, Process Meter, WMI Explorer, MIB Browser, IPMI Browser, Log Analyzer, IP-Tools.
The "Alert Profile" button required when adding a new task to which you need to specify the resource address, and if this path is unavailable, the action will perform. The "Add" "Edit" buttons allow you to edit the parameter information.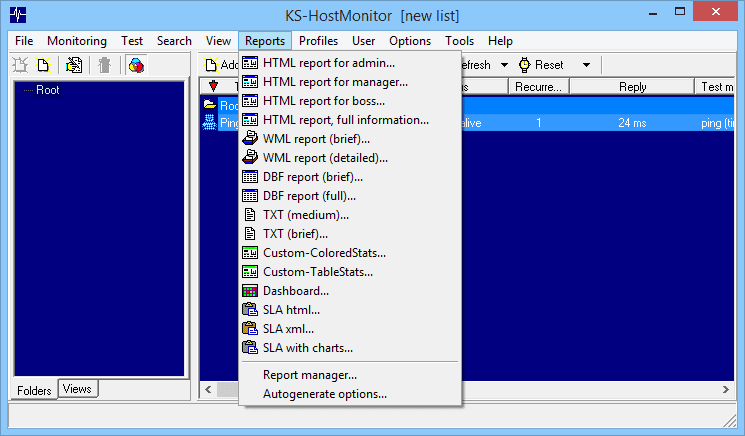 You can understand the application without special knowledge and skills. Easy integration into the work environment will allow you to understand the principle of monitoring.
And if you want, you can also install private channels on Private Stick.
Advanced Host Monitor is a professional program for monitoring network resources. Moreover, this program perfectly installs on various versions of Windows so you don't have to worry about compatibility with your device.