If you are interested in games in which you need to survive in the post-apocalypse world, fight monsters and improve weapons, then here is a list of best games like Metro: Last Light that will help you find the best game of this genre.
And if this collection is not enough for you, then here you can find more post apocalyptic games.
Lost Light – PVPVE
You become a member of a group that is doing its best to survive in a new world. At the same time, you have to unravel the terrible secret that lies behind all the events that are taking place.
This, of course, will not be easy, because you should have a lot of battles. It is great that your friends can help you. Invite them into the game, unite and turn into the top team that is sure to get the best reward.
Moreover, it is possible to enjoy magnificent 3D graphics with a detailed open world. This guarantees you a complete immersion in an exciting atmosphere.
To be successful in dangerous fights, you will need a good weapon. Upgrade your gun by adding various optional elements. More than 500 different features are available to players, with which it is possible to make twice as many variants of the shotgun.
Since this is a survival game, a shelter will also not be out of place. The task of the team is to escape from this terrible place, taking with them as much loot as possible. All found food, weapons, and useful tools can be sold to get more profit.
Advantages:
High-quality graphics.
It is possible to play from different devices.
An exciting battle system.
Drawbacks:
There are bugs with sound.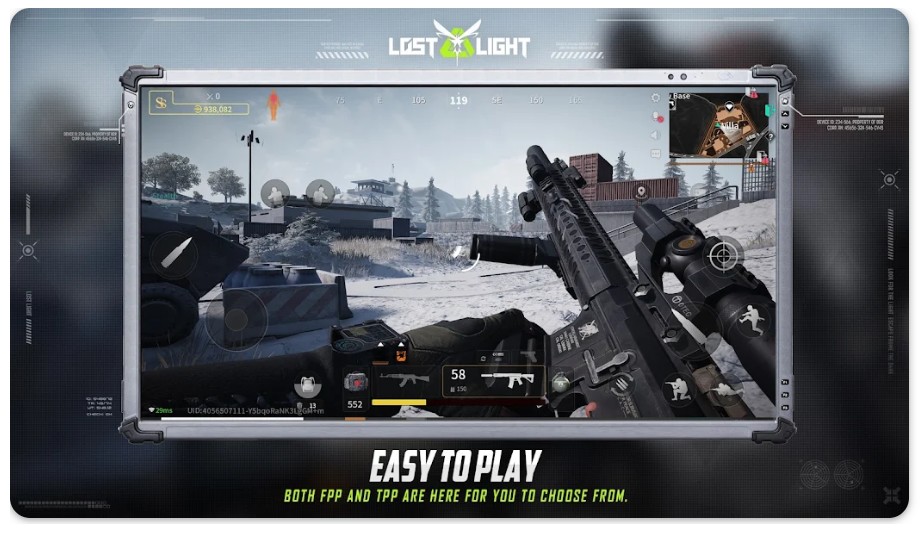 You may also like: 11 Best Zombie Survival Games for Android & iOS
Underground 2077: Zombie FPS
It is easy to get rid of boredom if you start fighting zombies. That is why this game has every chance to become one of your favorites.
The plot of the game is that one day zombies decided to take over the whole earth and those few survivors can stay safe only in the subway. However, this place threatens to become a new shelter for monsters.
A choice of roles is available. Do you want to be a cool stalker or join a military team to save the city from zombies?
What is more, the developers have added a huge number of different weapons to the game. Here you will find blasts, guns, pistols, and even rifles. Anyone is suitable to kill as many monsters as possible.
A lot depends on your tactical skills. Be creative and look for new ways to get through the crowd of zombies without dying.
Advantages:
Bright and detailed 3D graphics.
Epic musical accompaniment.
There are fascinating quests.
Players are offered a huge selection of combat weapons.
Drawbacks:
Inconvenient control system.
The character moves quite slowly.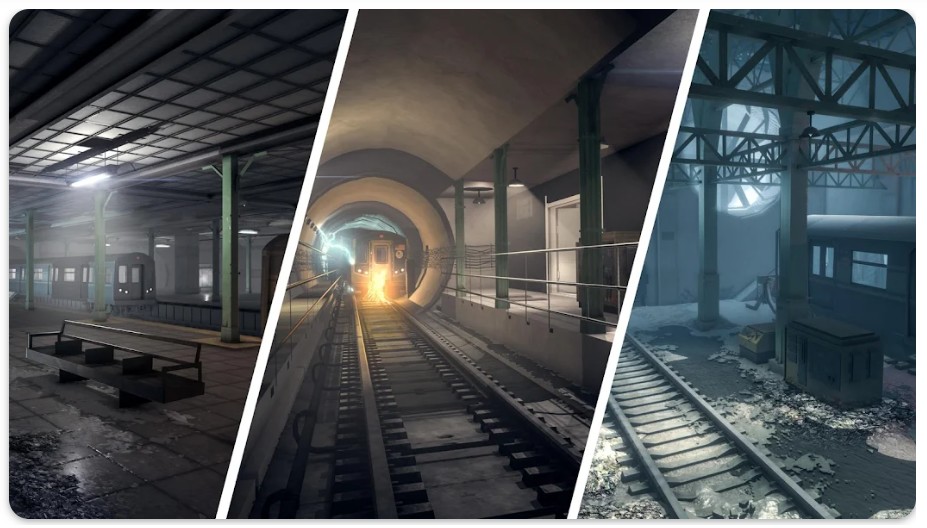 Day R Survival: Last Survivor
The player plunges into a terrible story in which the USSR turned into a hellish place full of radiation, monsters, violence, and other ordeals. And somewhere in this terrible world, your family has been lost. That is why you have to find it and save it.
Although this game does not have incredible 3D graphics, nevertheless there is a detailed map of the USSR with more than 1000 towns. All locations are 2D drawings that can change seasons.
In this severe world infected with radiation, even mice can be dangerous. This means that developing skills is necessary for survival. You can improve such abilities as chemistry, mechanics, and many others.
In addition, it is also possible to team up with friends or other players from around the world. Together you have more chances to survive!
Advantages:
You can play online and offline.
There is a multiplayer mode.
It is possible to choose the difficulty level.
Drawbacks:
The game can have errors in offline mode.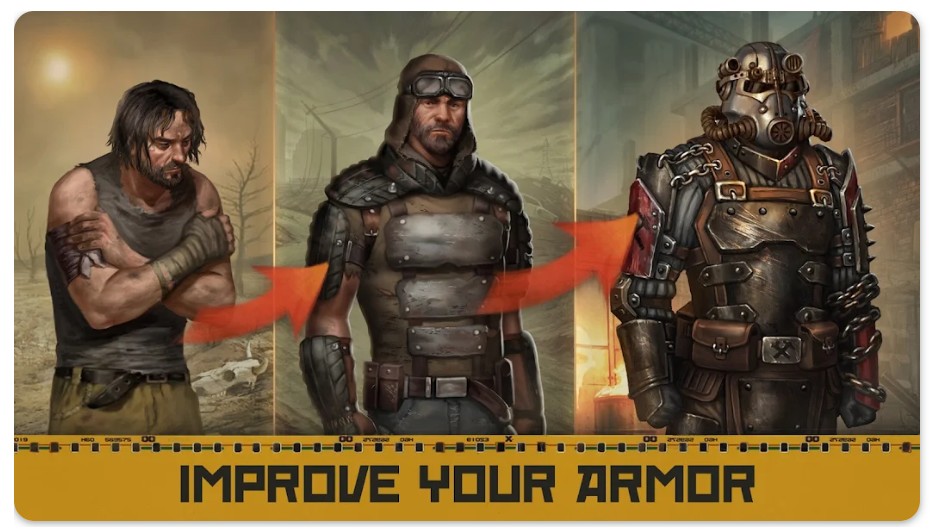 Nuclear Day Survival
This is another survival game in the post-apocalyptic world. However, there are no battles here as in the apps described before. Nevertheless, this game is full of fascinating puzzles and survival challenges in difficult circumstances.
You can get acquainted with a lot of characters who will become your guides in this game. They will allow you to complete tasks that will bring you bonuses and will not let you get bored.
Nuclear Day Survival provides an exciting story that you could only learn about from books or movies before.
Being a survivor in this zone is not easy at all, because now you have to worry about where to find food, and water, how to outlast the winter, and how not to be killed by dangerous groups of other survivors.
Furthermore, it is a beautiful 2D game that has amazing locations and maps.
Advantages:
There is an interesting story and quests.
Players have the opportunity to explore large locations.
The atmosphere of a post-apocalyptic world.
Drawbacks:
Sometimes there are bugs during the task completion.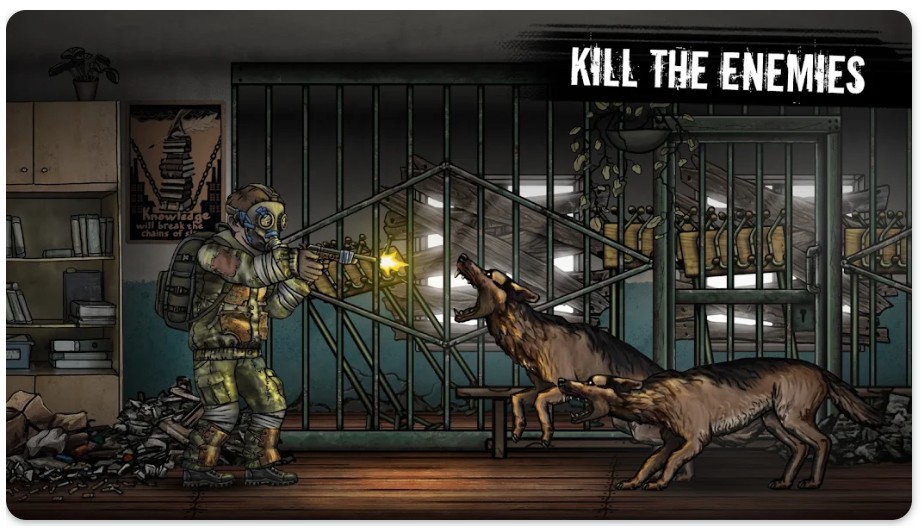 Dawn of Zombies: Survival
This game is for thrill seekers because it is full of tasks of increased complexity.
Otherwise, how else can you call an attempt to continue living in the cold, hunger, radiation, mutants, dangerous diseases, and when zombies are about to break into your shelter?
Here your character needs to fight enemies and monsters to go on living. That is why the developers have added a special workbench to create and improve your armor and guns.
On the other hand, a good weapon is only half the success. You have a chance to earn a reputation and receive special awards and prizes for it.
It is very exciting to go through a story with minor characters. They promise to become your best friends, but it is better not to lose your vigilance.
The game has a huge world in which there are both mysterious, foggy forests and wastelands with zombies. If you want to cross distances faster, you should get a car. Yes, this is also possible in this game.
Advantages:
Detailed 3D graphics.
There is a wide variety of weapons and vehicles.
The game has a special skill improvement system.
Drawbacks:
There are distracting ads.
The game can often freeze.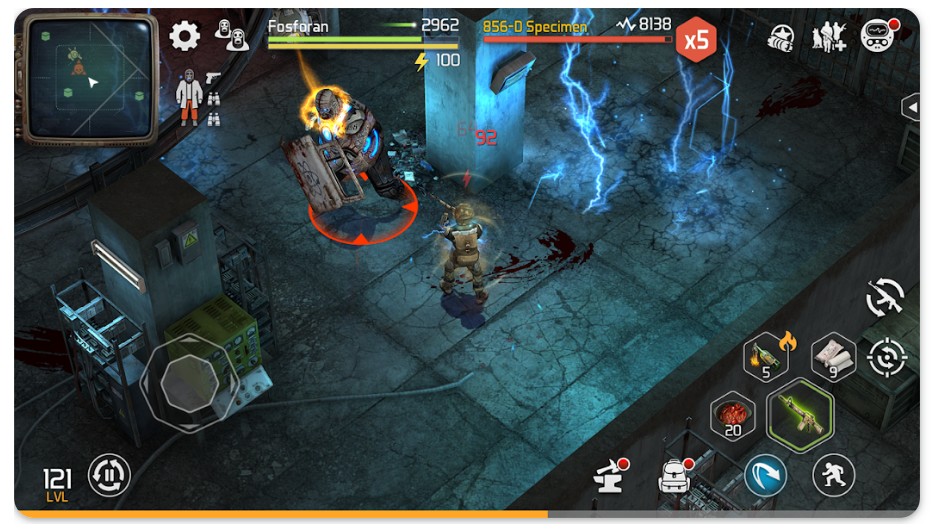 Into the Dead 2
Something terrible has happened in the world and a zombie apocalypse has come. Do everything possible not to die in the first few minutes. This is a first-person shooter that immediately impresses with its bright and high-quality graphics.
It will take quite a bit of time before you realize that you are no longer lying on the sofa, but running across the field from zombies shooting from a gun at the same time.
The story that develops in this game depends entirely on you. Every decision you make will affect the ending. In total, the game consists of 7 unforgettable parts, in which there are a huge number of battles and ordeals.
The game does not limit you to the choice of fighting. Battle the way you like the most. It is possible to have a battle by shooting from the roof, using cold weapons, or simply blasting a crowd of annoying zombies.
Players can also travel to various locations. Zombies live not only in cities but also in deserted factories and forests.
You should have a large arsenal of weapons with you to always be ready to attack. It is great that in the game you can buy weapons of different types and constantly upgrade them.
Advantages:
There is an online and offline mode.
It is possible to go through an exciting story, make your own choices, and see what kind of ending it will lead to.
Clear and convenient control system.
Drawbacks:
Many missions cannot be completed without buying additional game elements.


You may also like: 11 Best Games Like Fallout for PC, Android, iOS
Badlanders
The world is cruel, and when the apocalypse happened, it became even harsher. This game is not just about survival, but also about the fact that people are fighting for their places to live.
The main goal of the game is to get as many resources for survival as possible and save them. Just believe, this is a very difficult task when you are not the only one who needs food, water, and parts for weapons.
You can also improve your character by adding new accessories, and armor, and purchasing guns. Let your survivor be individual and fully equipped for the battle for loot.
Of course, you need to live somewhere. That is why you have your shelter. It can be decorated – it should appeal to all those who are a fan of customization.
In addition, you should team up with other players and organize your group. It is very difficult to survive alone, a group of people has more chances.
Advantages:
The game has a trading system to buy and sell resources.
A large selection of weapons and additional elements for your character.
It is possible to invite friends to the game.
Drawbacks:
Perhaps some players will be annoyed that others are constantly using cheating opportunities.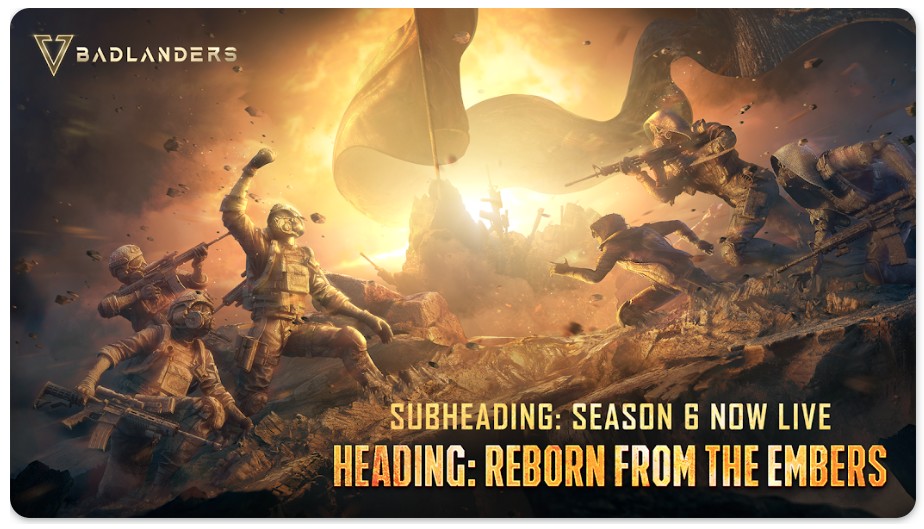 Battle Prime
This is a great third-person shooter with incredibly bright and clear 3D graphics. You are unlikely to see the difference between playing on a console and your smartphone.
Survive at any cost! Kill enemies, find resources, and improve your skills and elements of your weapons to get to the top of the best players.
The game begins with the fact that you are asked to choose a controlled character. Each of them has a unique set of abilities. You can develop your character and also fight with your unique tactics.
What is more, your friends can join you, choose their characters, equip themselves and be by your side during battles. Team up – this way you will have a better chance of survival.
The more success you have in battles, the more possible it is that you will receive exclusive rewards. They will be useful if you want to constantly upgrade your warrior.
Advantages:
3D graphics of amazing quality.
Easy control system.
You can play together with friends.
Drawbacks: Due to the graphics, glitches and freezes are possible.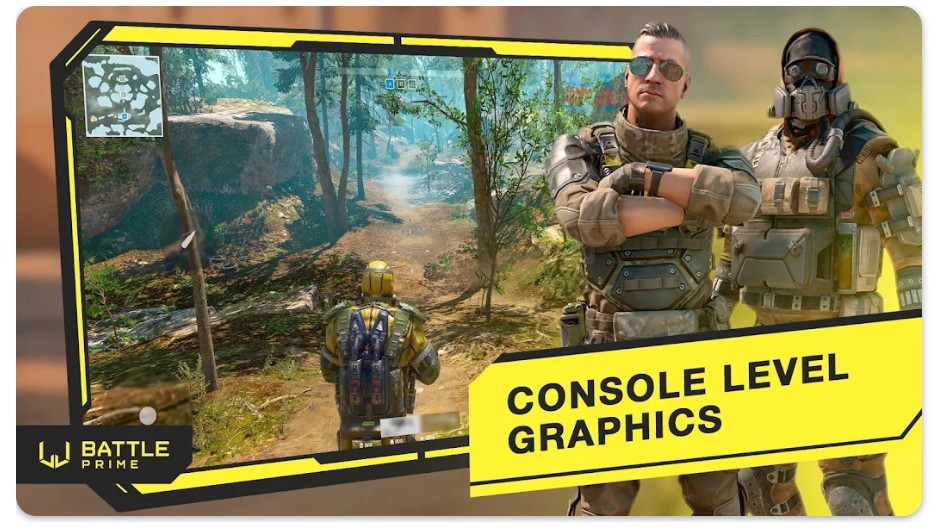 Deadstate: Zombie Survival RPG
Immerse yourself in the world of zombies and learn how to shoot accurately if you want to become a leader in the game.
You are a stalker and in the place where you live, there are a lot of enemies. In the end, you are not the only survivor, and there are not enough resources for everyone.
That is why you need a base. This is a great place where you can relax. The more you play, the more likely it is that your base will turn from an old shelter into a huge city.
Moreover, creating an alliance is a great idea. Playing together with friends is much more interesting. On the other hand, by joining the alliance you will have a chance to meet new people who are also passionate about the game in the genre of survival.
You have to explore various anomalous zones. which are inhabited by a huge number of zombies. It is better not to go there without a special plan – it is life-threatening.
Do not go to the anomalous zones alone, but take your group with you. This will increase the chances that, firstly, you will return alive, secondly, you will kill zombies and, thirdly, you will receive rewards.
In addition, it is possible to save the world from zombies and destruction. The game has special bunkers that can be explored. send your hero to investigate the dungeons.
There, the character can probably find a vaccine against the zombie virus. However, many monsters in the bunker will not let you get it so easily.
Advantages:
The game has the opportunity to join an alliance or create your own.
You can participate in an exciting PVP arena.
It is possible to develop your shelter.
Drawbacks:
Many of the upgrades are paid for.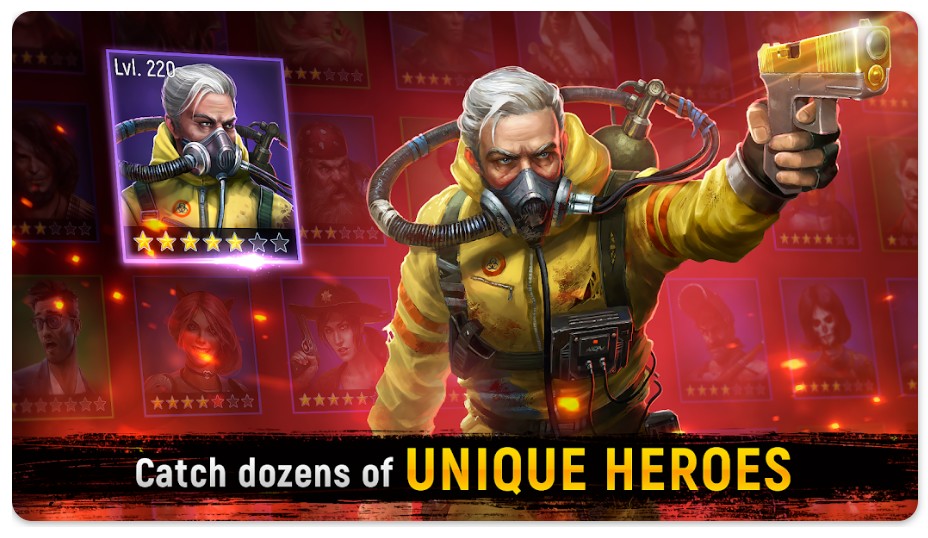 Survival at Gunpoint
In this game, you have to free the whole city from evil and hungry zombies that can tear you apart at any moment.
Although at first you only have a gun, over time you will get different types of weapons. The developers have added an enormous selection of guns to the game.
It is also important to mention that you will try a new shooter system. If you are already used to firing as usual, then this game will surprise you, because here you have to shoot a gun from a top-down perspective.
Choose a character who will fight zombies. However, it would be difficult to save the city from these monsters alone. That is why you should create assistants for him or her. Unlock new characters that can also be improved and create an invincible team.
Also, you need to build a shelter. Upgrade it as well as possible, because it has to stand up against monsters.
However, not only zombies are your enemies. Be prepared for the fact that in the dangerous post-apocalyptic world there are people from whom you should protect yourself.
Unite with other players and create teams to eradicate all zombies on the planet.
Advantages:
The game has a convenient and easy-to-understand control system.
It is possible to shoot from a different perspective.
Drawbacks:
The game may freeze due to the high-quality graphics.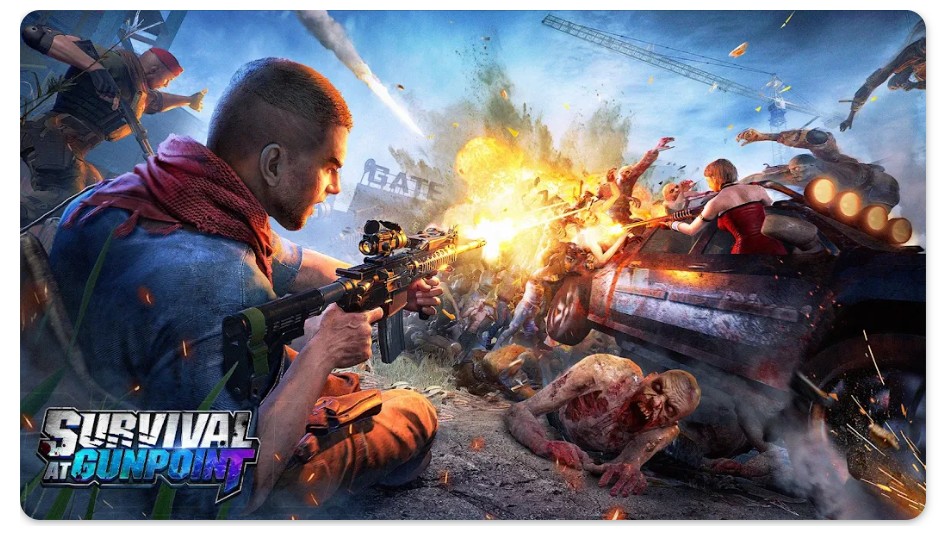 You may also like: 7 Best Horror RPG Puzzle Games for PC, Android, iOS
Dead Effect
Space is not the safest place for people anyway, and when you get stuck in a ship alone with a crowd of zombies, it seems that the world does not favor you at all. This game is about how to survive on a space shuttle filled with monsters.
Imagine that you are a fighter of a special military group who plunges into an exciting sci-fi story. Something went wrong and the zombie virus broke free. Your mission is to survive and save the rest of the people.
The game differs from others in that the action takes place not in a city, forest, or desert, but on a spaceship that drifts in the vastness of the universe.
Your character has woken up from hibernation, but the rest of the capsules are empty. Soon you will realize that the spaceship is full of zombies. For some reason, the crew members became zombies.
Find weapons to shoot back at zombies. It is also possible to get special points, which, just like money, will allow you to upgrade your weapons. A cool gun is a key to survival on a ship full of bloodthirsty monsters.
However, this is not just a shooter. Killing zombies sooner or later becomes boring.
That is why the developers have added a fascinating plot to the game, which you will not be able to complete in half an hour. You will need a lot more time to go through the whole story.
What is more, you plunge into the atmosphere of creepy horror thanks to detailed graphics and musical accompaniment, which keeps you in suspense throughout the game.
Advantages:
The game has an exciting plot.
It is very easy to figure out how to control a character.
Amazing scary atmosphere.
Drawbacks:
The game often lags and crashes due to the very high quality of 3D graphics.