Fallout is a famous game series. Its unique post-apocalyptic setting and role-playing system make it one of the most interesting universes. Here we will try to choose several games for those who liked the classic Fallout, as well as for the fans of the modern parts of the franchise.
You may also like: 11 Best Games Like Final Fantasy for Android & iOS
Check this review of the best games like Fallout for PC, Android, iOS and play the game you like on any convenient platform.
Wasteland 3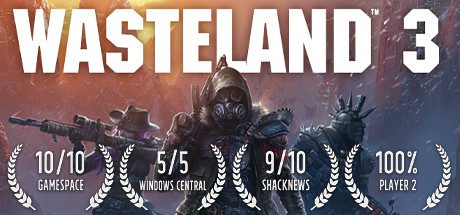 The Wasteland series is suitable for fans of isometric RPGs.
Wasteland 3 is a tactical CRPG in a post-apocalyptic setting, with elaborate dialogues, black humor, and a turn-based combat system.
Players can freely explore the world map, with those same random encounters, sidequests, and strange settlements with some fanatics, cultists, and beaten on the head bandits.
Finding a secret Soviet base or a giant statue of the president shooting lasers out of his eyes in this world is okay. But despite these notes of insanity, the game manages to remain atmospheric and dystopian.
The tactical battles work well and are entertaining between dialogue and exploring the map. The ranger rover now takes part in conflicts and is a powerful unit. It can be modified by replacing weapons with more powerful ones or by adding extra armor.
From time to time the player gets the opportunity to add to his team, both ready-made fighters, and manually created in the editor.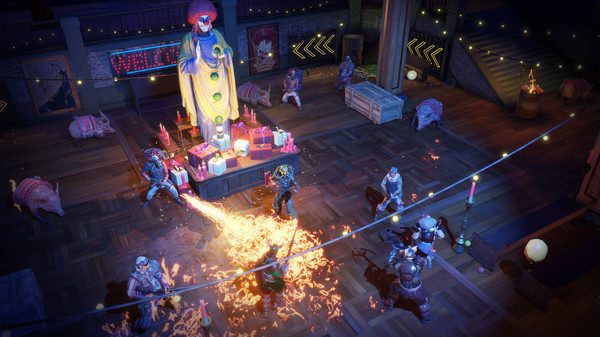 Classic quests-parodies and funny situations alternate with serious stories. It is reminiscent of the very wasteland that is still warmly remembered by the community of players around the world.

You may also like: 11 Best Games Like Minecraft for Android & iOS
The Outer Worlds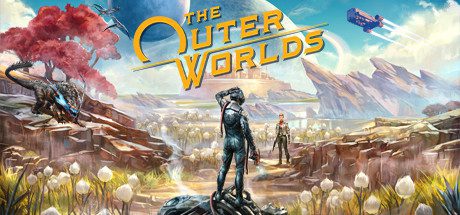 Developed by Obsidian Entertainment, The Outer Worlds is the spiritual successor to Fallout New Vegas.
The design change didn't hurt the game. The division of the world into different planets justifies the varied design of the locations and allows the artists to deploy their full potential.
A brighter graphic style combines well with touches of retro-futurism, which somehow surrounds the player at all stages of the game.
Despite the variegated color palette, the game is based on the themes of dystopia and corporate capitalism. So there's nothing wrong with the story.
The role-playing system really allows players to solve problems in different ways. Your partners are different from the usual chumps and are able to give interesting and witty lines. Unique NPCs delight in some of their own stories and features.
As a result, the Obsidian project is highly replayable and quietly passed several times, which compensates for the short duration of the main storyline.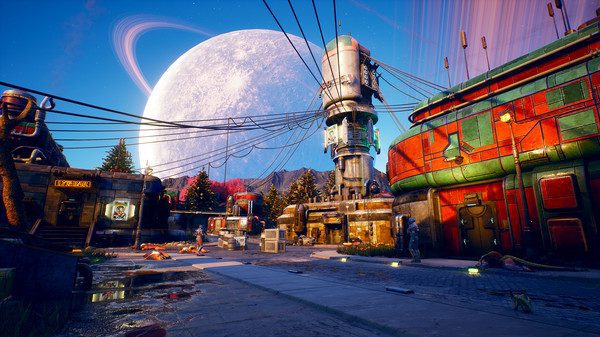 Medium-sized locations are densely packed with all sorts of content, so you won't get bored with them. The developers reached a new level and made a really decent RPG.

ATOM RPG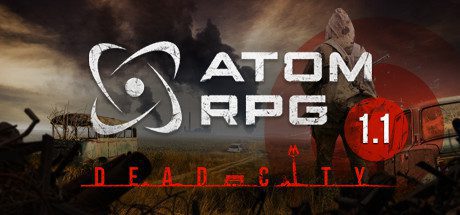 The action of Fallout unfolds on the western part of the United States, and Atom RPG takes the player to the world of Soviet Wasteland.
He will be one of the few who survived the nuclear war between the USSR and the Western bloc, which resulted in the apocalypse.
Atom RPG is an isometric role-playing game, in which, as well as in Fallout, the gamer has to explore the surrounding world filled with different dangers and mutants. The player will meet other survivors and go to devastating forests, fields, and other locations for resources.
Other advantages of the game: a detailed character editor, turn-based battles, dozens of skills, and a non-linear story.
Despite its seriousness, Atom RPG is filled with post-Soviet flavor, local jokes, memes, cultural references, and some crazy quests about mushroom hypnotizers.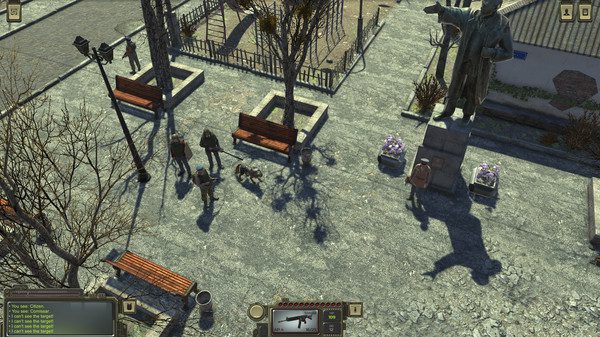 Walking through the local wastelands, you can come across a vivid reference to "The Thing" or "White Sun of the Desert," or even solve a whole chain of quests with charisma.
There are serious and even tragic plot elements in the game, but they alternate with absolutely insane situations.
The role system is built to a decent level. You can pump up a long list of abilities, and they will all be involved in one way or another in the playthrough.
If everything is clear with combat skills, then engineering, medicine, hacking skills, and other abilities will be tested quite often in different situations.
Even the notorious charisma will provide quite good bonuses in the dialogues, allowing sometimes to solve the conflict in peace, to negotiate a reward increase, or get valuable information.
Solving "love, not war" will not solve all the problems in the post-war wasteland. Thus, it never hurts to collect the full-fledged defense of the junk in your garage.
From the disadvantages, we can note the dullness in combat partners, outdated graphics, and a bit of flat humor. If this doesn't scare you away – welcome to the Atom RPG, which is filled with radiation.
Project Highrise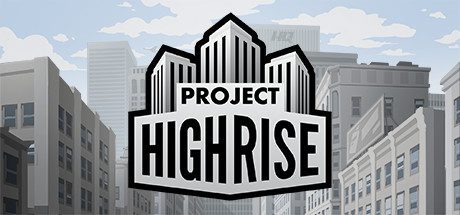 This "Sandbox" begins modestly. On a small plot of land allocated for development, there is a building with rent-paying offices and infrastructure that consumes that money.
To make any kind of profit, you have to grow wide and tall, creating new spaces for companies, pulling electricity, gas, and water through the floors, and making sure the tenants are in a good mood.
Each space requires certain services and communications. Whereas a private detective's office with a desk, electricity, and telephone is enough, banks need a limousine service and a lobby decorated with paintings.
Along with the influx of new residents, prestige grows, opening up access to richer tenants.
There are three main types of spaces that bring in money, and in addition to their own needs, they depend on each other. Apartments, for example, need garbage cans on the floor, while no serious tenant would want to move into a skyscraper without stores.
Retailers, on the other hand, while not too "hungry" for utilities, prefer to stand in busy areas where they have a better chance of paying their rent. Office clerks can't imagine themselves without catering businesses.
Such interconnections form a complex network, which is interesting to sort out. After all, the bonuses from tenants are different, too. They all pay their dues, but stores and restaurants, in addition, attract visitors from the city, and those with the help of word of mouth increase publicity.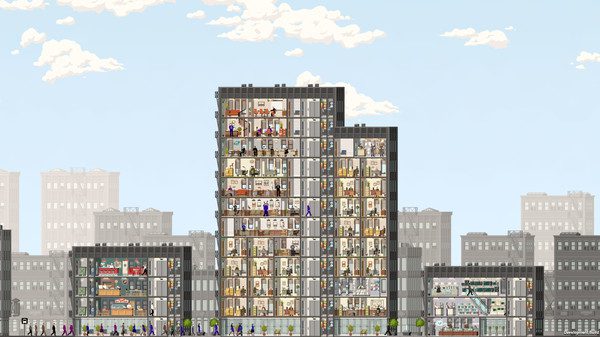 This is your fuel for advertising campaigns. Apartments and "important" offices (government offices, dentists) help make friends with influential people. They can remove building height restrictions or introduce talented artists to decorate the tower.
If after all the efforts the building still does not bring income – it is time to go to the bank for a loan and execute a couple of contracts from the City Council.
The whims of the people complicate things even more. Radio stations don't like noisy neighbors, and the smell rising from the pizza place drives lawyers crazy.
The key to success is competent zoning and inevitable upward growth. Although each new addition is more expensive than the last, the view from the 50th-floor windows will soothe any hysterics.
After mastering all this wisdom, you can move on to scenarios. There are few really unusual ones among them, but with a few simple restrictions and rules, SomaSim was able to make the tasks interesting.
One has almost no government contracts, another has an awkward iron-shaped building zone, and a third requires finishing a 40-story skyscraper behind a hapless colleague.
The visual style of Project Highrise brings to mind Mad Men and the recent This is Police. The architecture and interiors are inspired by industrial design and retro-futurism of the 60s.
By the way, even with a population of a few hundred people, the game does not slow down on weak PCs. The relaxing and pleasant atmosphere makes you want to build another floor, then another and another.
RAGE 2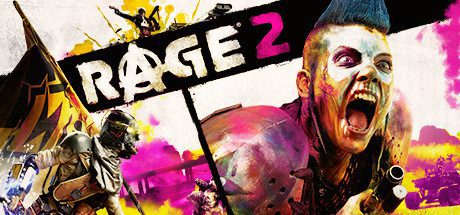 This is a post-apocalyptic first-person shooter developed by the creators of such iconic PFS as Doom, Quake, and Wolfenstein.
Not surprisingly, it's the gunfights and chases (the game includes transportation) among the desolate, post-nuclear landscapes that are the essence of Rage.
If you have had enough of Fallout, you should definitely pay attention to this project.
The game offers a set of unusual weapons with different types of upgrades and ammo and a lot of enemies.
Among them, there are raiders and radiation-generated mutants, as well as breathtaking racing missions and special competitions. Vehicles, by the way, are also subject to modernization and cosmetic improvement.
The first part of the Rage series should be recommended only in special cases because it turned out to be controversial and frankly boring. The second part is a completely different product. It is some kind of driving mix of Fallout, Borderlands, Doom, and FarCry.
Here we get a bright post-apocalypse with very nice and dynamic gunfights and pathos-laden nanomachines, that the main character was pumped full of before tossing into the ark.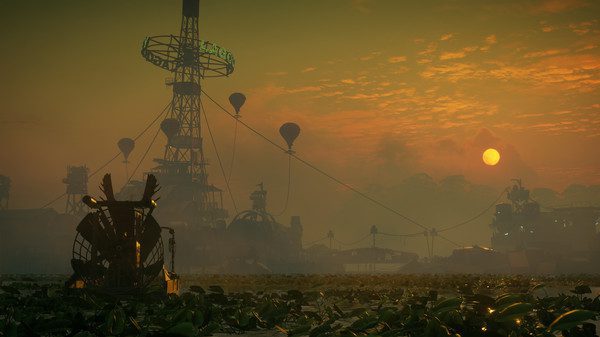 The game has a story, but you have to understand that it is there for the show. The story is as simple and obvious as possible, and the game focuses more on mechanics and gameplay. And that's what it does very well.

You may also like: 11 Best RTS Games Like Red Alert 2 for Android & iOS
Mad Max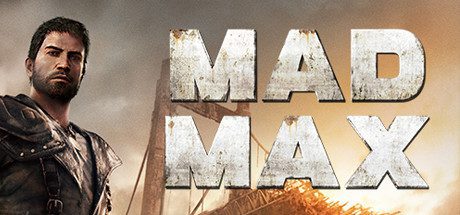 Mad Max undoubtedly influenced the concept of the post-apocalypse.
Thanks to this franchise, people imagine the end of civilization as it is currently portrayed in movies and games.
Crazy marauders, gunfights, roaring engines, and howling sirens – that's what Mad Max is worth playing for.
To put it in a nutshell – it's a high-octane FarCry with protracted chases, explosions, gunfights, and balloons instead of towers.
You won't find any role-playing elements here, but if you're looking for atmosphere – it's not a bad option.
This is spectacular, in some places quite a tense game with an open world. Its main advantage is unpredictable and dynamically developing storyline, almost all missions of which have a really Hollywood-like staging.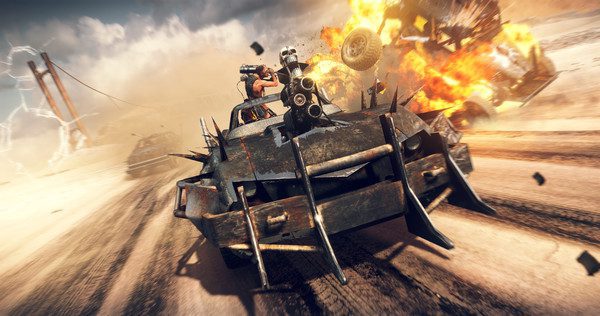 In general, if you like the spirit of dieselpunk, if you like Fallout, and if you like the atmosphere of "Mad Max" movies, you should definitely play this one. A huge amount of impressions and pleasant emotions are guaranteed to you.

UnderRail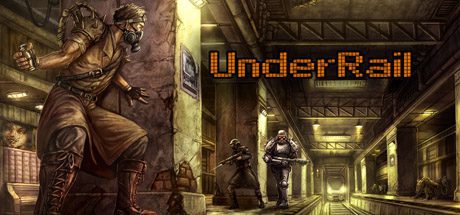 It is a very atmospheric RPG, more similar to Fallout 2.
The main distinguishing features of this project are the advanced role-playing system, a lot of gameplay features, and interesting non-linear storytelling about the survival of people under the ground.
The game is a kind of reincarnation of the classic isometric RPG. Thus, it has such characteristic features of the genre as turn-based battles, a large number of dialogues, and colossal opportunities for playing the chosen role.
This is a CRPG that really wants to be like Fallout. There's nothing wrong with that, and at first, it even seems to be succeeding. It's a classic gray world filled with mutants, raiders, and rusty structures of indeterminate shape.
Most of the population looks like bikers in shabby clothes with elements of leather and spikes. On the local wastelands are stumbling poor settlements with the inhabitants of the ragamuffins, and a little wandering around the map you can stumble on a local analog of Junktown.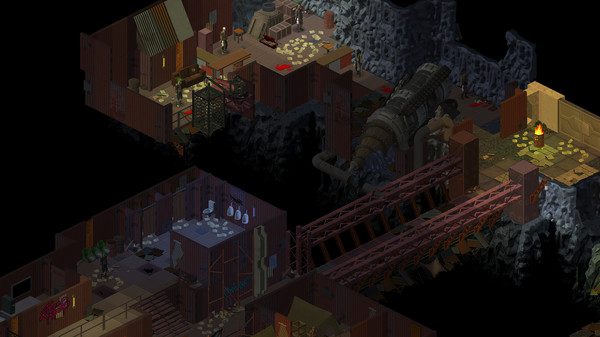 It even has its own version of pumping abilities. Players need to collect throughout the map different items that will raise their skill level. Upgrading their skills without end is not possible – everyone has their own limit.
The local leveling system has its own disadvantages. To improve some skills to a high level you have to search every corner, search every pile of garbage and get into the farthest corners of the map. Yes, this can be a plus for fans of hardcore exploration. But often it's just really tiring.
The combat system looks quite varied. With skill training the character gets interesting abilities, allowing extra actions, more effective use of weapons and explosives, using special skills, and strengthening armor. But sometimes there are problems.
For example, the sudden poison attacks, many misses on the enemy because of the local randomness make your load again and again.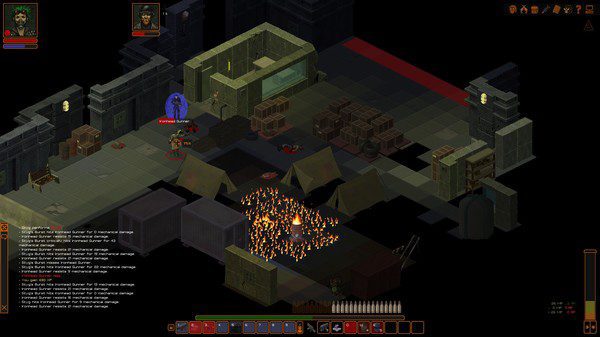 To sum it up, Underrail is an interesting successor to the classics.

The Elder Scrolls V: Skyrim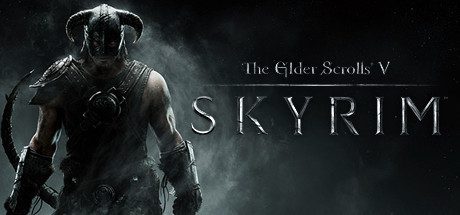 Why is Skyrim on this list? For players who enjoyed Bethesda's latest Fallout, it might work.
It's a different atmosphere and universe. But all of these games have one thing in common – the Creation Engine.
That means familiar graphics, sometimes similar mechanics, and the general style of Bethesda, that penetrates all the projects of this studio.
On the plus side we can write a vast world, filled with many side quests, and the largest community of mod makers, still actively supporting the game. Skyrim is still at the top in terms of the number of uploaded and downloaded mods on Nexus Mods – the number of downloads exceeds 1.8 billion.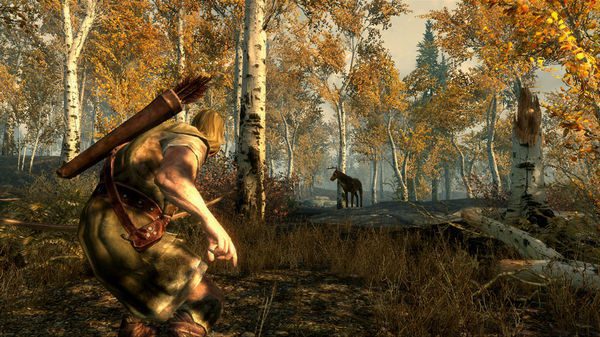 This means that new content for this game is constantly emerging from the mod makers community.

Crossout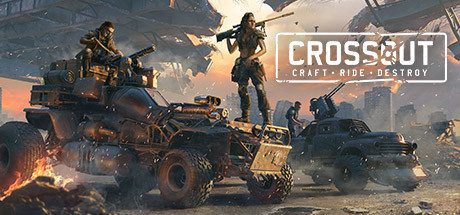 It is a free post-apocalyptic MMO, the entourage of which resembles something between Mad Max and Fallout.
The gameplay is based on battles involving monster-like cars assembled from a variety of different parts and equipped with deadly guns.
But, this time the battles take place in full 3D because Crossout has quite a modern raffia.
The main peculiarity of the game is that gamers get an opportunity to build their own vehicles literally from the ground up. Thus each created vehicle has not only its own design but also unique technical parameters and tactical advantages.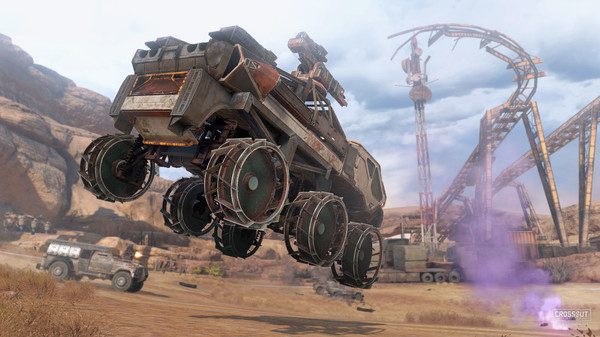 In addition to advanced workshops, the game pleases with a complex system of damage and the possibility of free trade between the players. This allows you to usefully get rid of unnecessary parts and weapons.

This War of Mine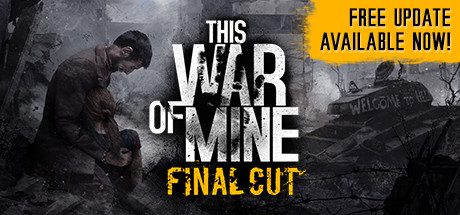 This is an unusual project, which has certain similarities not with the main Fallout series, but with its spin-off for mobile platforms Fallout Shelter.
This War of Mine is a two-dimensional war survival simulator, where the player is given control of a group of survivors who need regular food and medicine.
Besides, they must be protected from the all-seeing and ruthless snipers, as well as from the marauding assaults of other refugees.
This game has no unrestrained action and even packed with events, constantly evolving storyline. But there is an incredible in its impact on the psyche, enveloping the consciousness of a thick veil of atmosphere, forcing a new look at many, it would seem, a long time ago and firmly rooted in the values and landmarks of life.
That's because This War of Mine is a moment-by-moment challenge to the players to make a terrible moral choice.
Sometimes the distinction between black and white, good and evil is erased, painting everything in gray, when in the first place comes the only, almost animal thirst to live, even at the cost of the lives of others.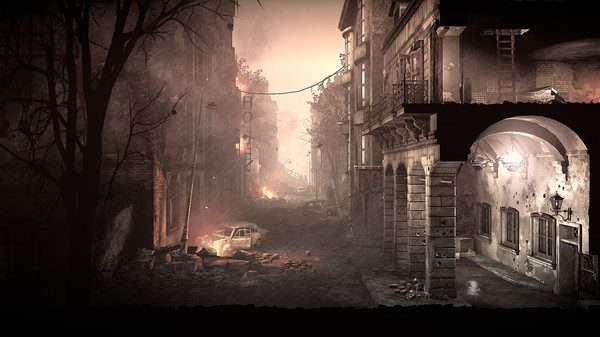 It is unequivocally one of the most atmospheric and emotionally challenging games in the history of the gaming industry.
You may also like: 11 Best Offline FPS Games for Android
Desert Law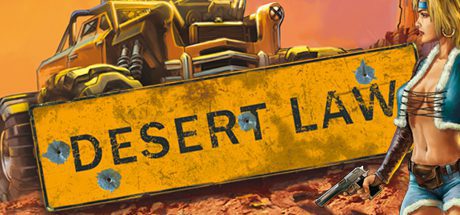 It is a Fallout-type game that offers an unusual combination of three genres: RPG, RTS, and driving simulation.
The events unfold in a post-apocalyptic world, but unlike other similar projects, the protagonist spends almost the whole gameplay behind the wheel of a vehicle.
The same applies to his comrades, which at the same time in the squad can number six people.
Desert Law offers more than four dozen vehicles upgraded for combat, each of which can be subjected to extra improvements.
The story is told through colorful comic books and is broken up into 29 exciting episodes, giving you the opportunity to take part in exciting Carmageddon and Ex Machina-like battles.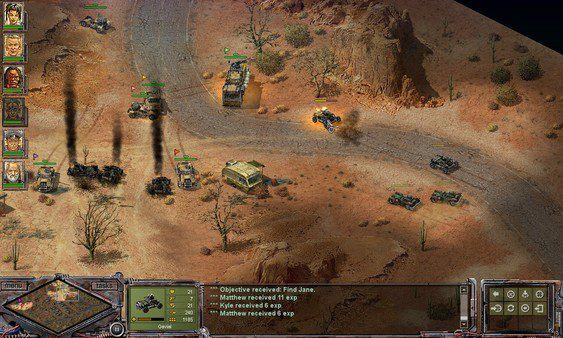 Overall it's not a bad game, but you should keep in mind that it came out quite a long time ago.