Sports events are spectacular events that draw thousands of spectators around the world. Streaming services have become very popular due to their affordability, but they are no substitute for attending a live match.
They always have a special atmosphere, when all the fans and fans are worried about their favorite athletes. Thus, sporting events are mandatory for all fans to attend.
Yet, sometimes it is difficult to buy a ticket due to certain events. Avoid this problem by using these best last minute sports tickets apps for Android & iOS.
To stay up to date about the current sports event we recommend you these best sports alerts apps for Android & iOS.
Gametime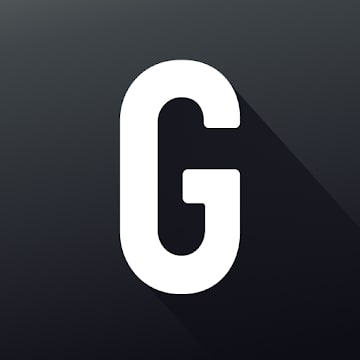 The Gametime app will help you buy tickets to any favorite sporting event. The cost drops closer to the date when the sporting event is to take place.
So, thanks to this service, you will be able to buy any passes at a discount. You can make a purchase up to 90 minutes before the start of the match if the offers are still available.
Sometimes there are unique offers and special discounts that will help you save even more money. If a sporting event is canceled and you have already purchased passes from this service, you can easily cancel your purchase and issue a refund.
The money will be refunded to your card within 24 hours. The ordering process here is quite simple. You will be able to open a map of locations and choose the best offer. Also here you can compare prices and get the largest benefit.
A unique feature of this service is that here you can open a panoramic view from each location. This will help you make the best choice to comfortably enjoy the game. Gametime does not require extra fees from its customers at checkout.
You can also exchange tickets with friends here. There is no need to print them, which is very convenient. Another nice addition is that you can sell the tickets that you bought earlier, even if they are in paper form. To do this, you just need to take a picture of them and put them up for sale.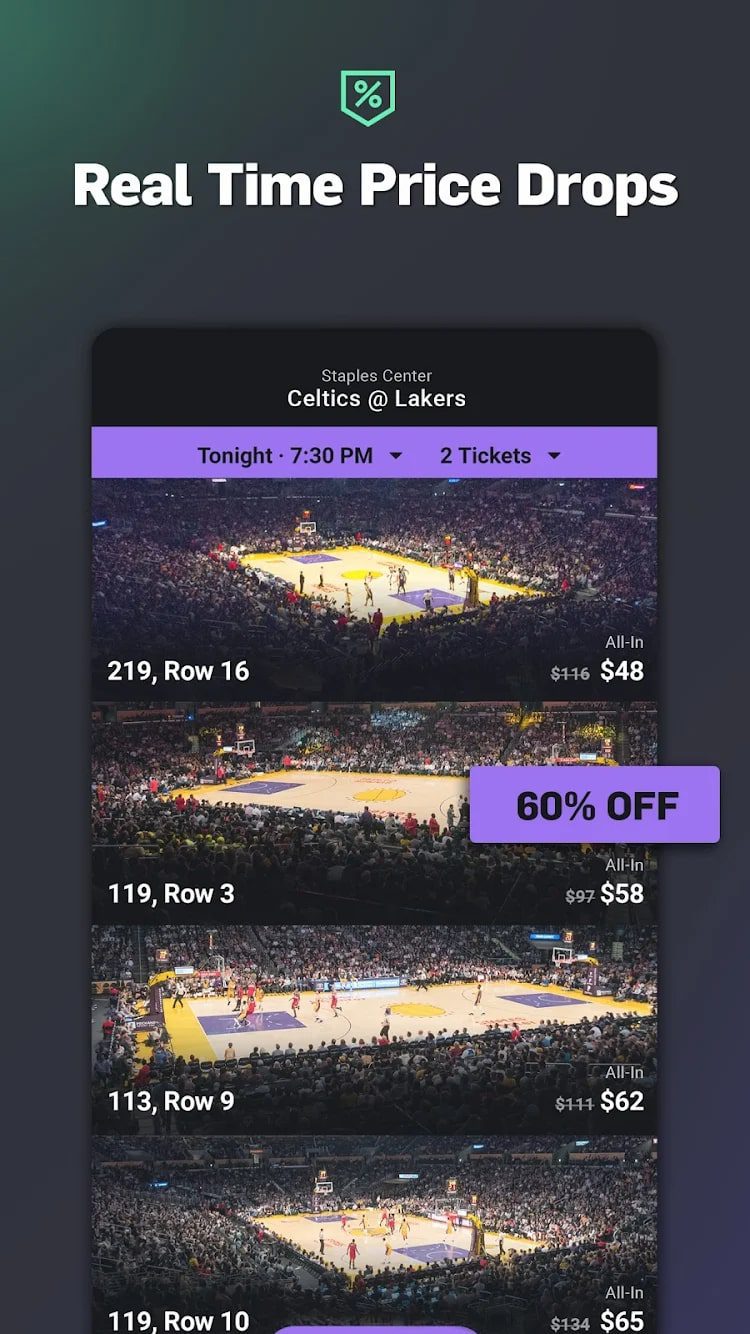 As soon as your passes are sold, you will be notified. You can save the money from the sale in this app or withdraw it to your PayPal wallet.


You may also like: 9 Best NHL Streaming Apps for Android & iOS
StubHub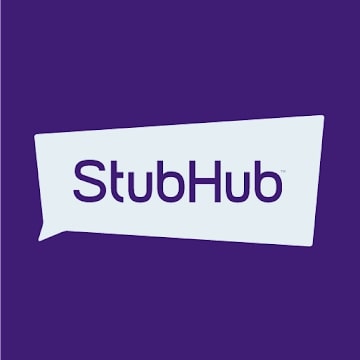 StubHub is one of the best apps for selling and buying tickets to sporting events and others. The prices can be much lower than expected.
Passes for basketball, hockey, rugby, and other games can be purchased here. This service guarantees that you will receive them without any problems.
If you made an order for the first time and the event was canceled, you will get a refund of the full ticket price plus 20% of that price. You can also sell your tickets if your plans change unexpectedly.
In this app, you can share your interests with your friends and get recommendations. Cooperate with them and go to a sporting event together. Before making a purchase, you can get acquainted with interactive maps of the places where the events you are interested in will take place.
Thanks to special tools, you can view the view from your seat before you buy. You can pay for your passes very quickly and easily using Google Pay. You don't need to print the tickets you buy. They will be stored on your phone. All you have to do is show your pass on your phone at the door.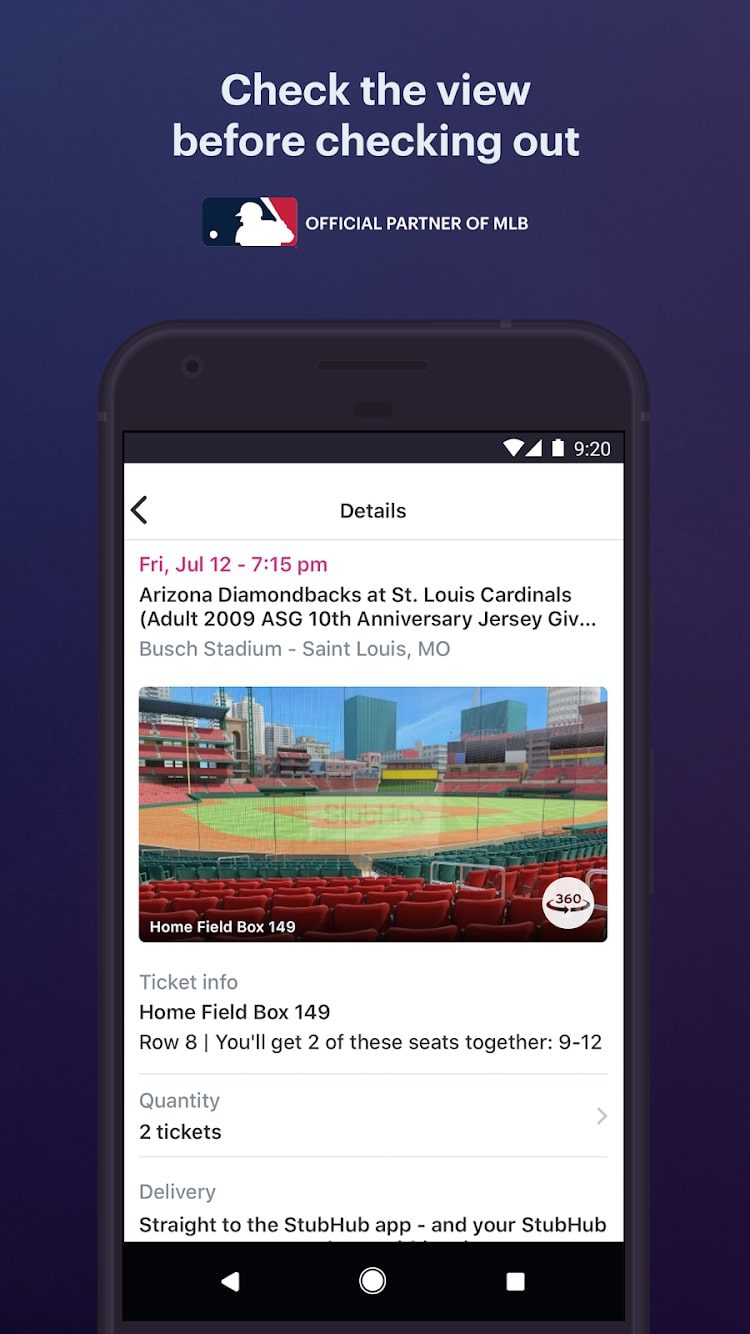 Also, this app supports Google's Wear OS. In-demand passes can be added to your desired section and receive notifications if their price goes down. All of the events here are divided into categories. This is convenient and makes it easier to find the right event.


TickPick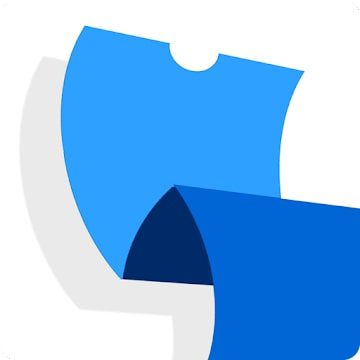 The TickPick app allows its users to buy tickets to any sporting event, including the NFL, NBA, MLB, and NHL.
This service does not charge extra fees, so prices are less than competitors. The service also provides a purchase guarantee and buyer protection.
Making a purchase in this app is very easy. By selecting a suitable pass, you will be able to compare the prices offered by this service.
You will also be able to view the selected seats here and change your choice in favor of the best option. Check out the rating of the best seats based on other users' experiences. That way you can find the perfect place. You can also see a panoramic view of each location.
View a map of your area, which will indicate all upcoming events. You can also search by the criteria you choose. The prices can be tracked over a period of time. This will help you to buy a pass at the best possible price.
You can use your bank card, Apple Pay, PayPal, or the built-in tools of this service to pay for your purchase. When attending a sporting event, you won't need the paper version because you can go through the electronic one. They can also be shared with friends.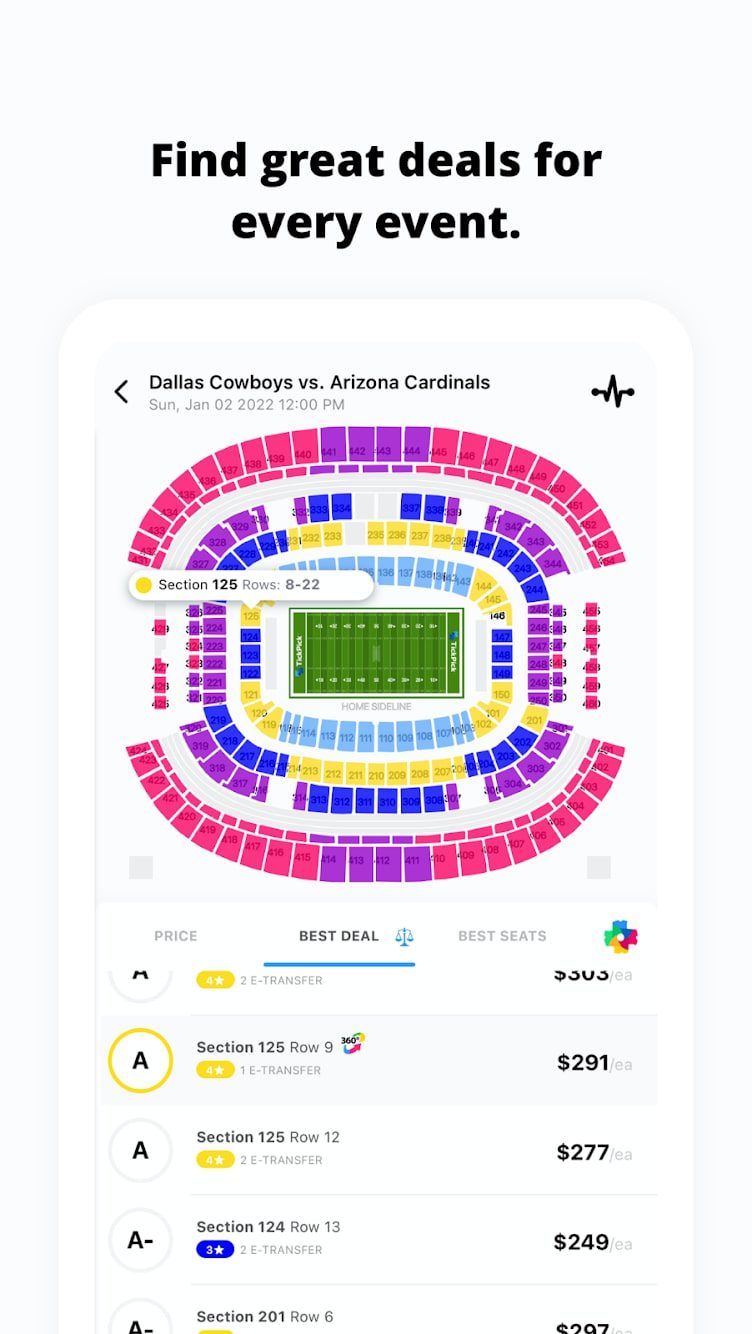 The "Announcements" tab will contain the passes that you have put up for sale. You can also keep track of all your sales in the Announcements tab.


You may also like: 9 Best Sports Video Analyzer Software for PC, Android, iOS
SeatGeek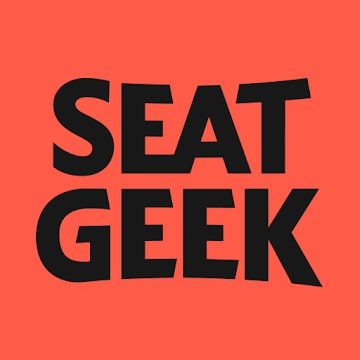 SeatGeek is a fairly simple ticketing app but filled with many useful features that are just as good as its peers. You can also sell your tickets to various sporting events here.
This service will recommend you the best price so that your sale is profitable. The NBA, NFL, NHL, MLS, and MLB are among the events available.
All purchases are covered by the app's internal warranty, which is available to all users. You can also find great deals here, with prices well below face value. This app has a huge number of different features.
There are interactive maps of venues that host sporting events. You can see a panoramic view from your chosen venue. This approach will help you buy the best passes. Each offer has a rating that you can use as a guide when buying.
All passes purchased are electronic. You do not need to have a paper version. At the entrance, show the e-ticket on your phone and you can get in without any problems.
You can also share them with your friends, if necessary. This app implements a convenient search by parameters, including those closest to your location.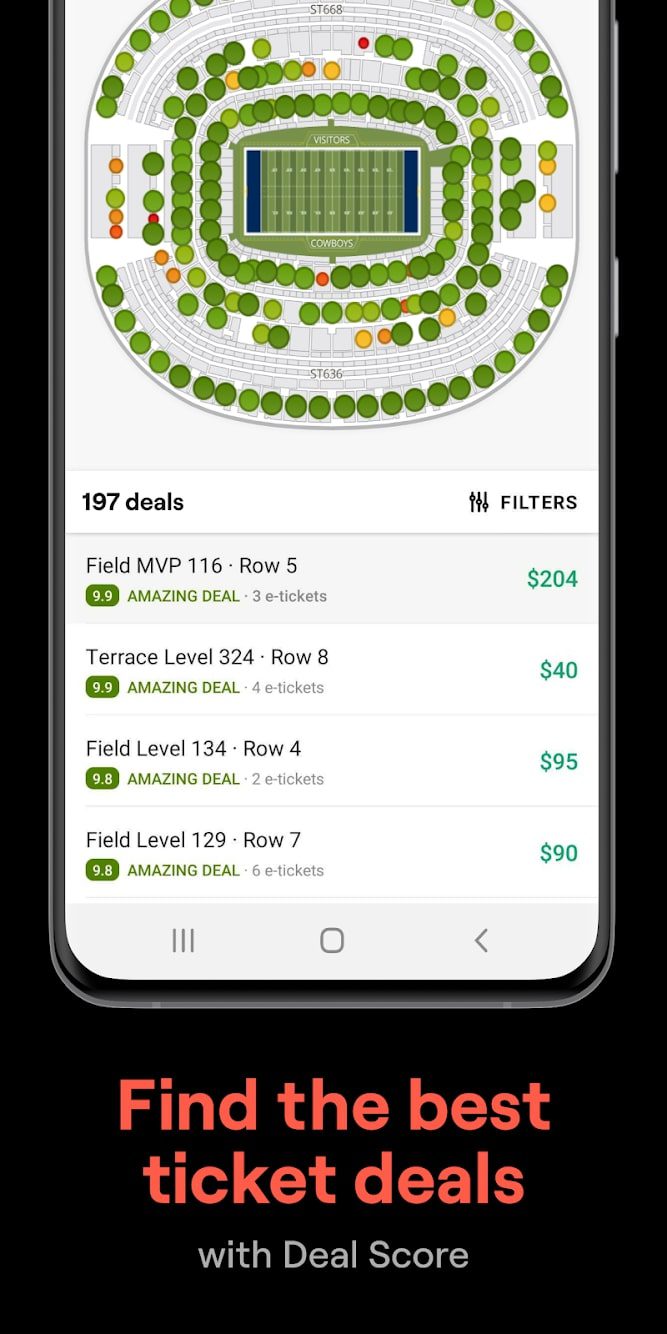 You can pay with your bank card or Google Pay. Once a day, you can enter a drawing for free passes to upcoming sporting events. SeatGeek provides free access to this contest to all of its users.


You may also like: 9 Best Boxing Streaming Apps for Android & iOS
Events Tickets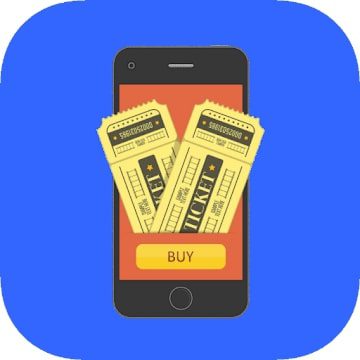 Last but not least is the Events Tickets app. It will tell you which tickets you can buy at better prices.
It offers passes to almost all kinds of events, but it's in this review because of the variety of sporting events. These include the NFL, NBA, NHL, MLB, and USTA.
You will also be able to sell your passes, even at the very last moment before the game. This service offers unique seats because it holds the rights to some of them. You will be able to get the best seats without overpaying.
Besides, a special seat rating will be available for you to read before you buy. Find upcoming sporting events taking place near your location. Add your favorite sports matches to your favorites and get notified when the sales open. You'll also instantly know how the prices are changing.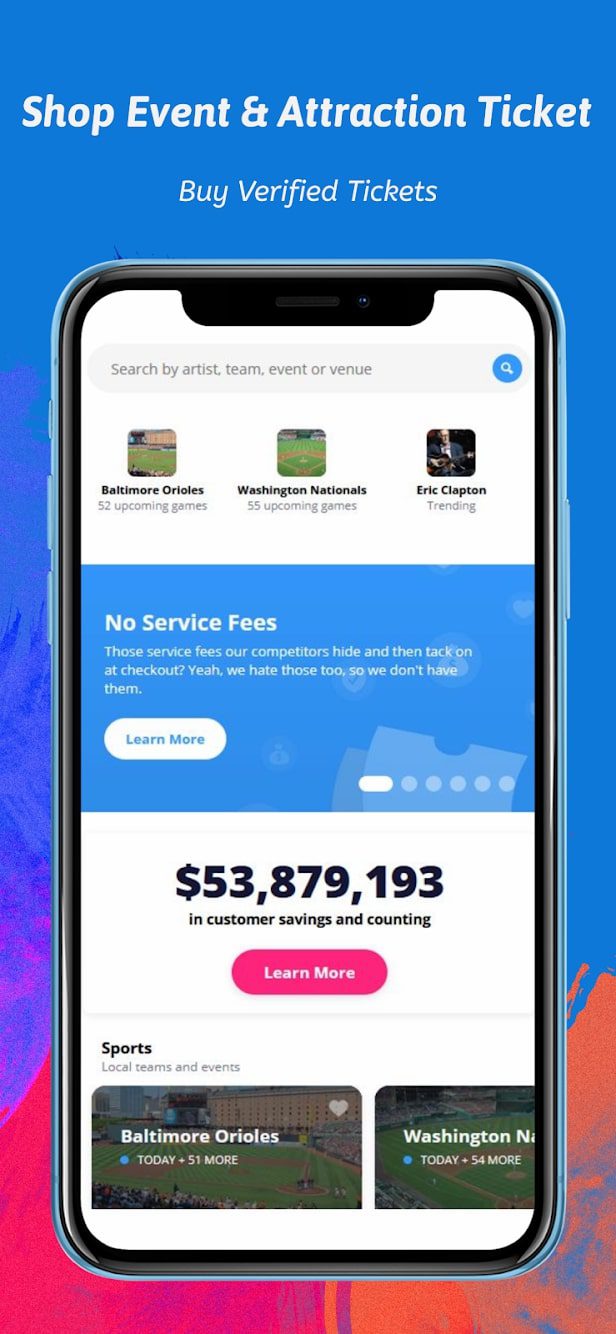 The app guarantees a secure purchase. What's more, you'll get up to 8% cashback on every purchase. Since paper versions are long out of date, this app will make their electronic versions available to you.