IMVU is sort of a virtual world that was established in 2004 and was very popular at that time. It allows you to create 3D avatars in a fun and safe virtual world and that too for free. It is basically a multiplayer online video game that brings people together on an online platform.
At that time, the game had millions of accounts registered where people used to create 3D avatars, participate in games, chat with each other, and generate products in a safe and secure environment. IMVU allows you to make new friends or focus only on content creation.
Today there are more than 4 million registered users on IMVU. However, there are many other great games similar to IMVU where you'll get a good social experience and avatar customization both.
Yo may also like: 11 Best Games Like Final Fantasy for Android & iOS
If you're looking for some of the best games like IMVU for PC, this review is for you.
Sansar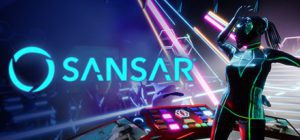 The heart of Sansar is the vast number of virtual worlds and experiences that have been created by users alongside a smaller number of Sansar developed worlds.
The result is thousands of custom experiences just waiting to be explored with different themes spreading across music, movies, TV, and other popular culture references.
All of these worlds are available at any time from the central game Atlas where you can explore all current worlds, featured worlds, Sansar created worlds, worlds your friends have created, and your own favourites.
Popular worlds are constantly in flux within Sansar and range from beach paradises, recreations of sci-fi universes, spectacular mansions, classic pubs, beautiful natural settings, museums or pumping clubs.
Events are another key pillar of Sansar with the ability to host and attend a range of event formats from a classic game night to more standard meet-ups and even a Reddit AMA-inspired format.
A subset of events allows for engagement between influencers and fans as well as the ability to create custom streaming rooms for parties or meet and greet.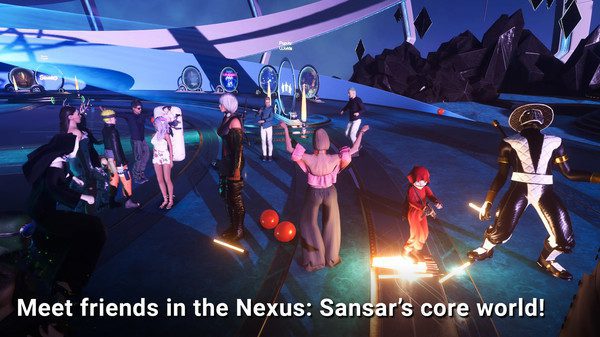 The event landscape of Sansar is without a doubt industry-leading leveraging off popular real-world event frameworks and supporting it with robust virtual technology.
Your avatar for this exploration and event filled free to play experience is entirely in your control with a wealth of customisation.
To start you'll pick your desired gender which will generate a random starting template for you to work from. Options include skin colour, hairstyle, a range of sliders for facial features, clothing and accessories.
Worth noting is that the majority of features that use colors such as hair and nails have a full-color selector which is rare even amongst simulation games that generally opt for preset color palettes.
Be it an alien-like appearance, a representation of yourself, or something inspirational like an astronaut all the tools to create these are included within Sansar and supported through the virtual merchandise system.
In addition to creating avatar items, creators can also create and sell 3D models, audio, scripts, and skybox textures for use in virtual world creation.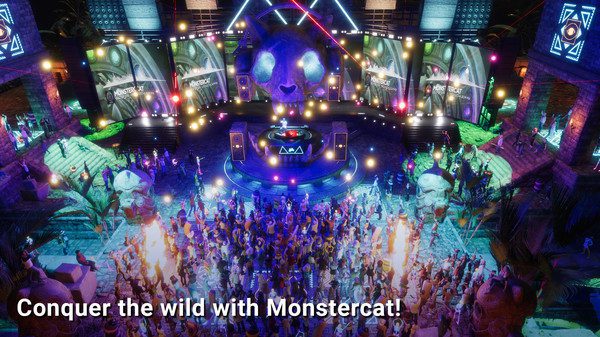 Whether you're a creator or a consumer of content the wealth of detail and possibility presented by Sansar is leading the way in the world of VR and non-VR virtual worlds.

You may also like: 11 Best Games Like Minecraft for Android & iOS
Second Life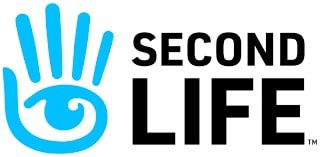 Second Life is a free-to-play online life simulation game designed to appeal to fans of the virtual world genre that want to go a step deeper with enhanced customization and a real-world inspired economy.
With the added possibility of turning your game time into real-world dollars, Second Life has been able to maintain a thriving community of nearly a million users amongst many attempts to dethrone Second Life from the top of the genre.
The game is intended for an older audience with a recommended age of 18 or older although younger gamers can create a Second Life account and play with some account-wide constraints.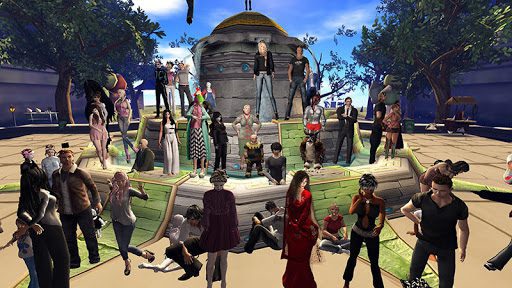 With this Second Life account creation, players are able to customize their own Second Life Resident. With the impressive creator tools available, it's extremely easy to recreate yourself within the virtual world or opt for a completely new look and persona.
These creator tools go beyond just avatar customization though and are a key pillar to the Second Life experience with tools to bring your creativity into the virtual world.
This includes the ability to craft beautiful 3D content and embed it into the game world, the ability to add scripts, or simply create clothing items for people to purchase for their avatars through the virtual marketplace.
These virtual items are one of the unique features of Second Life compared to similar games as while the marketplace for these items uses the Linden Dollar.
This currency has a real-world value tied to it allowing you to cash out your economic prosperity from Second Life into the real world and vice versa.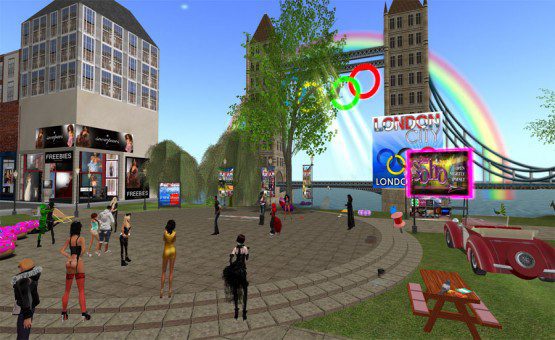 If creating virtual content isn't your intention though Second Life is still a social game at its core with thousands of players populating the clubs, cities, island resorts, and other in-game locations.
Live music locations are particularly popular with live music from real people played across the Second Life universe with themed locations for chart-topping music, electronic, country, hip-hop, and blues.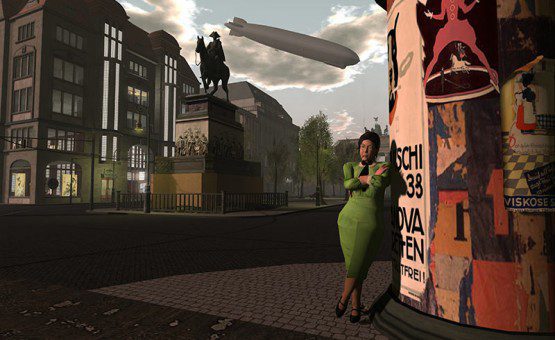 Other social settings include roleplaying (vampires, fantasy, pirates, medieval), gaming and events.

OurWorld

OurWorld is a free-to-play virtual world where tweens and young teenagers can explore a virtual world, participate in online games and interact with other players in various in-game locations while listening to a range of in-built game soundtracks.
To begin your ourWorld experience you'll select from over a dozen base female and male avatars with further customization available as your first in-game task.
The usual options are included in ourWorld with the ability to alter your skin color, head, hair, nose, eyebrows, mouth, and eyes alongside a number of sliders to customize your body shape.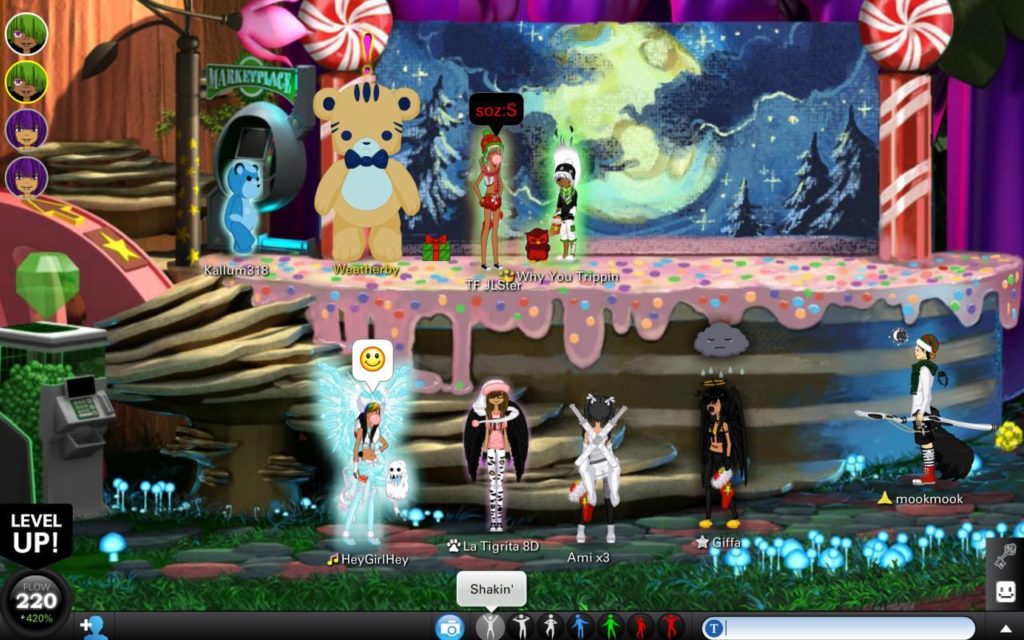 Players in ourWorld are also not restricted to a single gender and can swap between female and male avatars as they wish.
Further customization is offered through the in-game inventory element of ourWorld where clothing items such as pants, tops, coats, hairstyles, accessories, and shoes are unlocked through gameplay or purchased from the various in-game stores for coins.
Gameplay unlocks are primarily earned through the level-up system of ourWorld whereby you'll earn powerful Flow currency to spend on the PrizeWheel, Bubbler, or daily gem jackpot.
Alternatively, players can jump into one of the 50+ flash games across puzzle, strategy, arcade, matching, and action categories where you can earn coin game currency or Flow for ourWorld exclusive games for your participation.
The All Games category is similar to what you would find on other flash-based gaming websites with a range of puzzle tower defense games, simple adventure titles, racing adventures, and everything in between.
Chances are though you'll be spending more of your time in the unique aspect of ourWorld which is the social experience it offers. This social experience is split over 8 game worlds tied to level unlocks with each having its own stores, social hubs, and exclusive games.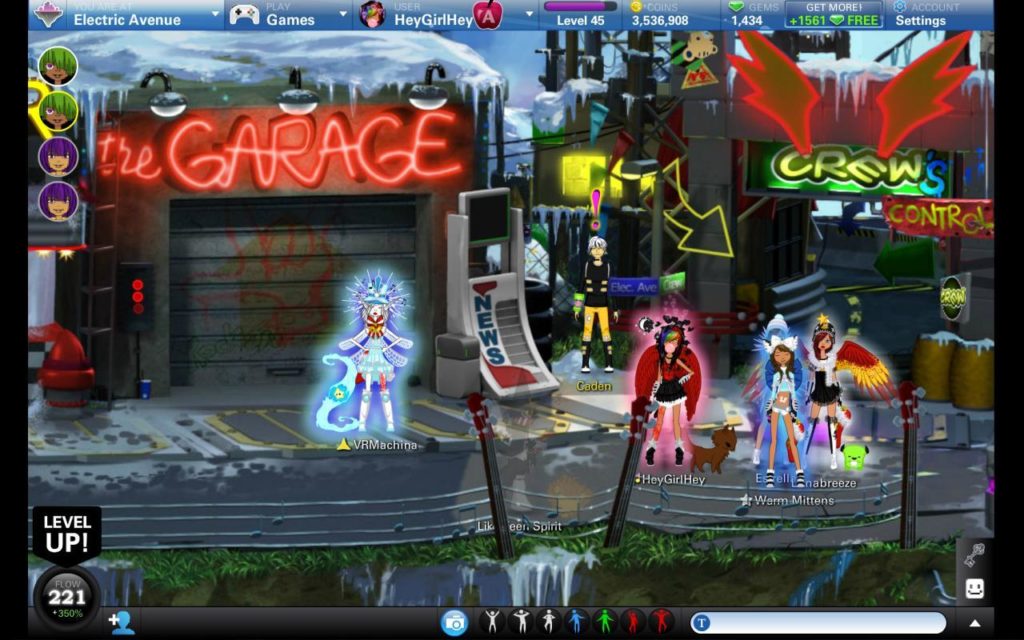 The social system in ourWorld also goes beyond the basic integrations that most online virtual worlds offer with further depth available through contests, interest groups, item gifting, adoption, marriage, pets, and a popularity rating system.

Smeet

Smeet is a social MMORPG where you can create a character, dress him up in something you would never wear in real life, build him a house you would never build in real life, and make friends you would never see in person.
Despite the complete second nature of the ideas and frankly, weak graphics Smeet was translated into 10 languages and gathered about 6 million subscribers worldwide. Probably played role accessibility of the project, which is easy to run in a browser.
By completing various quests, your character will earn "Glory Points" and progress in levels, thus increasing their social status and opening access to additional content.
In addition to chatting and questing, Smeet offers you to try your hand at several mini-games, including even Mahjong. In addition, the game allows you to have pets and train various fantastic creatures.
Well, for those who can not imagine themselves without a garden, the game provides an opportunity to equip your own garden, where you can grow cucumbers and tomatoes.

GoJiyo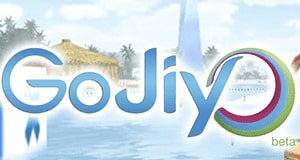 GoJiyo blends social networking with a virtual universe. Back by a large and dedicated community, the game creates a great experience.
GoJiyo lets you do all the activities that you can on other websites and includes the ability to create your own personalized avatar, meet new people, visit strange new lands, and much more.
GoJiyo has some truly impressive environments to explore which are all extremely varied. The level of visual appeal is very high especially since the game is browser-based. You'll also find that movement is very responsive allowing you to easily explore everything on offer.
The variety of environments in GoJiyo includes things like beautiful cities, old-style towns, urban settings, night clubs, moons, and even underwater cities. Each of these environments takes place in a different world in which players can move as they please.
As you explore these environments you aren't limited to exploration or chatting though thanks to the large number of adventures built into the game that helps you get your footing while also giving you something to do.
Friendships are everywhere and just waiting to be found in GoJiyo with countless other users just waiting to chat with you on the latest hot topics or just things that interest you. It's very easy to make friends in this vast virtual world and then joining them in a number of the activities in the game.
On top of all these features, GoJiyo allows you to earn real-life rewards for playing which adds another layer to the gameplay.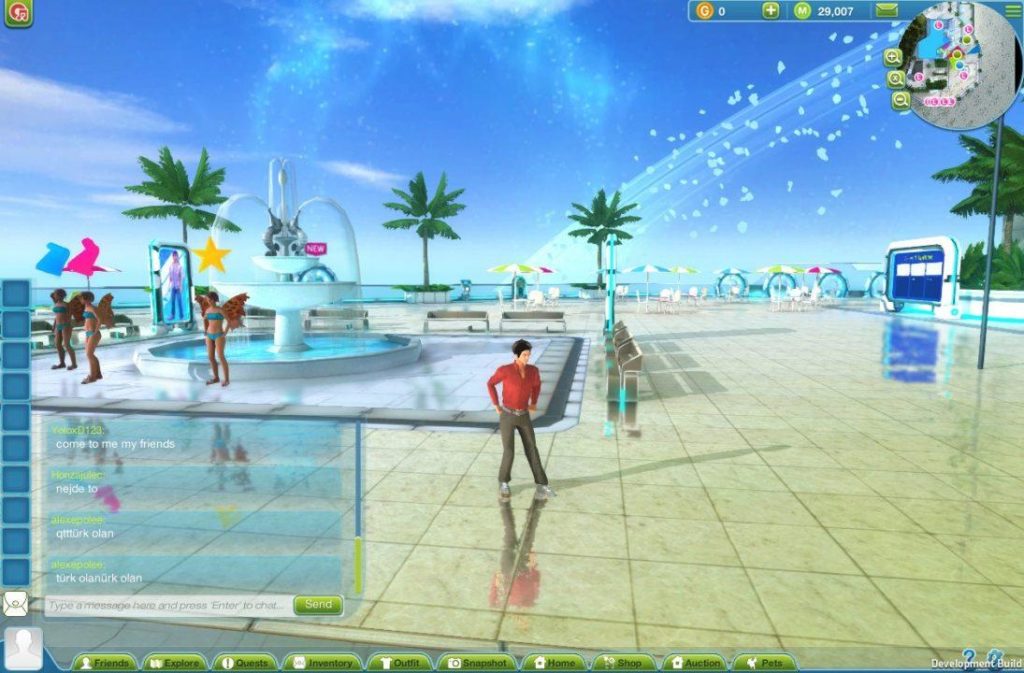 GoJiyo is an enjoyable online experience and particularly attractive to players who want something with good features that can be played within a browser window. The additional potential to earn real-life rewards just sweetens the deal.

You may also like: 11 Best Games Like Fallout for PC, Android, iOS
Twinity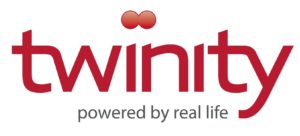 This is another game with a beautiful city and natural scenery.
It's all set in a 3D world where you can visit London, New York, Singapore, and other cities, or just spend the day at the beach or at a party with friends – take your pick.
The game begins by creating your avatar. After that, you head onward, seeing beautiful places and people chatting. You can chat with users and develop relationships.
You can also upload a photo of yourself to the game to make the avatar look more like you in a cartoonish way.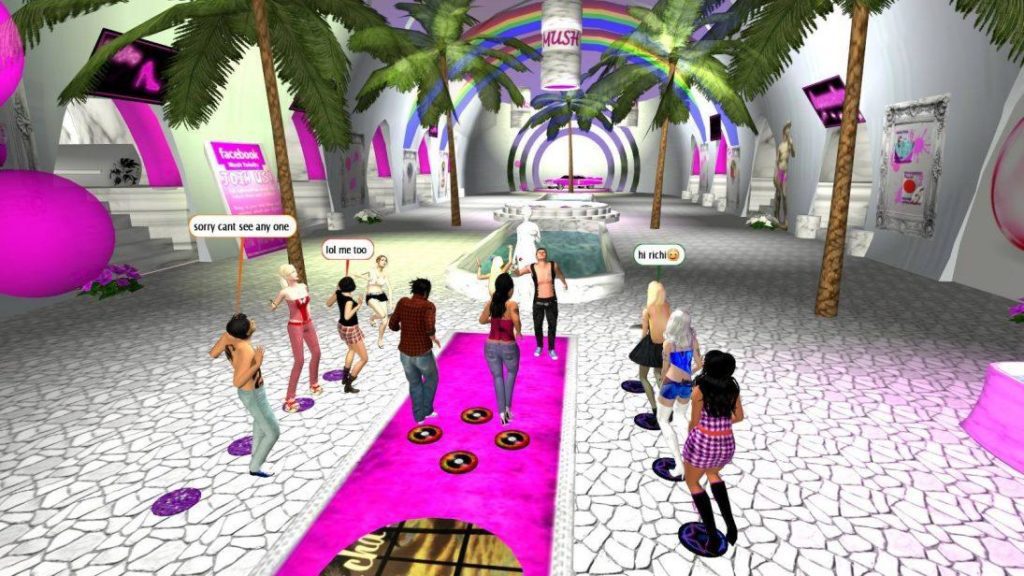 Twinity is a good alternative to IMVU and similar games in the virtual world and is generally considered more welcoming and friendly to new players in the community. Like any virtual game, it relies heavily on other players, and the game experience will be different each time.

Habbo

Habbo Hotel is another big name in terms of social multiplayer games. It has been around for a very long time, and it has grown a lot over the years.
In Habbo Hotel, you create an avatar. You can create a pretty decent-looking one, but most of the real customization options are locked behind a payment wall.
You can then explore. Spend money to purchase credits to build your own room. Go in other people's rooms.
A lot of the fun that you'll have will be in other people's rooms. Habbo has developed a really interesting culture, where you can join different "military-style" groups and rank up, work a fictional job, or play in different game formats. There's a lot of stuff to do, and 95% of it is family-friendly.
Unlike some of the other games on here, Habbo Hotel attracts a wide variety of users.
Although it was originally marketed to teenagers, it's become a kind of like IMVU, where you can find people from pretty much every age and background that you can imagine. There's a lot of user-created content on Habbo, so there's something for everyone.
You can also create rooms in the hotel for guests which you can customize easily and invite your friends to live there.

WoozWorld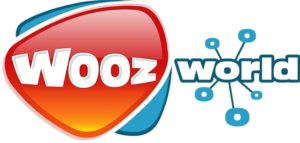 WoozWorld is also a very interesting and great IMVU alternative. This game is very popular on mobiles and it includes many personalization options.
Woozworld mixes a virtual world with social networking-like mechanics.
Despite being online for more than a decade Woozworld has retained an audience of players in the tween to teenager demographic by continually attracting the next generation of social gamers to its website and more recently the mobile apps.
The social networking features have also allowed the game to retain some older fans who leverage the social network to stay in touch with friends made through the Woozworld service.
Labeling itself as a fashion and fame MMO much of the Woozworld experience is centered around customizing your avatar with unique items and showing these off to other players within the community.
This avatar, known as a Woozen can be created within only a few seconds, giving Woozworld the unofficial title of fastest sign-up and avatar creation process of any social-based MMO.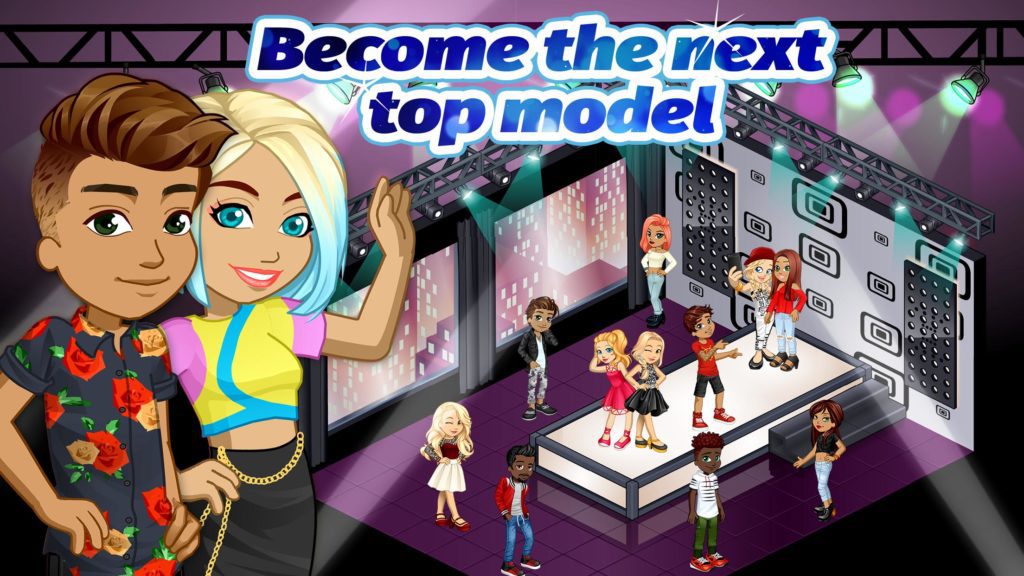 While blazing fast at getting you into the Woozworld universe players still have the option to heavily customize their character during the creation process.
The gameplay loop of Woozworld is similar to other games in this regard with players customizing their avatar, decorating their own home, exploring the various hub-based locations of Woozworld, meeting up with friends, hosting in-game parties, competing in various mini-games, or claiming fame in the various official contests.
Another feature found commonly in the genre that Woozworld adopts is the freemium model with players given the option to upgrade their accounts to a paid subscription.
Unlocking increased currency earning potential, exclusive areas, a weekly allowance, and other convenience-based perks the Woozworld subscription is an attractive option.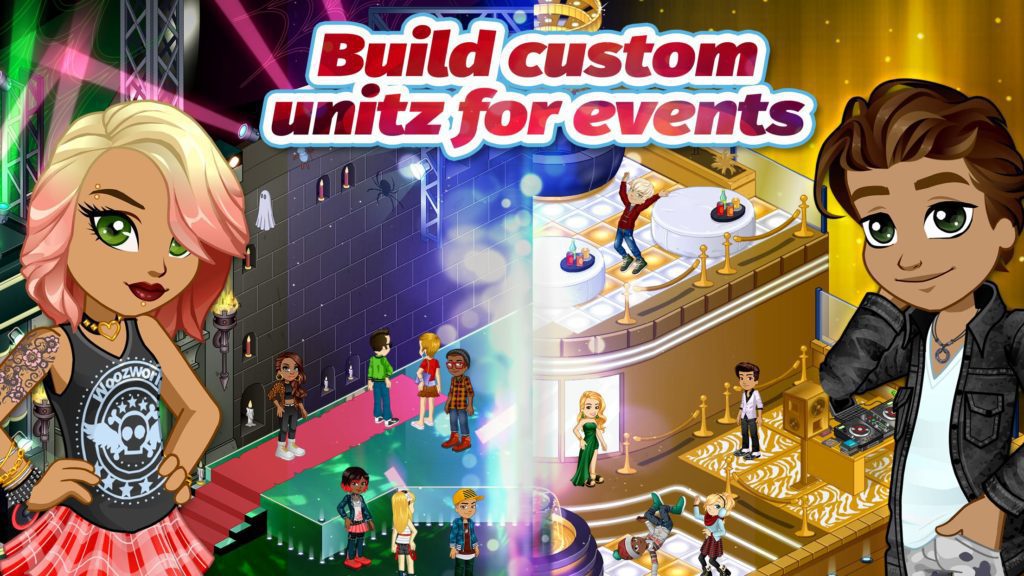 That being said Woozworld as a free player is surprisingly generous. You won't feel like you are heavily missing out given the player base is predominately free-to-play users.

Avakin Life

Avakin Life is an amazing game that allows you to enjoy the perks of virtual life.
This is another great alternative to IMVU and it allows you to customize your avatar, apartment or house, and meet a lot of people at different locations.
You can create your own avatar and customize it with over 1000 different options for changing the look. There is an in-game apartment too which you can decorate according to your preference.
There are lots of socializing options in the game and you can earn and spend your money in the game too.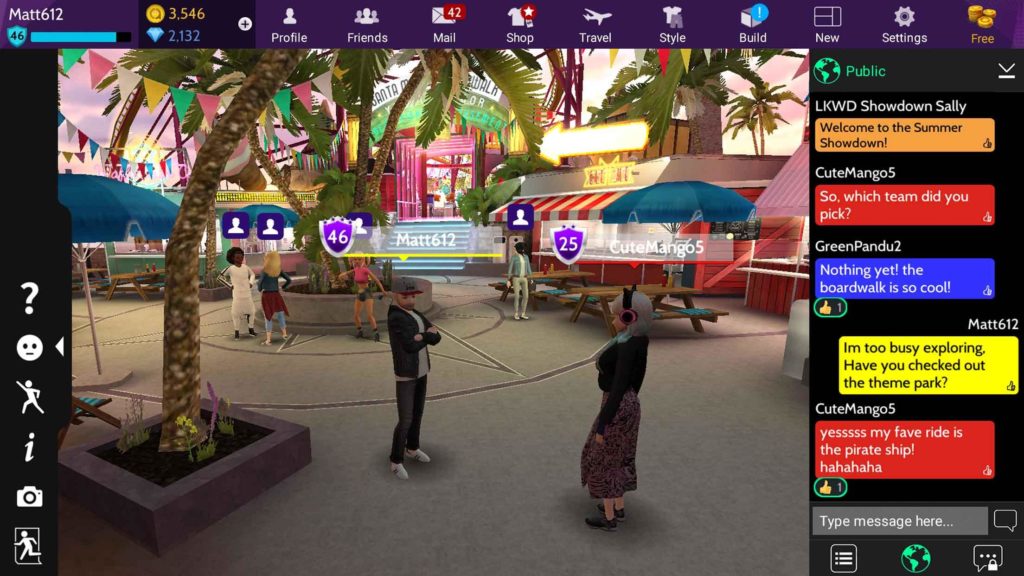 You can spend your money on clothes and housing by buying premium items that can make your avatar stronger.

Gaia Online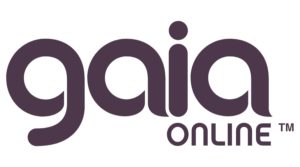 Gaia Online, like its friends on this list, is a veteran in its genre.
It's been around for ages and was initially just a place where people could talk about anime and video games on a message board.
Then, customizable avatars were added. Then, games to buy different clothes were added. Before you know it, it's one of the biggest social multiplayer games out there.
There are loads of different mini-games to play, of all different types. From puzzles to racers to action games, there are plenty. And none of them are really bad. Quality doesn't vary that dramatically.
On top of that, there are plenty of places and ways to make friends. Gaia Online is sort of like open-world Animal Crossing, where you can run around and catch bugs, fish, or pick up garbage to make money.
While doing this, you can meet friends, chat, visit their house, roleplay, whatever! The sky is the limit. Gaia is also really approachable.
Although it has a premium currency, it isn't too difficult to accumulate its regular currency. It doesn't feel pay-to-win, because most of the stuff that you're buying is only cosmetic, to begin with.
The social multiplayer world isn't quite as crowded as it has been in the past, but it's still nothing to sneeze at.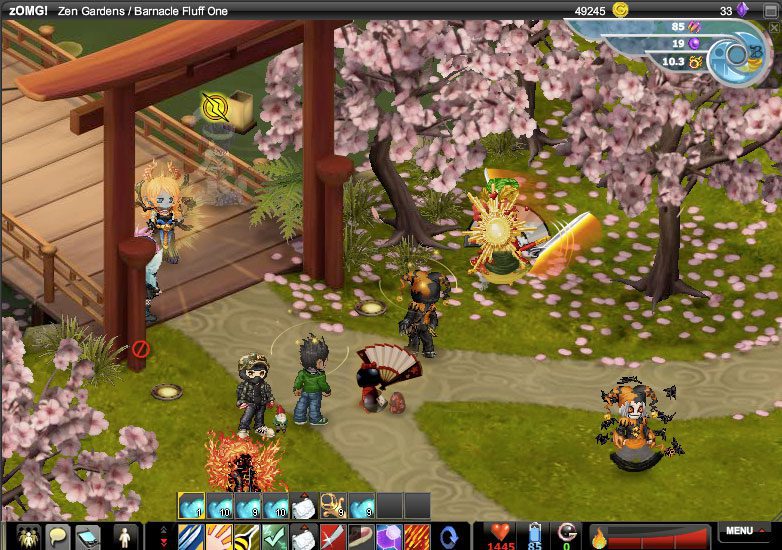 Although Gaia Online is definitely the best, with strong gameplay and a kicking online community, there are still lots of other options to choose from. It's just a matter of doing the right research and finding which one is right for you.

Touch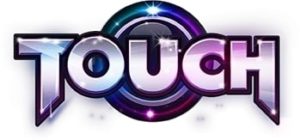 Touch is a dance-focused experience that offers K-Pop music as a core gameplay mechanic while players attempt to take their character from nobody to a music star.
Featuring anime graphic styling with a wealth of over-the-top customization this Korean-themed adventure is colorful and full of pop.
To start your adventure to musical star you'll be able to customize a Touch character to your preferred gender and style which can range from cute anime-inspired character or something more elegant or cool amongst other options.
At this early stage, you'll also have the opportunity to create a star name along with an introduction to the dancing mechanics that Touch is based around.
Similar to other rhythm-orientated games Touch challenges players to press the correct arrow key on their keyboard in time with the visual prompts on the screen.
While these start simple with ample time between inputs and limiting button presses to a single key the game progresses to more complex sequences.
To match this the beats and rhythm of the pop music also increase with this difficultly ramps up and outside the early songs that won't cause too much trouble offers plenty of challenge.
Touch by 3Claws is a game about much more than music though and in fact, with the large number of things to do in the game, it isn't difficult for players to avoid this feature completely if they want.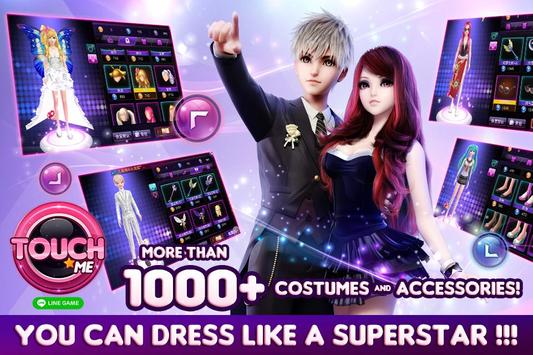 These other activities things include chatting with other players in the various unique game rooms, customizing your character with a huge range of items to create a unique look, completing missions for items or achievements, engaging with mini-games, or joining in the regular events.
With this impressive feature list Touch ends up with a good mixture of social and music gaming that never gets old.
The community and visuals of the game are definitely the strengths though with the game attracting a consistent stream of players with similar interests which thrives with the anime visual styling as players customize every inch of their popstar.
Touch is going to appeal to a huge range of audiences from those looking for a new social game to chat with others and make friends to those wanting something competitive with the ability to rise the pop star ranks based on your song performance.
Regardless of your preference though you'll want to look fantastic in whichever outfits you select while also being unique from those around you.
Touch captures this desire perfectly through its rare crafting system where you can create items with the materials tied to in-game prestige achievements.
While some of the translations are slightly off in the English version it doesn't significantly detract from what is one of the best albeit few rhythm-based social games around.

You may also like: 11 Best Games Like Movie Star Planet
Diva Chix

Diva Chix is a more mature dress-up game than most and caters to a teenager and adult audience.
The game has an impressive list of features and also has regular events for players to participate in.
Diva Chix is just as much a strategy game as it is a fashion game with the ultimate goal being to dress your diva doll and battle it against other players to decide who has the best fashion sense and style.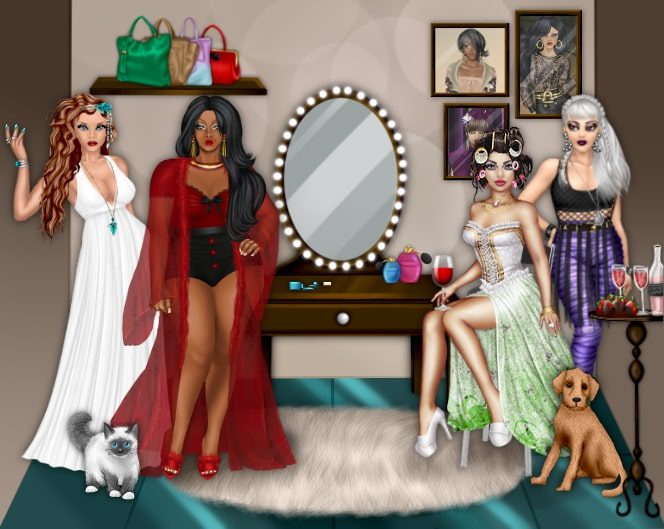 On the way you'll play games, design clothes, run a clothing store, join a community group and so much more.
Diva Chix makes sure there is always something new and fresh going on for players to experience and with a very friendly community and staff behind the game, there are no limits to your enjoyment.
Once you've signed up for your account you'll be given some starting Moolah and Coins to get you started. From here players will want to spend most of their time playing the various games available to build up their cash reserves.
Games include a good mixture of chance games, freebies, and games of skill where your skillful play can earn some impressive rewards.
From here players are encouraged to go shopping and start their own store. This is where the real gameplay of Diva Chix comes to life as players start to enter into battles with other players to prove who has more fashion power.
Players can compare themselves to others using the battle ladder on the website and attempt to reach the top ranks. Players can also attempt to move up on the overall leaderboard which adds style, perception, hot points, and fame into a single score.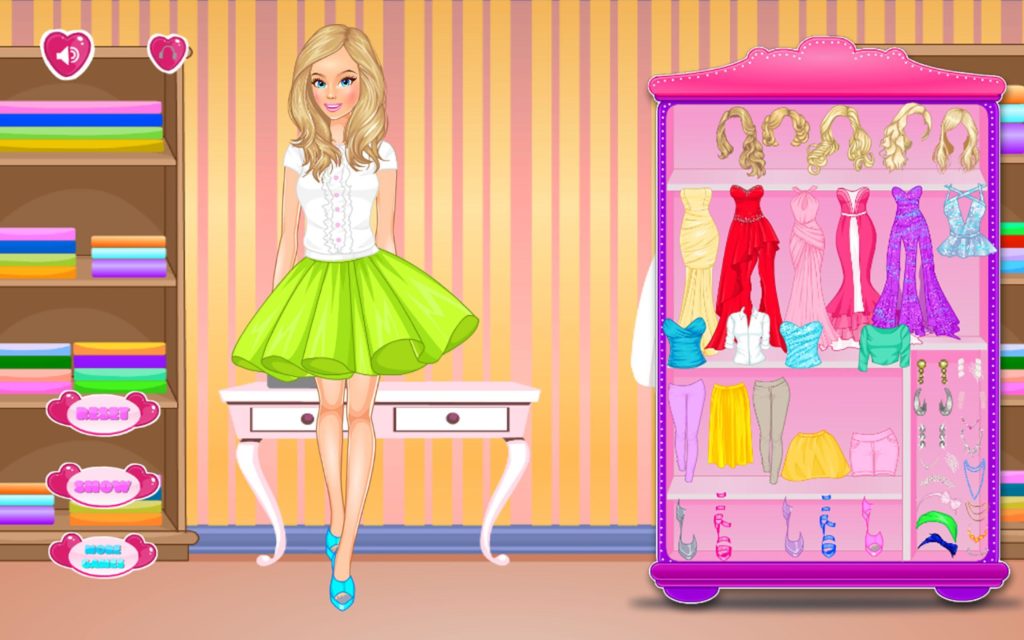 Diva Chix is extremely fun to be apart of and has a good size community that makes the game what it really is. If you want a social experience with plenty of fashion and competition you'll love what Diva Chix offers.