If you're a fan of word games, you know the frustration of being unable to come up with new combos or being stuck on smth you just can't come up with. And let's be real, nobody has time to sit around with a pen and paper, scratching their head and muttering possible answers.
That's why we've rounded up the best free anagram solver apps for Android, iOS, and Windows. These apps let you solve anagrams, so you can spend less time puzzling and more time winning at Scrabble.
With these on hand, you'll be able to cheat your way through any word game while also sharpening your brain. These apps will help you unscramble any word and even give definitions for those obscure words that always seem to stump you. Let's dive in!
Anagram Solver
This one is for those who live in work games but struggle to come up with answers sometimes. With a whopping 400K words and phrases in its database, this app is the ultimate tool for all wordplay lovers.
Let's start with the basics – the search bar. The search itself is rather fast, giving you results in a matter of secs. It's great for solving multi-word anagrams, which is perfect for that tricky crossword. And for those board game aficionados, the blank letter is a game-changer. Just use the '+' symbol to represent a blank letter, and you'll find all the possible words you can do.
But what sets it apart are the powerful filters. You can explore words that begin or end with a certain letter, or even exclude some. This makes it incredibly easy to find the word for any given situation.
The app can even solve crossword phrases. With over 100K built-in options, this app can help you solve even the toughest of riddles. And let's not forget about the definitions. Hold down on any word, and you'll have access to a list of websites to find the definition. It's seamless and convenient, no need to open dictionaries all the time.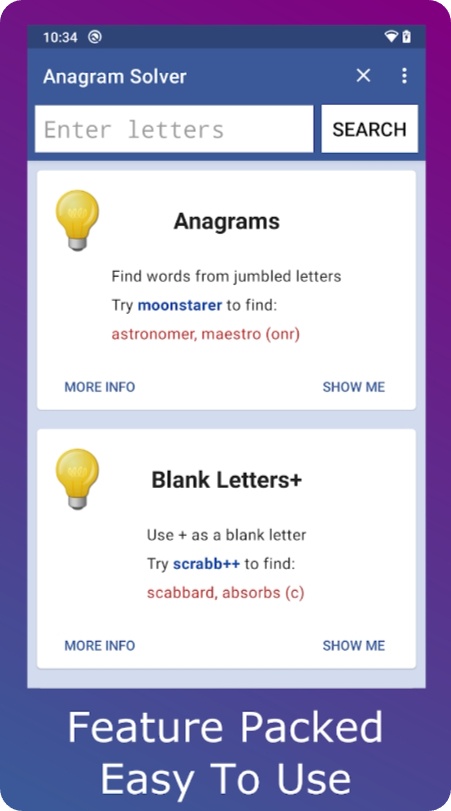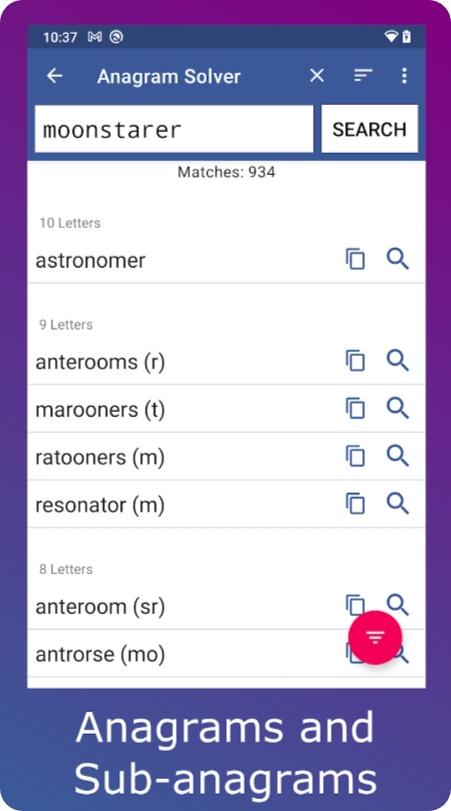 You may also like: 11 Best Word Search Apps
Crossword Clue Solver
This one will help you find the term to conquer that crossword you've been stuck on. It's beyond simple when it comes to UI, so even your grandma could use it.
The database here boasts over 400K words, so chances are you'll find the one you've been needing. This app is a genius companion you need, really. Not only does it solve clues in a snap, but it also unravels those sneaky anagrams like a pro. It won't work with phrases, though, so keep that I'm kind.
But wait, there's more! This app is loaded with tools that kick it up a notch. Need to check a word's definition? No sweat! There's a built-in dictionary, so you won't need to open Google all the time.
Hunting for words with missing pieces? Piece of cake! And if you ever stumble upon a word you can't pronounce, fret not! The app even has an audio guide to rescue you. The app is free, and the ads here are fully bearable.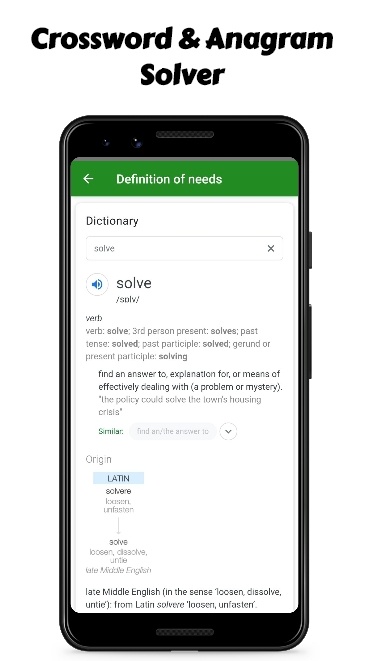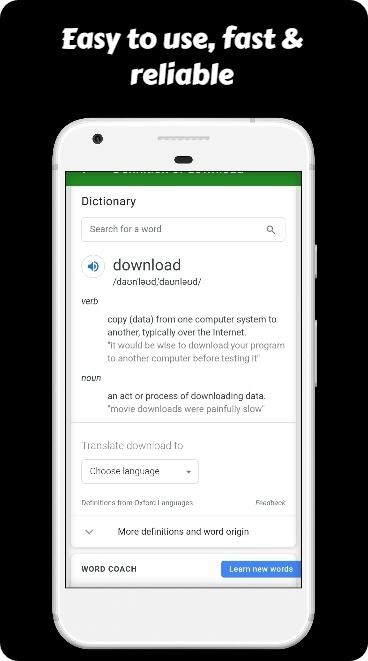 Anagram Solver
This app is the holy grail of the word game world. Trust us, it is a game-changer and a must-have for all the Scrabble enthusiasts out there. Make sure to give your mom or granny a hint about this one, so she could outshine all her game partners.
This dictionary-based app is made specifically for users in the USA and Canada. And guess what, it can be handy for most of the word games too. So if you need a tool that can turn your messy racks into acceptable words in no time, this is it!
But wait, it gets even better. Not only can you find the solution to any word riddle in no time, but you can also save the words you missed and come back to study them later. This tool is ideal for those who want to sharpen their vocabulary skills and take their word game to the next level.
What's more, the app is user-friendly and easy to navigate. You don't have to be a tech-savvy person to use it. It lets you find the key to your word puzzle within secs, no limits here.

Crossword Solver
If you're an avid fan of crossword and anagram puzzles, then you know the feeling of getting stuck on a tough word. And that's when this app comes in. With its extensive offline catalog of over 300k words, finding the one you need has never been easier.
One of the coolest aspects of this one is its wildcard search bar. Have a jumbled mess of letters? No problem! It will search for all possible words, even if you're missing a letter or two. And if you're unsure of how to pronounce a particularly tricky word, the app has an audio pronunciation option to help you out.
It also has a huge catalog of offline crosswords and anagrams, so you can find even more word puzzles to sink your teeth into. And if you're feeling stuck, simply enter a word and the app will find all the anagrams for you.
The fast search bar is a godsend for those who don't want to waste time flipping through a dictionary, and with over 400k words in its lib, you can easily find everything you need. And if you need to look up a definition, the app can even search the web for you.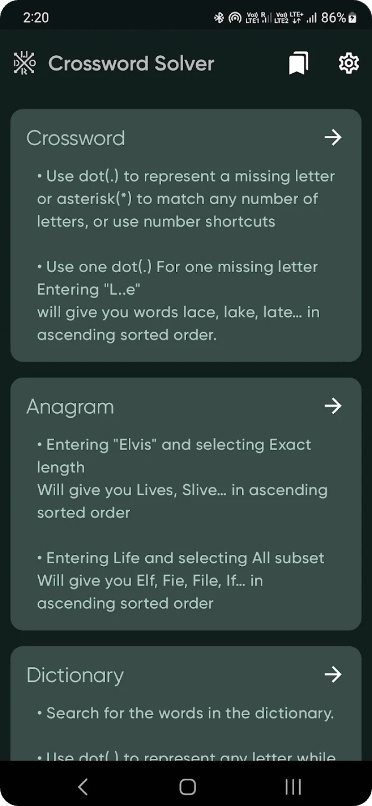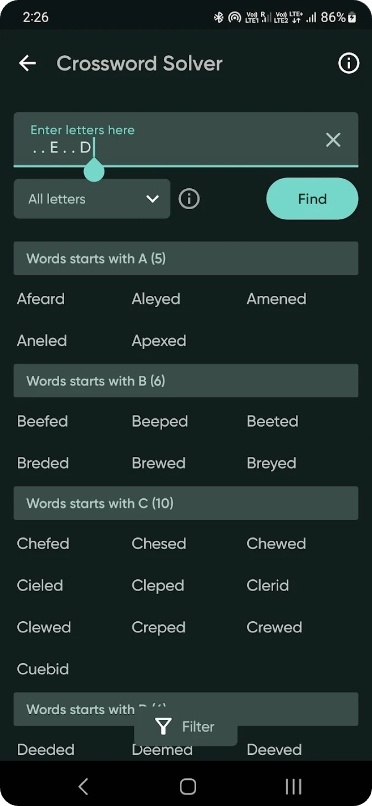 Crossword Solver King
Here's an app that will make sure you won't be stumped by anagrams or crosswords ever again. We know that the whole point is to guess the word yourself, but sometimes you get stuck with one, and it ruins all the fun (yes, we're rhyming here).
This app boasts a vast lib of over 500K words, phrases, and synonyms, ensuring that even the most challenging riddles can be conquered. Need a word with a missing letter? No problem, just use the handy search feature to find the match.
It also covers anagrams and codeword solutions, as well as a built-in dictionary to help you find related words to your crossword clues. Plus, with powerful filters, you can refine your searches to find exactly what you need.
And let's not forget about the wordle tool. It lets you easily identify letters that you need by color-coding them, making it even easier to fill in those tricky crossword squares. There are over 100K phrases at your service and a handy hyphen to denote spaces, too. Plus, it won't cost you a dime!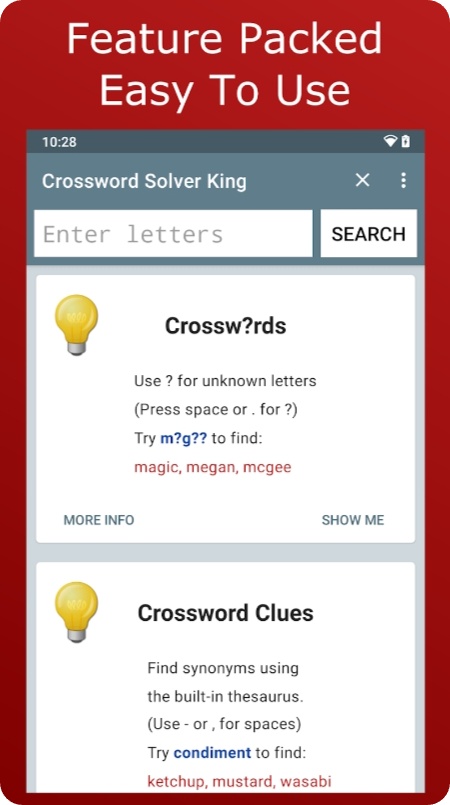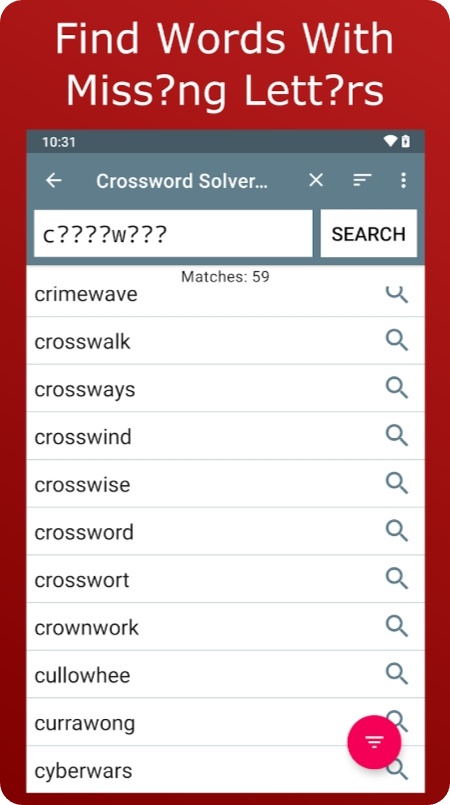 Check also: 15 Best Two-Player Game Apps
Anagram Solver
It's a simple app that can solve anagrams with ease and precision. It covers over 190K words in its arsenal, which makes it a true gem for those who love wordplay.
One of the top perks of this one is its ability to solve anagrams with differing degrees of known letters. Whether you only know some of the letters or all of them, the app can help you find the solution.
Playing Scrabble or Countdown? No problem! With the sub-anagrams setting, you can dig for terms within the letters you have entered, giving you even more options to pick from and increasing your chances of finding the word.
Another tool that is common for the genre, but still useful, is the ability to search for a word's definition directly from the app. This is especially helpful when faced with multiple potential solutions, as it can help you determine which word is the most appropriate. It's easy to use, packed with tools and will become your go-to app for all of your word-solving needs.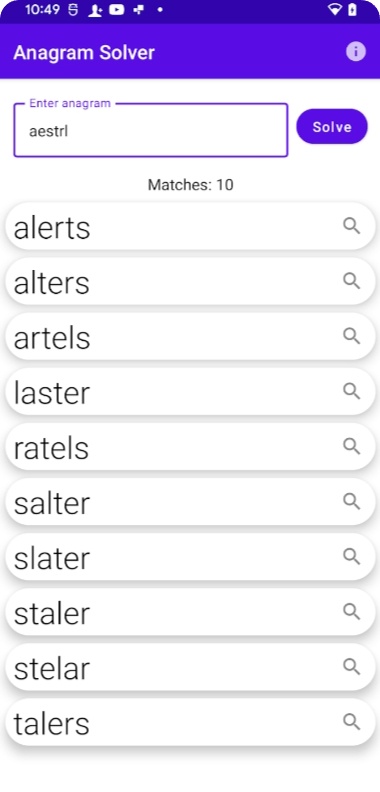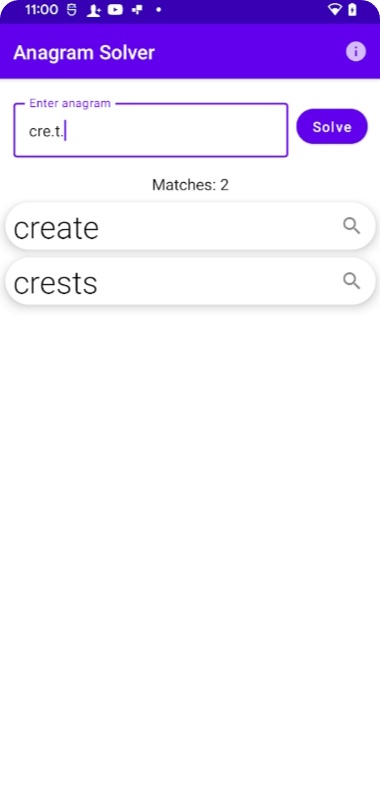 Anagram App
If you're a word game enthusiast, you simply can't afford to be without this app! This tool will revolutionize the way you play your favorite word games, giving you an edge that you've never had before.
With this one on hand, you'll be able to quickly and easily solve anagrams offline, so you won't have to worry about losing your web connection in the middle of a game.
One of the top things about this one is its tools. With support for multiple wildcard characters, you'll be able to find words that you might not have even considered otherwise. Plus, with word score calculations, you can always be sure that you're playing strategically and maximizing your chances for a high score.
Plus, it's ideal for a wide variety of word games. Whether you're a fan of crosswords, Scrabble-style games, or word search riddles, you'll find that this app can help you boost your scores and take your game to the next level. It supports English and Spanish, while most of such apps only cover one language.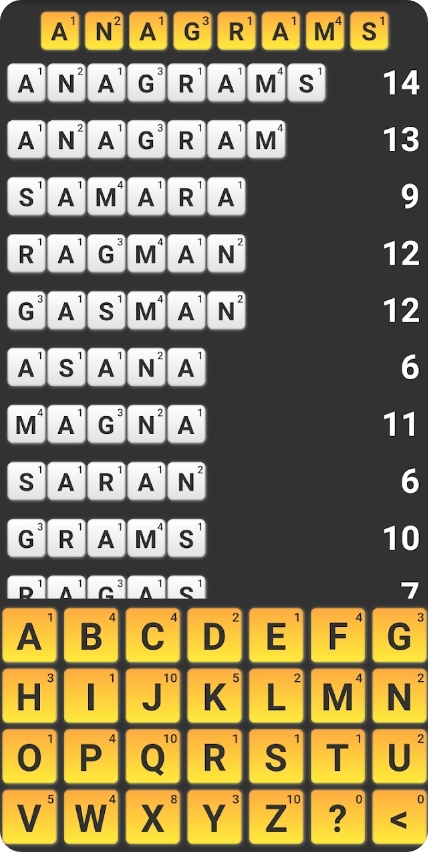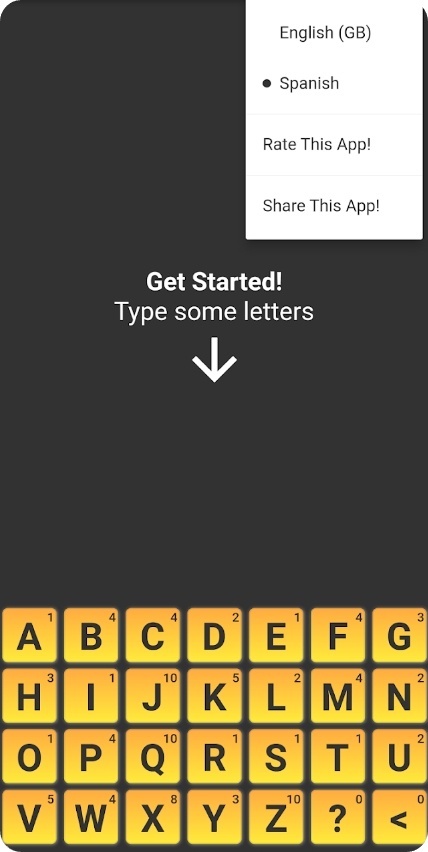 Wordfinder
It's an app that will help you win every word riddle you try. As a virtual word search tool, it is your ultimate key to finding all words that can be made up of the letters you input.
This app can help if you're playing Scrabble, Words with Friends, or anything similar to the concept. It lets you find words you never knew existed. It's easy to use and incredibly intuitive, making sure that you don't waste any time if you're stuck trying to come up with a word.
It covers tons of words, from the obvious ones to the obscure ones that will make your opponents wonder how you even came up with them. Plus, it covers definitions and example sentences which can be incredibly helpful in enhancing your vocab.
You can also use it to level the playing field on your fam game nights. With players of different skill levels and ages, it's always challenging to find words everyone can agree on. But with this one, you can generate words that are suitable for everyone and help keep the game fun and engaging for all.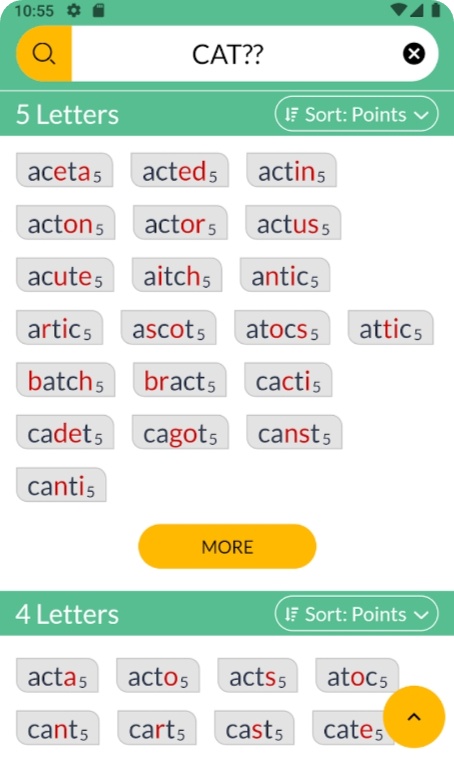 Chris Mart's Anagram Solver
Tired of staring blankly at a jumble of letters in an attempt to make sense of them? This app can help! It's a nifty little tool that not only fills the void for simple anagrams but truly shines when it comes to the trickier ones.
Say bye to the frustration of multiple words, common phrases, and pesky place names. With a friendly UI, this app is easy to navigate and will have you solving anagrams like a pro in no time.
It even includes names of actors and TV programs, ideal for those pop culture buffs who want to impress their pals with knowledge of celeb anagrams. And the best part? The app is constantly updated with the latest names and words, so you'll always have the most up-to-date info.
All in all, it's ideal for those who love puzzles, trivia, or just want to impress someone with their word skills. With its clever and witty approach to anagrams, you'll never be bored or frustrated again.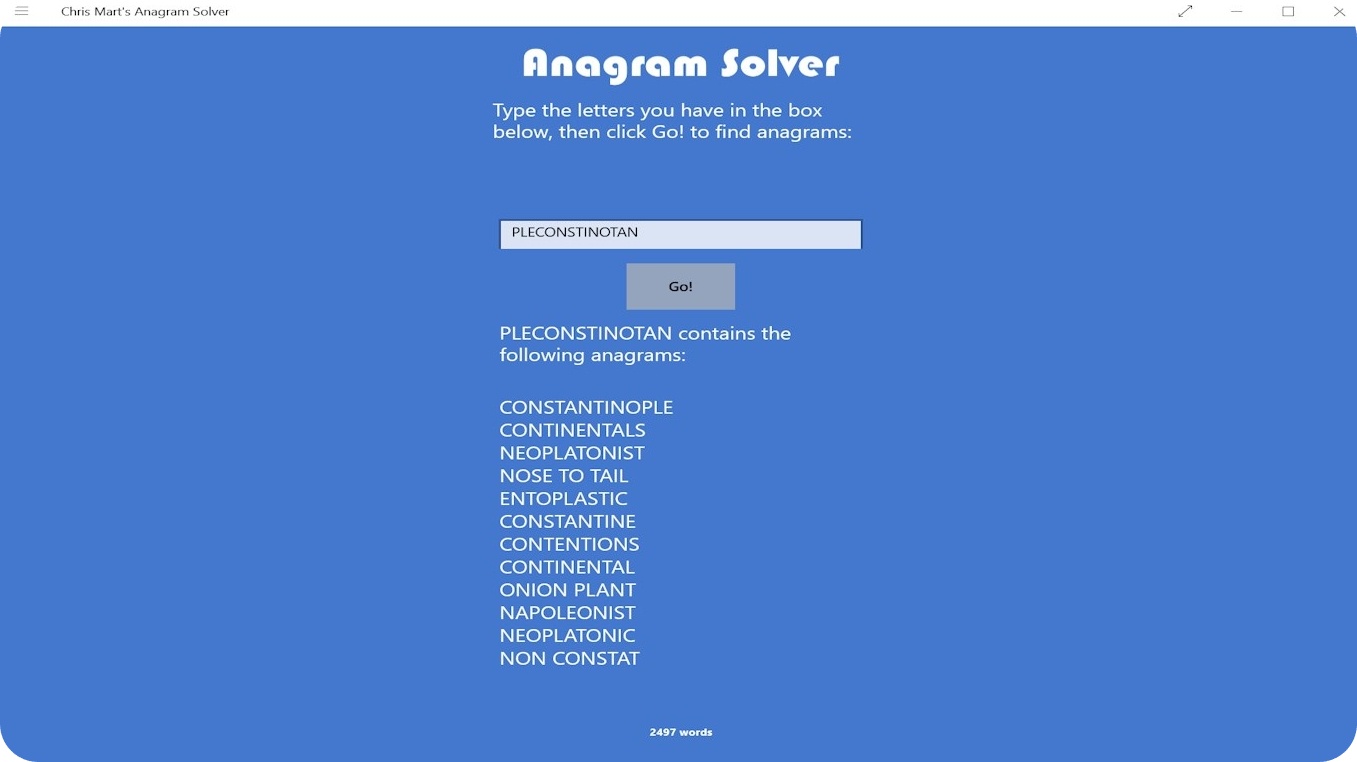 Crossword and Anagram Solver
This app is a gem for anyone who loves solving crosswords but needs a little extra help along the way. It's here to ensure you'll never get stuck on crosswords ever again.
One of the best aspects of this one is that it requires no pesky permissions or web connection, so you can use it anytime and anywhere without any hassle. Plus, it has totally eliminated any annoying advertising, making for a smooth and uninterrupted experience.
But the real star of the show is the app's extensive lib. It covers over 120K words, you're sure to find the deal solution no matter how long your word is. And if you come across a word you don't know, simply click on it to search the internet for a definition.
And not only can it solve crosswords, but it can also help with anagrams! This is a treat for those of us who are stumped by word jumbles and need a little extra assistance. The app is fully free, and there are no ads to ruin your exp. It will surely become your new go-to for all crossword needs.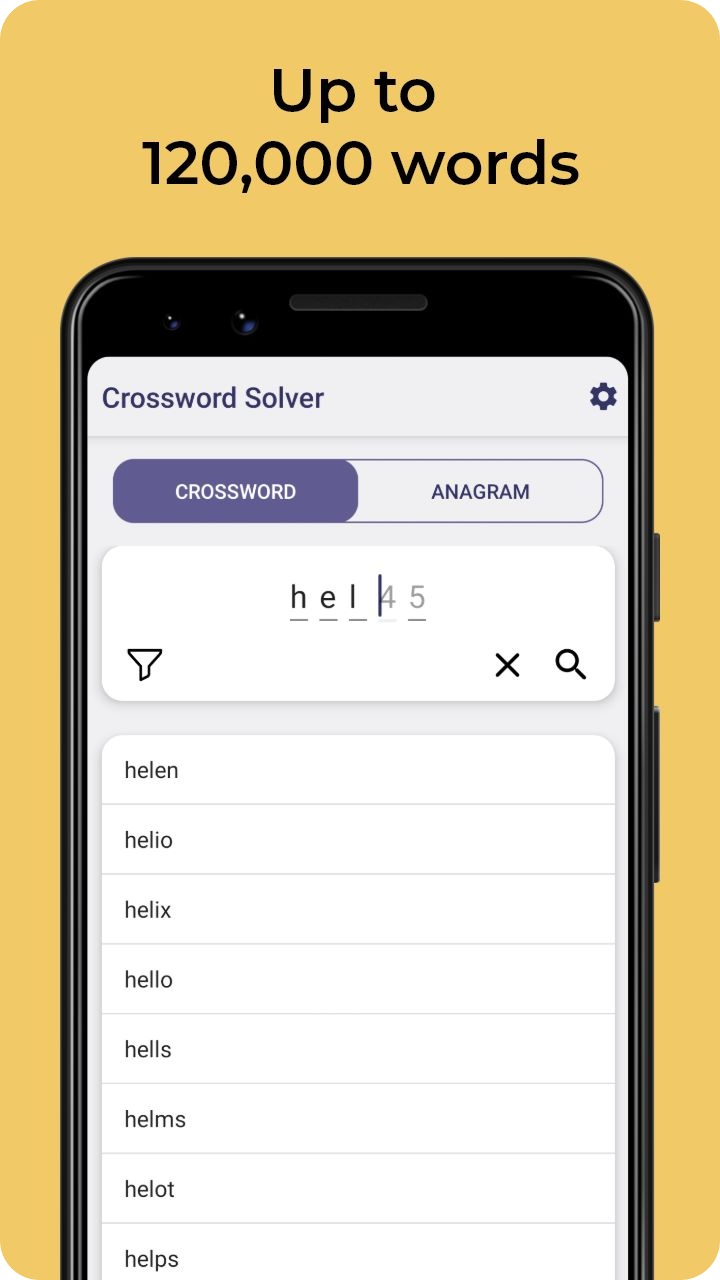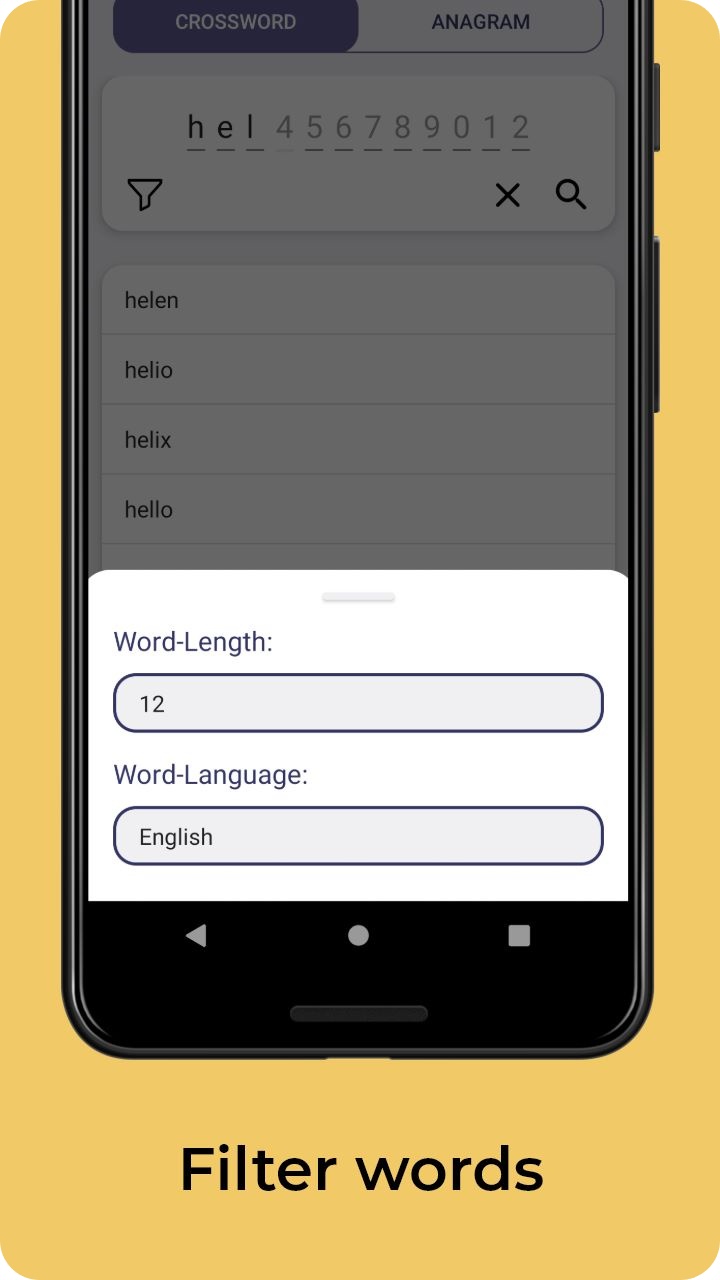 You may also check: 9 Best Box Puzzle Game Apps
Word Sets
Lastly, we have an app that helps you master word games with little to no effort. It comes with 3 modes and can unscramble a set of letters in a variety of ways, helping you find new terms and phrases you never knew existed.
And if you don't know the definition of a word, simply tap it, and you'll be taken to Google or Wikipedia to learn more. The UI is clean and simple, with no cluttered screens or tool overloads. It's a breeze to use, letting you focus on what's really important – finding new words and dominating your opponents.
And speaking of dominating opponents, it lets you sort your results by points you can get in diverse games. Cool, right? So whether you're playing competitively or just for fun, you can be sure you're putting your best foot (and words) forward.
You can also add filters to fully cater the search bar to your needs. The are no limits for the number of words and no need to be web-connected either.