In the realm of incredibly niche sim games, House Flipper certainly feels like a no-brainer. The concept of buying run-down houses, improving them, and then selling for a tidy profit has spawned countless television series and makes for an enticing gameplay loop.
Unfortunately, House Flipper has its own list of vital improvements that need addressing if it hopes to satisfy would-be interior designers.
You may also like: 8 Best Home Decorating Apps for PC in 2021
But still, this game genre is in demand, so you can try these great games that are similar to House Flipper, but stand out in their own awesome ways. This is a comprehensive list of the best games like House Flipper for PC that have been tried and recommended.
Construction Simulator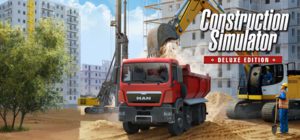 This is a realistic simulator, which offers to master the construction equipment and engage in the construction of various structures, including high-rise buildings, bridges, windmills, and so on.
And here you will pass the whole way of construction – from digging the excavation and pouring cement to the placement of walls and ceilings.
To dilute this monotonous process, the game will periodically toss you new tasks like drilling holes for supports and transportation of building materials. All this is available and with multiplayer mode, where you and your friends will organize a construction conglomerate.
Dig a foundation pit using realistic machinery, pour cement into factory wall panels with a huge concrete pump, or test the accuracy of your hands by operating a mobile crane to place giant trusses.
Explore the vast open world with cities, fields, and even highways. You'll discover many new challenges for your ever-growing fleet of machines. As your business grows, you'll discover even bigger and more lucrative orders and new jobs with even more opportunities.
It's always more fun to work with friends, and construction is no exception. Control your vehicles with your friends in multiplayer mode. Complete construction jobs together, or just play for fun in this free-to-play world.
Up to four workers can take part in online play. The player who creates the game becomes the manager and takes the lead in running a construction company shared by all players.
So you can work together to complete construction tasks. Together, dig pits using different excavators while the other player transports the excavated earth to the gravel plant.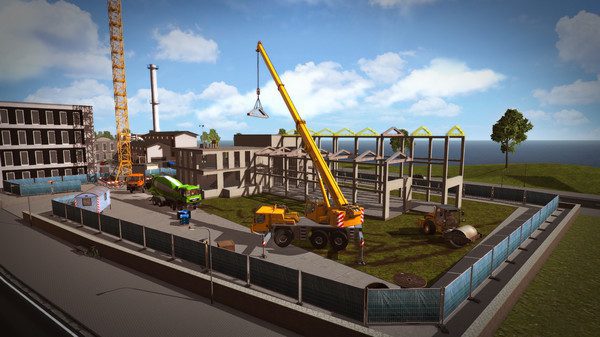 In the extended game, you can work on three construction sites at once and start earning money really fast in your construction company.

You may also like: 11 Best Games Like House Party for PC
Project Highrise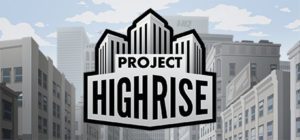 This is a kind of economic strategy where players will be able to design and build their own skyscraper.
And not just a high-rise building with a bunch of rooms, but a meaningful structure with stores on the first floors, underground technical rooms, elevators, electricity, office space, and so on.
So, it's an interesting project with lots of tweaks for fans of thoughtful creative gameplay.
Creating your dream building is quite simple, you just need to understand certain laws. For example, to work any block on the floor must have electricity. It is brought from the transformer on the line.
That is, you can't put a person to work in the office if he has no light in the room. Besides, if you have several floors, you need to put steps or an elevator. The second option is more attractive, but it costs more and doesn't always make sense.
There is free mode, script, and mods. In free mode, you choose the difficulty, the conditions, and start earning money to build more floors and earn even more later. The scenario is different in that there are more key tasks to solve.
It motivates you to play more actively, to achieve something, to solve problems. In addition to this, the developers have implemented a system of mods, which will allow the future to make the game more diverse.
It is clear that the game was created for a certain audience of gamers, who want to get these very sensations from the gameplay.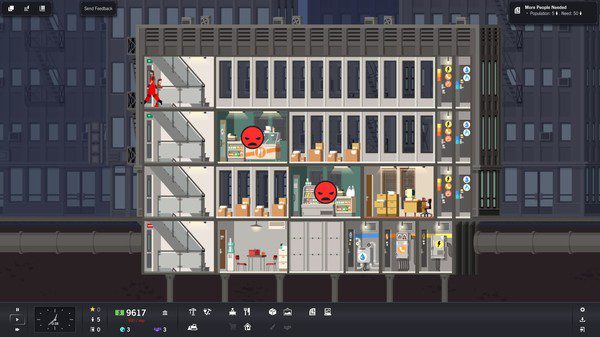 The gameplay is measured, calm, it is necessary to think ahead, to design, to plan. Sometimes a mistake made at the beginning of the game then leads to big problems with the development, which forces you to start over and do everything more intelligently.

The Sims 4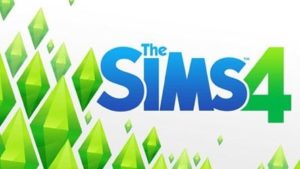 The Sims series isn't just about watching virtual humans parody real life in such a fun way.
It's also a full-fledged house-building simulator, where you can build anything – a small cabin or even a fancy mansion.
Construction features in The Sims would be the envy of any other themed game – especially in the fourth part of the line.
By constantly replenishing content in front of you will open up more and more options for designing houses for the Sims. And you can not even be distracted by other aspects of the game, focusing only on the construction of the house of your dreams.
The construction mode in The Sims 4 received a lot of changes. You can place the whole room, move and rotate them, change their size. You can even move the whole house around the site.
The height of the walls is now changeable – they can be low, medium, and high. Each floor can be a different height. You can also add, remove, or change the foundation with just a couple of clicks. "Stylized rooms" is also a great new feature.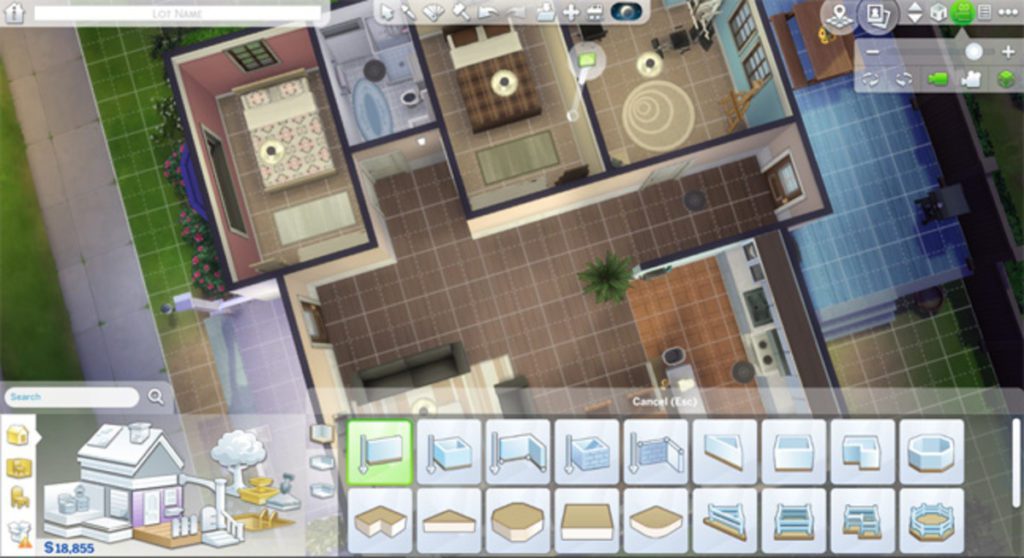 If you don't like to build, choose any of the available seats or download from the Gallery, and put in. This way, a house can be built in a few minutes.

Fallout 4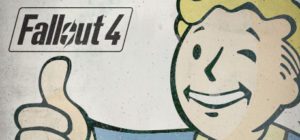 There are two types of Fallout 4 fans. The first do quests, fight raiders and mutants, explore the secrets of the post-apocalyptic Wasteland, and make partners. Other players build.
Thanks to the game's construction system, you can found entire settlements with grateful residents. And then constantly run from one settlement to another and defend them from enemies.
The construction possibilities in Fallout 4 are almost limitless, and it's not as easy as it seems. You will need a lot of resources and patience to make your plans come true.
In Fallout 4 the player can not only build different buildings but even create whole settlements with inhabitants. The Survivor also gets experience points during construction.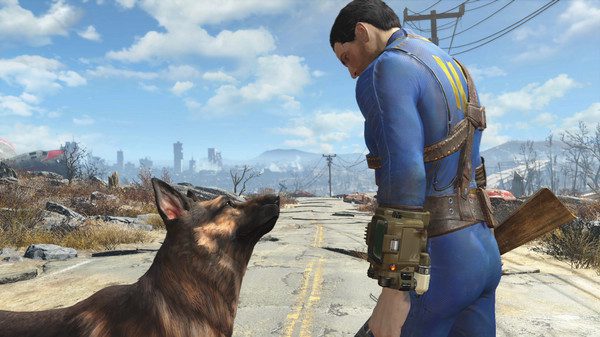 The workshop allows the player to put the game into construction mode. To do this, either walk up to the workshop and press the activation key.
In most cases, to create a settlement, or put it under your control, you must either complete a certain task or clear an area to gain access to the workshop.
A variety of basic components are required to create any facility. A survivor can collect building materials by dismantling existing buildings and objects and junk in construction mode, as well as by buying in batches from merchants.
Unneeded components and junk can be kept in storage. After that, the necessary building materials for crafting or construction will be extracted from there automatically.
A survivor can erect various buildings using ready-made blocks from the workshop menu. They can be created from the existing materials, or you can use them before saved blocks. Besides, prefabricated buildings can be furnished and variously decorated.
You can complete some of the finished objects. Since the game does not provide automatic alignment when attached to the finished objects, you can use the construction of several foundation blocks of the right type and a couple of walls for an accurate and aesthetic extension.
The resulting corner can be dedicated in its entirety and pushed as close to the existing structure as possible. If something does not turn out as intended, there is always the possibility to save the elements that are not useful in construction in the Workshop and use them later.

You may also like: 11 Best Games Like Mabinogi
Demolish & Build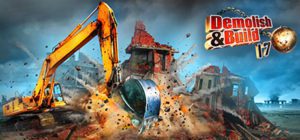 This is another simulator that allows you to be on both sides.
To be engaged in both demolition and construction of houses, which, in fact, is reflected in the name of the game.
Here at your disposal will be a variety of construction equipment, which should be applied to the main purpose.
For example, a bulldozer to destroy the walls and level the ground, an excavator to dig excavations, a truck carry building materials, a crane to put up walls and ceilings.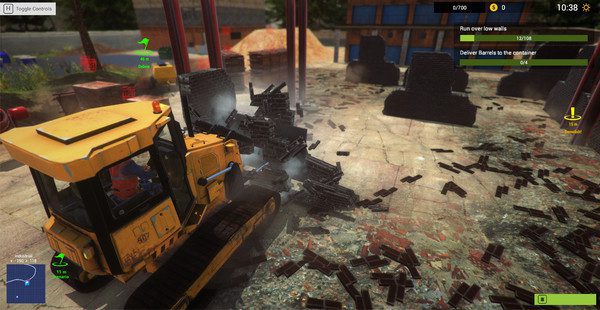 After earning money from demolition, you can invest in your construction projects, rent them out, and earn a steady income from them.

Minecraft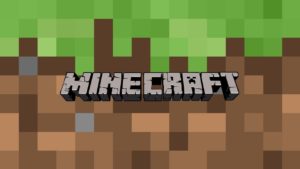 Construction in Minecraft is one of the main gameplay mechanics, but still at the head of the corner laid exploration, crafting, and survival.
But, this does not prevent many players from focusing only on creativity.
Some servers have amazing masterpieces of cube architecture, comparable to the cultural works, such as Hogwarts from "Harry Potter" or Minas Tirith from "Lord of the Rings".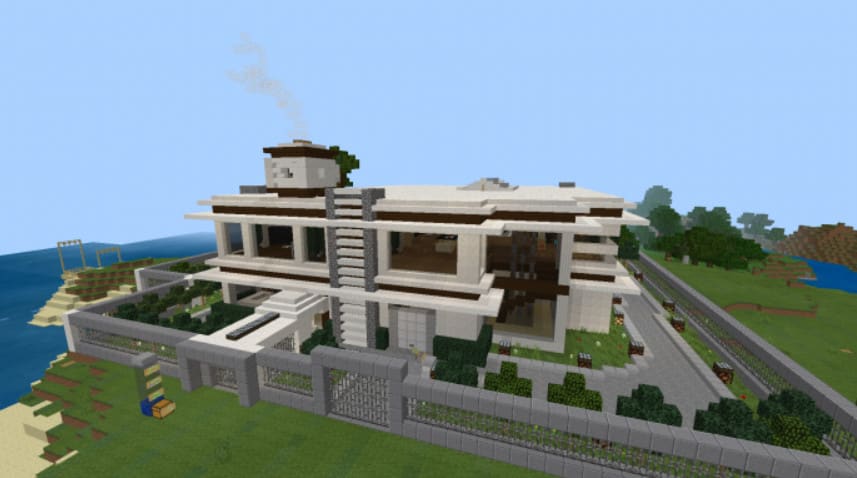 Also, you can create your own project, if you have the patience and inspiration.

Junkyard Simulator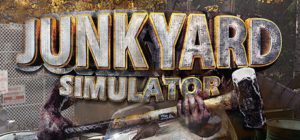 Junkyard Simulator is a Single-player Simulation developed by Rebelia Games and published by PlayWay S.A.
The game comes with addictive gameplay that the player has never experienced before. It lets the player grab a hammer and destroy metal.
During the gameplay, the player can take ownership of the junkyard and struggle to expand it to its limits. He will start the game with nothing but a basic hammer, but the player will end up as an owner of the massive junkyard in the land.
The game provides the player with full freedom in how he wants to get rich. The player can gather scrap from the ground and can invest his money in massive machines that can assist the player with crushing tons of trash each day.
During the game, the player can purchase vehicles, deal with dealers, segregate and earn money. Cranes, Loaders, Crushers, Choppers, Electromagnetics, Trolleys, etc. are prominent and huge machines in the game available to drive.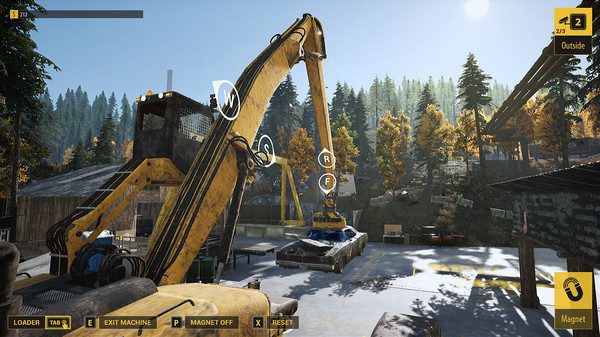 With 3D graphics, engaging gameplay, cool features, and incredible controls, Junkyard Simulator is the best game to play.

Space Engineers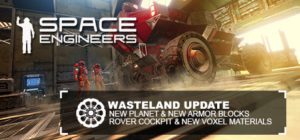 Once you've adjusted enough on Earth, you can move into space. Space Engineers is a simulation of building a home on the surface of distant planets and asteroids.
It is a game in which you can realize the fantasies that arose when reading the works of famous fantasy writers.
You have at your disposal a large selection of resources and blocks, a realistic physics engine, and almost limitless gameplay possibilities.
Moreover, after creating your own space base you can let your thirst for destruction escape and attack the buildings of other players. But be prepared for them to do the same.
Gameplay is based on the principle of building spaceships, for which there are wide possibilities. The player builds the ship, works out the technical part and interior, using his imagination and a wide range of internal tools.
There are 3 types of structures available in the game: stations, large and small ships. The game can be called a product for singles. Here you decided to build a ship and went to mine resources. Then from these resources, you assembled the frame, added engines, equipped the interior.
Doing all of this in pairs or in general in the company of people is too hard and not fun at all. Each player builds the way he wants, and not always the same opinions.
The developer tried to give you the widest range of possibilities in building spaceships, stations, and ground settlements.
You can create a ship of absolutely any size, shape, power, type, color, and so on. All you need is imagination and assiduity because it takes a lot of time to build the ship of your dreams. Especially if it is a really cool ship of great size.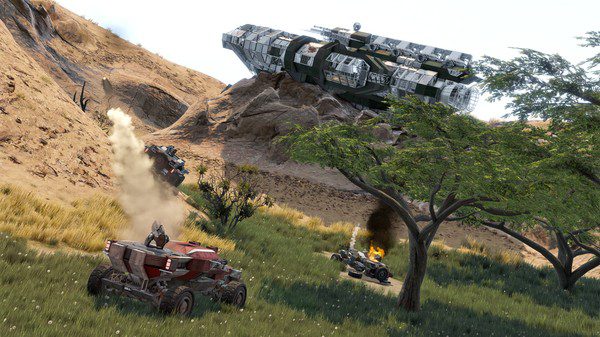 The game is very interesting in its conception. You have full power over the space, you can build everything, communicate with other people and help or hinder them.

Medieval Engineers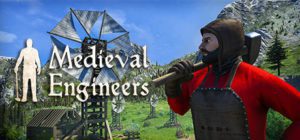 If Space Engineers takes us outside the Earth, then Medieval Engineers takes us to the past – to the Middle Ages.
Here you will have to design and build medieval fortresses with towers, walls, and other constructions.
Besides, the game provides an opportunity to arrange a network of battles with the use of catapults and siege machines. You will never get tired of watching as a boulder makes a hole in the fence or breaches the wall of the castle.
The gameplay is both simple and exciting. To build a structure the player must choose between different blocks.
These blocks can be not only stone cubes but also whole walls, walls with windows, walls with doors, wooden walls, stairs, and more. There are also ropes. With each update, the developers add new gameplay elements to the game.
The player can arm the character with tools. Give him a pickaxe, hammer. No matter what kind of representative of the worker you will play. This equipment is of little use so far. But they allow you to get some advantage when working with certain types of terrain.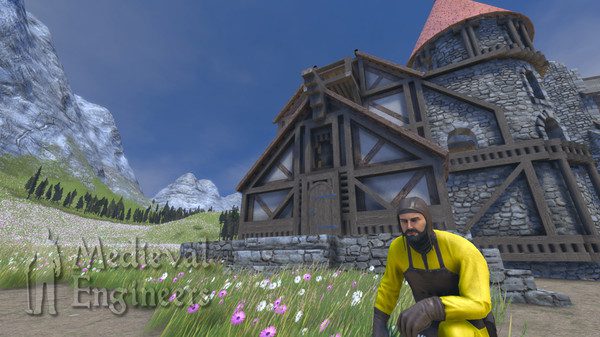 Also, the developers did a good job on the destruction system. When you build your first structure, you will already have a chance to test its durability with a few good strikes on the structure.

Builder Simulator
Builder Simulator is a rather realistic and sometimes difficult builder's simulator.
The authors of the project promise to teach the gamer to build a house from the ground up, laying the foundation beforehand.
The developers have decided to focus on realism, so in this Builder Simulator, you will not be assisted in the construction process. It is necessary to do absolutely everything by yourself, and this, of course, brings only pleasure.
You have a concrete mixer, including that from the player's account begins to make money. In the concrete mixer need to independently pour water from a special sprayer, as well as poured crushed stone, sand, and cement.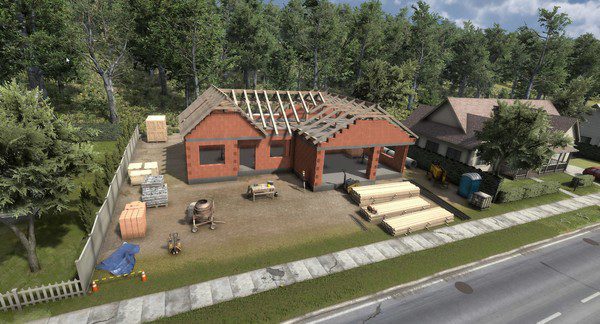 This is the most interesting thing – you need to pour a certain amount of this or that material to end up with a high-quality mortar.
Moreover, you should understand that while you are carrying the "ingredients", the mortar is already being mixed. So you should move faster and not stand for five minutes while the money is withdrawn from the account.
Originally in the game, there was a strip with the "ingredients" above the concrete mixer. But there were no percentages and you had to calculate everything yourself. With the next update, the developers added a convenient strip with percentages, which is much easier to navigate.
This game looks very exciting. The developers perfectly capture the audience of gamers who prefer meditative gameplay, like to do everything by themselves, think, plan, estimate and write in a notebook, how much gravel to throw in the mortar.
Besides, for many, this will also be a good base before starting the real construction of a house or dacha.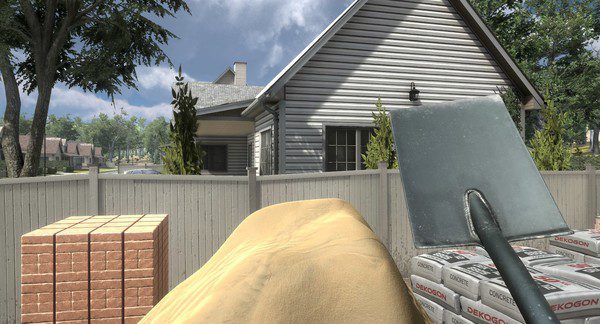 So, you will already understand that the mortar can easily be poured past, and the foundation should be laid with rebar.

You may also like: 11 Best Shopping Mall Girl Games for Android & iOS
Terraria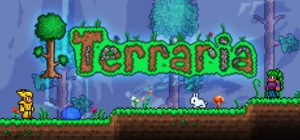 This two-dimensional sandbox offers players not only to dig all the way to hell and fight huge bosses but also to build meaningful and beautiful houses.
Especially, that the project is available a huge number of elements of decor, useful machines, as well as NPC, which you can enlist the support of only before built for them spacious dwellings.
So what is Terraria? This is a two-dimensional platformer sandbox with an open world. Before you start a new game, you can configure your character and the level at which it will get. But, only one parameter – size – can be changed.
But you can paint your ward in any way you want, but this process is not implemented in the most convenient way. Instead of a concrete choice of color, you are suggested to adjust RGB-scale and watch the result.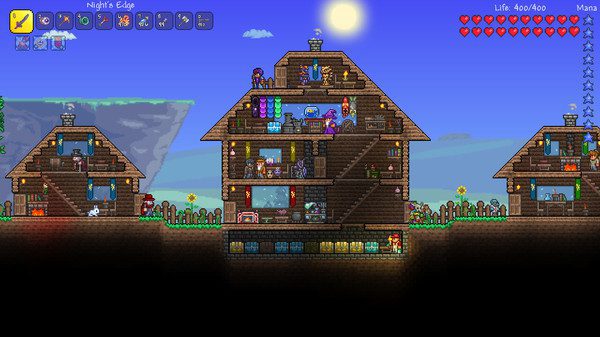 There is no plot, so after the "birth," your protégé is free to do whatever he wants. And there's plenty to do. First, the hero needs a house. To build a house you need resources, and to mine the resources you need tools.
Initially, there are tools – a wooden ax and a wooden pickaxe. Unlike Minecraft, in Terraria you don't break. The wooden pick differs from the silver pick only in the speed with which it crushes stone and other blocks.
Extraction and processing of resources are built according to the standard scheme. You chop wood with the ax, stone, minerals, and ore you break with the pickaxe. After that, successfully mined materials can be used in construction, melted down, or used as an ingredient.
The number of crafting recipes is enormous – more than in Minecraft by several times. But, the process of making anything is greatly simplified.
To make something, you just need to have the ingredients with you and, by selecting the necessary item in the inventory menu, simply put it somewhere. And to use, for example, an oven or anvil, you just have to go to it.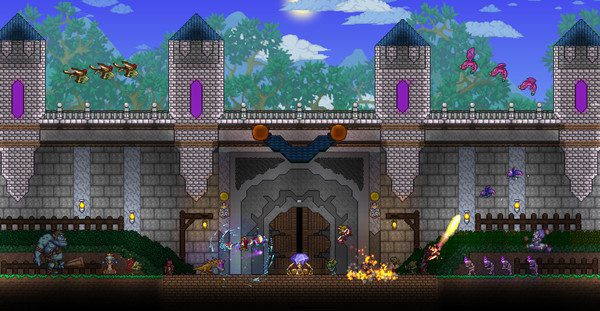 All this makes life easier for the player because there is no need to wait for the ore to melt into a metal ingot, no need to remember unnecessary information about the recipes, no need to check the condition of their equipment.