The game Red Alert 2 was released more than 20 years ago, however, it keeps winning new fans all around the world. As the result, lots of gamers are looking for similar games, that would bring the similar vibe and gameplay. Fans of strategy games may try Fallout, but there are more options for you.
In the article down below we tried to pick up the games which would be as much similar to Red Alert as possible – considering the graphics, idea, and the whole atmosphere. Explore them all and you'll definitely find something that you were looking for.
1. Ruster Warfare
Even though this game might not be appealing to everyone, it's definitely one of the best pieces in this genre. It's one of those classic retro-games with the 8-bit graphics. There are 3 game modes in total:
Story
Fast gameplay
Survival (by the type of Tower Defense)
In the game you can find lots of locations and buildings, types of weapons and military equipment, a variety of units, infrastructure, the ability to combine character traits, etc. Each update usually contains an artificial intelligence update and new maps.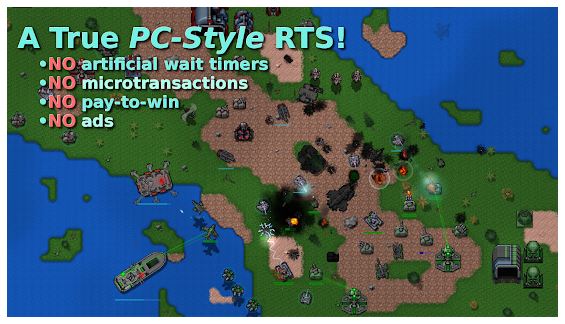 In addition to fighting and defending the territory, you will have to complete missions and tasks. To play multiplayer, you also need maps for Rusted Warfare on Android – they are created by the users themselves. Rusted Warfare download for Android, for iPhone owners the version is not released.
But there is also a PC version for Windows, macOS, and Linux. By the way, there are many interesting mods for the PC version — Star Wars, Interstellar, World of Bugs. Users liked the graphics (and effects) and the full gameplay, as you can see in the feedback.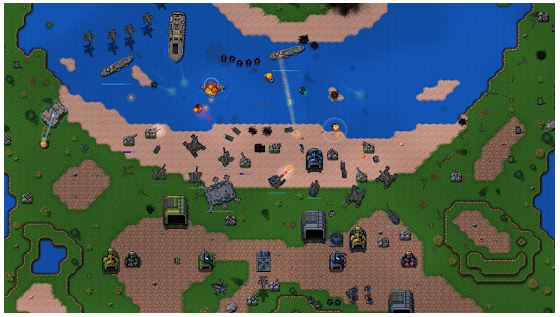 More than 40 units, complete freedom to demonstrate strategic and tactical talent these two elements make this game so appealing for many users. The developers are responsive and ready to help with any problem.


You may also like: 11 Best Offline FPS Games for Android
2. Redsun RTS
Another RPG game that actually has quite decent graphics. The first thing which is remarkable about this game is it's a real real-time strategy game. It's a cross-platform game as well.
If you are a connoisseur of the genre, you will definitely find in it direct similarities with Red Alert 2, from graphic characteristics to the implementation of some specific game elements.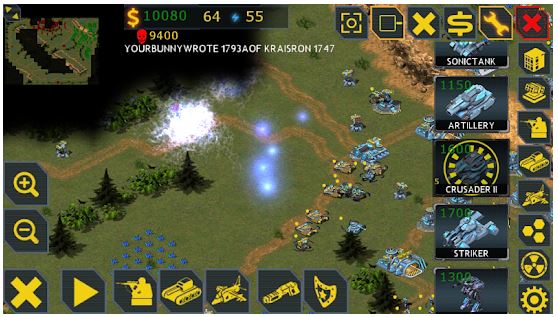 The game requires an internet connection, and you also need to get online achievements, research, and other "goodies" that simply won't work without an account.
The gameplay reminds of old-school strategies. We build the headquarters, after which the game will allow us to build other buildings. Buildings consume electricity and you'll need to build power plants to supply them with the electricity. Just an example.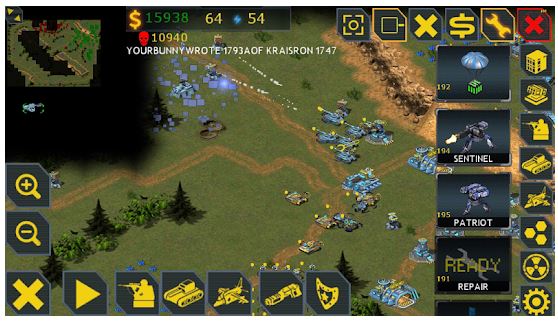 You can create buildings, units, and weapons that cost money. The resources are scattered around the map, you just need to collect them. In order to do this, you need to build a special assembly point and get it equipped with special transport. This miracle machine collects resources and brings them to the warehouse.
The whole thing is very similar to legendary Command & Conquer. In general, this is quite a decent gameto play for all the fans of RPG.


3. Iron Marines
There are three planets with their own features, tasks, missions, and each of those implies an exciting plot. In the game you will find the missions in the classic style (for killing), for construction, defence, finding and many more.
We highly reccomend you to try out the defense missions since they're the most interseting ones. They're more elaborage, better animated and more fun un general. What is more, it's often the case when the attacking mission is turning into a defense.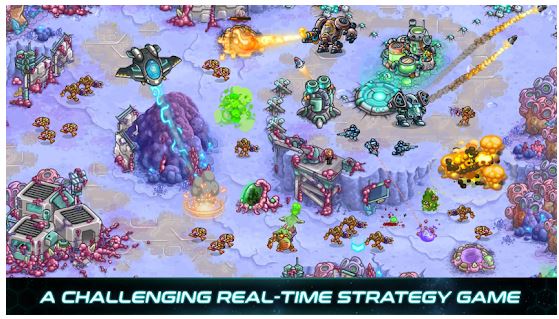 You will need to kill as many evil green ghosts as possible. The game also includes the bosses whihc are more elaborate to pass, but it's still fun. However, the battle with them is rather tiring, and the inability to squander the opening scene is also annoying if last time it did not work out with him.
And everything would be great in the gameplay, but the feature of a multi-player game has ruined it a little bit. The game is basically divided into parts.
The whole game is rather executed in the cartoon style and in this sense, you will find a quite weak resemblance with the Red Alert 2 game. The only thing similar is the main idea.


4. MechCom 2 – 3D RTS
The game resembles the cult game on computers – StarCraft. When entering the game, we see the usual menu in a minimalist style. Available on Google Play for two dollars, it has a score of 4.1 points and a lot of positive feedback from players.
The interface is convenient. All control buttons are located at the edges of the screen. The user has access to a small mini-map to navigate the location.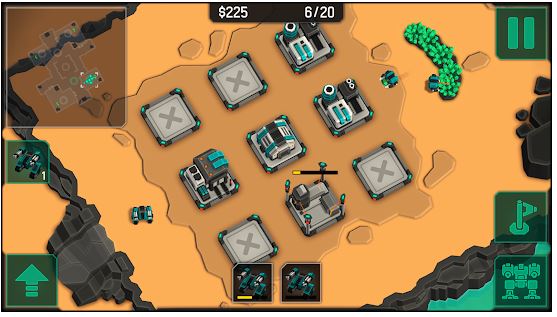 MechCom 2-3D RTS stands out for its combination mechanics. The player has 16 possible options for combining units to dominate the enemy.
Users liked the game. It is easy to operate, runs without problems, even on smartphones of the middle segment. Players note that the game isn't balanced enough. Some units are simply impossible to neutralize. They want the developers to add more buildings and units.


5. Roma: Total War Alexander
Rome: Total War. Alexander – the second addition to the acclaimed game Rome: Total War, which personally made a lasting impression. For the game, the action obviously takes place in times of Alexander the Great, i.e. from 356 to 323 BC. There are more than 100 levels in the game to pass.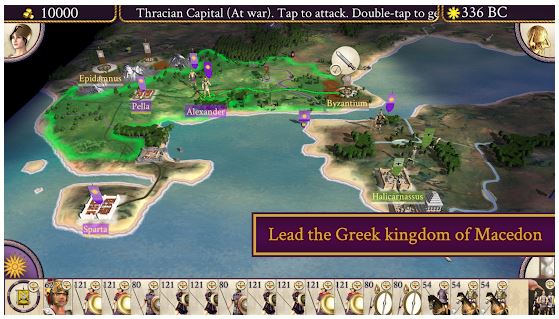 During this time, we need to win and keep 30 territories, 10 of which are mandatory for capture. The whole actions starts in Macedonia (obviously), and the enemies will be Illyrians, Hindus, Dahians, and, of course, Persians. At the beginning of the game, we are told that we have united all of Greece and now we need to continue the thwarted plans of Alexander's father, Philip II, to expand into Persia.
In Asia Minor, Parmenion is already waiting for us with a large army, although we personally would advise you to immediately send reinforcements to him and build a fort, since the Persian attack will follow immediately.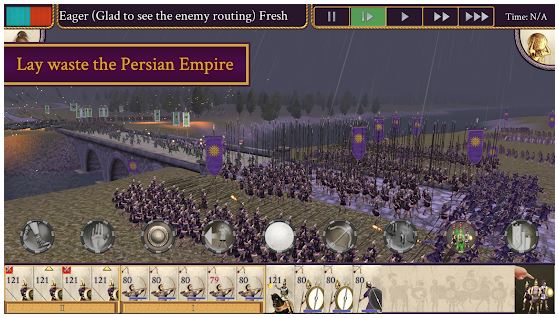 After the defeat of the Illyrians, they should immediately begin their campaign against the Achaemenids in Persia. Your main goal is to conquer the cities throughout the game and then carry on invading other lands, because the game time is limited, and therefore the development of settlements is minimized.
Some people might claim that's a drawback. No, the developers quite accurately reflected the situation of those distant days, because Alexander really did not stay anywhere for a long time, he always went forward, expanding his empire. And what could be better than incessant battles? Great game with an exciting plot.


6. Galaxy Reavers-Space RTS
3D RTS, which immerses the gamer in space battles. Available on Google Play for free, but it has a lot of positive reviews, which is confirmed by a rating of 4.4 points.
The players are greeted with a high-tech menu made in blue tones, somewhat resembling holograms. The interface is convenient, does not interfere with the immersion in the gameplay. The interaction buttons are stylized and look amazing.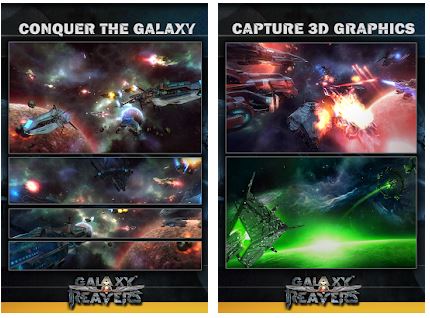 Galaxy Reavers-Space RTS feature-warship customization. Users can upgrade their ship, improving its attack and defense.
Users like that they can fully control the combat process. Graphics are also not left out.
The drawback that players note-Galaxy Reavers-Space RTS at some point becomes monotonous. Gamers did not like the time limit during the mission, they would like to spend more time on the location.


You may also like: 7 Best Horror RPG Puzzle Games for PC, Android, iOS
7. Art of War 3
Military strategy, which is available for free on Google Play and has a score of 4.5 points. Gamers are waiting for a diverse PvE campaign and large-scale PvP battles for two factions.
The user is greeted with a classic RTS menu, which is stylized as a military strategy. What is the interface?:
Action buttons
Squad Control Panel
Mini-map
FPS Counter
Resource metrics
Quick screenshot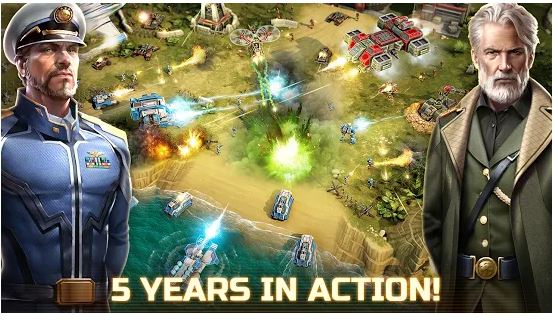 The interface is user-friendly and allows you to play Art of War 3 without a gamepad. The game is divided into PvP and PvE content, which will delay gamers for hundreds of hours.
Players liked the variety of interesting mechanics and cool graphics. They note that this is a decent alternative to RTS games on the PC.
Many people are tired of long training, which is monotonous. It could fit in a shorter span.


8. The Battle of Polytopia
A turn-based strategy game designed in a minimalist style. Available on Google Play and distributed for free. Rated by users at 4.5 points.
The player is greeted with a simple menu that is not overloaded with information. The interface is intuitive and contains four action buttons:
Settings
Next move
Technology Tree
Game statistics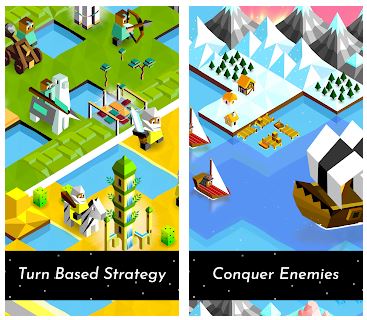 Users note the similarity of the game with the series of cult strategies of Civilization. Indeed, many mechanics are taken from this RTS series.
It stands out for its simple graphics and flexible controls. In fact, you can only play with one hand using touches. The player is waiting for a tree of technologies and twelve tribes, each of which has its own characteristics.
A minor drawback is the lack of a map editor. For example, make your own unique locations to compete with your friends. As users note, this is what they would like to see in The Battle of Polytopia — A Strategy Game.


9. Eufloria HD
Non-standard RTS, which will immerse the player in the process of growing plants, using the mechanics of strategies. Available in the App Store for $ 7. It has high ratings not only from users but also from game portals.
The player is greeted by a minimalistic menu, which is made in the classic RTS style. The game panel is available to the user during the game:
Indicators – energy, strength, and speed
Number of units
Menu
Buttons for building units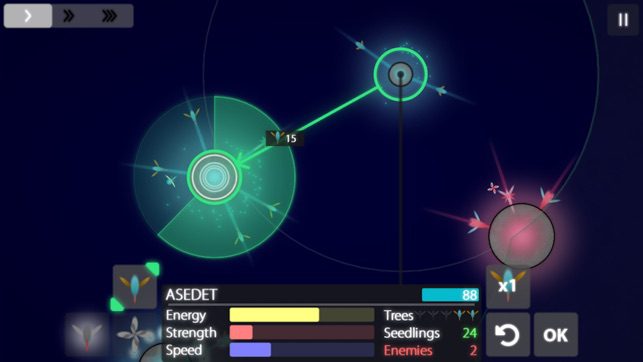 The interface takes up less than 10% of the screen, allowing you to immerse yourself in the gameplay as much as possible.
Users like the background music in the game. They note that the gameplay of Eufloria HD is simple and interesting. Players liked the concept of the game, which is radically different from other RTS on smartphones.
A special feature is the combination of a simulator and a strategy. This is a unique game that has decided to combine several themes that are seemingly incompatible.
The disadvantage is that the project is no longer updated. In fact, people are already buying the final version. However, the game is still relevant.

10. Army Men Online
RTS game about toy soldiers. The player will have to fight online with 11 other gamers, divided into 4 teams. The game has a score of 4.1 points and is available on Google Play.
The menu is simple and consists of the following buttons
Play online
Play over WIFI
Playing with the computer
Settings
The control is convenient, it consists of a joystick and a shooting button.
A special feature is the concept of the game. Army Men Online is more like a board game where you can control the soldier yourself.
Users liked Army Men Online. They note its simplicity of competitive matches.
The disadvantage is that there are no classes. In fact, only one type of soldier is available to the player.


11. RTS Siege Up! – Medieval War
RTS Siege UP! is an app that allows you to plunge into the fascinating world of fantasy role-playing games. Exciting battles with enemies, treasure hunting, and battles with other players in PvP mode await you.
The game offers you to create your own modes, in which you can customize the playing field according to your preferences and interests. You can also choose any orientation to make it more comfortable for you to play on your gadget.
Also in this app, you will be able to play both with an internet connection and offline mode. There are more than 4,000 different missions and quests. You will be able to pass them without any time limit.
To pass the missions, you will have access to a wide range of tools and combat equipment. You'll have to come up with your own plan and strategy to complete each mission and destroy all enemy walls.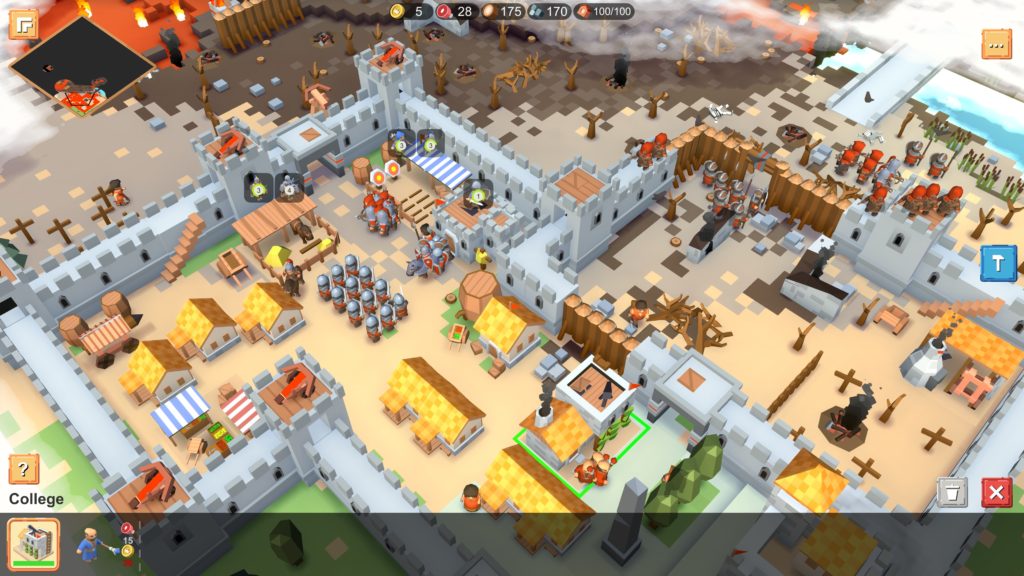 The whole assortment of features and tools will be available to you absolutely for free, so you can use everything to achieve your goals.


12. World War Armies: WW2 PvP RTS
World War Armies is a game with an interesting storyline that will allow you to organize your army, as well as to fight against other users. You can assemble your own troops, develop skills and come up with sophisticated strategies to win every battle.
In this app, you can take part in different campaigns and earn more money and resources. It contains a huge number of different types of missions, from easy to the hardest ones.
You can improve the performance and composition of your team and swap the resources you get with other players. Confront other users, using vehicles and weapons, in real-time.
For each victory, you will get different bonuses and privileges. You can spend them to buy new tools and equipment that will allow you to improve your teams and even whole armies.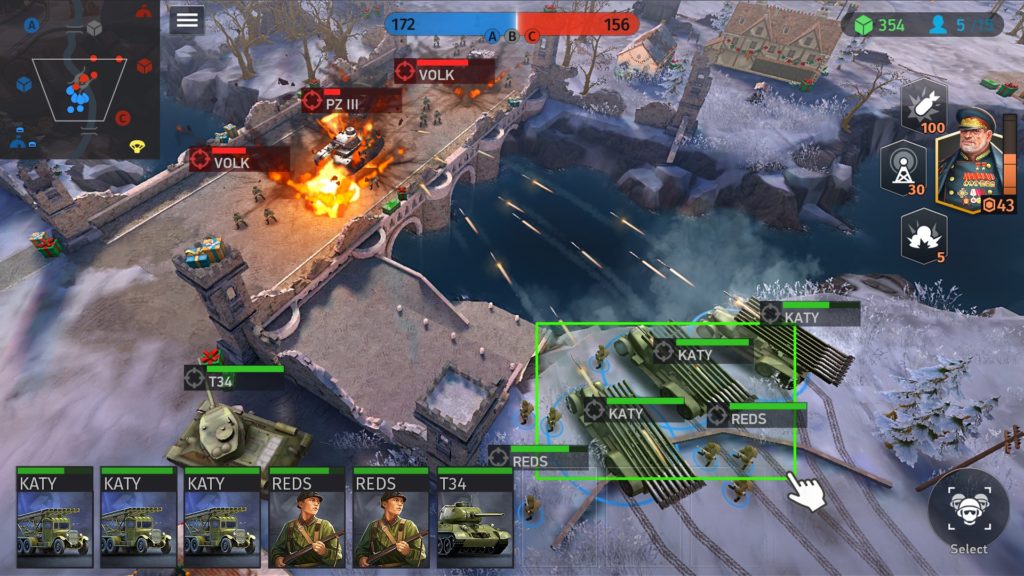 Moreover, the app offers the most realistic graphics, so you can plunge into the atmosphere of wars and battles.


You may also like: 11 Best Games Like HoMM III for Android & iOS
13. Command & Conquer: Rivals™ PVP
Command & Conquer is a game in which you can feel like a real army commander or an entire army brigade. It offers you exciting battles with other users, searching for resources and building bases.
This app offers you to create your own army, choose its composition and customize its tactics to defeat your opponents. You will be able to travel to different locations and capture new territories to expand your possessions and increase your army.
The game includes more than 3,000 levels, each one becoming more and more difficult and interesting. It will help you develop qualities such as logical thinking, the ability to make decisions in difficult situations, and improve your reaction.
There are many options to customize and improve your army, as well as the ability to cooperate with other players in multiplayer mode.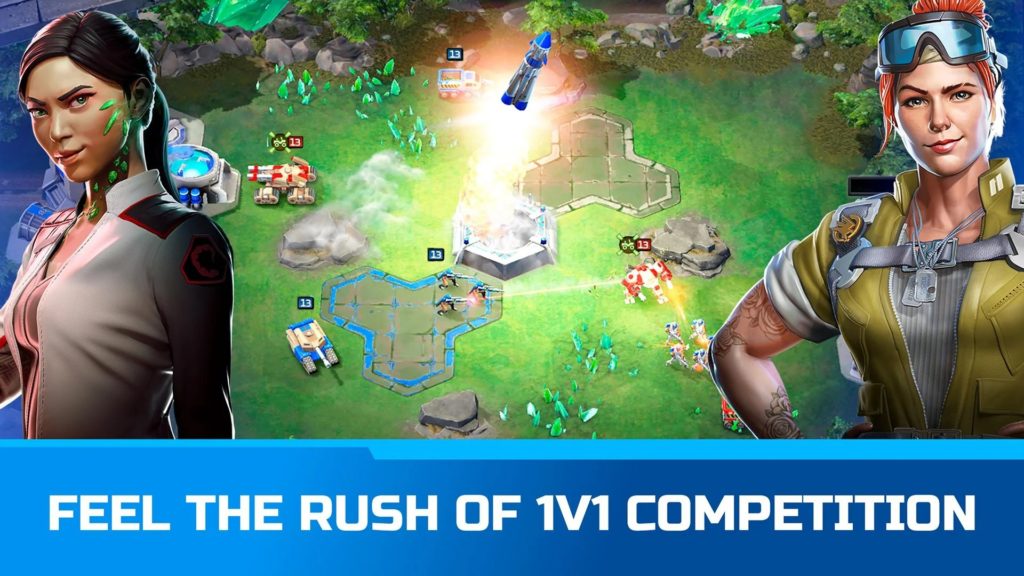 In the game, you will be able to invent and develop strategies unlimited times, which will allow you to defeat all the enemies faster. For victories, you will receive improvements and reinforcements for your army.