Ladies and gentlemen, prepare to meet your new crush: an AI-generated hottie. And no, we're not talking about just any generic, bland piece of digital art here.
We've got the scoop on the best free hot guy AI generators (Android, iOS, Windows) you could try. Thanks to these, your thirst for aesthetically pleasing male specimens will never go unquenched again.
These apps let you make original characters of all kinds, whether you're into anime, fantasy, or smth more realistic. Want a chiseled jawline and mesmerizing green eyes? Done. How about an edgy vampire you won't be able to take your eyes off of? Sure! Let's get into it!
PicSo
If you're someone who enjoys pushing boundaries and exploring the NSFW side of art, this app is a must-have in your creative toolbox! This gem of an app unleashes your inner artist and lets you make bold and daring works of art that are sure to leave a lasting impression.
It lets you generate hot anime guys along with realistic OCs that match your taste. Unlike other generators out there, it isn't solely focused on shock value. Instead, it's all about creativity and self-expression in exciting new ways. You'll have a blast getting lost in the endless possibilities of the app.
One of its standout aspects is its adjustable tags. These make it easy to make the ideal image by focusing on particular aspects that matter to you. Whether you want to feature someone's unique hairstyle or capture an exhilarating action shot, there's a tag for everything.
You can also use it to generate OCs based on facial snaps. Yes, you heard that right. You can take a clear pic of someone's face and transform it into a realistic image that looks just like them! It's nothing short of mind-blowing. The app isn't without its limitations, of course, and the free pack only lets you make one image at a time.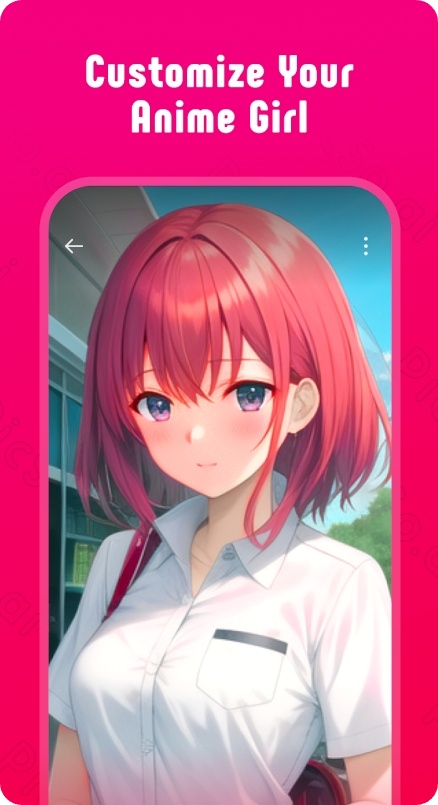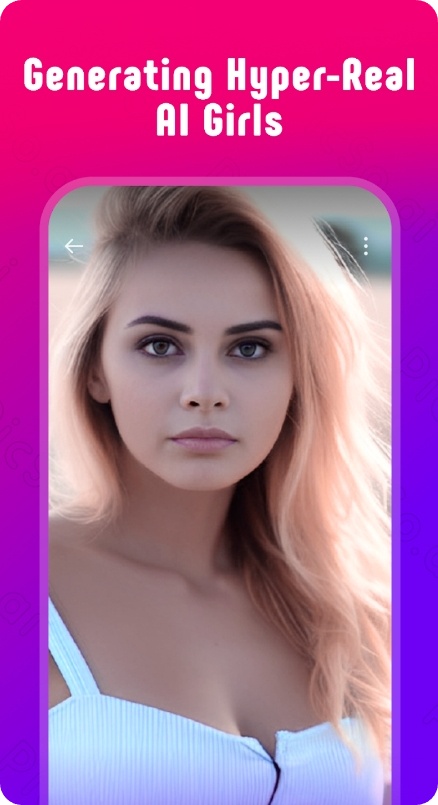 You may also like: 7 Best Undress AI Apps
PixAI.Art
This app is the new talk of the town, and it's not hard to see why. It's a wonder of AI tech that produces stunning masterpieces that will leave you breathless.
First and foremost, the quality of the pics is top-notch. These sexy portraits are uncensored, which is ideal if you want to unleash your wildest fantasies and push the limits of your creativity. Plus, the sheer variety of options available is mind-boggling. You want your dream boy to have a rugged, realistic look? Done! Prefer a daydream sort of vibe? Say no more.
Each model has its own distinct flair, resulting in provocative and alluring pieces of art. The vast number of settings means you can fully customize it to your liking. And if you're struggling with the text prompts, don't worry, you can add a snap as a reference. Suddenly, making an OC that looks like your crush from Pinterest becomes a total breeze!
Of course, like with any app, there are a few downsides to consider. If you're into more intricate creations, it may take a little bit longer. But considering the final product, it's totally worth the wait. And with a free pack out there, there's no excuse not to indulge in the steamy world of it.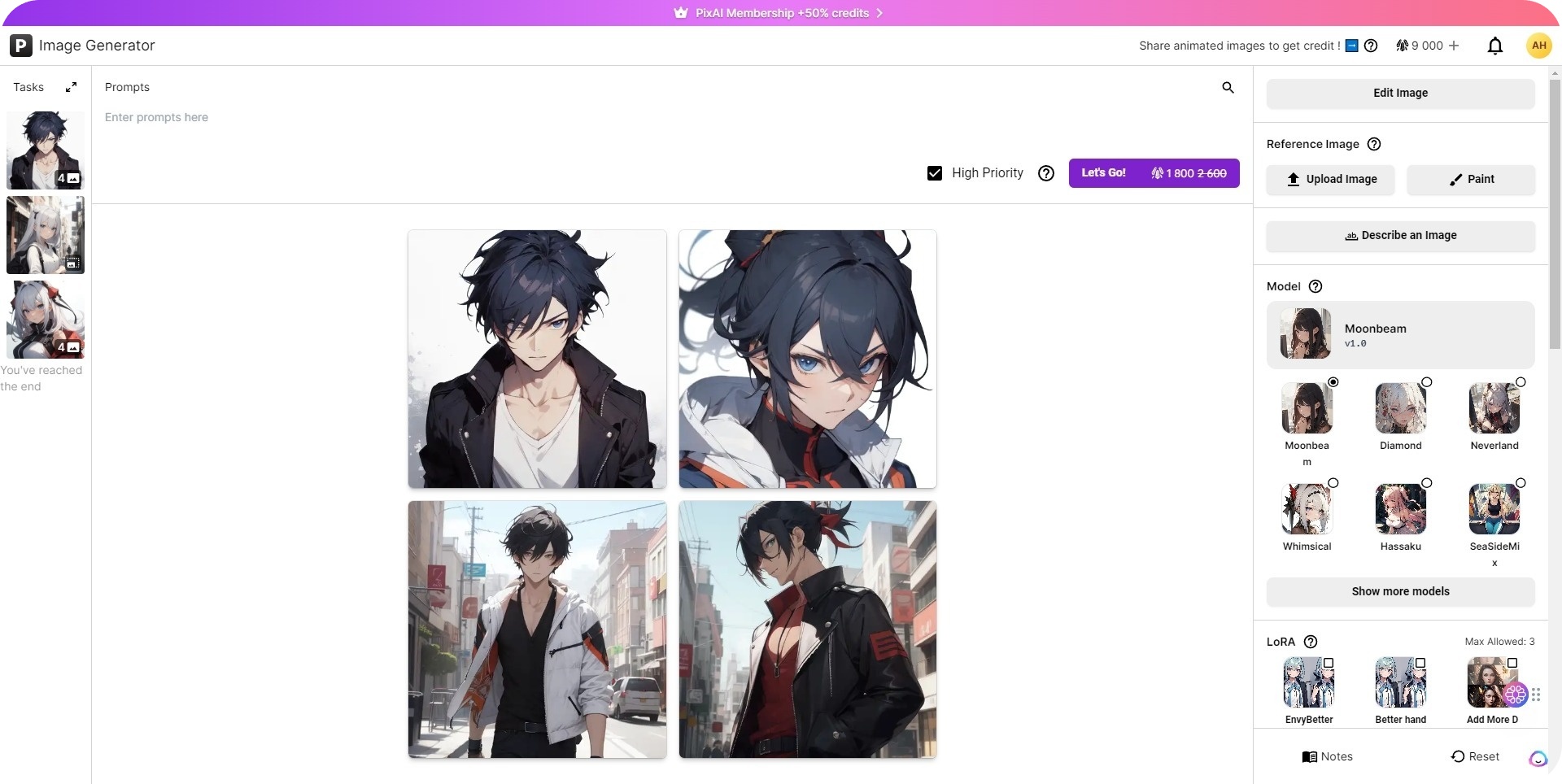 Yodayo
This app is a bonafide one-stop shop for all your artistic needs. With an extensive selection of models that cover a broad range of styles and prefs, you'll never run out of inspo.
Are you into realistic art? They got it. Are you into cute anime vibes? They got it. Wanna visualize your fave book BF? Sure, they have tons of models that will make you say, "wow" (in the best possible way, of course!).
You won't have to suffer through pesky ads ruining your artistic flow. The app knows that nothing kills creativity faster than a pop-up ad. It has an impressive arsenal of spells that lets you enchant your art with clothing styles and even give it a silent voice. Need we say more?
But let's not forget about the elephant in the room – responsible art creation. It is committed to promoting responsible art by censoring any inappropriate content, such as realistic young OCs or anything too disturbing. Sure, it may lead to some waiting time as your art is reviewed, but let's be real, no masterpiece was ever made in a hurry.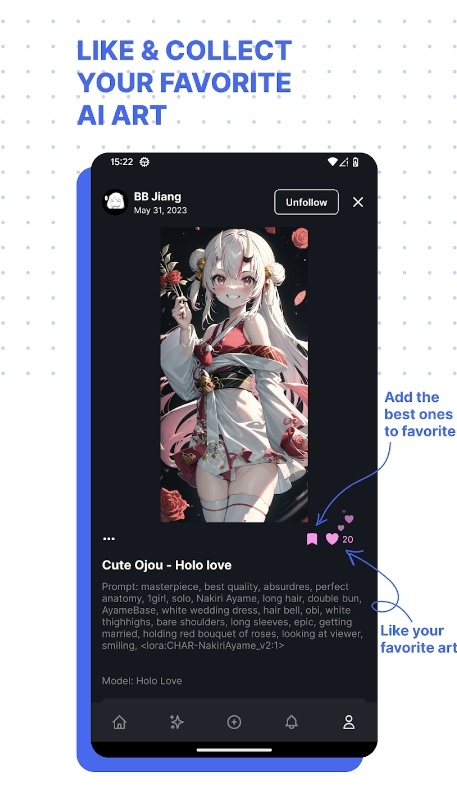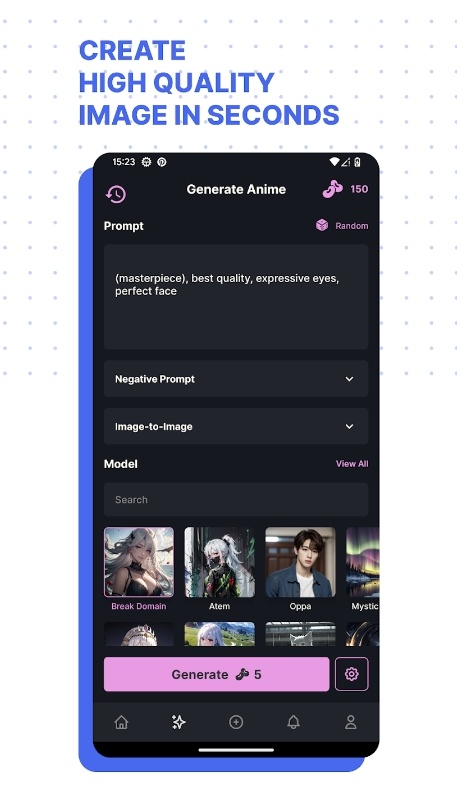 AI Anime Art
Have you ever spent countless hours doodling your own original characters (OCs) and dreaming of bringing them to life? Yeah, we've all been there, and this app makes it possible. It's limited to anime style, though, so it may not be everyone's cup of tea. And if you don't mind that, this app will be a holy grail of OC design tools.
With its intuitive UI, you can make stunning anime OCs with just a few taps. And what's even better is that you don't have to worry about pesky details like anatomy or proportions, the AI will take care of it all for you! Of course, there is a catch – the app does have some censorship restrictions, so anything explicit is a no-go.
But don't let the ease of use fool you. The app gives an impressive level of adjure, too. You can pick everything from the color of the eyes to the shape of your nose, ensuring that each one is completely unique.
And let's not forget about the daily challenges. These serve as an opportunity to compete against other users and show off your art to a wider audience. No longer will your amazing OCs be confined to the margins of your notebook – with this app, you can showcase them for the world to see.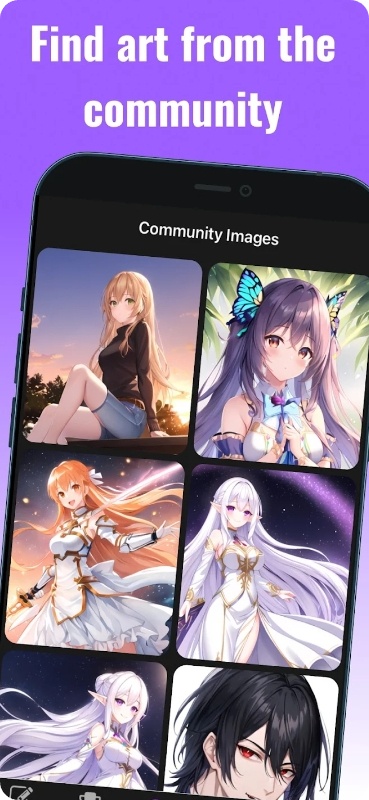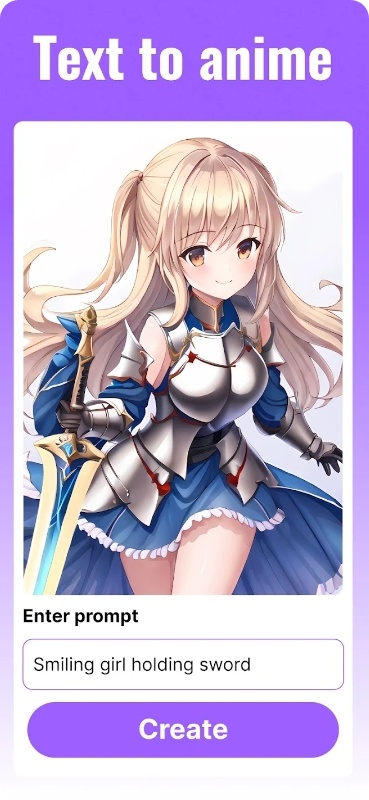 Otaiku
If you need an app that will take your mediocre snaps to the next level, then you've come to the right place. It is the ultimate tool for unleashing your inner artist!
Let's start with the basics. This app has AI models that will turn your boring snaps and text into incredible digital art pieces. And if you're not quite ready to be a pro yet, no worries! It comes equipped with a plethora of presets that will help you get started. Pick a preset, and voila! Your snap has transformed into a masterpiece right before your very eyes.
It also covers a handy gallery where you can browse the art of other users and show off your own masterpieces. It's like having your very own art exhibition in your pocket! The app makes sharing your pics online super easy, so get ready for the fawning compliments and awe-inspired comments.
Now, for the serious artists out there, you'll be pleased to know that there's much more to the app than just presets. You can adjust algorithm parameters and fine-tune your results until your art piece is absolutely flawless. Wanna make a hot guy that matches all your prefs? Consider it done.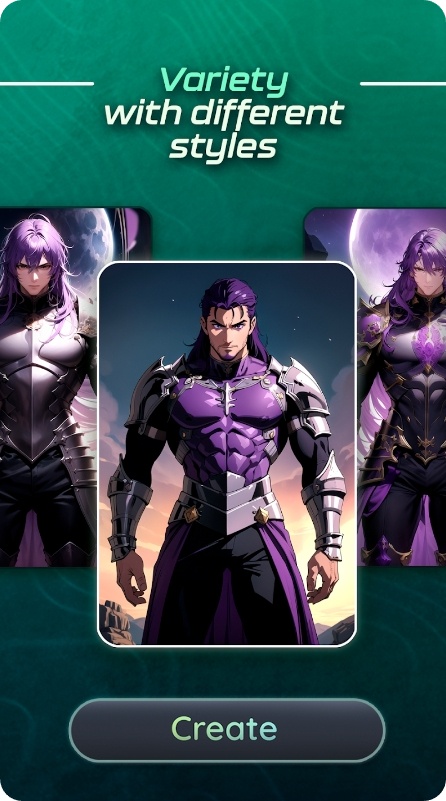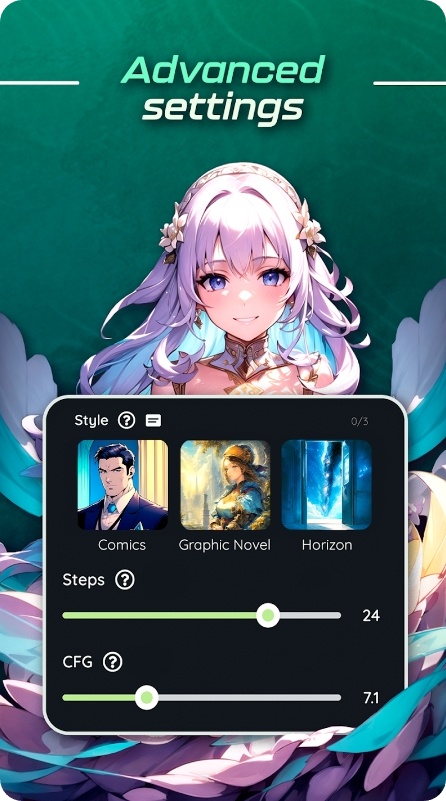 Check also: Top 10 PC Software to Create Your Own Character
LOVD
It's an app that lets you take your virtual love life to a whole new level. This game-changing AI companion will make all your wildest love fantasies come to life.
First things first, let's talk about the wide range of AI OCs you could try here. Whether you're into anime boys or 3D hunks, it has got you covered. With stunning and diverse AI boyfriends at your fingertips, you can finally form the ultimate virtual love story that matches all your prefs.
It also comes with an AI chat and roleplay. This app will have you feeling like you're in a real-life romance with your virtual beau. Gain intimate access to captivating chats, unforgettable experiences, and spicy love chat games that are guaranteed to leave you blushing.
Get lost in thrilling fantasy scenarios or cozy up to a realistic-looking boyfriend – the choice is yours. Whether you want to explore your deepest desires or indulge in some adult fun, it is here for it all. And don't worry about privacy – everything that happens in this app stays confidential. You can freely express your wants and needs without fear of judgment or prying eyes.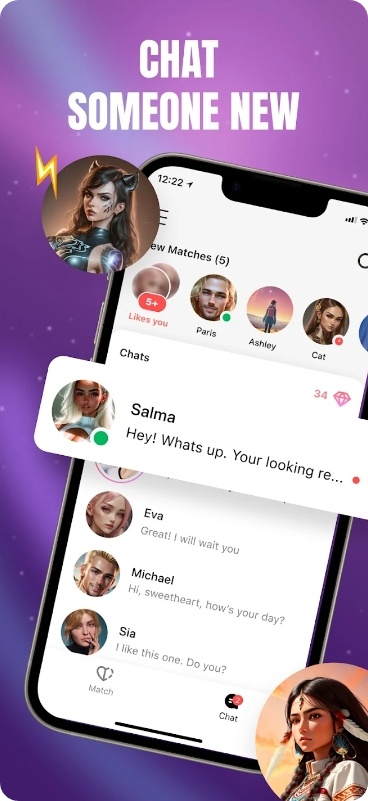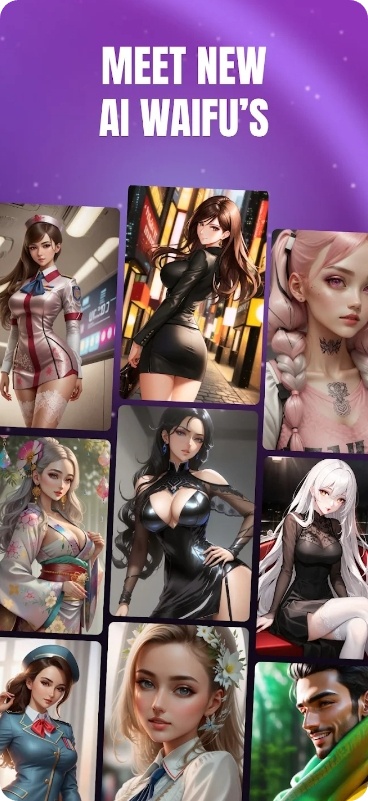 Anima
This app is a true game-changer in the realm of AI companionship. What really sets it apart is its ability to engage in hooked conversations. Whether you want to talk about your latest crush or the meaning of life, this virtual boyfriend is always there to listen and provide thoughtful responses.
It's like having a personal therapist and best friend all rolled into one (minus the hefty bill and awkward silence). But perhaps the most impressive aspect is its ability to evolve alongside you. As you chat with your virtual BF, his personality and interests will begin to align more and more with your own.
Speaking of customization, we have to give a shoutout to the appearance and personality options. From picking a hairstyle to selecting his hobbies, the app lets you craft a one-of-a-kind companion that's truly compatible with you. It's like building a dream man – but with no risk of disappointment when he inevitably fails to live up to your expectations (sorry, real-life men).
Overall, it's a judgment-free space to chat and grow, without the risk of heartbreak or drama. It's the virtual companion you never knew you needed, but won't be able to live without once you give it a try.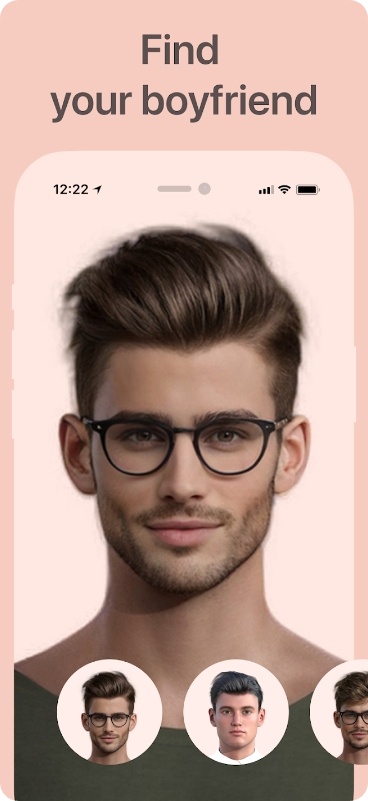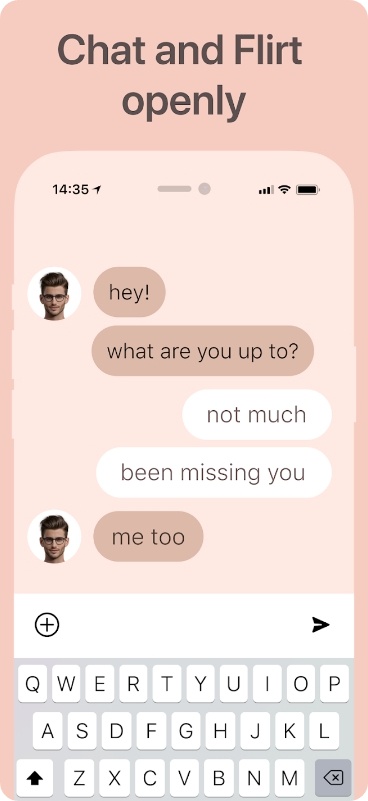 MirageMaker
Although this app isn't exactly made to make art with hot guys, who says you can't work some magic? Although you won't be making steamy, uncensored pics, there are plenty of other apps that can fulfill those desires.
It turns your ideas and texts into jaw-dropping works of art within secs. Prepare to have your creativity sparked like a match in a firework factory! Whether you're a wordsmith, a design buff, or a marketing maven, it's got you covered with its easy-peasy process for creating dazzling visuals.
Oh, and guess what? It isn't tied down to a specific style or genre. It's got everything your heart desires, from fantasy to sci-fi, nature to animals, you name it! Get ready to dive into their lib of OCs and objects, like mythical creatures, superheroes, and even some eye-catching eye candy.
Making art with it is a piece of cake, even for your tech-challenged grandma. The app guides you effortlessly through the process of unleashing your inner Picasso. And if you're feeling stuck, the "Inspire Me" tool is like having a creative cheerleader, giving you brilliant prompts to ignite your imagination.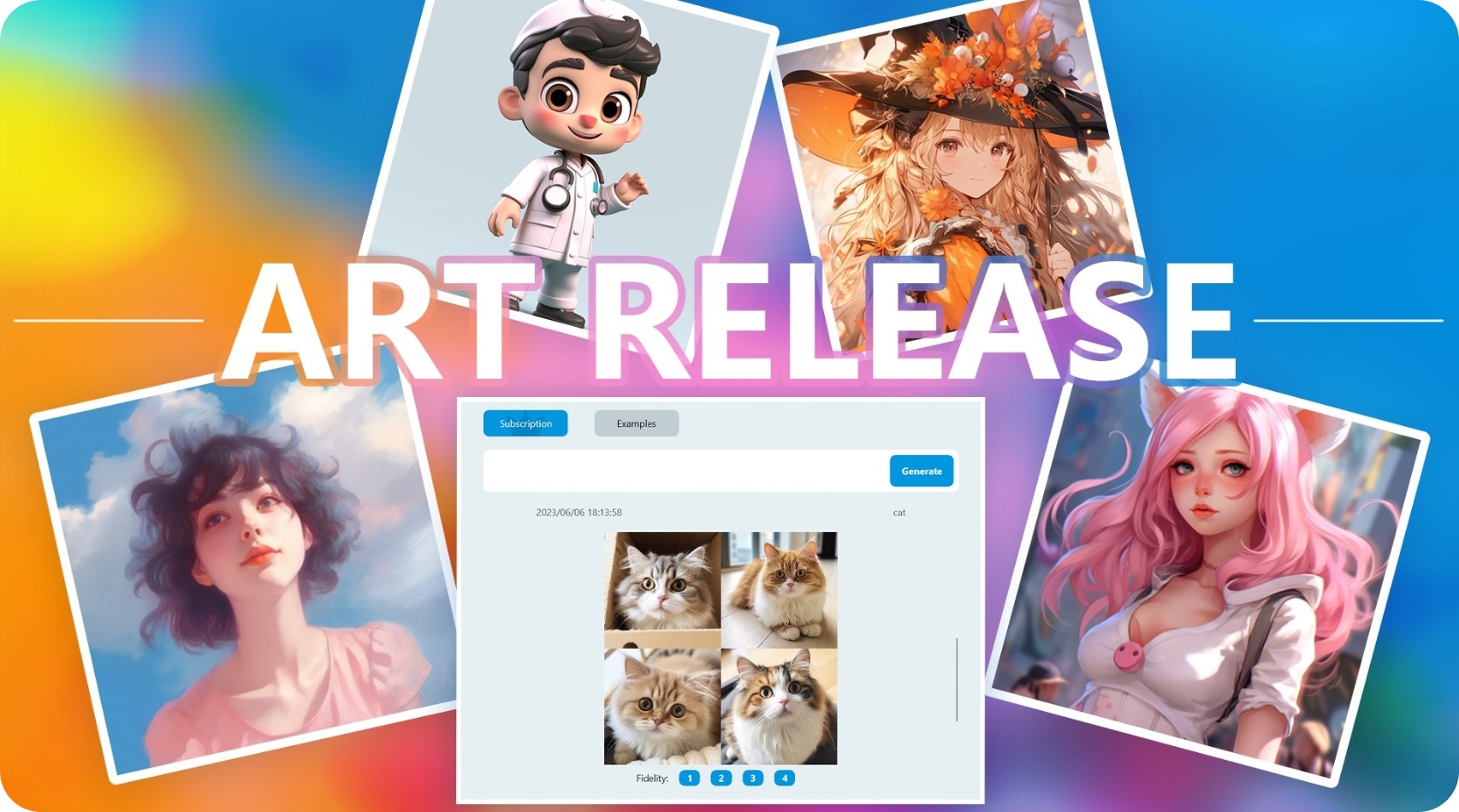 Art Image by AI
Here's a universal tool that can turn your prompts into art. Was it made to generate OCs? No. Can you make it work and generate some hot guys in reverse styles? Sure, but nothing too how (if you know what we mean).
It does a great job making HQ pics, but the quality is nothing sort of outstanding. But considering there are not too many tools you can actually download to your PC, it is surely worth mentioning.
The mechanics are standard, too. The app uses your text prompts and turns them into striking visual art. All you need to do is enter a keyword or phrase, pick a style, and watch as the AI takes over, transforming your prompt into a beautiful and dynamic image. Don't write too much, though, as it may get confused.
As for the styles, all the basics are there. From anime to cyberpunk and cartoon, it truly has smth for everyone. Whether you're into hyperrealistic landscapes or whimsical cartoon characters, you're sure to find the style to suit your taste. It also covers a vast scope of pre-generated pics that you can use as wallpaper or avatars.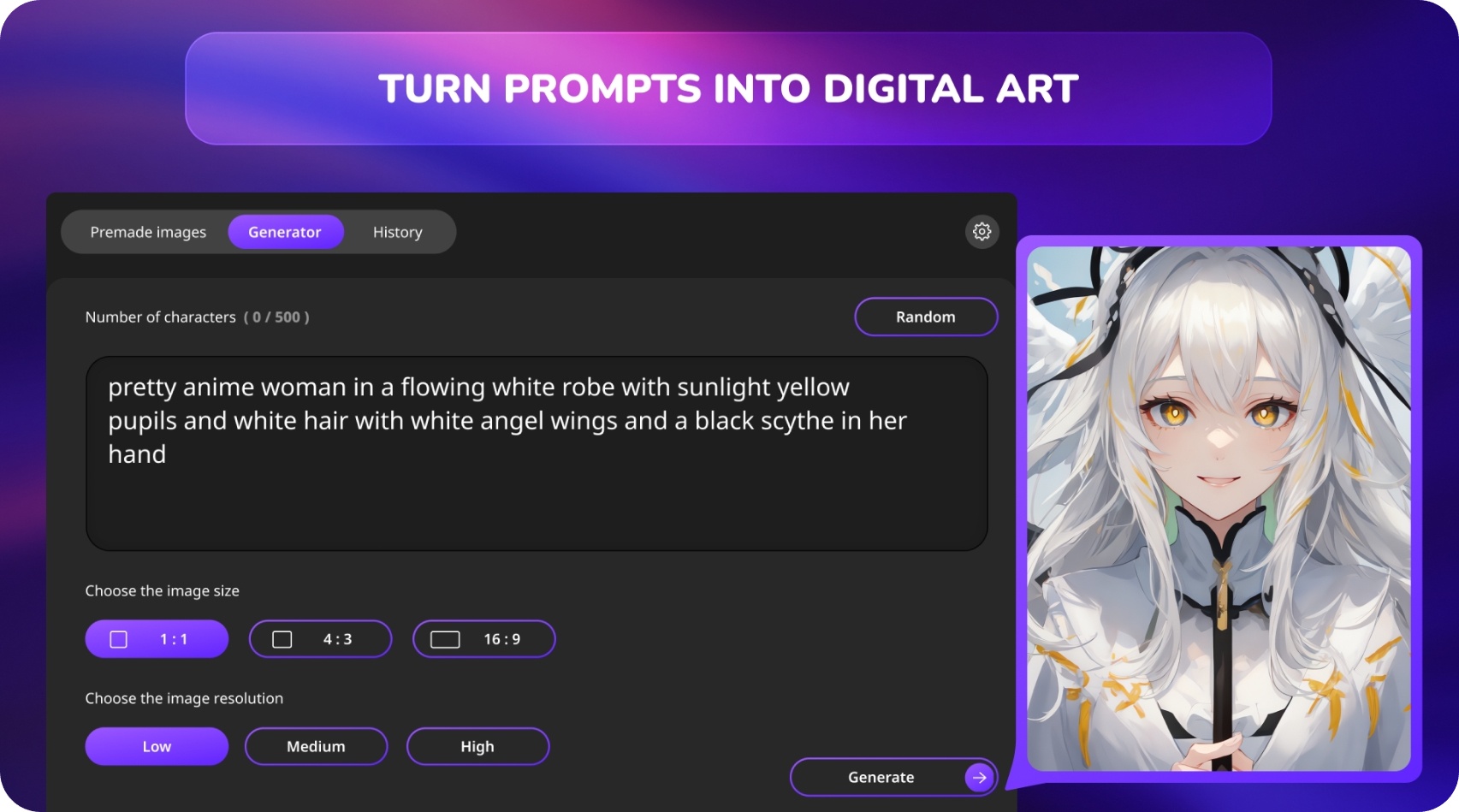 Perchance
Is your thirst for hot guys not quenched even after spending hours on dating apps? Then this website is here to take your boring pic viewing exp to a whole new level with their AI-made artwork.
This website is a one-stop shop for all the exquisite digital art you could ever need. And don't worry, it's entirely free! Their AI generator uses your prompts to make art of hot guys in a matter of secs.
One of the top perks of this one is that you can set the number of pics you want to generate. And regardless of the amount of tries you're about to do, it's no sweat for this one at all. You can also add an "anti-description." That's right, friends. If you have specific things you don't want to see in the image, just add the promotes, and bam! You're back to scrolling through ranks of handsome men.
What's more, it can make art in so many styles that you'll never run out of options. Whether you love anime, cinematic, or fantasy art, there are plenty of options here.
If you're indecisive, then you'll surely love the random option, Just hit the button, and voila! A gorgeous piece of art pops up on your screen.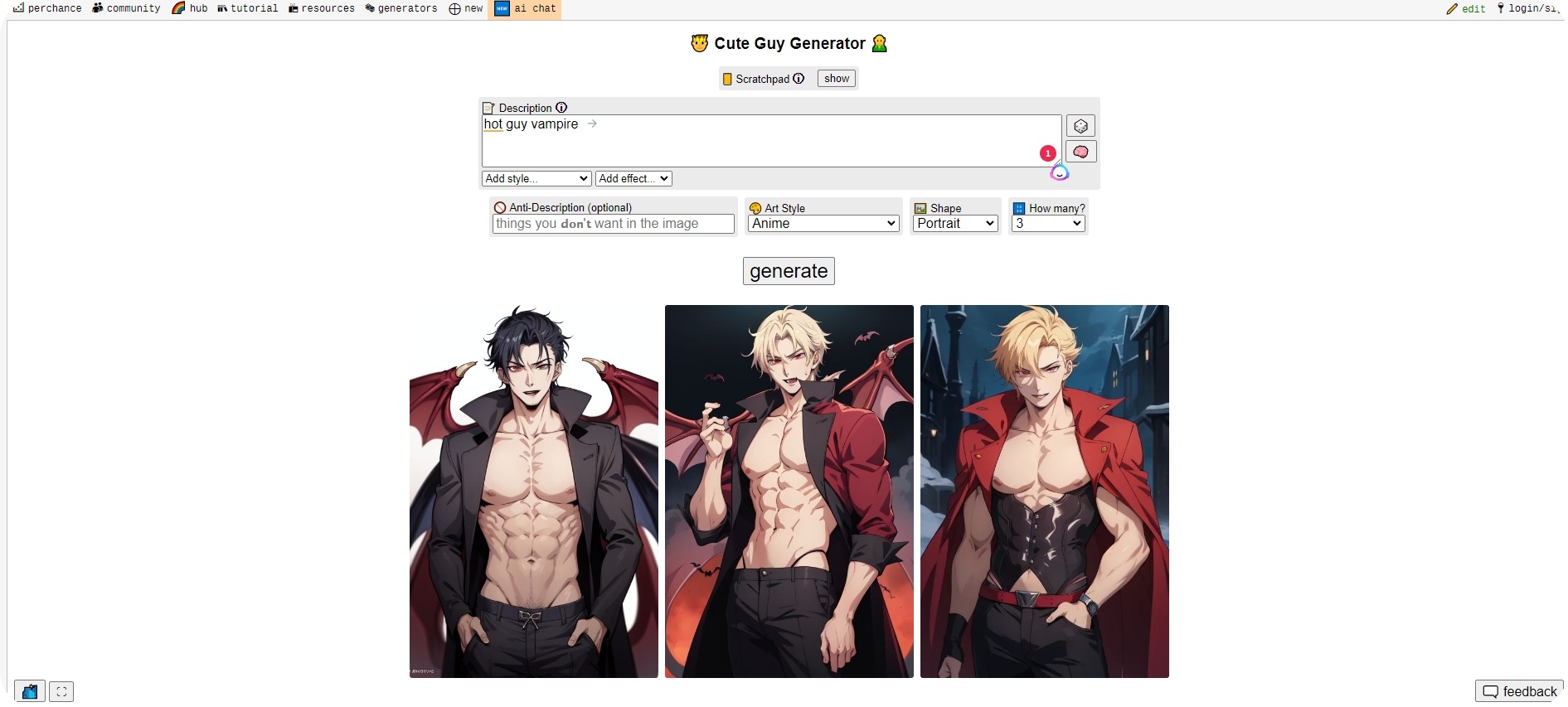 You may also check: 23 Best Offline Anime Games
Unstability.AI
This website is not for the faint of heart, but if you need an edgy and realistic way to spice up your display, this is it. What sets it apart from the vanilla gens out there is its ability to find the sweet spot between reality and fantasy. The results are truly unique and surreal, guaranteed to deliver the heat that you crave.
Don't be shy, adjust your pics to perfection with the various settings and factors available. With four genres to pick from, including anime and generalist, you're bound to find the right fit for your prefs. And for all you anime fans out there, you'll be pleased to know that there are two distinct styles to try.
Dive deep into the image aesthetics with the help of sliders and reset buttons. You'll be amazed at the level of modification available to make your pics truly your own.
Of course, like all good things, there are a few minor setbacks. The lib of NSFW content may be limited, but let's not underestimate the boundless possibilities it still holds. And yes, you'll need a Discord acc, but who doesn't have one of those in this day and age? It's like a rite of passage for the cool kids!