Tired of scrolling through tons of Pinterest and IG posts trying to find a tattoo that speaks to you? Yeah, we get it. It would be sad to settle for smth generic as you're planning to have it for life.
The future of tattoo art is here, and we've rounded up the best AI tattoo generators 2023 (Android, iOS, Windows) you could try. These apps let you generate and try personalized tatts tailored to your prefs.
Imagine having a virtual ink-slinging artist who could conjure up endless ideas and adjust them to your liking – and that's exactly what you'll be getting here. You'll get to kickstart your creativity and inspire you to push the boundaries of ink art. Let's get started!
Fotor
This app uses AI to help you make truly unique and stunning tats. Whether you're a seasoned ink aficionado or a newbie wanting to dip your toes in the tattoo waters, it has got you covered.
With its simple UI and impressive AI tech, you can make ink that captures your vibe and prefs. The mechanics are simple too. Just upload a pic that inspires you, pick a style, and let the app work its magic. The app will generate a bunch of fresh and exciting concepts based on your original input.
Thus, you'll be given endless inspo and will be able to easily try designs that are both unique and meaningful. It's also a fantastic tool for enhancing and refining existing designs. By using text descriptions to communicate your vision, the app can help you take your tats to the next level, refining them until it's absolutely perfect.
That said, mastering this one can take a bit of time and patience. But trust us, the effort is well worth it. Once you get the hang of it, it quickly becomes an addictive and endlessly rewarding tool for making cool tats.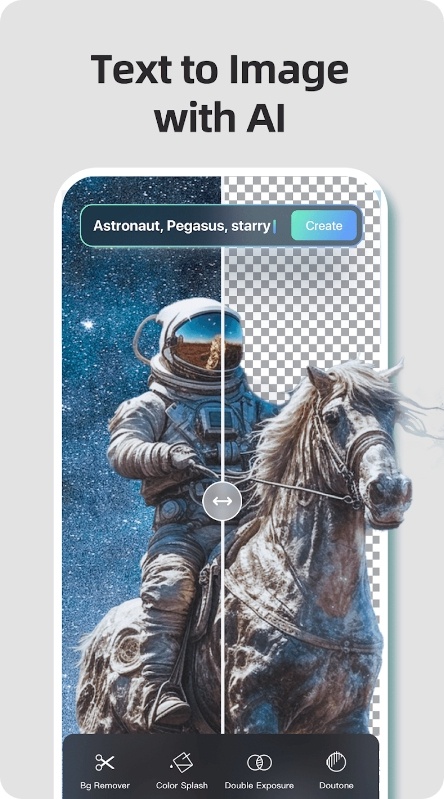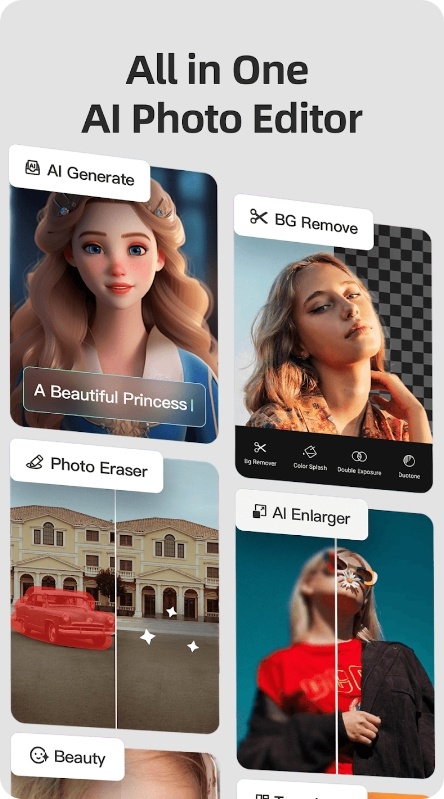 You may also like: 11 Free AI Art Generator Apps From Text
HitPaw
Tired of going through countless tat design books and websites, only to end up with something generic and uninspired? Then this one is a must-try.
First of all, let's talk about the UI. It's simple, and you'll adapt to the tools rather quickly. All you need is to enter the prompt and let the app work its magic. It will generate a mesmerizing look that you'll love.
It also gives you the option to pick from diverse styles and artists, which means that your tattoo will be completely unique. You can even adjust the saturation and size levels, so the tat will be exactly how you want it.
Now, let's talk about the technology behind it. It utilizes AI to create HQ tats, which means that you can use the pics for multiple purposes. The quality of the pics is top-notch, and you won't have to worry about any unwanted ads or watermarks.
Speaking of multiple purposes, it lets you generate multiple pics at once. There are several artwork models to try, so whatever your vibe is, this app will deliver.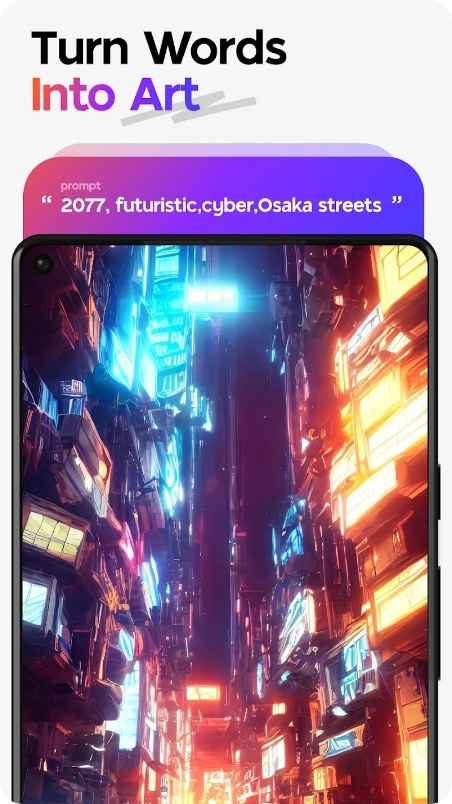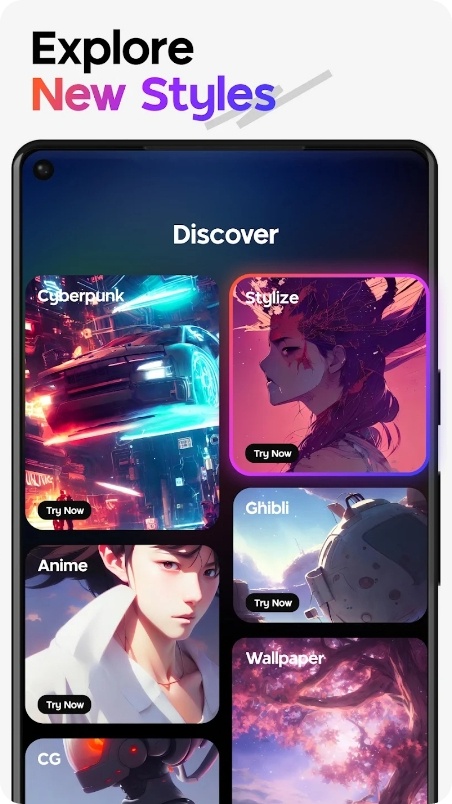 Dalle-2
This app is sure to hit the tattoo-design jackpot. With a plethora of impressive algorithms that have been fine-tuned over time, the app is capable of producing stunning artwork far beyond just tattoos. But let's focus on those sweet, sweet tats for now.
One of the app's most notable strengths is its ability to combine descriptive prompts with artistic styles. So if you have a specific idea in mind, say, a black and white butterfly, the app can work its magic to produce something that fits the bill perfectly.
But what if you also have a specific artist in mind? The app can take your prompt to the next level and produce something truly exceptional.
And let's not forget about the option to incorporate existing pics or designs. This tool allows users to explore diverse styles, colors, and more to fine-tune their desired output. This app is sure to satisfy even the most discerning tattoo aficionados. It might take some time till you figure out which prompts work best, but you'll be able to cope with it at some point.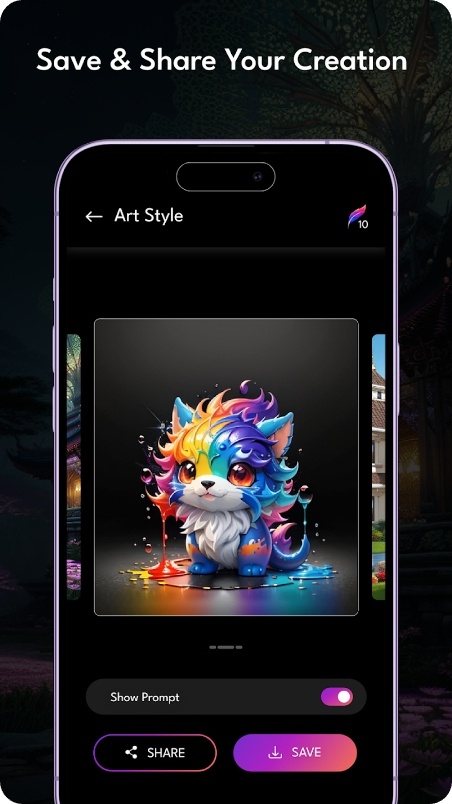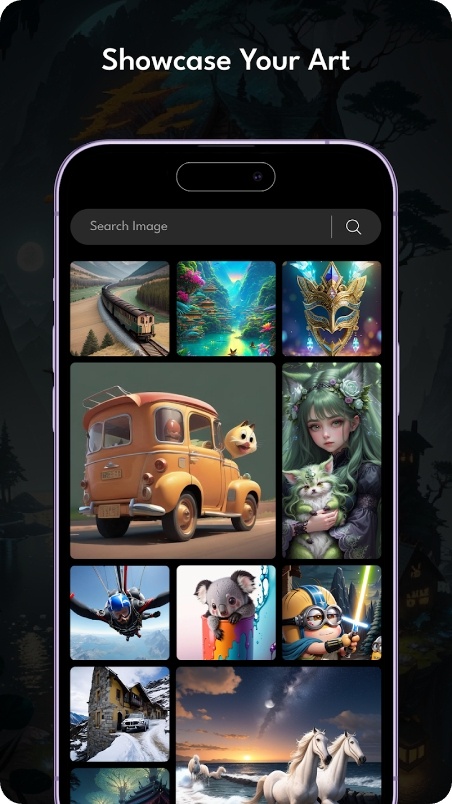 Spark AI
If you're an artist looking for an AI app that can take your ink to the next lvl, then it is the tool for you. With its state-of-the-art AI tech, you can effortlessly turn words into art and photos into cool pics.
One of the top perks of this one is its ability to make realistic pic that are ready to be used by your artist. It does a great job with girls and anime as well, so if you've dreamed of turning your fave character into ink, this app lets you do that. It's guaranteed to craft the design that will make jaws drop.
It can also help you generate cool skull sketches that will have all your friends talking. Simply input the keywords, and let it do the job to make a badass tat that will leave a lasting impression.
But what about those creative word combos? It has got you covered there too. Want to make smth that screams "Retired Mario"? Just type it in, pick the art style, and watch as it turns your idea into a unique masterpiece.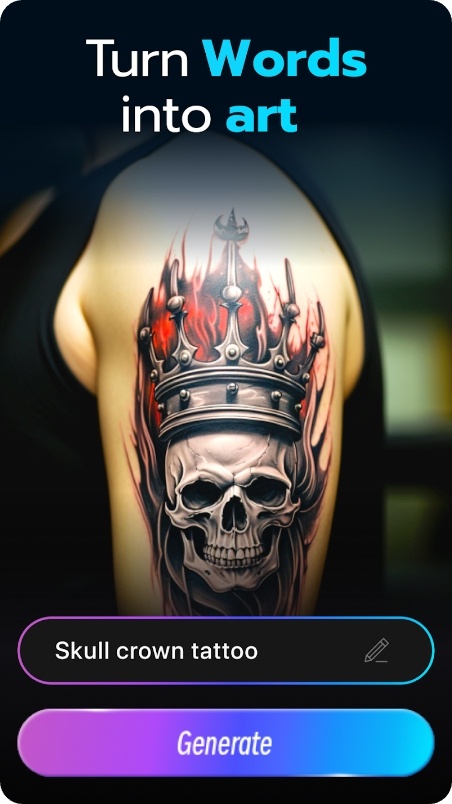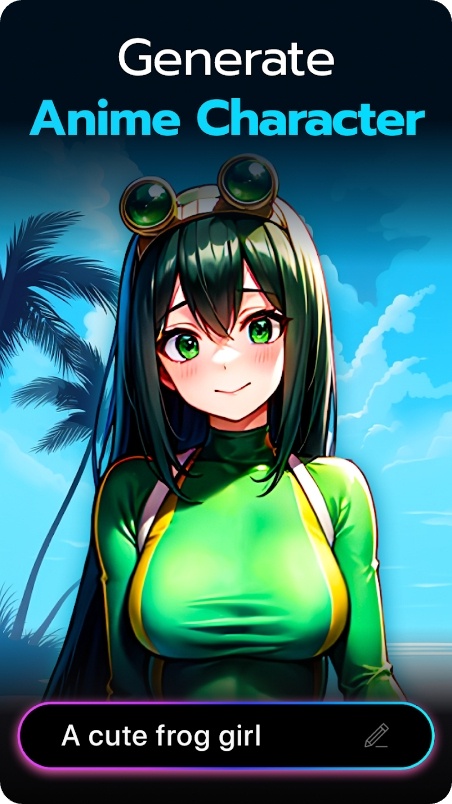 AI Tattoo Generator & Maker
This app is here to ensure you won't need to spend hours scrolling through websites with generic tats. We all get, finding inspo for smth that will be permanently inked on your body is quite a change. It combines your creativity with the power of AI to instantly make cool tats.
Gone are the days of settling for a boring butterfly or a generic tribal symbol. With this app, you can let your imagination run wild and create truly one-of-a-kind tats with ease.
But it doesn't stop there. Once you've found the ideal option, you can use the app to try your ideas in real-time. Guess what? With this app, you can even see how the tat will look on your body before you go "ink"ognito! It covers an AR tool to try tats on your body instantly.
No more guessing if a certain design will look good on you, just use your can, and see for yourself! You can save the tats for further use and save them as docs and pics.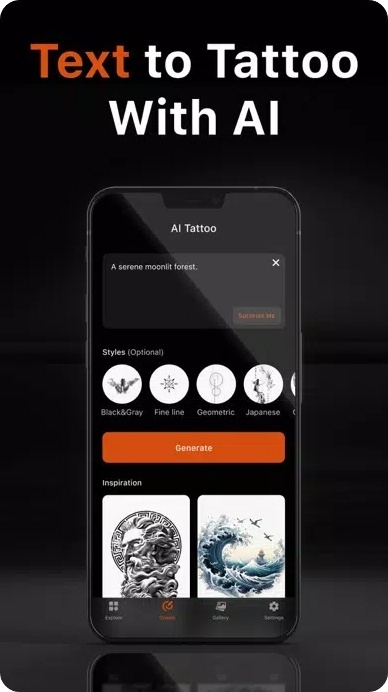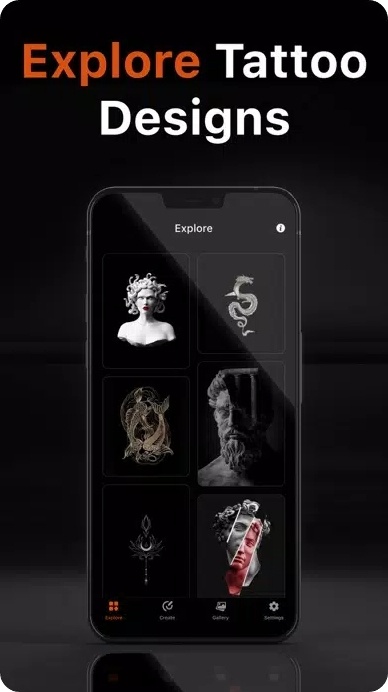 Check also: 7 Best AI Photo Enhancer Apps
Photoleap
This app is a fun n and creative way to try out new tats without the commitment. With its latest update, it now covers a special mode that lets you try on tats by applying them to pics. And the top part? You don't need any editing skills!
The app takes the tats, alters the angles with proportions, and gives a realistic preview of what your new ink could look like.
It also has a powerful AI art gen with two distinct modes to try. If you have a prompt in mind, it lets you define the visual and the app will swiftly generate it within secs. This one is particularly valuable in case you wanna make smth entirely unique.
You can watch the AI works its magic by filling in the gaps and enhancing the ink. Take things up a notch by combining the sketch tool with an AI gen for mind-blowingly intricate sketches. If you're an ink enthusiast wanting to try smth new or just someone into a fun way to explore AI art, it has got you covered.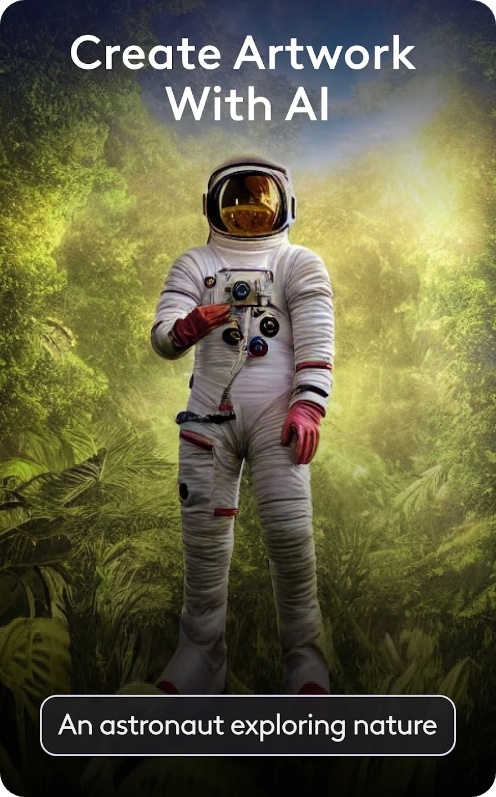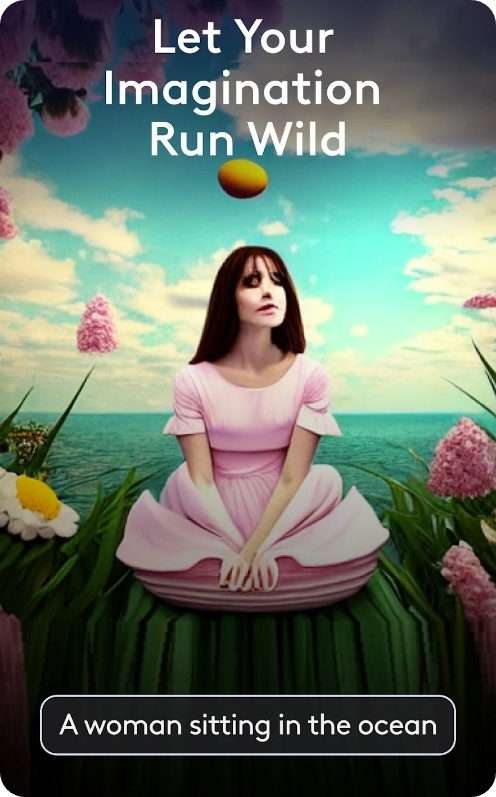 AI Tattoo Generator
This app is a true game-changer for anyone wanting to get inked. It's a gem for those tired of flipping through tat catalogs and still not finding the designs to express themselves.
Ad best of all, you don't need to be an artistic genius or a tattoo guru to make a masterpiece. With just a few taps, the app will turn your words into a stunning treat that's sure to turn heads.
Now, let's talk about the range of styles here. From classic black and grey to mesmerizing watercolor, there's smth for everyone. And if you're feeling extra adventurous, why not try out a unique style that you've never seen before? Whatever you have in mind, this app can do it.
But what about the quality, you may ask? Let us assure you, the end result is worth trying. The app's AI is top-notch, ensuring that every detail is crisp and precise. Plus, you have the option to tweak and refine the tat until it's just right – no need to settle for anything less than flawless.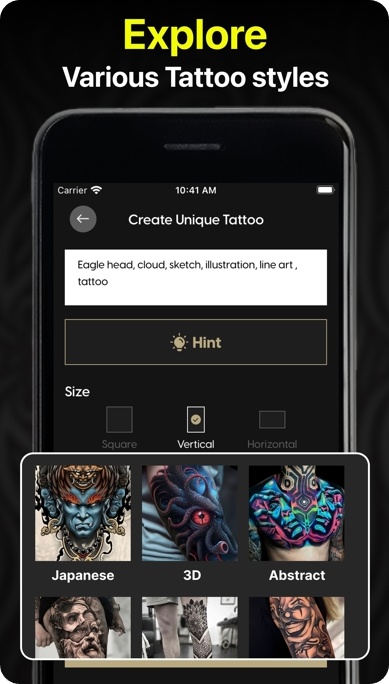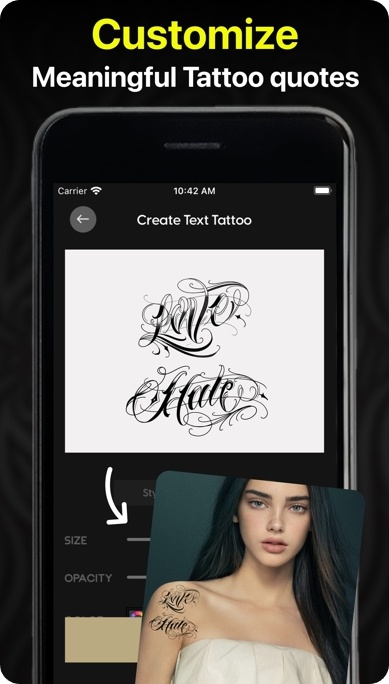 GenZArt
With this app, you can make custom tats with little to no effort. No need for skills or any exp whatsoever. Your only goal here is to get as creative as you can (the app will take care of the rest).
It covers a vast scope of styles and filters to try, including trendy ones like anime, game art, and all that. You have the freedom to explore and experiment here, and you can try as many times as needed. The only limit is your imagination.
The app is completely free of charge and free of ads! So, you can focus on creating your masterpiece without any distractions or interruptions.
The newly added shop tool lets you turn the art into custom merchandise like t-shirts, mugs, and sweaters. Imagine having your own unique tat printed on a shirt or gifted to your pal? Or a master? There's also an artistic feed for inspo. You can scroll through the list of cool artworks made by other users, share your fave pieces, and join the conversation. Who knows, you might discover a new fave artist or style to inspire your next tattoo.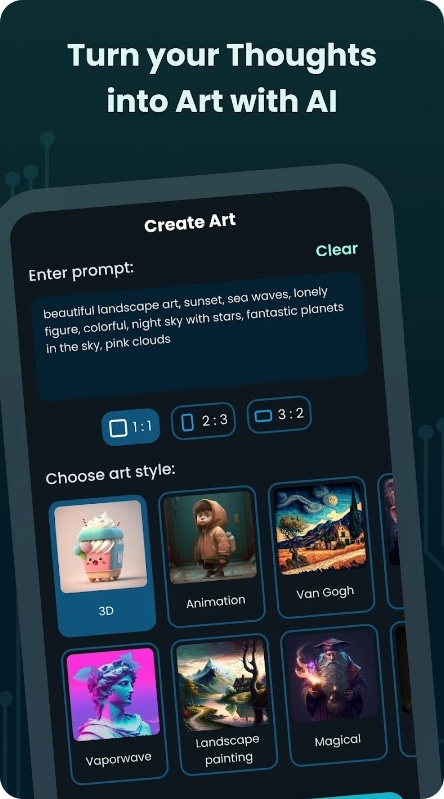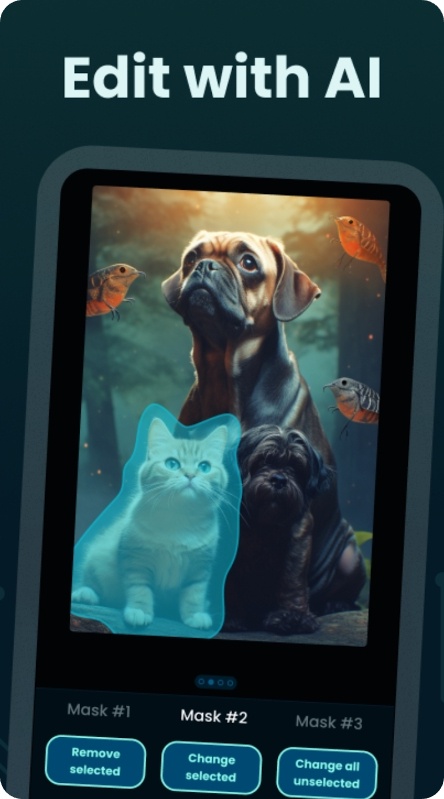 TattoosAI
This AI-based platform is a dream come true for anyone with a specific concept in mind but lacking the artistic skills to bring it to life.
With a range of styles to try, including popular ones like surreal, watercolor, and lettering, it is a one-stop shop for inspo. And the 3D aspect? It's a game-changer, truly. You can visualize exactly how that intricate tat you've been dreaming of would look on your body, eliminating any doubts or second thoughts.
But what sets it apart is its simplicity. All you need is the ability to describe your idea using key terms, and the AI takes care of the rest. And if you're feeling stuck in the ideation phase, the platform offers a constantly updated tattoo gallery, so you can browse styles and filter by your preferences.
Here's the thing: tats may be permanent, but inspo isn't always reliable. That's where it comes in. It's the ultimate brainstorming tool, perfect for anyone wanting to get inked and have a concept in mind. You can get 8 pics for free here, more will require a paid pack.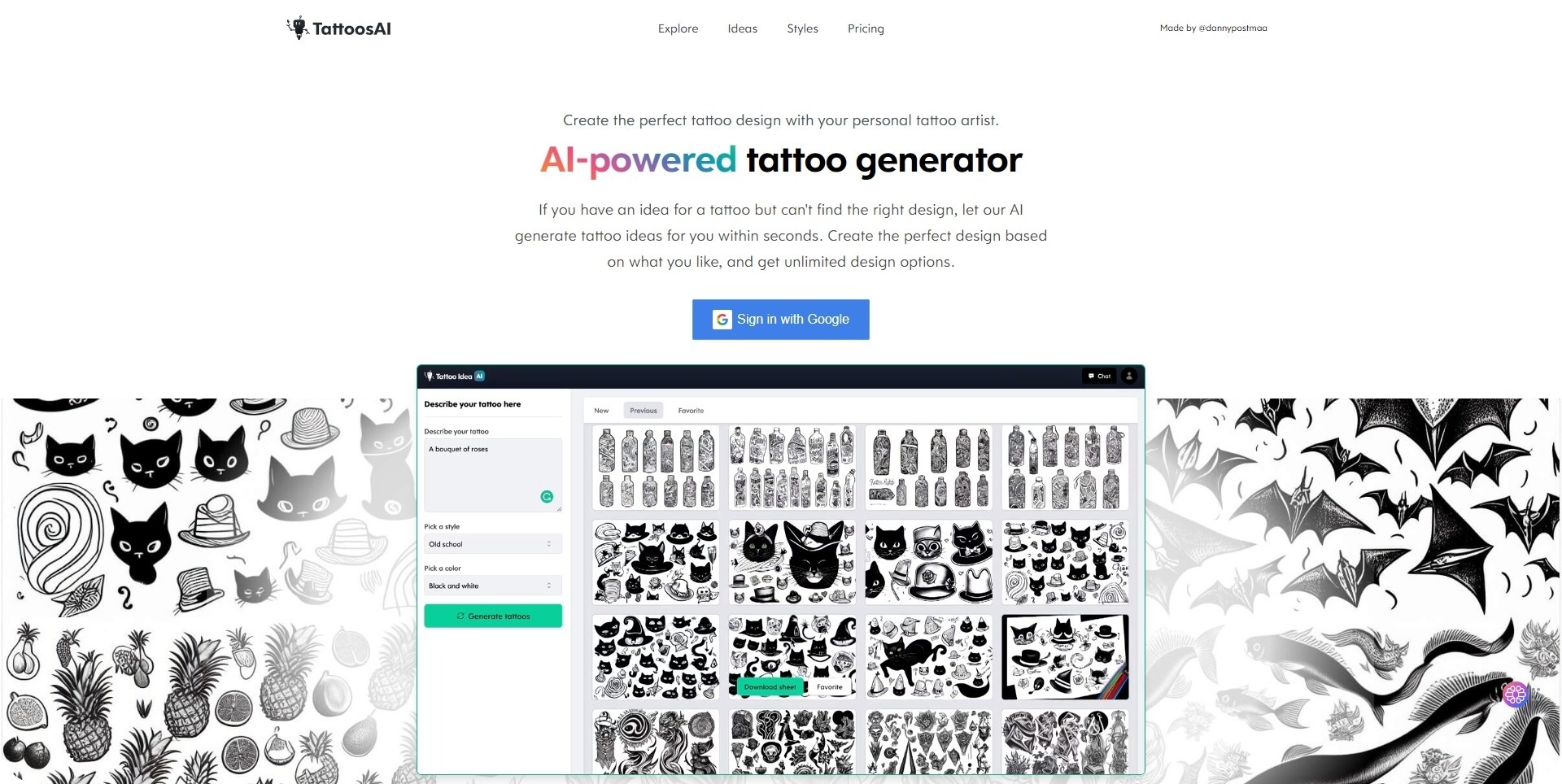 BlackinkAI
This innovative website uses the magic of AI to give you an array of custom tats in a matter of secs. All you need is to input your prompts, pick a style, and voila! Perfection awaits you, thanks to this nifty tool.
The platform covers a wide array of trendy styles you'll surely be impressed by. Whether you're a fan of dot work, Japanese-style, tribal tats, or more, this website caters to your every tattoo whim and fancy.
You can share the pics with the world via the public gallery, or keep them private. For those of us who have been tattoo hunting, it is a breath of fresh air. It replaces the tedious and time-consuming process of browsing through numerous web pages while allowing you to put your stamp on your design.
Even though the AI models are not as advanced as other platforms, this actually works to this one's advantage. It's ideal for tats, where the requirements are simpler and fitting within a framework is key. And don't worry if you're new to the game, it makes the process easy and seamless.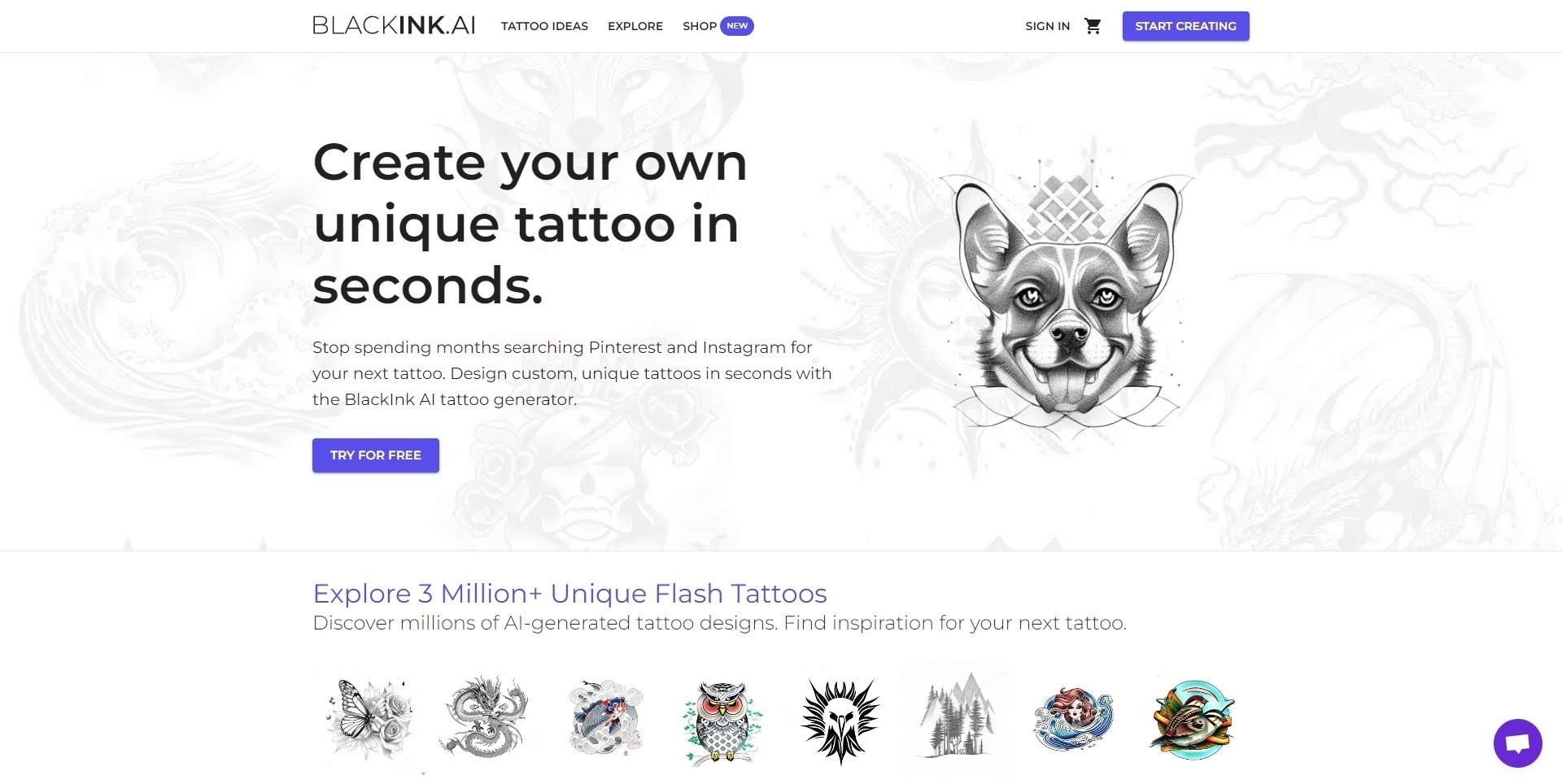 You may also check: 10 Best Fake Piercing Apps
Artguru
Lastly, we have an app to help all the ink enthusiasts and those curious about tats. This website is a total game-changer when it comes to ideas for your next (or first!) tat.
First off, can we just talk about how cool and quick it is to make art based on your input? Like, what sorcery is this?! But seriously, it's so easy to use, and the results are mind-blowing. Whether you have a specific tat in mind or just need some inspo, it has got you covered.
You can try a bunch of themes and styles, including traditional, neo-traditional, watercolor, and more. And the text input lets you adjust the tat even further, whether it's a quote, name, or meaningful phrase.
But it doesn't just leave you hanging once you've made a design. You can easily share it with others, whether it's your artist or your friends. Collaboration has never been easier and more fun! And did we mention that it is completely free? That's right, no need to splurge here.