Are you an anime lover who's always on the go? Do you often find yourself stuck in places with no access to the internet, longing for a quick fix of your favorite cast? Then you're in for a treat!
We've got the lowdown on the best offline anime games (Android & iOS) you could try. These let you dive into a world of anime without poor web connection ruining the fun.
Whether you're into fighting, RPGs, or games with romantic options, you can find one here. From action-packed titles to heartwarming stories, we've got something for everyone. Let's get started!
Dawn Break
This game takes you on an epic adventure filled with action-packed battles and a phenomenal storyline.
As an offline solo ARPG, you can take on the challenge of mastering rare equipment and spirits without worrying about internet connectivity. But don't think that just because you're offline, the action will be any less smooth. Rest assured that the battle will be just as thrilling as any online one, with plenty of ways to practice and challenge yourself to become the ultimate hero.
With tons of levels to conquer, the adventure never ends. You can even party up with other heroes and recruit new heroes to aid you on your journey.
But let's talk about the real star of the show – the story. When the Day of Eclipse arrived, a mysterious lady descended from the sky and a dark shadow appeared. Sound intriguing? Just wait until you dive into the game fully.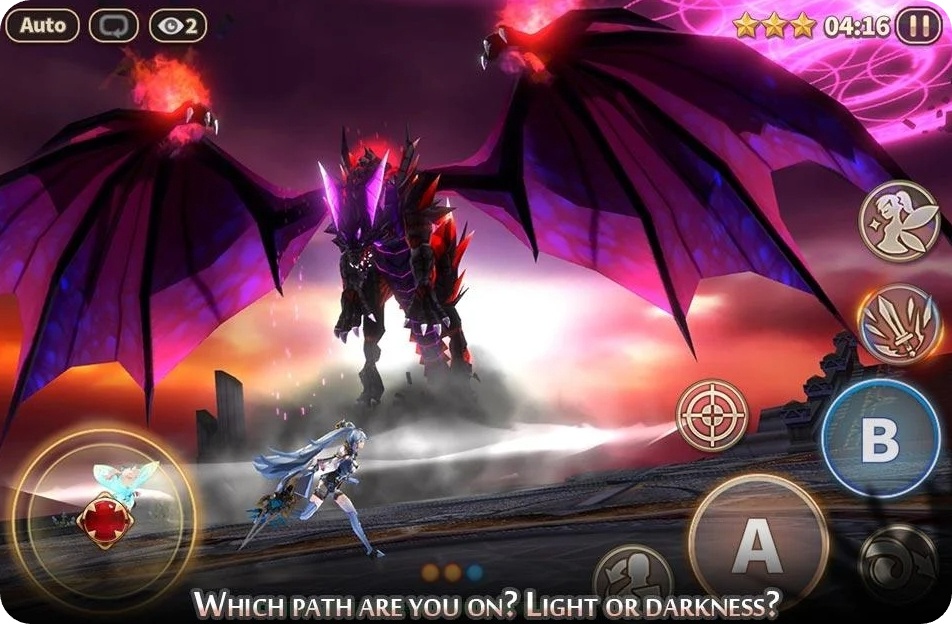 You may also like: 11 Free Space Strategy Games
Azur Lane
This one lets you command a fleet of warships in the high seas. But at the same time, it's not your ordinary naval game.
Prepare to be hooked with a captivating concoction of RPG shooter, and tactical goodness! Its easy and intuitive UI, wrapped in a delightful 2D side-scroller concept, caters to both newbies and pros alike.
The game lets you organize up to 6 ships into a flotilla, and smash through foe gunfire, and defeat them in glorious battle! You can control the ships yourself or let the AI take over, depending on your prefs.
One of the coolest aspects of this one is the vast array of warships from all over the world that you can add to your fleet. There are over 300 options, each with unique stats and a beautifully made character representation that you'll surely fall in love with.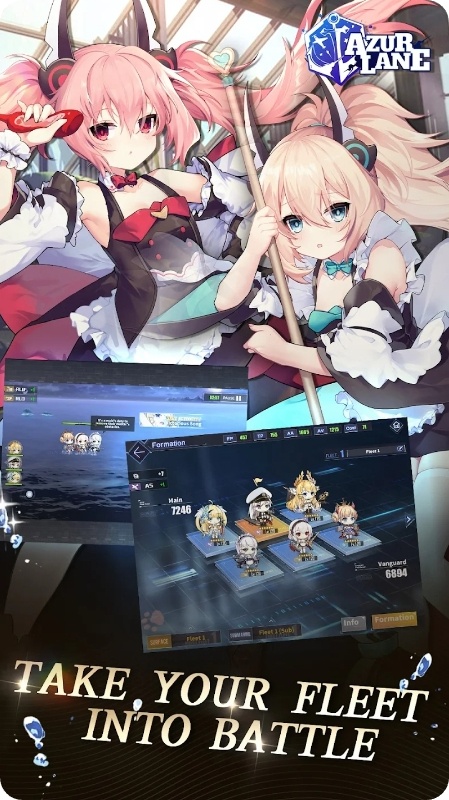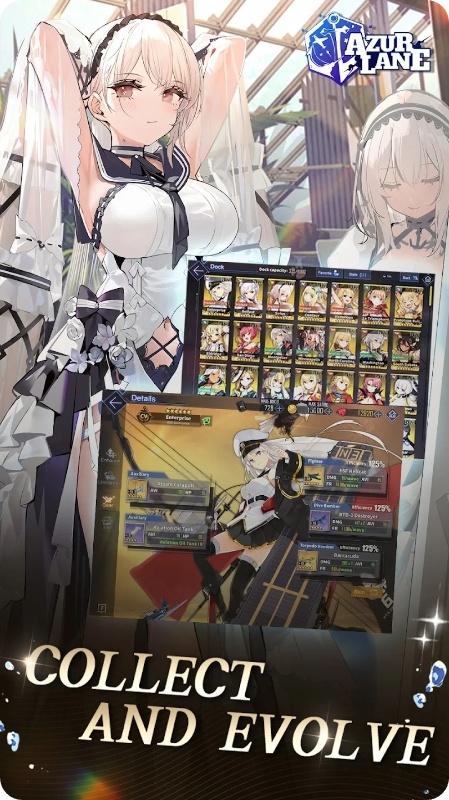 Shadow Slayer
This game is a gem for the fans of dark fantasy. In Foliga, a once peaceful world has turned dark, and it's up to you to join our heroes and fight the undead bosses that are lurking around every corner.
But don't worry, you won't be alone on this epic journey. With multiple characters to pick from, you'll have plenty of options to customize your game strategy and combat style. So get ready to unlock your potential and master new skills as you battle monsters and explore the vast possibilities of this hack-and-slash game.
And speaking of monsters, you'll definitely want to prepare yourself for the MASSIVE BOSS conflict that awaits you. Trust us, it's going to be intense, so make sure your skills are up to par.
But don't worry, you'll have plenty of mysterious treasure chests to discover along the way, which will help you in your quest to save the world from this dark and eerie fate.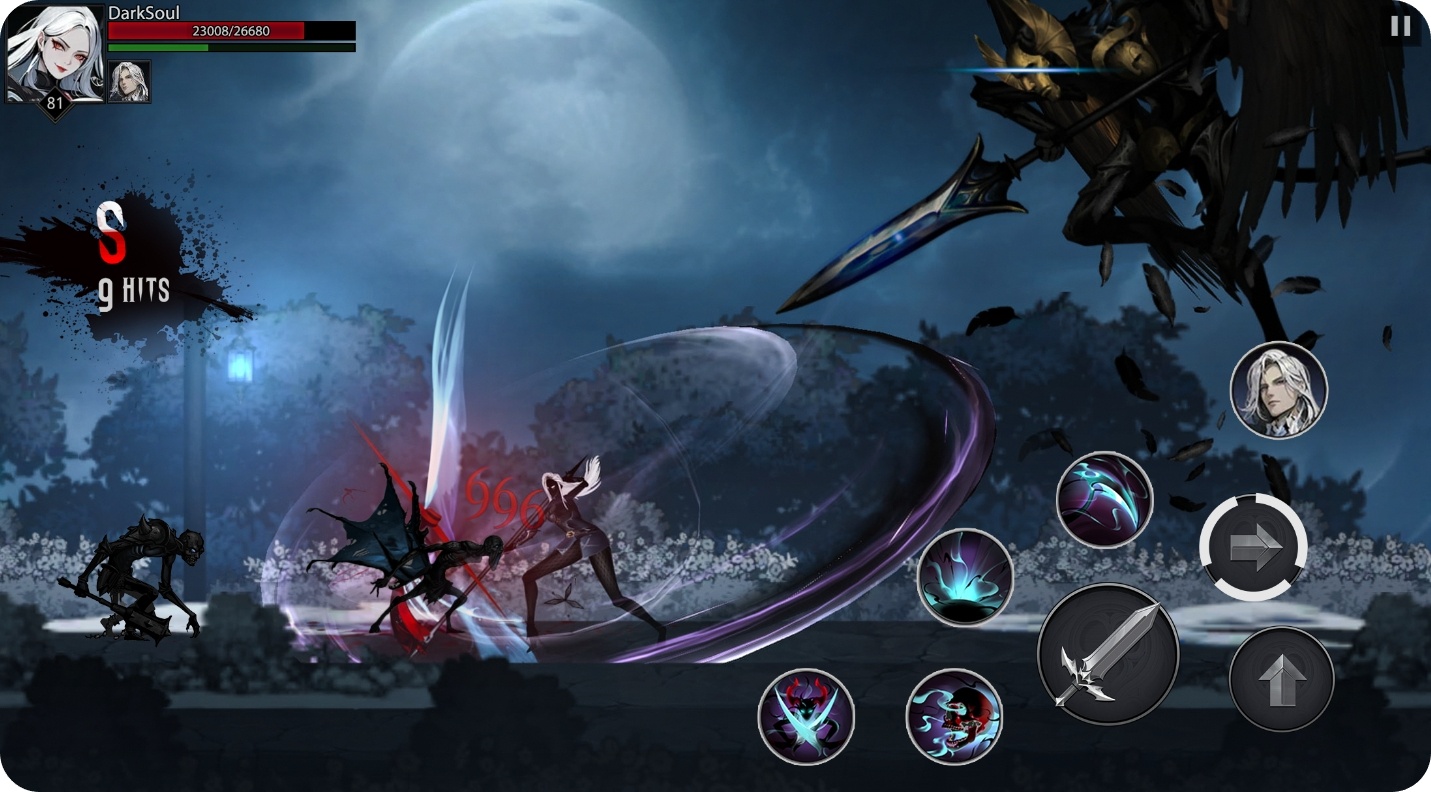 NeverGone
Here's a game that will immerse you into a world where humans, vampires, and demons coexist, battling for victory. You'll need to navigate through the war-torn game world, using graceful and polished movements to defeat deadly monsters and bosses.
One of the key perks of this one is its old-school hardcore action gameplay, which takes players back to the very core of action games. It also comes with a world-class rock soundtrack which adds to the already epic atmosphere of it.
With three chapters of story mode, three several modes, and special intel missions, you'll have more than enough content to keep you entertained. The game is set against the backdrop of dark but beautiful environments that further add to the game's overall immersive experience.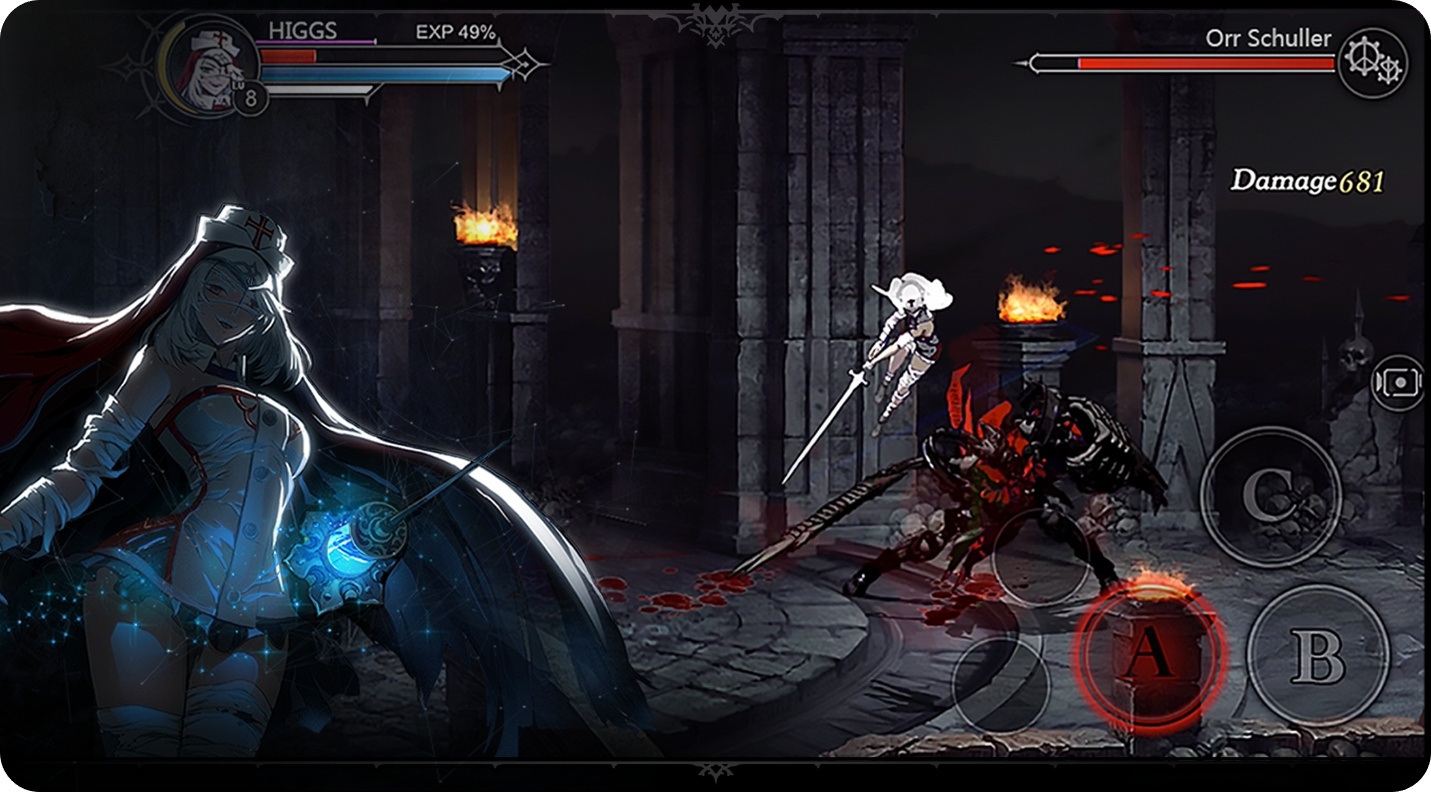 Kingdom War
Ready to take on the challenge of defending the kingdom against the Goblin army? Cause that's what this one is all about.
This fantasy continent is in dire need of your help once again. The peaceful existence of the races is now threatened by the resurgence of evil.
And it is your duty to seek help and train your troops to ensure the safety of your people. You will be facing up against the cunning goblin army. But fear not! You will have a plethora of powerful towers at your disposal and can even train your own royal soldiers to fight alongside you.
But don't let your guard down. The enemies come in tons of shapes and sizes, each with their own strengths and weaknesses. You will encounter countless challenges along the way. You can hire talented tacticians to help you strategize and overcome any obstacles thrown your way.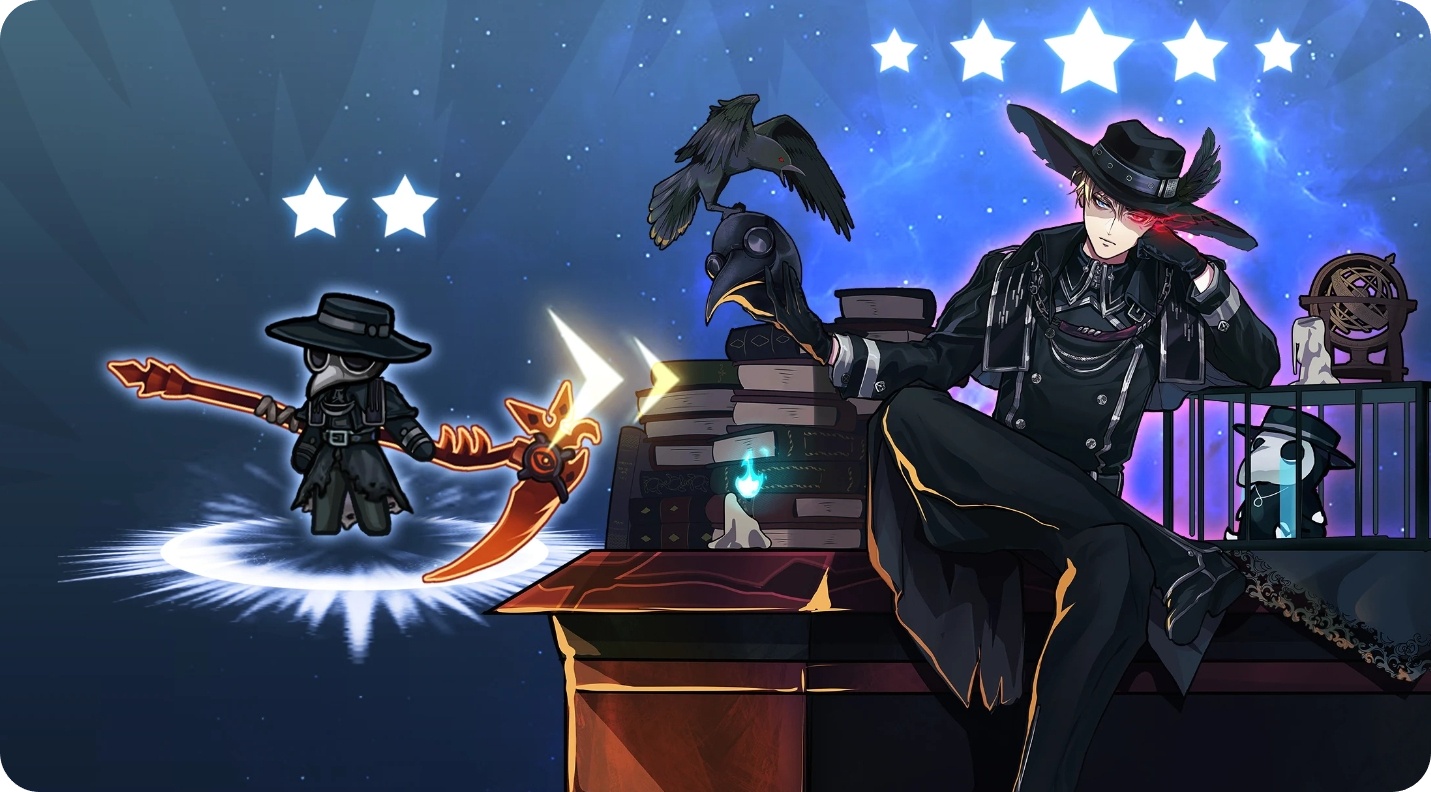 HEIR OF LIGHT
This game lets you become a shining light in a world shrouded in darkness. A pretty bold claim, yeah, but it lives up to it.
Here, it's up to you to restore hope to a chaotic realm and fight exclusive boss battles to expand your territory. But you won't be alone in your crusade. Collect over 350 powerful Servants to fight at your side, each with diverse roles for attack, defense, support, and healing.
Enhance, evolve, and awaken your Servants to unlock their true potential and devise the ultimate strategy to bring light back to the world.
What sets it apart is its unparalleled graphics and stunning visual effects. Every detail is meticulously contrived from an immersive exp. And with a constant stream of updates and events, there's always smth new to discover.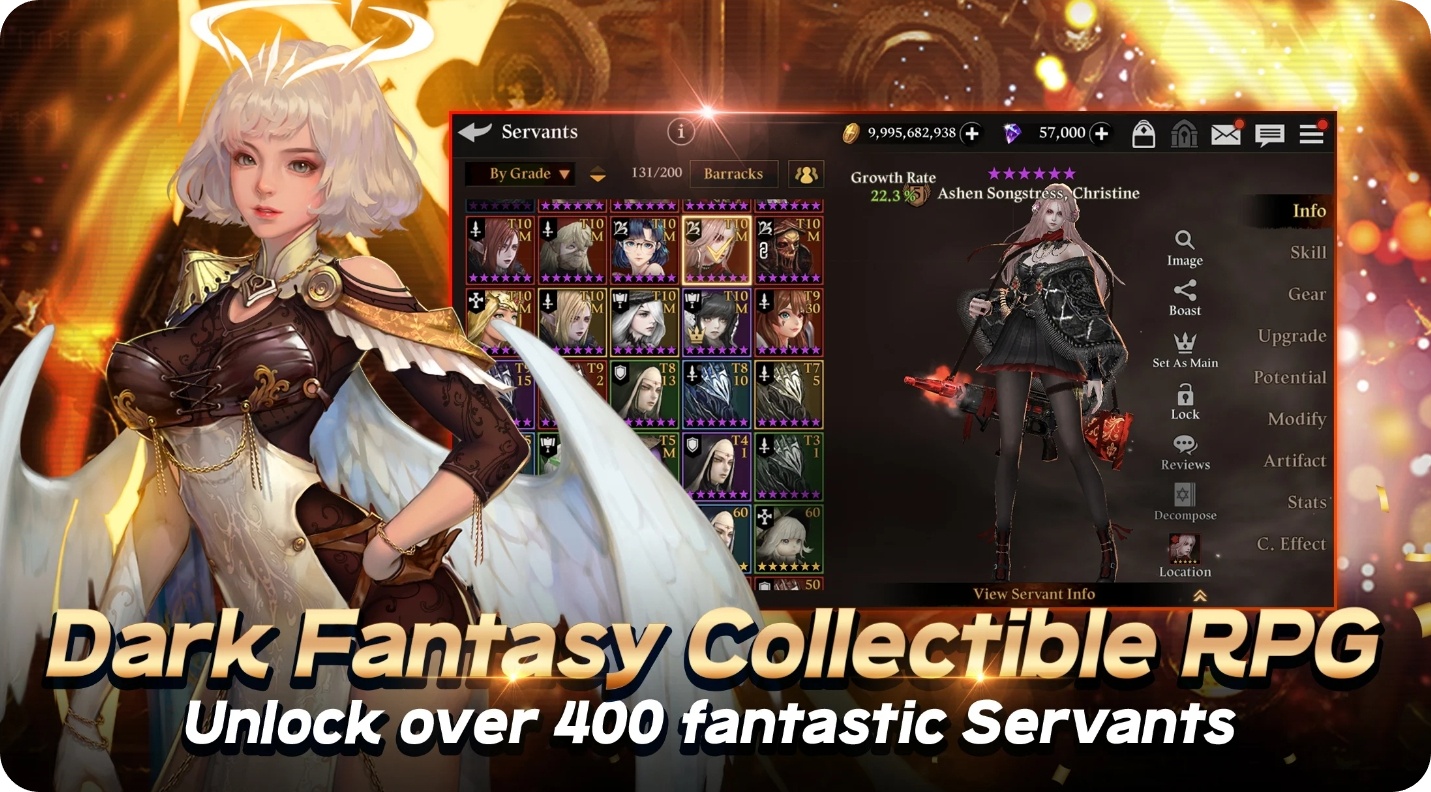 Epic Conquest
Get ready to embark on an epic journey filled with intense hack-and-slash action, an intricate storyline, and so much more.
First of all, let's talk combat- it's strategic yet intense, and you'll definitely need to learn your enemy's behavior to find the opportunity to strike. Pick between heroes and enjoy the fluid control system that puts you in the driver's seat.
You can also switch the complicity lvl to match your skills and test your path gradually. It's also a nice way to reap more rewards as you go. And speaking of rewards, the blacksmith and equipment system is a classic one that you won't want to miss out on.
Kill enemy bosses to gather materials, then upgrade your gear to truly become an unstoppable force on the battlefield.
And if you're a fan of fantasy romance, then it is the game for you. With visual novel-style dialogue and stunning CG illustrations that appear throughout the story, you'll be drawn into this world of epic proportions.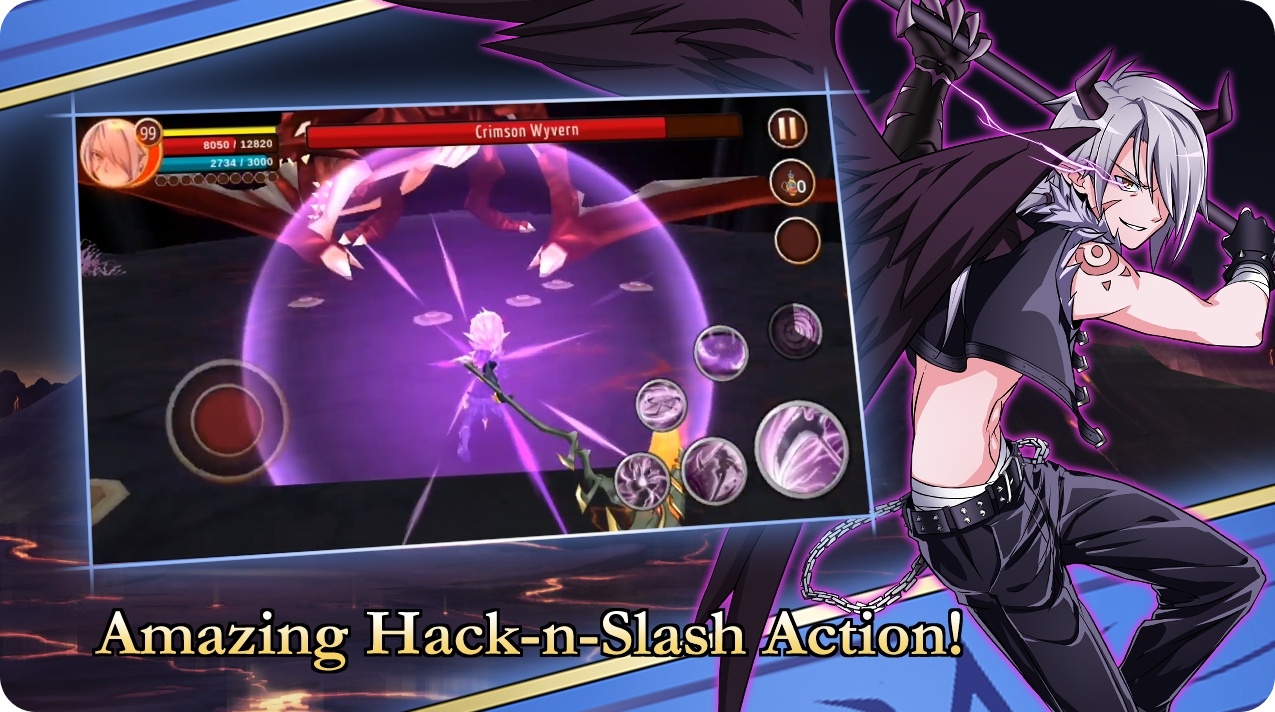 Pandaclip
This game lets you test your shooting skills as you try to defeat the pesky black bears. This game features visually stunning novel-style dialogue, captivating character expressions, and beautiful CG illustrations that will have you hooked throughout.
And get ready for some hilarious dialogues that'll keep a smile on your face during the entire game. The shooter action RPG gameplay is quite engaging, too. Let your wit and lightning reflexes lead you through hordes of black bears and collect loot as you go.
Of course, you'll get to upgrade your gear and have an epic boss fight after all. And let's not forget about the incredible art style – it's pure eye candy for anime enthusiasts! Immerse yourself in the top-notch character designs and collect all the fabulous costumes and accessories.
Plus, it runs fully offline, so you can enjoy it at any time.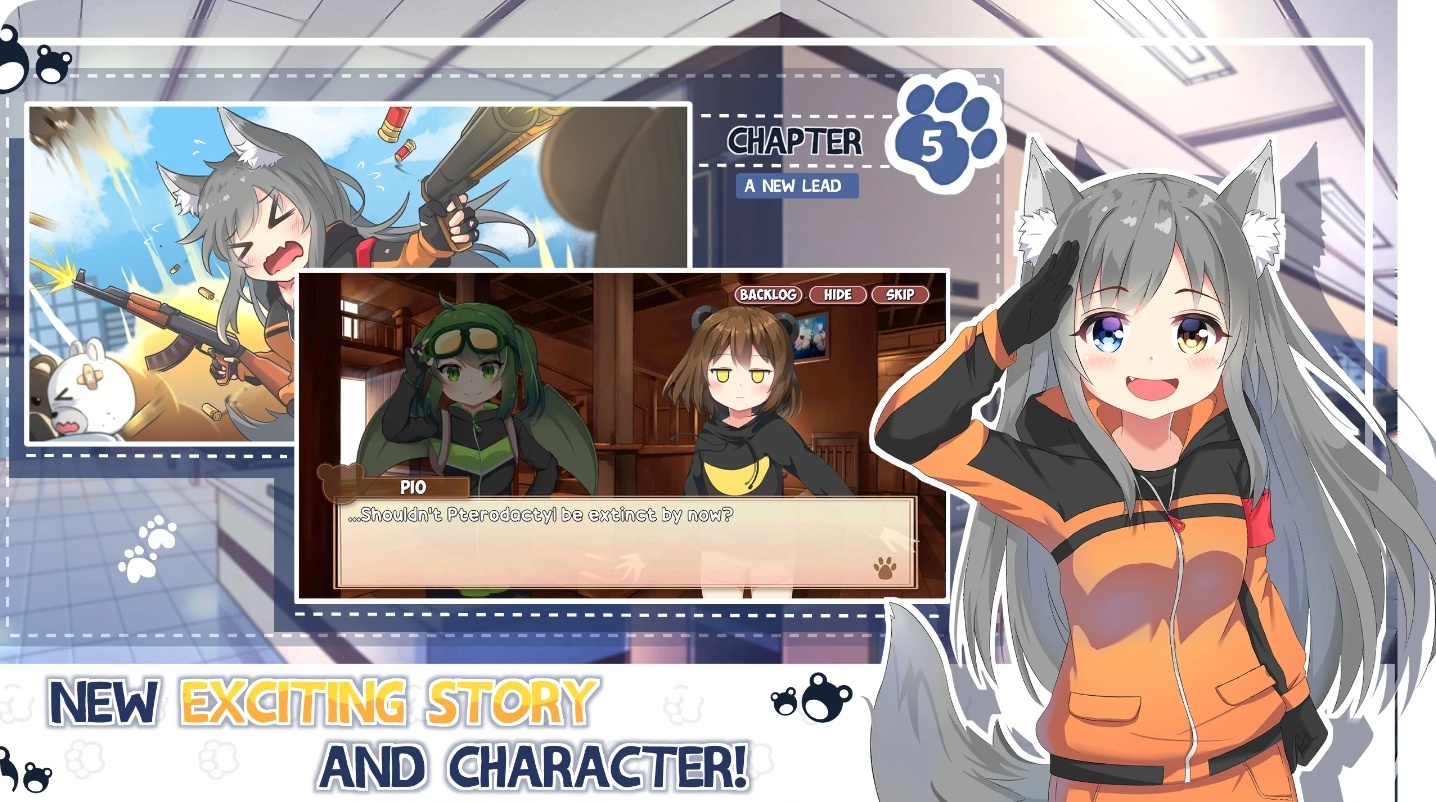 Ancient Gods
If you're a fan of gacha games and deck-building, then this one should definitely be on your radar. It combines the two in a way that's both addictive and refreshing.
One of the things we love about this one is the strategy involved in the turn-based card battles. You can't just throw any old cards together and expect to win. You have to carefully pick which ones to take with you, and make sure they complement each other well.
The cast is beautifully drawn, each with their own unique card and passive skill. Collecting them all feels like a never-ending quest, but it's a fun one. And with over 30 heroes to pick from, there's no shortage of variety.
The class and skill system is another highlight of this one. Being able to craft your own deck by switching classes adds a layer of customization that we really appreciate. It lets you tailor the gameplay experience to your own prefs.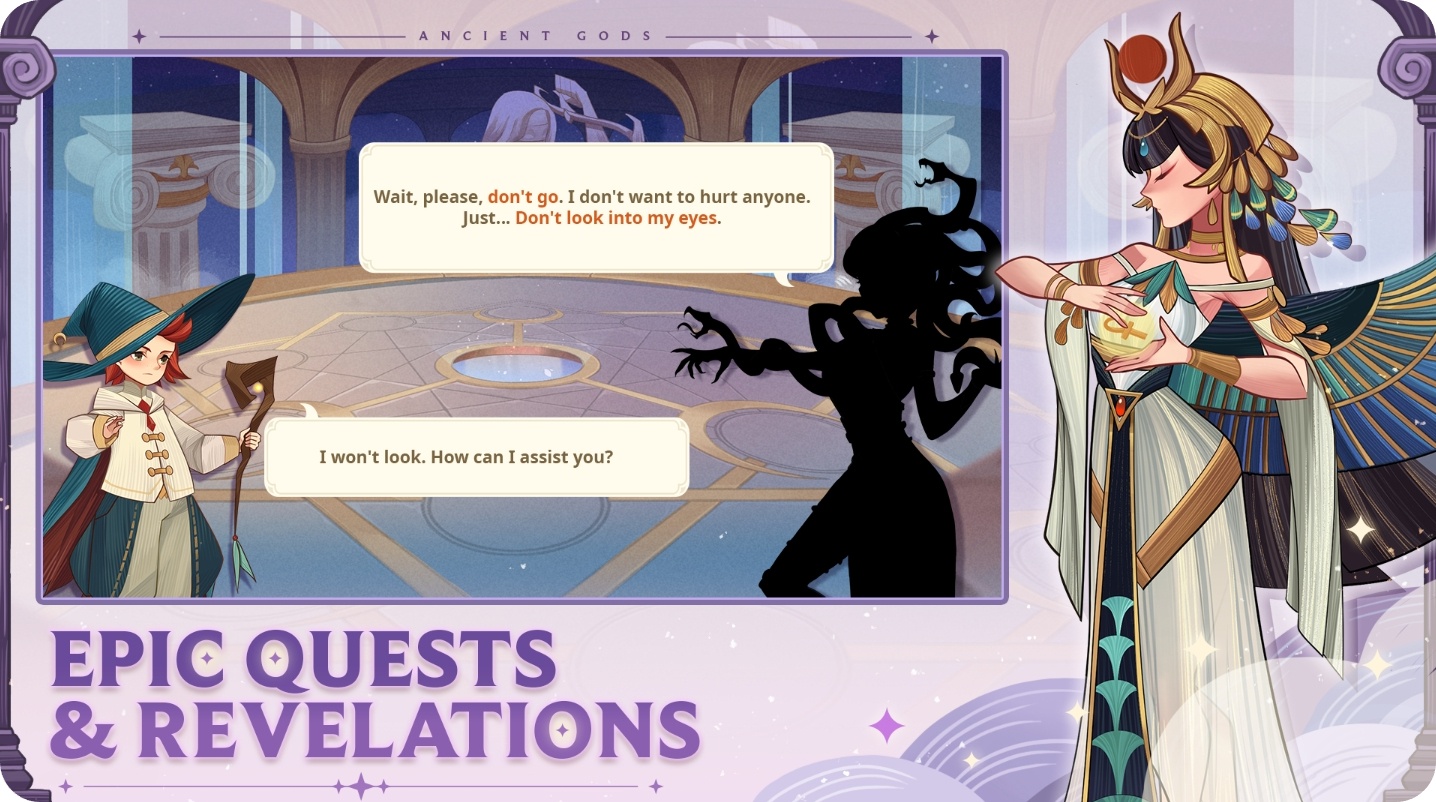 Arknights
Here, you'll be a key member of a company that battles deadly infections. It's a gorgeous anime-style game that's a perfect mix of RPG and strategy.
You will be tasked with drafting new members, training them, and allocating them to operations to rescue the innocent and resist those trying to plunge the world into madness. Prepare to be blown away by the incredible roster of portions across classes.
One of the most exciting aspects of this one is the Base construction syst, where you can create your home just the way you want it. With a robust soundtrack and some of the top voice actors, you'll be treated to a sublime auditory experience that elevates the game's overall feel.
The level of depth and semantic richness is so high that you might find yourself spending hours upon hours in the game.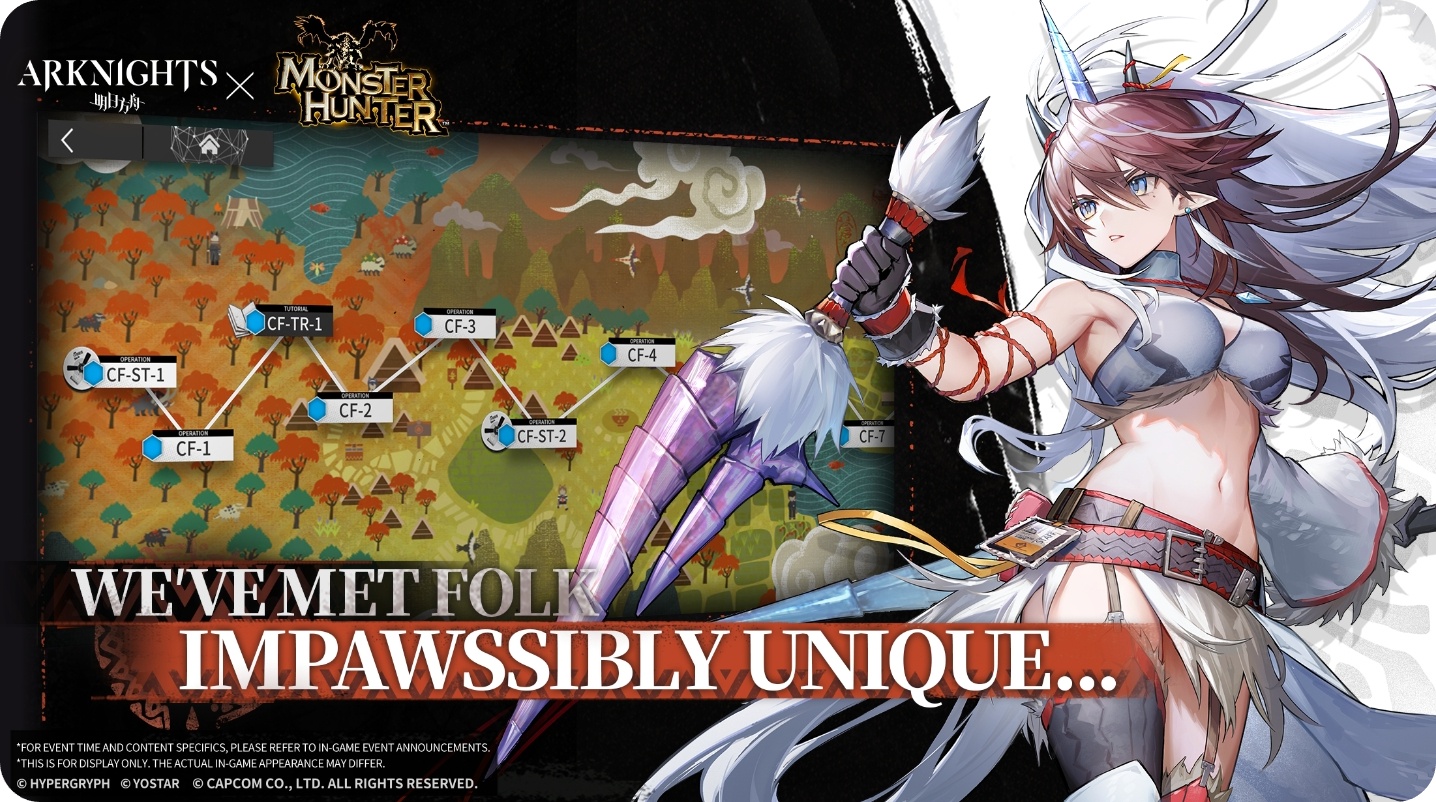 CounterSide
Let us paint a pic for you: a world in infinite conflict, and you're the chosen one. It's a straight-up urban fantasy, and the only ones who can save reality are charming characters.
The illustrations are high-end Live2D quality, and each hero has a unique charm that's only enhanced by the SF noir saga. Trust us, you won't want to miss out on this ensemble of cast.
And when it comes to gameplay, it does not disappoint. The line battle is entertaining enough, it's quite easy to lose track of time with it. The motions and skill cut-ins add even more spice to the already breathtaking line battles.
And let's not forget about the team strategy – you'll have to lead the squads to victory, so make sure to use your team's brilliance to your advantage!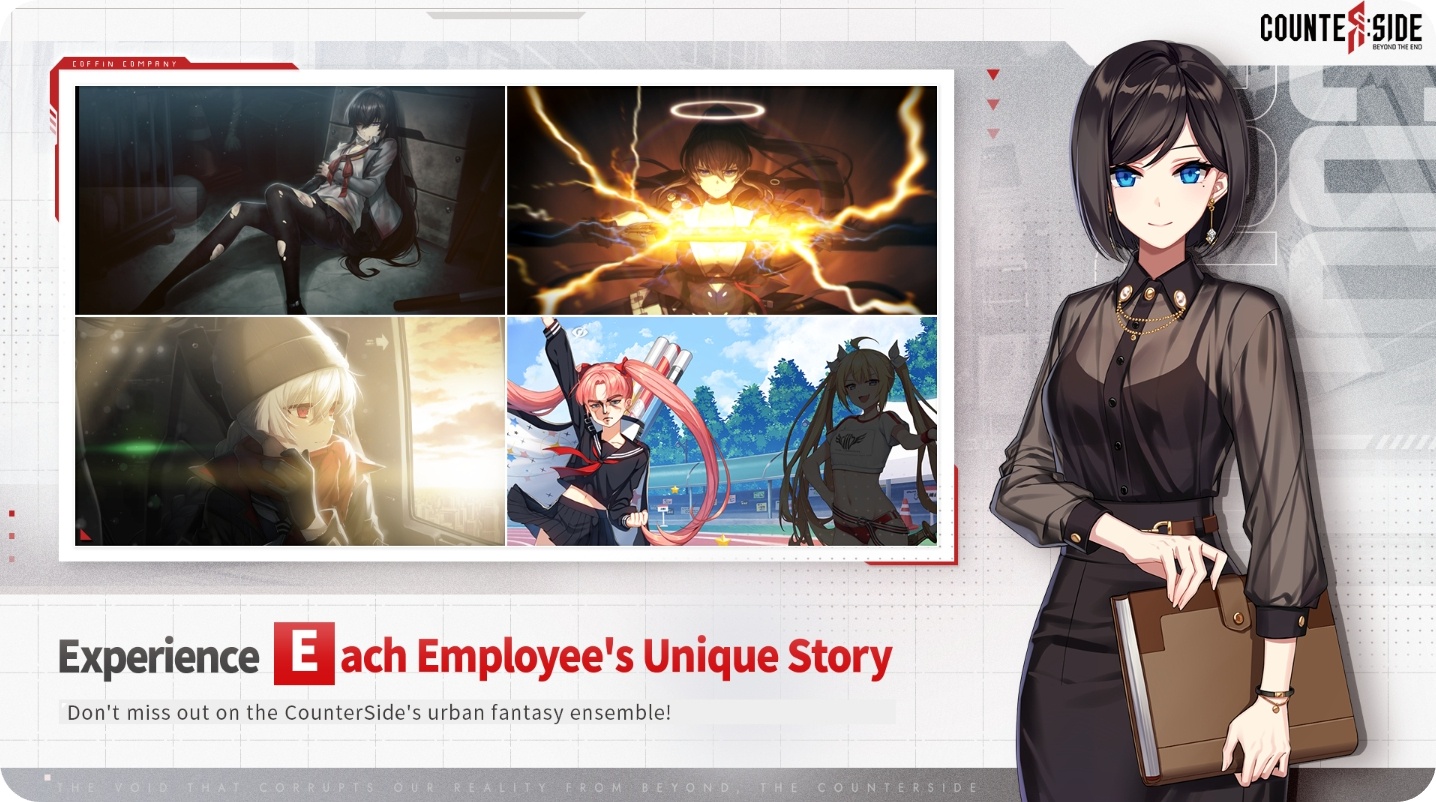 DRAGON BALL Z
This one will have you feeling like a kid again. It takes you on a journey through the popular anime series, featuring a new take on the action puzzle game genre.
It lets you relive your favorite memories through quests and experience reimagined popular stories with new and old DB cast. And for the ultimate challenge, you can test their skills in Extreme Z-Battle and Super Battle Road.
It's all about collecting enough Ki Spheres to activate Super Attacks, just like the anime. And let us tell you, those attacks are epic! You can also summon new and classic faves or rivals if needed. You can for a lineup of your dreams here and make it the strongest fighting force.
The attention to detail is remarkable, and it takes the game to the next level. You won't be able to get enough of watching your fave heroes in action here.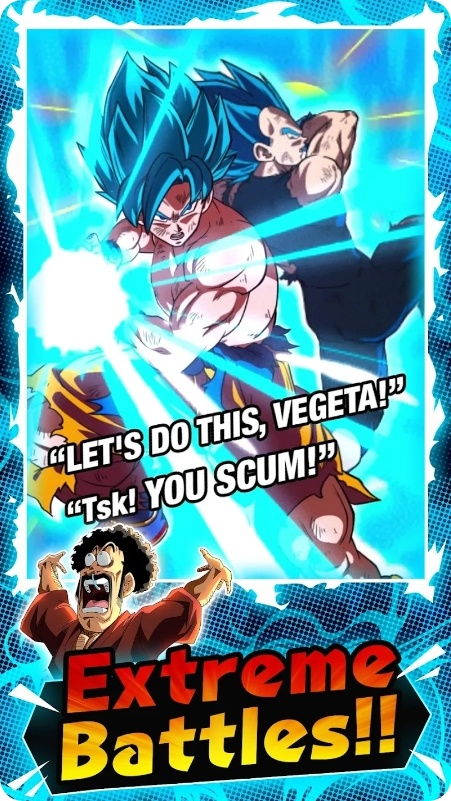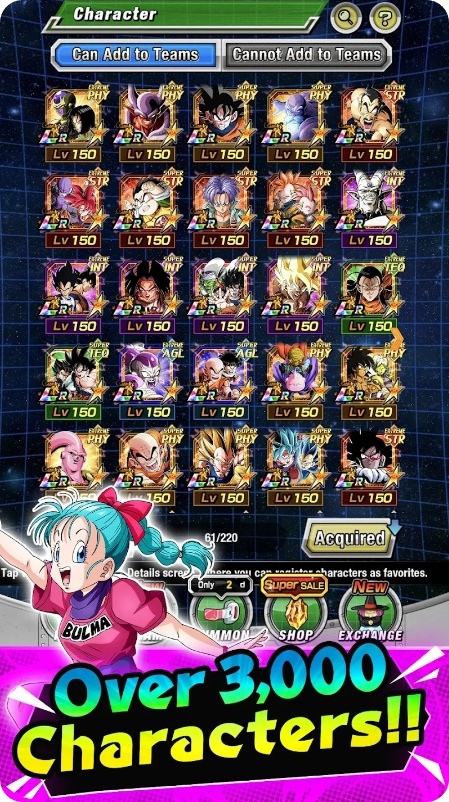 Check also: 9 Best Anime Games Like Danganronpa
Epic Seven
Let's dive into the mind-blowing story! It's so epic, that it'll give fantasy and adventure fans a dose of pure thrills. Get lost in the mesmerizing world, where you'll embark on an epic monster hunt.
You'll get to uncover ancient secrets and face that powerful queen lurking in the Labyrinth. Brace yourself for a rich and immersive storyline that'll leave you craving for more after each chapter.
Oh, did we mention the animation? Fully playable 2D animation takes each battle to a whole new level of style and strategy, with graphics so slick they look like cutscenes. Every hero's movements are sheer embodiment, guaranteed to leave you craving to see what's next.
Of course, what's an epic adventure without some good ol' competition? Enter the PvP arena, where you'll show off your legendary strategies to the world each season. Who will rise to fame and snatch the sweet taste of victory in the Arena?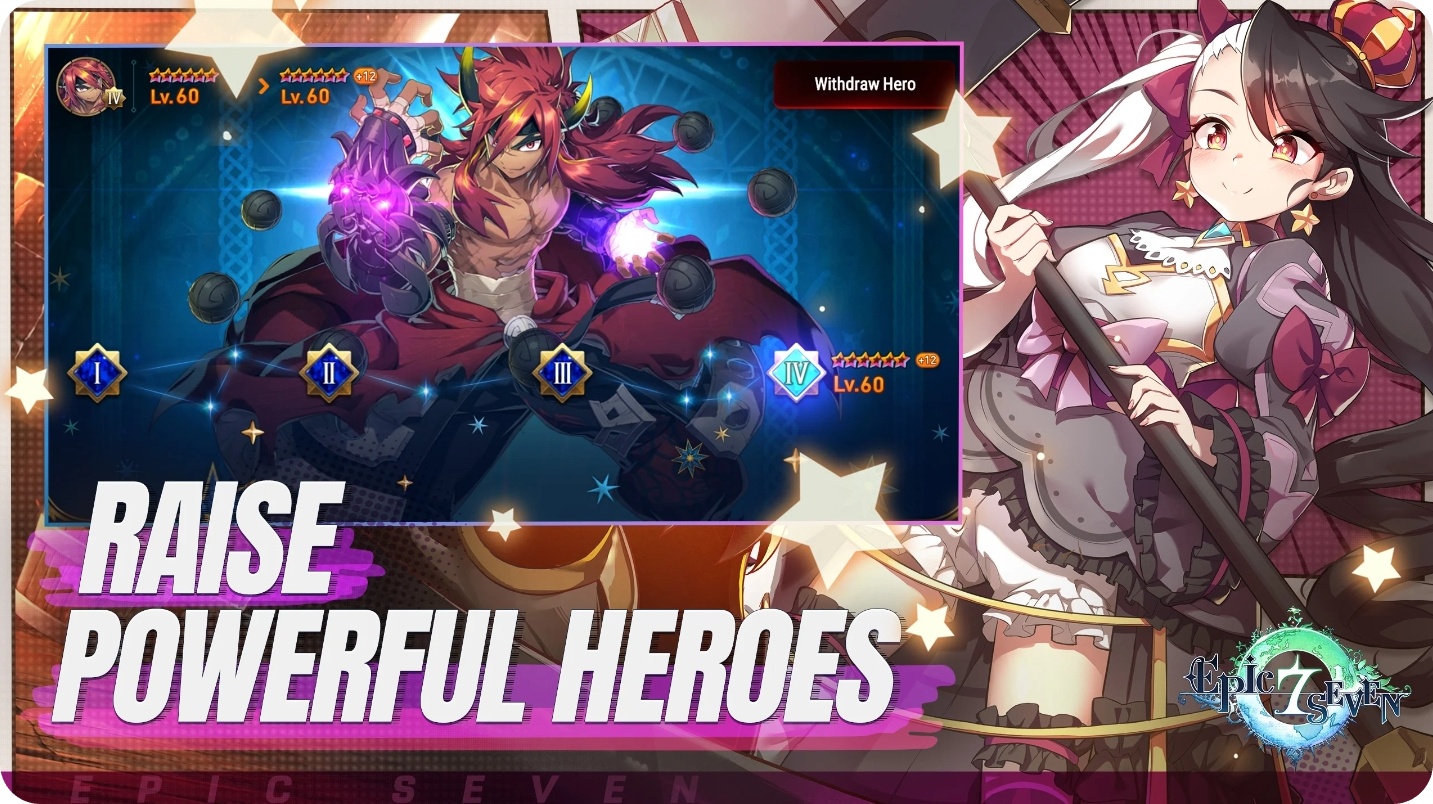 BanG Dream!
This one lets you rock out with some of the most talented girl bands. It's all about the thrilling live concert exp here!
As a staff member of the live house, you'll have the chance to make the most epic concerts. There are 7 charismatic girl bands that will have you tapping your feet and singing along to over 400 songs!
Not only do you get to train band members and improve their music performance, but you also get to interact with a cute band cast and explore their daily lives in town. There are 35 members, each with their own fully voiced story and HQ animated Live2D band members.
Enjoy real-time cooperative gameplay with folks and users from around the world with up to 5 members! Showcase your skills and see who can create the best live performance.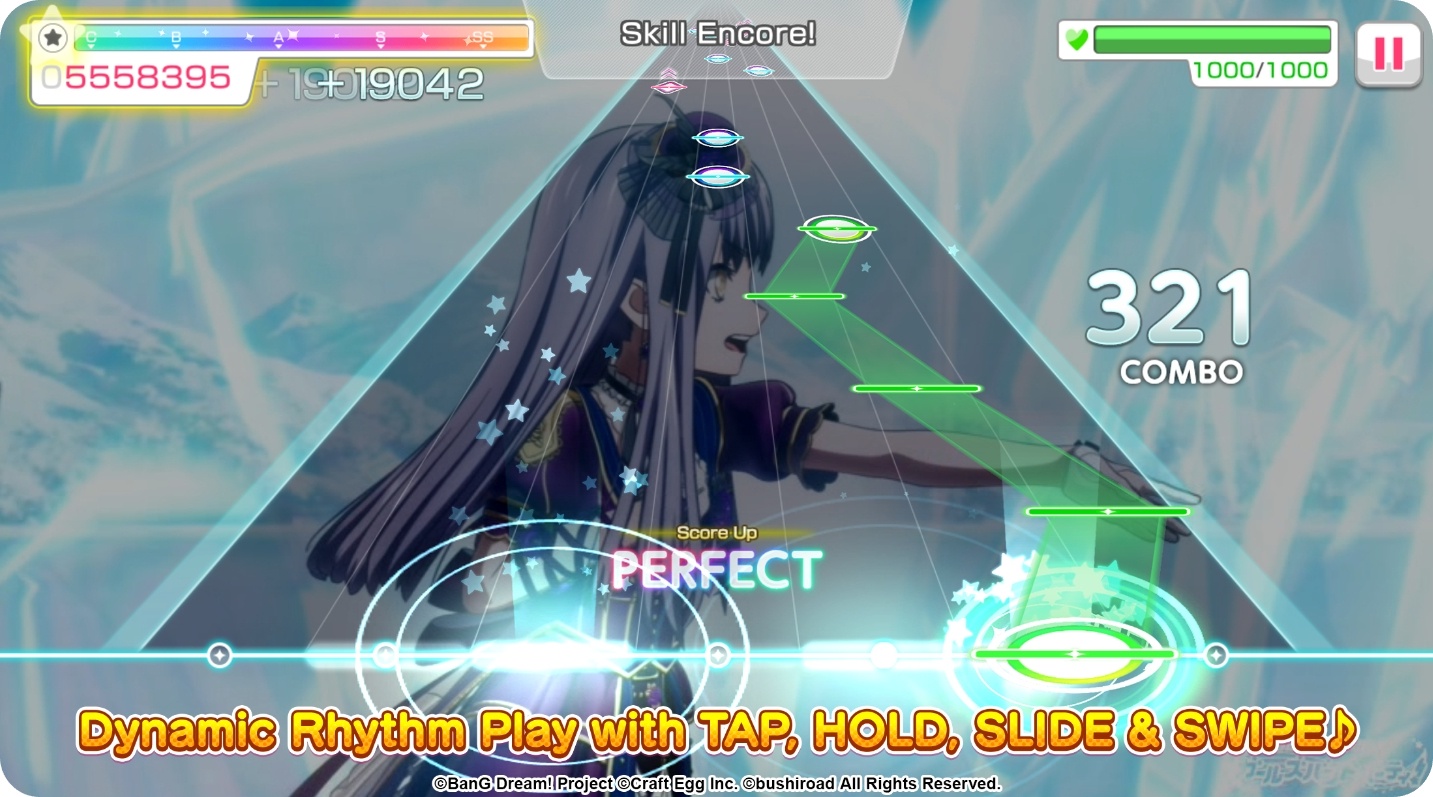 A Girl Adrift
It's a cozy game that will surely please those who value aesthetics. That's an open-world tap game with fun RPG gameplay.
The story centers around a girl, navigating a world that has been submerged in water. As you go through the lvls, you'll encounter diverse islands and creatures, each with its unique challenges and rewards.
But the real beauty of this one lies in its simplicity. It's the ideal antidote for insomnia, thanks to the calming sound of the sea in the background as you tap and fish your way through the game.
And let's not forget the cute and quirky characters you'll meet along the way! From a friendly, talking fish to a cranky old crab, each one adds to the charm and personality of the game.
But don't let the game's cuteness fool you, there's plenty of action and adventure to be had here. Whether you're battling sea monsters or fishing for rare treasures, each challenge is more exciting than the last!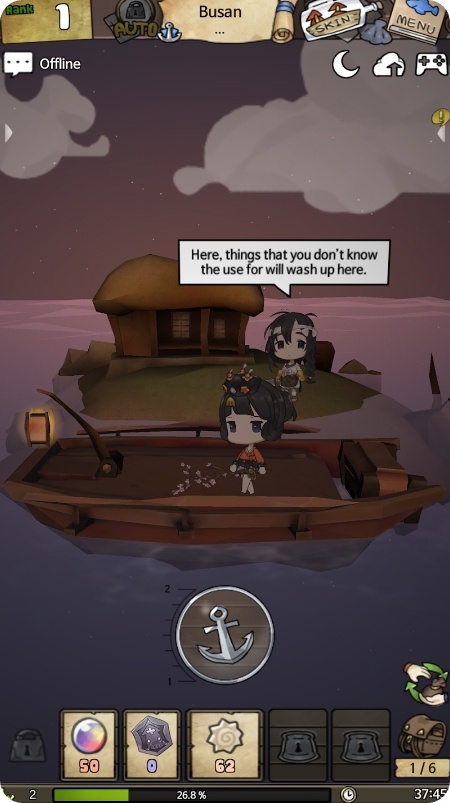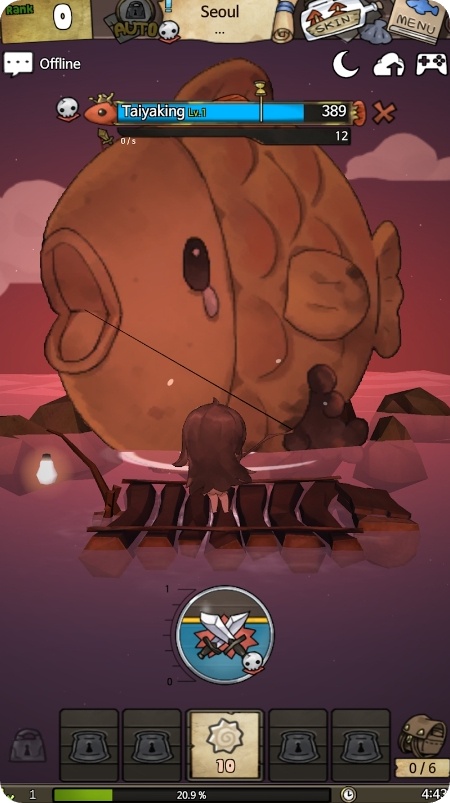 Anime Challenge
This one is here to test your knowledge of all things anime and manga. A great option if you want to turn a trivia night into smth more narrowly focused.
It covers diverse kinds of quizzes and over 300 characters from the most well-known series. You'll need to use your brainpower to figure out the answers while conserving your resources. And the best part? It's completely free-to-play with no pay-to-win gimmicks!
You can earn in-game coins by leveling up and purchasing valuable items in the shop to aid in your journey. And don't forget about hints. They are real gems if you get stuck on one of the lvls.
The graphics are nice enough, and the anime-inspired wallpapers and songs are sure to get you in the zone. You can also see how you do on a global scoreboard to compare your ranking with other otakus.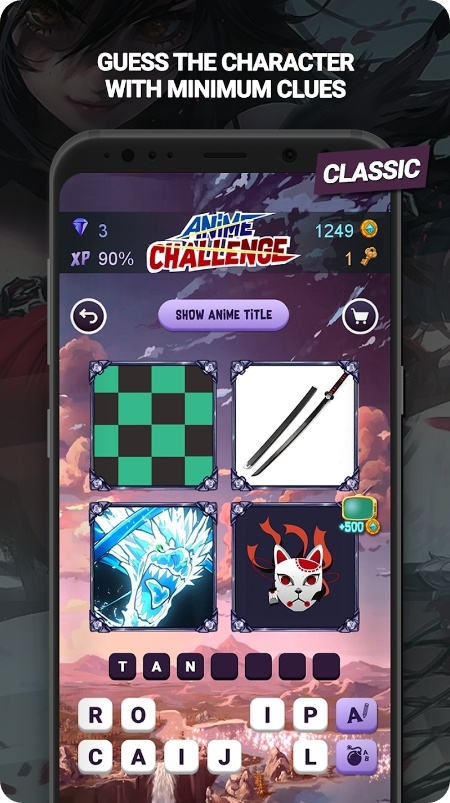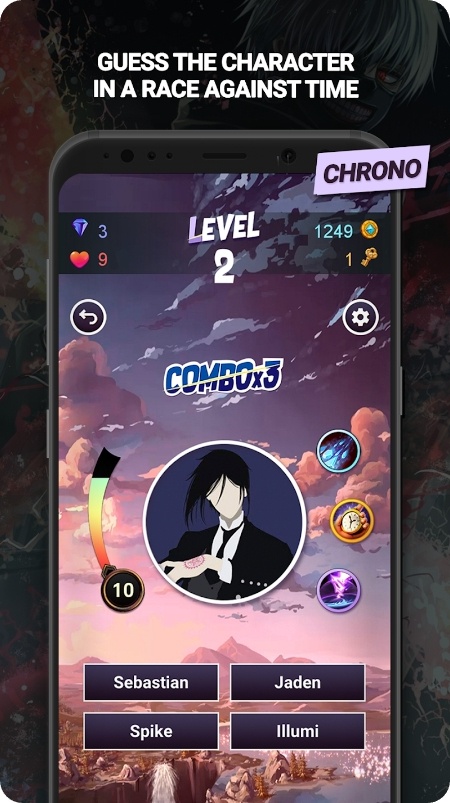 Shining Star Idol Dress Up
Well, how could we not include a good old dressing game for all the girlies out there? It's a cute little fashion adventure that
It lets you make your very own Idol and let your creativity shine brighter than ever before. From cute and trendy to cool and stylish, the app offers a galaxy of options to suit your unique taste. Plus, save and edit the results in the in-game gallery for endless inspiration!
Unlike other dress-up games, this one adds a twist of storytelling. Express your girl's personality through speech bubbles and background scenarios. You can even fall in love and have a family! It's like being the director of your own fashion movie!
And here's the best part: the gacha element. Unlock surprise clothing pieces and accessories to keep your Idol's style game on point. It's a never-ending fashion adventure!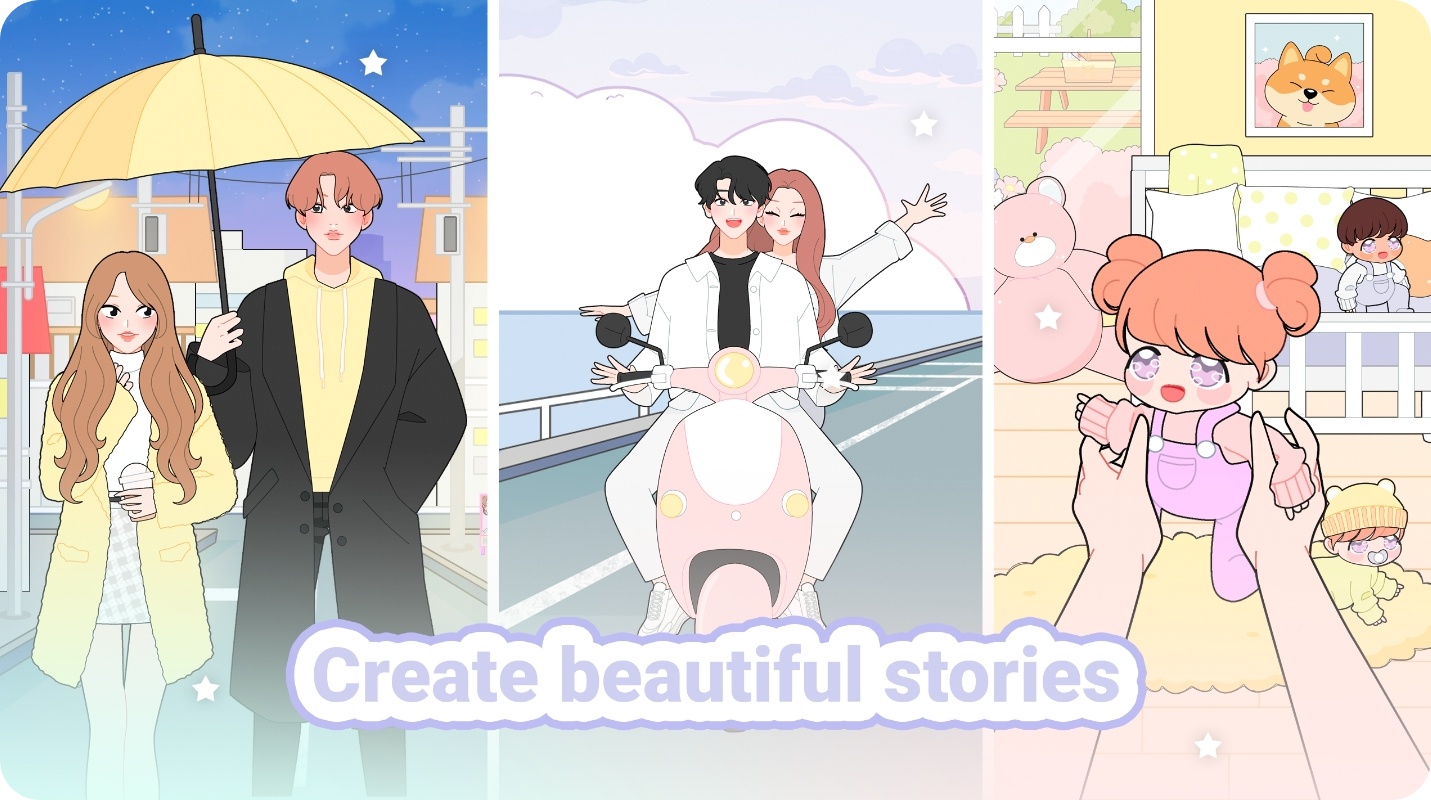 Mystic Messenger
That's a female-oriented otome mobile game with a rather unique take. It takes interactive storytelling to another level by immersing you in a group chat with a cast of attractive and interesting characters.
As you get to know them, you'll receive phone calls and texts that deepen your relationships and make you feel like you're part of the story.
But it isn't just about falling in love. You'll also be asked to join the cast's secret party planning association, where you'll work together to throw the perfect event. This adds a fun and engaging element to the game that keeps you invested in the story and the characters.
One of the great things about it is how much agency you have as a player. Depending on the choices you make, you can end up with different romantic partners and endings. This encourages replayability and keeps the game fresh and exciting, even after multiple playthroughs.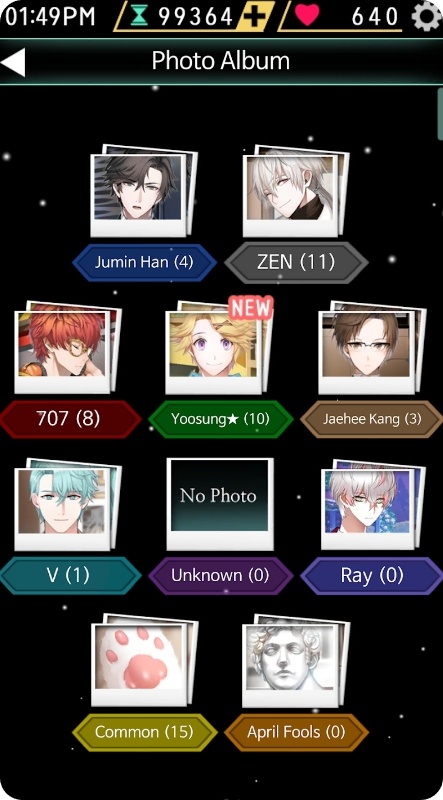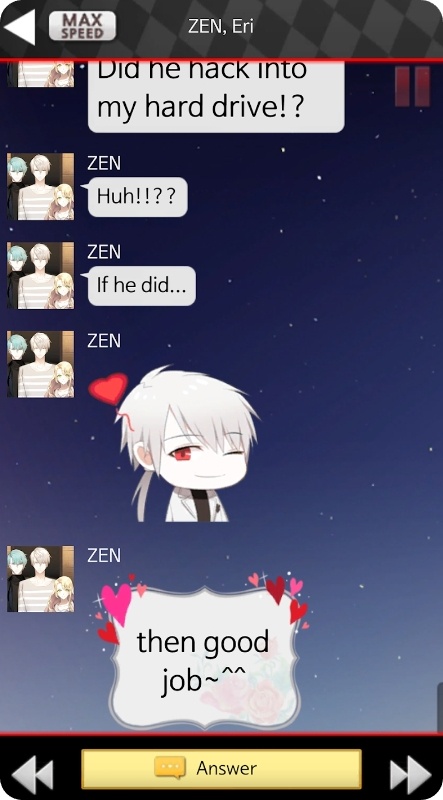 Dream Girlfriend
Well, the name of this one fully reflects its concept. It lets you make an anime girl and have romantic interactions with her. There are tons of options to make the most adorable anime girls that match your prefs.
But what really sets it apart is its use of Live2D tech, which adds an extra lvl of emotive motion to your girls. Watching them move and interact with you is truly a sight to behold! Plus, with 11 personalities to pick from and a huge variation in speech options, your girls will feel like real, fully-developed characters.
And don't even get us started on the walk-in closet! With over 20 adjustable slots, you can dress your girls up in any number of cute outfits and accessories.
Plus, it is updated regularly with events, campaigns, and other stuff, so there's always smth new to discover. And with romantic interactions and fashion competitions included, you'll always have a reason to keep coming back.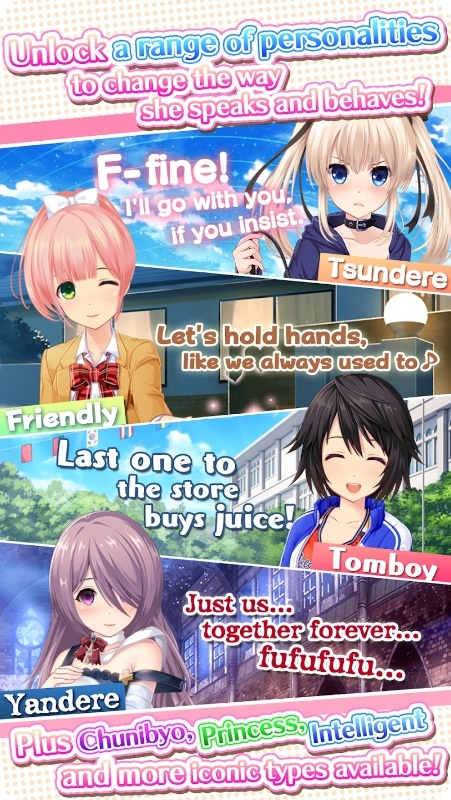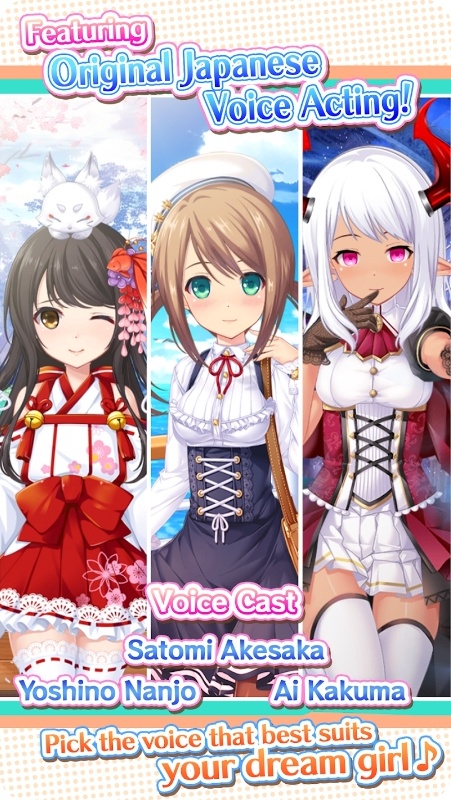 Mr Love
Want a game that mixes the thrill of a romance sim game with the mystery of superpowers? This might be it! Prepare to be obsessed with four dreamy male characters, feeling their romance, love, mystery, and conflict unfold across countless episodes.
The voice acting? Absolutely swoon-worthy. And the graphics? It won't disappoint either You'll be fully immersed in the enchanting mix of fantasy and romance that the world of this game
Stay connected with your love interest via messages, calls, and even socials. You'll be the first to comment on their online posts and can even share your own moments, all while tagging them.
And as if that weren't thrilling enough, you'll also manage your own production studio. Hire employees and create TV programs as you pave your way to success in the media industry. It's the perfect blend of fantasy, romance, and career-building.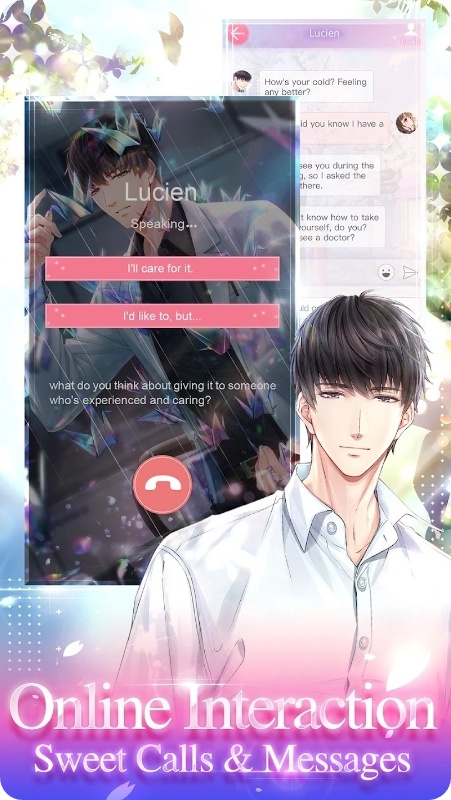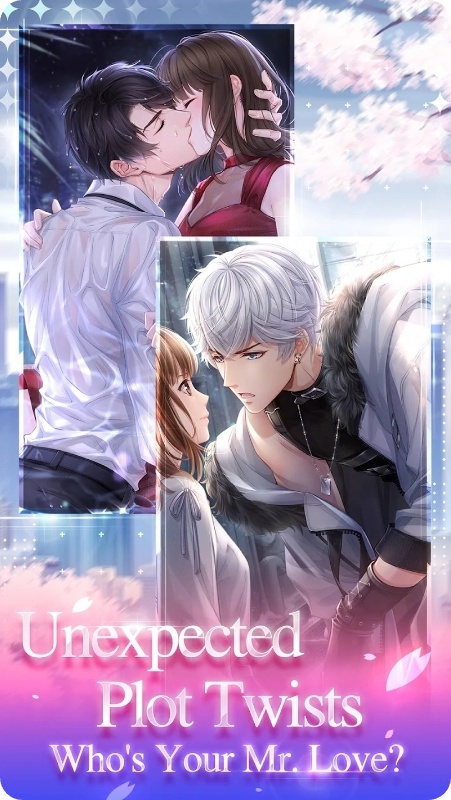 Full Moon Mafia
This one is a treat for all the fantasy girlies out there and the ones that enjoy mafia romances. If enemies to lovers is your fave trope, check this game out.
The story revolves around a turf war between two werewolf mafia groups. As the main girl, you get caught up in the conflict when you're attacked by one of them. Then, the pack that saves you offers you protection and help in exchange for using you as bait.
Let's talk cast. These characters are as multi-dimensional as they come. They are ruthless, cunning, and just plain scary. You'll be on your toes throughout the story, playing cat and mouse with this monster. Talk about suspense that grips you tight.
It dishes out the perfect blend of romance, action, and nail-biting suspense. The writing is off the charts, immersing you in a werewolf world with characters so real they practically jump off the screen.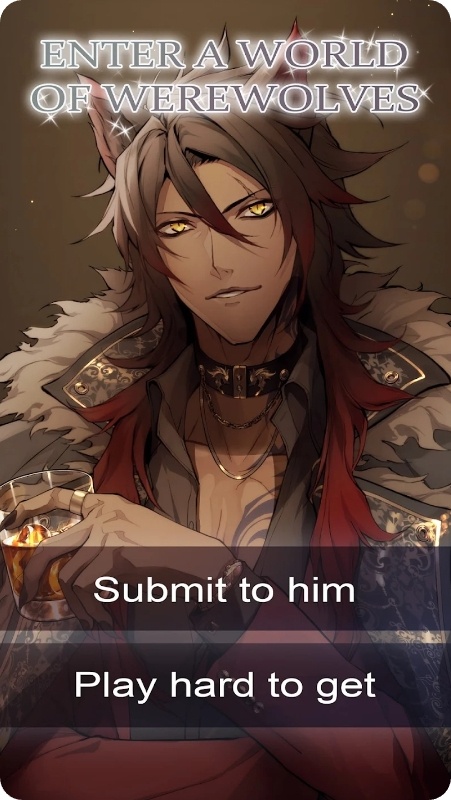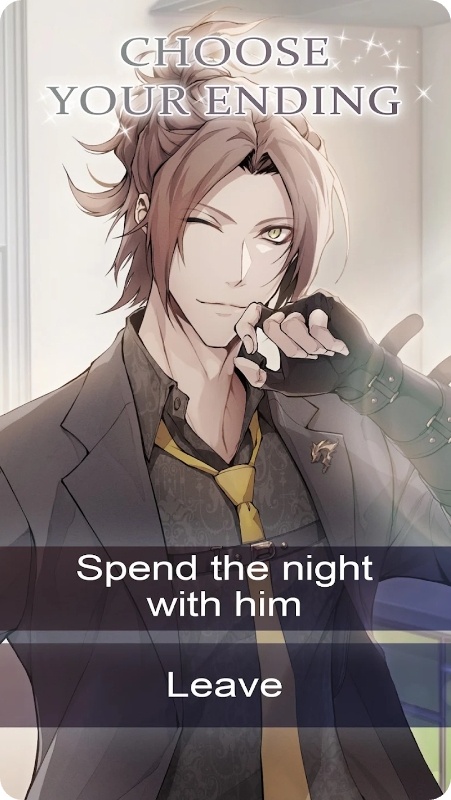 The Arcana
Welcome to the mysterious world where the secrets of Vesuvia beckon! As a prodigious tarot card reader, get ready to unravel a murder case and navigate a web woven with complex relationships.
Get your sass on because this app lets you customize like a boss. Pick your pronouns, make game-changing decisions, and indulge in a love story tailored to your unique taste. And hey, guess what? It embraces all and is LGBTQ+ friendly, making sure everyone feels included.
Brace yourself for a diverse cast of characters, each carrying their secrets and quirks. Your choices and romantic prefs will twist the story in intriguing ways, so think before you swoon. Whether you're enchanted by the mesmerizing Countess or the enigmatic Julian, this dating sim serves up all the romance and suspense you crave.
With stunning visuals and soul-stirring music, prepare to be captivated for hours on end. The storyline will keep you guessing till the ultimate finale, making it an absolute must-play for mystery lovers.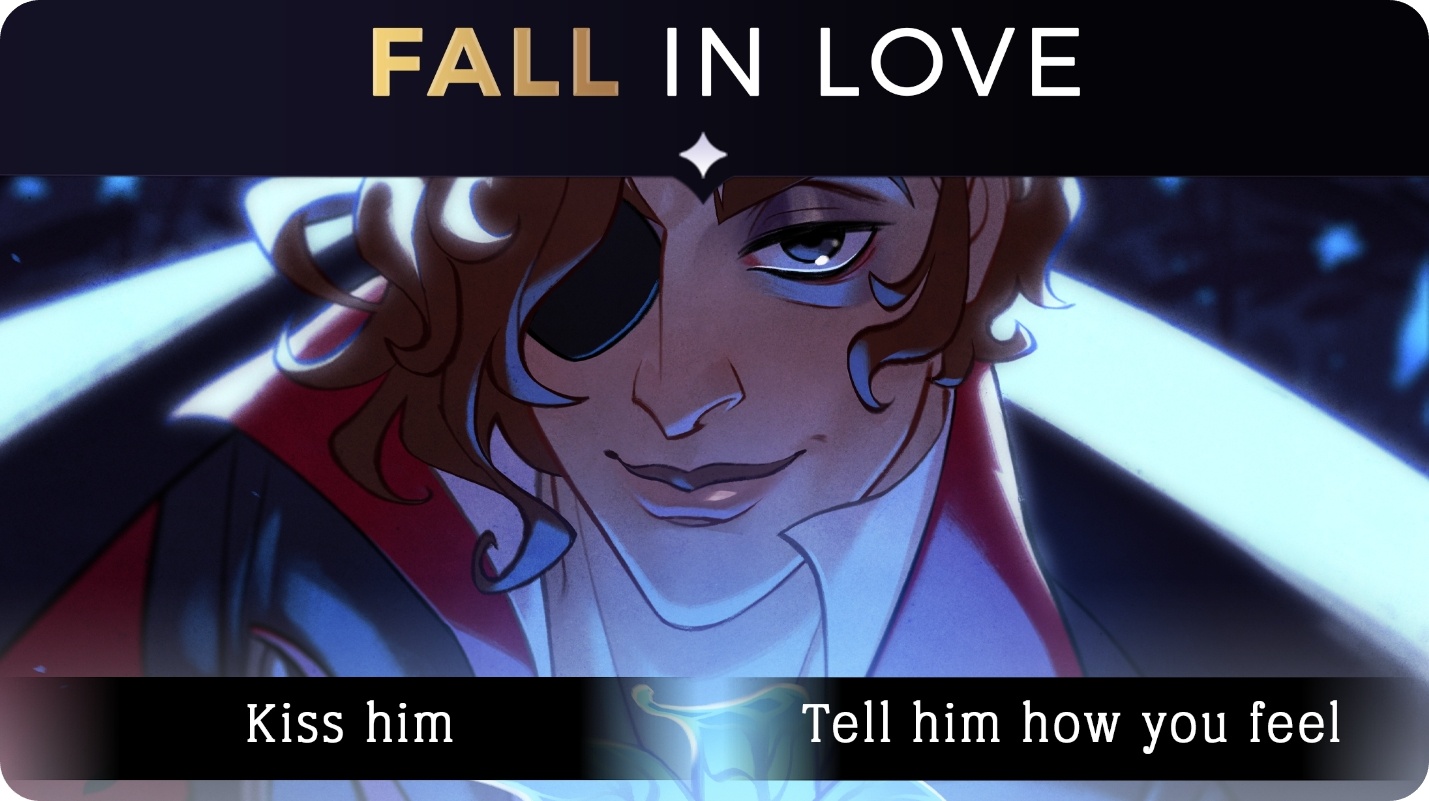 You may also check: 11 Best Love Story Games
Blush Blush
If you're a fan of dating sims and idle clickers, this one is right up your alley. It's a hilarious and heartwarming experience that seamlessly combines addictive idle mechanics with a unique dating sim.
Here, you're tasked with breaking a curse that has turned a group of men into adorable animals. And who better to break the curse than you, with your magical powers of friendship and love? It's up to you to chat, go on dates, and give thoughtful gifts to gain affection and gradually get to know all the guys.
And what a diverse cast they are! From shy bookworms to daring adventurers to literal princes, there's a guy for everyone. As your relationship with each one progresses, you'll learn about their likes and dislikes, their sense of humor, and their thoughts about life and love.
But it's not all date nights and gift-giving. You'll also need to manage your time wisely, working jobs to make money and spending time wisely to balance your relationship-building with responsibilities.