Control the time used by different chess players in the game. Tempo Game Clock is an application for controlling the timing of gameplay.
For a comfortable and realistic gaming experience, you can project your gaming displays onto a standard digital TV or digital video projector without special equipment.
And for your phone, we can suggest similar cool widgets, but about the weather.
The user just needs to connect his computer to any standard digital display device. Then click on "Extend these screens" in the Windows Control Panel. You can connect this function to a video projector, TV via HDMI, S-Video, VGA, etc.
If you have questions or problems when using the application Tempo Game Clock, you can always contact the support service. The reply from the support services always comes fast, so you don't have to worry.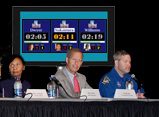 A convenient user interface and button layout will allow you to focus fully on the fundamental process. Dealing with the principle of work will not be difficult. Tempo Game Clock is designed for any multiplayer board game with accurate timing and additional features.
Overall, Tempo Game Clock is a handy clock for multiplayer games. You can pause and resume the game, choose which game display features to show or hide, and set a timer. The main usability of the program is the support of different languages for the interface.
If you want to track not only time, but when someone is online, you can get yourself a special tracking app that will show you that.
Moreover, this program keeps track of the number of moves for each player.