Generally speaking, MirrorLink is a car-based technology system that is designed to allow users to safely access information, entertainment, and communication features of their mobile phones while driving. It has a certain appeal to connect with your device while being safely on the move.
You may also like: 9 Best Speed Radar Gun Apps for Android & iOS
The driver has access to several application programs on the run on the mobile device via in-car controls (e.g. Buttons or switches on the steering wheel or a touch-sensitive screen).
The leader of our list is Sygic GPS Connected Navigation. It is an up-to-date app with 3D maps. It allows navigating in the concrete place wherever you are. Sygic GPS also could work offline and it has a lot of settings. Full access grants you information about real-time traffic. The information is updated automatically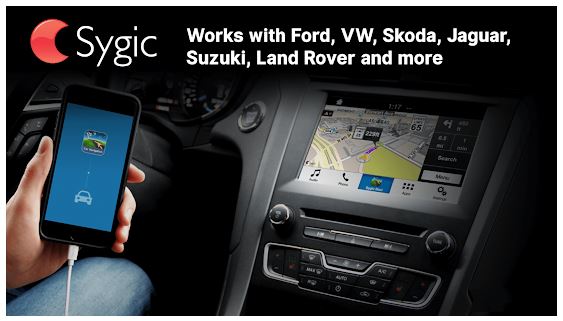 This app is the leader in capabilities and settings. It includes 300 maps and navigation, multi-language app, landscape 3d model.
Sygic GPS Navigation is quite lightweight and installs very fast. This app has an easy and intuitive interface, many settings and functions. Each of the bottom is thought out to the smallest detail, so the user can customize the program for himself. Despite it's many functions, the application is not resource-intensive, and you can install it in a few clicks.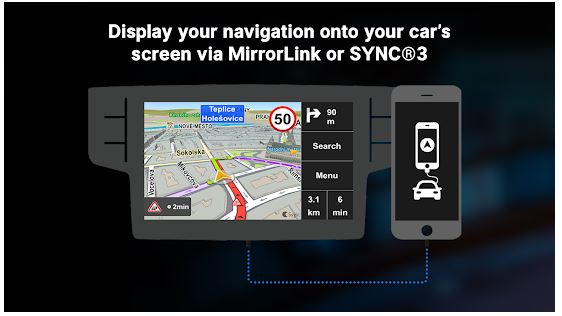 Reviews of Sygic GPS Navigation are good. Users note the versatility and regular updates that help keep abreast of what is happening on the road. Many people write that this is the only assistant on the road in any region of the country
The best part about this program is offline connection. It can be worked anytime and anywhere. In Addition to it there is some disadvantage. Some places are missing on the map.


You may also like: 11 Best Apps to Extract Audio from Video (PC, Android, iOS)
2. Android Auto – Google Maps, Media & Messaging
The next place takes Android Auto. This perfect app is a mobile application created by Google to mirror the functionality of an Android device. A Multimedia system allows you to safely use the capabilities of your smartphone while driving.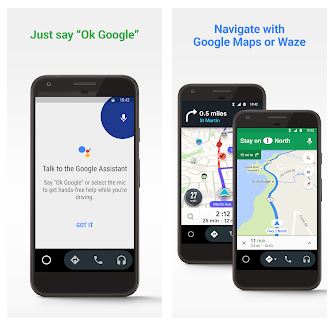 First and foremost, after connecting the user's Android device to the car, the head unit will serve as an external display for the Android device, displaying the supported software in the vehicle-specific user interface provided by the Android Auto app.
With Android Auto, you can use the apps you want while driving. Users can, receive calls, write messages, chat on social media absolutely safe. It's all on your car display. It works very well in navigation mode, it is especially convenient if you switch to satellite mode.It also turned out to be very convenient to use PlayMusic, and the buttons from the steering wheel work.
Application on the smartphone starts, works, but does not mirror the interface to the Sync display. The result can be obtained by turning on Bluetooth when there is a cable connection – finally, the interfaces are combined and work starts, a start screen appears on the car screen.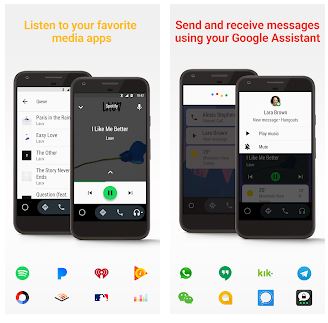 What is more, It's simple and intuitive interface with big red bottom «Connect a car» in the main menu. Beautiful icons which are located at the bottom of the screen make using this app easier.
One should note here that program has voice control option, just say «OK, Google»» and press a special button or touch the microphone symbol on the head unit
Doubtless Android Auto has a lot of positive reviews especially users note safety in use.
It is undeniable that this app has two cons: If you want to work with Internet services your smartphone must have a permanent Internet connection. The vehicle must be supported by Android Auto.

3. iCarMode: Drive Safely
iCarMode is a dashboard app for all possible in-car needs from a music player to 'Custom App shortcut'. The app has a simple interface with large buttons so that your eyes never divert from the road.
What is more, you won't have to switch the night mode on manually, as it changes automatically. As you can see the operating system is designed for the most possible safe usage in every situation.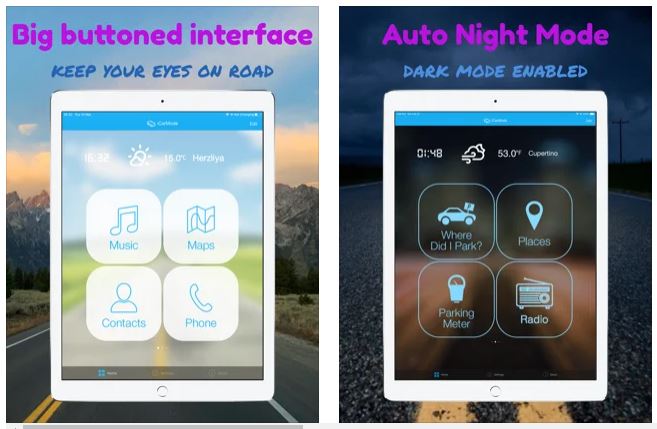 However, there are several limitations to the app, as it is not as compatible with the Android operating system as with iOS. The app shuts down music, google maps and does not run with Amazon music in particular. Moreover, the application might also freeze suddenly. Though there also drawbacks for iOS users. E.g. iCarMode does not support iPhone 6.
Besides, it can become quite tedious to move each time one shortcut after another, as the app crashes down when two of them are put in motion. Not to mention one of the biggest bad sides to the app is that it does not have any alerts for incoming messages or options to dictate a reply while driving on.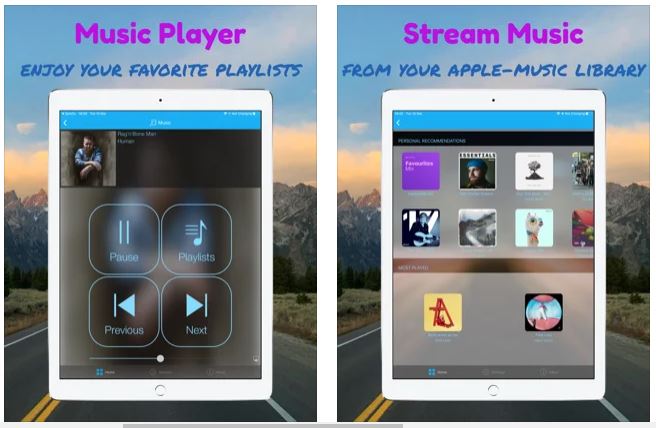 Here are several shortcuts available with iCarMode:
A music player with AppleMusic and Spotify integrated with large buttons
Swift dial-up to contacts.
Access to GPS app
Radio player with an endless list of radio stations and podcasts
Phone keypad design
A tool to find your parked car
'Parking meter' – a reminder whenever a parking meter zone is crossed
'Places nearby' – 'Google Places' which can be found nearby your parking place
'Custom App shortcut' – options to launch your apps by designing big buttoned shortcuts
Regardless of minor flaws, the app feels most needs considering the developer is also quick to respond via email or app store.

4. HTC MirrorLink
The second one app is the HTC Mirrorlink. Great technology that allows you to display and play the sound and image of your phone screen on your home or car display.
Standard square icons look aesthetically on the black background. Seven different icons such as «Navigation», «Music», «Settings», «Speak», «People», «Dialer» and "Exit". Using this buttons you can control your phone effortlessly.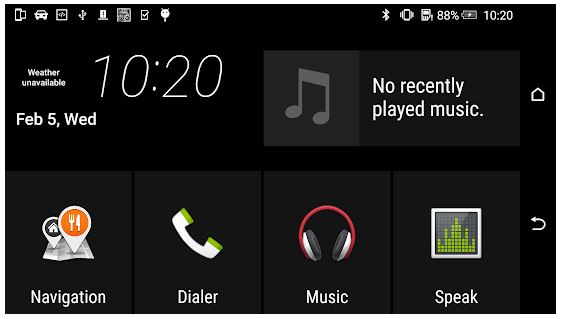 At the same time it has a simple and clear interface. You can easily figure out. However, users are complained that after the last update app is throwing out. Wish this problem will found a solution.
The best part of this app is a possibility to broadcast directly to the Internet. For the safety of an available online broadcast, follow a special link.
Nevertheless, this app has the one disadvantage it's can be not compatible with your car.

You may also like: 11 Best FM Transmitter Apps for Android & iOS
5. Mirroring 360
Mirroring360 is a helpful software to display your smartphone screen on your computer screen. You can download it on your Mac or Windows PC computer and on the IOS, Android devices too. There are all supported by wirelessly connecting.
Display your device to the big screen without wires and complicated settings. Gamers can easily record game content from their mobile devices to PC. Also, you can organize web meetings with your friends and colleagues.
Because of a PC or any other supported hardware, AirServer can transform a simple large screen or projector into a versatile mirroring receiver.Creative features such as screen recording, web meetings, screen sharing, game recording won't leave you indifferent.
Well, this software has clear and simple interface with big buttons.
Reviews are good. It is a really simple and helpful app for everyday using so I strongly recommend it to you.
Let us start by considering the pros and cons of it. This fantastic app includes a screen recording option which you can share with as many as 40 people, a full free trial version but there is only the Pro Edition license that supports sharing screens with a wider audience.

6. ApowerMirror: Screen Mirroring App for PC/iPhone/Android/TV
One of the most famous ways to control a smartphone remotely is the ApowerMirror. Free program that allows you to easily transfer an image from an Android phone or tablet to a Windows or Mac computer using control from a computer via Wi-Fi or USB.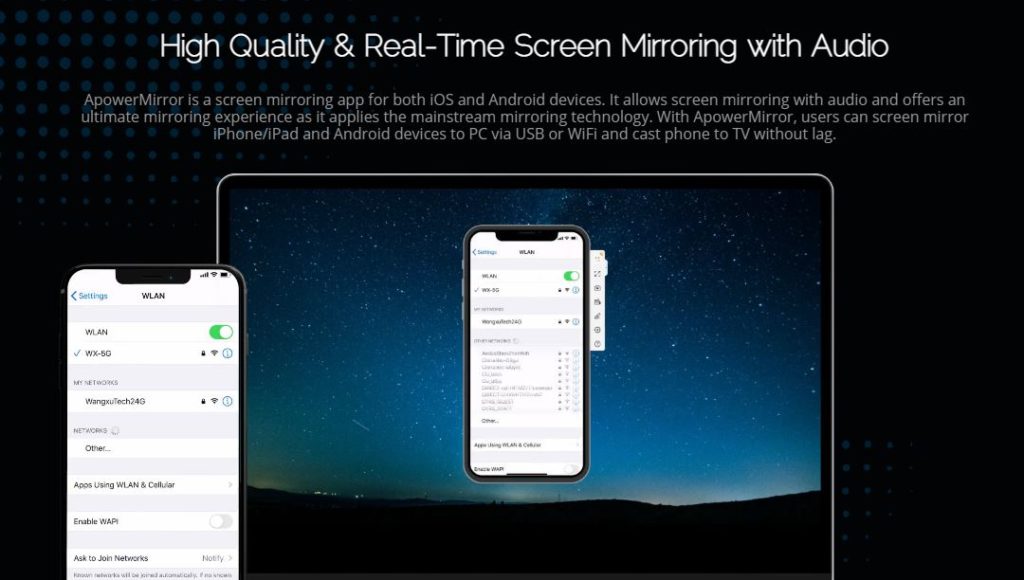 First of all, there is a toolbar on the right. You can take a screenshot, record a screen video, draw on the screen, launch the keyboard, expand to full screen mode. Flip the smartphone to landscape orientation, the entire space on the computer screen will fill up, but images and elements may be too large and poorly perceived.
Simple and easy interface that even an inexperienced user can figure out the program.
In addition, this app has 4 stars on PlayMarket with good reviews
Moreover, ApowerMirror has many advantages such as free use, connection via both Wi-Fi and USB cable, and the possibility to with any popular operating system. Despite all the positive aspects, this app has its disadvantages such as a lot of ads in the free version.

7. LG MirrorDrive
LG MirrorDrive is a certainly worth being on our list. It is avery useful application for drivers who also own modern LG mobile phones. The program allows you to broadcast the main functions of your phone to the touch screen display of the car. The application broadcasts only basic information to the screen: calls, messages, music player.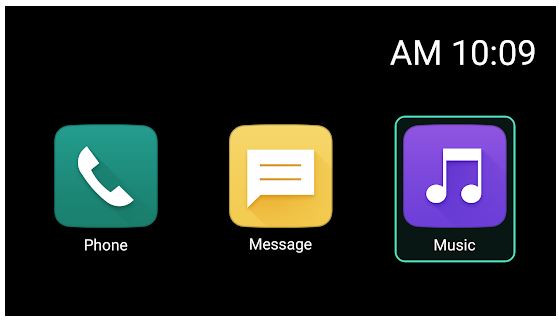 All options are equipped with huge buttons, making it much easier to interact with the screen.
As for interface, it has beautiful and pleasant big icons.Easy to operate.Users note that the latest update has some bugs. I hope the developers will fix it.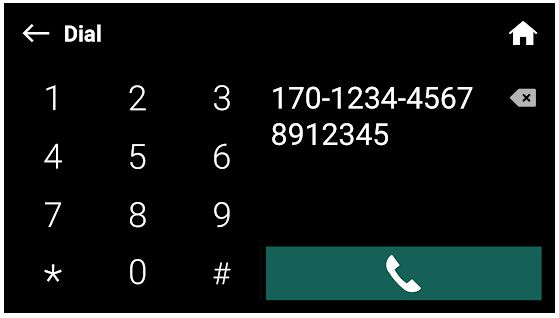 The best part of this program is a fast automatic connection for already saved devices and requesting only necessary permissions and accesses. LG MirrorDrive is absolutely for free. However, some programs are started incorrectly.

8. Mirror Link Car Screen
Mirror Link Car Screen is the second-to-last app in our list. This app is created to connect compatible Android devices to the car's system multimedia devices.
While using this app, I have not found pros and cons. There is one of the common interfaces ever.
By the way, other bad things their developers ask to vote them 5 stars to unlock the full version, but even after that, I got nothing.
The reviews of others will help you to make the best choice. However, it has 3,8 stars. I hope developers will fix all problems.

9. Full MirrorLink | Floating Apps for Auto
The next amazing app that worth being downloaded is a Full Mirror Link. Another good thing about is a great addition to your car with powerful multitasking and floating windows. Also the special keyboard adapted for your car.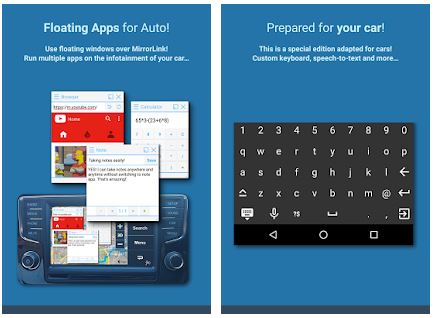 The interface has a wonderful icons central location. You will be able to use, YouTube, Maps, Video, and Music Player, social media, Audio Recorder. This feature will let you enjoy while driving.
We were impressed by the colorful and eye-catching design of this app. As you can see, the developers have done their best.
Users note the efficient use of Full MirrorLink, it has 3 starts on PlayMarket.
Moreover, the keyboard works even on the move so it makes your driving safe. Simplified and easy to use, all in one solution for your mirror link. All these communication systems described are not found in all vehicles with a multimedia display with a touch screen. I advise you to pay attention to this. One should, however, not forget that Full MirrorLink doesn't support LG device.

10. Mirror Link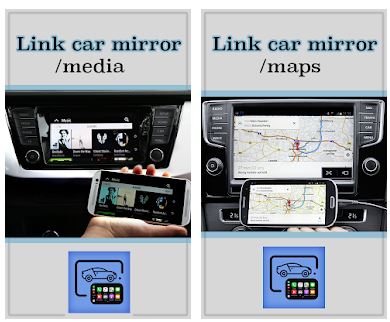 And the next one in our list is the Mirror Link. I decided to put this app at the end because this is the worst app I've ever seen. It has a very simple and common interface, but absolutely useless and unnecessary.
So at first, you should put 5 stars to get the full version, but after that, you won't get anything. Reviews are bad and this app doesn't work sometimes. It may be incompatible with your car

You may also like: 11 Free Apps Like Spotify for Android & iOS
11. Mirror Link Car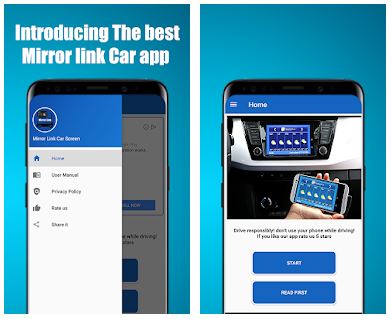 Mirror Link Car the next one app which can help you to display your device screen on your car display. Connect your Mobile to your car TV without using any cable
A simple interface it could have been made better. However exploiters aren't satisfied with this app. They are note ineffective this app.
One of the pluses of this app is a full TV mirror. It makes your driving more interesting. Sometimes doesn't work, with this problem will have found a solution and it will work without any bugs.