Finding someone you truly connect with takes time, patience, and a good sense of humor. And when you're a plus-size person, dating can be even more challenging.
Luckily, we've rounded up the best dating apps for plus size you could try. These apps not only welcome your curves but celebrate it
Whether you're into casual dating or want to find a long-term partner, there's an app for that. These apps embrace body positivity and create a comfortable space for people of all sizes to connect and find love. Most of these cater or plus-size individuals, so you can spend less time swiping and more time connecting with potential matches. Let's dive in!
WooPlus
This app is made solely for big beautiful women (BBW) and those who appreciate them. From the moment you get the app, you'll be welcomed into a friendly and inclusive community. Say bye to bots and scammers – all accs are professionally checked to ensure a safe and genuine experience.
But what sets it apart is its commitment to empowering plus-size women. The Curvy Ally badge ensures that men who appreciate a full-figured body can be easily identified, and women have the power to keep them around or send them packing.
But it's not all serious, the app knows how to have fun. The easy chat allows you to start a conversation with someone you like with just a "Hi", no need to come up with quirky pickup lines or smth. Plus, there's a video-shot function that lets you show off your charm and increase your chances of finding a match.
And the best part? No ads! You can focus on finding your love without any pesky distractions. Of course, you can get a paid pack, but it's not essential.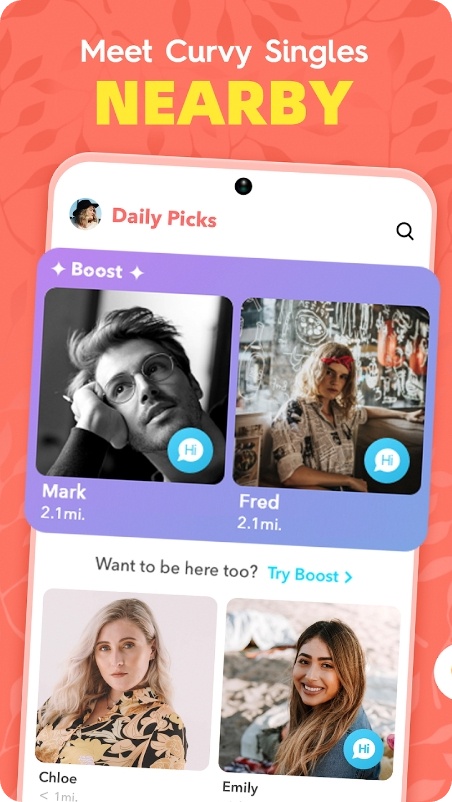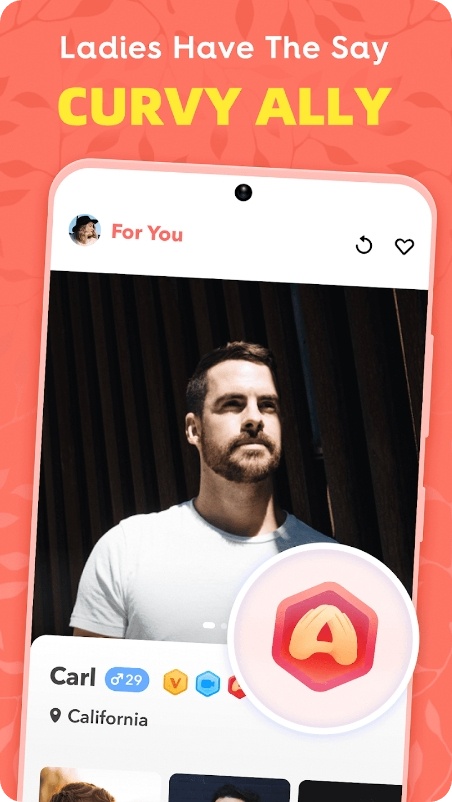 You may also like: 7 Best Dating Apps for Book Lovers
BBWink
Looking for love as a BBW single or an admirer? This app has got your back, making the process a whole lot easier. Consider it your virtual cupid, here to rescue you from countless bad dates and fake accs.
Now, let's talk about compatibility. It's not just about surface-level stuff like hobbies. The app dives deep into the nitty-gritty qualities that truly matter. Its compatibility syst ensures your matches are based on what's important to you, whether it's shared values, common goals, or even preferred body types.
This app is the ultimate go-to app for BBW singles or anyone who appreciates the beauty of curves. With more BBW singles than any other app, your chances of finding love are pretty darn impressive. Did we mention you can view matches and chat for free? No swiping, no running out of coins – just genuine connections.
Let's talk cash, or rather, how much you'll be saving with this app. Forget about wasting money on bad dates or mediocre hookups. This one is free to join and offers tons of tools at absolutely no charge. It's the ultimate win-win situation!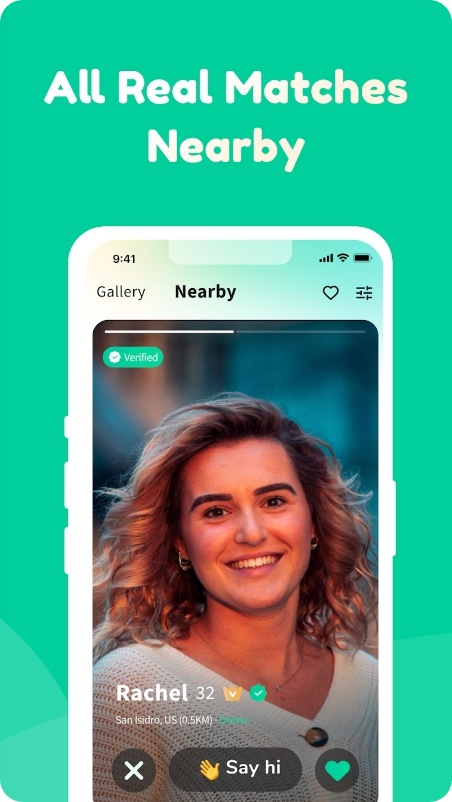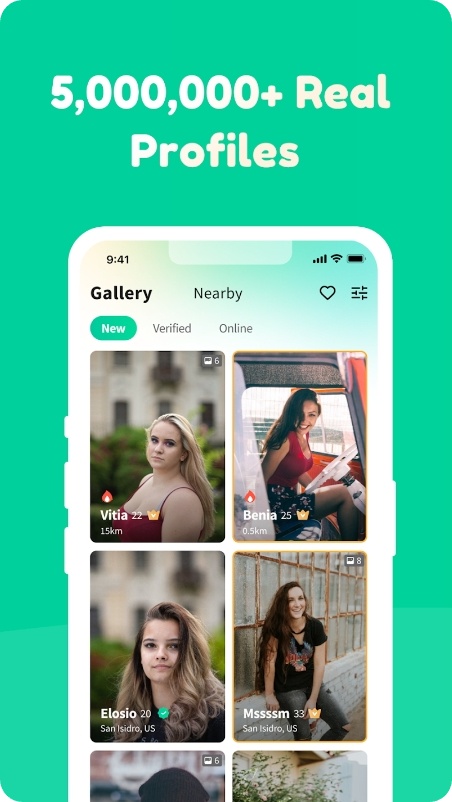 BBW Romance
Are you a curvy, confident lady seeking love? Or a guy who knows real beauty comes in all shapes and sizes? This app is for you. It has got the goods to help you find your match. It's not only about looks, the app lets you showcase your passions and tries to find partners who match your prefs.
Feeling impatient? Rapid Match has got your back. Swipe through and check out the singles who catch your eye. Who knows, you might just experience love at first swipe.
If you're into specifics, the search bar lets you filter your matches by location, age, and other criteria. Senior BBW seeking someone who gets you? Younger guy who's into mature women? This app has your desires covered.
Curious who's crushing on you? The Likes You tool reveals those who've swiped right on your acc. No more awkward conversations or guessing games, this app puts you in the driver's seat. And when you're ready to chat it up, head to see who's up for a chat. With instant messaging, you can get to know your potential match in no time.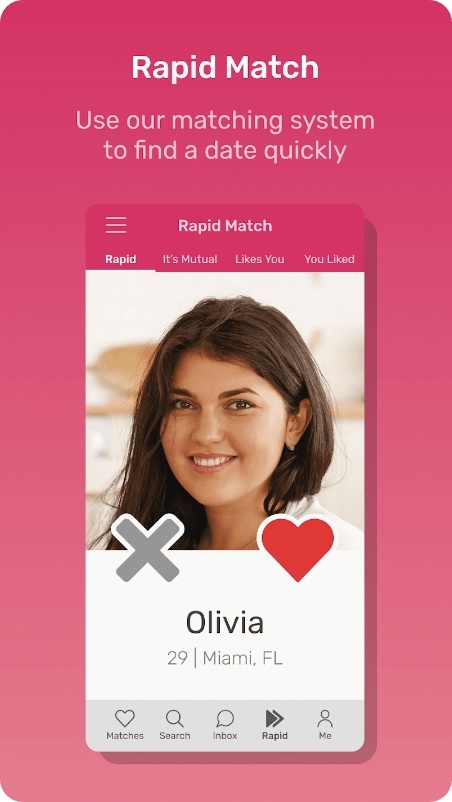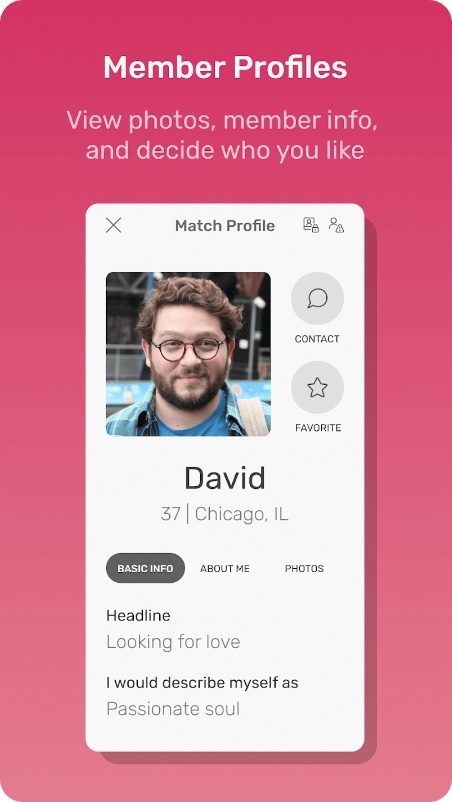 Have a look at: 15 Best Dating Apps for Collective Fitness and Yoga
BBW Singles
Tired of swiping left and right on dating apps, only to find that the only "curvy" option is a slightly rounder version of the same old skinny girl? This app is right up your alley, then.
This app is tailor-made for those who appreciate the full-figured beauty of BBWs and BHMs. With advanced search filters to help you find the right match, you'll never have to sift through endless accs of those who don't meet your prefs.
But the true genius of this app lies in its tools. Say bye to boring text-based chatting and hello to a modern online chat with audio, video, and photo capabilities. Send and receive flirts for free, and enjoy instant match recommendations every day.
And for those who are a little shy to start a convo, the AI icebreaker is your new best friend. It'll take the pressure off with witty and engaging conversation starters. The same tool is available for profile filling, so you're all the way covered. The app prioritizes your safety and privacy. Every profile is manually reviewed to prevent abusive behavior, and pic verification helps ensure that you're spending your time meeting the best people.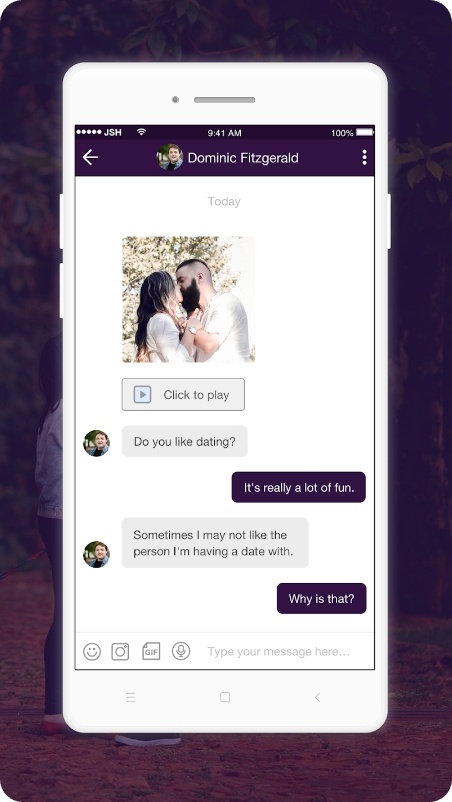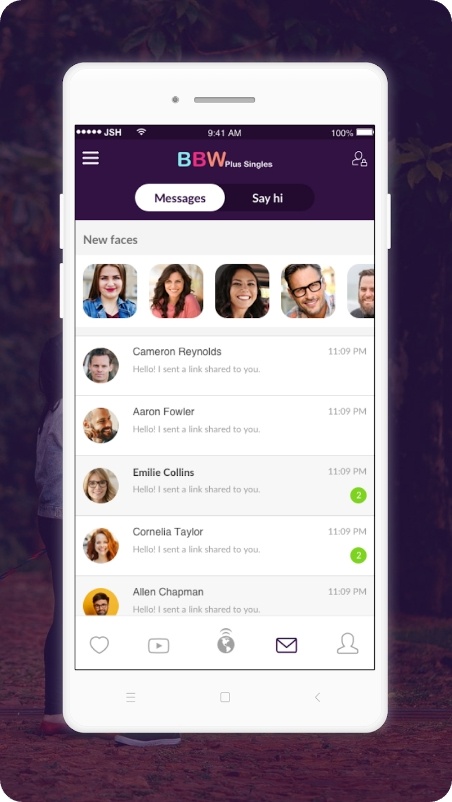 BBWCupid
This app is a treat for all the fellow connoisseurs of curvaceous figures. It's here to cover all your plus-size needs, the pool of users is pretty wide, too.
With this app, you'll enjoy unlimited messaging with a vibrant and diverse community of plus-size singles from around the globe. No more pesky communication restrictions, folks! Plus, our instant message translation is here to save the day for all your love-struck moments with someone abroad.
It also has an advanced matching algorithm to help you find the ideal big man or curvy woman. And for those feeling extra fancy, our VIP acc highlighting option will make sure you get that extra attention from our lovely members. And guess what? No more annoying third-party ads.
It's more than just swiping left and right. It's a thriving community where plus-size singles can discover love, companionship, and acceptance. With thousands of active members, you're guaranteed to find someone who appreciates you for you. Some of the tools are for pro members only, so keep that in mind.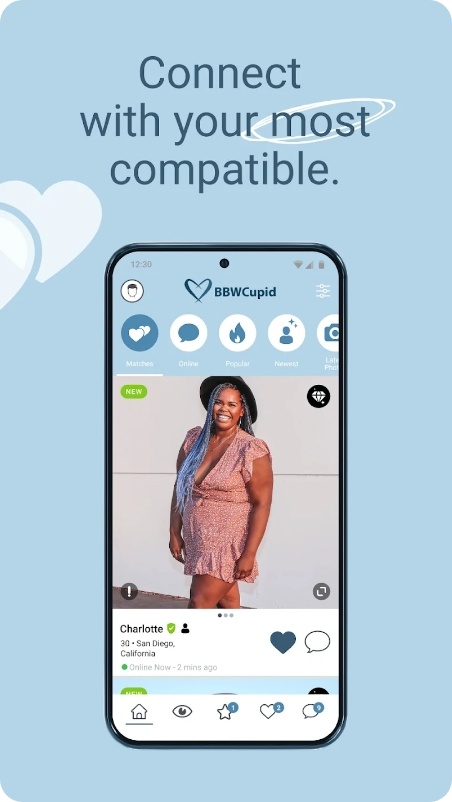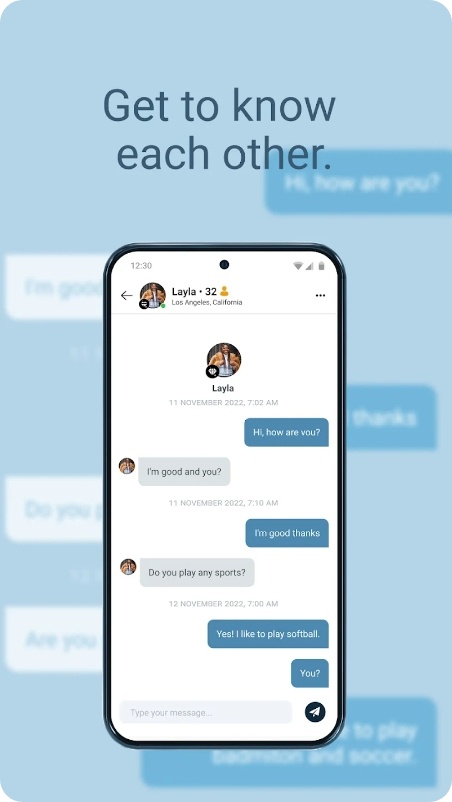 Check also: 11 Best Dating Apps for Nerds
Curvy
This app is all about celebrating every curve and creating a welcoming and inclusive space for those who love them. Setting up an acc is a breeze, and before you know it, you'll be scrolling through a list of potential matches. And let's be real, a good photo goes a long way here (so don't be shy!).
What we love about this app is that it's not just about physical attraction – it's about building real relationships. So if you're in for a hookup or a sugar daddy/baby situation, this app isn't for you. But if you're ready to find someone who appreciates you for who you are, inside and out, we highly recommend giving it a shot.
From there, it's all about making connections. Like someone's acc? Slide to the right and start chatting. It really is that simple! And who knows – maybe you'll find the love of your life (or just someone really cool to hang out with).
The app does a great job fighting off catfishes, but it's always nice to arrange a video call before taking things offline (just to stay safe). You can pay to access additional tools, but the free version is nice enough, too.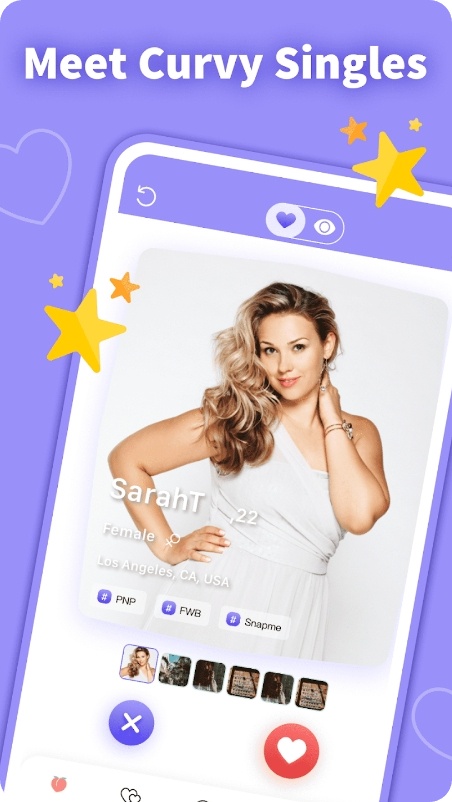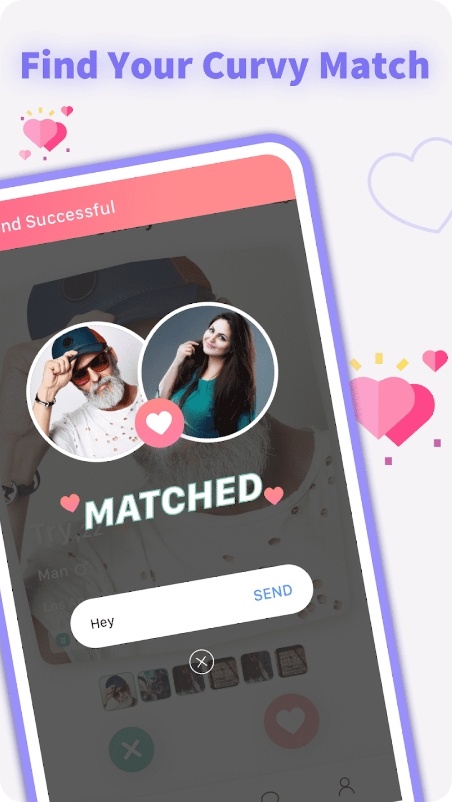 BBWM
Love comes in all shapes and sizes, and this app is here to make sure that curvy singles find their match online! Sick of being rejected for your curves? This app has got your back, with an app specially made for curvaceous individuals like you.
It's all about inclusivity, acceptance, and finding love in a comfortable and confident environment. This app lets you connect and chat with curvy singles nearby. Get ready to take your relationship to the next level, from chats, pics, videos, voices, and more, until you can finally meet in person.
But here's the best part: it makes it ridiculously easy to meet curvy people however you want. Swipe through honest accs, find your soulmate, and say bye to bots and scammers. Thanks to advanced AI tech and manual verification, your dating experience will be safe and secure.
This app loves keeping it real, which is why we have a thorough three-step verification. Once you complete it, you'll get five free messages every day! Now, that's a deal you can't resist!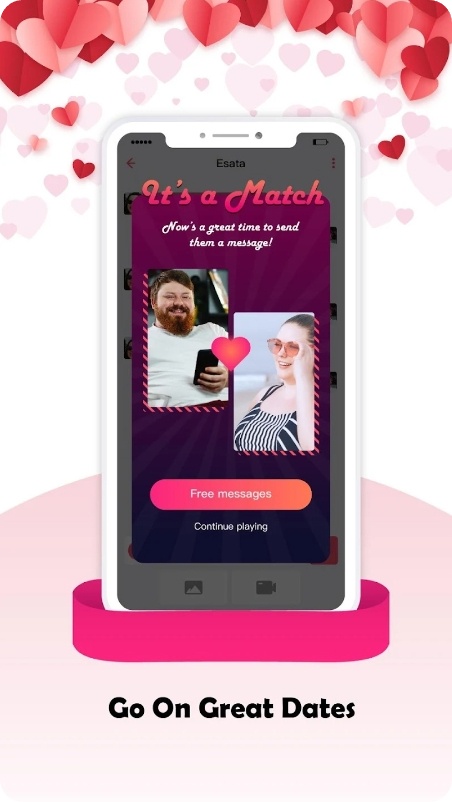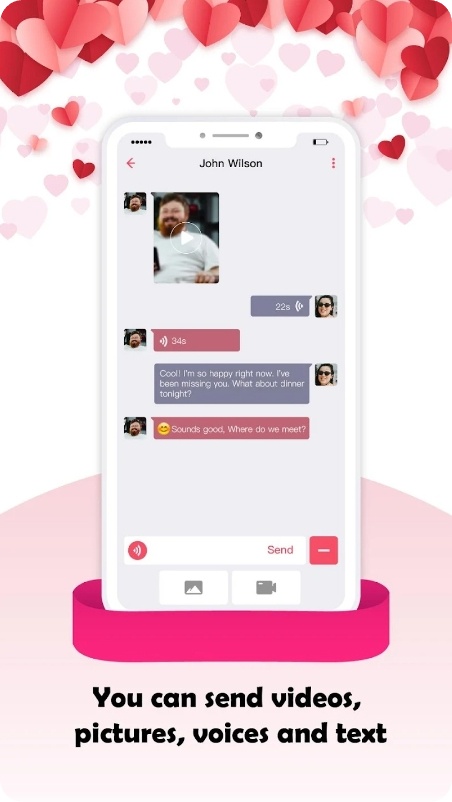 Reccomended for you: 11 Best Dating Apps for Single Parents
Curvy Vibes
This app is here to rescue you from the dreaded dating slump. The app is made to be user-friendly and fun, making it the ideal platform to meet new people, be it for friendship, travel buddies, or even something more serious.
It caters to plus-size people, so you can start diving into personalities, instead of focusing on looks. The thing that immediately stands out about it is its focus on social networking. The app encourages its users to connect with people from all over the world and not limit themselves to singles from your city.
But what sets this app apart, you ask? Well, for starters, the level of safety and comfort it provides compared to other chat apps. No more worrying about catfishes or creepy messages, hallelujah!
And if you're seeking a partner and a serious relationship, this app has got you covered. With its unique matchmaking algorithm, it matches you with like-minders who are also seeking a soulmate. To top it off, it's completely free! No hidden charges, no "premium" features, just pure, unadulterated dating fun.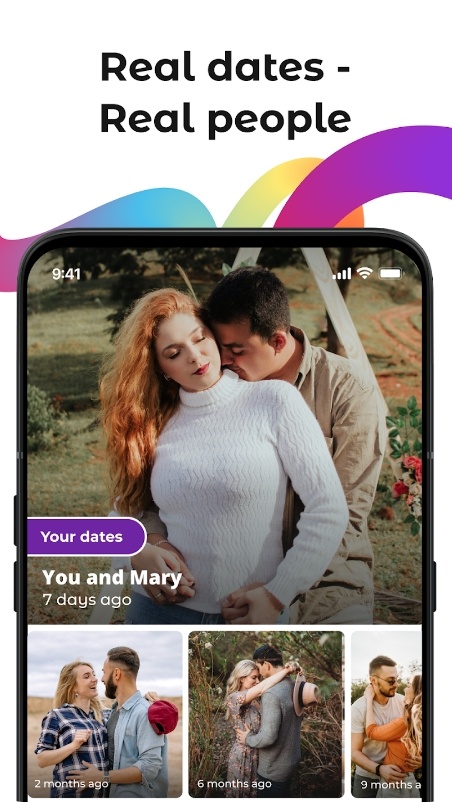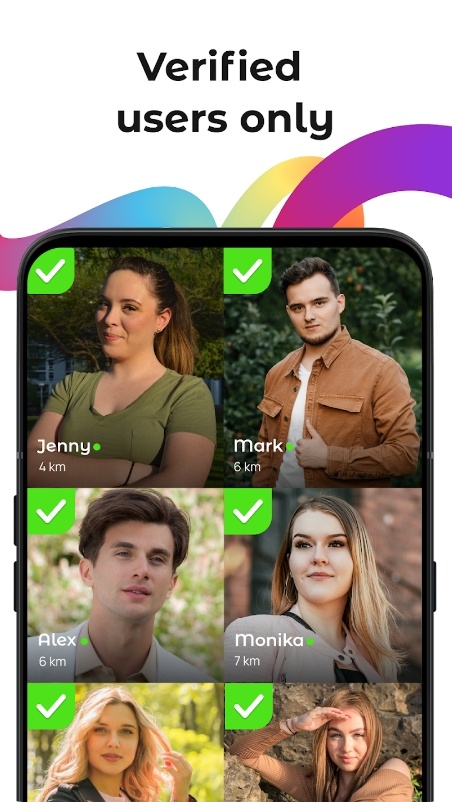 Take a look at: 9 Best Dating Apps for Hikers
VPlus
It is not your typical dating app. It's a community of like-minders who embrace body positivity, fitness, and pets. Whether you're all about those curves, crushing workouts, or simply can't resist your fluffy companions, this app has got your back.
Its main goal is to help you find a perfect match who appreciates everything that makes you, well, you. What we love about this one is that it's not just a superficial app that focuses solely on physical appearances. When you sign up, you get to showcase your personality, lifestyle, and dietary choices (yes, that's right!).
No more awkward dinner dates with someone who orders a steak while you're a vegan. Or those odd dates when you feel too uncomfortable to admit that you're on a diet. This app makes sure that you match with someone who shares your dietary restrictions and prefs.
Another great thing about this app is that it's inclusive and non-judgmental. In a world where body-shaming and discrimination still exist, the app provides a safe haven for people who appreciate all body types and celebrate diversity.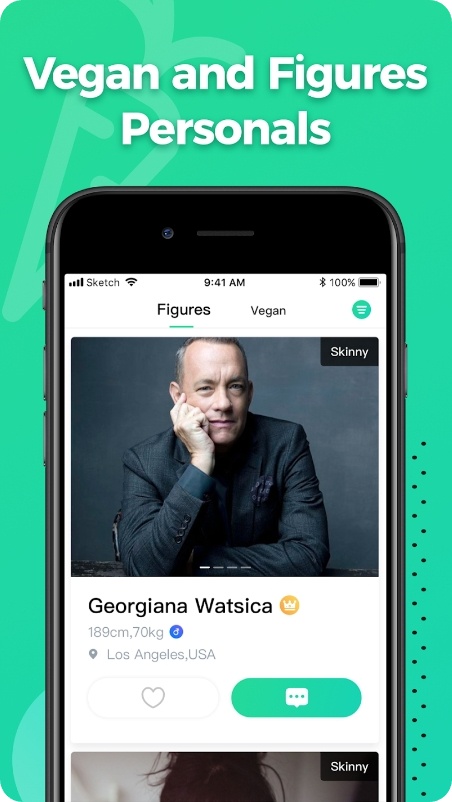 You may also check: 11 Best Dating Apps for Musicians
WooMax
To wrap up, we have a free BBW community that makes it easy to find free local hookups and curvy dating in your area.
There are thousands of active big beautiful women using this one, which means you'll never run short of potential matches. Better yet, these lovely ladies update their profiles regularly with beautiful pics, so you'll always have smth to look forward to when you log in.
And no matter what you're down for. Whether it's friends, long-term relationships, or even marriage, you'll find plenty of like-minded individuals to connect with. Just remember to treat all users with respect, as that's the kind of community we strive to maintain.
But that's not all this app has to offer. It takes your safety seriously, which is why it's implemented a pick verification tool to ensure that the person you're talking to looks like their profile pic. Its staff audits users' accs around the clock to make sure everyone is who they say they are, giving you peace of mind when it comes to online dating safety.