Are you the kind of person who prefers staying in on a Friday night instead of hitting the clubs? Do social interactions make you feel like crawling out of your skin? We get it. Making small talk with strangers, enduring awkward silences, and dealing with the anxiety of potential rejection can all make the dating game exhausting.
That's why we've rounded up the best dating apps for introverts you could try. That's right, now you can find love without breaking out of your comfort zone.
Some of these apps have an anonymous mode in case you're too shy to make the first move yet or just don't want to get noticed. Let's get into it!
Ur My Type
This app is for those tired of dating platforms that prioritize looks over personality. It's not just another swipe-fest, but an app that gets the importance of a captivating personality.
They make you pass a test, inspired by the 16 personalities one. It helps you find compatible partners based on common values, interests, and temperament. And with 65% of their pool are wallflowers, it's a refreshing change from the extrovert-centric dating apps out there.
But it isn't just for romance, it's a hub for finding quirky folks, too. The matching algorithm caters to both because awesome friendships are just as vital. With this app on hand, you can wave goodbye to accs that all start to blend together.
The community on this app? Amazing! The feedback speaks for itself – users are consistently described as kind, tender, and respectful. Wouldn't you want to be a part of that? It also won't cost you a dime, so there are no reasons for not giving it a try.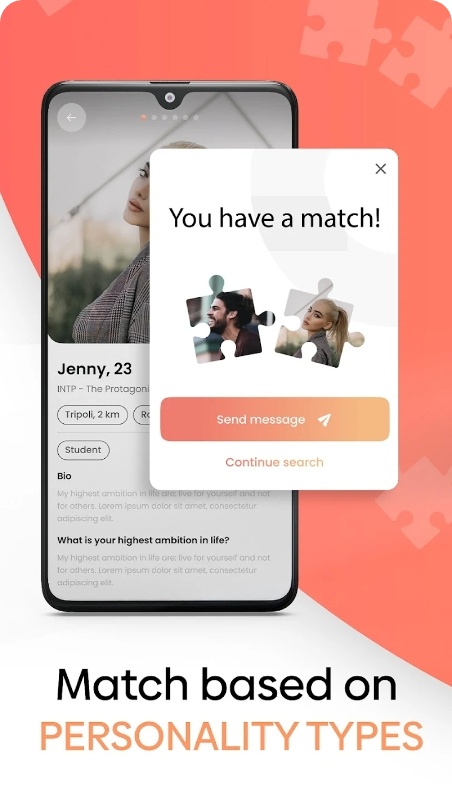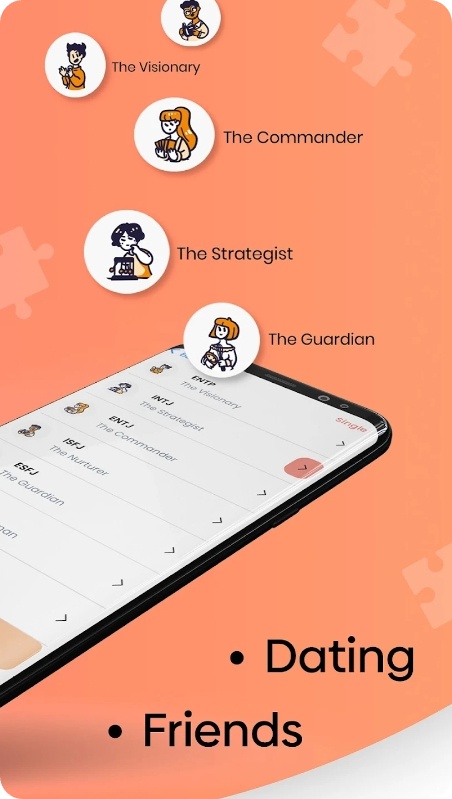 You may also check: 11 Best Dating Apps for Musicians
Nevermet
This app lets you date beyond the limits of your physical appearance or location. This VR-based gem is a gem for all introverts out there, who are seeking expressive relationships without the hassle of traditional dating.
You get to craft an avatar that reflects your personality and hobbies, without worrying about how you look in real life. Talk about liberation! But what makes it stand out is the sheer number of avatar worlds to explore. You have your pick from a vast range of settings, from fantastical realms to real-world landmarks. Say bye to the boring old coffee shop dates, and hello to adventure!
And if you're worried that this app is just a gimmick, think again. The VR technology used by it is top-notch, providing an immersive and realistic exp. You'll feel like you're really there, exploring a new world with your date.
Plus, it's all about building deep relationships, not just playing around. This app's digital culture offers a fresh and exciting way to bond with others, without relying on superficial factors like looks or location.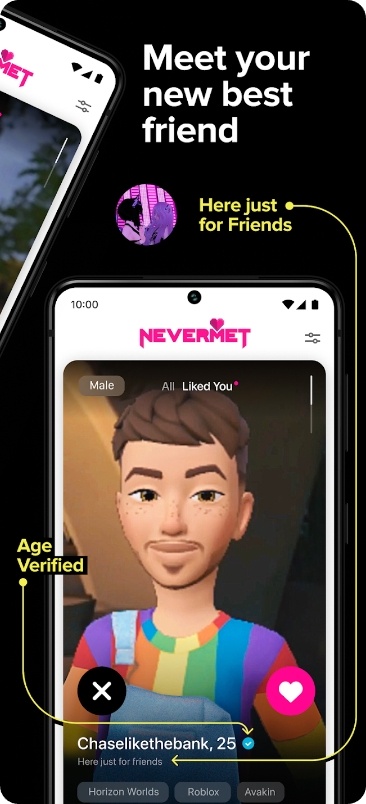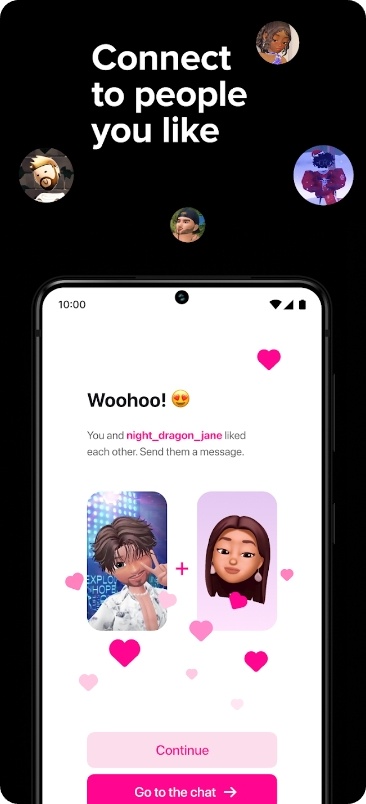 UNBLND
This app is a gem for wallflowers and non-superficial folks out there. It's redefining the dating game and making everlasting connections easier than ever!
Gone are the days of swiping through accs based on nothing but looks and a shoddy bio. This app takes another approach, concentrating on discovering your tribe based on shared hobbies. If you're tired of the dating drama and just want to link with those who actually resonate with you, this app is the answer to your prayers.
The algorithm behind it is all about catering to your needs. All you have to do is mention something you love doing, and the app will suggest groups tailor-made for you. You'll get to find the one who's into whatever it is that floats your boat.
And while isn't just for finding romantic connections, who knows, maybe a friendship will turn into something more. It's all about forming your own little community where you can truly be yourself. No more hiding behind filtered selfies or pretending to be someone you're not just to impress a potential mate.
And if you're worried about not fitting in or being the odd one out – don't be! It matches users in groups of three or more, ensuring inclusivity and balance. So whether you're a hardcore Harry Potter fan or a diehard yoga enthusiast, there's a group out there waiting for you to join.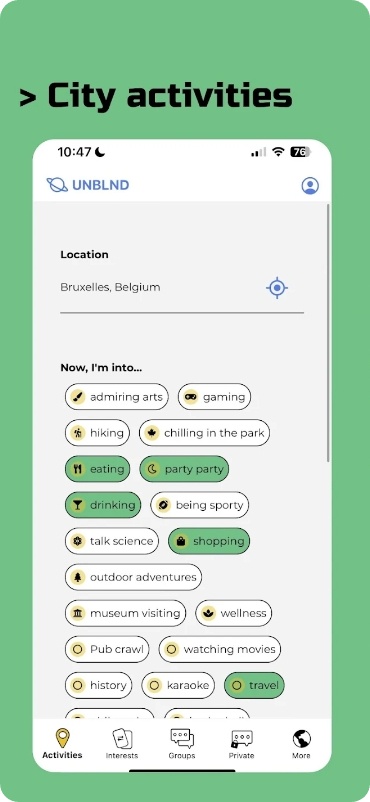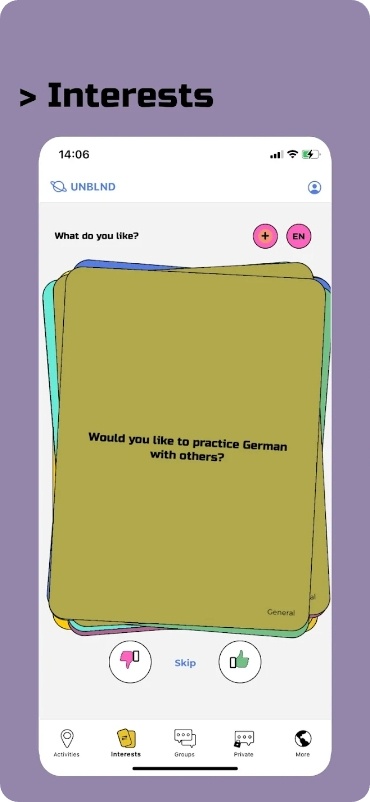 Reccomended for you: 8 Best Apps Like Tinder for Dogs
Lovetastic
This app is a breath of fresh air for those who believe that personality trumps looks any day. It's a treat for introverts and shy people tired of swiping through superficial pics.
Rather than judging someone based on their profile pic, this app's matching syst brings people together based on common interests and values. So, even if you're not feeling particularly photogenic, you still have a chance to find a match.
The private chat lets you get to know each other on a deeper level. Here, you can exchange pics, but there's absolutely no pressure here. You can date on your own terms, and that's what makes this app great. And if you accidentally swipe left on someone you're interested in, don't fret! The app's replay tool lets you bring them right back into the mix.
But here's where the app really shines: the ability to listen to someone's voice. Not only does this add another layer of attraction, but it can also help you weed out any potential deal-breakers before even meeting in person.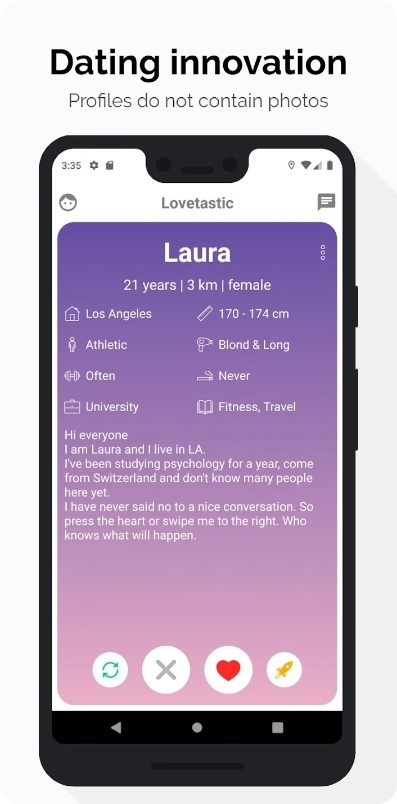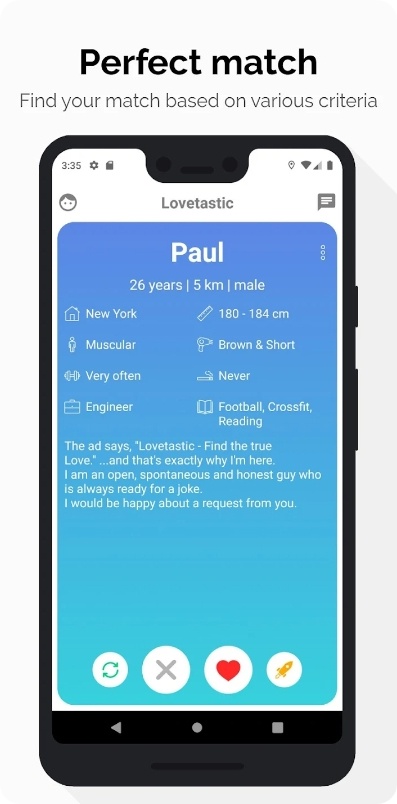 So Syncd
This app takes personality matches to a whole new level. If you're an introvert, it might just be the answer to your dating woes. With around 70% of its pool being introverts, you can finally find someone who gets your need for alone time.
But don't let the introvert label fool you, it is for anyone wanting something deeper than a surface-level connection. This app isn't just about finding a date, it's about finding someone who meshes with your personality on a fundamental level.
And how does it do that, you might ask? Well, it all starts with a 5-minute personality quiz. Once you've revealed your personality type, the algorithm gets to work, carefully curating a list of matches for you. No more swiping on users who just don't get you (we've all been there).
The app also boasts a friendly UI. Say bye to complicated sign-up processes, with this app, you can be browsing matches in no time. And as far as the app's design goes, it's modern and sleek, making for an enjoyable user exp.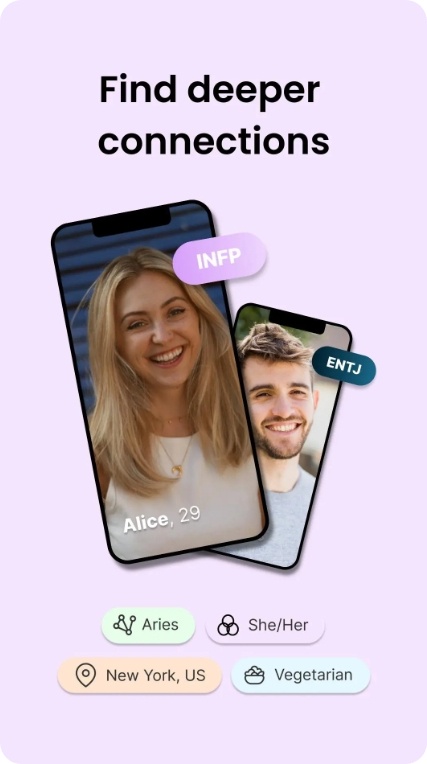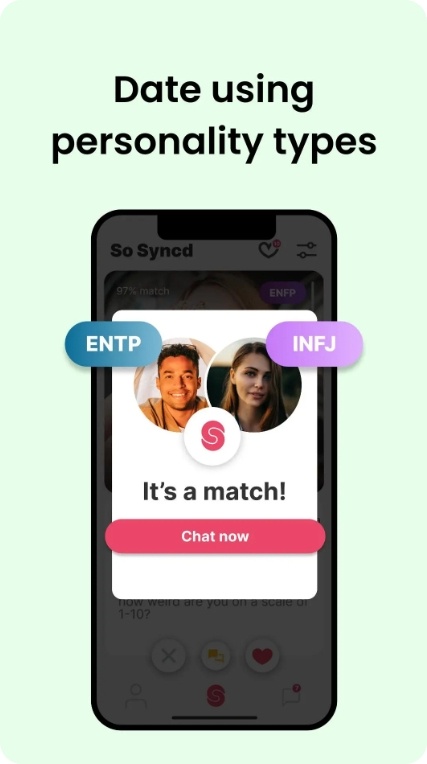 Nextdoor
This app works like a magic wand for bringing your neighborhood closer together. If you've ever been curious about what's going on in your area but were too introverted to really go talk to people, this one is for you.
Let's start with the verification process. Brace yourself, because some sneaky folks want to infiltrate the neighborhood for juicy narratives. But this app has got your back. They make sure only genuine locals join the community. You'll need to confirm your actual address and await the approval of existing members. Once you're in, magical wonders await!
Now, let's talk about the best part: the chance to rave about local services and businesses. Need a wizardly plumber recommendation? Or looking to conjure up a successful garage sale? Your neighbors are here to help with their bewitching advice and suggestions.
The app also serves up heaps of local news and updates, ideal for newcomers. Plus, it is like a secret portal to forming friendships with folks in your area. You can chat online, plan local enchantments, and truly feel the spirit of community. Who knows, maybe your soulmate lives a few blocks away?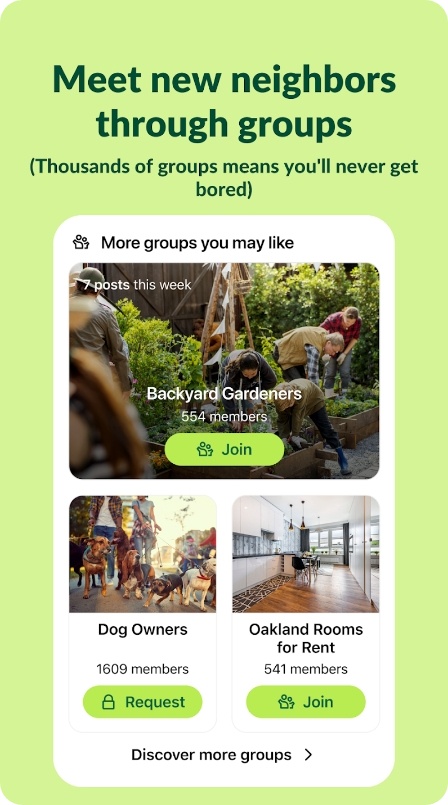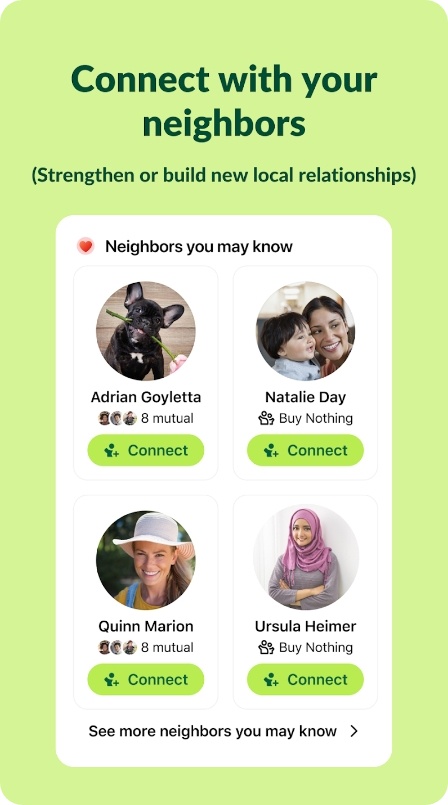 Check also: 11 Best Black Dating Apps 
Meetup
This app is a gem for anyone wanting to connect with like-minders locally, regardless of whether you're an extrovert or introvert. With a plethora of hobby and interest categories, whether it's art, cooking, or technology, the options are endless.
But what sets it apart is not just the ability to browse and join groups, but to also attend events organized by them. The location-based concept lets users find new friends and activities within their area, long before social distancing became the norm.
For those who prefer smaller gatherings, there are cozy book clubs, writers' clubs, and other intimate activities to enjoy with like-minders. And for those who prefer larger, more energetic crowds, there's no shortage of festivals, concerts, and group games to join.
Overall, the app is a phenomenal tool for breaking out of your shell, discovering new interests, and connecting with those who vibe with your passions. Who knows, you might just discover a new favorite hobby or a lifelong partner in the process!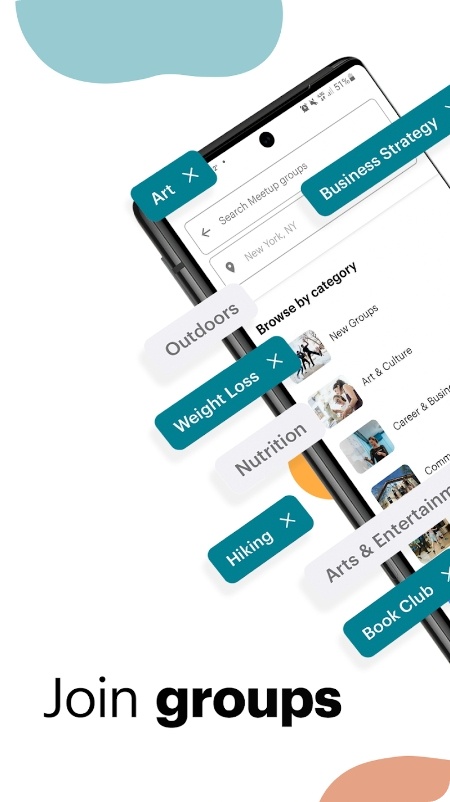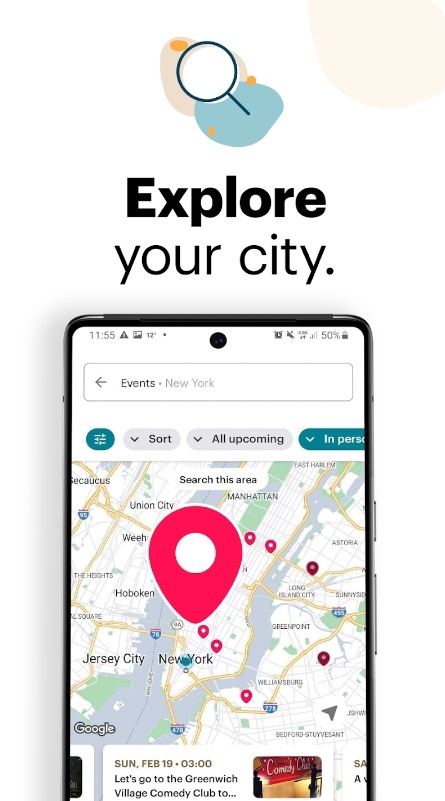 Coffee Meets Bagel
It's a kind of app that does the heavy lifting for you. The user pool is pretty wide, so no shortage of options here.
With its innovative algorithm, the app curates daily matches based on your expressed interests and prefs. You can point out what you like, and the app will try to find someone who has the same your hobby. After all, it's much easier to connect with those you have common ground with. And if you're part of the LGBTQ, don't worry – there's a special space just for you.
This isn't a hookup app, it's for people who are seeking something meaningful and long-lasting. So if you're ready to settle down with someone special, you've come to the right place.
And best of all, using this one requires almost no effort on your part. No more endless hours spent scanning bios and accs, the app does all the work for you. All you have to do is to scroll through matches and sort those that catch your eye.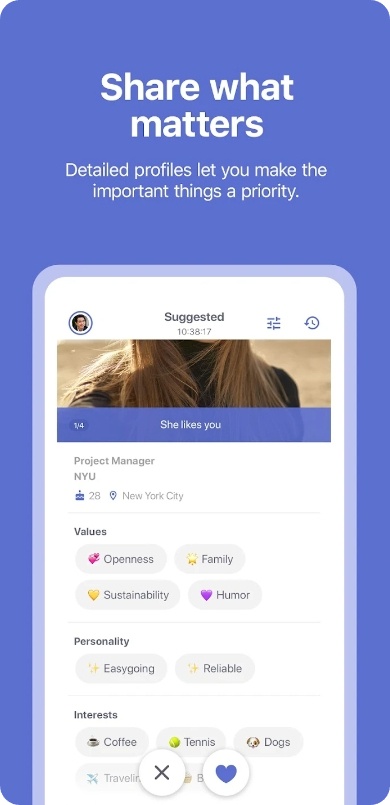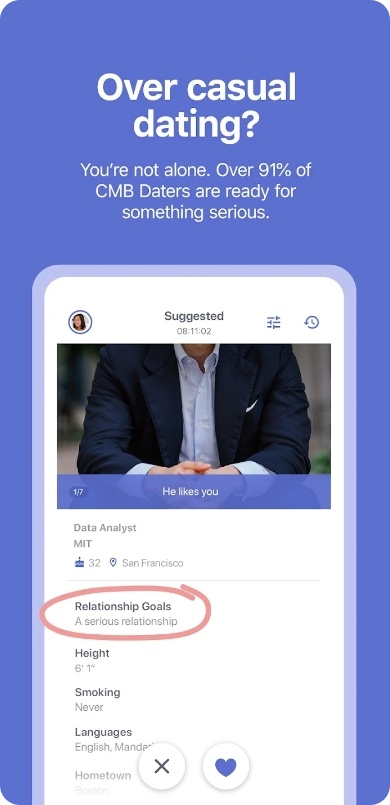 Have a look at: 9 Best Dating Apps for Doctors
Bumble
If you're an introverted guy, always too shy to make the first move, this app is right up your alley. Say bye to the days of awkward drink offerings. Here, ladies make the first move, so shy guys can finally relax.
This app is the ultimate playground for the reserved. It had a smashing start, with a remarkable 80M matches made in its first year! But what sets it apart from the rest? Well, besides being totally free (who doesn't love that?), it's made to be user-friendly even for the most tech-challenged among us.
And the secret to its success? By putting women in control, the app has single-handedly crushed the army of creepy messages that haunt other dating sites. With this one, women swipe and pick who they want to talk to, and when they want to talk to them. It's a dating revolution!
Anyone tired of the same old dating app exp can benefit from its refreshing approach. Plus, the bios are not excruciatingly long, just a few facts to give you a glimpse into someone's personality.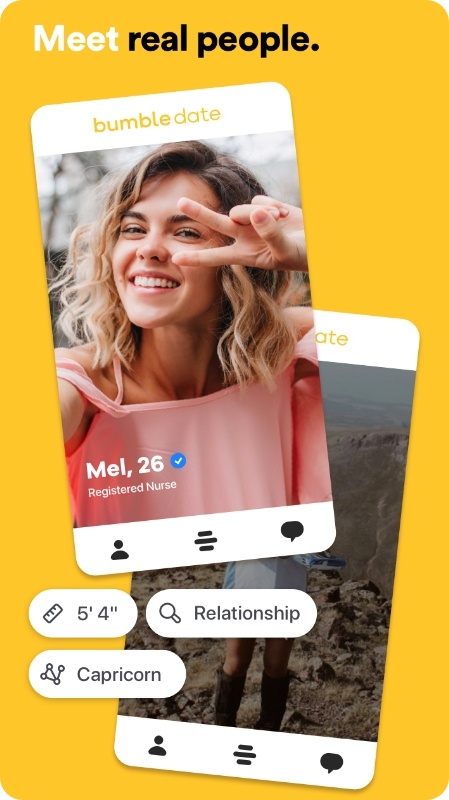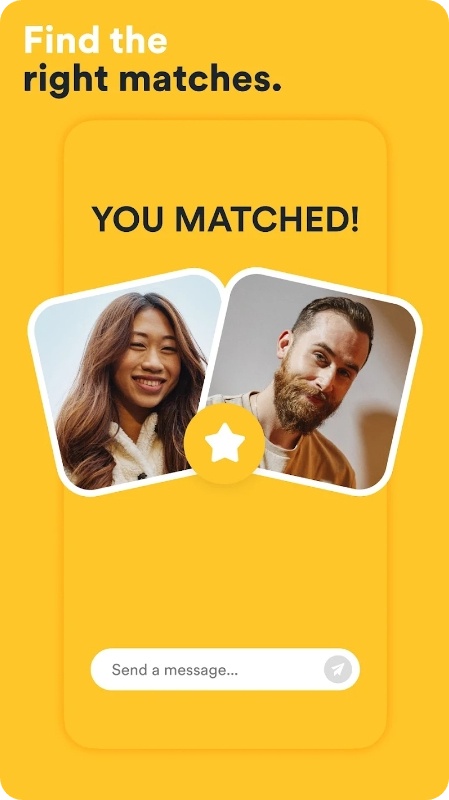 happn
This app is your destiny's wingman, linking you with those you've serendipitously encountered in the real world. It's a tantalizing concept, isn't it? Finally, a way for wallflowers to chat with that cute barista they've been eyeing up all week.
Like all dating apps, it has its merits. It's sleek and easy to use, for one thing. It's GPS -based, so you'll actually find those who aren't miles away. There are some downsides to it, yes, but if you adore hanging out in some park or a niche cafe, it might be quite helpful.
Unfortunately, in practice, it leaves a lot to be desired. Sure, it's great if you're someone who's out and about all the time, pounding the pavement and giving yourself the best chance possible of serendipitously bumping into your soulmate. But let's be real. Most of us these days are spending an inordinate amount of time indoors, staring blankly at our screens and wondering if there's anyone out there who can hold a decent conversation.
That's why its popularity has dwindled. And even if you do manage to bind with someone, the chances of them being your true love are slim. After all, you might have crossed paths with them while you were both in totally different headspaces. Maybe you were running late for a meeting and didn't even notice them. Give it a try, but don't put your hopes up too high.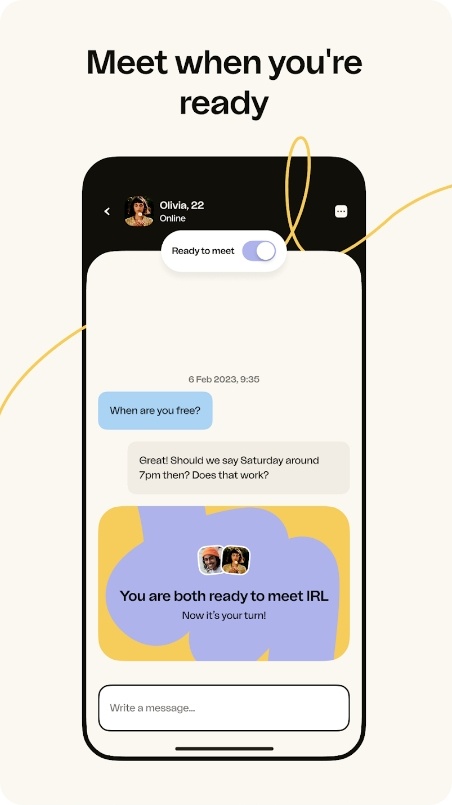 You may also check: 9 Best Dating Apps for Hikers
Match
Lastly, we have the ultimate spot to take it nice and easy, getting to know potential matches at your own snail's pace. One of the top things about this one is the power to set your dating criteria and explore a vast array of possible soulmates.
And if you're not sure what tickles your fancy, fear not! The app's got you covered with its abundance of filtering. From shared hobbies to favorite activities, you won't run out of topics when you finally make a connection.
Of course, like all dating sites, it isn't flawless (but it's pretty darn close). The only downside is the notorious lengthy questionnaire, which can be a smidge tiresome for some users. Plus, the functionality for free users is sort of limited, so you might want to consider supersizing with a paid subscription to make the most of the site.
Still, these cons are a tiny blip on the radar compared to the overall experience. There's an incognito mode for some sneaky acc stalking (no actual stalking, please) and a treasure trove of potential matches. It's the introvert's paradise for anyone who's a fan of leisurely romance.