Tracking your results in sports and improving your performance is a great motivation to keep going. It can be quite difficult to do it on your own without aids. Yet, these best apps for swimmers will help you improve your training process.
If you are ready to take this sport to the next level, then choose the greatest one or try all of these awesome apps.
Stay fit to be always ready to any swim competitions with these free fitness apps without subscription.
SwimtoFly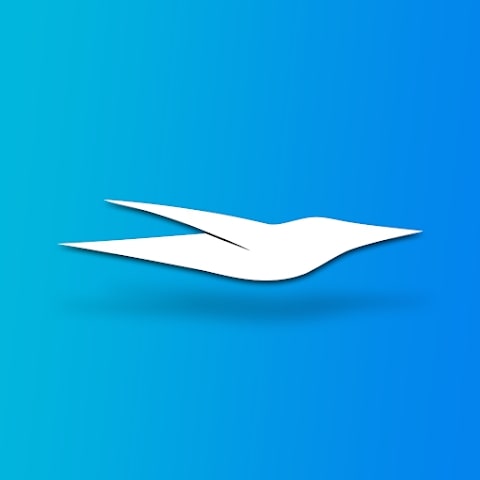 If swimming is still a big problem for you, be sure to use the SwimtoFly app.
Every swimmer, regardless of their skills, will find helpful tips, exercises, and step-by-step instructions from experienced instructors.
The lessons are presented in an online format. You can choose one of the topics you are interested in or watch all the proposed training materials individually.
SwimtoFly is perfect for adults who want to learn how to swim confidently on the water as well as for very young swimmers.
You will master the basic rules in a short period of time without effort and expensive equipment. To work with the app it is not necessary to look for a mentor – you will cope with this task by yourself.
The training program is based on years of experience by professional swim coach Christian Anson. In the online lessons, you will find the most current and up-to-date information. The initial task is devoted to the psychological aspects of confident behavior in the water.
After you've dealt with your fears and excitement, you'll learn how to swim backstroke, butterfly, and breaststroke.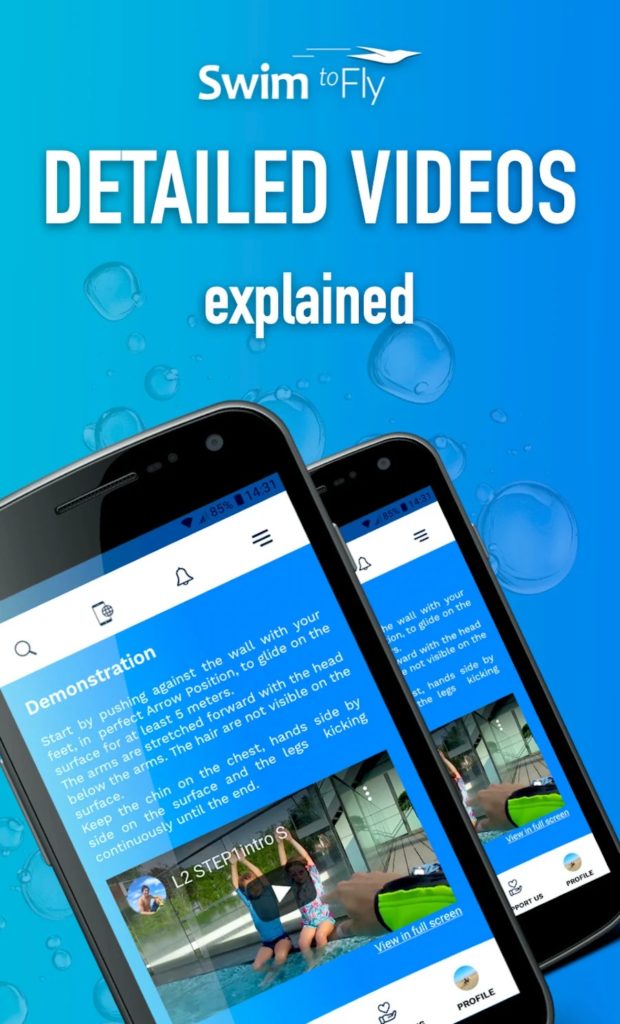 Don't be put off by the opportunity to learn to swim quickly and easily. Use SwimtoFly to improve your performance. Record your results and share them with other users and friends. Enjoy swimming with the SwimtoFly app.


You may also like: 11 Best Sports Alerts Apps for Android & iOS
FORM Swim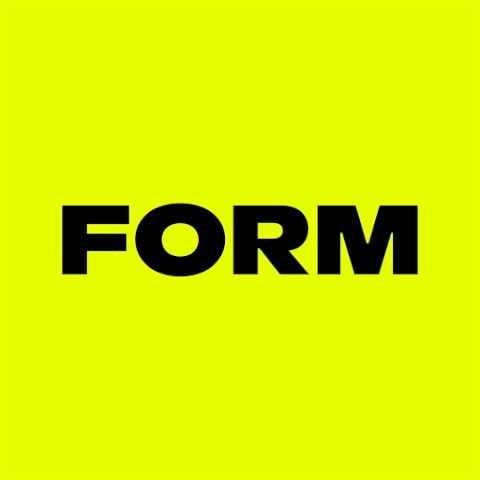 The FORM Swim mobile app offers users an innovative method of swimming training. You can do self-development with the help of smart glasses.
There is nothing easier: just choose the necessary lesson to start the classes comfortably and at a comfortable pace.
Work out whenever it's convenient for you. You are not tied to the time or possibilities of the instructor.
The functionality of the app allows you to significantly improve your swimming skills in the shortest possible period of time.
Create your own work plan, mark achievements, and work through the most problematic moments. if you wish, you can share a video of your training with other users.
The app allows you not to keep all the necessary knowledge in your mind. With smart glasses, you will always know what to do next.
You'll even be able to see your progress over a period of time. View past performance of past workouts, note mistakes, and increase your productivity day by day.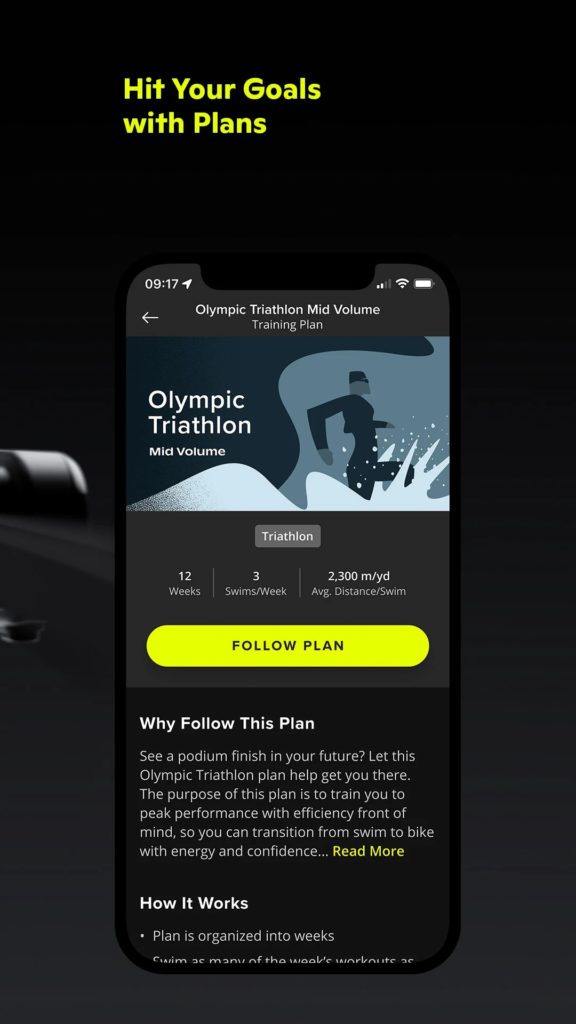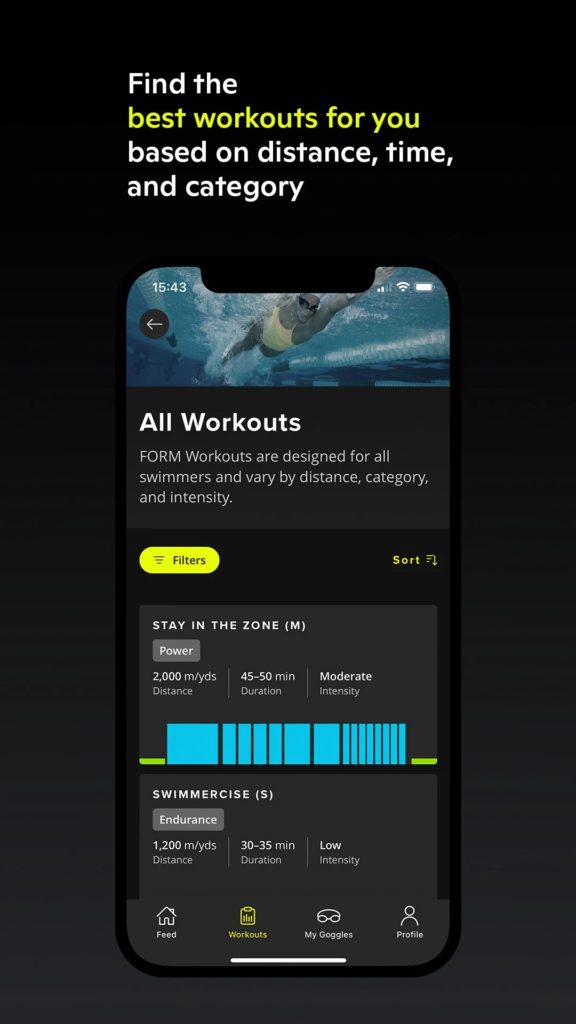 During your workout, you'll be able to track your speed, stroke rate, and the number of strokes. The goggles can be used in artificial and natural bodies of water. Simply synchronize your goggles with your electronic device and work out in a comfortable format.


GoSwim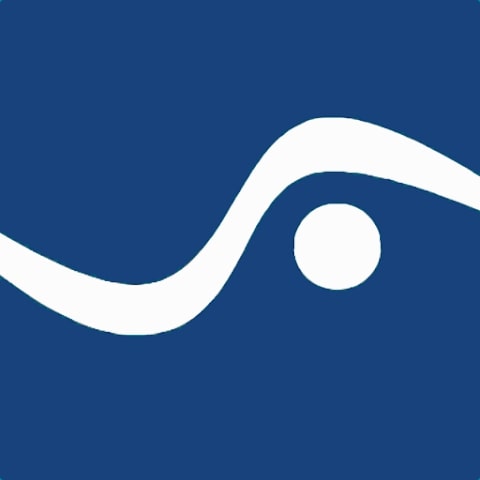 The GoSwim mobile app is designed for personalized online training. A personalized approach to each user allows you to quickly and comfortably learn how to swim.
With this app, even those who recently had a panicked fear of bodies of water can swim.
You watch short and clear video tutorials, training according to the received information, and improve your results in time.
The app is suitable for users with different skills: from beginners to professional swimmers. Just set a goal and move towards it with GoSwim.
Each user will find a lot of useful information. There are more than 4000 videos in the library of the app. Some of them help you overcome your fear of water, and others are aimed at improving the skills you already have.
There are videos featuring Olympic athletes for your inspiration. The app will be a real helper for swimmers of all ages.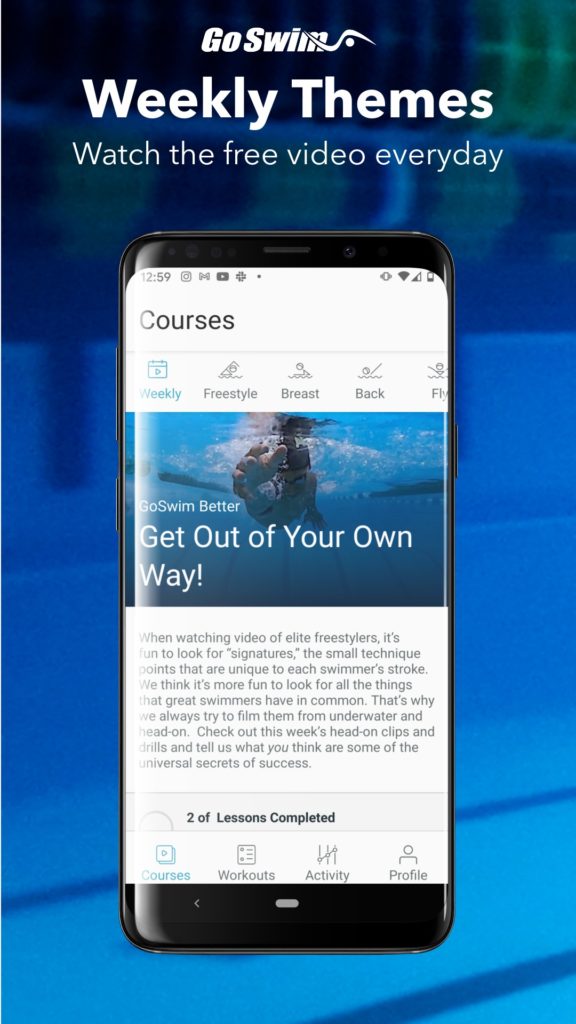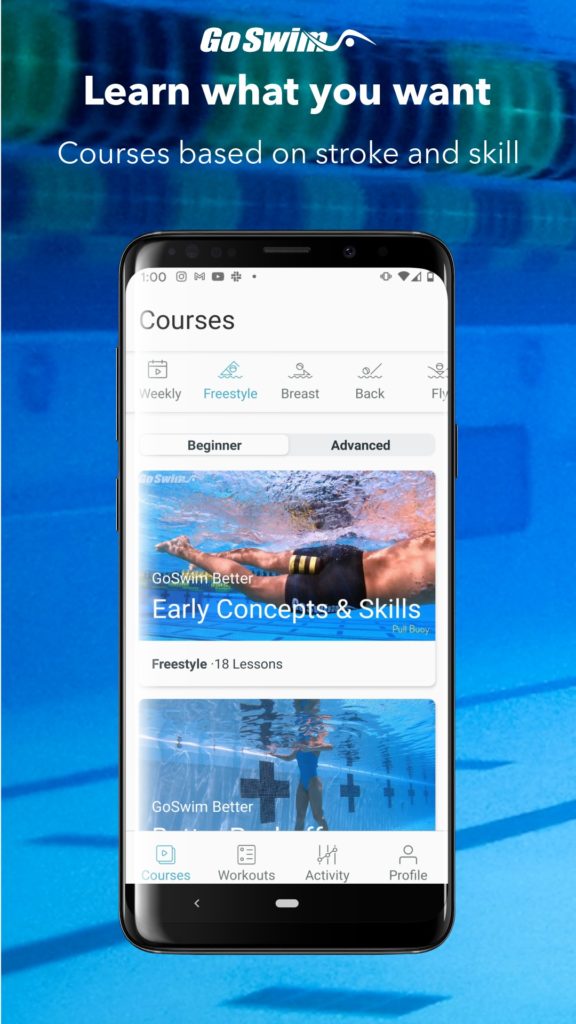 Information is presented in a clear way, without a lot of slang. Each week is dedicated to a particular topic, which is disclosed as much as possible. You can easily create your own personal training plan based on free time, initial skills, and physical data. Increase your efficiency with GoSwim every day.


Swim Coach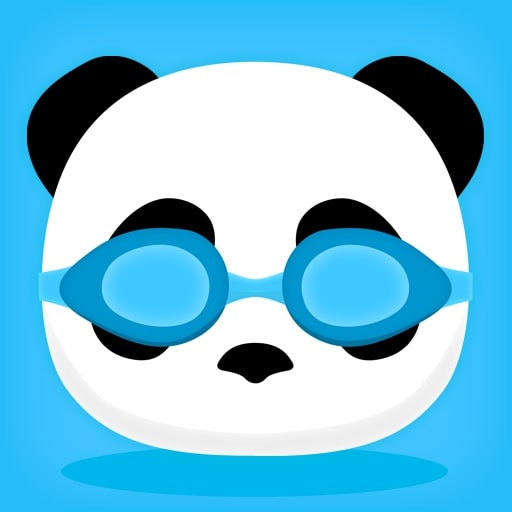 Create your own pool training plan using the Swim Coach mobile app.
With its help, you will significantly improve your skills, train more efficiently and get the opportunity to track the dynamics of your training in real-time.
You no longer need to repeat the same exercise a thousand times to get the desired result. Follow the instructions in the app and get the most out of it.
Swim Coach is a multifunctional app. It helps not only swimmers but also triathletes get to the next level. Use it when preparing for important competitions, for coaching, or just for your self-development.
Take advantage of all the features of the app: enter the necessary data and get a course of personal training from the cartoon coach Panda. You no longer need to adjust to the instructor, because the advice of experienced professionals is always at your fingertips.
This app is for you if you are just learning to swim, want to get professional training, or just need advice.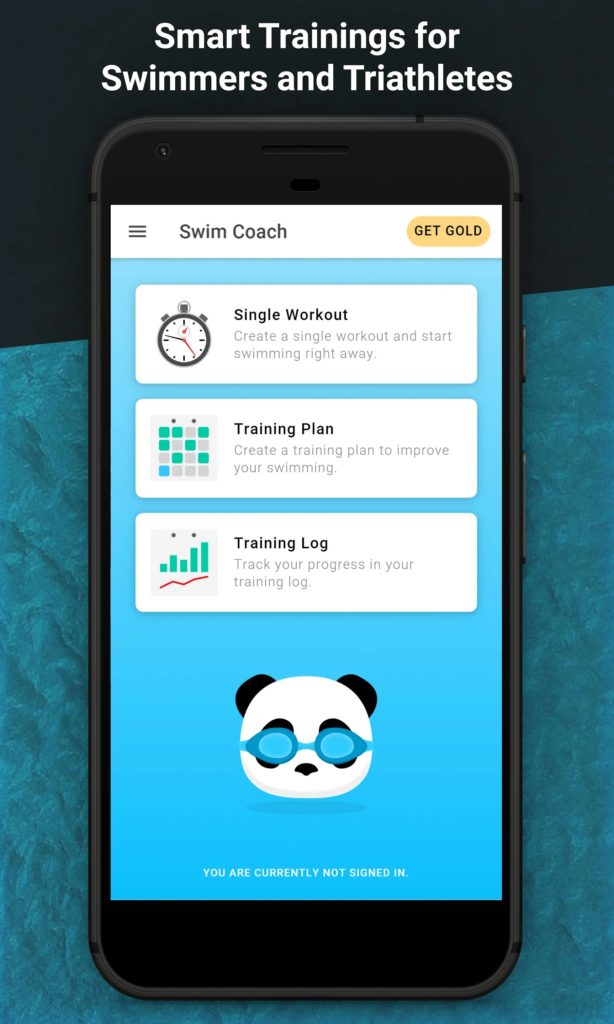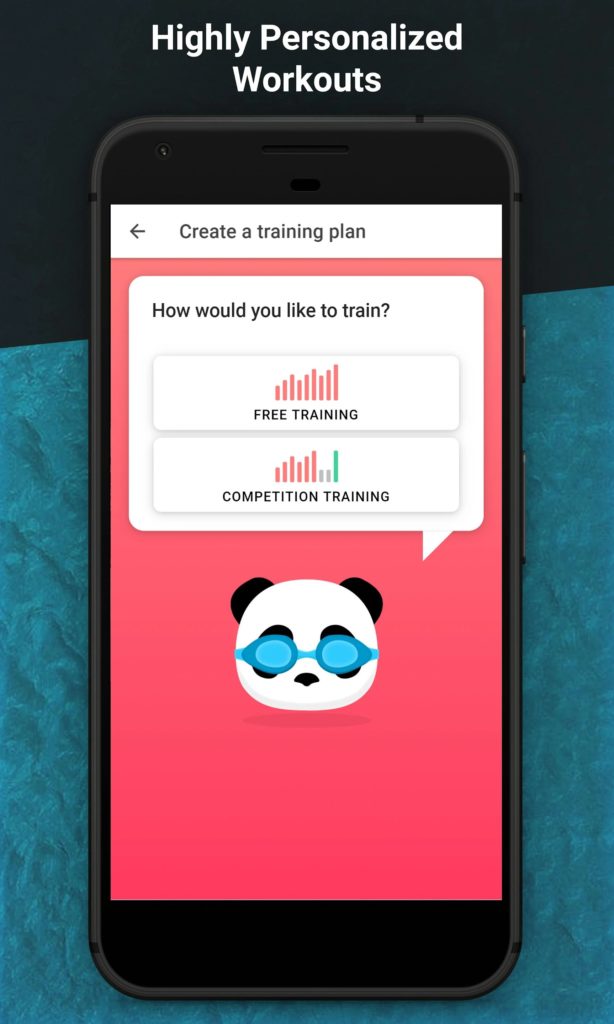 Choose one of the 4 available programs: technique enhancement, breath control, endurance, or general training. Keep your exercise diary, noting achievements and weaknesses to pay more attention to them. It's fun to learn to swim properly – do it with a Swimming Coach.


OnDeck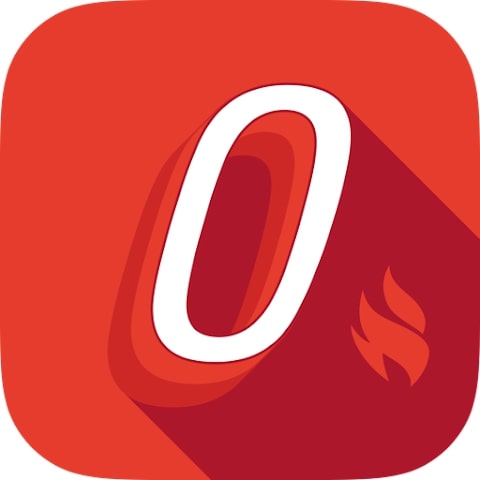 The OnDeck mobile app is designed specifically for professional swimmers. It makes administrative work easier both for team members and their coaching staff.
The app looks very simple at first glance, but inside there is powerful functionality.
With OnDeck, you are guaranteed to simplify communication within the team. All relevant information will arrive quickly and on time to those concerned.
Swimmers will be able to fully manage their accounts without side apps. Receive in-app and email messages, create a newsletter, and stay up-to-date on important news.
All your contacts are in one place. You no longer have to waste your time not missing an important message or call.
Create notes, mark important events on your calendar and share them with colleagues. Get instant access to the team website. At practice, you can easily use the timer feature with a stopwatch and speed calculator.
Team administrators will also find a wealth of useful features in the app. The coach will be able to keep a schedule of visits, as well as compile reports and send them to higher authorities.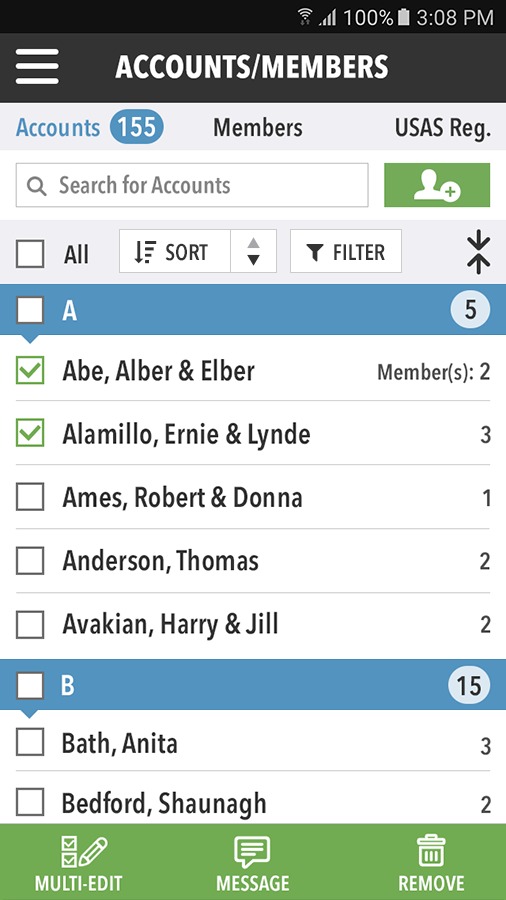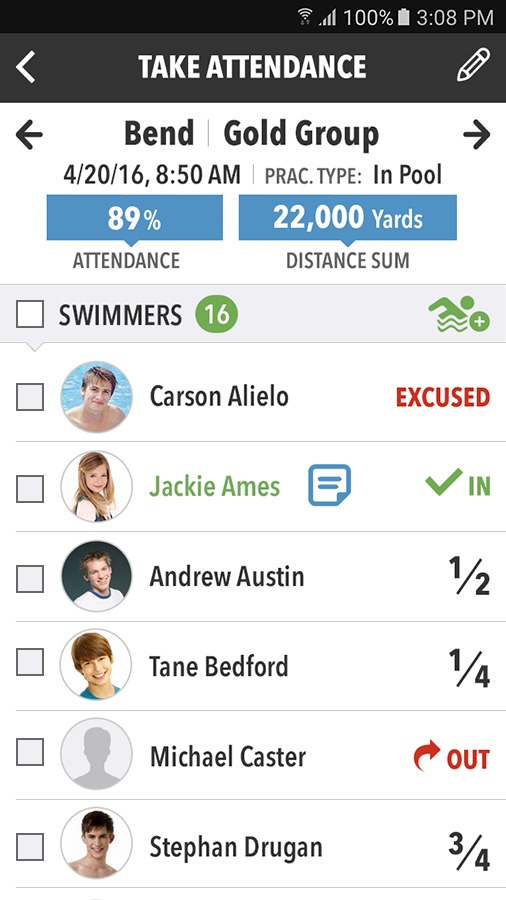 OnDeck gives you the ability to register team members to volunteer. Download the app and make your life easier.


SwimUp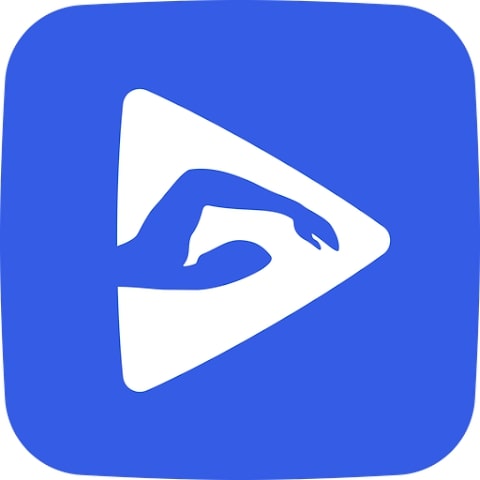 The goal of the SwimUp mobile app is fast and quality swimming instruction. The more users can get relevant skills and knowledge, the better.
The simple menu and clear interface allow users with no age restrictions to work with the app.
You will be surprised at how easy and fast it is to learn to swim with the right approach. In the SwimUp app, you can create a personal training plan with all the nuances in mind.
The app contains everything you might need in the learning process. Theoretical material is presented by real professionals in this business. There is nothing superfluous, only the most necessary information.
With SwimUp you will reach a new level of swimming. It will help you improve your technique and increase your speed without grueling training. You will learn how to swim correctly after reading the data provided.
The app gives you access to 8 different modes. There is a lesson plan for beginners, amateurs, and professionals. Triathletes will be able to find relevant information for themselves.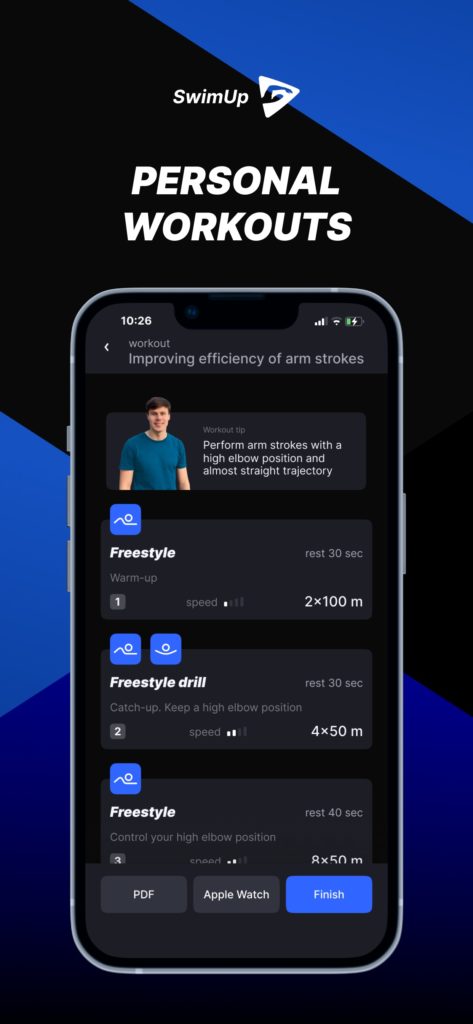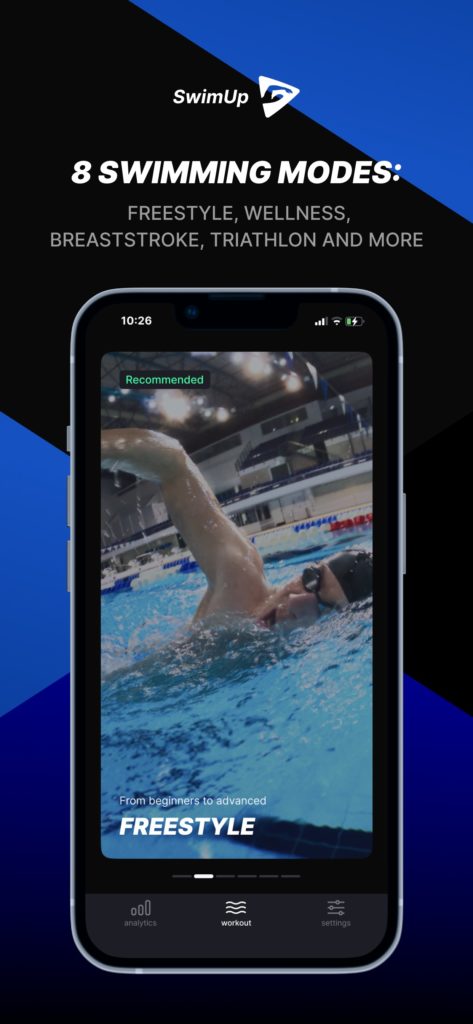 The 4 remaining modes are designed for those wishing to fully master one of the types of swimming: crawl, breaststroke, backstroke, and butterfly. All you need to complete training is the SwimUp app and your desire.


You may also like: 9 Best Sports Video Analyzer Software for PC, Android, iOS
Commit Swimming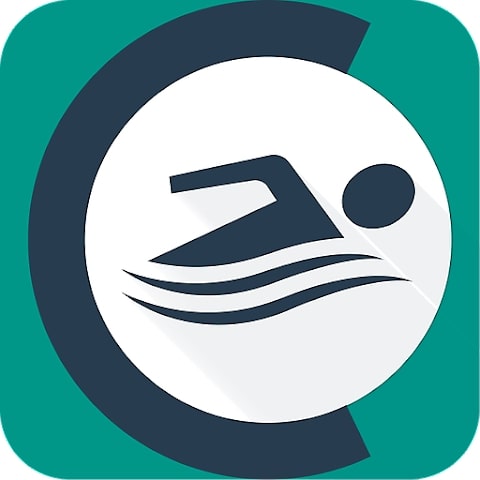 The Commit Swimming mobile app is simply indispensable in a swimmer's arsenal.
With its help, you can easily track your own achievements, identify weaknesses and get relevant advice from experienced professionals.
It does not take much time to work with the app and you will see the benefits after just a few pieces of training.
Commit Swimming makes keeping a training diary easy and simple. It does not matter if you swim professionally or for fun. Yet, if you want to improve your performance and work through problem areas, don't pass by.
The app offers you a description of each workout in the form of a separate note, which is lined up in chronological order and gives you the opportunity to assess the whole picture from the outside.
You don't need any special skills or knowledge to use the app. All you have to do is download the app to your electronic device and get started. Commit Swimming will be a great tool for team activities. You can share your personal data with your colleagues or coaches.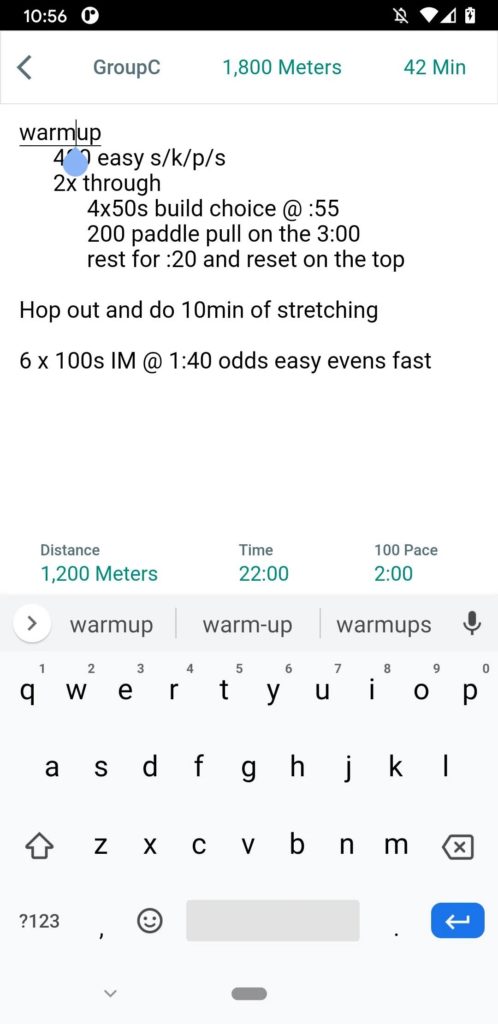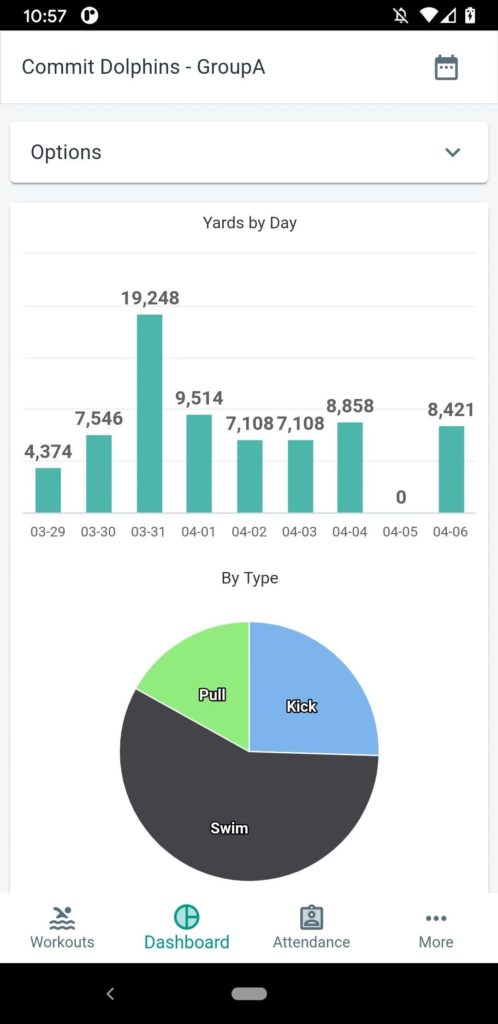 Keep a history of your classes and access statistics at any time. Take notes for more productive workouts, celebrate your achievements and achieve even more success.


Swim.com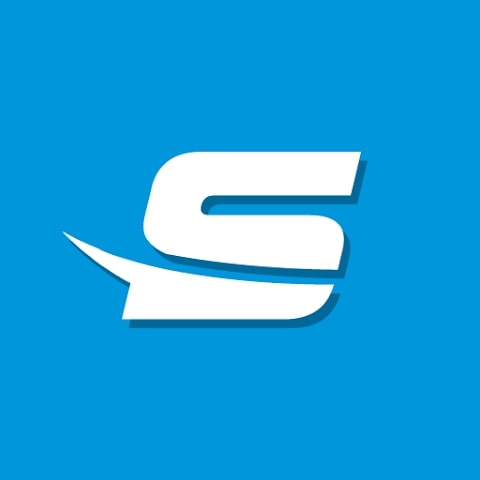 Want a lesson from the most sought-after swimming experts? Want to improve your skills and achieve enviable results? Download the Swim.com mobile app and achieve your goals soon.
The app is compatible with SAMSUNG, SUUNTO, and GARMIN devices. Automation of routine functions allows you to get the most out of it without wasting your time and effort.
Now you can instantly select the desired workout mode, record a pool video and share it with your friends. By using one account on many devices at the same time, you will have access to all your personal data at any time of the day or night.
Signing up takes no more than 5 minutes. Create and adjust workout plans absolutely free. You can make changes to your workout at any stage. Keep statistics on speed, distance, and number of strokes at your fingertips.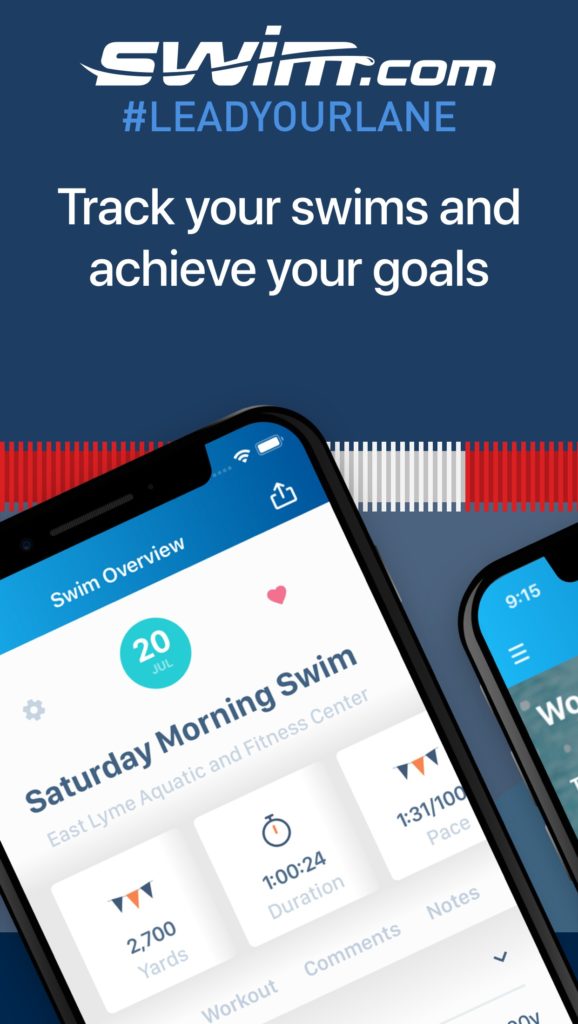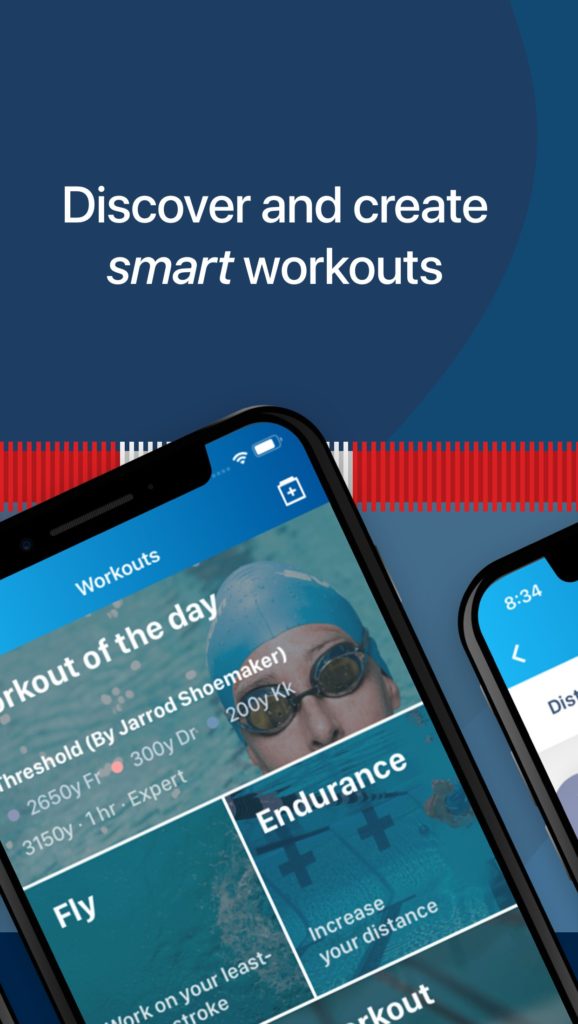 You can easily share information from your account with other users. You can also compare your results with other participants and rate your place among the top swimmers. Rate your friends, be inspired by their achievements, and inspire yourself.


Swimmo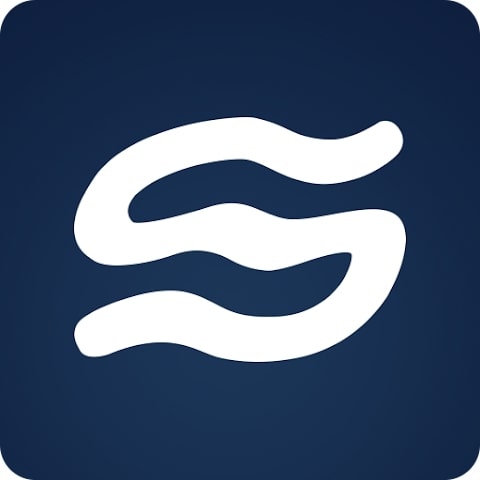 Get serious about learning to swim. Start training properly with the Swimmo mobile app. Your goal is to enjoy swimming and leave the statistics to Swimmo.
Here you will get the answers you need, learn the skills you need, and share your achievements with other swimmers.
To fully work with the app, just download it to your electronic device and take your synchronized smartwatch to the pool.
The app will automatically keep the necessary calculations. You will be able to see your results after your session. The app reflects current information such as the number of heartbeats, the number of calories lost, distance traveled, and paddles.
The statistics section allows you to visualize your performance and compare it with your own data or the achievements of other swimmers over time. Check your level of preparation and approach the training process from a professional point of view.
You can display your results in the Google Fit app for a complete overview of your physical condition. You can choose from 3 basic workout modes: Intensity, Performance, and Control.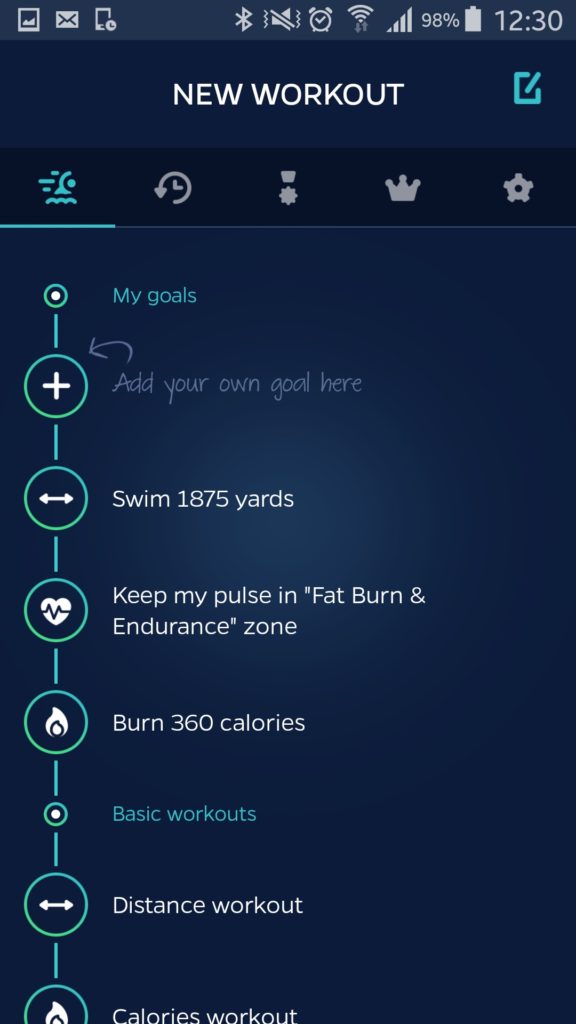 Choose the mode that suits you best at the moment. The app only takes up 8MB and is available for devices with Android 4.3 or higher.


MySwimPro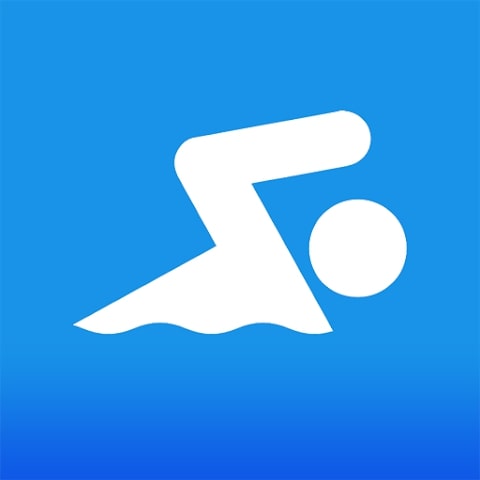 The MySwimPro mobile app simplifies the training process and allows you to achieve great results in record time.
With a personalized exercise plan, it's easier for you to reach the next level. Get access to a lesson plan designed just for you. Get important information and expert advice every day.
You can easily track your own progress and achievements thanks to the automatic analysis of statistical data. Among MySwimPro users, there are monthly competitions where you can compete for the title of the best swimmer.
To work efficiently and effectively with the app, you need to fill in the fields offered. Based on the information received, the app will make a training plan that is ideal for you. Specify the amount of free time, your physical data and the goal you want to achieve.
You will be able to choose any workout in the pool and on dry land that you are interested in. Keep track of your health: Track your heart rate and calories lost in real time.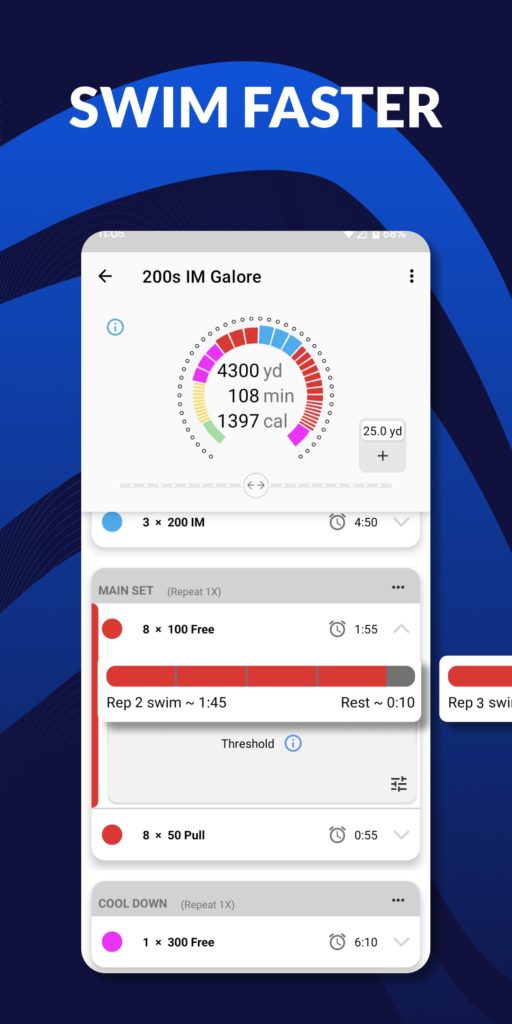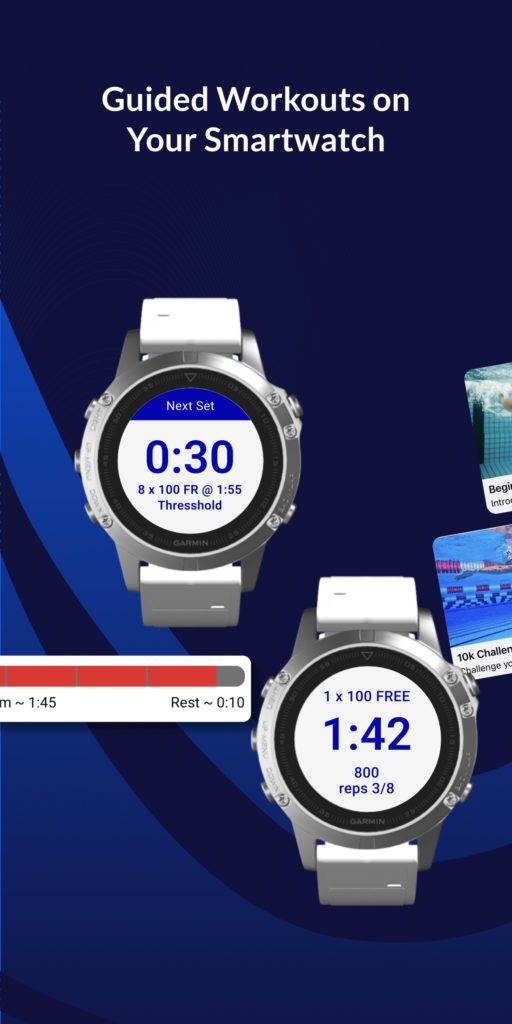 Start your workouts the right way, for the largest benefit to you and your health. Sign up for a subscription and get access to all MySwimPro features.


You may also like: 9 Best Positive Affirmations Apps (Android & iOS)
Meet Mobile: Swim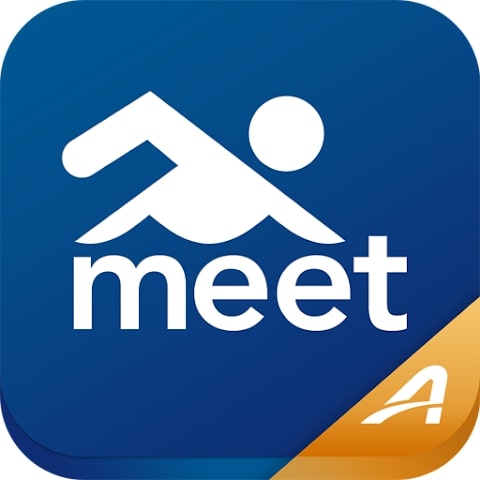 The Meet Mobile: Swim mobile app is designed for all categories of the target audience. Both athletes, coaches, and competition organizers as well as ordinary fans will find useful information.
Get access to the performance calendar of your favorite swimmer or team, keep up with the latest news and stay up-to-date with the latest events.
The app contains information about the world, regional, and amateur competitions. You'll be the first to know when there's a change in the schedule. Install the app and be aware of the most important events in the world of sports.
With the convenient search engine, you can easily find the location of the event. Highlight the athletes you are interested in so that the current information is always at your fingertips. The swimmers' ratings and results are also available to you.
If you missed the broadcast, watch the recording in excellent quality at your convenience. Create a newsletter of current events using email and social media.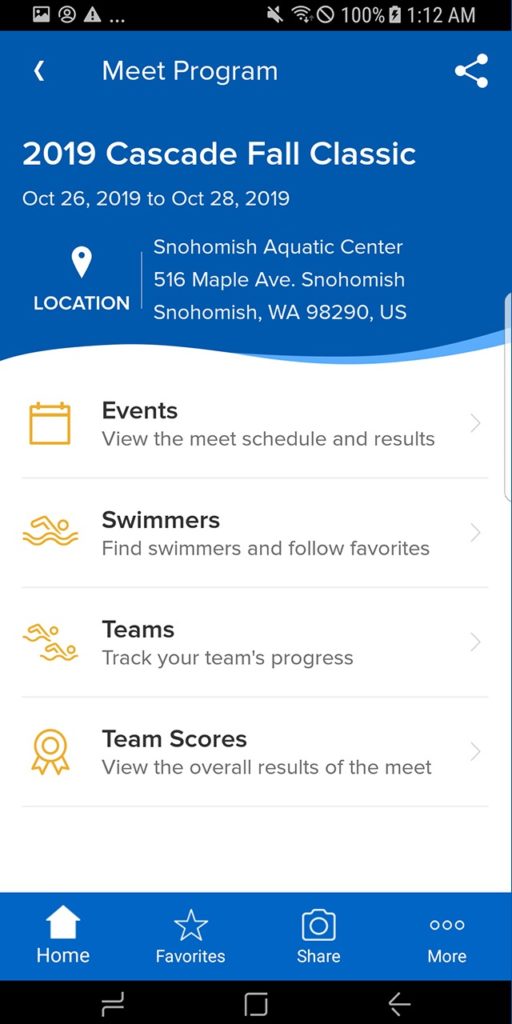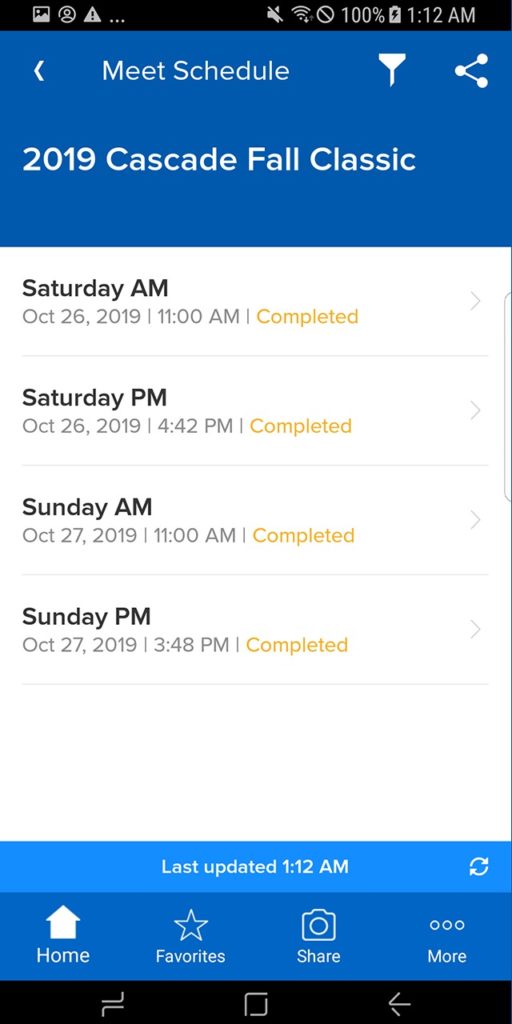 The app has information on the mental state of swimmers, which is especially important for those wishing to bet. Make your life easier with Meet Mobile: Swim and take an active part in the sports world.