We fully agree with Anytune's motto: learn, transcribe, and practice. This wonderful application allows you to work with any kind of audio recordings. It can especially help singers, musicians, and foreign language, teachers!
You might also want to download an oscilloscope app for your PC to improve the quality of the sound.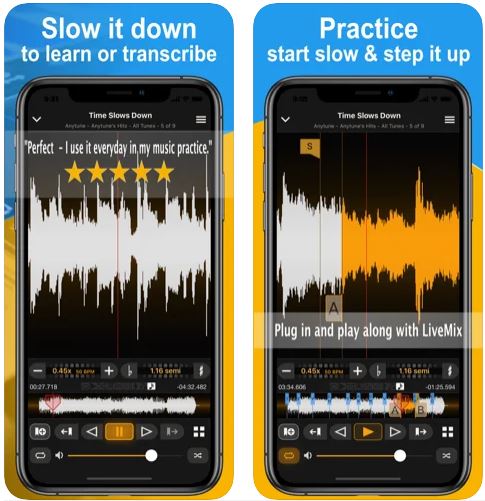 The standard process of logging in and linking to your accounts does not take much time, after it you can start working with a song or a recording. The editor is simple and intuitive, because it uses standard buttons, just like in any media player.
The design of the app is concise and is based on three colors: orange, black and white. The main functions are located on the bottom panel: you can divide the track into parts, or take it completely and slow it down or speed it up at your discretion.
A special advantage of this application is the ability to simultaneously play a song and look at the tablature and lyrics on the screen. The text can be enlarged or reduced as needed. In the upper right corner, there is a "Menu" button that allows you to select the desired song and what you want to do with it.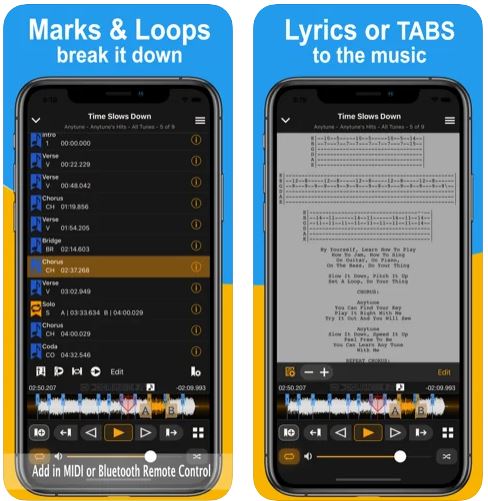 What we like about this app is the visual range that helps you highlight and remember the most difficult moments of the melody, as well as the ability to create playlists and arrange them in separate folders.
You can listen to the same song many times – as many times as you need to play it exactly as it is. You can also slow it down to practice to your rhythm, but without changing the pitch.
What is more, you can extract the audio from your video (using these apps) and edit it on Anytune.
You can cut an audio series from your favorite movie or TED lecture on Youtube. Of course, like any application aimed at further development, Anytune contains paid features, but the price is quite reasonable and fully justifies itself.