In today's world, nothing scares people more than a shattered phone. But what if we'd said you could get that effect to make fun of your bud without causing any real damage?
That's right, there are fake broken screen apps for Android & iOS, and we've picked up the best of them. These apps make ideal prank sources, convincing your pals they've accidentally shattered your device.
You'll get to pick the type of cracks to cater the prank to your liking. And don't forget to add sound and vibration for more drama. Let's dive in!
Crack & Break it
Feeling stressed out or frustrated? Need a break from reality and want to let loose by smashing some glass? This app lets you do just that without any real risk. It's ideal for when you want to break smth or want to put out some anger.
This app covers 4 categories, each giving a unique and satisfying way to break things. The screen options are here, of course, and it brings a ton of satisfaction, even more than you would expect. Plus, you can import any pic and shatter it into tiny pieces, which is a great way to release any pent-up anger you may have towards your boss or ex (or just life in general.)
If you're feeling particularly strong, try your hand at breaking the glass blocks. It may take a bit of effort, but the satisfaction that comes from successfully shattering a block is unparalleled. The app even imitates blood you may get from breaking those, although it may not be everyone's cup of tea.
For those who enjoy the sound of something breaking, the light bulb and fluorescent lamps will work great. The app's realistic sound FX will bring a smile to your face as you smash away to your heart's content.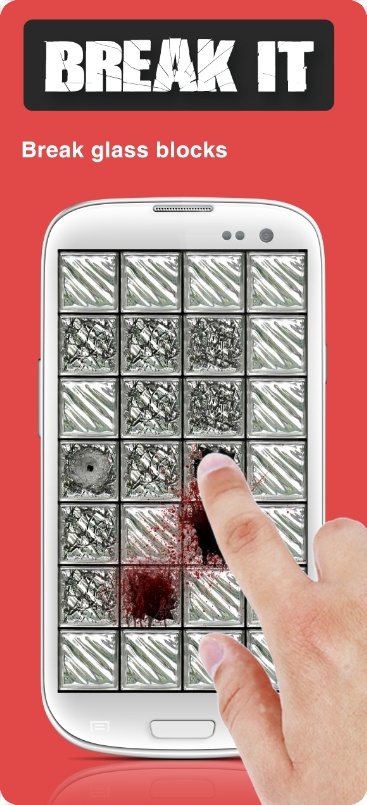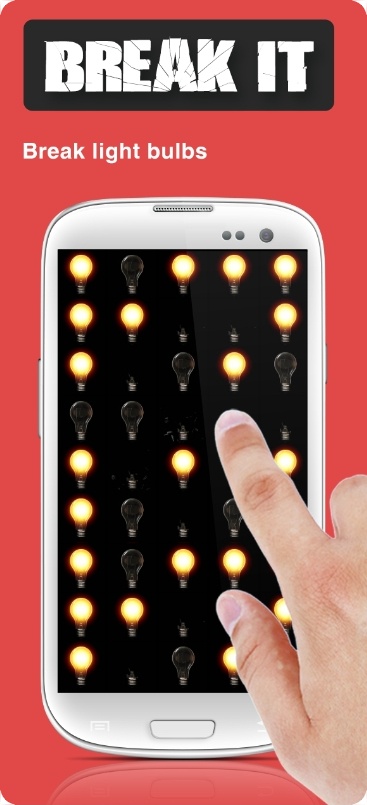 You may also like: 7 Best Fake Alert Maker Apps
Crack Your Screen Prank
This app is here to assist with your harmless prank. It lets you mimic a busted screen without actually harming your device. There are three different ways to make it show: shake, touch, or an automatic timer.
All you need is to tap one switch and pick the method that caters to you the most. One shake or touch is all it takes to make it look like your screen is shattered. Don't worry though, your phone will still function normally, and you can exit the smashed screen image at any time.
What we love about this app is its versatility. You can use it on any device, which means pranking anyone you want. It's ideal for building a funny moment and having a laugh with pals and fam. The app is pretty simple, and the UI won't take long to figure out.
The simulation doesn't affect the performance of your device at all, and you can try diverse modes to find the one that looks best. The timer is ideal for real-time pranks, and you can set it up for up to 15 secs.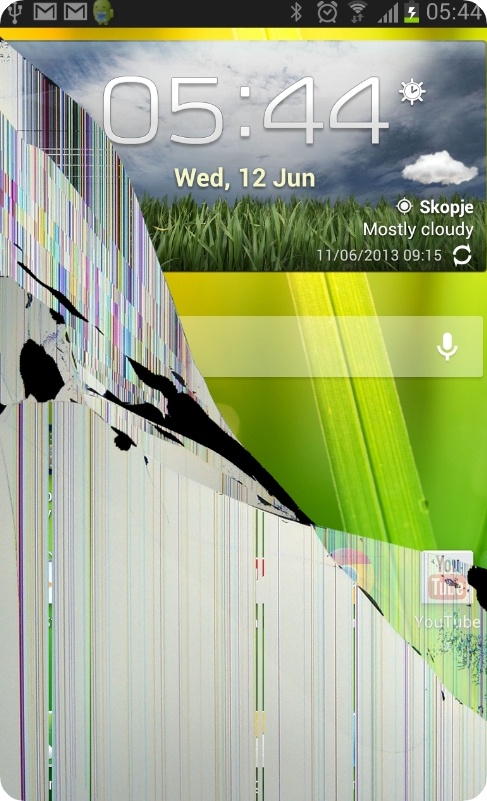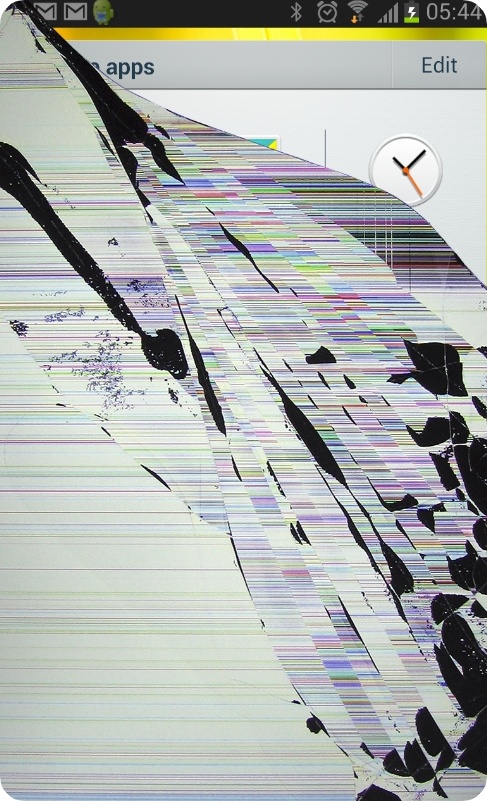 Broken Screen Prank
This hilarious app will have your pals believing that you have actually shattered your screen. The lifelike crack WP and shattering glass sound will fool even the most skeptical of your buddies.
But the fun doesn't stop there! You can also shake or touch your device to get the broken effect. And if you're feeling especially mischievous, try out the fire screen or electric FX to really give your pals a scare.
One of the best things about this app is its recent updates. Now, you can easily remove the crack by clicking the notification. This means that you can easily fool your friends and then quickly return your phone to normal, no harm done. It's not a big deal but it adds up to the navigation ease.
And let's not forget about the improved user exp. The developers have clearly put a lot of thought into making this app easy and fun to use. It's clear that they really understand the importance of a good prank, and they've gone above and beyond to make sure that you can pull off the ultimate trick on your unsuspecting buds.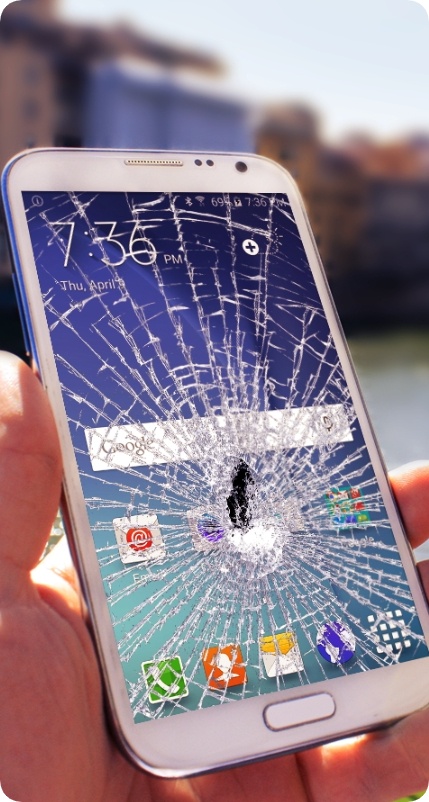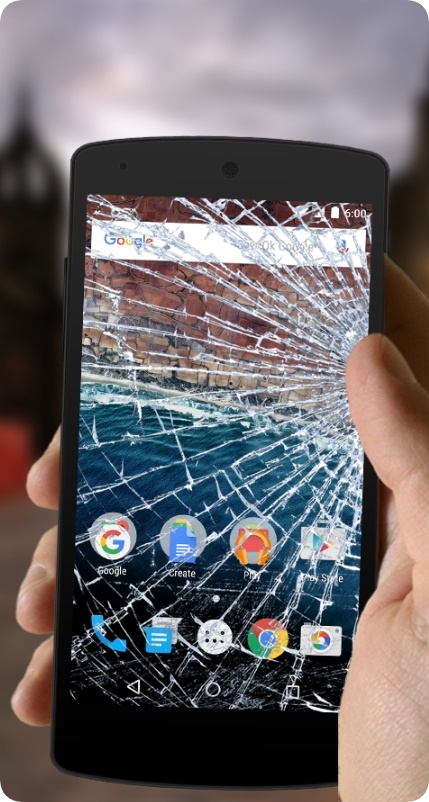 Broken Screen Realistic
This app is a treat for those who want to diversify their pranking game. This app is a free sim for your phone that depicts a realistic smashed glass image. Your buds will be shocked when they see your phone seemingly shattered before their eyes.
But the fun doesn't stop there. You can pick how to trigger the busted glass. You may rather do it via a shake, a touch or even set a time delay. And with six graphics to pick from, you'll never get bored with this prank.
One thing that sets this one apart is the quality of the simulation. It looks and sounds so real that your pals will have a hard time believing it's just a joke. Plus, the cracked FX is displayed on top of all running apps, adding to the realism.
But the best part? Removing the damaged glass is as simple as running the app again. You can also set up touch removal if needed. No harm, no foul. The app is fully free, and the ads are pretty bearable too.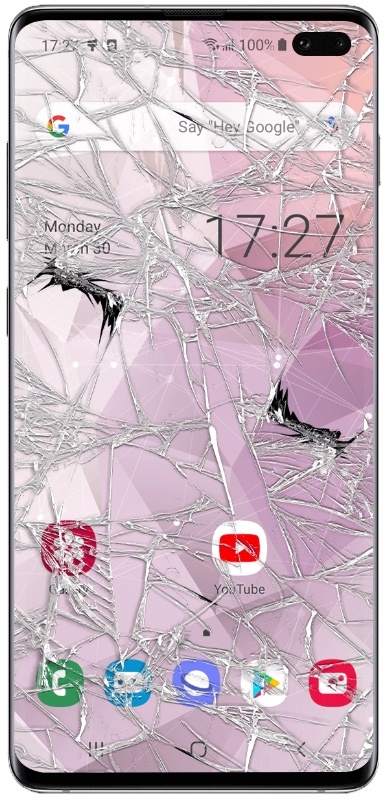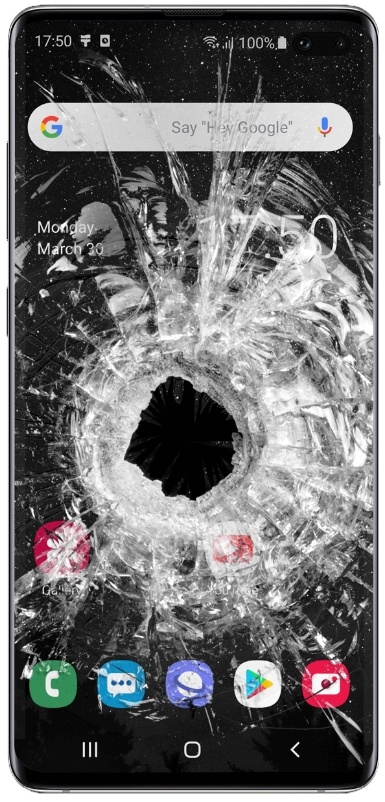 Broken Screen 4K
This app covers tons of wallpapers you can use to make fun of your mates. It has a variety of realistic-looking cracked and shattered screen themes that are sure to fool your pals into thinking they've done some serious damage!
And if you wanna take a step further and add even more drama, the app lets you do just that. Make sure to pick from a range of sounds to add even more hilarity to the situation. It's the ideal app for anyone who loves to pull pranks on their buds and fam.
And, let us tell you, the 4K graphics on this app are seriously impressive. The variety of themes is impressive too, you can try new ones every day. Your mates will be convinced that your phone is actually broken!
And don't worry about any actual damage, this app is completely simulated and won't harm your device. It's just a fun way to mess with your friends and have a good laugh. Installation is easy, and the app is intuitive to use, letting you quickly pick the theme you want to play.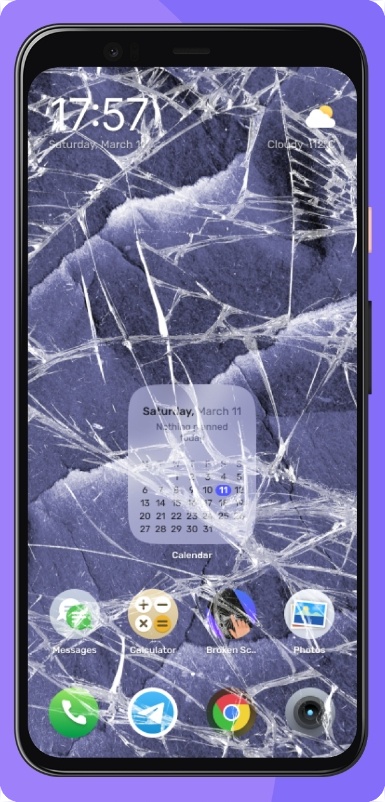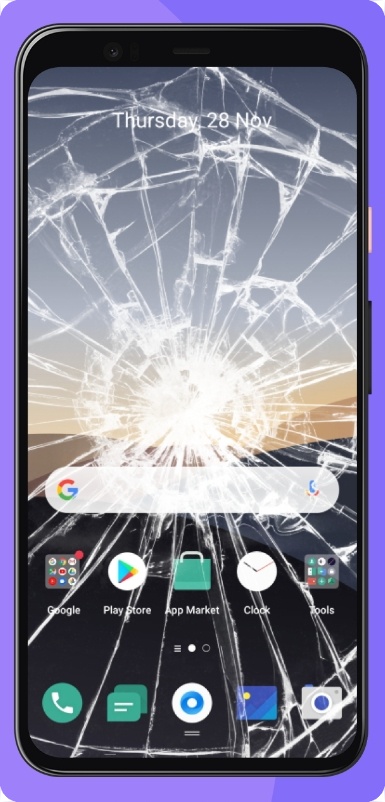 Check also: 9 Best Anime Live Wallpaper Apps
Broken Screen Wallpaper HD
If you ever wanted to joke over your mates with a damaged screen but were afraid of actually shattering your phone, give this app a try. This app delivers over 200 Ultra HD and 4k wallpapers that will make it look like your divide is cracked. And the coolest part? It's totally free and easy to use!
You can easily set any of these as your theme, and there are so many options you can actually switch to the new one every day. And the app operates offline, so you can use it anywhere, anytime.
Plus, any options that you apply will be automatically saved in your cam roll, so you can switch back and forth between it and your regular wallpaper easily. And for those who love girly themes, there's a pink option to match your prefs.
Above that, it is also optimized for battery usage, so you can enjoy a busted screen without worrying about draining your battery. And if you want to show off your new wallpaper, you can easily share it with your mates too. The UI is intuitive and the app's performance is top-notch.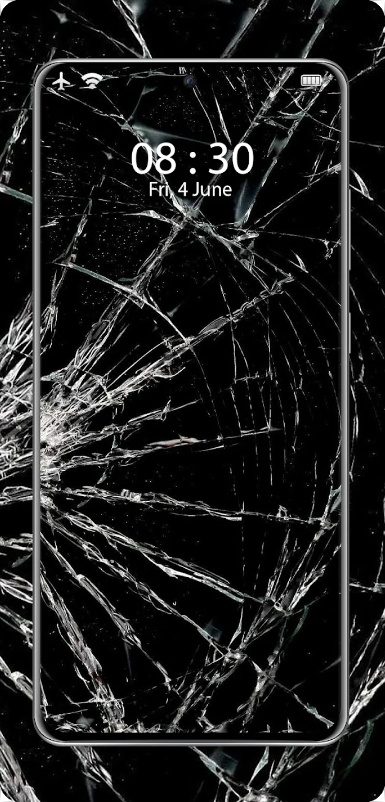 Cracked Screen
This is the ultimate-shattered screen app for iOS owners. It's a hilarious way to prank your buds with a lifelike screen shatter. You can easily pretend that someone has shattered your device without causing any real damage.
First off let's talk about the best thing about this one: it's completely free to use. You won't have to spend a dime to create the ultimate prank. And don't worry about taking up space on your phone, it is lightweight and won't slow you down.
Using this app is incredibly easy. Just pick a snap you want to use from the diverse HQ lib, and set it as your theme. You can even save the pick with just one click to switch it up with your regular one quickly. Plus, there are no hidden conditions or sneaky fees to worry about.
The new options get added regularly, so you won't get repetitive. One thing we love about the app is its compatibility. It works great on all iOS versions and tablets, so you are all the way covered here.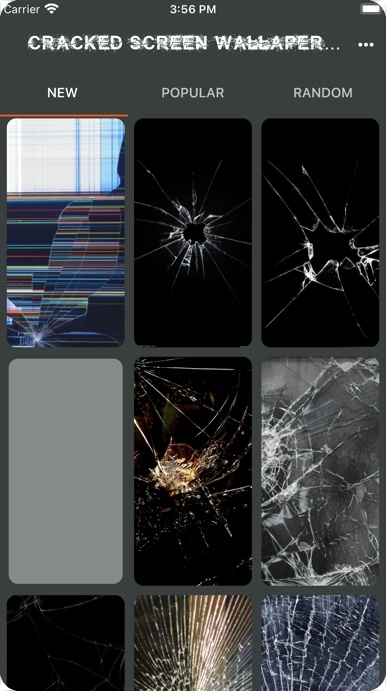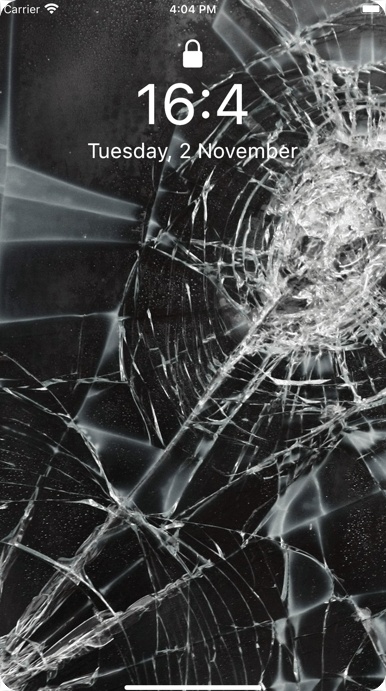 Broken Screen Prank
This nifty tool is a treat for all fellow pranksters. It lets you pull the funniest shattered screen joke of your life with little to no effort. First of all, let's talk about how realistic this app is. Seriously, the cracked FX is so believable that your buds will be freaking out in no time.
But don't worry, it won't actually harm your phone. It's all good fun! There's also a variety of FX to pick from. Want a spiderweb pattern on your screen? How about a shattered glass effect? There are plenty of options to mix and match to really sell the prank.
You can touch or shake your device to activate the cracks, or even set a timer for when you want them to appear. And if you're feeling particularly mischievous, try out the finger-touch fire or electric prank. Trust us, your pals won't see it coming.
And here's the best part: when you're ready to repair the screen, just shake your phone again and watch as the cracks disappear like magic. It's the perfect prank app that keeps on giving.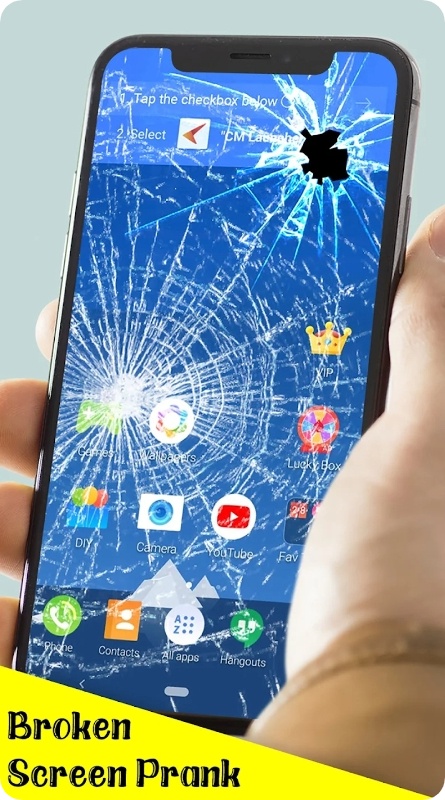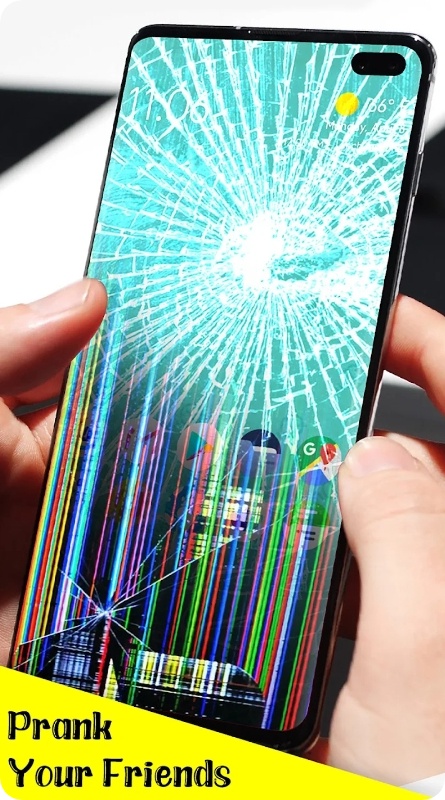 Broken Screen Joke
Here's an app that will make your pals think your phone is completely broken. It is ideal for jokes and entertaining children, but its realism will also scare even the most tech-savvy of adults.
There are tons of FX to pick from, and you can try different options to activate them too. For instance, you can start the FX with a touch or shake, it's up to you. Sounds, vibration, and animated images are all used to make the FX even more realistic.
Using this one is easy. Just pick the FX and the trigger method, and wait for the prank to activate. Make sure your pals use your phone when the prank is activated to see their reactions when they think it is broken.
And when you're ready to stop the prank, just touch the notification of the app and the effect will disappear. Of course, the app doesn't do any real damage to your screen, it's all about jokes. So if you wanna scare your pals and have good laughs, this app is sure to deliver.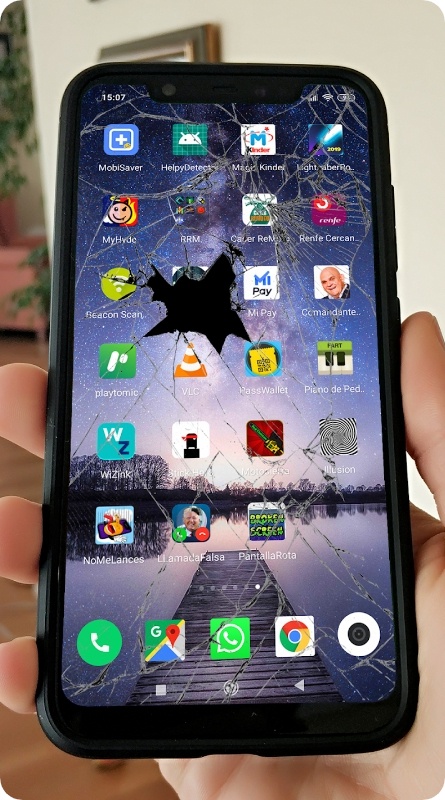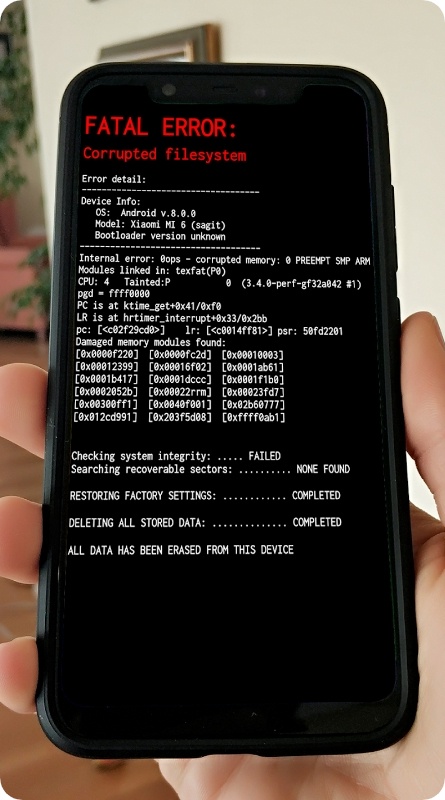 You may also check: 11 Free Funny Message Apps
Broken Screen Prank
To wrap up, there's a handy app to boost your pranking game. If your goal is to impress your buds, this one will not disappoint. The realistic crack theme and breaking glass sounds will have your buds convinced that your phone had actually shattered.
The added bonus of being able to simulate the crack by shaking or touching the screen is a really nice touch. The ability to draw with fire or electricity and make your phone even more funny will have me laughing out loud.
The fact that you can activate the FX by time or user touch adds up to the vibe, too. And don't forget about the sounds and vibration to make it look extra lifelike. You can even add animation for even more drama.
Not only is the app easy to use with a nice UI, but it also doesn't require a web connection. Plus, you can set a timer to show the cracks after several secs, adding to the suspense and excitement.