Tired of sending the same old "I'm driving" or "I'll get back to you soon" text when you're busy? We're right here to help!
We've rounded the top auto-reply text apps for Android & iOS to make your life easier. These are sure to keep you connected without being glued to your screen.
The good news is these work with group chats and are all highly flexible. These apps are ideal for when you're driving, working, or just need a break but don't want to leave people hanging. Let's dive in!
IM Auto Reply
If you've ever found yourself in a situation where you're too busy to respond to a text, you have to try this app. It will keep you connected in any situation, and it's a must-have for anyone who is always on the go. The app lets you set auto-responses to any messenger of choice.
That's right, it works with pretty much all of them, from WA to Telegram and even the FB one. And you'll surely love how easy it is to use. Simply pick the apps, add a text, and you're good to go! Then, when you'll be at work, out with friends, or just trying to disconnect and unwind, this app will take the burden of constant communication off your shoulders.
Another great aspect of this one is its customizability. You can pick from three reply methods depending on your needs and prefs. You can even exclude certain contacts who you don't want to send responses to. This gives you complete control over your instant communications without sacrificing convenience or efficiency. And it also won't charge you a single dime! Coo, right?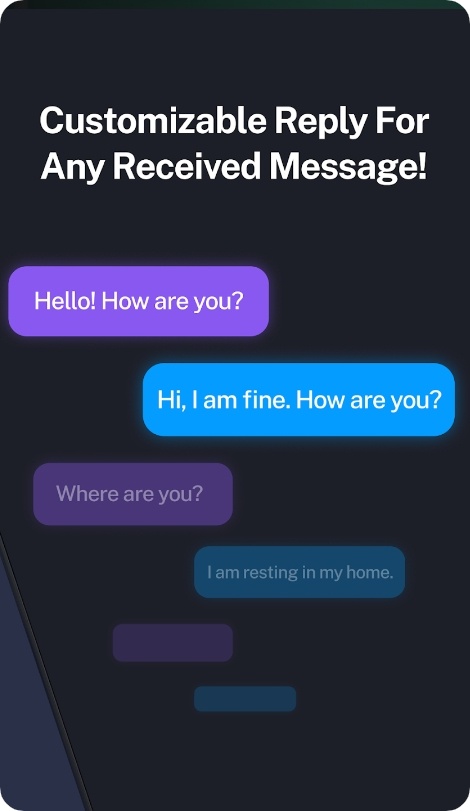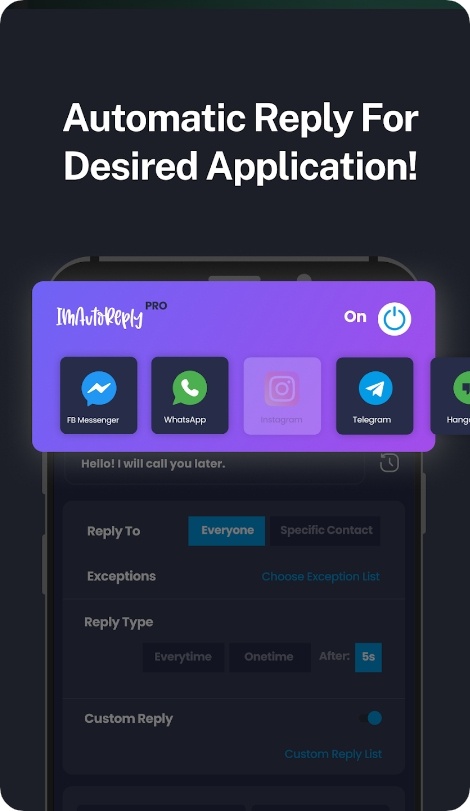 You may also like: 9 Best Apps Like Whisper
AUTO MESSAGE
This app can help you automate your responses to texts and calls. It has a ton of instruments that make it a must-have for anyone who is always in a rush. It lets you fully automate your responses sending them at a time that's convenient for you.
You can even set up the responses to incoming texts and calls when you're busy or in a meeting. The app also makes sending bulk texts and scheduling emails a breeze. Need to send out a business announcement or update to multiple people? No problem! Simply set up a bulk SMS task and let the app take care of the rest.
And if you're someone who needs a little extra help getting out of bed in the morning, the app has you covered with its handy group alarm. Set up alarms with complex triggered conditions and share them with your fam or team.
But perhaps the coolest aspect of this one is its compatibility with almost all messengers, including WA. Thus, you can automate your replies across all the platforms and never miss an important text again.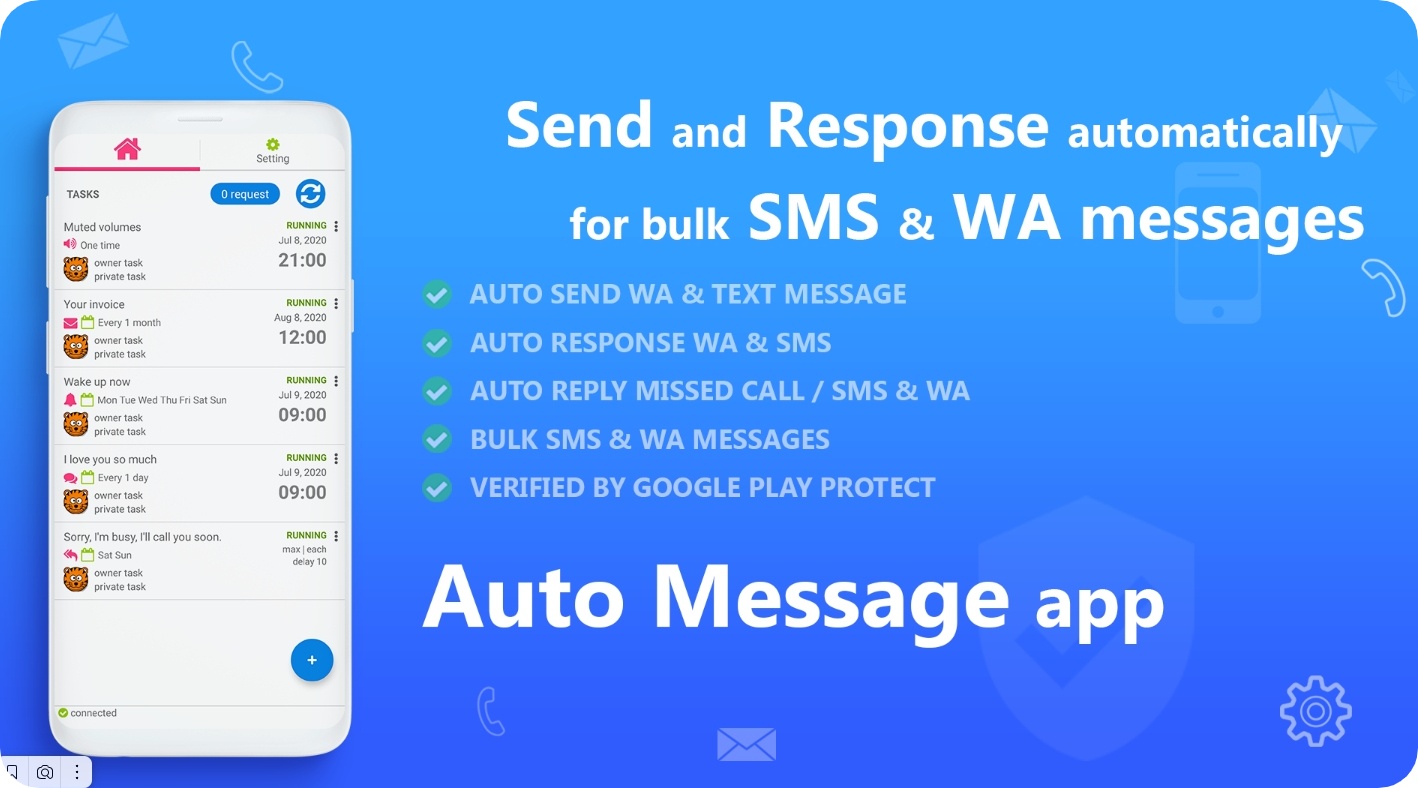 SMS Text Auto Responder
This app will take all your struggles with text replies. If you run on a busy schedule and are constantly being caught up in a situation where you couldn't get back to a text, you need to try this one.
It ensures you stay connected no matter what. You'll get to effortlessly set auto-responses for any messenger you prefer. It works with WA and even email and you can set bulk texts to as many people as you want. Ideal for group meetings or work updates.
You'll absolutely adore the app's minimal UI. Just pick the apps you want it to work with, input the text, and it's done. You can even specify the time if needed. It will ensure you'll never forget to wish someone a happy birthday or smth.
Above that, you'll surely notice the app's high-level flexibility. It covers numerous reply methods, so you can pick one that caters to your needs at a time. It also lets you exclude some contacts.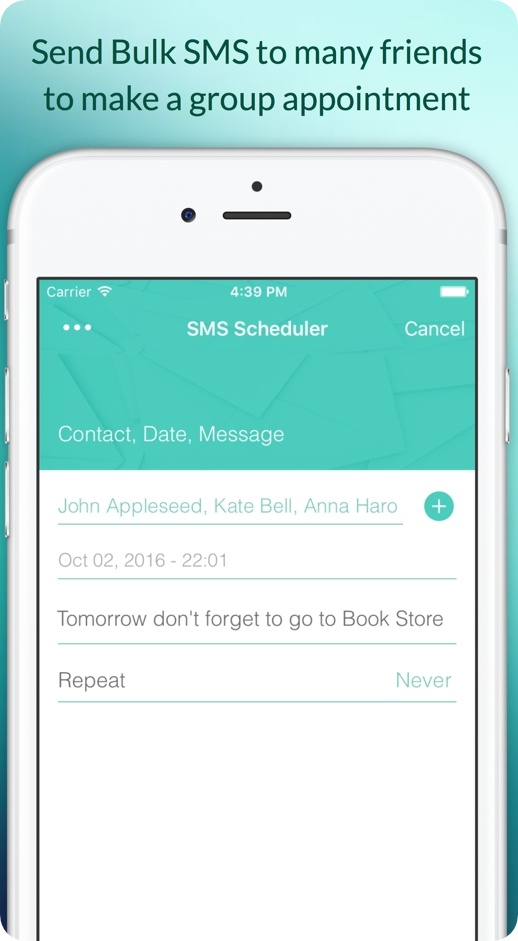 Auto Text
Tired of constantly having to remind yourself to send a text or respond to missed calls? This app is your cup of tea, then. It lets you set text replies, and bulks of SMS, and even make a recurring schedule. It's a one-stop shop for all the texting needs, really.
You'll get to schedule your SMS to be sent at exactly the right time, whether it's a text to yourself as a reminder or a note to someone else in the future. Plus, you can even send recurring ones for those repetitive tasks that always slip your mind.
And if you're a marketer or someone who needs to send mass announcements to groups, this app is a lifesaver. You'll get to make countless groups and delivers personalized notes to them. And the bulk importing makes it a breeze to import contacts from a CSV file.
The auto-reply is a must-have for anyone who finds themselves too busy to respond in a timely manner. You can set custom rules and even include your current location if needed.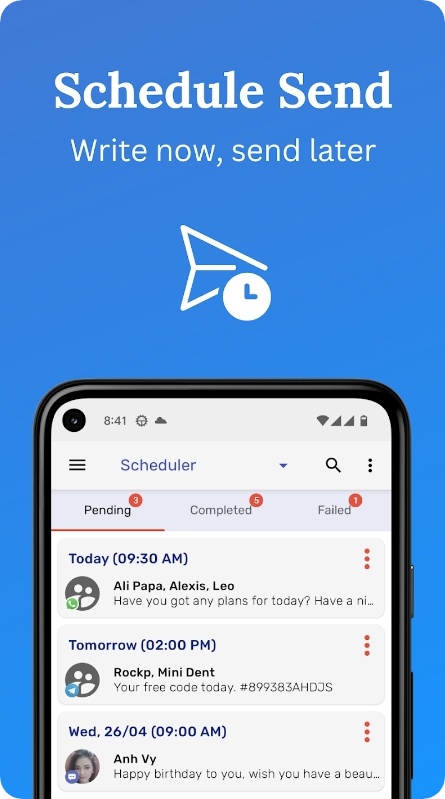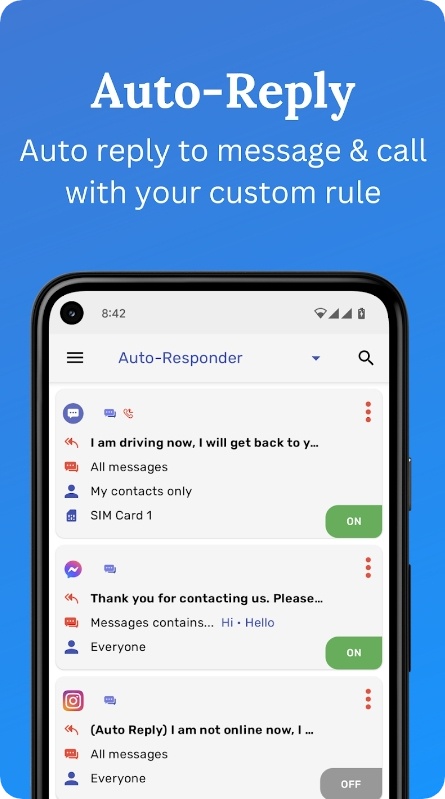 Watomatic
Today texting routine might be effective, but it can also be very intimidating sometimes. So if you're tired of being bombarded with SMS in messengers, this app is for you. It's ideal for those moments when you feel like you need a break but don't want to leave people hanging.
This lifesaving app sends an auto response to every incoming SMS, giving you some much-needed time away from your screen. And all that without sacrificing your social life. You get to pick your response, too.
Maybe you want to let everyone know you're on vacation or that you're taking some personal time, the power is in your hands. And don't worry about group chats, the app works with these too. It'll keep the convo going without you, so you can catch up later without feeling left out.
Plus, the app does everything with respect for your privacy. No ads, no tracking, just simple, effective auto-replies. And did we mention it's free and open source? That's right, you can enjoy all the perks without spending a dime.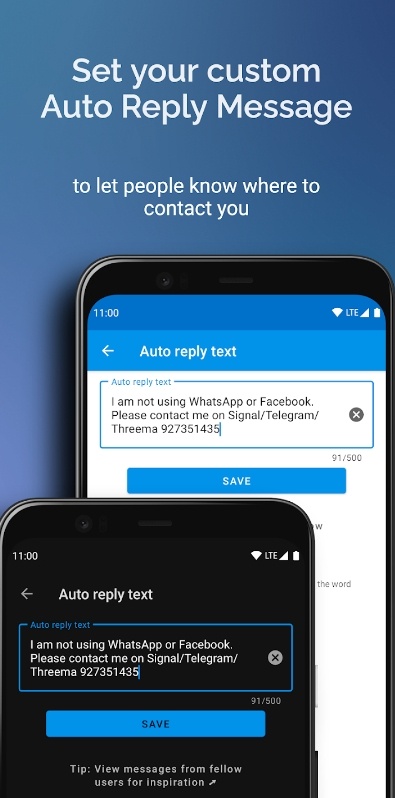 Check also: 11 Best Apps Like TextNow
FirstReply
This nifty too is here to answer some WA text for you. It's a dealbreaker when you're swamped with work or not in the mood for charring. It's like a personal assistant that automates your replies. Yes, it only works with WA, and yes it works with its business version as well.
The app is all about flexibility, and it lets you set custom rules on when and how it should be responding. Say goodbye to the hassle of having to reply to each text individually. This app efficiently responds to all of them, be it from contacts, groups, or unknown numbers.
What sets this one apart is its functions, such as bulk replies, custom reply tags, and regex patterns support. You can even specify which app you want to respond to, personal or business.
And if AI is more your thing, the app has a tool based on it. It lets you make an automatic schedule with delays, as well as rules-testing. You can save multiple reply drafts and reuse them as needed. It can also send text to numbers that are not saved in your contacts.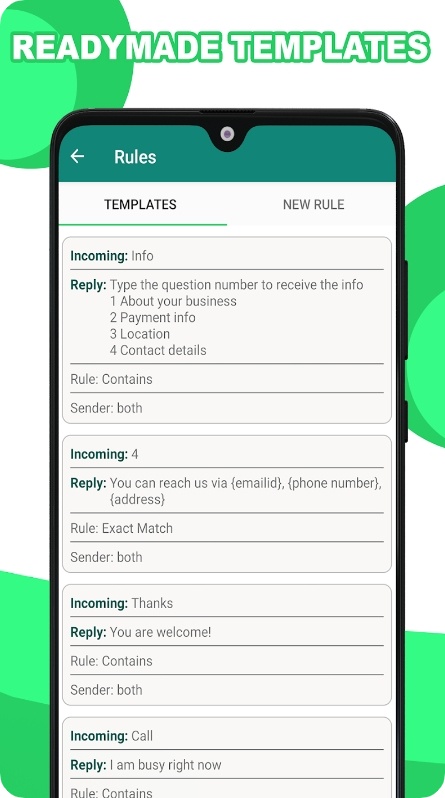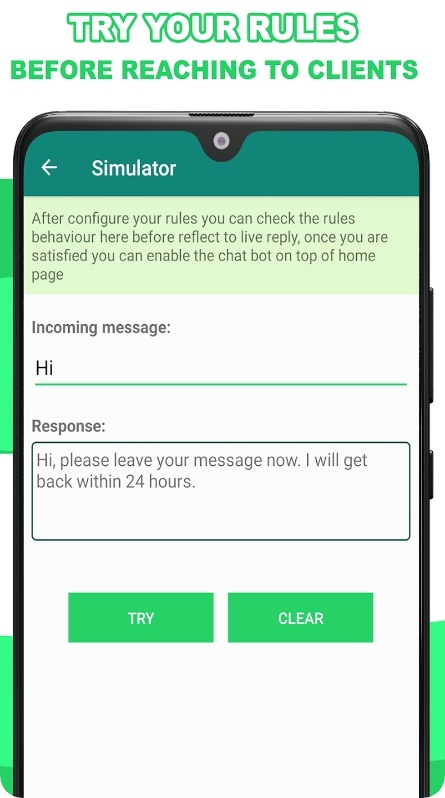 WhatsAuto
Here's an ultimate app to simplify your texting life. It's a game changer for those who use messengers on a regular basis. You can easily turn on auto-reply to do all the annoying work for you. And you get to pick the receivers along with the text, too.
The good news is, the app supports groups, making it easy to reply to numerous people all at once The app also supports groups, making it easy to reply to numerous people all at once. And hey, we know how important it is to stay connected, so you can set a timer if needed.
In fact, you can make a full-on schedule for the replies and modify the text at any time. You can go for continuous messaging, delays, or even one-time SMS. Plus, you can schedule a time to turn on and off the app.
There's also a driving mode you'll surely appreciate. It's AI-powered, and it lets you stop worrying about checking SMS while on the road.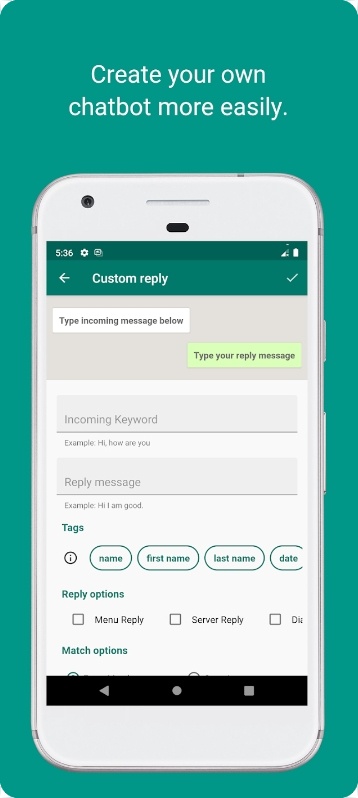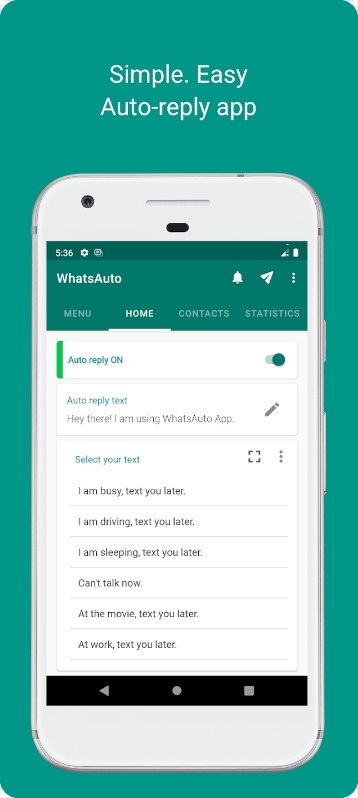 AutoResponder for WhatsApp
Are you the kind of person who is constantly glued to your phone, hurriedly replying to WA texts? It's about time to change that. This app is a game-changer in the world of automation. And let's be honest, who doesn't love it when smth gets done for them?
The app runs on AI tech that can fully function as your personal agent. It even works with WA businesses if you wanna take a step further. You can modify your replies, set up welcome SMS for new chats, and even include live answer replacements!
One of the most impressive aspects of this one is the ability to send multiple replies in one rule. Imagine being able to reply to all your texts when you're busy, with just a few clicks. It's the ultimate time-saver!
But wait, there's more! The app works seamlessly with groups and even unknown numbers. And with the automated scheduler, you can easily set up a delay between SMS. You can also ignore specific contacts or groups if needed. This is really useful when you're trying to focus on work but still want to reply to certain people.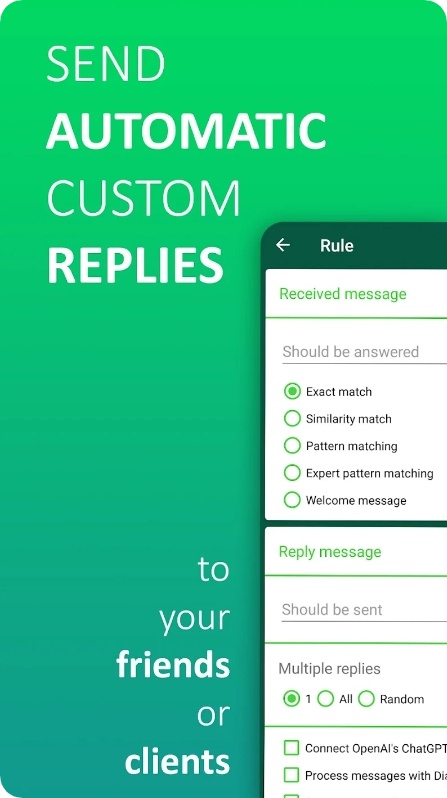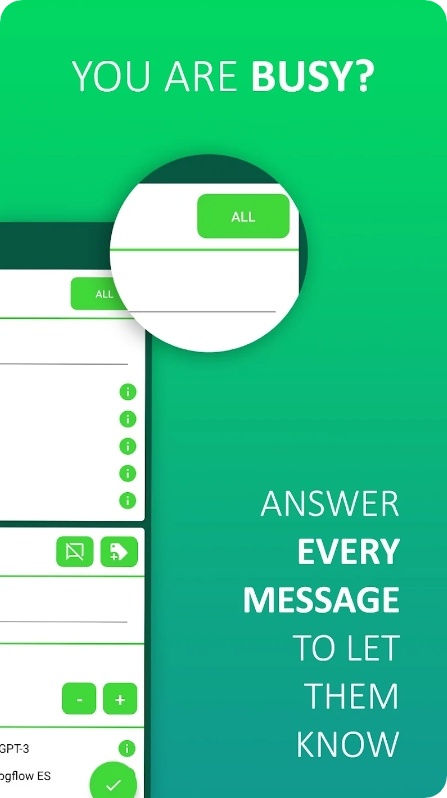 AutoResponder for Signal
Let's get things straight here: this is the exact same app as the last one but for a different messenger. Yep, the functionality is pretty much the same, but instead of WA, this one works with Signal.
On one hand, it makes it more appealing to people that only use one messenger. But on the other hand, some of you may use both of these platforms, and it's not that convenient to have two separate apps aiming at the same thing. Well, it is what it is.
The main goal of this one is to make your life easier and help declutter your texts. It lets you set auto-replies and rest assured that no test will go unanswered. Plus, it's fully customizable, so you can tailor it to your prefs.
It literally takes one tap to react to all SMS when you're busy. This is a real lifesaver for those times when you're juggling multiple tasks and can't stop to answer every SMS individually. The app will send out pre-set replies, so you can stay in the loop without missing a beat.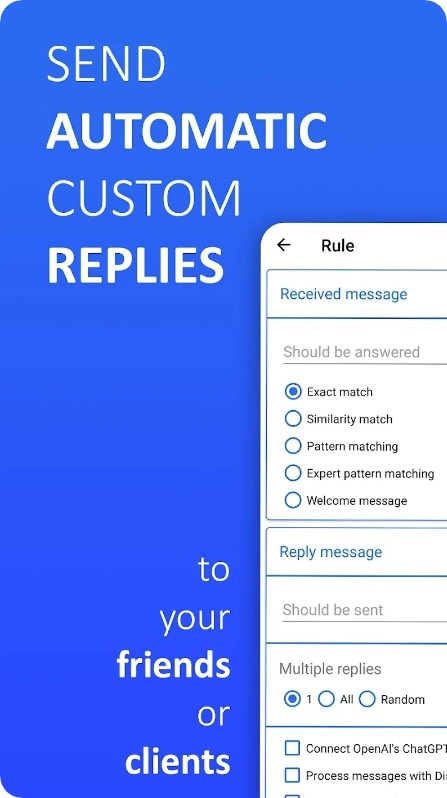 You may also check: 11 Best WhatsApp Chat Translator Apps
Auto Reply Chat Bot
To wrap up, this app is here to reply to all your texts without neglecting anyone. It covers a range of functionalities that are not only useful but also super easy to use. You don't need any technical skills to build your own bot, and the UI is so simple that even your grandma could use it (no offense to grandmas everywhere).
One of the top things about this one is the ability to build custom reply patterns. That includes the exact match, contain, start and end. And if that's not enough, you can also reply with tags and even delay your SMS!
Are you tired of replying to the same message over and over again? No problem! This app lets repeat the text as many times as you want. And with over 50 fancy fonts, you can add a little spice to your texts as well.
You can use this one with groups and even pick specific days and times to turn it on and off. This is ideal for those busy workdays when you just don't have time to respond to everyone.