Banished is a strategy game created for real all-rounders. It enables users to put themselves in a shoe of a leader who controls all aspects of settlers' life, from town building to trade operations. 
You may also like: 11 Best Games Like Final Fantasy for Android & iOS
If you are seeking to explore something new but not ready to part ways with the deeply loved plot, we have prepared a list of games that preserve the charm of the original strategy. Furthermore, the list consists only of options that are suitable for both, iOS and Android devices.
1. SimCity Buildit
SimCity series has been gamers' highly appreciated app for the longest time. The game was developed under the company Electronic Arts and grounded the basis for a strategic game industry as it was the first project which introduced the city-building reality. The concept of the game was simple and quickly received the expected support.
Players develop the city infrastructure, create a prosperous environment for its citizens and foster the growth of the local industry. If the users are not able to maintain life in the city, there is a possibility of the created space degrading.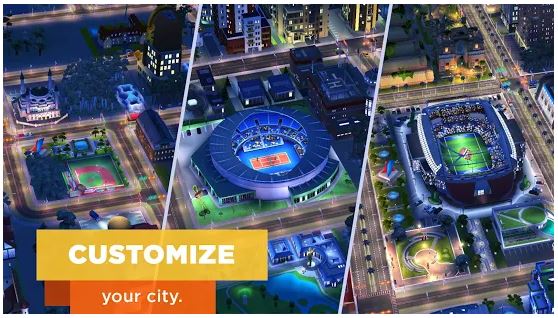 What is more, the city is under the threat of being devastated by simulated disasters. You've encounter earthquakes, meteoric strikes, tornados, and even alien invasions!
Before you switch your eyes off the game, it is necessary to remind you that to prevent the city decline, the developers have created numerous useful tools to support you on the journey. The commercial buildings produce necessary goods to support the living standards of the residents. Each building can be upgraded or replaced in return for game currency.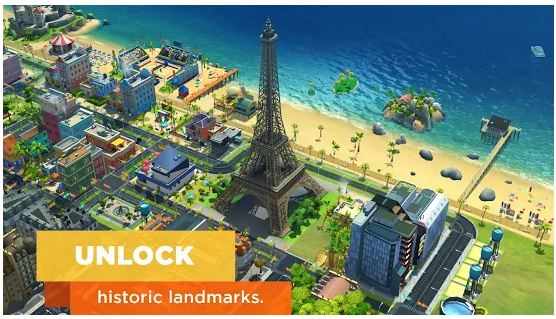 The main coins that are used are Simoleons, Simcash, Golden keys, and Platinum keys. All of them are easily received by completing city achievements and upgrading the city areas. Some currencies can be even changed according to the game's currency exchanging rate.
Note: The game is not available for IOS lower 10.0 as well as Android lower the 4.1 version.


You may also like: 11 Best Games Like Minecraft for Android & iOS
2. Catan Universe
Created by the Germanic company, the Catan Universe has quickly become the beloved game among those who enjoy strategic and city-building apps. That is also the reason to put it in the second place on our list. However, we must mention that it is presented in a board game format, just so you know!
The plot leads us to the reality where you are left in an unknown Ireland to survive. Your main goal is to erect buildings, collect victory points and use them in order to protect the settlers. However, other voyagers have stuck on the piece of land too. They are now your sworn enemies in a long-term resource fight.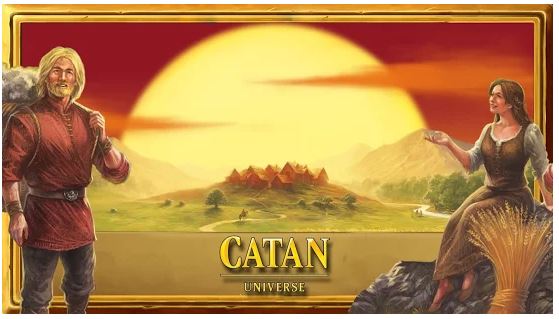 The developers armed you with instruments to prevent backhanded attacks. There you can discover through a colorful and easy-to-use interface.
Moreover, there is an online format available that can connect you with players around the world. You can chat with other participants, form guilds, or even start a real fight. This fact will certainly bring the element of competitiveness!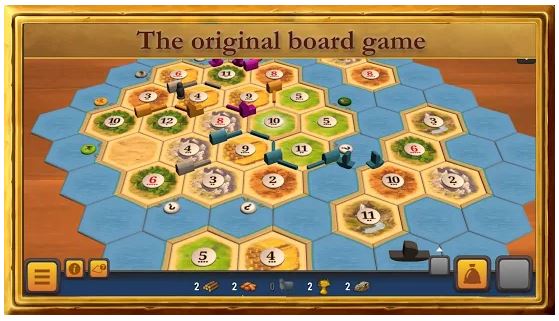 Also, it is important to point out the recommendations left by other users! According to them players should avoid multitasking while gaming. Therefore, it is better to close all the apps that you have previously opened. That way you will have the best experience with the game and unexpected bags will not bother you.
Now you have all the necessary info about this widely loved strategy. Connect your friends and explore the game together!
Note: The app is available for Android 4.4 and above as well as IOS 10.3 and above.


3. Boom Beach
Boom Beach is a relatively new development of a Supercell company. Launched in 2014, it has drastically changed the past time of game lovers. The program also provided its users with an online platform with an opportunity to spend time with like-minded people.
The narrative is like our previous recommendation as the storyline demonstrates life in uninhabited Ireland. Power Stones are scattered on the territory and the goal of all locals to find them. The gamers can also use power stones themselves to erect stronger settlements.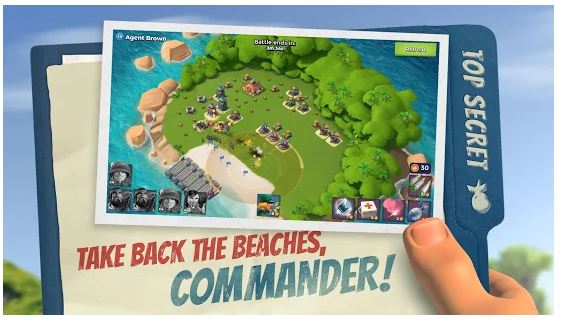 Your greatest enemy — The Blackguard — is also hunting on these stones in order to destroy your residential area. The Blackguard consists of trained military soldiers who are collecting coins, searching for slaves and resources on the archipelago.
Sometimes you will even participate in rival fights with them and create special troops for the sake of the city's protection. Each combat you armed with a certain energy level that can be upgraded in the future.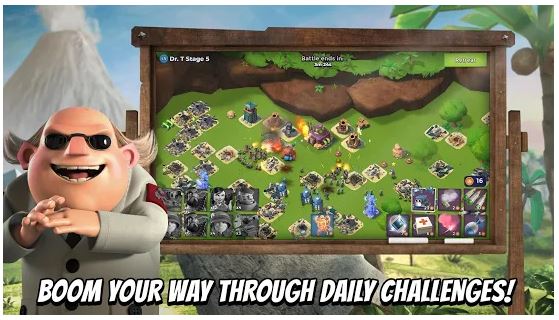 When it comes to land resources, the main ones are Gold, Wood, Stone, and Iron. You can get access to them as you progress in the game. These natural sets will enable your game character to train troops, upgrade their military equipment as well as construct new buildings.
Without further ado, download its adventurous and fascinating app!
Note: The app is available for Android 4.1 and above as well as IOS 9.0 and above.


4. Virtual Villagers: Origins
The third game on our list is the famous Virtual Villagers, the version which is adapted for smartphones. It is a virtual game series mainly focused on the survival of Isola Ireland. Several characters, who have just managed to escape the erupting volcano, are now laying the grounds of a new civilization. The goal here is to make your tribe strong and invulnerable.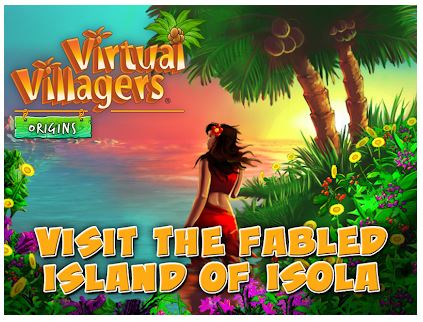 The players are in control of upskilling each character, breeding new tribe members, and acquiring new technologies to create a thriving environment.
Game developers also offer a wide range of puzzles with an unorthodox approach. These will give players an insight into the place where they are now living.
To maintain tension, the settlers constantly encounter numerous natural disasters as volcano erupts. This part of the game will drive your creativity and strategic skills to another level. Test yourself and discover whether you can protect the mysterious village.
Note: The app is not available for certain Android versions as it depends directly on what type of device you use. It is appropriate for the IOS 8.0 and above.


5. Castle Story: Puzzles & Choice
This is by far the most unusual recommendation for today as the genre is quite different from the others. The design is plain and the actions you can perform are relatively limited. However, this has its pluses too.
The game itself is lightweight and you probably won't experience any bug problems. Nevertheless, if you are tired of vital strategy plots but still want to enjoy the building type of a game, this option is definitely for you.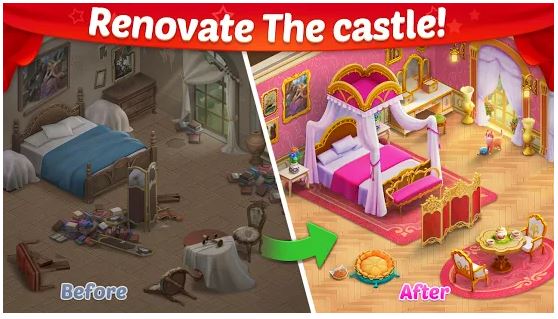 The storyline acquaints us with the girl Alice who has a mission to reconstruct the castle she once lived in. Each house improvement costs game currency and in order to receive it, the gamers must complete numerous puzzles.
The developers have already come up with a set of actions and prepared designs. Therefore, you are not required to think too much about the result. To our mind, it is a perfect game to play with children. The game is truly user-friendly, and few will face difficulties playing it.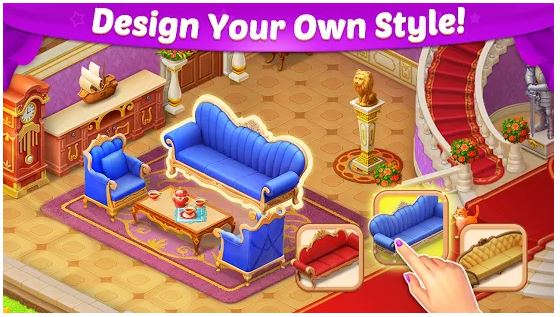 Moreover, at each level, you have a list of uncompleted tasks which you can check in the right upper corner menu. These tasks are directly connected with the general mission of Alice.
As simple as that, you will eventually repair the old castle in a wonderful and flourishing place.
Note: The app is available for Android 4.4 and above as well as IOS 10.0 and above.


You may also like: 11 Best Games like Humankind for Android & iOS
6. Cubemen2
Cubemen is a not-so-well-known project of an Australian video developer. Nevertheless, the plot is fascinating and has already found its loyal audience.
The feature which you may already set your eye on is the 3D reality which the game is designed it. The picture and game motions are extremely pleasant to the eye and make you desire to play more and more.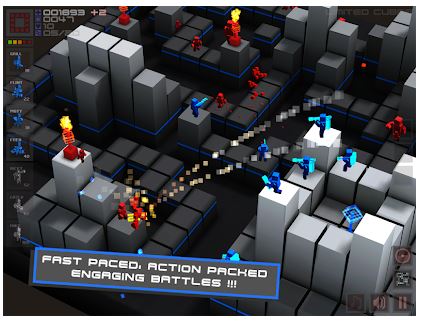 The focus of the plot is directed on the blue and red characters who are both named cubemen. Blue and red teams are rival enemies and meet in combats regularly. Your main goals are to, firstly, survive in a fighting session and, secondly, to attack and defeat your opponent.
The game provides you with several play modes. You can perform as a single player but there is also an opportunity to connect up to 6 other users. The latter regime is ideal for playing with a medium-size company.
Furthermore, you can participate in a world-ranking and compete with players all over the world. Considering the fact that the platform provides you with more than 14 000 levels, the opportunity to show off your gaming skills exists!
Note: The app is available for Android 4.1 and above as well as IOS 7.0 and above.


7. Transport Tycoon
The improved version for smartphones of a Transport Tycoon was launched in 2013 and was met with a hearty welcome. The company under an individual game designer created a unique reality where a regular user can develop a whole empire of transportation.
The game is not available for free and some people can even find the price costly. Nevertheless, the experience that you gain will work up every cent. This business simulation will forge the development of your management and problem-solving skills.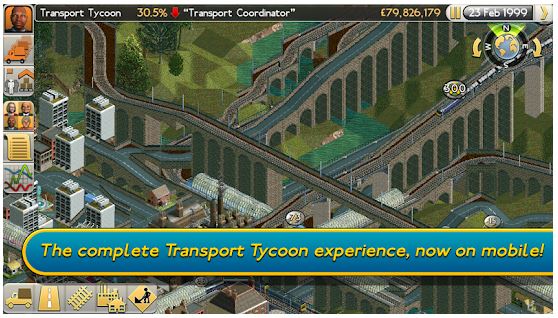 The game starts with creating a transport root, each of the roots can involve several transport types. For example, you can go by regular car, ship, or airplane but still be in the framework of one trip.
Your goal is to create the best transfer from one place to another and develop your efficiency level. It will define whether other companies will choose you to distribute their items.
However, the money you receive from your partners is not the only way to receive revenue. During the trip, your drivers can pick up travelers and resources at some stations. Then, they must move them to another place where their function is needed.
So, this game perfectly combines both beloved features of the Banished — strategy plus full control over area construction.
Note: The app is available for Android 4.0 and above as well as IOS 6.0 and above.


8. Tiny Tower
This is another business simulation, which combines the features of a strategy game with building and constructing. The game is easy to play but at the same time, it does make you think about each measure you undertake.
The game is about a modern city where the industry is at a high development rate. The goal of the game is to construct an efficient skyscraper, each floor of which can be adapted for different things. For example, it can be used by regular citizens or be exploited for commercial needs.
The game offers five types of merchant constructions including Food, Retail, Service, Recreational, and Creative floors. One of its features is functioning with or without human participation.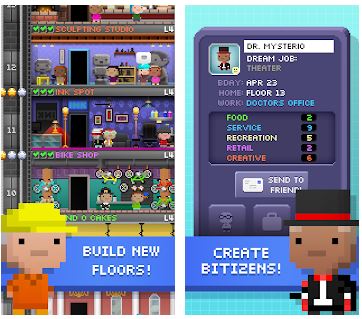 Therefore, if you are away, the reality won't collapse. These floors provide people with a wide range of goods and services that are bought for game currency.
Coins and Tower Bux are the most valuable resources of the game. Coins enable users to exchange simple items in a commercial sector. They are easily found through performing different tasks and compound the main currency of the Tiny Tower.
Tower Buxes, on the other hand, are not so common and appear rarely during the play. They are widely used to shorten the periods of time that a regular user must wait to complete a task.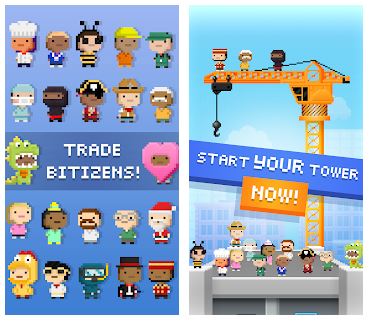 Civil constructions are also presented and these house residents of the city who have not chosen the job in the commercial sector.
When it comes to the social structure, game producers thought through every detail too! All citizens are called bitizens, but apart from them, the VIP category of residents exists. They have special abilities which ordinary people cannot perform. For example, they wait less or can even buy the entire product batch! Isn't it exciting enough?
Note: The app is available for Android 5.0 and above as well as IOS 11.0 and above.


9. Pocket City
The game was created exclusively for smartphone users and it has accomplished a great number of downloads on both platforms. Thanks to the colorful and design. This is another gameplay to broaden your horizons and grab a chance to transform the life of an entire city!
The city consists of three zones: industrial, commercial, and residential. You can establish a great number of services designed at your choice.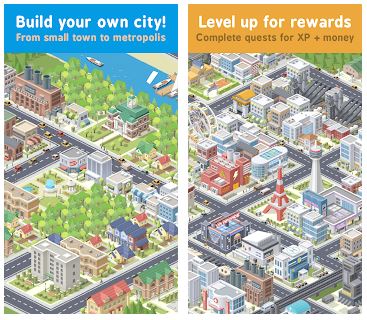 This app gives players the invaluable experience of wise city management as it is important to take into consideration the possible conflicts within the erupted objects. For example, you should think twice about placing parks and other residential areas close to factories and so on. If players ignore this advice, the consequences will follow and their city will experience lots of troubles in the future.
At each level, you should complete a set of tasks that are connected with the development of your small reality. The developers have created over 50 levels. So, be sure you won't be able to finish it up in just one evening.
It is also important to take into account the threats that surround the peaceful area. To prevent crimes, you must establish strong and reliable police. Furthermore, the harm can be done by natural disasters too! Download the game and discover whether you have the power to create a prosperous city.
Note: The app is available for Android 4.4 and above as well as IOS 9.0 and above.


10. Tropico
The tenth recommendation on our rating list is, of course, Tropico. The gameplay has had so many fans around the World from the very beginning.
Tropico is a nation that is now ruled by your authority. People live in Carribian Ireland and you have the power to completely transform their life. Civil citizens are now under your protection. They are waiting for reforms to be enacted and the nature of further conversions also depends on you. They can be implemented through legal acts or with the help of the military.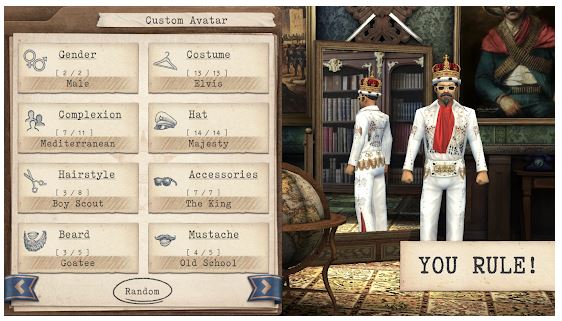 The great variety of resources in Ireland will play a major role in your mission. Use them to construct roads, erupt buildings and foster the economic growth of the country.
Remember that it is incredibly important to invest wisely and select perspective factories. We suggest you not focus on exploiting natural resources and quickly shift to an industrial society. Therefore, it is essential to form a developed commercial sector that will provide the inhabitants with all the necessary goods.
The game also has a political context as a player represents a politician who controls all spheres of life including the military sphere, international affairs, and public opinion. We are sure that by downloading the game, you are making the first steps in unlocking your leadership potential.
Note: The app is available for Android 8.0 and above as well as IOS 12.0 and above.


You may also like: 11 Best Base Building Games for Android & iOS
11. Fallout Shelter
Last but not least is the game called Fallout Shelter. We must admit that putting this game at the end of our list can be a little bit unfair as this game is appreciated by so many people! The story is relatively unique and, hopefully, will attract your attention too.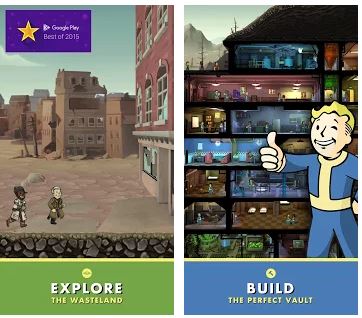 This video simulation provides players with the opportunity to build their own shelter. Natural disasters have forever changed the environment on our once loved Planet.
People must find a special space that would have enough food storage, clothes, and military sources. Interestingly enough, game producers also paid attention to such aspects of survivals' life as leisure time.
Managing and supporting life in the new house is now your goal. Players oversee the search for talented people, professionals, who would help them to survive. Use radio stations to attract them to your habitant.
By the way, you are not limited to explore outside life. Mysterious tasks and dangers are waiting for you there!
Note: The app is available for Android 7.0 and above as well as IOS 9.0 and above.
If you have read this wonderful and exciting list till the very end, we are sure you have found the right simulation game to enjoy today. Of course, Banished as a classic example of all the construction realities cannot be replaced. However, examination of the game market has shown that there is now a great variety of different storylines and backgrounds for the functionally similar game type.