Do you remember everyone's favorite snake game? Now it is even better! Snake. io is a bright and amazing game filled with colorful snakes.
Simple and easy-to-use game. After installing the Snake. io application, users need to wait until it fully loaded, go through a short tutorial, chooses a nickname, and start the game. No registration required.
More snake games can be found here.
The main page of the application comprises a simple control panel. On the upper left side there is a character change button. To the right of this button is the app community. Below the community button, users will see a button that will help remove ads and to the left of this setting.
In the center of the screen, you can see all the parameters. Length, haste, and invulnerability. Particularly attractive is the green "Play" button, which is located directly in the center. By clicking on it will take you to the playing field.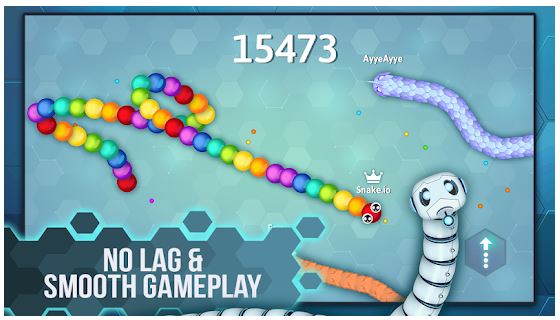 Free multiplayer mode will allow you to start the game with your friends. An interesting storyline immerses you in an adventure world. Convenient control using the built-in mobile joystick will allow you to control easily the movement of your character.
Fast and friendly technical support provides help in resolving questions and problems. Everything done. Bright, shimmery buttons allow you to enjoy fully the gameplay. The amazing design and unusual appearance of the characters will immerse you in the atmosphere.
In Snake. io, the user can change the appearance of his character. It is enough to select the desired appearance characteristics. When you click on the "Settings" button you can see a lot of sections that you can change. Choose convenient controls.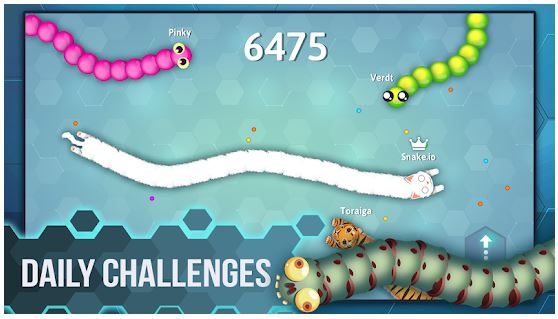 The developers have simplified the game for left-handers and right-handers. You can get acquainted with the rating of the players by clicking on the 3 buttons of the open "Settings" panel. If you do not speak English, then the application gives you the opportunity to choose the language of use that is convenient for you.
You can start playing with little preparation and knowledge. The first launch of the application is accompanied by educational elements where each user can get acquainted with the key points of the gameplay. Snake. io is an addictive and classic game that will make you have fun.
More simple and lightweight similar games can be found in this article.
The most important feature of Snake. io is that you can play offline without an internet connection. Eat as much food as possible and try to collide with other players so as not to be defeated.