It seems like we're in 2021 already, but why do people continue judging photo editing? Especially the body image editing?
Recently the following situation happened to me: 2 of my friends posted pics where their figures were edited (I saw them in real life so I can say for sure). However, despite the fact of photoshop, one photo gathered more than 500 likes, and the other one gathered only around 30 (though they have the same amount of subscribers).
Guess what the reason was? The second friend used a very low-quality photoshop. The lines were slopped and the body looked disproportioned. At the same time, the pic of the first friend looked so natural that you would never believe it's photoshop.
You may also like: 11 Best Fake Muscle Apps for Android & iOS
Therefore, the only issue we face today while editing our bodies is that when making it thinner, the editor distorts the background or it just distorts the clothes, body lines, etc. making it look like a cheap photoshop.
It won't happen if you use only those apps that we checked on our own – the most natural effect is guaranteed.
1. Body Tune
It might be not the most popular app ever, but it's that case when the gem is hidden. If you want nobody would guess you edit your body image – this is a perfect choice to go for.
The app is lightweight and gets installed in a second. Then you can start editing immediately – you just pick a photo from your library. At the lower sidebar, you can choose the type of editing that you want to make.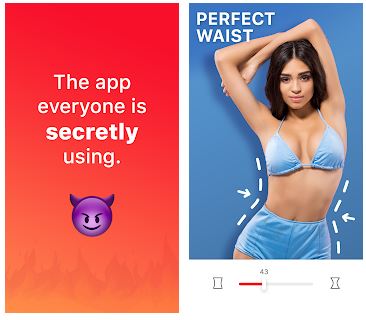 Probably, since you're here you might want to make the waist editing.
The app will provide a template that you will need to put on your waist by using arrows. A little tip: to make the picture look more natural try to put the borders not excessing your natural body lines. Therefore, the background won't get distorted.
In the same way, you can edit your hips – make them look bigger or smaller. But be more careful with this effect when making your hips bigger – here everything depends on the angle and it doesn't always look natural.
The special function "enhance" will help you to widen or narrow the areas of your choice – just place a circle to a necessary spot.
Another interesting thing is that you can even increase your height by prolonging the picture. And before actual elongation, you can pick up a specific area that you want to stretch. By the way, this effect looks most natural in the whole app.
In the "refine" section, you can slightly tilt, curve or move lines of the picture. It can also help you to put the distorted background back.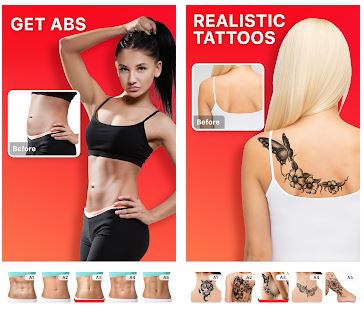 Plus, Body Tune allows you to adjust the color of your skin. You can layer the craziest colors (maybe to conceal the blemishes) and just make your skin lighter or darker.
When you're done you can simply save your picture to the gallery.
Here is a short overview of special features of the Body Tune app:
Waist editing
Hips editing
Manual curves
Skin color adjustment
Easy precision
And yes, summarizing all the points we can highlight the biggest advantage of Body Tune – here you don't have to zoom your picture or waste minutes trying to tap on the thinnest line to get the perfect result. The whole algorithm works extremely flawlessly so you get a perfect picture with no effort.
And last but no least – Body Tune doesn't have any ads which are so rare for free apps nowadays.


You may also like: 7 Best Fake Hair Clipper Apps for Android & iOS
2. Body Editor – Body Shape Editor, Slim Face & Body
This app is similar to the previous one, however, it has a little bit different interface and more detailed editing features. As they say, tastes differ – so maybe you like this editor better?
Oh, and we need to say that this app is available at Google Play only.
Here the main menu can offer a little bit more features: classic body editing in the editing of the whole picture. When you choose the first one, you will be able to choose a pic that you want to photoshop and then get down to business.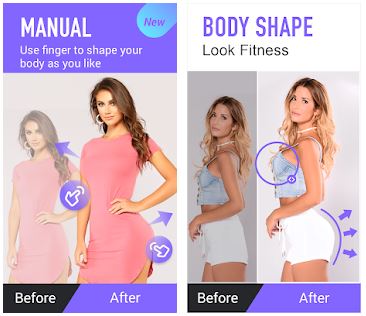 In the lower sidebar, you can choose whether you want to edit the chest, hips, waist, facial, or height area. But the option that makes a dramatic difference with the previous Body Tune – is the one for actual "slimming" – you just choose an area of the body with vertical lines and then narrow or widen this area – and it looks incredibly natural!
The best part about this option is it never distorts the background since it also getting more narrow together with the body. The only area that may suffer from this effect is the face – it will also get more narrow and slimmer – however, you can adjust it in the manual editing later.
You just choose the "face" section, put a circle on a face, and make it wider again.
By the way, we also want to warn those who like that superficial curve effect on their pictures – if you want to get a tiny waist with huge boobs and hips – this app isn't really for you. It allows to augment the two last factors, but only in the "real life" proportions.
Another feature of Body Editor that some people might find useful and others not is it includes the general photo editor as well. However, don't expect something extraordinary there – just classic cropping, trimming, causal effects, and the set of filters and stickers.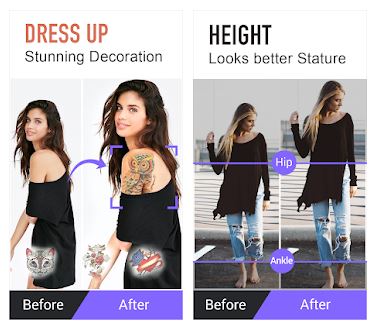 Considering the precision – you can not worry about the lines if you augmenting objects here. But if you want to make an extreme slim – you will have to spend some time placing the template to the right spot – otherwise, the body lines can get distorted.
Another feature that is not that popping but still irritating – ads when you switch from the body editor to the general one. In all other aspects – Body Editor will allow you to make each part of your body slimmer and more beautiful without giving this fake impression.
Overview of features:
Waist editing
Chest editing
Hips editing
Face editing
Height editing
"Autoslimming"
General editor
Hair editing
Easy precision

3. BodyApp
Here we have one of the best body editors for iOS (as you can see not only Android users can get fancy with their body editing tools).
BodyApp is an analog of the first app on this list, Body Tune but this time it's iOS only. The only essential feature that can be considered as unique compared to other ones – adding the abs muscles to your body (probably, men will find this option useful).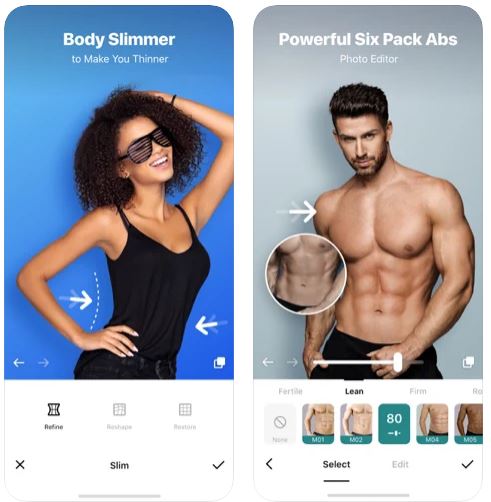 You just upload the photo to the app and then again see the low sidebar with the different options. Classically, you can refine the waistlines, make your hips bigger or smaller, elongate your body and legs, do manual editing, and even add tattoos on your body (therefore, you can use BodyApp to try out various tattoos on you).
The templates for refining the lines are quite the same as in the android apps.
Of course, it's perfect if you do the editing on your portrait picture with a simple mono-color background. Otherwise, if you go too extreme with the editing, the objects behind you can get distorted (check out the tip in the first review on how to avoid this).
Apart from this, BodyApp has a general photo editor as well, but it's even weaker than in the previous Body Editor so we don't recommend using it if you want to get a professionally-looking picture.
And lastly, a pinch of bitterness – sometimes when you do editing, the lines might get blurry. It depends on the model of your iPhone actually – the older the phone is the more is the probability of distortions.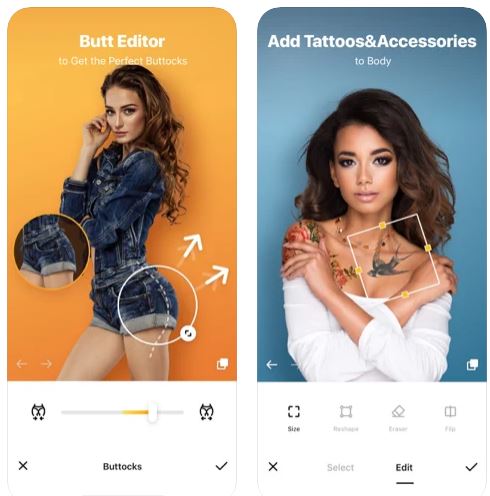 Once again, here you don't have to be super precise with your lines – just adjust the template and slim your body fast!
BodyApp will be especially useful for those who not just want to make their bodies slimmer, but also add muscles to them.
Overview of features:
Waist editing
Hips editing
Height editing
Muscles adding
Skin tone adjustments
Tattoos adding
General editor
Manual editing

4. Make Me Thin – Photo Slim & Fat Face Swap Effect‪s
This app will be perfect for those who want to get edit their pictures quickly and don't want to bother themselves with manual editing. The distinctive feature of this app is that it detects the body and the face automatically and then slims them down.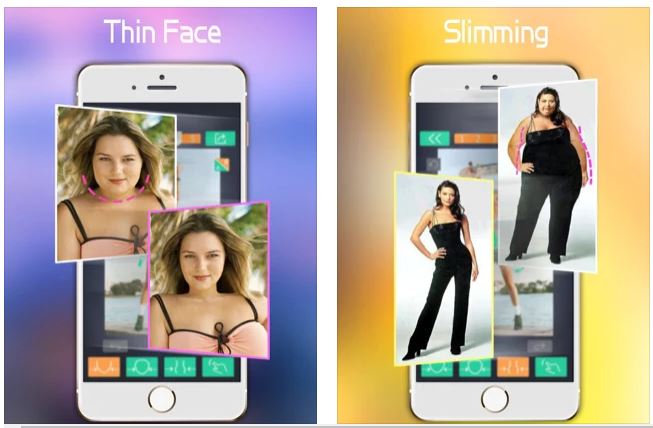 Make Me Thin belongs to the classical category of iOS apps so don't expect a super trendy interface and lots of functions. It has nothing extra – no general photo editors, not a correction of the separate parts. Well, there is a possibility to make manual adjustments if needed.
The app is available for iOS only.
And we highly recommend edit here only those pictures with a simple background. With the autocorrection, it is often the case that the app distorts the objects behind and therefore you will have to restore them manually.
Still, if you decide to use this app you should also be prepared for tons of ads – that's probably the main disadvantage of the whole app that many users complain about.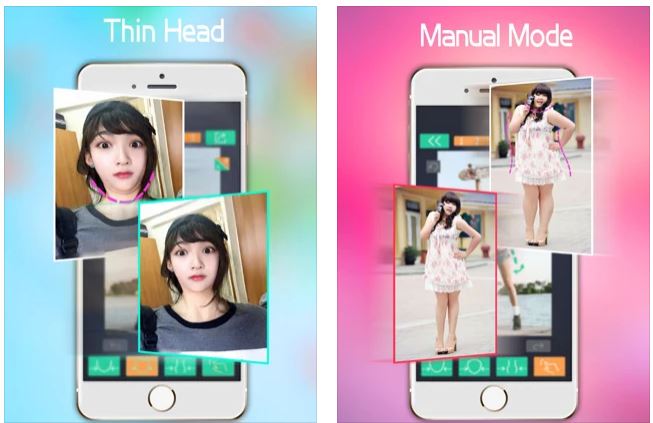 All in all, we wouldn't recommend Make Me Thin to professionals – it is more for those who just want to take a look at their figures if they're slimmer.
Pros:
Autocorreciton
Manual correction
Cons:
Distortion
Lots of ads!!!

You may also like: 9 Best Gym Simulator Games for PC, Android, iOS
5. Retouch Me – Body & Face editor. Skinny app
At this point, we have a completely authentic app that is something new and interesting in the photo editing world.
We are used to the thought that if we want to make ourselves look skinny on pictures, we just download an app and make all the editing manually.
And as you could see from all the previous reviews, editing the body yourself can be quite tricky especially when it comes to the natural effect.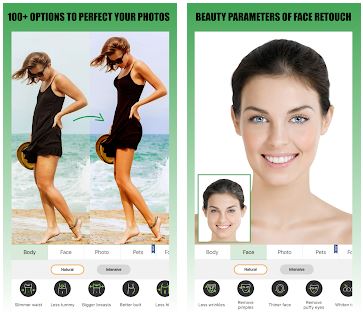 But how about handling it to a professional retoucher?
Yes, there is an app where you can ask a professional to edit your picture soyour body looks slimmer and no one will ever notice (unless it's a dramatic difference).
You install this app and then choose your picture where you want to look slimmer. It is essential to mention here that Retouch Me is a little bit more elaborate in usage compared to other apps – just because it includes much more features and options. So if you're looking for something easy you should go to the previous app.
In the lower sidebar, you can choose while part exactly you want to edit. You can choose body, face, makeup, make the correction of the overall photo, add accessories and even edit the pets on the picture. But let's get back to the part where you can make a person look slimmer.
You can order the most detailed adjustments: make your waist thinner, make your belly flat, add abs, change the size of the boobs, change the size of the buttocks and hips, remove the imperfections, slim your arms, legs, make your feet look smaller, remove the body hair, make your collarbone more prominent, add biceps, remove/add shadows and even remove the clothes – this is not even the full list of features.
And the best part is when you choose one of the options there are subcategories, for instance, when you choose to add the abs, you will be able to choose the shape and look of the abs in the app.
In order to highlight the area where you want the changes to happen, you need to place a square in that area. The square will appear after you choose an option. After you added the full set of the desired changes, you can send an order to a designer.
You are able to select to which designer you want to send an order – do you want your photo to be edited fast? Or maybe you're looking forward to help of a professional? Do you want to keep the total privacy of the procedure? It is all available in Retouch Me.
Each separate option will cost $0.99 (for example, making a waist thinner). This price is more than affordable thus you can order the whole set of retouch for a couple of dollars.
Summarizing all the points, if you are ready to truly invest in quality editing and you know it's worth it you should definitely use Retouch Me – it offers the fine retouch at a cheap price.
Full overview of options (body editing and slimming):
Waist editing
Flat belly
Female abs
Chest size
Neckline editing
Shape of buttocks
Hips editing
Skin imperfections removal
Scars and stretches removal
Cellulite removal
Arms and legs size editing
Feet and palms size editing
Height editing
Body hair removal
Veins removal
Posture editing
Muscles editing
Clothes removal
Skin color adjustment


6. Fotor
There aren't many websites nowadays that allow you to photoshop your body online. Being completely honest, doing that is more convenient from your phone and in case you want to have a professional retouch on your pictures you will need to buy a licened copy of a program.
However, Fotor is quite a decent choice and if for some reason you want to do the editing from your PC this website is quite nice.
Using it is simple. You just go to the website – if it's your first time using Fotor you will get a quick guide on how to use everything.
First, upload the image that you want to edit. Then pay attention to the menu on the left side of the screen and choose the beauty section there. Then go for a sub-category weight-loss and choose the intensity of the effect with the runner. You will see how your body gets more skinny.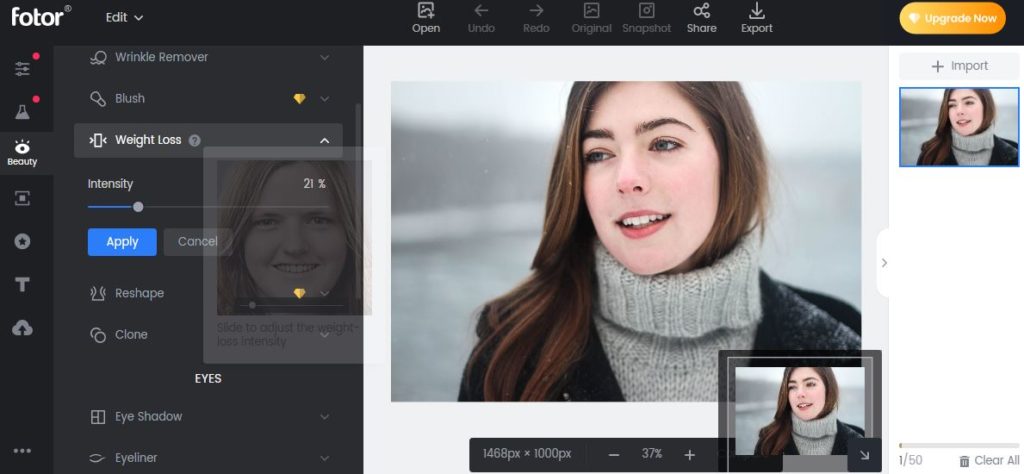 Then you can go to the reshape section and add the volume to those parts of your body that lost too much shape. The best part of Fotor is that when you apply the "weight loss" function the background doesn't get distorted.
On the other hand, when reshaping, you cn cause distortion of the natural body lines especially at the light areas of the picture.
The main advantage of using the website from the PC in front of photo editing apps is the fact that here the editing is more precise thanks to the usage of a mouse. But are you sure you want to open your laptop each time you want to make yourself more skinny in the picture?
Apart from the slimming features, Fotor includes tons of great capabilities as a general photo editor – you can check them out in your free time if you wish.
Overview of features:
Weight loss
Reshaping
Makeup
Red-eye removal
You may also like: 11 Best Mouth Talking Apps for PC, Android, iOS
7. Perfect Me
Still, the apps are rocking this category. Here is the last app on our list – we didn't place it like this because it's much worse than all the previous ones, but because it is more the general photo editor than a body slimmer specifically.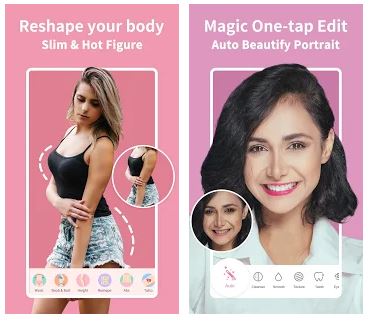 However, it can become a great alternative to all of them as well. In the main menu, you need to choose the body to reshape the category and then upload the image that you want to make look slimmer. In the lower sidebar, you will see two lines of options.
Not sure why were they divided that way, but in the first row you will see a section that allows you to reshape different parts of your body and in the lower row you able to apply general changes – make-up, manual curving, and so on.
The pattern is pretty classical – you just place a template to the part of the body you want to reshape and then start slimming things up. By the way, one convenient feature here is that you can tilt templates thus achieving more precision and avoiding the distorted background.
Perfect Me is really prominent in this sense – in the whole time of editing various parts of the body we didn't see this app would distort the outer lines. Though the curving and blurring of the natural body lines are possible it is less visible on dark materials.
You can also augment your height or make your chest look bigger. There are also additional features of adding abs or tattoos to your body but they are available only in the premium version. By the way, the price for that is only about $7 per year which is way less than famous photo editing apps usually require.
Perfect Me also provides the classic photo editor where you can cut your pics, add frames, filters and effects. All in all, this is a nice app to use.
Overview of features:
Weist editing
Boob&Butt editing
Height editing
Reshape
Abs adding
Cleavage
Tattoo adding
General editor
Makeup adding
Face editing