Everyone likes watching movies and YouTube videos, playing games, or listening to music. However, using your mobile phone for these tasks – is not the best option.
Today there is a great number of screen mirroring apps for Android, but it is not easy to find such a model that will meet all your expectations. Many users have to face various issues – ads excess, incompatibility with different TV brands, or these kinds of apps can even include spyware.
Probably if you are reading this article, you would like to find a high-grade tool to connect your Android device to a TV. We understand how it can be hard to constantly watch favorite videos on the small screens, especially when you spend this time with family or friends.
You may also like: 12 Best IPTV Software for PC, Android, iOS in 2021
That is why we have tested several free apps and selected the best ones, taking into account all the aforesaid. So, let's take a look at them.
1. BubbleUPnP for DLNA / Chromecast / Smart TV
BubbleUPnP takes first place in our rating list. This is one of the best apps to connect your mobile phone to TV. The app perfectly works with Chromecast, Nexus Player, Nvidia Shield, DLNA TVs, and even gaming consoles.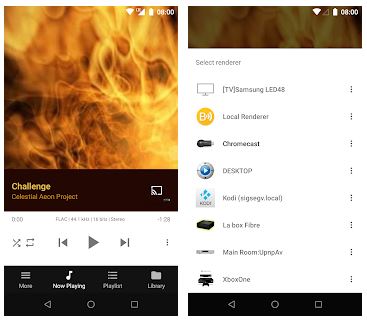 First of all, we have to mention that your TV must have a Smart TV option. After that, make sure that your smartphone and television are connected to the same Wi-Fi network.
The best part about this tool – it can reproduce the content from several sources – the device's internal memory, cloud storage (Google Drive, Google Photos, Dropbox, OneDrive), music services (TIDAL, Qobuz), or browsers.
BubbleUPnP app for Android contains all the features of the PC version. But we have to warn you: CPUs on Android are less powerful than on PC. That is why heavy video transcoding can take too much time.
In the library, you can add bookmarks – just click on Add to bookmarks button in the 3-dot menu of folders.
Moving on, the app offers a Playlist section where you can store the list of media items. Some people find this feature very useful, as this section operates like a playback queue.
Another interesting feature here is Local rendering. Due to this function, you can play media files to your Android from other devices. If you select this option, you can also choose a network name, disable notifications sounds, unplug headset pauses, and so on.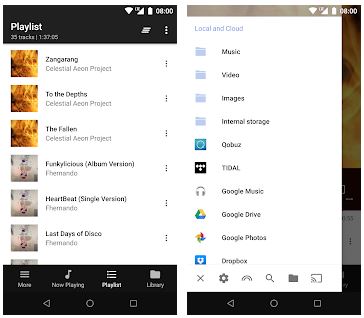 When you open settings, you will be surprised by its variety of options. In the Now Playing section, you can add/remove information about a composer, show album cover, and other technical info. Undoubtedly, this is a great bonus.
Among all the features mentioned above, BubbleUPnP enables you to set up a timer, or choose from a wide range of themes – dark, white, black, light, and others.
Since BubbleUPnP offers tons of various functions, it can sometimes hang up. Besides, it does not work without an Internet connection.
NOTE: BubbleUPnP Server is not a UPnP/DLNA media server: it does not index your media.
Key features:
Supports cloud storage: Google Drive, Google Photos, Box, Dropbox, and OneDrive
Loading media from multiple sources
Comes with free access
Quickly connects to a TV
Renderer function
Different themes
Provided playback queue, adjustable playlists, and sleep timer
Battery saving mode
Great number of parameters and settings

You may also like: 8 Best Lip Sync Software for PC, Android, iOS
2. Google Home
The second app that we are going to review is a well-known Google Home app. This tool is developed by Google that's why it is certainly worth special attention. Google Home app is actually much more than just a casting app.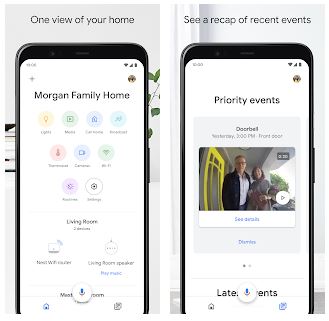 Despite the great number of functions, the app comes with a simple and minimalistic interface.
Well, how can we connect Google Home to TV?
You can do it in several ways – let's check the listed methods below:
Chromecast
Television with a built-in Chromecast
Smart TV with built-in Android TV
Media Streamer Roku and Quick Remote app (Only for Android users)
Frankly speaking, we have tried the first method (Chromecast using), and we find it the most optimal one, but you can surely choose any method you want.
So, if you connect a Chromecast to Google Home, you can use Google Assistant voice commands to stream (broadcast) videos on your TV from the following video content services:
Netflix (paid subscription required)
CW (or CWTV – Free)
CBS (or CBS All Access – paid subscription required)
HBO NOW (paid subscription required)
YouTube (free)
YouTube TV (paid subscription required)
Viki (free)
Crackle (free)
Google Photos (free)
But you should keep in mind that if you want to view the content of any additional applications, you need to send them to Chromecast using your smartphone.
Moreover, you can ask a Chromecast to carry out a wide number of TV functions (but they can differ depending on your TV model). For example, these voice commands include "Pause", "Restart", "Skip", "Stop", "Play a specific program or video on a compatible service", or "Enable/Disable subtitles/titles".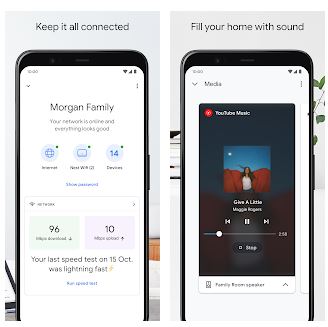 Besides, if the content provides more than one subtitle language, you can choose any language you like.
All in all, Google Home is one more tool that truly should be installed on your device. Among the casting option, it is full of other magnificent features. This tool is suitable even for those people who are not very tech-savvy.
The only downside that we have to admit – connection process can be a little bit long-lasting. Additionally, we have noticed that streaming videos are better reproduced on the Chromecast rather than screen mirroring.
Key features:
Intuitive and convenient interface
Extended number of options
Google Assistant voice commands
Can be used along with various video services
Available for IOS and Android users

3. LocalCast for Chromecast/DLNA
Here is another well-developed app that we would like to present to you – LocalCast.
LocalCast allows you to display videos, photos, and even PDF documents on a big screen, as well as broadcast music recordings. The app is lightweight and installs in a second.
Moreover, the app allows you to keep your files in the local storage, Google Drive cloud, Google+, or on a NAS server (DLNA/UPnP or SMB).
LocalCast is able to transmit content to Chromecast, Apple TV, Smart TVs, Xbox consoles, and other devices that support the DLNA.
There is nothing complicated in this app. All you need to do – find a file you need and open it, click on the Action button to choose a broadcast device (Chromecast, Amazon Fire, TV/Stick, or Smart TV).
In the sidebar, you will find shortcuts to your multimedia library so you can quickly send videos, music, and photos. Plus, the app categorizes all your media files by date, name, or size.
In addition to it, you can also use the Folder section, where all your downloads, movies, music, pictures, and podcasts are stored.
By the way, you can control the playback from your mobile phone or on the console. You can add files to the playback queue manually or use playlists.
Multimedia files will be streamed instantly. For example, if you want to listen to music, just tap on the name of a song and it will instantly start playing on TV, showing the album cover on both screens.
Moreover, in the settings, you can set the waiting time, after which the Chromecast receiver will be turned off.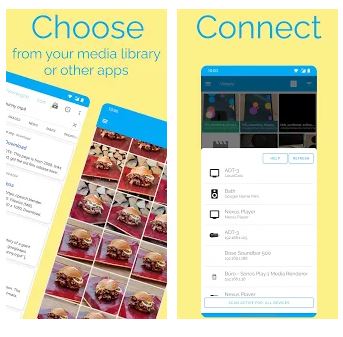 One of the most interesting features of the app – it lets you turn off the sound on the TV and produce it via your Android device. This can be useful if you don't want to make unnecessary noises – so, you can plug your headphones into your smartphone. If you want to enable this option, just click on the headphones button on the player screen.
What is more, if you use Chromecast or Apple TV4, you can add subtitles. Visit the Opensubtitles.org website to download the subtitles and then they will be automatically added to the same folder. You can also create a subtitle folder that will be searched when you start a video. If you want, you can change the color, background, font, or timing.
Among the disadvantages, we have to note that it is not compatible with all video formats. You can play videos only in MP4, MKV, 3GP, and M4V. And you should be prepared that sometimes irritating ads pop up.
Key features:
Supports cloud services – Google Drive, Dropbox, and Google Photos
Simple interface
Provided mute function
Quick connection
Offers to add and edit subtitles

iMediaShare is our next application developed by Flipps Media. This tool instantly transmits videos, pictures, and music to your TV screen in HD and 3D.
This tool supports Smart TV Samsung, Sony, Panasonic, LG, Sharp, Philips, and such consoles and media players as Xbox One, Xbox 360, Apple TV, or DISH Hopper.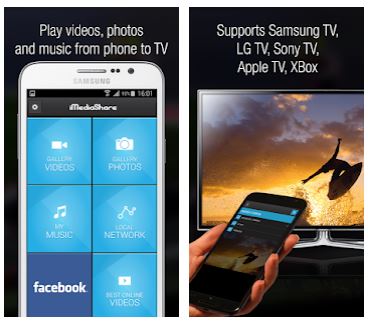 On the homepage of the app, there are big buttons for pictures, music, and videos, and others. Just like a previous app, when you pick a preferable section, it categorizes your media files in a quite convenient way.
For example, if you select Music, it will sort your recordings by compositors, albums, playlists, and genres. However, if you choose a video or picture gallery, your media files will be classified by date and albums, or you can see them all together.
Just select the device on which you would like to enable playback, and your multimedia files will be instantly streamed on the big screen. Moreover, you can use the app as a remote control to customize the volume and playback, or switch videos with intuitive gestures on the touch screen.
With iMediaShare, you can select specific file types and reproduce videos automatically on your TV.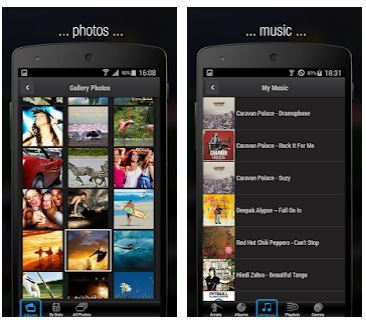 We have to admit that we were impressed by its stylish design. Plus, iMediaShare app boasts a straightforward and simple interface. It installs quickly and does not slow down.
While using this app, we have not noticed any annoying ads – which is a great advantage. iMediaShare app is an excellent variant for people with vision issues and novice users.
The only drawback that we have to mention – sometimes it has some bugs. But in general, iMediaShare app is an excellent solution.
Key features:
Perfectly works with connected TVs, game consoles, Blu-ray players, audio systems, and media players
Magnificent design
Provides online video in HD and 3D
Simple control
Quickly detects the device

You may also like: 9 Best Earphone Volume Booster Software for PC, Android, iOS
5. Castto – Screen Mirroring, Cast Screen
Here is another tool that is worth our attention – Castto app.This is an ideal free wireless display app for Android users. It allows you to have access to all your media files, games, or other applications on a big screen.
Castto doesn't require any settings at all, so it will allow you to instantly connect to any TV. This tool is simply the best and easiest way to access digital content from anywhere, as it will automatically detect any connected devices located around you.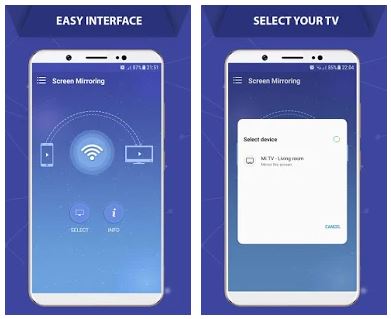 This app is quite similar to the previous one, but it contains fewer functions and it comes with a more straightforward interface.
Castto app works well with all Android devices and versions. It features easy navigation, so even inexperienced users will simply manage it. Moreover, in this app, you can choose from a wide range of languages.
After downloading the app, on the menu page, you will find two buttons Select TV and How to use.
So, how should we use it?
Make sure that your Android device and TV are connected to the same Wi-Fi network.
Enable Miracast Display on your TV.
Activate Wireless Display option.
Click on the button Select and choose your TV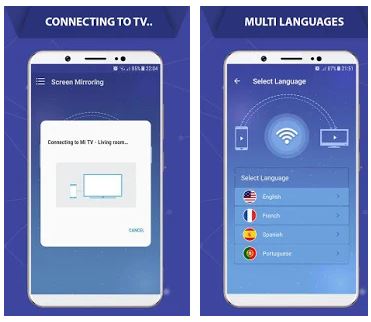 The app will do everything by itself, so there is no need to set up anything manually. This app will be perfect for those who do not want to waste too much time – the connection process will take less than 3 minutes!
In case of any misunderstandings, tap on How to use button to read a quick guide.
Overall, this app is truly worth trying. But if you decide to use this app, we have to mention that it is focused only on TV casting and does not provide any other options. Plus, the app requires a constant Wi-Fi connection, otherwise – it will not work.
Key feature:
User-friendly interface
Compatible with all Android versions and devices
One-click Start and Stop casting
Requires Wi-Fi
Guarantees secure connection and it protects your data and files
Elegant design

6. Cast to TV – Chromecast, Roku, stream phone to TV
Cast to TV app is another popular alternative. This tool enables you to stream your files to Chromecast, Amazon Fire Stick, Xbox One, Smart TV, or other DLNA devices.
The app installs quickly and runs well – without any lags. Before you connect the app to TV, disable VPN to receive the effective broadcast.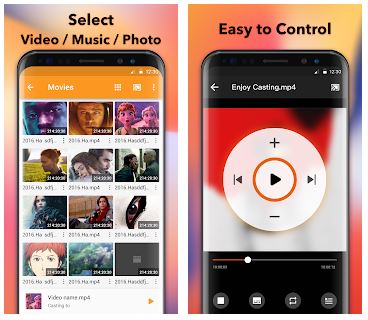 After that, make sure that your mobile phone and transmission device are connected to the same Wi-Fi and the media format is supported by the streaming device.
Like some of the apps mentioned above, this one contains special categories for pictures, videos, and audio recordings. Moreover, you can add playlists – just click on the + button and your playlist will be ready.
If you forget something, the app provides a built-in section History, where you can check all the files that you have used.
What is more, Cast to TV guarantees a simple TV control from your mobile phone. In the app, you can easily adjust volume, pauses, fast forward/ backward, previous/next, and so many other features.
In the sidebar of the app, you will find an integrated web browser. Enter in the search bar the website you want to view or you can choose from the proposed ones. But don't forget that your device can be incompatible with a specific video format, in this case, try to display from another video source.
While using the app, you will face various ads, but you can get rid of them by purchasing a premium version at a quite accessible price.
We have noticed that sometimes the app slows down. In case of any issues while casting to TV, try to reboot your streaming device and router.
Key features:
Instant wireless connection
Supports Chromecast, Fire TV/Fire Stick, Xbox One, and TVs with DLNA
Convenient interface and bright design
Auto-search for available transmission and streaming devices
Integrated web browser
Automatic identification of video, audio, photo files, and SD card on your device
Simple TV control via your mobile phone

You may also like: 10 Best Dice Roller Apps & Websites
7. TV Cast | Samsung TV – HD Movie Streaming
And the last one but not the least in our list – Video & TV Cast. This service is considered to be one of the best apps.
Video & TV Cast supports Mp4, M3U8, live streams, live-tv shows, and full HD 1080p, so you can easily stream your media files from your mobile phone or tablet to a big TV screen in high quality.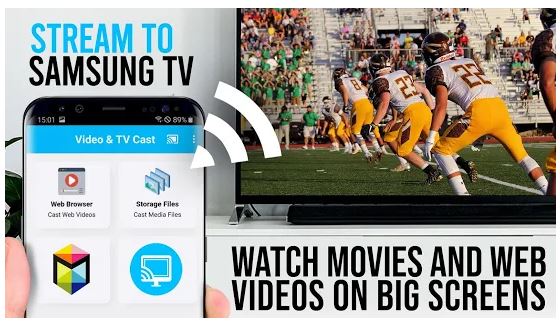 On the homepage of the app, you will find a wide range of useful materials – app tutorials, various tips, and others. Moreover, there is a special Support section, where you can find a chat, video tutorials, or read FAQ to tackle issues with device connection.
In the app, you can open any website you want to view. Click on the three points button at the top right and pick Bookmarks. After that, press + to add the website. If you want to delete or edit a bookmark, long tap on it.
So, how to connect your smartphone to TV?
Turn on your Chromecast and connect it to the same Wi-Fi network as your Android device. Chromecast discovering can take some minutes.
Wait some seconds until the red icon in the menu bar changes to a filled white icon. If your Chromecast is not found, please restart the app.
Open a preferable website (e.g. YouTube) or enter the URL-address in the integrated web browser and play your video.
Click on "Tap here to cast" below the web browser to start streaming. If you want to stop it, tap on the cast icon in the menu bar.
When you are going to play mp4, m3u8, or other video files directly on Chromecast, just enter the full URL in the browser address bar.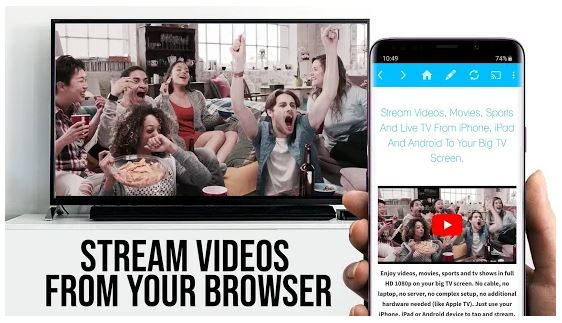 The great advantage of this app – it asks for only minimal Android permissions. In comparison with other applications, Video & TV Cast does not have access to your personal data, phone status, GPS location, or contacts.
Summarizing all the points, Video & TV Cast is a good option. But we have to mention that it is not compatible with some video formats. Plus, the app does not mirror the full screen of your Android device, it just transfers the video part of a website to your Chromecast.
NOTE: This app works with all Samsung Smart TV models from 2010 (C series) to 2017 (new M/MU/Q series) and Blu-ray Player with Smart Hub or VEWD (formerly Opera TV)
Key features:
Supports Mp4, M3U8, live streams, and full HD
Built-in web browser
Guarantees amazing picture quality
Intuitive and simple interface
Provided FAQ and video tutorials
Excellent customer support