Alright, Python enthusiasts, are you ready to take your coding skills on the go? We've got some hot new apps you'll surely appreciate!
We've scouted the top Python apps that will make iPhone & iPad your new fave coding companions. That's right, Python is not just for desktop apps or server-side scripting. These apps have all the tools you may need, and more.
Plus, most apps cover other languages and coding compilers, so you could always try smth new. These apps will demonstrate just how versatile Python can be. Let's get into it!
Mimo
If you're feeling like a programming noob and feeling left out of all the tech conversations, give this app a try. It lets you level up your coding and join the ranks of the elite developers out there. This app will guide you from coding zero to hero in no time.
First off, let's talk about variety. The app has courses in Python, Java, HTML, and more. That's right, you can be a web development whizz and a data science guru all in one app. And the best part? Each course is made with bite-sized exercises, concepts, and projects that fit into your busy schedule. No more excuses for not having the time to learn.
Speaking of projects, the app lets you run your code from a portfolio of projects to showcase your skills. Plus, with coding tasks and a community of coders, you can practice and collab with fellow learners.
Now, let's address the elephant in the room – pace. Are you a fast learner or someone who likes to take your time? Either way, the app accommodates all learning styles. You can learn at your own pace and even earn a certificate to show off your new chops.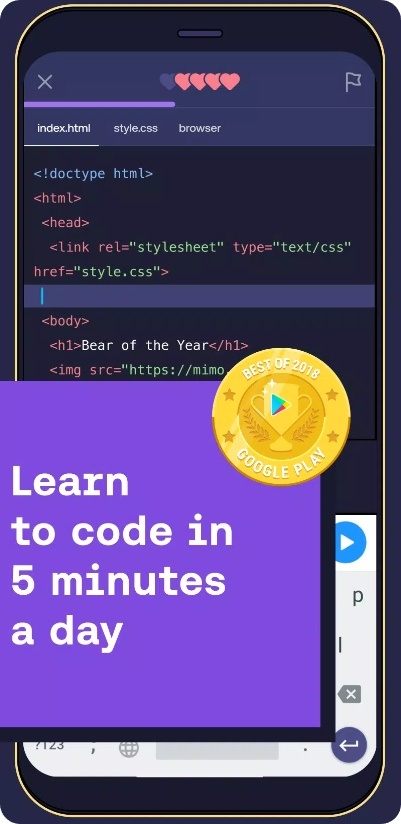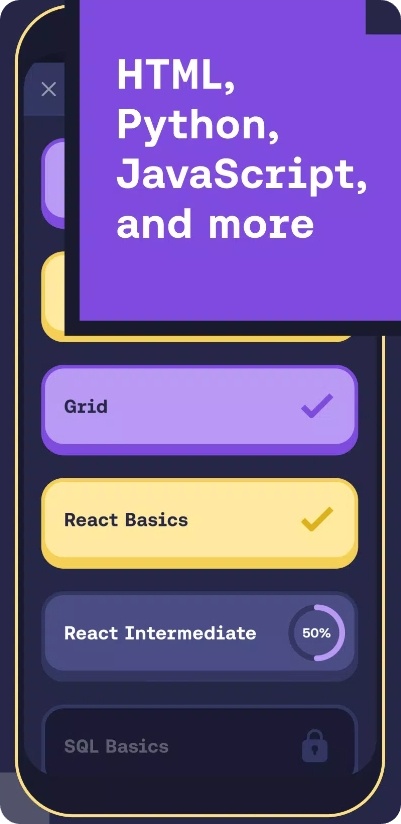 You may also like: 17 Best Data Mining Tools
Sololearn
This app is a treat for those who are scared to start learning code. It turns a difficult task into an engaging exp you'll surely love. There are over 15K questions and quizzes, so whether you're a newbie or a pro, there's smth here for you.
One of the best aspects of this one is that the content is personalized to your progress, prefs, and the hottest market trends. You'll never feel like you're wasting your time on smth that's not relevant to your objectives.
But that's not all! You also get free 24/7 peer support. No matter what you're struggling with, there's always someone available to help you out. And if you're feeling confident, you can even become a community influencer by making your own lectures in your area of expertise.
If you're someone who's always on the go, you'll love the free mobile editor. You can write, run, and share real code right from your phone, without any additional installations or setups. Plus, with daily reports on the time you've spent learning, you can see exactly how much advancement you're making.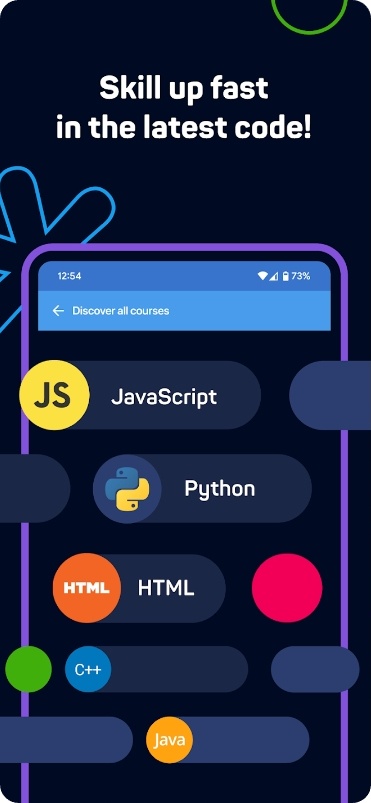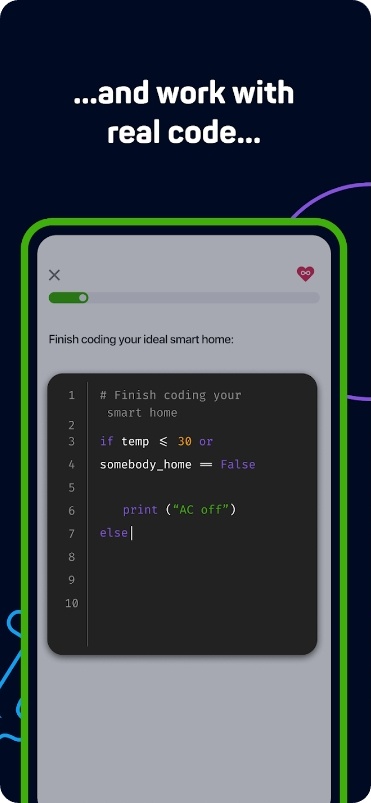 Programming Hero
Tired of sifting through tedious programming textbooks and online courses? This app will change that. The main perk of this one is a quick action component. You can immediately apply the things you've just learned. No more putting off practice until later! Plus, the app lets you practice in a variety of languages
But what really sets it apart is the instant help and smart learning tools. Get your questions answered in a snap and jump into advanced topics without missing a beat.
And let's not forget about the game development aspect. Who doesn't love building their own game from scratch? With this app, you'll master the development basics and even learn how to use pygame.
The app uses a fun and interactive approach to teaching programming. The app uses teen convos and game-like tasks to make the process more enjoyable. The real-world examples and fun visuals make it easy to retain concepts and remember them long-term.
And who doesn't love rewards? The app lets you can earn points, badges, and gifts for your accomplishments. Plus, the quizzes are like mini-games that are sure to keep you on your toes.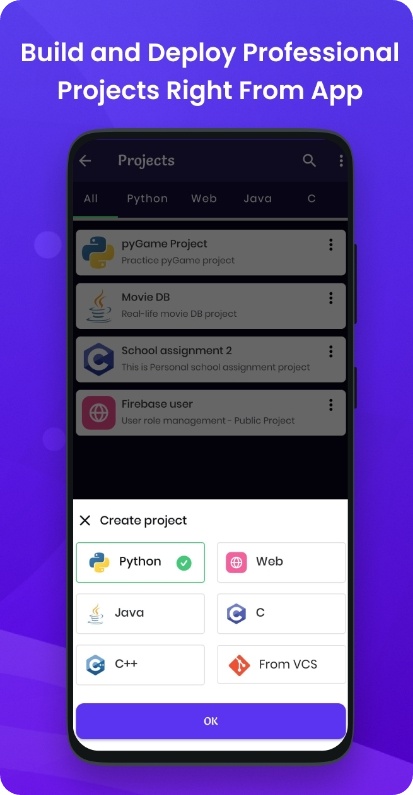 Programiz
Ready to learn Python and kickstart your coding journey? That's exactly what this app is here for! With its bite-sized lessons and practical examples, this app makes learning Python a breeze. And if you need extra help on a tricky topic, just bookmark it for later and revisit it anytime.
But if you're serious about mastering Python, this app is where it's at. Say goodbye to distractions with an ad-free exp and write and run code as much as you want. And why follow the lessons in order when you can break the rules and learn on your own terms?
Plus, with over 200 tasks and a global leaderboard, you can compete against other learners and show off your skills. And when you're done, receive a certificate to show off your hard-earned achievement.
So whether you're a novice or a pro, this app has everything you need to succeed. There are diverse types of sub-packs, too., so you can pick one that suits you most. There's also a free trial to test everything out.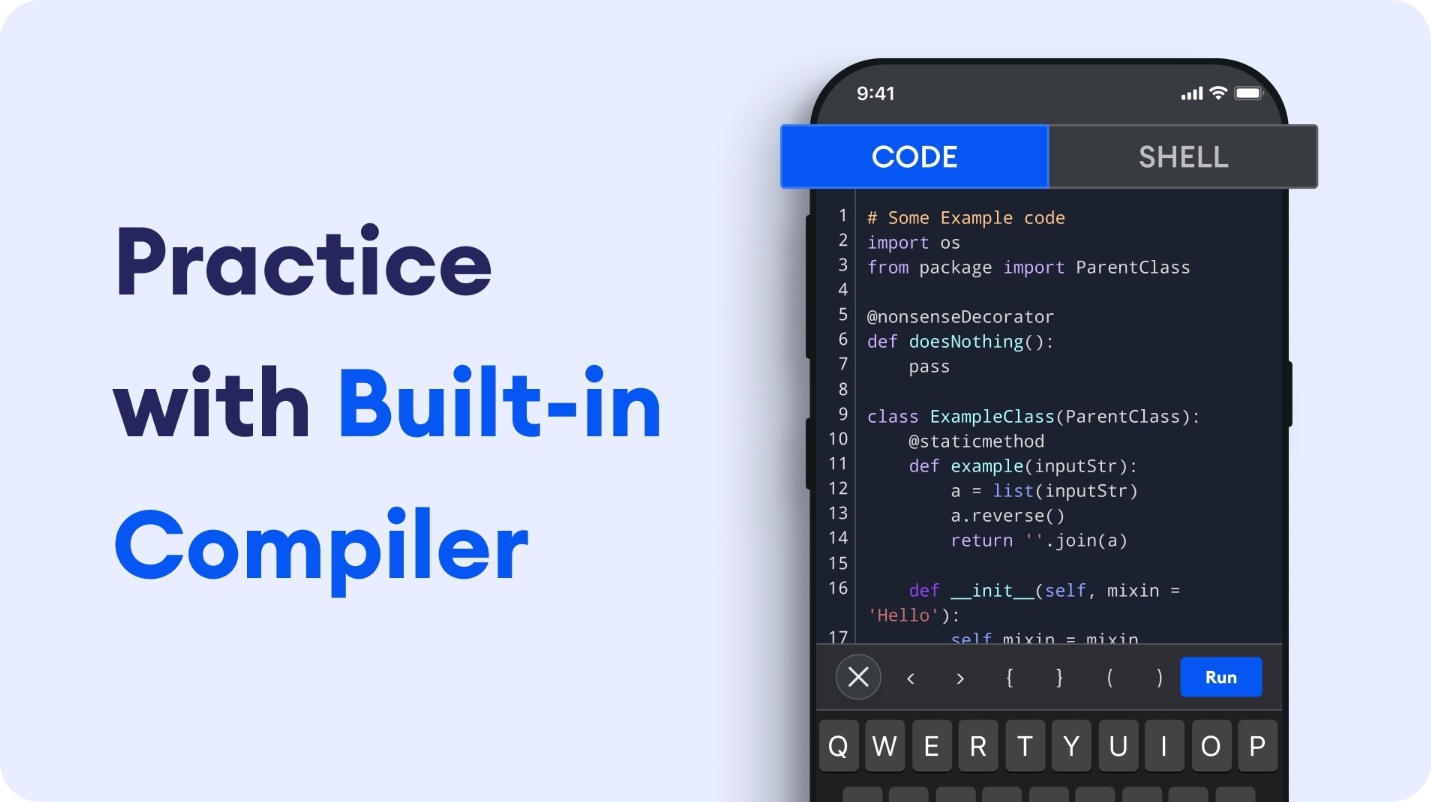 Enki
This app will take your Python skills to the next lvl. It's a treat for anyone wanting to get into programming. There are over 10K lessons and over 30 skills to learn. It has everything you need to become a true master.
The top perk of this one is personalized content suggestions. It ensures that you're always learning in a way that suits you best. The coding playground is another fantastic one, too. It lets you apply your knowledge in real time, making it easier to retain and apply what you've learned.
Plus, the app also covers revision workouts. These are powered by spaced repetition science, meaning you'll maximize your learning retention. And the alerts are here to help you form a habit.
And if you enjoy learning with others, the app lets you do that too. Being able to engage in discussions and collaborate on exercises with fellow learners is incredibly helpful. You can also share your fave lessons with teammates if needed. The app's support team is top-notch, too. Regardless of your question, they will give hints and feedback at any time.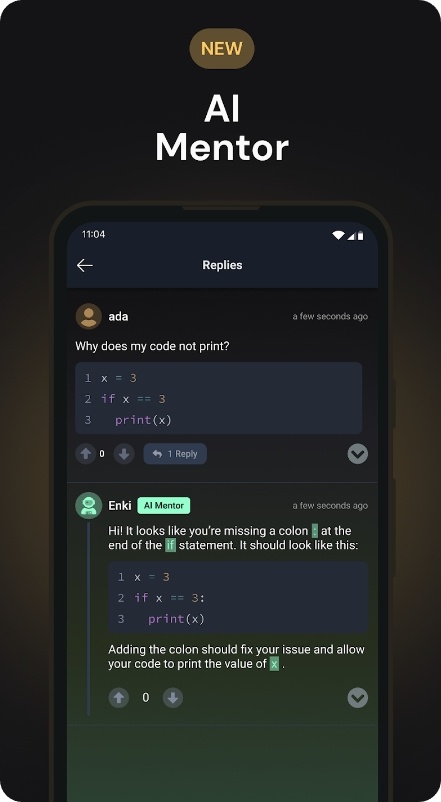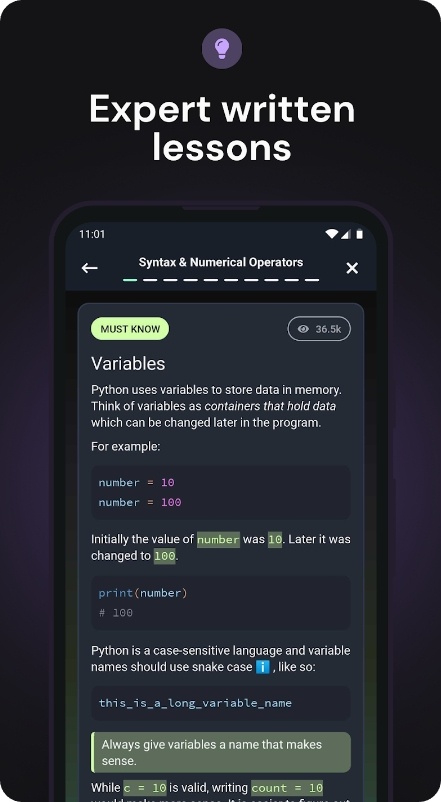 Check also: 9 Best Mouse Auto Mover Software
Python Tutorial – Simplified
That's the kind of app that won't break the bank or require extensive Googling to fill in the gaps. Not only is it free of charge (no hidden fees or sneaky upselling here), but it's also ad-free, so you won't be bombarded with annoying pop-ups or distracting banners.
But the benefits don't stop there. The app has a detailed walkthrough of Python, covering everything from the absolute basics to more advanced concepts. You'll find syntax presented in an organized, easy-to-navigate way, so you'll never feel lost or overwhelmed.
And if you're prepping for a job interview (or just like to know your stuff), the app gives a variety of interview questions (along with answers) to test your skill and prepare you to ace it.
But the real fun begins with the quizzes! You get to regulate complicity lvls and test your understanding of concepts easily. The app will also help to hone your skills. Plus, with demo programs and examples, you'll be able to develop a deeper, more intuitive understanding of fundamentals.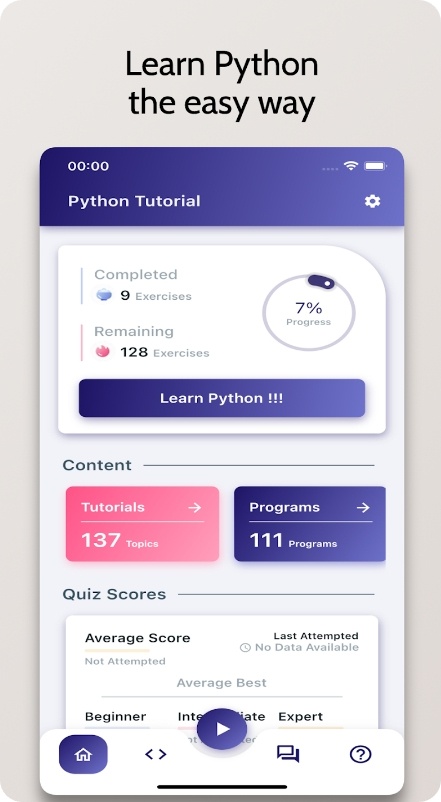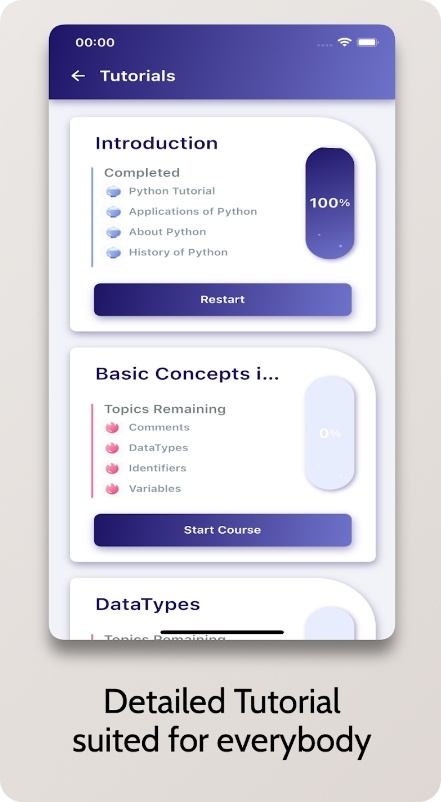 Easy Coder
If you're someone who thinks that coding tutorials are duller than a lecture on tax laws, then you're in for a surprise! This app has managed to make the exp as effortless and enjoyable as tapping your fingers to a catchy tune.
Starting with the introduction section, you'll be pleased to find that the basics are made clear and concise. Thus, you can set aside your worries and enjoy learning without feeling overwhelmed or confused.
But the best part is that the app goes beyond simply covering the essentials. You can continue with their vids, quizzes, and interactive activities that cover a range of topics, including variables, algorithms, and so much more.
One of the most impressive aspects of this one is the built-in editor. Not only will you learn how to build a code, but you can also test it within the app itself. Thus, you can practice without the need for additional software. The adjustable settings let you get into the materials at your own pace, too. You may rather inquire yourself or take things slow – the choice is yours.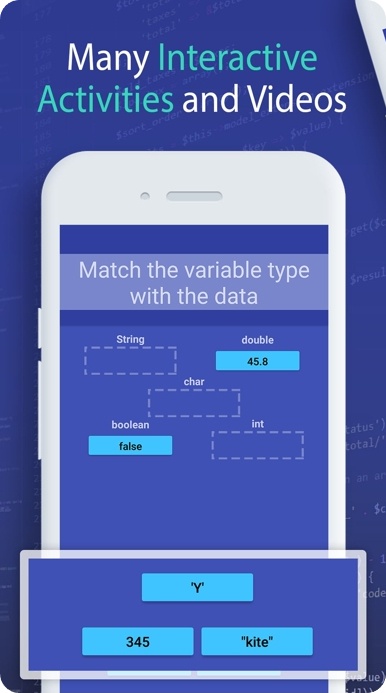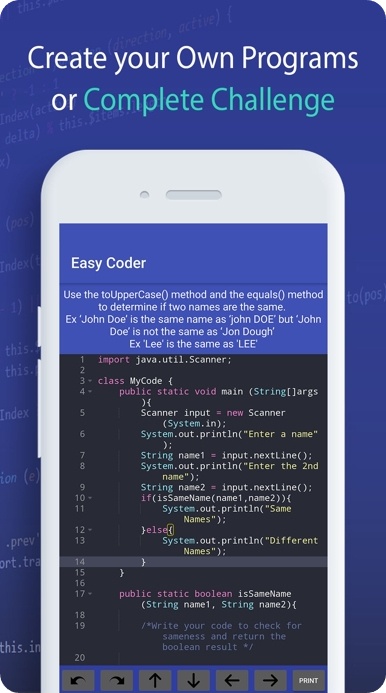 Encode
This app is a fun way to kickstart your programming journey. It is filled with self-paced lessons, bite-sized explanations, and tasks, so you'll be building your coding skills in no time.
And the coolest part? It's completely free! That's right, you can learn everything from Python to database querying without spending a single penny. No more expensive courses or textbooks, just open the app and start your coding journey today.
But don't just take my word for it: tons of learners worldwide have already fallen in love with this one. And who can blame them? With real-world examples and a friendly UI, learning has never been easier. Let's not underestimate the power of gamified education, it really does wonders with motivation.
So what are you waiting for? Whether you're a complete newbie or a pro, this app is the ideal way to hone your skills and kickstart your career. You can even get a cool-looking certificate saying you've gone through an in-depth course and are ready to provide services.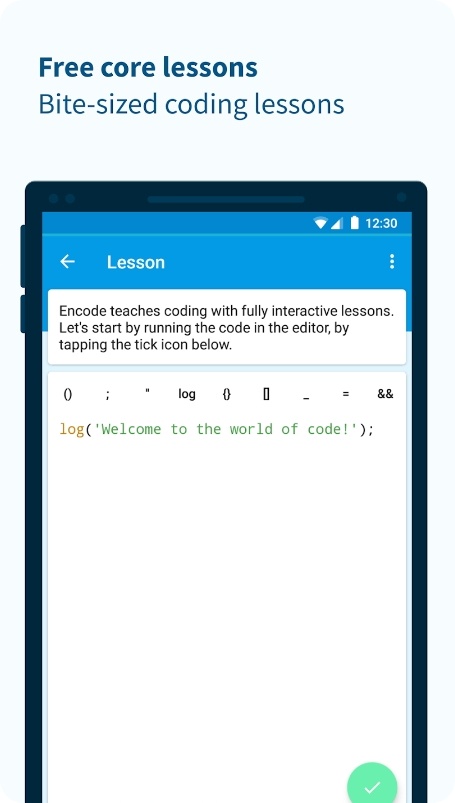 Pyto
Don't want to be tethered to your PC every time you're working on Python code? This app can help! It lets you do the job on your phone or tablet, without any performance downfall.
But don't be fooled by its mobile nature. The app packs a serious punch with all standard libs and a terminal with UNIX commands. Plus, smart code completion will make writing code a breeze. It literally gives you all the basic instruments you may need.
What really sets it apart, however, are its unique tools. These include the ability to code UIs, run scripts and even make custom home screen widgets. Cool, right? And with multi-window support, you can work on multiple projects at once.
The app also lets you access external modules through pip, preview pics and plots on the console, and even run scripts and code through Siri Shortcuts. And if you need to interact with other apps, you can easily do it too. It's a handy companion for any developer on the go.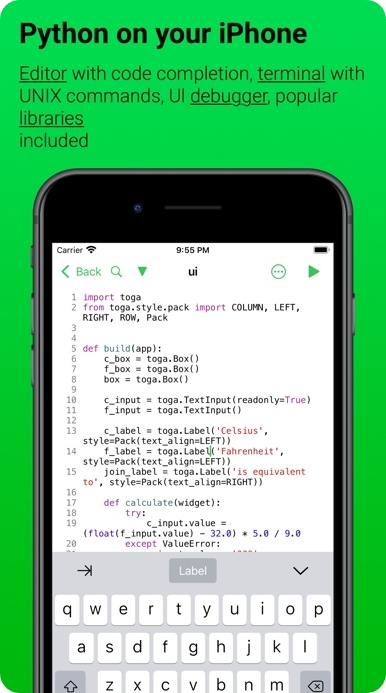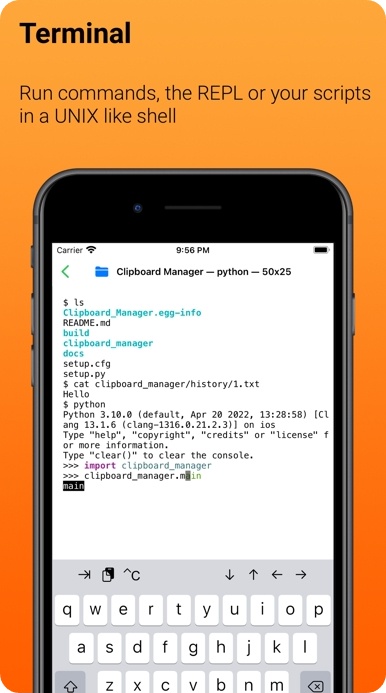 You may also check: Top 10 Software to Create Your Own Character
pythoni
Lastly, there's an app that will put your coding to the next lvl. So if you're tired of clunky, outdated coding platforms, this is the app to use. It's a treat for any aspiring programmer out there.
Autocomplete? Check. Auto indent? Check. Code coloring? Double check. The app has all the bells and whistles you'd expect from a top-notch coding platform. Plus, with the ability to adjust color and font size, you can modify your layout to make coding a breeze.
But that's not all – the app also has a built-in browser for finding learning materials, as well as the ability to save and share code and learning materials. And speaking of sharing, generating two-dimensional codes for easy sharing is a snap with this app.
But what really sets the app apart is its incredible versatility. It covers all doc formats, so you'll never find yourself limited by it. You can adjust every little detail and make a UI that works for you. And regardless of your exp, you'll be enabled to cope with the app with ease.