Thanks to smartphones, everyone can communicate with anyone. The boundaries of communication are being erased. You can live thousands of kilometers apart but still be friends.
Yubo is one of the communication apps. It is well adapted to the modern world. Meet, communicate, and make friends at a distance. What are the alternatives to this app? There are lots of them. We have compiled for you a list of 9 apps like Yubo.
Read below and find the best Yubo alternative.
You may also like: 11 Best Group Messaging Apps for Android & iOS
Hago-Talk, Live & Play Games
Hago is dynamic communication during live streams. Thousands of people start live streams around the whole world. Open the discovery tab to join the stream. This is a great opportunity to meet new people.
Moreover, you can add filters. Cute ears or facial contouring will make you look cuter. Thousands of filters are waiting for you. Plus, try creating a new one and uploading it to Hago.
Another thing that makes this streaming chat outstanding is party hosting. Be a host of a cool online party. You can also join the party by searching for it.
The app will show you how many participants are at the party, as well as how long it will take. Built-in mini-games will make your communication fun. Draw, solve puzzles and riddles together.
Along with that, you can grow a virtual tree with your friends. Download Hago and make thousands of friends!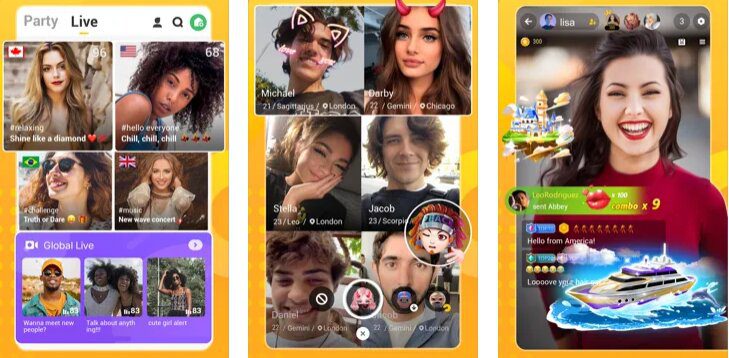 You may also like: 11 Free Funny Message Apps for Android & iOS
Swipr – Make new Snapchat friends
Snapchat is a cool chatting app. How to find more friends for it? Download this app. First, you will need to register. Enter information about the name, location, and select a photo. Therewith you can add hobbies and interests.
Then, the app will show you pages with other users. Swipe left if you don't like the user. Swipe right if you want to start chatting. Wait until the user also swipes your pages to the right. The algorithms in the app select the best matches.
If you connect your Snapchat account, then the app will make a better selection for friendship. The chat capabilities are limitless. Send photos, videos, audio, and other files. Call by audio or video communication.
HMU will allow you to get more page views. Download this app and make tons of friends!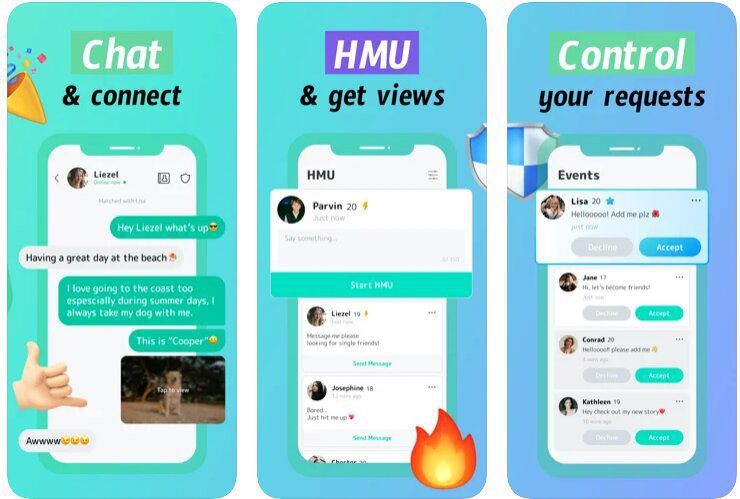 Litmatch—Make new friends
This app has many cool features. After creating your account and searching for matches, you will be able to communicate. Call a new friend and be sociable, because you only have 7 minutes for the whole conversation.
The countdown will be on the screen. Plus, watch videos together right in the app. You can discuss the video with voice or text messages. Limit your chat time with strangers. You will have only 3 minutes to understand whether you are suitable for each other or not.
The app has dozens of beautiful profile pictures. To be more precise cute monsters let you reveal personality. Along with that, keep your profile feed and share the moments of your life.
Want to throw a party but your friends are far away? Have a chat party at Litmatch. You can watch funny videos together and chill. This app is a respectful community that is waiting for new people.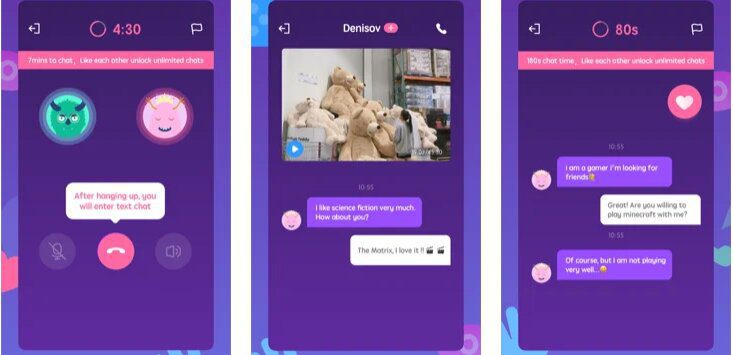 Discord – Talk, Video Chat & Hang Out with Friends
If you want to find a safe place to chill with friends, here it is. This is a cool app that lets you connect with friends from anywhere in the world. It doesn't matter how you like to communicate.
Send video, audio, or messages. Moreover, you can share documents and photos. The app will allow you to create channels based on your interests. If you love anime games, then enter the anime hashtag and find hundreds of people with the same interests.
It needs to be said that you can also connect to other people's streams. It is not necessary to turn on the microphone and video. You can just watch. As for the community system, you will have many opportunities.
Manage your community by appointing administrators, blocking or allowing actions, and blocking users. Private accounts will make your communication free and secure.
Synchronize your account with your PC and enjoy chats on the big screen. Plus, you can create emojis. Uploading any picture and the app will make emoji out of it.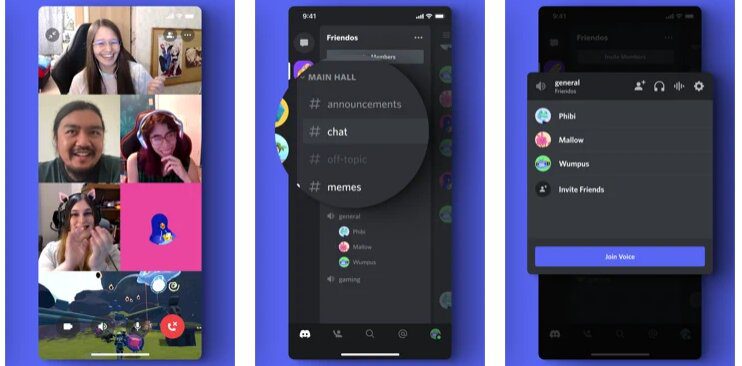 You may also like: 9 Best Multiplayer Farm Games for PC, Android, iOS
Tinder – Dating, Make Friends and Meet New People
Tinder is an app for chatting and searching for love. All boundaries are erased in this app. Create your profile and you can start looking for communication partners.
The process of creating an account is very interesting. You can add your height, age, eye color, hair color, weight, gender, orientation, and more. Moreover, you can choose interests. The app has 1,000 interests and you just have to find one that suits you more.
See thousands of people. If you like a person click on the heart or swipe right. If you don't like the person click on the cross or swipe left. You can start chatting if you get a match. Read the profiles of your partners and perhaps you will find your true love.
It needs to be said that the premium version opens up more possibilities. You will be able to see who has liked you, who visited your account, as well as your secret admirers.
If you like video chatting, then call your friends directly from Tinder. You will be able to meet face to face and find out what a person is. Tinder is a great way to make new friends. This app is suitable for those who live in big cities.
There are very few users that have the app in small towns. Tinder picks the people closest to you first. This allows you to meet in real life after some online communication. The app has an age limit of 17+.
it has been translated into many languages ​​so you won't have any problems. You need to follow the community guidelines to avoid getting banned. Forbidden insulting, humiliation, and disgusting behavior.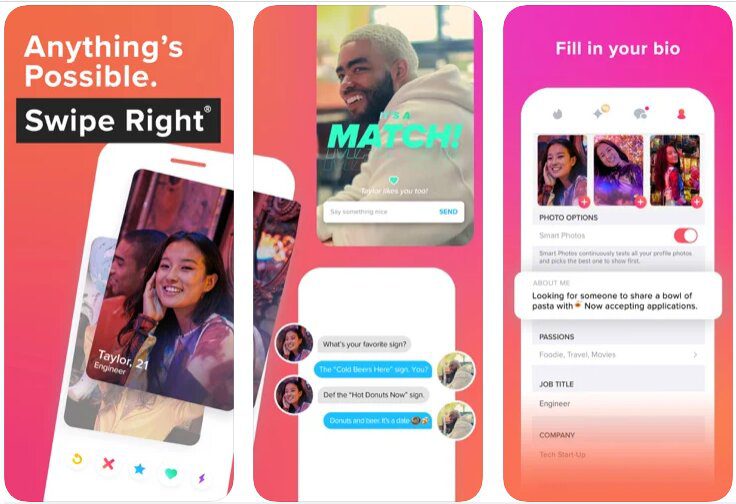 Monkey Run – Make New Friends
This app will allow you to communicate at a distance in unlimited video chats. Send private messages and no one will know what you are talking about.
The chat system is built in the same way as other similar apps. You can send audio or text messages, video files, and documents. The latest update has added a new Boost profile feature. This will allow you to become popular and find more friends.
The app has one drawback. That's a lot of spam notifications. It's funny that you can get up to 30 notifications in an hour. The free version of the app has limited features. If you want to get the full functionality of Monkey, get a premium subscription that costs $4.99.
You can fully use the search filters by choosing gender, age, location, and other filters. The app does not collect your personal information and destroy it after deleting your account.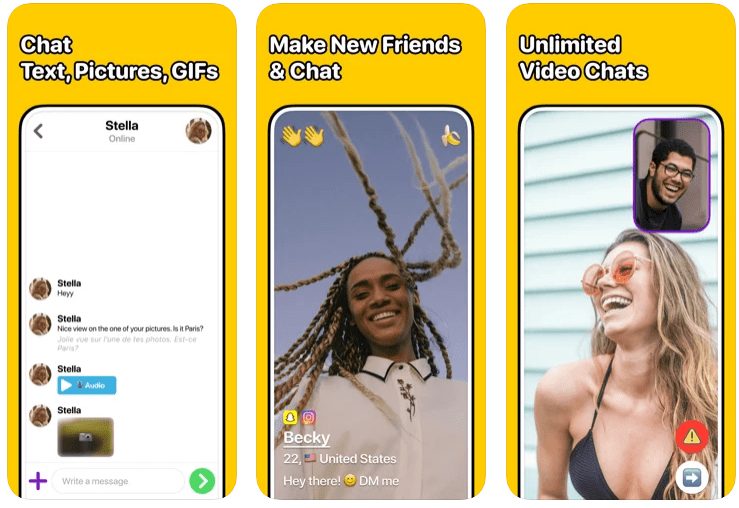 You may also like: 11 Best Android Apps for Couples
Wink – make new friends
Wink will grab your attention by its interface. This is a great opportunity to find new friends. You can go right or left to start chatting. If you don't like the person swipe him or her left. Moreover, you can view the profile before expressing your sympathy.
It needs to be said that the chat of this app is safe and has full functionality. Send anything from messages to GIFs. All profiles of this app are verified. There are no catfishing and no one will be able to haunt you.
Wink has in-app gems currency. The more gems you have, the more you can buy or start communicating with people who do not like you. Spend gems buying new backgrounds or effects for your page.
You can send gifts by spending gems. Some users have encountered an error. The app breaks every 5 minutes. If you have such an error, then contact tech support and they will solve your problem.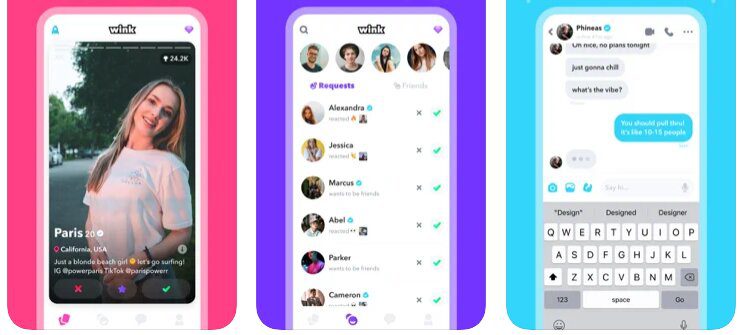 Ablo – Make friends worldwide
This app is designed to connect people from all over the world. It will allow you to travel the world virtually. You will be able to discover new places, cultures, and sights. Start a live stream and show your subscribers where you live.
It doesn't matter what language you speak because the app can translate your message into any language. It blurs the boundaries in communication. Open the feed and enjoy thousands of videos from different parts of our vast planet.
You can talk to anyone on our planet. Moreover, the app automatically monitors all messages in chats. It will not allow harmful or nasty messages to be sent to you. You will feel safe and have fun.
Explore cultures, meet people. And it is all in one app. It has one limit, which is 10 connections per day. If you want to get an unlimited number of connections, then you have to buy the premium version. Furthermore, buy coins to spend on continuing old chats.
The app has an accurate internal currency system. It weighs over 180 MB and has been translated into many languages. Download this app and plunge into the cultures of other countries and peoples.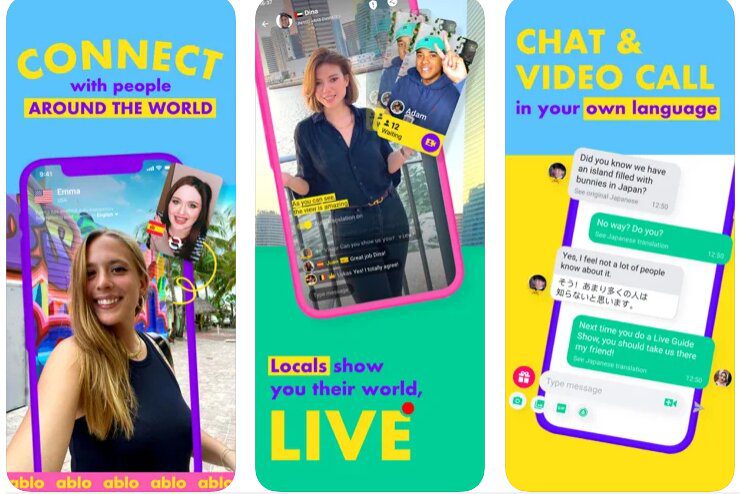 Hoop – Make new friends
The hoop will allow you to find more than 1,000 friends for your Snapchat account. All your funny videos will be watched by many people. At the beginning of registration, you can immediately connect to the Snapchat account so as not to re-enter the data again.
Send requests to search for an account and, if the person permits, you can start communication. All Snapchat accounts are protected. Nobody will know your nickname. Diamonds are the currency of the app. You can open Hoop every day by spending diamonds.
Increase your level of popularity by spending on diamonds. Watch funny and educational videos. Moreover, you can get more diamonds by sharing your profile with friends. Many people have found the love of their lives in this app.
It is very similar to Yubo. The Hoop has a nice design and a simple interface. The navigation is intuitive – you will not be confused. Don't forget to upload your profile picture so people can understand who you are. Download Hoop and start chatting right now.


You may also like: 11 Best Secret Dating Apps That Look Like Games