Astroneer is a cool sandbox game that lets you become whoever you want. The gaming world is at its peak. The races have reached the end of the universe. Your task is to explore new worlds.
Multiplayer is available in the game. Building, inventing and changing the landscape make Astroneer one of the best sandboxes.
This play is available on PC. What to do if you want to play similar games on your smartphone? We have selected the best analogs for smartphones for you. Our list consists of the best sandboxes for everyone.
As for the similarities with Astroneer? The games are comparable in style and at the same time, they are completely different. Despite this, the gameplay unites them. Try all the games on the list and experience extraordinary worlds!
You may also like: 11 Best Games Like Final Fantasy for Android & iOS
Cubic Castles: Sandbox World Building MMO
An open world with the possibility of endless buildings awaits you in this game. Travel and build your dream home. Explore the dungeon and unusual locations. There is no limit to creativity in the app.
Build houses, skyscrapers, and even castles. The more resources you have, the better your buildings are. This is an online game that allows you to play with people from all over the world. To cut it short, unite in teams and alliances for joint exploration.
There is no first, second, or third-person view. You can fully control the camera. Moreover, the 3D camera is great for video recording.
At the very beginning of the game, you can create a character. Customize ready-made characters or create a new one. There are many options to create. Another thing that makes this game addictive is the decoration of premises and characters. Build furniture, craft decorations.
The game has a well-built system of relationships between players. Sell blocks, weapons, or other items. Trade or fight. The path of development depends only on your choice. Moreover, you will be able to find new friends.
Pets will help you in battles, and you, in turn, must take care of them. Sometimes we're not in the mood for building. The game will inspire you with building templates and motivating articles.
Be attentive to other players. If you are rude or aggressive, you will get banned. Every bad action has a specific ban time. And finally, do not fall for provocation. There is a lot of bullying and scamming in the application.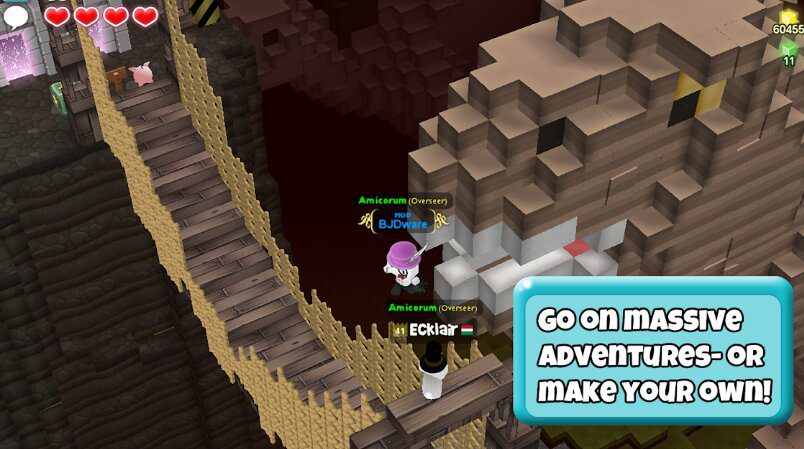 You may also like: Blocky Castle App Review
Junk Jack
All 2D fans should try this sandbox. This is a huge world that is randomly generated during the game. It is not free. You need to pay $4.99 to enjoy this game. Buy the game once and play as long as you want.
Get a team together of up to 4 people and explore an unknown world. Plus, the app has several modes. Free play mode will give you the ability to survive.
You will face difficult conditions and enemies. Moreover, you need to collect resources and build buildings. In creative mode, everything is free and unlimited. Build what you want. You will have access to any item of the game.
Besides, the combat system is advanced. More than 350 types of weapons and equipment are waiting for you. Craft armor and reinforce your buildings. This game is addictive. Explore dungeons to find treasures.
Moreover, you can fight bosses. It needs to be said, that the game has a gardening and farming system. Grow crops so you always have access to food. A huge selection of plants will not let you get bored.
Along with that, the game is accompanied by wonderful soundtracks and special effects. The change of day and night will bring survival closer to real conditions. The world of Junk Jack is limitless. No one has yet managed to reach the edge. Can you do it? Download now and check it out!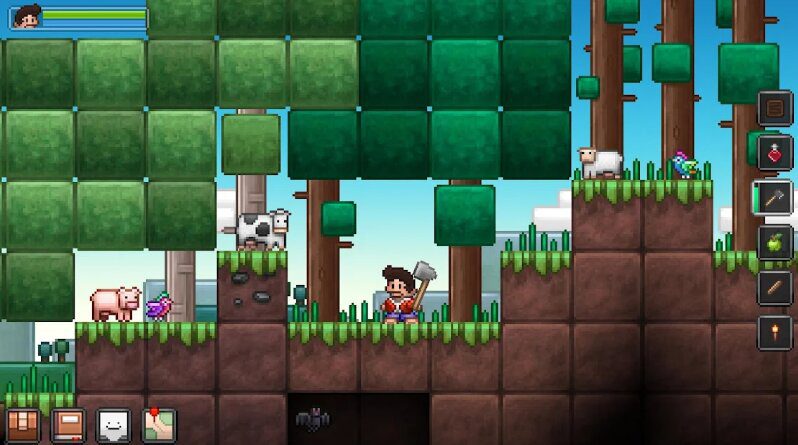 BLOCK STORY
The next app on our list will take you into a mysterious story. It is a huge world with limitless control. Create a character and start playing. In the upper left corner, you will see the state of your character.
There are two scales – the scale of life and water. Monitor the state of these indicators so as not to die. The experience bar is located just below. The more you destroy monsters, the more experience you get.
At the bottom of the screen is the quick access inventory. These are 4 slots for important tools. The fifth slot is needed to open the inventory. There are 25 slots available. You can stack a lot of things.
Moreover, the inventory has 2 buttons for crafting – weapons or tools. The game world is full of quests and dangers. You can even fly a dragon. Along with that, you will always be accompanied by advice from a mighty sorcerer.
Explore the world and find not only resources and treasures but also special characters. The app will allow you to tame about 30 creatures. You can use pets as a defense, attack, or vehicle.
At first glance, it may seem that the landscapes are monotonous. Don't rush to conclude. The biomes are so big that you need a lot of time to be on the other. Upgrade your character's skills to make survival easier.
Improve abilities, vitality, or skills. We want to say right away that those who love a creative mode will not be able to activate it. The app simply does not have it.
A small addition, there are two options for playing the app. You can buy the premium version. It costs $2.99. Or you can play the free version, which has many restrictions.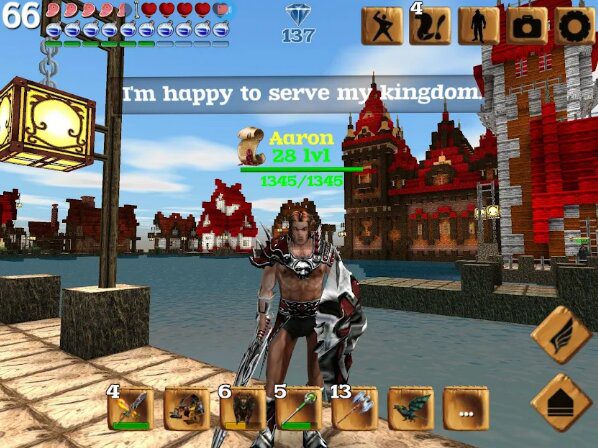 FarmVille 2: Tropic Escape
This app will take you to a tropical edge where you need to build a new life. Start a journey with the heroes of the game. A funny monkey and a joyful dolphin will help you.
You can build a hotel near the ocean. Get tropical fruits and make cocktails or smoothies. What's more, you can go fishing. A few words about the gameplay. The game is based on story-tale quests.
Follow the direct line of quests and get rewards. You will have a farm where you will grow fruits and vegetables. Craft drinks and dishes. Plus, treat guests and show them photos of your corner of paradise.
There are many mini-games here. The tropical island is full of secrets. Explore forgotten places and locations such as the volcano and the jungle temple.
It needs to be said, that you will have to buy new locations. For example, buy a bar, gym, or shop. This will expand your business on a tropical island. The ocean is so huge that you will not be playing alone. You will be surrounded by neighbors – real players.
Trade and communicate with them. This is a great opportunity to make new friends. Along with that, the developers launch weekly or monthly events in which you can get exclusive prizes.
Finally. the only problem you may get is an error in launching the app. You need to immediately contact technical support. Do not forget to link the app to your Facebook account so as not to lose progress.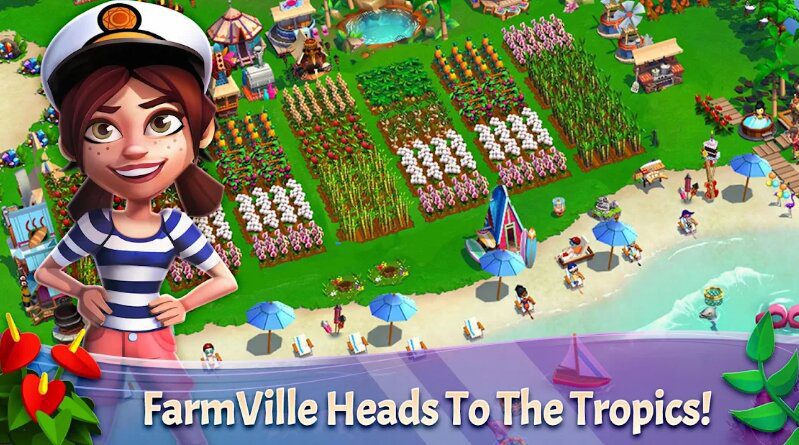 You may also like: 10 Best Games Like Terraria for Android & iOS
Crashlands: Story-driven Crafting ARPG
This app has won numerous awards in 2016 and is considered one of the most successful on the market. It costs $6.99. This is a 2D sandbox with survival elements. The backstory of the game begins in space. You are a galactic explorer who lands on an alien planet.
You want to conquer the universe and you need to show your superiority. What makes this game unique? First, there is a wide variety of crafting options. More than 500 recipes are waiting for you.
In addition, some craft items cannot be created without special devices or tools. Explore the world to find more rare items. Secondly, your inventory is endless. You don't have to worry about running out of space anymore. Focus on exploring or fighting monsters. Carry anything you want with you.
Thirdly, you can constantly develop your character. The more skills are developed, the more zones you can visit. Fight bosses and explore dungeons. The combat system makes the game more enjoyable. Be smart and defeat monsters with combinations or special weapons.
Fourthly, you will have access to a huge set of tools and materials for construction. The game is 2D, so one touch is enough for you to place a wall, floor, or roof. Another thing that makes this game cute is the ability to tame pets.
Fight monsters and take their eggs. Wait for the egg to hatch and you will get a cute pet. It will fight by your side. It needs to be said, that the game world is huge. 3 continents, different monsters, and endless adventures await you!



Forager
It's cool to have an open-world game, isn't it? Download this app and you can become a gold miner. Moreover, you can explore the ancient mines and build your dream house.
Collect resources and craft new items. Upgrade your weapons and tools. As for crafting, the game has over 100 recipes for creating things. Use craft to strengthen your base and expand your influence.
Explore the territory and find new mines. The app has an excellent character leveling system. Level up and open new skills and abilities. You will not be bored in the game because every time you have to solve riddles and puzzles.
You can also make the game easier. Build droids that will do the job for you. For example, you can send them to collect firewood or stones.
The app has multiple bugs. Some of them are very useful such as endless lanterns. Others bother during the game. The app costs $7.99. It is placed in 47th place in the adventure.


You may also like: 11 Best MOBA Games in 2021 for Android & iOS
Terraria
This is a legendary 2D game that has won the hearts of millions. The game is adapted for smartphones. Start the game and you will find yourself in an unexplored world full of dangers and surprises.
In the lower right corner of the screen, there is a joystick for interactions. You can change weapons or use items. On the left side of the screen is the movement joystick. On the top left side of the screen, you will be able to see several slots of your inventory. It's quick access.
Moreover, open the inventory which is located in the upper right corner to see everything that you have. It must be said that at the top you will see hearts. This is your life. The more hearts you have the stronger you are.
Explore dungeons and collect rare artifacts. The dungeon is dark so you will need to make torches. The more you play the more experience you get.
The game has a huge number of bosses. Defeat the boss to receive special rewards. The construction mode is thought out to the smallest detail. If you want to make something from wood, then hack down the workbench.
This game has a huge number of locations. Moreover, the world is randomly generated. More than 400 monsters, 20 biomes, and 30 in-game characters are waiting for you. Download this game and create your world that will be your refuge.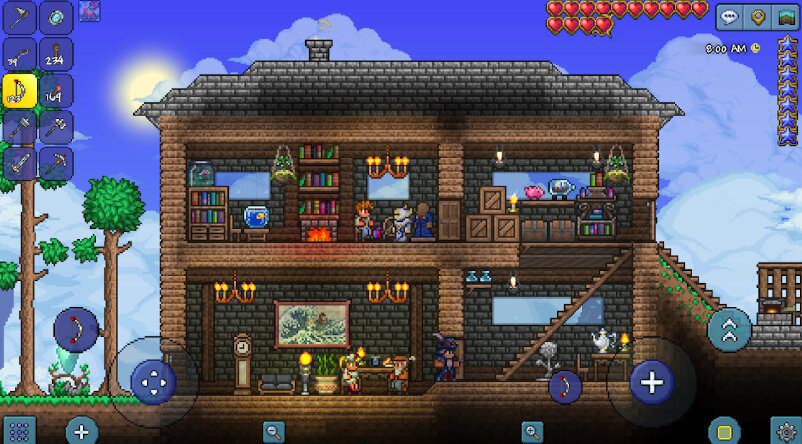 Radiation Island
Imagine that you are on a radioactive island. You will face dangerous adventures where you have to survive. Control your destiny in a huge world full of possibilities. Fight zombies, bears, robots, and other monsters. You will be surprised by the mysterious world of this game.
Solve all the problems and puzzles to return to the real world. This game has many elements of survival. You can fish or pick vegetables. Watch your hunger. If the hunger scale is close to minus, then you will die.
Along with this, you can craft whatever you want. For example, build a vehicle to move around the island faster or collect more items. You can create weapons such as an electric stick, a stick with nails, dangerous shovels, and more.
At first glance, it may seem that there is too much in the game. You will get used to the madness of unexpected events. There is a cycle of day and night on a radioactive island. As soon as darkness falls, terrible monsters emerge from the lair.
Try the multiplayer mode to fight other players. You will find yourself in a small arena with vital resources. The graphics of the app are amazing. Moreover, you can build a castle and even a whole city.
This app weighs quite a lot – 1.5 GB. It has been translated into 11 languages. The app costs $2.99. It is ranked on the 120 in Adventure.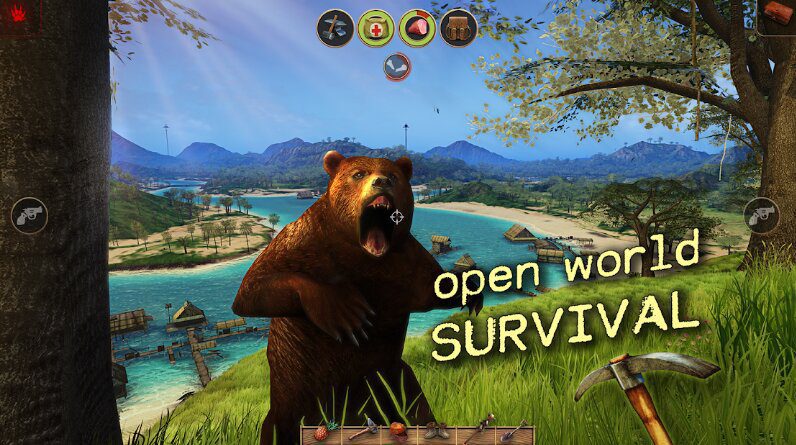 Don't Starve: Pocket Edition
Survival in a huge world? This expression perfectly describes this game. It is popular all over the world. To begin with, the game has a cool character system. At the beginning of the game, you will have one main character available.
If you complete special missions, you will get new characters. Each character has a superpower. This type of ability will help in survival. The world of this game is very unexpected.
During the day, you can safely walk through the forest collecting resources. At night, you need a lantern, otherwise, you will be eaten by monsters. Moreover, it is necessary to do it according to the needs of the character.
Hunger, thirst, and loneliness can kill a character. You can navigate the world on foot or use portals. They will transfer you to the random points of the world. Another thing that makes this game outstanding is the graphics and soundtrack.
The drawing is unique. The creatures will become your favorite characters. You can fish or hunt. Set up traps to catch birds. Collect seeds from trees and plant them. The more resources you collect before dark, the safer you will be.
By the way, the game has several difficulty levels. The more difficult the difficulty level, the shorter the day and the longer the night. The crafting system is developed interestingly. Some recipes you cannot craft without special machines.
We want to say right away that the app is heavy. It weighs over 1.3GB. Install it and enjoy the horror world.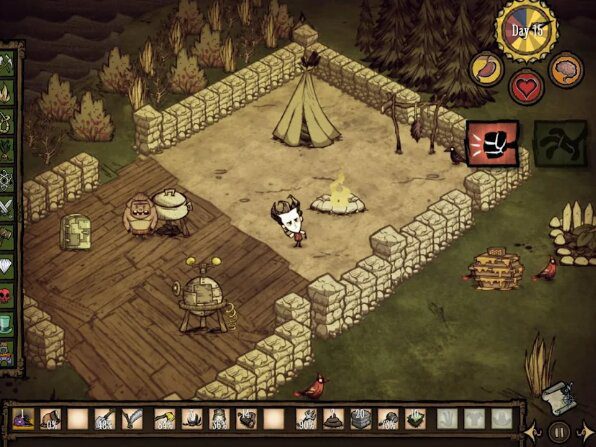 You may also like: 11 Best Interactive Story Games for Android & iOS