Android users are probably familiar with the Mobdro service – it's a movie and the music streaming platform, that allows users to get everything for a small subscription fee. Well, it's better to say, that it WAS allowing users watching movies and listening to the music – because it's not available anymore.
You may also like: 9 Best Sports Video Analyzer Software for PC, Android, iOS
As a consequence, users are looking for alternatives of Mobdro in 2023 – and there are some fine options, even though they're a little bit diffeent. Moreover, those platforms are both available for iOS and Android users so it's a win-win.
1. Popcorn Time
Popcorn Time is a cross-platform torrent client that has been dubbed "Netflix for Pirates" on the Internet. This nickname he received thanks to the free viewing of movies and TV series from anywhere in the world.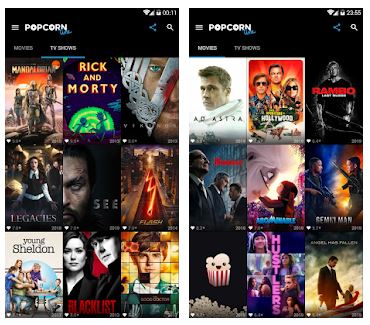 This service is used by many people, and one of the most popular sources called Time describes this client in these words: "Popcorn time is so good that it scares us." The first release of the app took place in February 2014, at that time there were several forks of the source code available for many platforms-Android, Windows, and others.
The client is written in JavaScript using note-WebKit, the Popcorn Time interface has several languages and is a full-screen catalog of movies and TV shows sorted by rating and popularity.
This app is very similar to streaming services because after you select the desired movie or TV series, it immediately plays on your screen. Popcorn Time is still functioning at the moment and is available for download anywhere in the world.

You may also like: 9 Best Boxing Streaming Apps for Android & iOS
2. Butter Project
Butter Project is a multi-user client in which a set of mobile applications is available using open source code that allows you to transfer various movies and TV series over the Torrent protocol.
The purpose of the application was originally to create a fully legal database that other clients and applications can use for streaming functionality. From the very beginning, the project was planned to be created as a breakaway from Popcorn Time, when the latter faced many legal problems.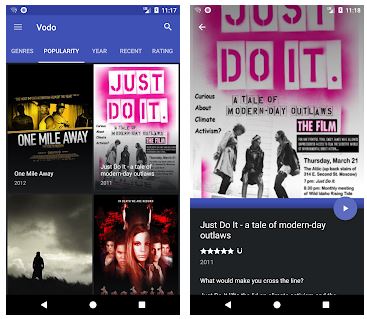 The project was not created to call for direct copyright infringement and viewing pirated versions of movies and TV series, but it is still aimed at creating a basis for viewing a stream of videos.
From the very beginning of the project to this day, Butter broadcasts content through VODO, VODO is a client that can play a free stream of various videos.
Butter Project is written in several programming codes, at the moment the client is available on all platforms known to us, such as Windows, Linux, Android, and others, the client interface is available in 44 languages and that is why watching movies and TV series is available to everyone and from anywhere in the world, as in all similar clients, you need an Internet connection.

3. Duckie TV
Duckie TV, as the developers themselves say, is a project created specifically for people who are addicted to watching television, the so-called TV addicts. The application presents a personalized calendar of various programs, movies and TV series for each user who has good Internet access.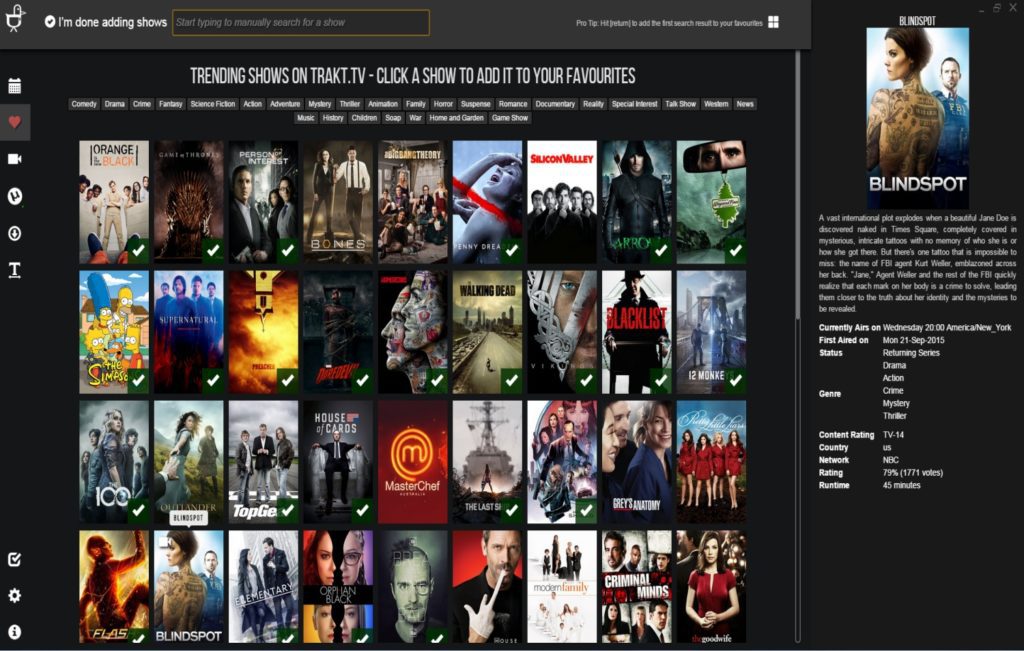 The service itself guarantees you always up-to-date information and allows you to use the built-in blocking torrent search so that you can get the correct download as quickly and easily as possible. The client interface and its materials are available in 18 different languages, ranging from English to Japanese.

4. AOS T.V
AOS T.V is a client for streaming information and video, with which you can broadcast many different movies and TV series, in their circle this application is called a real godsend for movie lovers and fans of TV series.
The app has a huge list of TV shows and movies to watch if you use the AOS T.V client installed on your Android device. Before playing the desired movie or TV series, you get the necessary information about the video you are going to watch.
But in addition, the application for a smartphone on the Android platform has a very user-friendly interface that allows you to quickly find the movie or TV series you need with the help of touch controls.
The AOS T.V client is very easy to use, but it performs all the necessary functions, the main ones being the search and playback of the content you need. If your friends or work colleagues have recommended a movie, or you have learned about it yourself, the client will give you the opportunity to quickly and easily find it among the suggested options. The app is available in many countries and has many languages to use.

5. TVCatchup
This is a popular torrent tracker for finding the right movies and TV shows. Its purpose is to download movies and TV series via the BitTorrent protocol.
TVCatchup allows you to download movies, TV shows, listen to music, watch various TV shows, the application also has sports broadcasts from different countries, it is possible to install video games and files.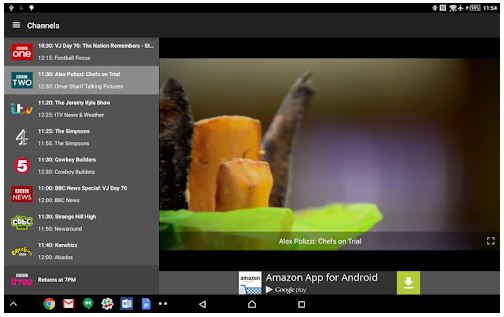 Of course, first of all, this file sharing service provides a very wide selection of media content. You have the option to download them to your device or start viewing them directly in the app. TVCatchup supports customizations for easy implementation of your own workspace.
The developers of the client offer a choice of many different versions, ranging from the version on Windows and ending with the version for mobile devices. An attentive user will notice and say,
The program interface is very simple and does not cause such difficulties with configuration as in Torrent. It is convenient to watch the necessary content, the download comes from many different sources.

6. HD Movie Center
The name of this application speaks for itself, HD Movie Center is a platform that provides us with the opportunity to view various media content, on it you can find many movies and TV series in the best quality and with high sound quality.
This is one of the best sources for watching movies and TV series of high quality presented in our list. This is a great tool for getting verified media content. All in all, this multi-functional portal offers all these movies and TV series in such a wonderful way that benefits the users.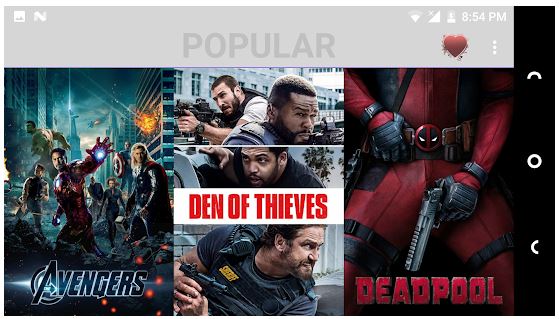 Each film contains a detailed description of itself, it shows the actors, screenwriters, directors, and other people who took part in the creation of your chosen art picture.
The main interface of the platform is divided into sections for movies, TV shows, news, and information about famous personalities. The Movies section will give you access to thousands of movies available only in HD quality. The service also provides you with the opportunity to watch new movies of cinema

You may also like: 9 Best Tennis Streaming Apps for Android & iOS
7. Movie BOX
Not everyone is happy with paid content: sometimes the basic uncertainty that a new TV show is worth the money spent, pushes to search for alternative options for accessing movies and TV series. Movie Box is an application that opens up the world of free video.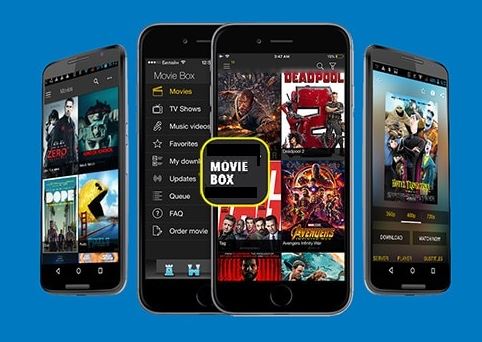 Movie Box is a service that is a video player and a video library at the same time. The application is developed on the principle of torrents and allows you to view the most popular foreign movies online. At the same time, all available video files can be freely downloaded to your iPhone or iPad.
The main features of the Movie Box:
ability to download a movie;
no registration or subscription required;
free content;
regular catalog updates;
installation that does not require a pre-jailbreak;
the ability to set certain parameters for viewing videos (image quality, subtitles).

8. Kodi
Kodi is an app that includes the most diverse kinds of media. It's one of the closes alternatives to Mobdro. The app's interface is nice and well-made, the categories are easy to browse, and more content is available than in many other apps that are available on the internet.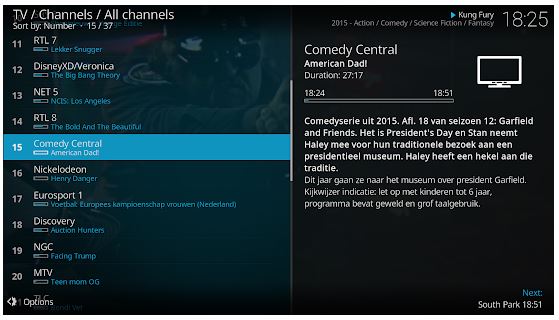 From the name of the platform, you can understand that Kodi refers more to television than to music and cinema, but there is also other content.
The app includes many foreign channels, so the app is suitable for every user. The only thing is the interface is a little bit complex (but it's only because of such a huge range of options), but if you go to the specific section of what you've been looking for it will be easy to orientate yourself in this app.

9. UKTVNow
UKTVNow broadcasts not only British television but also many different English programs. The client works similarly to Modbro and offers access to a variety of different media content across a variety of categories.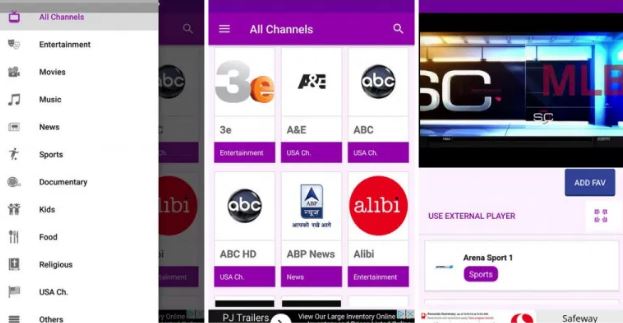 The app is very easy to use because of its user-friendly interface. Categories carry out their task completed, and most of the content can be found by clicking once. The client has about one hundred and fifty channels and there is a possibility of scheduled viewing. UKTVnow is available in many countries and can be installed on all platforms we know.

10. Popcornflix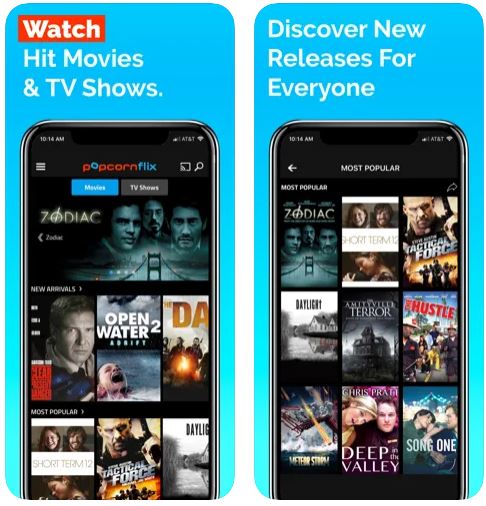 Popcornflix is a free streaming client that allows everyone to watch movies and TV shows without connecting a subscription. For free viewing, Popcornflix does not charge a single cent, but in return, the service places ads in its interface.
This app has been on the market for a while already, and, as the practice had shown, outlived the Mobdro. Well, here you won't find music, but if you came for the high-quality movies and TV series, then you're in the right place.
The app is 100 percent legal. And even though it might be a little bit obsolete, the fact that it's absolutely free can outshine all its drawbacks. You just open the app and see the home page with all the trendy movies and the lasts movies added. You can also search for a specific movie using the search bar or by categories.
To watch movies or TV series, as in all services of this type, you need an Internet connection. The interface is clear and simple, you can select the desired content at the click of a mouse, it is available in many countries and has many languages to choose from in the interface.


You may also like: 9 Best NHL Streaming Apps for Android & iOS
11. Crackle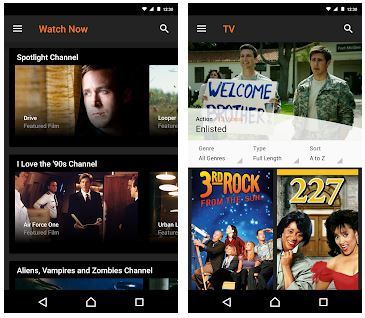 Just like the previous app, Crackle is an old player in the category of movie-streaming apps. And though it's not providing the best choice of movies and TV series, it's still a streaming service and hey – it's free. So in case you want to watch a popular movie without paying, Crackle is a nice option.
Crackle often appears in these lists of streaming apps, and for good reason. It is a legitimate app owned by Sony and provides access to a wide range of content from around the world, including movies and TV shows.
It's quite far from the Mobdro type, but one again, those who want to only watch movies will find it a good substitution.
It requires registration but has a number of features that you only get on Netflix or Hulu, such as the ability to resume work or a learning algorithm that can tell you what to watch.