Communication in the modern world is becoming more and more simple. You can chat with anyone and anywhere in the world. No matter if it's day or night. You can always send your message. But let's try to think differently.
What if you can interact with people who are close to you. The Yik Yak app lets you find people within a 5-mile radius around you. You will be able to meet your neighbors or your people from the close area.
This is a very useful app for young entrepreneurs, for very sociable people or for local community. We have also found similar apps that will help you communicate with people around you. Each of these apps has its own characteristics, advantages, and disadvantages.
We will try to analyze all the information in detail. You just have to choose which app you would like to install on your smartphone. Maybe you will install everything at once.
You may also like: 13 Best Last Seen Tracker Apps for All Socials (Android & iOS)
ZeeMee – Real College Friends
If you are going to move to a new city or area, this app will help you to do it more comfortable. By the way, you will be able to find people who are close to you. The app has already had several hundred thousand different chat rooms.
You can join one of them and start chatting. The app gives you the ability to filter the people you want to chat with. Does this app provide the other features? You can communicate using audio messages, which is a more convenient and faster way to transfer information.
You can also send documents. The app will help you better convey your emotions if you send GIFs. 1,000 events are waiting for you in this app. Arrange parties or theme nights by announcing in the app.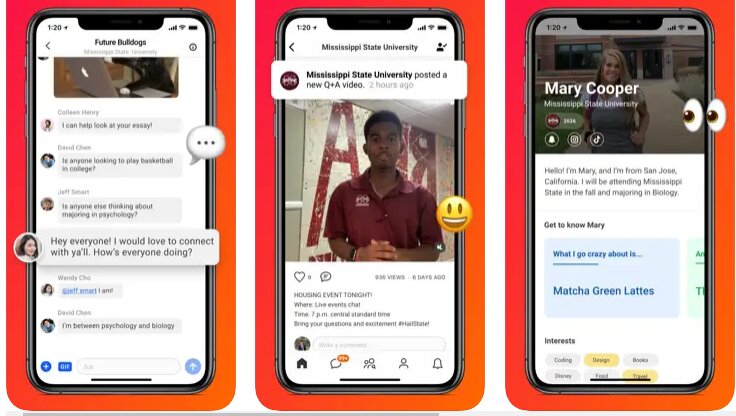 You may also like: MyChat Client App Review
Patio – College Chat
If you are studying at a university, it is very important to know your classmates. You need to have a constant connection with the people there at your university. Try this app that cooperates with numerous universities and colleges.
Moreover, you will be able to communicate even with the professors of your university. The app has an interactive profile. In addition to the photo, name, and your interests, you can also add your other social networks.
Open your profile and look at the number of friends you have as well as your location. Meet them in the app to meet in real life.
The app has a bunch of personal events held by university or college. You can register for this event right in the app. Moreover, if you spend more time at the computer, try a web version that has the same functions.
Create group chats to discuss homework or lectures. You can be in several group chats at once, this does not affect the performance of the app in any way. The choice of Zodiac signs helps you find love. Choose your zodiac sign to find your perfect match.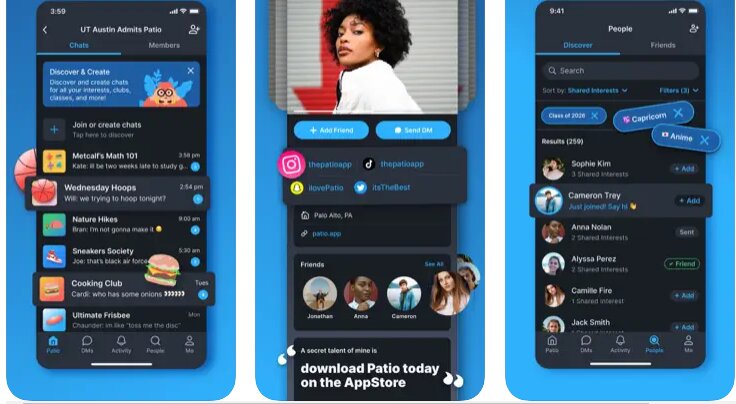 LoopChat Old Version
Did you get into college? Then you should definitely meet popular people from your college. Download this app and start chatting right now. You can create dorm or class chat. Bring people together by interests and discuss various issues.
The apps have a nice dark interface. It has all the typical messenger features. It is simple and user-friendly. You can post various news or event announcements. So your classmates will learn about upcoming events faster.
Moreover, start group lectures in the video chat. Many users love this app, so it has an median rating of 4.5 stars.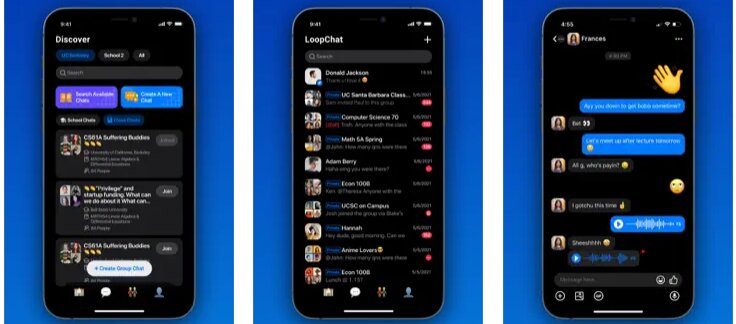 BeReal. Your friends for real.
Do you think there are people near you with the same hobbies? This app lets you find cool friends around you. Use your camera to share the wonderful moments of your life. You bought lovely ice cream, well, share a picture in your profile.
You went on a trip, publish beautiful places. People will share their emotions and write you a message. What's more, you can send entire videos to your feed. Video time is unlimited. The app will use all your data as your personal diary.
Watch those wonderful moments of your life and enjoy them. Sometimes the app puts forward tests for you that you need to pass. This allows you to get closer to your friends. After all, all tests are collaborative.
The app's interface and navigation is intuitive, so you will not run into trouble. The app has an average rating of 4.8 out of 5 stars based on over 70,000 reviews.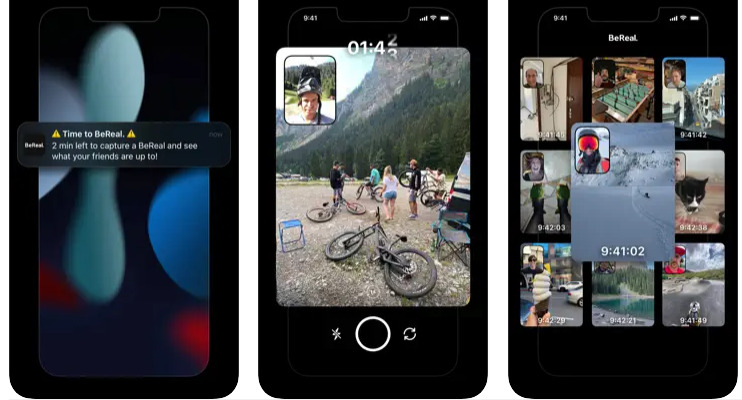 You may also like: 11 Best Group Messaging Apps for Android & iOS
The Hive
Hive is a large community where everyone plays their role. The point of this app is that the bee hive is the basis of its work. Create group chats and communicate on various topics.
Plus, put the main one in the group chat and change some components. For example, change the name of the chat as well as the main photo. What's more, you can ask anonymous questions to your friends.
Open the app map and find a friend nearby. You can ask an anonymous question and get an immediate response. What makes this app different from the others on our list? First, use music to reveal your feelings and tempers.
Change and individualize the shadow of the chat and font. Moreover, post different pictures or clips and display them in a grid. If you like the dark theme, the app has it. You can change it in the settings. The app weighs about 100 MB.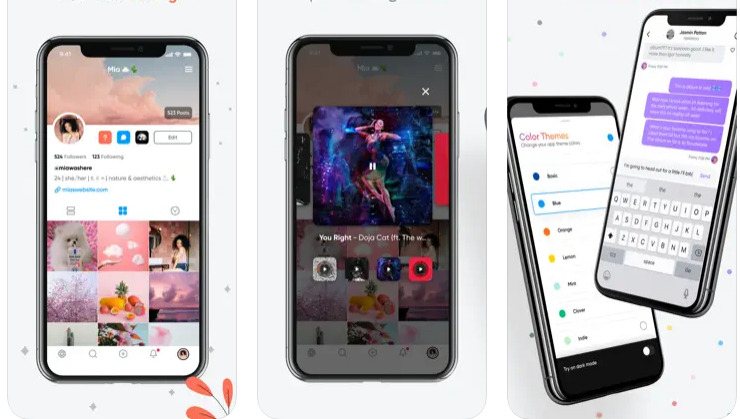 WolfPack – Get There Together
A wolf pack is a prime example of communication. This app is labelled so for a reason. It permits you to combine your route on a bike. Open the map and suggest your route. You can see the routes of other people on the map and join them.
The app adapts to any of your means of transport. You can take part in several challenges such as no noise or huge distance. Be careful on the road. Gather a group of biker wolves and go on a journey together.
The app has cool navigation and excellent management of your team. Create a group video chat during your trip. Use the radar to find out where the people from your pack are.
If you want to purchase the full version of the app, then you need a Plus version that allows you to have more features and useful tools for your travels. Try this new bike riding experience.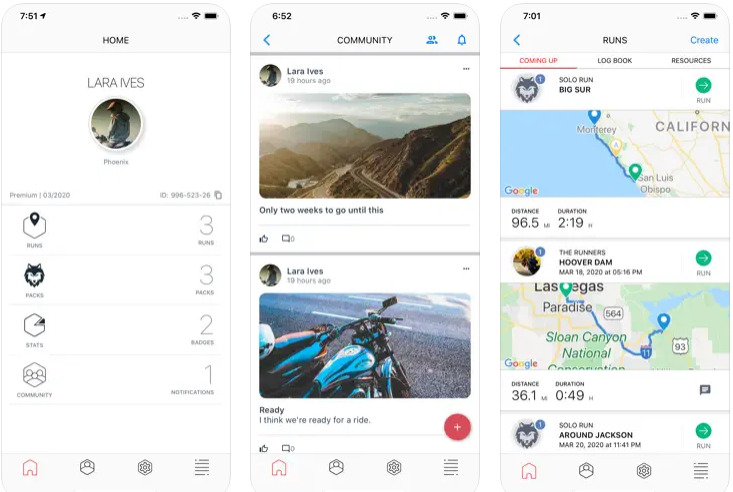 Cisco Jabber
Are you looking for a simplified app to pass along with people around you? Here it is. You meet an app that has nothing superfluous. Light theme, familiar design, regular correspondence, all this is in this app.
It's great for organizing and talking. The app is no different from messages. It's free and doesn't use your roaming charges. The settings of the app presents you additional info about the individuals you interact with.
Look at their status to find out their activity. What is really worth paying attention to is Visual Voicemail. Buy your assistant who will duplicate messages.
The app approves any device on any operating group. Furthermore, you can disable the communication manager who will administer any of your correspondence. In the app map, discover the actual whereabouts of all your people.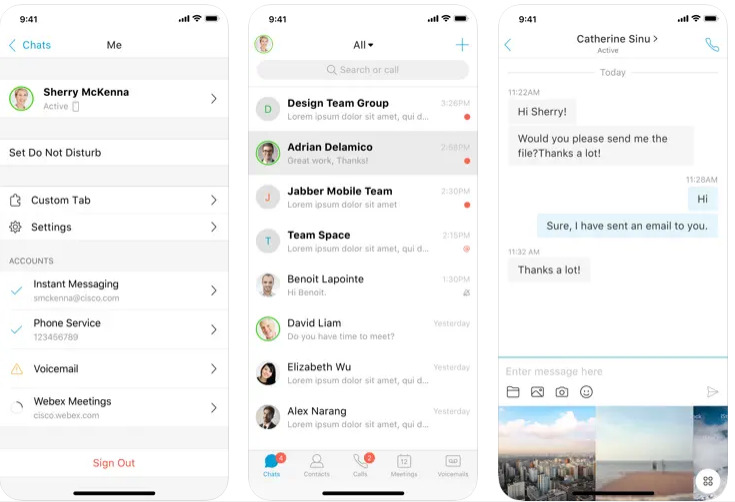 Connected2.me – Chat & Meet
Meet the app with anonymous chats that will allow you to chat with people within a radius of 2-3 km around you. Add hashtags to your account so that people can find you. Communicate in any way. Send voice, photos, and videos. What is more, you can randomly join any chat.
The app has a nice design and a simplified interface. It takes about 120 MB and has an age limit of 17. If you study languages, this is a great opportunity to find a study buddy. Buy a promotion to become even more popular.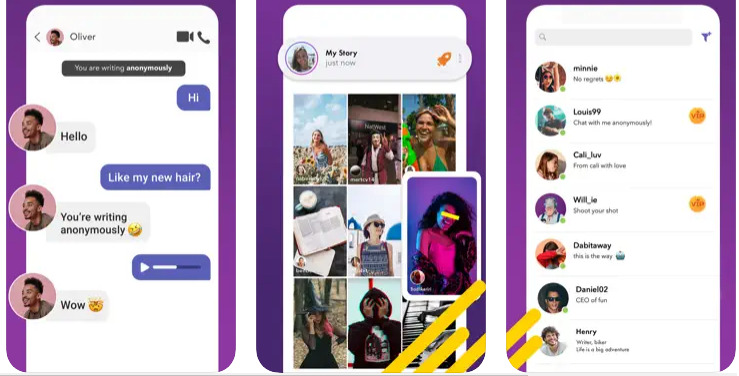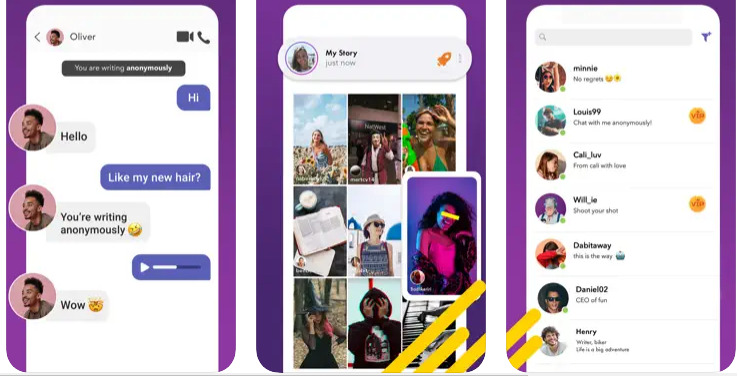 You may also like: 9 Best Christian Chat Apps for Android & iOS
ASKfm: Ask & Chat Anonymously
Do you like to ask anonymous questions? It helps you to know everything you want to know about a person. It blurs the boundaries of communication. Be assertive and determined. Ask what you care about for several decades.
This app allows you to ask anonymously questions to people nearby. Open the app map and see Who's near you right now. Ask a question and wait for an answer. Moreover, you can subscribe to people and answer their questions.
Be honest in your answers and try to answer the most extravagant questions. This app allows you to meet new people and make new friends. The app has over 200 million downloads worldwide.
It has been translated into over 40 languages. More than 10,000 questions are created every minute in the app. If you want to join the VIP program there you need to pay a subscription.
VIP program helps you find out who asks anonymous questions. You will manage your entire account. Ask a question and wait for people to start answering it. The app have an average rating of 4.3 stars out of 5.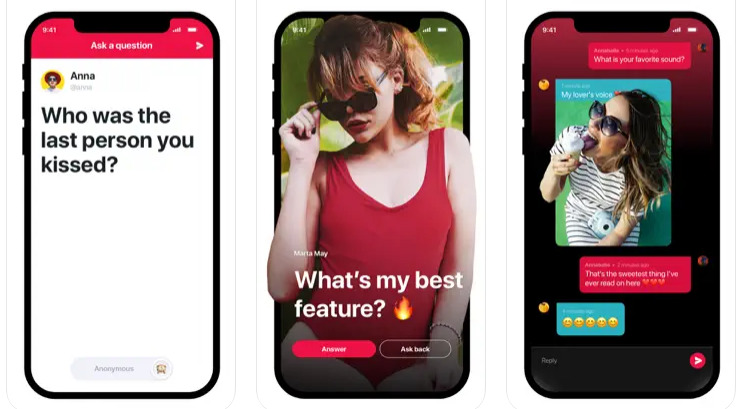 Would you like to read other people's minds through? Try this cool app, and you will be able to find out everything people think about. It is a great social network that allows you to express your thoughts.
Write your thoughts anonymously or mark your name. You can comment on other people's thoughts. Give them advice or encouragement. This app helps you get out of any difficult situation because millions of people are ready to help you.
Share interesting moments of your life and meet new people you can also join huge groups of people some groups have more than 10000 people.
Now it still has the same function as the standard chat. You can send a photo, an audio message, a video, documents, and much more. Make your correspondence bright and unforgettable.
The developers are trying to update the app every month. They add new features. If you have any questions about the app, contact technical support and get an immediate response.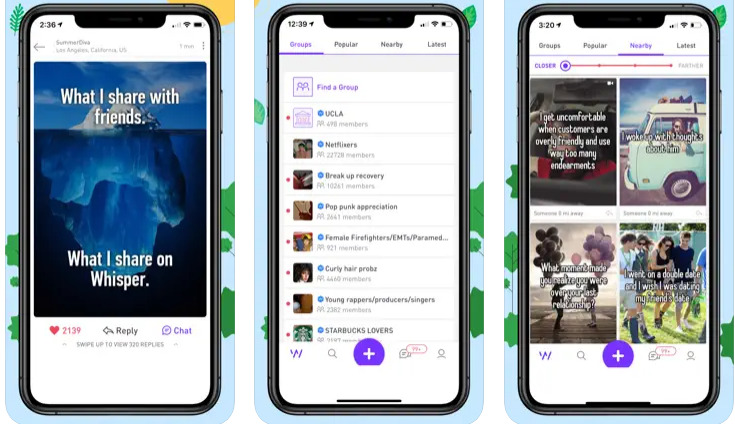 Candid Connection
Are you a sociable person? Download the app and check. You will be able to find 1000 new friends. You don't even suspect how many interesting people are near you. This app allows you to discover people from a few kilometers away.
Create an account at the beginning of use. Be sure to select your interests. If you like gardening, then the app will show you all the people who also selected this interest. The design of the app is simplified and pleasant.
The navigation is intuitive, so you definitely do not get confused. Post various posts and comment on other people's photos. This app is not just a messenger. It is a cool social network.
The app is a safe environment for communication for people like you. Don't be afraid that you will be judged. This community is very nice and friendly.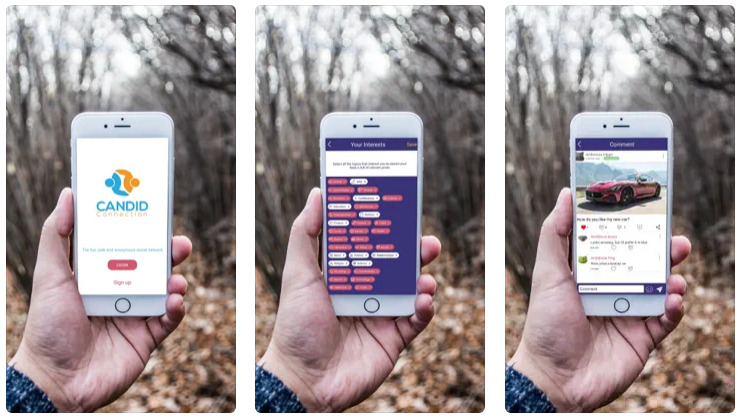 You may also like: 7 Best Message Theme Apps for Android & iOS