Do you want your children to boost their math skills? If your answer is "yes", PopMath Original is a perfect option for this task! PopMath Original is full of magnificent features, but now let's find out the way this game works.
Find more math word problem-solving apps in this article.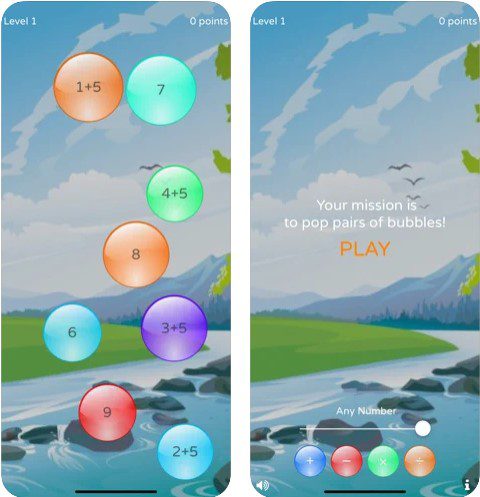 We have to admit that there is nothing complicated in this game, as the developer provides an excellent user experience.
After a quick installation, several bubbles are moving around the screen. Inside each bubble, you will find a specific number. You have to pop all the similar bubbles to each other.
As you go further, the numbers will increase to 1000 for addition and subtraction, and to 20 for multiplication and division.
If you want, the app also enables users to practice a particular table – from 2 to 12.
Moreover, you can also select a specific operator – f.ex. addition, subtraction, multiplication, or division. This function will certainly help you to obtain more practice!
When the game is over, the app shows your performance: the spent time and the number of mistakes.
Another useful option that many users will certainly like – the app supports a wide range of foreign languages. For instance, English, French, German, Italian, and Spanish. Therefore, all kinds of users can easily play this game!
What is more, PopMath Original boasts a very user-friendly interface. Besides, the app comes with an intuitive design that guarantees pleasurable time-spending!
If you have faced any technical issues while playing, you can contact very responsive customer service. The technical assistants will do everything to solve all your problems!
Clear interface, background music, and pleasant pictures – all these things are the key advantages of PopMath Original!
And in order not to miss anything during your lectures, you should use lecture capture apps.
Summarizing all the points mentioned above, PopMath Original is truly worth downloading. We have not found any significant drawbacks of this app, that's why hurry up to try it – you will not regret!