Nowadays, when our smartphones are almost all-powerful with features ranging from GPS location, 3D camera to flashlight or others, you may need only a small amount of time and some simple finger movements to complete any task.
Similarly in this way, if you need to know the distance between two spots, then a measuring tape is an absolute must-have! Currently, there are lots of distance measure apps on the market which enable you to easily figure out the required distance from point A to point B.
There are several compilations of distance measuring apps for android and iOS users available. Namely, this software mainly assist you in measuring the span between two points on a map. Considering that all of them function on different terms, you should get acquainted with these apps' manuals.
Such measuring apps make it possible to measure distance, height, and much more for free. Forthwith keeping any external measuring tape with you isn't necessary anymore.
You may also like: 11 Best CAD Drawing Software for PC, Android, iOS
Some distance measure apps are using AR, GPS, motion sensor, and measuring laser to display the distance between two places. Here are the best 13 distance measure apps for android and iOS users with the most crucial good aspects and bad sides to them.
1. Measure Map Lite
Measure Map Lite easily measures various distances, perimeters, and areas with laser accuracy taking into account the curvature of the earth's surface. It calculates every surface, which lies in an open area, while there is no need to go to the actual place to make measurements.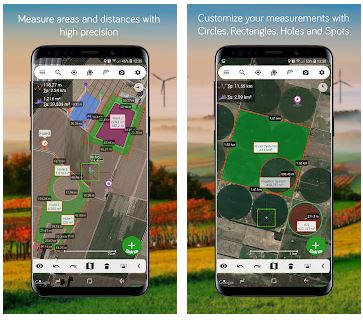 The app calculates all the dimensions with amazing accuracy based on satellite images. Determine the area of surfaces, buildings, land plots, reservoirs bottom, forests, or dimensions for installing fences, sports, and travel routes, as well as everything that you may need to do in the open area.
Moreover, the application can be used effortlessly with basically one button for all operations to easily place points without compromising professional accuracy. However, the app only enables you to create one polygon with a maximum of 6 marks, while it is not possible to create a circle or a rectangle.
The app also creates an estimated route profile, though additional maps such as Bing Maps, Here Maps, Apple Maps, etc. will be only available to you if you do the upgrade to Measure Map Pro.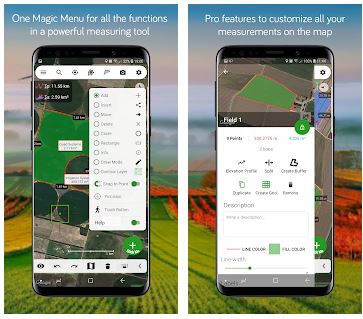 While it is also true that the app does not have a track button, it still features several map types such as satellite, hybrid, and terrain with 3D buildings on them if needed. Contrary to this you will only be able to extract files from the app in MMR format.
All in all, here is a list of the Measure Map Lite App's key features:
Operations: add, remove, insert, move marks
Altitude, azimuth, and angle display
Option to undo and redo operations
Export files to any device application that supports the "share" function.
Choice of color and transparency of the perimeter line and the selected area
Route export and import via any storage account
Save photos to an album
Over and above the Measure Map Lite App is highly accurate and easy to use. If the accuracy of measurements is important to you, this app is just what you need.


You may also like: 11 Best Land Surveying Apps for Android & iOS
2. Google Earth
This app enables you to look at the world differently! It features satellite images, three dimensions terrain, and 3D buildings, panoramic images, professional photographers' images from BBC Earth, NASA, National Geographic, and other Google partners. Not many users know that it is also possible to do distance measurements with Google Earth.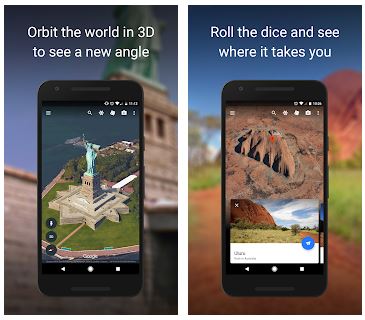 To do so, just follow these easy steps:
Select the desired location on the globe and press the "Measure" button. Add marks by swiping over the map and press "Done". The required distance will appear at the bottom of your screen. If needed, tap "Undo" at the top to add changes to the selected area.
Please note: you have to go to your first point on the map to close the area's shape.
There is no doubt that the app is one of the best available yet considering the details are spectacular for most places on the planet with superb 3D images and tons of various photographs. However photos of less known places on the earth lack in quality.
Also, while measuring the distance, the app might turn off unexpectedly. What is more, you should keep in mind that the developer does not update the earth images regularly. You might find that a lot of what has changed in your city isn't simply on the map.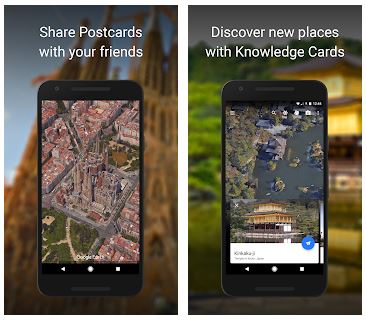 What is more, the app won't provide you with the angle while measuring the area.
Here is a short overview of the already mentioned features:
Virtually "travel" all over the earth
Route planner
Distance measures
Additionally to all this, you can also view your detailed maps and stories created on the Google Earth Online service. In case the app "vanishes" from your desktop, each time you turn on/off your device, you will need to disable Google Partner in your phone settings. This is the program, which removes applications that Google does not like.


3. GPS Fields Area Measure
With this app, you will be able to do area, distance, and perimeter measurements using GPS location and do not depend on your Internet connection.
This app is an agreeable measurement tool for outdoor activities, sports, distance calculations, cycling, and cross-country tours plans, research, golf courses, land surveying, pasture measurements of pasture, garden and agricultural operations plans, accounting, areas, construction, farmland fencing, solar panels batteries installment, travel plans.
GPS Fields Area Measure is best suited for farmers who grow wheat, corn, rapeseed, maize, and sugar beet on their farms and must perform measurements on the ground from year to year to confirm the acreage. Also, it is an agreeable app for farm managing and agricultural work to have an overview of how many fields are already planted.
What is more, the program automatically generates a link featuring borders of the selected area, direction, or route, which you can transfer to your friends or colleagues to illustrate your point.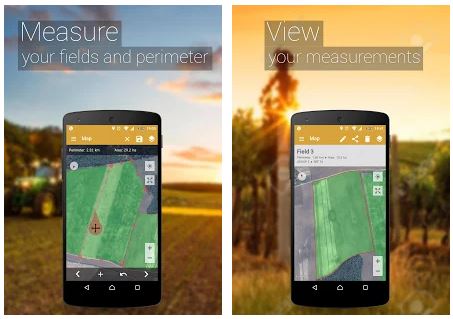 More to GPS Fields Area Measure options:
Quick area/distance markings
Accurate point placement
Save and edit measurements
Grouping and naming dimensions
Undo actions
GPS tracking for automatic measurement on the move
All in all the app is relatively easy to use, though while doing calculations for larger areas it might reset your measurements. Besides you might find the map quality lacking while zooming in depending on your gadget type. Moreover, the marks highly depend on your phone's GPS ability and wherefore might deviate from reality.

4. Measure Map
Measure Map allows you to find out the distance between A and B anywhere on the earth.
It is as easy as that: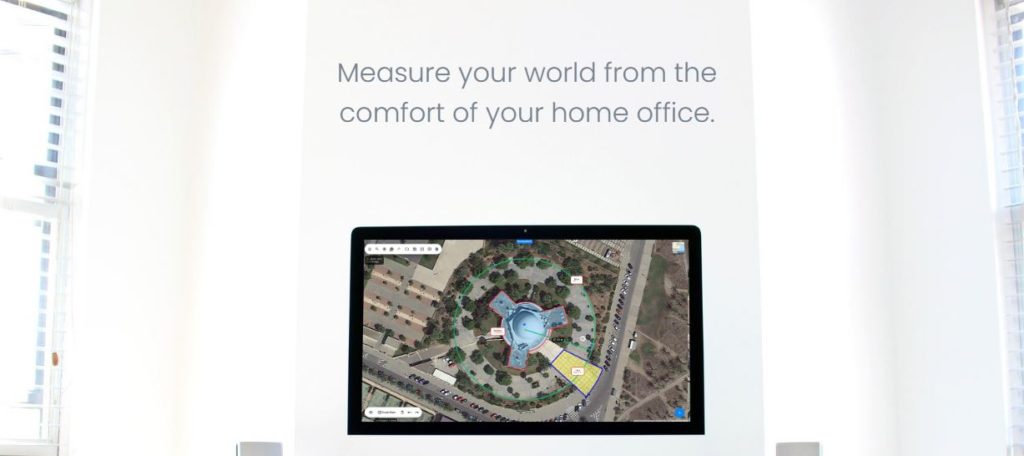 Tap once on the map to define the first marker and then click again to position the second one. The app displays then the desired distance. There is also a possibility to set up a series of locations to discover the total span. If needed you might also use the relevant buttons in the bottom-right corner of the main screen to complete the action.
The "Support" button enables you to swiftly change between multiple maps and measurement types. In the same way, it is possible to change between area, elevation, and distance calculations. Whenever you want to remove a mark, you just have to press on it. With a long press, you will make all the marks disappear.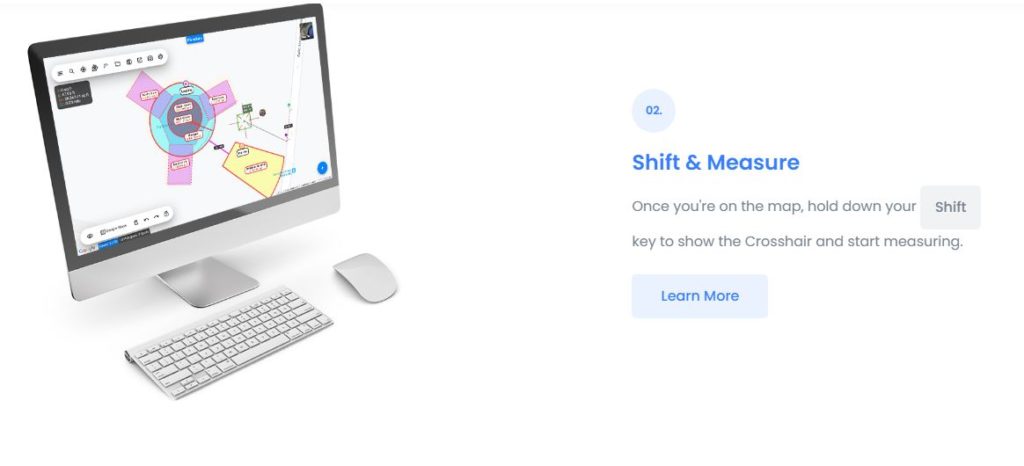 Here is a closer look at the app's features:
Meters, kilometers, nautical mile, feet & miles, yards units
Meters², kilometers², feet², nmi², yards² and acres units for area measurements
Normal, satellite, terrain, hybrid map types
Coordinate export possibility
However, one drawback is that only the premium version does not have any ads.

5. Maptitude Mapping Software
Maptitude is a great tool to visualize your data on a map in any way possible. This mapping program provides users with tools for viewing, editing, and integrating maps. This program is generally designed for geographic visualization and data analysis or uses external data to identify geo-regularities and trends.
Aside from distance measurements the app can:
determine your customers' positions
see the sales dynamics
spot geographic patterns and trends
influence your operations based on geographic predicaments
While it is all true, keep in mind that you will have to pay for the app monthly. Additionally, while the app's performance is unbelievably high, it might become too confusing to handle provided you will use it for simple actions only.
Then again this app has secure off-line data storage and enables its user to save it to JPEG, PNG, or HTML formats.

You may also like: 11 Best Land Surveying Software for PC
6. Running Distance Tracker +
As can be derived from the app's name itself Running Tracker+ tracks your distance, pace, calories, and more. It's an extremely accurate running distance and time tracker available on the market. With its fashionable interface, it's still pretty simple to use.
The app might ask you for access to your music player to give you some voice feedback guiding you as you run towards your target distance or time. It is also possible to create a history of your runs and improvements over time, while you can always obtain the complete register of your running activities.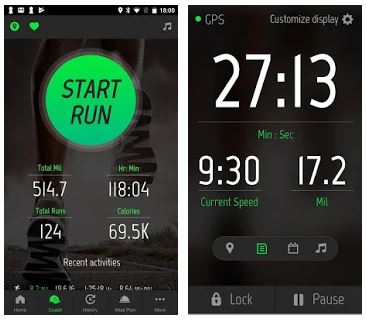 The app's main features:
Accurate distance/time tracking
Average and current pace tracking
Running GPS with Maps and running routes
Calories count
Customizable voice feedback
Run history
Music player access
While the app's interface is compact and informative, unfortunately, it is not possible to transfer your data to another device. Apart from some of the app's options will only be accessible, if you obtain the paid version. Furthermore if for example, you receive a phone call, the app might reset all your results.
Thanks to GPS function the app tracks your results with accuracy up to a meter, although it shuts down once you lock your gadget.


7. Ruler App
ARCore Ruler is a powerful measurement tool that profits largely from the use of augmented reality. AR Ruler uses Augmented Reality technology to measure various things in the real world using your smartphone's camera.
All you have to do is to turn your camera on, aim it at the desired object and start to "outline" it with your camera's movements. The object's dimensions will appear right there on the screen. Before you start, make sure that the item you want to measure fits in the Ruler Photo frame.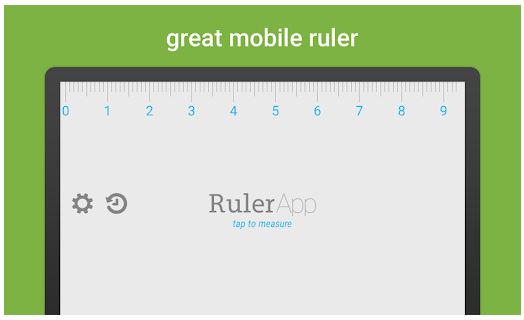 To avoid any measurement distortion ensures the camera's parallel installment to the desired article. For ruler settings to appear double-tap the screen. A window will emerge containing a list of items that can be used as a reference for measurement.
It is highly recommended to choose the measurement standard that is closest in size to the object being measured. Position the blue arrows on the borders of the reference chosen and the green arrows on the
borders of the object you want to measure. The length of the item is displayed in the upper-left corner of the Photo Ruler screen.
How to use the app as the regular ruler:
Select " + " in the Photo Ruler window, add the desired item to measure or mark. Align the points of the tool with the object in the photo and set the required dimensions manually or do it in advance with a Photo Ruler.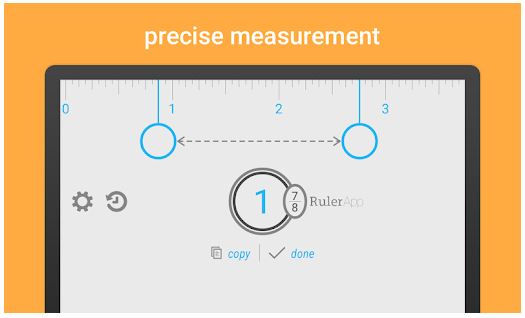 The measurement's result will emerge at the bottom of the screen. In case the ruler scale is visually stretched or compressed, the ruler calibration can be reset manually. What is more, the ruler can be calibrated using various reference standards such as a credit/debit card or coin.
Ruler App is an application that accurately determines the object size from a photo and measures small objects using a regular digital ruler. The design is relatively simple, while you can also mark dimensions on the screen using the following elements: arrows, angle, text, and quadrilateral – use them to mark items in the photo.
Some of the many useful features:
Linear dimensions in cm, m, mm, or inches.
Distance Meter
Angles on three-dimensional planes measurements
Area and perimeter.
Volume
Path calculation
Height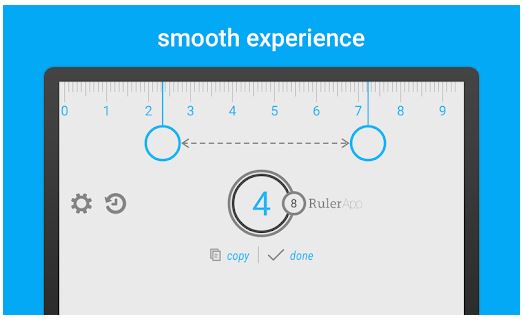 However, a significant handicap is an exceedingly large amount of ads and payment notifications provided the fact that many of the app's options aren't available for a free version. Besides, the already mentioned options might need extensions that have to be downloaded but aren't supported by every gadget's operating system.
Also please note that your subscription will be renewed automatically resulting in monthly payments for the app! And before downloading the app please check your device's ARCore compatibility, as it is the only way the AR Ruler component will function at all.

8. Moasure – the smart roulette
The convenient and easy-to-use Moasure app is all in one: a 300 m /1000 ft tape measure, ruler, protractor, and goniometer (angle meter). To discover the required area move your phone from one point to another and the app will do the rest namely do the distance, height difference, or angle between two points measurements.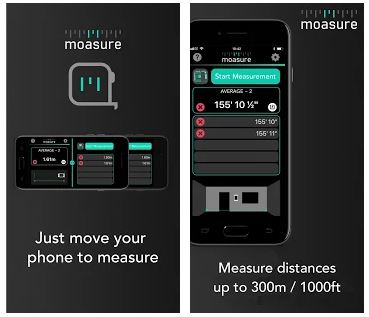 Moasure runs on the same technology as space rocket guidance systems – accelerometers and gyroscopes in your phone-measuring the distance you've moved your phone on precisely.
Moasure can measure almost anything from the length, width, and height of the objects to the size of the rooms and even the distance between the rooms.
Please note: the largest handicap might be that Moasure is not compatible with all smartphones. After installation, the Moasure app will check your smartphone's sensors and confirm, whether you will be able to use the app.
The measurement's accuracy, typically diverges from 1% to 3%, while calculations run from 2 to 3 seconds, on different premium phones. Thus resulting in significant discrepancy for longer measurements. Furthermore, you will have to sign in and turn the geolocation on to work with the app. You do not require an Internet connection to be able to use the app.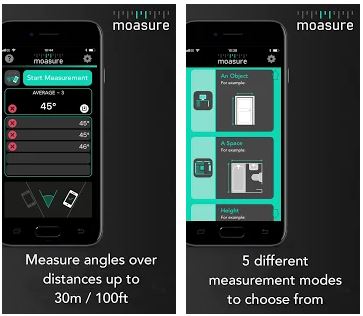 To sum up, here are the key points why you might give Moasure a try:
5 different measurement modes
Measures space around obstacles
Measurements on any surface
Marking and saving measurements for later use, printing, and sending via SMS or email.
Results display in metric or imperial units.
Angle measurements between two points
Beyond all this, if you won't go for longer distances, Moasure might be just the app you were searching for.


9. Distance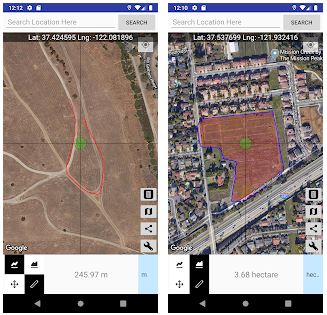 If you need to figure out the distance on the map or the area, Distance app has been made for you!
Here is a quick description of how to use the app:
Just by touching the map and drawing the required route, you can determine the distance or the area to it. First of all, choose between moving and measuring modes and between area and distance calculation. To change the measurement units press the button "Unit" as well as use the button "Delete" to start all over or the button "Share" to export your results.
Please pay attention to the fact that the app calculates the distance and area based on the curvature of the earth.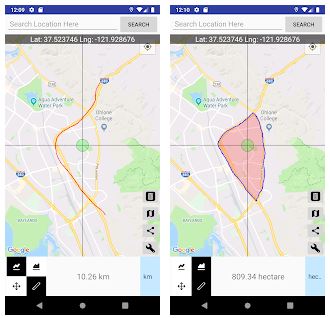 In addition to everything listed above, you can plan your route by swiping your finger across the screen with this app. It is also possible to determine the volume by simply circling the desired object. It might be exceedingly suitable for those who already know the road and need to know what distance is there. With this app different map types are also available to you.
Features overview:
Distance, area, and volume measurements
Unit choice
Export options
However, this app might be not compatible with every operating system, so that it might come to loading delays on different gadgets.

10. SizeUp – a Smart Tape Measure
SizeUp is an agreeable digital tape measure, which calculates the length, width, and height of a surface. To receive the numbers click the "Start" button and make sure you move your smartphone in a quick and steady line. At the end of the route press the "Stop" button to retrieve the results.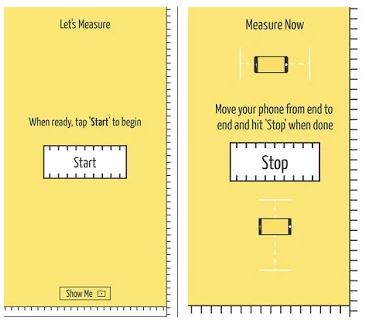 Despite the obvious advantages and app's convenience, there is a general measurement discrepancy from 1 to 2 cm. Moreover to be able to fulfill its purpose the app requires a constant internet connection. Furthermore, you might need to go through the operation several times for the program to provide you with the correct numbers.
Nevertheless, SizeUp still counts a few pros:
Metric or imperial units/centimeters or inches measurements
Measure any object
Historical measurements storage
Share your measurements
So if everything listed above does not scare you off, SizeUp might still stand a chance for you. It actually might prove itself useful the next time you go shopping at a home design or DIY store to measure not giant objects.


You may also like: 11 Best Apps to Extract Text from Image on PC, Android, iOS
11. AirMeasure – AR Tape Measure & Ruler
AirMeasure app enables you to measure anything around you instantly with your phone camera! The app runs on augmented reality and sizes up anything.
To make use of the virtual ruler, turn your phone camera on, aim at point A and then at point B. If needed markers' position can be adjusted or undone completely. The app is highly recommendable to measure furniture objects. For instance, if you want to know for sure, whether the couch will fit in your bedroom.
Key features listed:
Centimeter and inches units
3D image
Adjustable markers
While the app's usage is uncomplicated, it is only compatible with ARCore supported devices and displays deviations, while measuring larger objects and areas, for example, a wall.