Locast is a popular platform for watching local TV. It is free and is watched by over 55% of the population of the United States of America. By the way, it is more than 180 million people.
You will be able to watch your favorite TV shows over the Internet. There are dozens of different channels. The goal of this community is to provide Americans with the opportunity to watch TV for free.
Some people cannot afford to purchase TV cables and satellite equipment. This website is an excellent opportunity to watch TV channels all legally and securely.
The company has a ten-year history and has tremendous respect in the market. The broadcast signal is free of interference. We decided to find the 11 best apps similar to Locast. Take a look at the list below and choose the app that suits you best.
You may also like: 7 Best Apps to Connect Android to TV
Haystack News: Local & World TV News – Free
It's great to have a TV on your phone, isn't it? Download this app and it will broadcast you local news, weather forecasts, exchange rates, and much more. You can like or dislike the channel that is broadcasted to you.
But the way, the app has smart recommendations so the channels will be the most relevant for you. More than a hundred different channels are waiting for you in the app. You can decide what news you want to watch.
Customize your profile and preferences. Add only the best channels to your favorites. Plus, you can also mute the channels that you don't like. Moreover, the app broadcasts live shows. This is a great opportunity to keep informed of the latest events.
If you want to know world news then choose world channels. Look through channel selections and find something new for yourself. The app is convenient to use, plus, it can be connected to your TV without having to pay for the cable.
Find an app with your smart TV and enjoy thousands of channels on the big screen. Only the most trusted authoritative sources and TV companies are in the application. If you like a humor show – there are a lot of them here.
It needs to be said, users are faced with the problem that the screen is not always suitable for the smartphone model. Open the app settings and manually adjust the screen resolution.
The app has been used over 1 million times. If you want to know the local news of your neighbors, you can always change your location.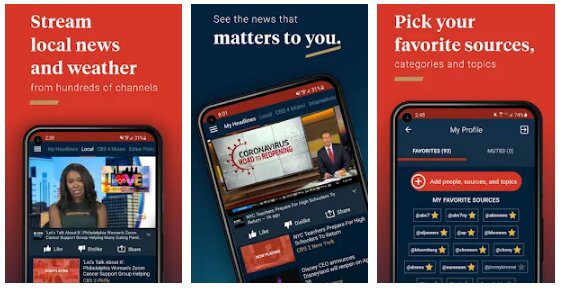 You may also like: 12 Best IPTV Software for PC, Android, iOS in 2021
DISH Anywhere
This is a huge platform for watching TV channels, TV shows, cartoons, and films. All you need is your smartphone. You can watch live shows as well as recorded ones. Hundreds of movies, TV series and cartoons are waiting for you.
Of course, you can add channels to your favorites list so as not to lose them. Moreover, the application has a convenient schedule that will notify you about your favorite TV shows. You can also watch movies offline.
To cut in short, you will always be aware of the latest events in your small town or district in a huge city. The app has both free and paid shows. If you buy shows you can download them and watch them anytime and anywhere. Only HD quality awaits you.
As for the schedule, it is perfect. Moreover, in the sports section, you can see the dates of all matches as well as the score. Add your ideal team to the favorite list so that the app notifies you about all the games.
The app takes more than 150 MB but it is a great source of unlimited TV shows, movies, and TV series.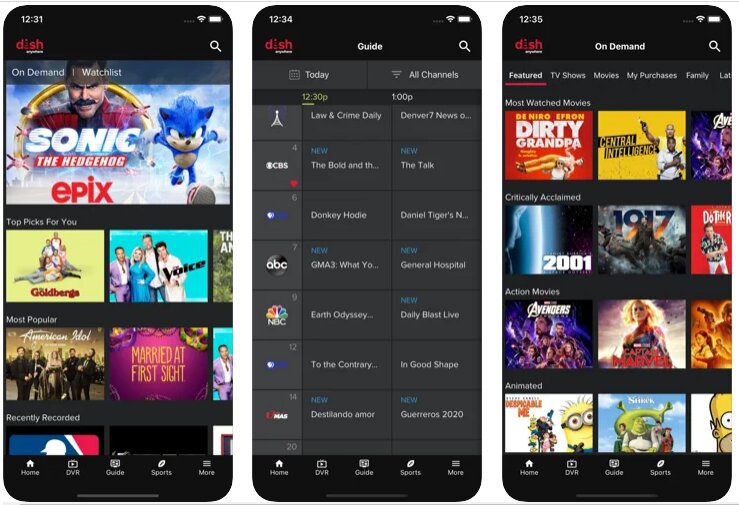 LocalCast to TV for Chromecast, Smart TV, Roku etc
Along with the previous app, LocalCast lets you enjoy thousands of streams of your favorite TV shows. It is capable of streaming movies from any website. You can start the stream yourself and allow people to watch your broadcast.
Moreover, you can send video as well as audio files. Connect the app to your smart TV and you can watch any movie on the big screen. Along with that, the app supports absolutely any site. You don't need to subscribe to video hosting.
Just download a movie or TV series to your smartphone and turn on the broadcast right on the screen. The app has been installed over 10 million times. Developers actively continue to fix bugs and add innovation.
The app has ads but you can get rid of them. Purchase a monthly or yearly subscription and enjoy watching your favorite movies ad-free.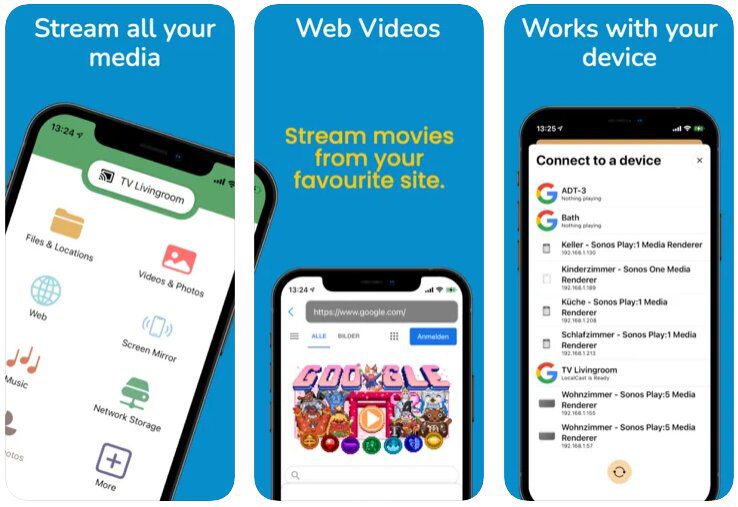 Web Video Cast | Browser to TV/Chromecast/Roku/+
What do you need to comfortably watch TV shows? A huge screen! Download this app and you can connect your smartphone to any TV. Moreover, the app has a huge catalog of various channels with a convenient schedule.
Plus, you can set a notification for the programs you are interested in. Watch local news no matter where you are. This app supports a huge number of different platforms from Google Cast to PlayStation 4.
Another thing that makes the app awesome is the streaming of MP3, MP4, and other formats. First, you need to find videos on the Internet. Then play the video on a smartphone and it will be displayed on the TV.
The app has a lot of ads. It is annoying. If you want to get rid of ads then you need to purchase the premium version. The premium version will allow you to watch your favorite shows without ads.
You can also add your favorite channels to bookmarks with the premium version. Plus, add widgets on the home page. If you have not found a suitable show in the app, then use the browser to find the video you need.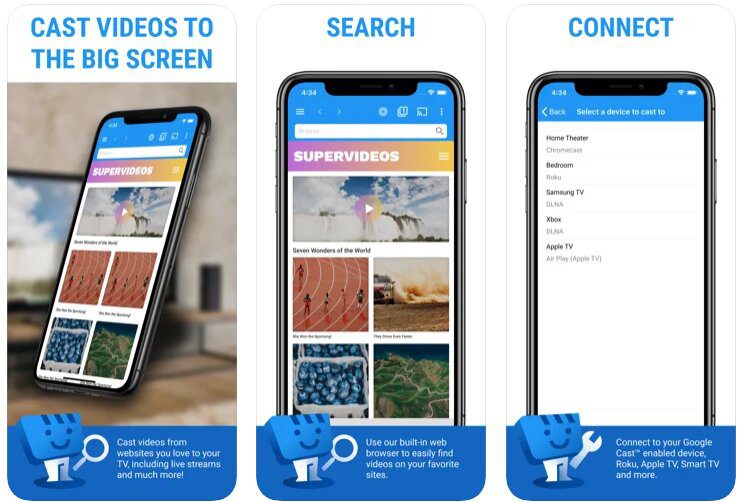 Daystar
Would you like to always have access to a TV? This app will allow you to watch all your favorite movies and TV shows. In addition, you can watch local news even if you are far away from home. Stream videos on your device to share the information.
The app has a weekly schedule. You can set a reminder not to miss your favorite TV show. It needs to be said, that finding movie is very easy. You can search for a movie by title or use categories.
Moreover, you can watch local news from other regions. The app has almost all positive reviews. People are delighted with the quality and reliability of this app.
However, it requires permission to access some information such as location, contacts, data usage, and search history. Download this app and you will have unlimited access to local news.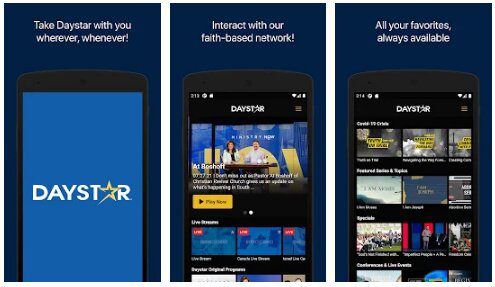 You may also like: 11 Best Viooz Alternatives in 2021
ARTE
Arts is a huge video hosting where you can watch the local news. You will be surprised by such a huge amount of content. Documentary films, web series, local news, world news, and much more are waiting for you.
Another thing that makes this app outstanding is the ability to watch programs offline. Download the desired video or local news to watch them without the Internet.
Along with that, each TV show, film, or local news has a detailed description. You can find out the release date of the program, the hosts, actors, directors, and other details about the filming.
If you need to interrupt the watching, do not worry, the app will remember where you stopped. When you return to watching again, you will start where you have finished.
As a small addition, you can connect your smartphone to the TV screen. It will allow you to enjoy your favorite local news on the big screen. The app has a calendar in which you can mark the release dates of your favorite local news or shows. The app will notify you about upcoming programs.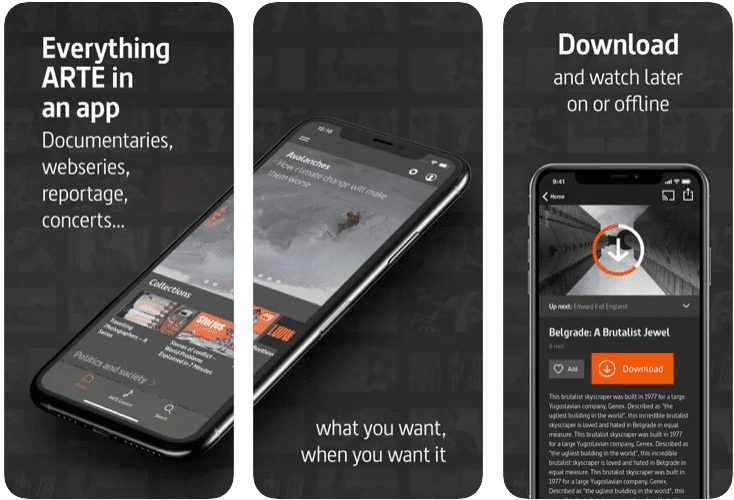 VET Tv
Vet TV is a huge platform for watching the local news. This app has many local channels that are automatically recognized according to your location. Moreover, it is a huge library with different genres.
The app has a convenient sorting system. If you only watch serials open the series tab to find them. There you will also find ratings of the series, their detailed descriptions, as well as reviews.
At first glance, it may seem that this is the same app like the others on our list. You are wrong because Vet TV has unique content that you will not find anywhere else. New episodes are released every week.
Plus, you can download videos with embedded subtitles. This is a great opportunity to start learning a new language. Create your list of favorite movies, TV series, and local news right in the app to have it always at hand.
You can also subscribe to the paid version. This will open up new opportunities for you, such as managing your account and unlimited access to any VIP series. To subscribe, you need to purchase it in the app or on the website.
The app takes only 20 MB. It does not run in the background and collect personal information.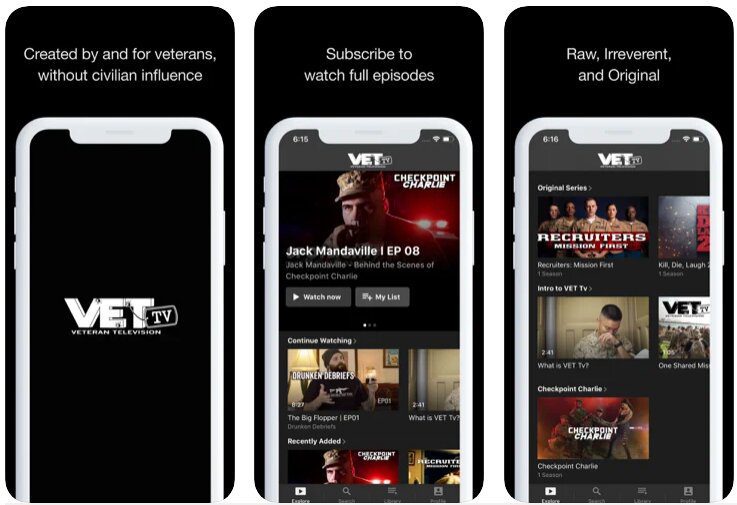 You may also like: 11 Best Interactive Story Games for Android & iOS
Caffeine: Live Streaming
Local street culture is always an important part of the neighborhood. This app will allow you to enjoy various streams, battles, games, and rap local news.
Moreover, you can start your show right in the app. Participate in rap battles or become a member. What makes this app special? Firstly, this is a huge resource of rap content. Secondly, the app will notify you of all local events.
Thirdly, you will be able to meet tons of wonderful people. Plus, this is a huge community of dance lovers. Enjoy dance battles and take part in local dance events. You can watch your favorite shows as well as take part on your own.
The app has a stylish dark design. The navigation is very simple. The app has a system of awards – bronze and sapphire. Complete tasks to get rewards that can be exchanged for gifts.
Some users are faced with small bugs in the app. This is especially noticeable on streams. Sometimes the image quality of the stream becomes very low that it is even impossible to watch. This is due to the technical work in the app.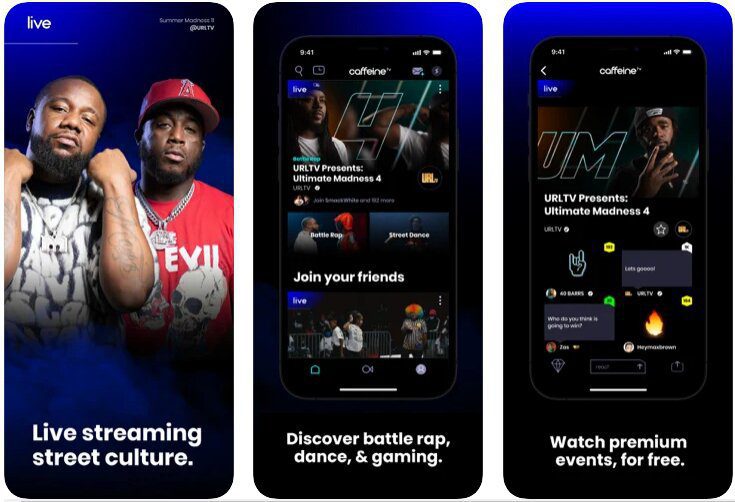 TBN: Watch TV Shows & Live TV
Local Christian news is an opportunity to connect with God. TBN will help you find out all the latest news in the Christian religion. Only inspiring and positive content awaits you.
The app spots where you have finished watching, so you can always resume it. Plus, add your favorite Christian programs to your fav list. You will always have quick access to them.
This app combines several Christian channels. Choose the one that is the best. Enjoy dozens of Christian programs and cleanse your heart and mind. If you love the show, you can download episodes and watch them at any time, even if you do not have the Internet.
This app is a huge community. Leave comments, share your opinion and impressions about the TV show, video, or movie. Stay tuned for local news from your church.
The app will notify you of the latest Christian events in your neighborhood. You will always feel His Presence. The app takes about 50 MB and does not run in the background. The app has an average rating of 4.8 stars.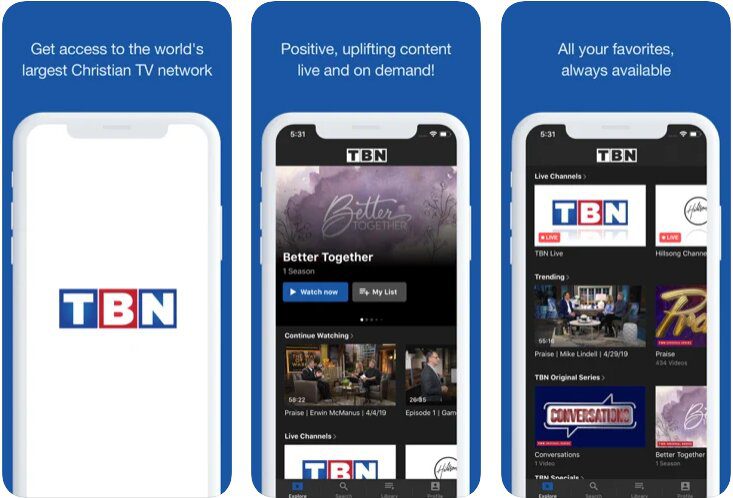 You may also like: 9 Best Boxing Streaming Apps for Android & iOS
NFL
Would you like to know the local news of your favorite sports team? Then you should download this app. You will be able to receive 24/7 information about all the current events in the world of sports.
Find out the date and time of matches, as well as their score. Moreover, you can watch your favorite match live. If you missed the match don't be discouraged, you can watch it later or read the detailed review.
The app has several dozen channels to watch. Along with that, a subscription allows you to watch these channels at any time. Enjoy the play-off you and the Super bowl.
Another thing that makes this app interesting is the articles and match reviews. Read the latest news from the NFL world. The design of the app is modern. Interactive icons, stylish icons, and labels are waiting for you.
The navigation is convenient. For example, you can open the tab of a whole team, and study its members, coach, match history, and much more.
Some users experience long video loading times. You need to first check your Internet connection. If it is O.K. then contact technical support. The app requires several permissions such as using the date and location.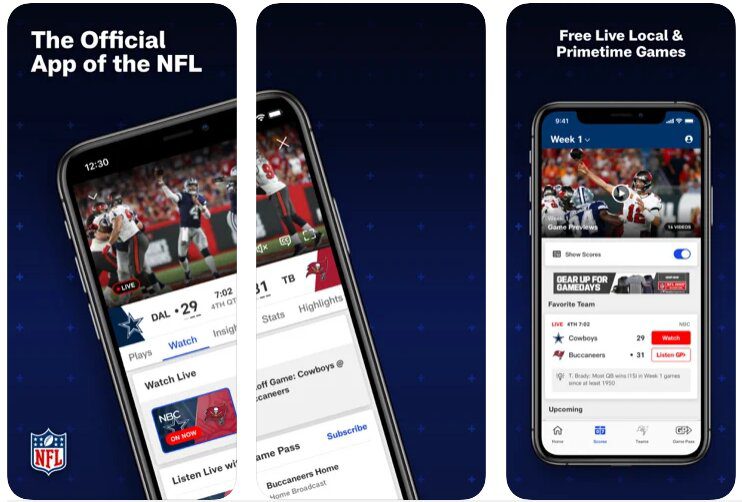 SportsMax
The most recent live stream matches are waiting for you in this app. Download it and you can enjoy thousands of local news. The app has a stylish dark design. Moreover, you can sign up.
Enter your personal data and create an account, So you will be able to comment and follow the latest events of your favorite team. Unfortunately, the app is restricted in some countries.
You can also buy a subscription to get more features. The app will notify you of all the latest matches. What's more, it has several sports channels. Track the schedule so you don't miss an important match. Download this app and you will be aware of all the latest news.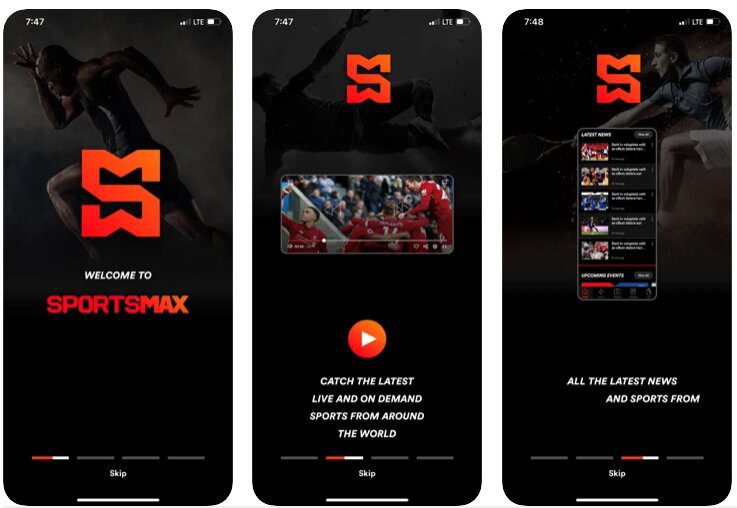 You may also like: 9 Best NHL Streaming Apps for Android & iOS