Cleo is considered one of the best apps for money management. It is popular with a huge number of users.
However, other apps are also rapidly developing and have some features that surpass the functionality of the Cleo service. In fact, there are many such apps, but not all of them are worthy of attention.
Here we have reviewed for you the best apps like Cleo that will help you make your expenses stable and turn your income into savings.
We also recommend you these best receipt capture apps to include your cash payments into finance reports.
Spendee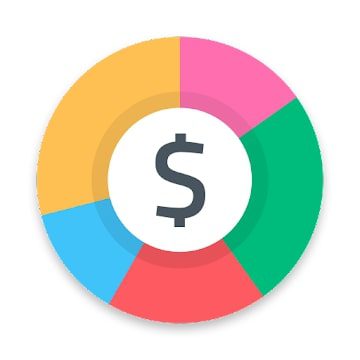 Spendee is a multifunctional finance and accounting app that displays expenses in the form of reports and visual charts.
The program installs quickly and offers a choice of preferred currencies at the first launch. It has an attractive design and allows you to add expenses and income in different currencies.
Here you will be able to create spending budgets, schedule transactions, add tags, geotags, and photos to them. Create a wide variety of reports, make backups, and keep track of your finances together.
Expenses are displayed in handy infographics and charts. Transactions are marked in different colors according to the configured categories. You can make notes and attach bills and receipts as photos and set up notifications of planned expenditures.
The app also automatically calculates the daily budget based on the available funds for the month. It supports the automatic import of deals from online banks.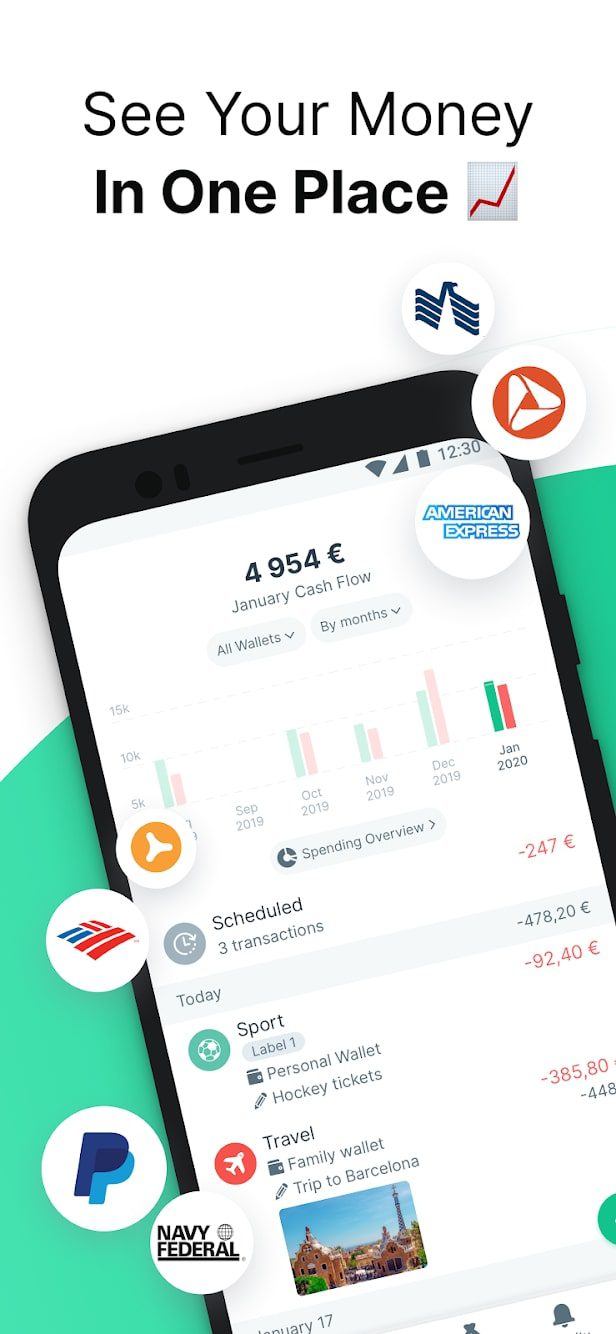 One critical feature is the automatic export of card or bank account spending. You add them to the app, authorize them, and see up-to-date debit data without manual typing.


You may also like: 9 Best Apps Like Klarna (Pay Later Apps)
Mobills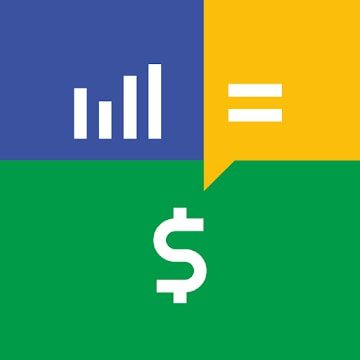 The Mobills mobile app is also designed to keep track of personal finances.
It allows you to record transactions, and transfers between accounts in different currencies. Keep track of your credit card debt and available limits, and set financial goals.
This app can import bank deals, create budgets, schedule and duplicate transactions. Add necessary information to them and create analytical reports.
Besides, this service is adapted for people with disabilities. It has voice input and dynamic font support.
The interface of this app is clear and pleasant. Here you can save data to different services, cloud, and memory cards to access from any device.
The main screen displays all the information you need. Account status, charts, and reports on transactions, recent notifications, and data synchronization options.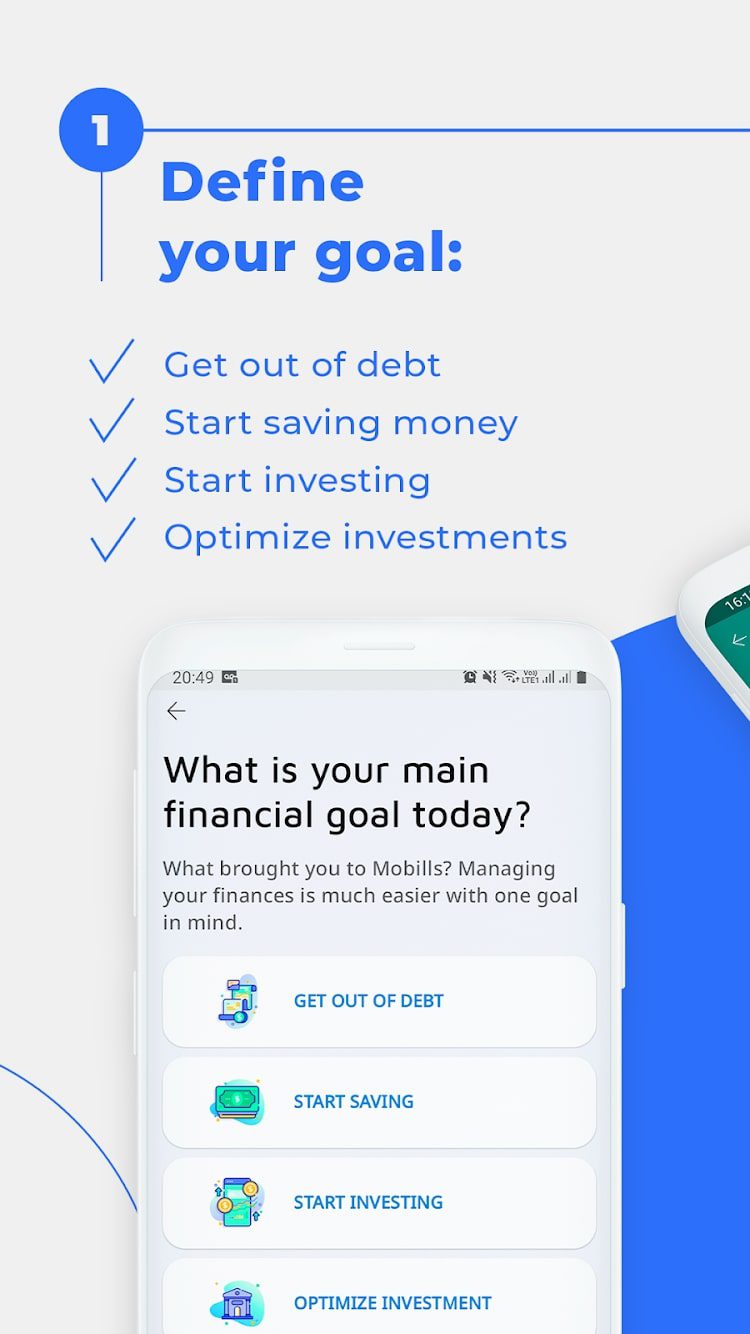 It is possible to attach files and make tags separately, form invoices with specific categories. The security level of the app corresponds to average indicators.


Money Lover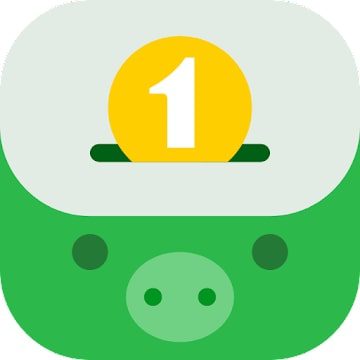 Money Lover is a functional and fast app for personal finance and transaction analysis.
In addition to recording expenses, income, and transfers in different currencies, the app allows you to scan receipts. Here you can also keep track of debts and credit card debts.
Money Lover's interface is one of the best in this review. The main window has tabs with deals for a different period, and you can switch between them with a swipe. Also available to search for the desired reports or notifications.
Separate advantages are the search of ATMs on the map and export to XLS or CSV formats. In the application, it is possible to create a budget for a month, a quarter, as well as for odd periods of a week, 2, and 4 weeks.
You can set a budget for each category of expenses or income. Statistics allows you to compare transactions over time. You can analyze both by category and by the label.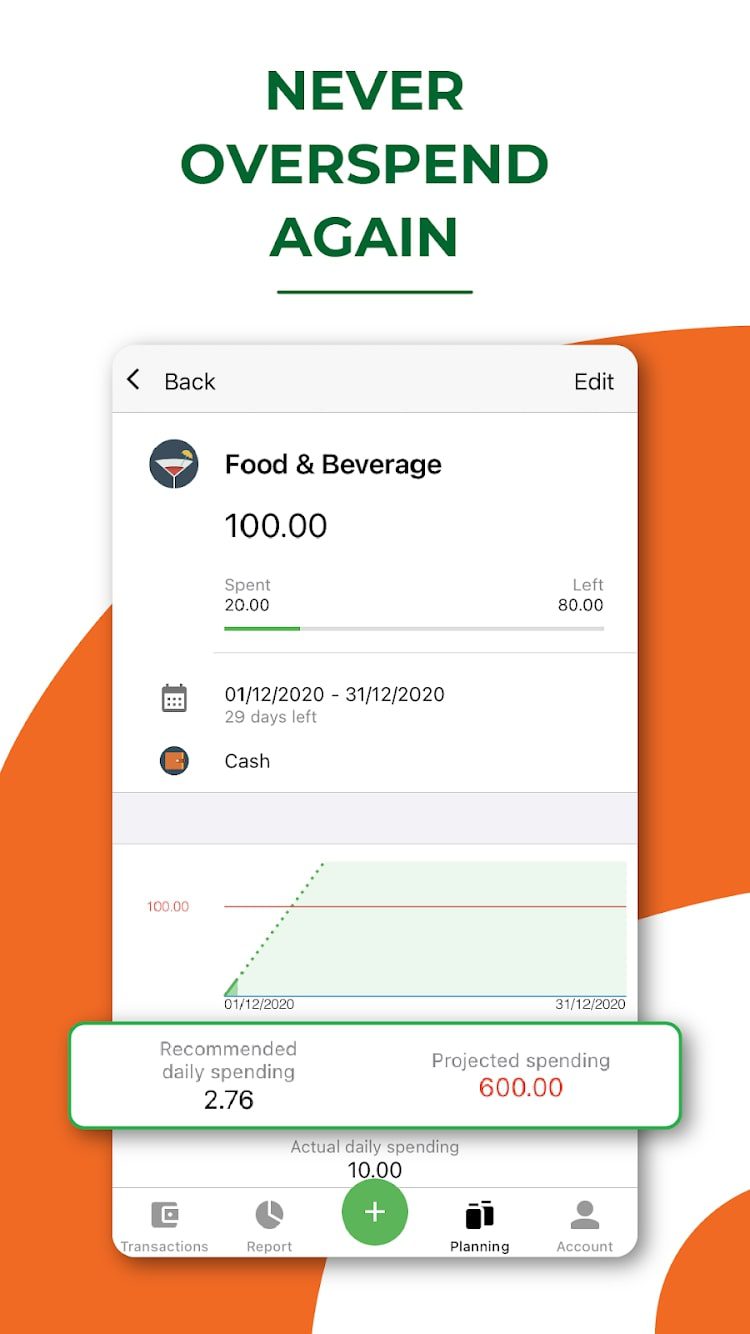 In Money Lover, you configure the design, language, currency exchange rates, and categories. This service also supports synchronization with PayPal. It is possible to attach geotags and photos to transactions.


CoinKeeper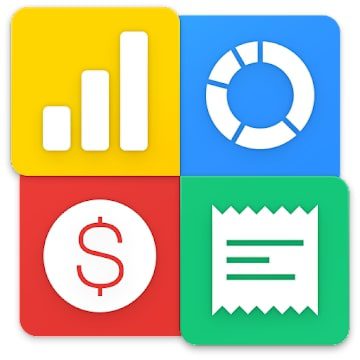 CoinKeeper is an app for those who like to plan or are responsible for the money of the whole family. Here you can set a budget for the month or make it joint.
A beautiful interface with coins allows you to add transactions quickly and easily.
On the home page, you can see your current financial status at a glance. As usual, there is the possibility of cloud synchronization. A separate plus is setting limits on funds for certain categories of spending.
Besides, there is the automatic recognition of SMS from banks. The app presents categories of income, wallets, and spending categories. They are all marked with round icons that you can change to suit your needs.
At the top of the screen is a line with the current balances for all wallets, the number of expenses in the current period, and the planned budget balance.
Blue icons represent your sources of income. Yellow icons are purses. The green ones are expense categories. They turn yellow if you stay under budget and red if you go over budget.
You can add an expense in one click: you need to move the yellow coin to the desired category. After that, be sure to enter the amount and date of the expense.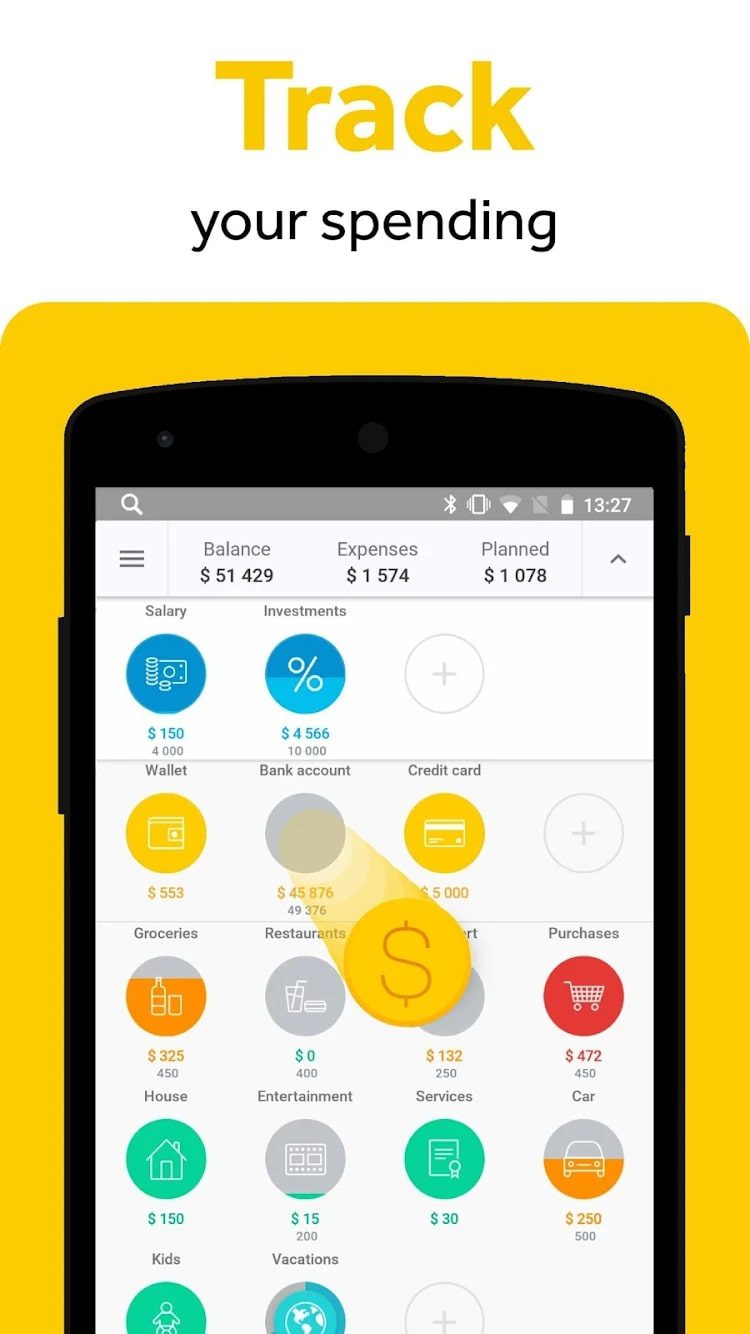 Additionally, you can add a description or tags that allow you to keep track of different categories. In other words, this is a personal finance app that will notify you when you are about to overspend.


Zenmoney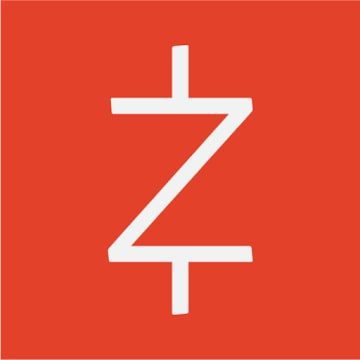 The Zenmoney app is an excellent analog of Cleo. There are many features available to help you keep track of your expenses.
One of the things that makes this app awesome is family accounting. Other family members have limited access to selected accounts. At the same time, their accounts are completely independent.
Another feature that deserves close attention is auto limits. When you assign or change a category, you can see a miniature pie chart.
This is how the calculated limit is indicated, based on the amount of money spent within this category in the previous three months. The color sign is also provided. If the pie chart turns red, then the spending in this direction should be reduced.
The program recognizes deals that take place on the bank card independently. Then you need to check the category of the payment, which is also put down by the program.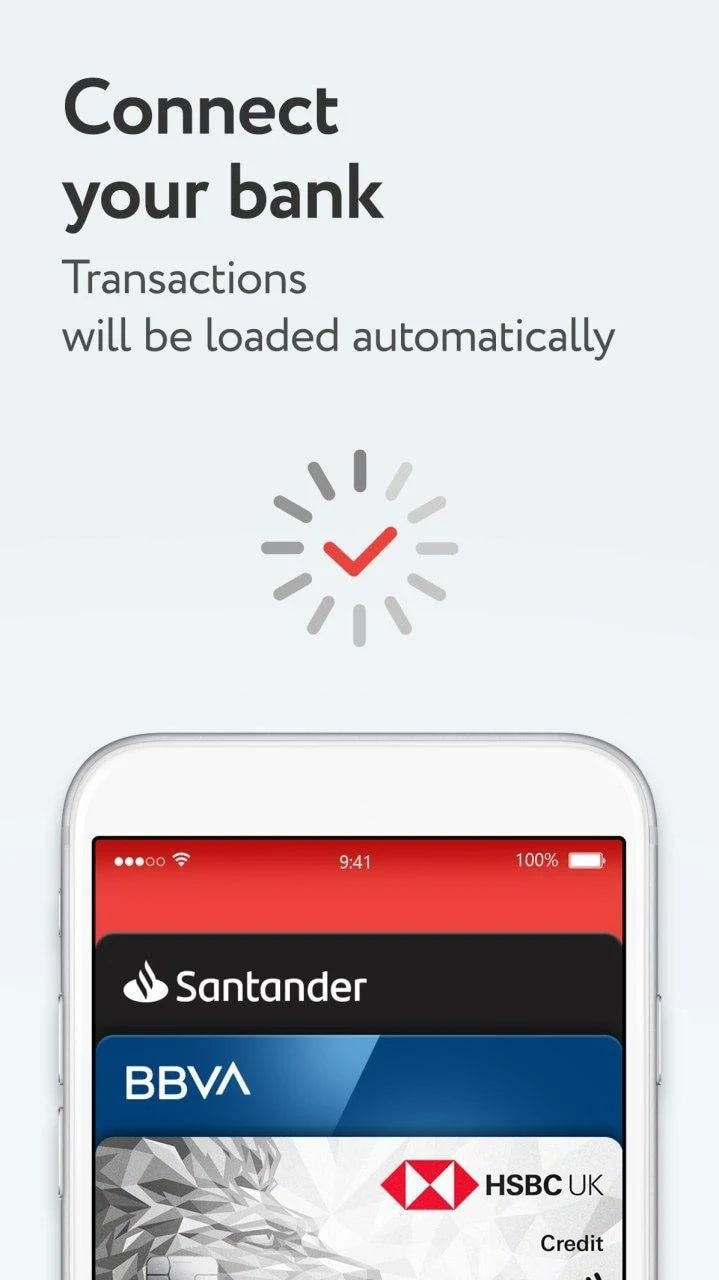 For receipts, there is a QR code scanning function. In doing so, the entire list of products on the receipt can be viewed and categorized into different expense categories. This greatly increases the speed of working with this service.


You may also like: 11 Best Apps to Extract Text from Image on PC, Android, iOS
Monefy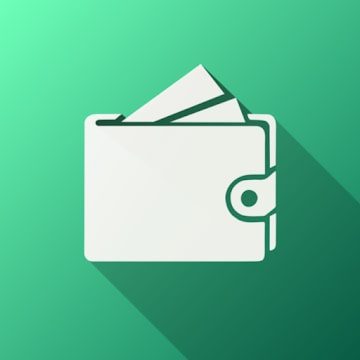 Monefy makes it easy and convenient to add expenses and income. You just click on the icon of the desired category and specify the amount.
This app has a simple and pleasant interface. Viewing expenses and income is available right on the home screen. The pie chart gives an idea of the approximate distribution of expenses for the period.
The list shows detailed information by category. To select a period (day, week, month, year) you need to click on the app icon in the upper left corner. To go to the next or previous period, just swipe left or right.
When you click on category icons around the chart, the name and amount of the expense are displayed in the center. This allows you to find out the figures of interest very quickly.
The simplicity of this app and the absence of many unnecessary functions also attract attention. To enter a new expense, you need to enter the amount and click on the desired category. To do this, use the "+" or "-" buttons on the main screen.
If you click on the category icon around the chart or in the list, then you only need to enter the amount.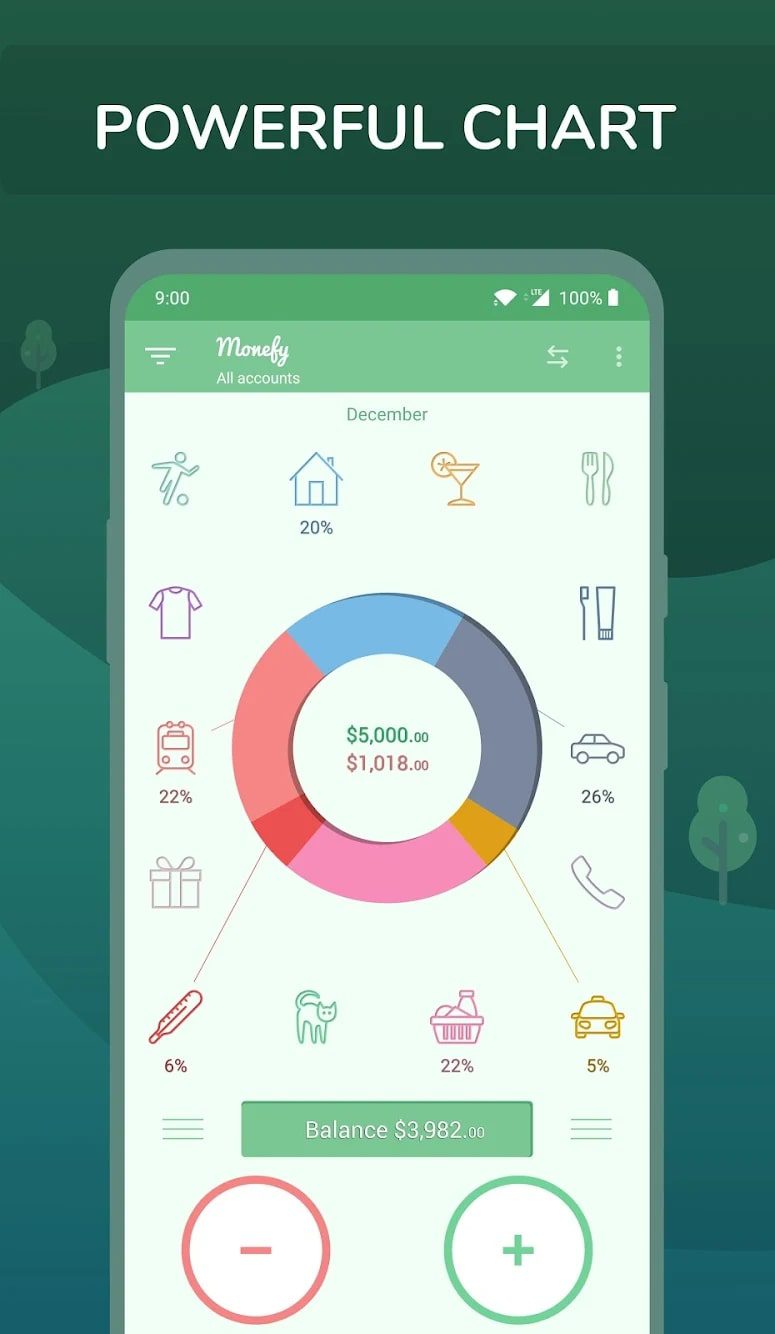 Another unique feature of Monefy is syncing via Dropbox. This allows you, for example, to use the app on your phone and tablet, or to keep financial records with someone else. Importantly, the synchronization is secure because your personal Dropbox account is used.


Expense IQ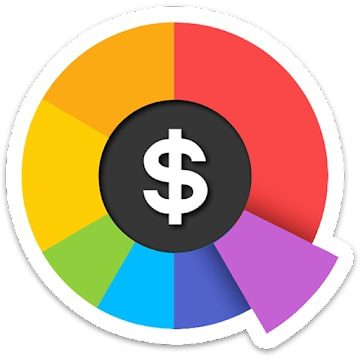 Expense IQ is an app that will help you save money and start saving. Despite the seriousness of the functions performed by the app, you don't need to register to use it.
All you need to do is specify your preferred currency and enable periodic reminders to record expenses if you need them.
The app's home screen is designed to review the current status of your accounts and show you your spending by three criteria. These can be daily spending, expenses by category, and the ratio of income to expenses over the last thirty days.
To create an account, specify a name, add a description and tell about its initial balance in the selected currency. Extra parameters include a monthly budget, default transaction status, and the ability to hide the account.
The success of maintaining your own budget depends on the completeness of the specified transactions. Knowing this, the developers decided to simplify the process of fixing transactions.
Regardless of its type, it is very easy to create a new record. The plus sign in the lower-left corner of the screen will help.
You can start analyzing your expenses after a few days of active use of the app. The "Reports" tab, which includes a category-based expense report, as well as daily, monthly, and annual reports, will help. The same goes for income.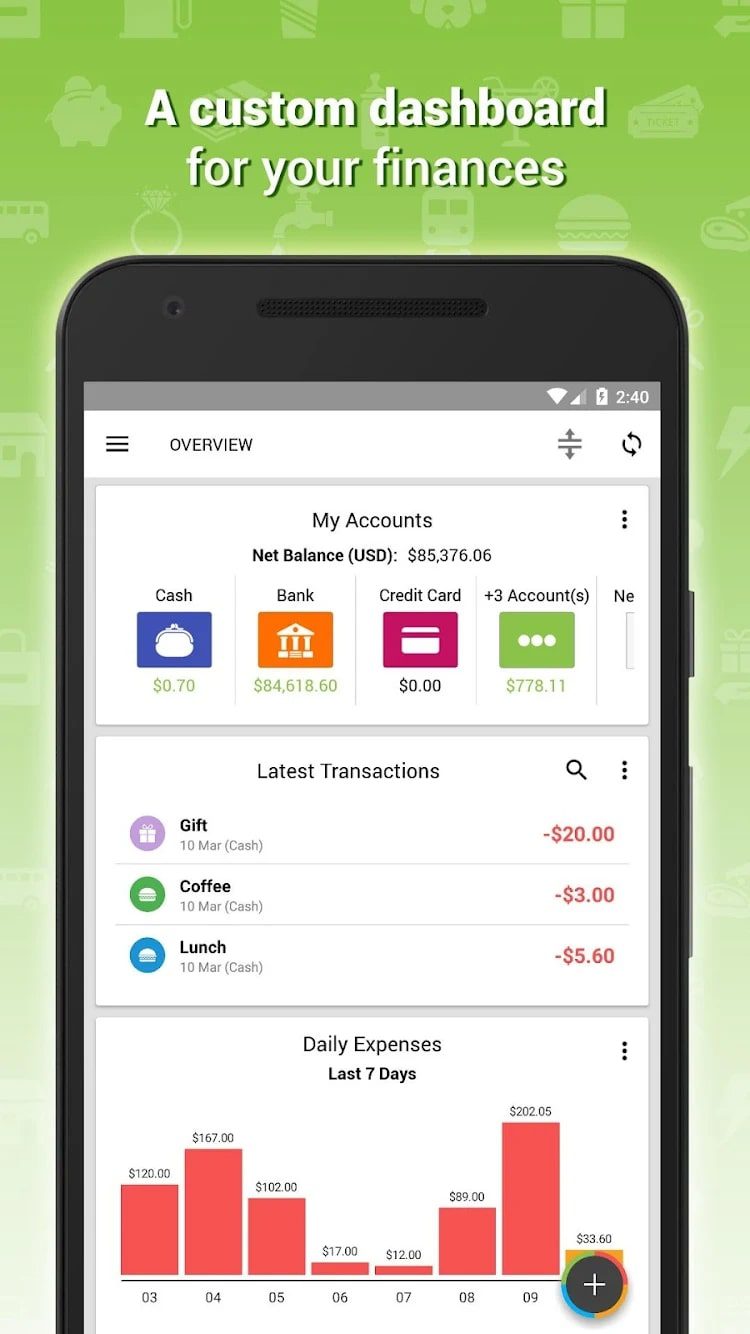 With its intuitive controls and extra features, Expense IQ will be useful for beginners and those who have been recording their finances for years.

AndroMoney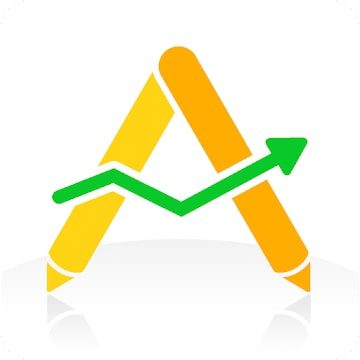 The main advantage of the AndroMoney app is its simplicity and almost intuitive operation. The app works smoothly and has all the important features.
In particular, you can have several accounts. For example, for each family member. You can use any currency in this app.
The exchange rate is calculated automatically. Connect your credit cards and deposits and see reports for any date. Add individual transactions with amounts, recipients, and frequency.
The first time you run the app, you'll see a window with the current day's report. Initially, you will have zeros everywhere. By using the app and entering information, all data will be updated.
It is divided into special sections. The accounts tab shows only the built-in items – cash, bank card, deposit. But you can easily add new accounts to work with further. Specify a monthly limit in the budget, and the program calculates values for a year, a day, or other terms.
You can set a warning when a certain % threshold is exceeded. This will help you get a notification in advance when you approach the limit.
In the categories section, you can delete, add, and edit expense and income categories. You can optimally configure this section for yourself. Thus easily select the necessary values when creating new operations.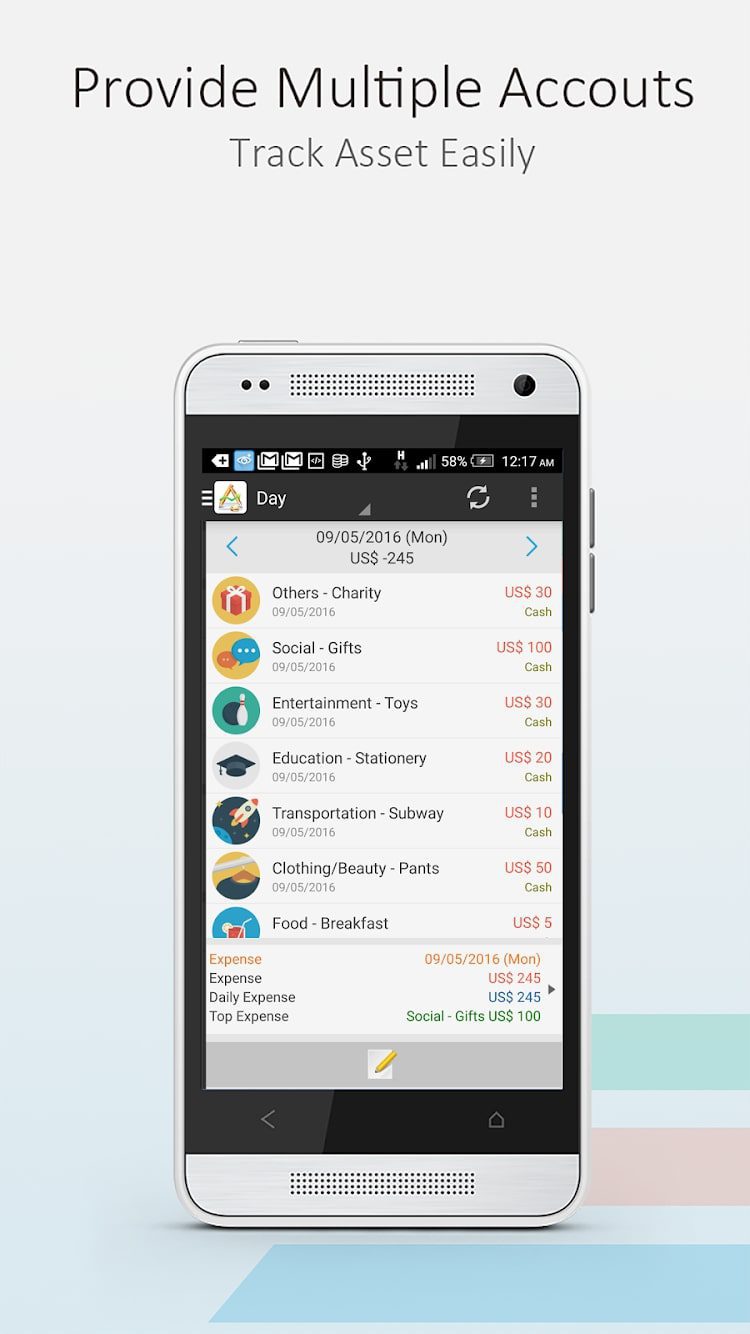 Reporting is one of the most important sections, which allows you to see the real picture and analyze the data for different periods. Information is presented not only in text form but also in graphic form.


You may also like: 11 Best Apps Like Mercari for Android & iOS
Cubux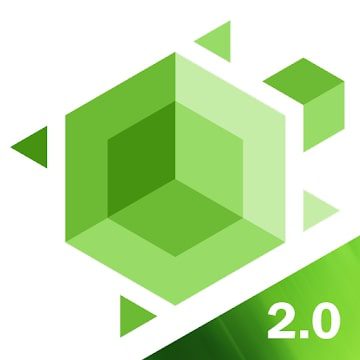 Cubux is a great app for keeping track of expenses, income, debts, and budgeting.
It is a simple solution and easy family budgeting that even a child can understand. Here you will be able to make transactions in three clicks and enter expenses by QR code of transactions.
Keep joint financial records for the whole family and plan expenses. If you pay the same amount of money each month for certain categories, you can set recurring payments.
Enter debts, see the itemization for the desired period, and upload to Excel file with the data. If you have any questions, you can quickly resolve them with technical support. At the moment, there is only one paid feature in the app – the "Debts" module.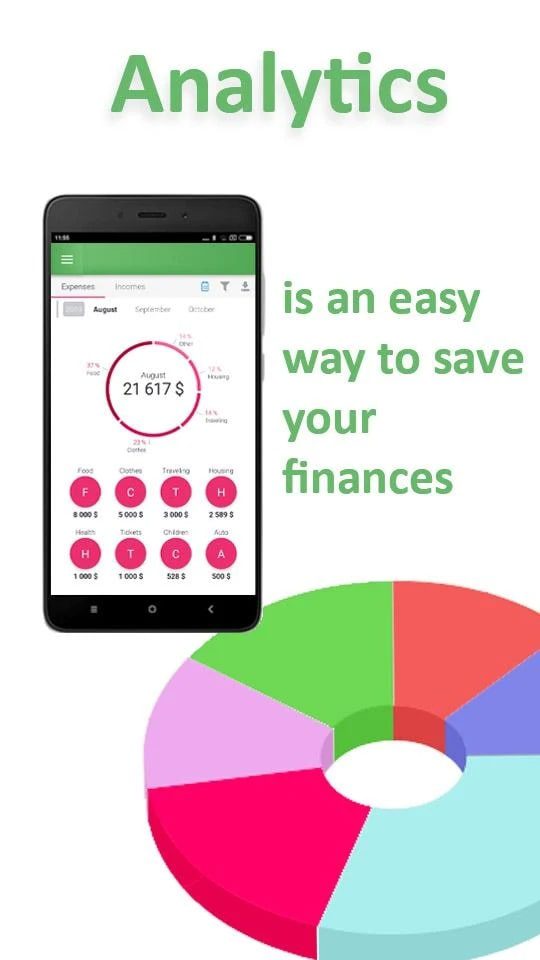 Cubux and the whole service is rapidly developing, the developers add updates practically every two weeks. The app is ad-free and completely free. It allows you to keep joint accounting of finances and synchronize bank transactions.