Webtoon is a huge platform for watching anime comics. Here you can find comics of any genre from manga to horror. Moreover, there are a lot of Manhwa comics. The main feature of this app is the originality of the plots.
Tons of these comics are adapted for TV shows. The community has over 70 million users worldwide. Let's take a look at the analogs of this app. We have prepared a list of the 9 best Webtoon apps to read Manhwa.
This genre is native to Korea. It reflects the history and culture of this country. Check out the app from our list and choose the one you like the most.
You may also like: 9 Best Character Creator Apps for iOS & Android
WeComics TH: Webtoon
The first app on our list is a popular comics reading platform. All copyrights reserved. You will be able to immerse yourself in Eastern culture and get to know hundreds of different genres.
Manhwa is one of these genres. Choose the first manhwa to read and the app will select recommendations for you. All recommendations are made with artificial intelligence and are always up-to-date.
Moreover, the graphics of the app is HD. Smooth flipping or movement on the page will allow you to enjoy reading. You can get bonuses by logging into the app every day.
It has the in-game currency – stars. These stars are needed to unlock new chapters of your favorite comics. It needs to be said, that the app has daily events. Participate in them to get additional bonuses.
Each manhwa has a detailed description as well as images. You will be inspired by the manhwa stories from this app.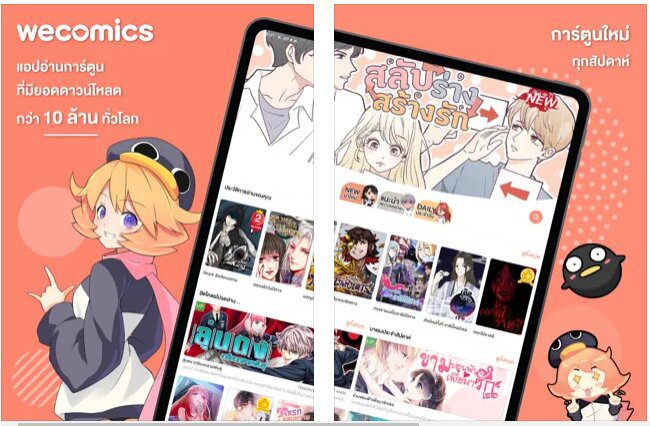 You may also like: 11 Best Apps Like Bitmoji for Android & iOS
WebComics – Daily Manga
Along with the previous app, WebComics will allow you to discover the world of manhwa. You can find exclusive limited-edition comics of any genre in this app. Moreover, contact the authors of these comics to express gratitude or give advice.
The developers of the app promise that when you start reading comics you will not be able to stop. Therewith, you can create your account to share opinions and comment on manhwa. Find new friends and discuss all your read comics.
Another thing that makes this app outstanding is constant library updates. Over 1000 new chapters appear every day. The app will allow you to download comics to read them offline. This will save you mobile data.
Look through the top comics reviews and find the manhwa that is the best. You can also buy the full version of the app to get unlimited access to all comics at any time.
There are five types of subscriptions. A monthly, quarterly, yearly premium subscription lets you read comics whenever you want. Moreover, there is a subscription PLUS which will open up additional functions.
A small addition, you can unsubscribe at any time. The only drawback of the app is the high cost of reading some comics.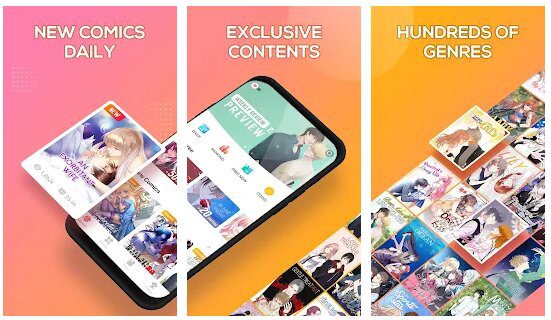 POCKET COMICS: Premium Webtoon
Would you like to have pocket comics? Download this app and the huge world of manhwa will always be in your hands. What makes this app different from others? Firstly, this is a huge library of webcomics in which you can find what you like.
Secondly, it is a constantly updated library. 1000 authors daily publish new chapters and comics. Thirdly, the navigation of the app is convenient. Search comics by title, year, or genre. All comics are original.
In addition, the developers collaborate with huge publication companies. You can get the premium version to open hundreds of premium manhwas.
The number of daily readings is little. When you start using the app, you will have access to several free episodes. Then you need to spend tickets to unlock new chapters or comics. Buy tickets for comics or get them by logging into the app every day.
Moreover, the developers hold weekly promotions and sales of comics so you can save money. The app has a rating of 4.5 stars. Download it and enjoy manhwas of different genres.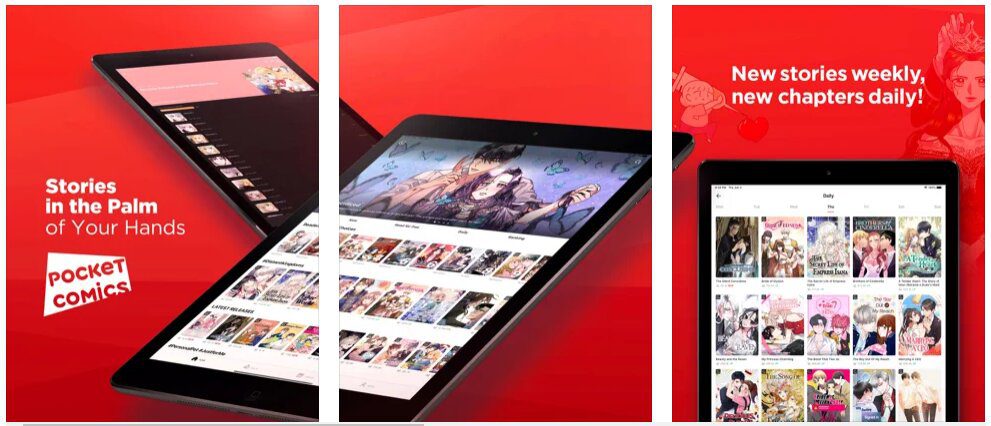 Tappytoon Comics & Novels
Would you like to find a trusted place to read manhwa? Try this app. It includes comics and manhwa from top writers. As for the graphics, it is HD. All images are of high resolution, which will allow you to immerse yourself in the world of comics.
Various genres from romance to horror are waiting for you. The app updates the library with new chapters weekly. It has paid manhwa and comics, but you can read the first chapters for free. This will let you know if you like the manhwa or not.
Do not forget to register to get access to all chapters. Save points and spend them on opening chapters. Along with this, some manhwas are updated daily. Plus, you can get a special bonus if you use the application every day.
The app will allow you to unlock new chapters for free-spending bonuses. If you want to try a new manhwa then use the free ticket. Add your comics to your favorites list so that the app will notify you when new chapters are released.
If you want to fully enjoy the manhwa then buy the Premium version of the app. You will get the best quality art, unlimited access to any comics, as well as additional features of the app.
Why are there a lot of paid comics? This helps to support the authors. Moreover, novels have been added in the last update. The app has been installed over 1 million times.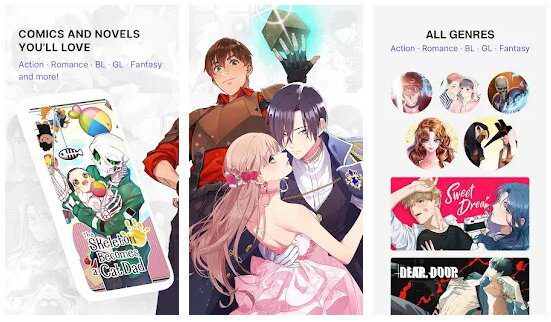 You may also like: 9 Best Anime Live Wallpaper Apps for Android
Noblesse:Zero with WEBTOON™
We will not repeat ourselves describing this app. We'll tell you its top features. Firstly This app has over 2 billion views worldwide. It has tremendous respect and influence on the world of manhwa.
Secondly, you can become a participant in the manhwa story. This is a great RPG game based on your favorite comics. Moreover, you can register to receive additional gifts. The app has tons of characters that are familiar to you from the most popular comics.
Only the best quality and cool special effects are waiting for you in this app. It has over 100 characters. Another thing that makes this app awesome is its simplicity and ease of use. You will remain indifferent if you adore manhwa.
Sometimes the app crashes after opening. All you need to do is reinstall the app and the problem will disappear.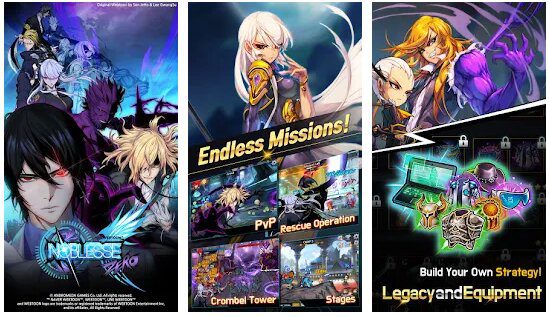 ToryComics – Webtoon/Waiting for Free
Manhwas appear so quickly that sometimes they simply cannot be translated quickly. This app has manhwa not only in English but also in many other languages. Download this app and you will get a huge library of your favorite comics.
They are sorted by genre as well as by seasons and chapters. The app will make an excellent recommendation for your read manhwa. Along with that, you can choose a theme or customize the design of the app.
You need tickets to read a new chapter or start new comics. Complete special tasks to get more tickets. To cope with that the developers hold various events that will allow you to get more tickets.
Open the settings of the app and select the language of the manhwa. Moreover, you can become part of the huge team and help to translate the manhwas.
Many users complain that comics are too expensive. We will give you a little advice. Log in to the app every day and get free tickets to read the new comic. The app takes up only 26 MB while it is a huge library of various comics.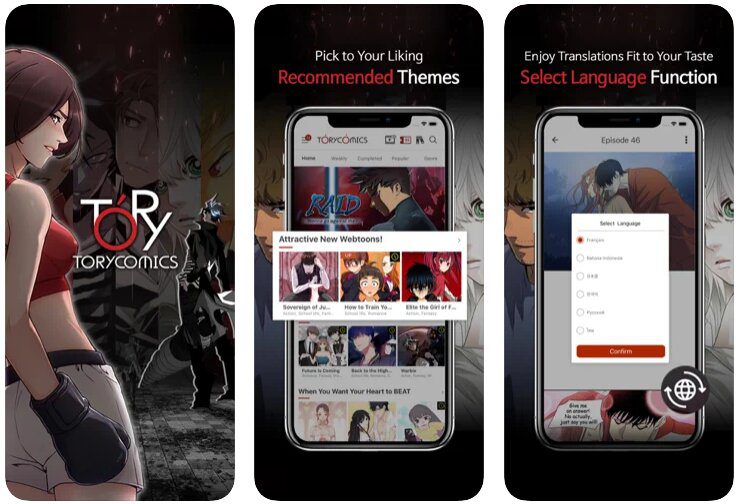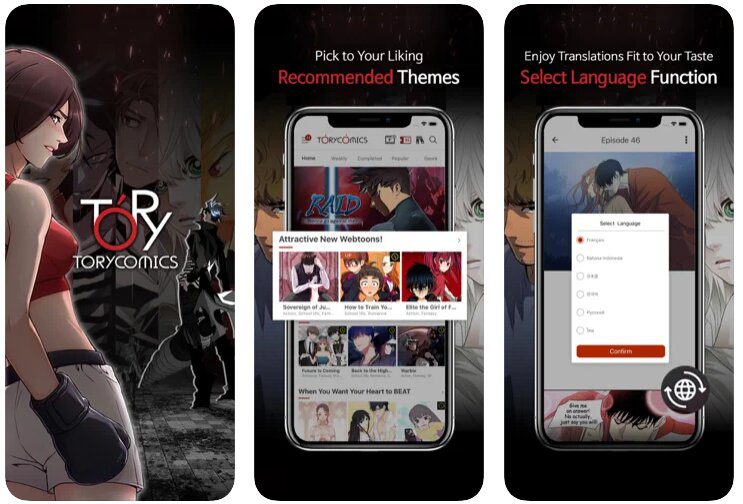 You may also like: 9 Best Anime Games Like Danganronpa for PC
Hero Cantare with WEBTOON™
Reading manhwas is a great way to relax. What if we tell you about an app that will allow you not only to read the manhwa but also to take an active part in the development of the plot. Meet this Hero Cantare.
This is a cool RPG game based on the popular manhwa. It has storytelling elements where every decision you make will influence the plot. Choose your hero and level up his it. Moreover, you can create a team to defeat your sworn enemies.
At first glance, it might seem like it's a waste of time, but the game is addictive. First, you need to create your account. The stories have dozens of beautiful characters. You will like the animation and the soundtrack of the app.
An exciting storyline is diluted with battles and fights with bosses. The dynamic game will always keep you energized and the storytelling will allow you to relax.
Unfortunately, many users complain that every update makes the game worse. The developers are trying to fix bugs while adding new events and heroes.
Hero Cantare has been installed over 1 million times.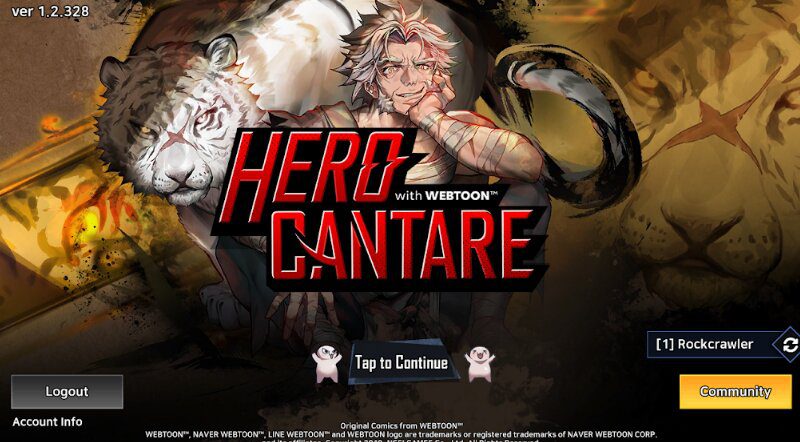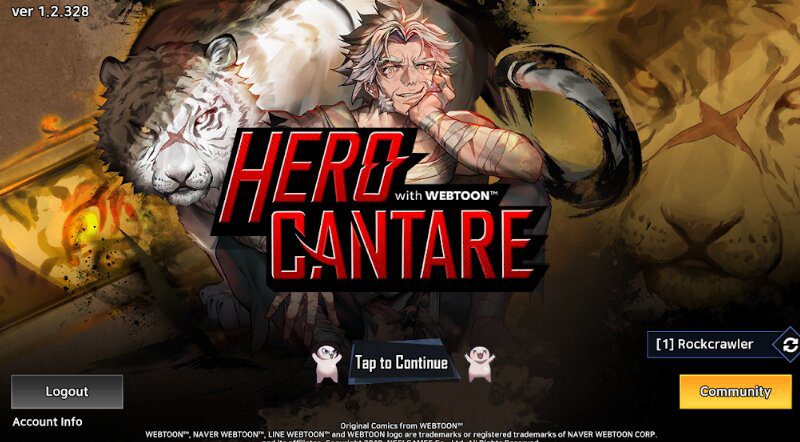 izneo – Read Comics, Manga, Webtoon
Izneo is a huge comics library. You can read tons of manhwa in this app for free. Plus, the prices are very cheap. What's more, you can read the first chapters of the comics absolutely for free.
All comics have HD images. It doesn't matter what device you use. You always get high resolution. Sync the app with your devices. Another thing that makes the app awesome is the offline reading.
Discover new stories and cool characters. It needs to be said that the app has no ads, so nothing will distract you. Intuitive navigation will help you quickly find the desired comics. Manhwas have a detailed description with characters and prehistory.
Try this app and you will always have a pocket manhwa library.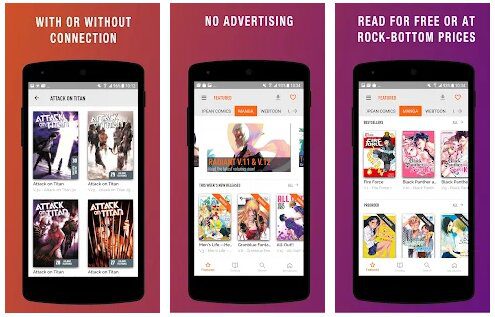 WeComics – Daily Webtoon
The world of comics is huge and interesting. There are a large number of comics written so it is difficult to find what you like. Many of the comics are similar to each other and nothing will surprise you.
This app has unique and original comics of any genre. It also has a huge library of manhwa. Open the list of genres and choose the one you like. The app will select the best options for you.
At the first glance, it may seem that the app is primitive. This is a misleading impression. The navigation is user-friendly and simple. You can create a group chat to discuss comics.
Moreover, add new friends and meet people all over the world. We want to warn you right away that the content of the app is expensive. But the comics are so interesting that you want to read them over and over again.
You can subscribe to the app and read comics endlessly. Some users complain that unlocked chapters will lock again. The developers are trying to fix this problem.
This app has been installed over 5 million times. It does not work in the background so the app does not consume a lot of the battery. Plus, you can download comics to read them offline.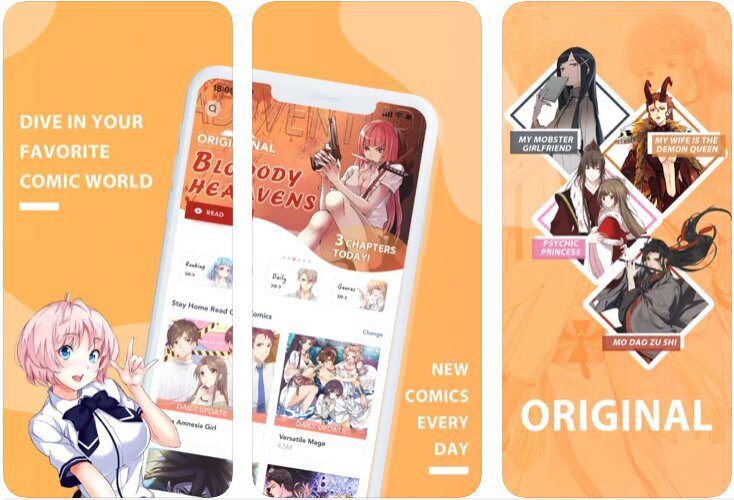 You may also like: 11 Best MOBA Games in 2021 for Android & iOS