Let's face it, not all of us were blessed with Jay-Z's lyrical genius or Eminem's flow. But with the rise of AI in the music industry, even those of us who can barely carry a tune can now drop some sick rhymes.
That's why we've rounded up the best AI rap voice generators (Android, iOS, Windows) you could try. That's right, machines can now spit rhymes just as well as your fave MCs.
Some of these apps make you sound like your fave celebs, and there are even ones that can use your text to make songs. Using these, you'll start making chart-topping hits with a little help from the robots. Let's dive in!
Banger
If you've ever sung along to any song and felt like you could do better than the original vocalist, you have to try out this app. This AI-powered app is a music maestro's dream come true.
With its mind-blowing vocal replacement tech, you can sing your heart out and replace the original vocals with the voice of your fave singer, or even add in the voice of a cartoon guy. From Frank Sinatra to Ariana Grande, you can mix and match voices for a mashup that will make your pals' jaws hit the floor.
You don't have to have a degree in music production to make your own mind-blowing covers. The friendly UI makes it easy for music buffs of all ages to unleash their originality and let their music skills shine.
But the fun doesn't stop there. You can share your tracks and even post them online. Who knows, maybe your creation will go viral and launch you into music stardom. And the best part? It's completely free! No need to spend your hard-earned coins to create your next hit.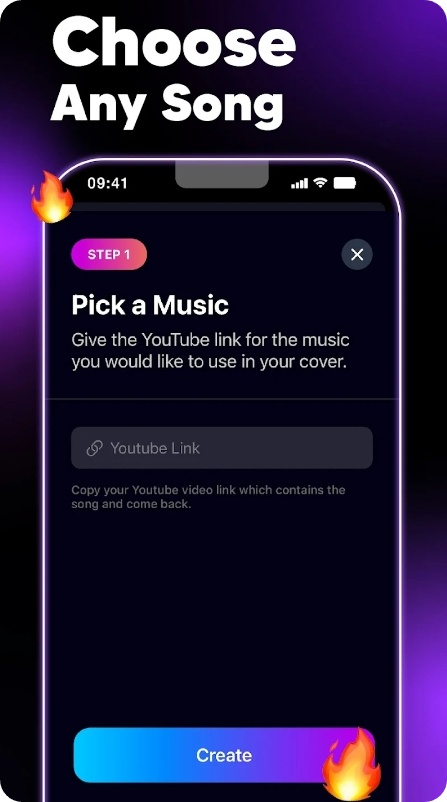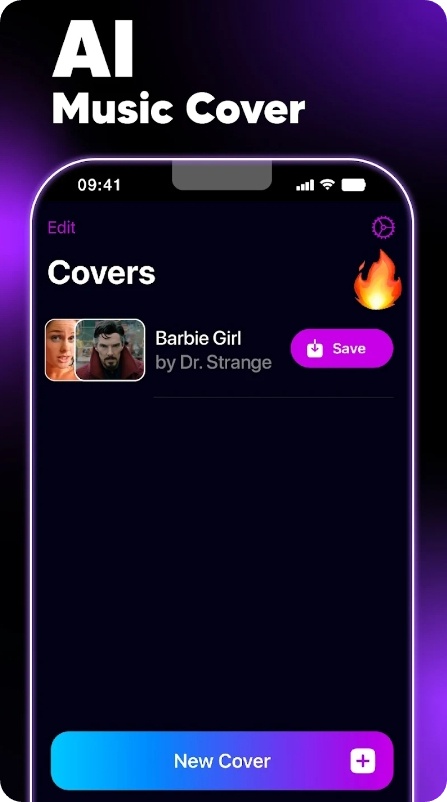 You may also like: 11 Best Music Career Simulation Games
Voices AI
Do you wish you could have the smooth and sultry voice of your fave artist? Well, this app lets you do just that. It's a treat for anyone who wants to take their audio experience to the next level.
No more boring and robotic voiceovers for your projects. The app covers an extended scope of tones from famous politicians to Hollywood stars. Want to hear what Barack Obama would sound like narrating your company's latest promo video? Say no more! Maybe you wanna hear a famous rapper singing your song? Sure, you can do that too.
But it's not just about impersonating celebrities. The app truly excels in its ability to clone voices. With just a short audio sample, you can have a digital twin of your vocal cords. It's like having your own personal voice actor at your fingertips.
The AI tech ensures that each voice rendition is lifelike and of the best rate possible. And the intuitive UI makes it easy for anyone to use, regardless of their technical background. And let's not forget about the fun factor. You can spend countless hours cloning your buds' voices and sending them funny messages.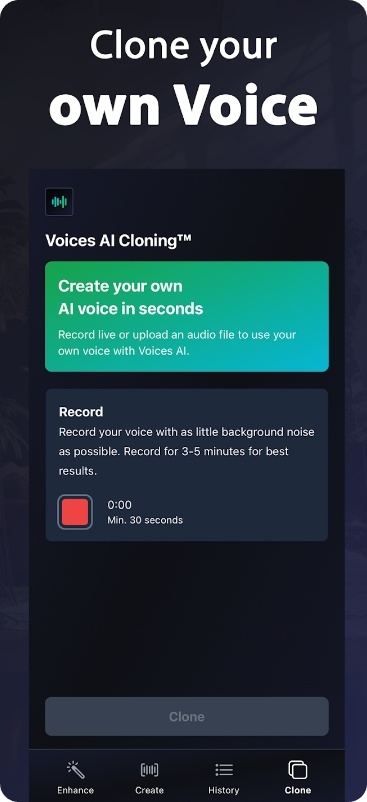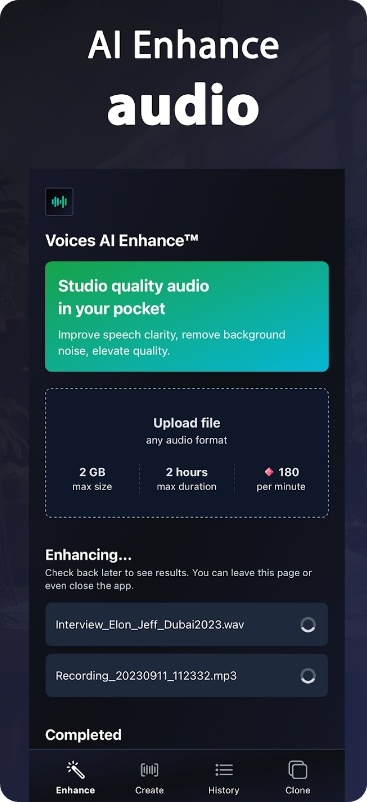 Clony AI
This nifty app can make you sound like your fave singer (or even that annoying co-worker). Not only can you make a replica of anyone's voice, but you can also freak out your buddies and fans by sending them text-to-speech messages that sound eerily like them. And who doesn't want to pull off a little voice-related prank every now and then?
Can you make a song with it? Well, you'll need an extra tool, but the base can be done here, yes. Yes, it takes some effort and an extra app to compose music but trust us, it's worth it. And the best part? You can use any audio file, record your own voice, or even share a voice message to make your clones.
And it's not just limited to English speakers either. The app runs in over 20 languages, making it a global sensation. The FaceSync technology is out of this world as well. You can add a pic of yourself or anyone, else and watch as their head and lips move in sync with the cloned voice. It's like something straight out of a sci-fi movie, and it will blow your mind.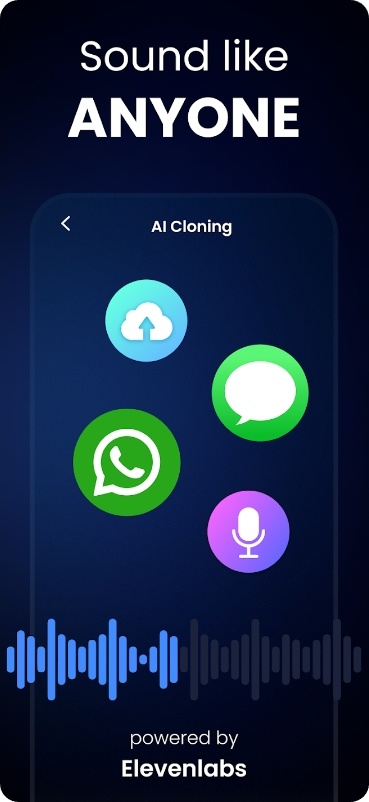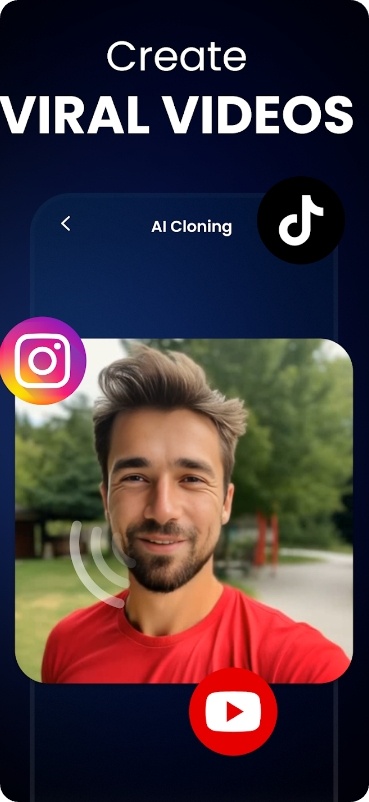 Melodia
Are you ready to become the next Eminem or Beyoncé? Well, even if you can't carry a tune to save your life, this app has got your back! Say bye to off-key singing and hello to your new AI-generated music maker.
From mellow jazz tracks to heavy metal bangers, it can turn any text into a personalized masterpiece. Yes, even your grocery list can become a smooth melody! With endless genres and styles to try, so the sky is the limit. You can even cooperate with your fave artists (well, kinda) and create an AI cover of your favorite TV show theme!
Even if you're a novice, the app's UI is simple, and the modification prospects are limitless. From altering the tempo to instrumentation to altering the key, no detail is left untouched. Plus, exporting your creations in WAV format is just a click away.
But it's not just for beginners, pro musicians can also use it to make captivating tunes that will wow their audience. The app lets you focus on the creative process and play with diverse sounds and textures with ease.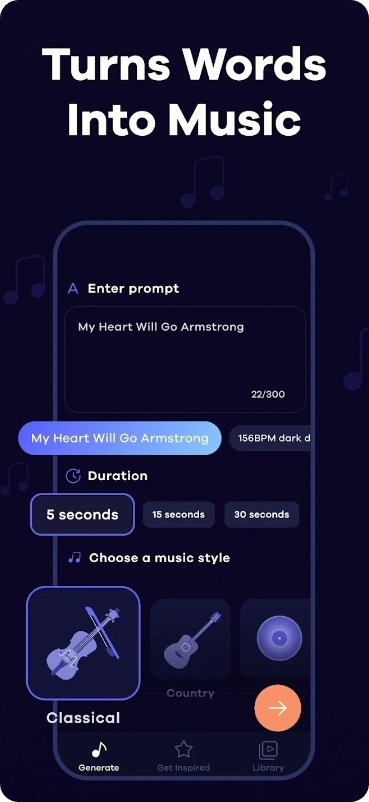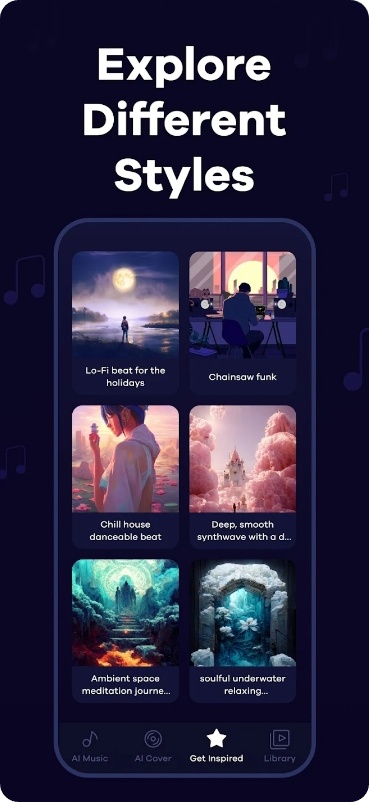 AI Cover & Songs
On the hunt for a fun tool to help you express your inner rap star? This may help! This app lets you put your own spin on any song.
With their extensive lib of celeb and singer voices, you can replace the original vocals with your own flair. And the top part? The AI tech seamlessly blends your voice with the original rhythm and melody, so you'll feel like you're part of the band.
But that's not all it can do. It covers an infamous text-to-music tool, so you can let your creative side shine by writing your own lyrics and hearing them transform into a catchy tune. It's the ideal tool for those who love to write but struggle with composing a melody.
And once you've made a masterpiece, the app makes it easy to share with the world. They even make album covers for you, so all you have to do is hit the share button and watch the likes roll in. It's a fantastic way to connect with other music buffs and show off your unique style.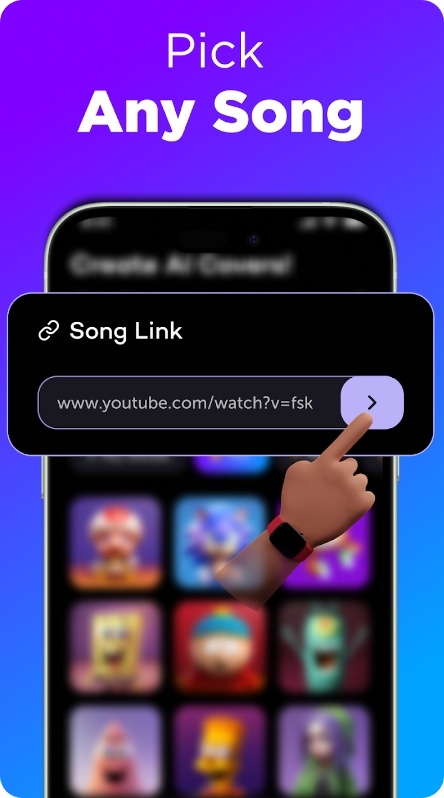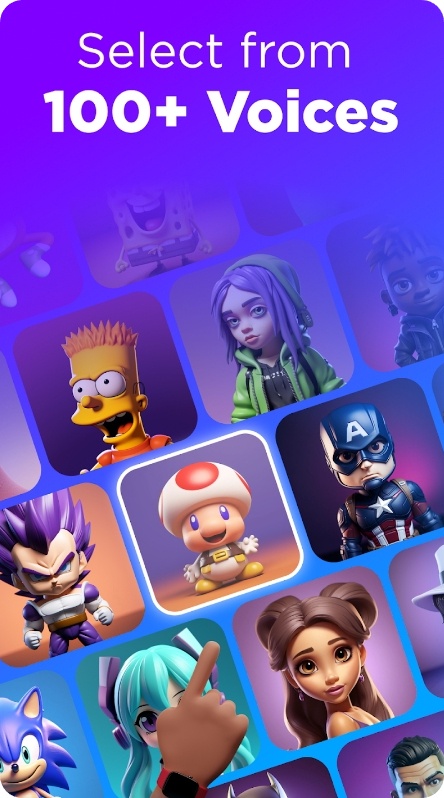 Check also: Top 10 Apps to Speed Up or Slow Down the Music
AI Song Cover
Want to switch things up and add your own twist to some songs? This app lets you do just that. It lets you transform regular covers into personalized masterpieces.
Thanks to its AI tech, swapping out authentic vocals for your celebs or singers has never been easier. The theme and rhythm remain the same, resulting in a natural-sounding and flawless mix that will have your pals and suns stunned.
Unleash your creative genius with a vast lib of singers and voices at your fingertips. If you want to give a classic rock anthem a pop-star twist or have your beloved Disney princess serenade you with soulful ballads, the world of music is yours to explore.
Alright, we've heard your thoughts brewing.. "But I'm not the savviest music whiz out there." Don't worry as it's rather simple to use. Even if you're not a music whiz, you'll be pleasantly surprised by how easy it is to craft a tune. And once you're done, sharing it with the world and banding with fellow music enthusiasts has never been easier.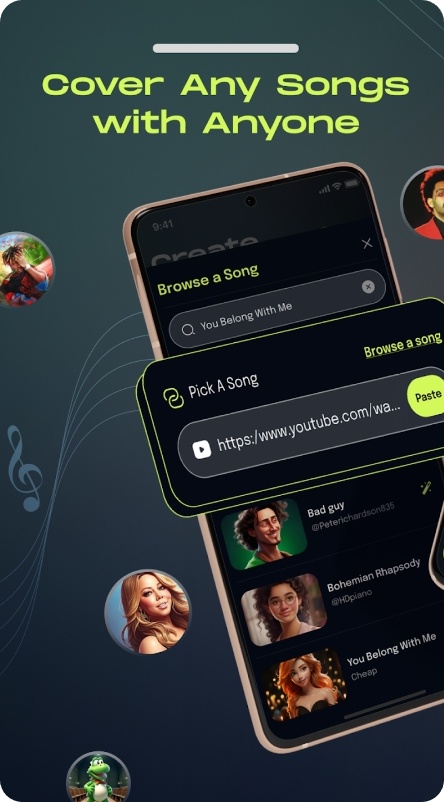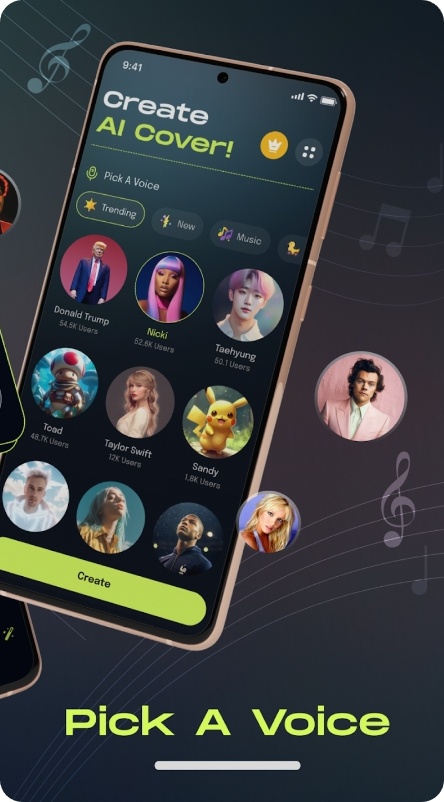 Speechify
As we continue our exploration of AI voice gens, we couldn't miss out on that one. It's quite unique in the concept as it lets you turn any text into an audio. Yep, it's not solely useful for music making, but with enough effort and practice, you can surely make it work.
Plus, it's incredibly user-friendly, so no issues on that side. All you need to do is copy and paste the text you want to listen to, and in a matter of secs it will start reading it for you. It's also made with accessibility in mind, allowing users with visual impairments to have a voice.
Of course, you'll need an extra tool to compose music, but this app is still useful. The AI voice here sounds impressively natural, and you can even pick between accents and languages. With this one, you can listen to anything you want, from articles and emails to books and PDFs. The app has been a lifesaver for busy pros who want to consume information on the go.
Above that, you can alter the reading speed, giving you full control over the content. It even runs offline if needed. It's not a one-stop shop by any means, but it is still worth trying.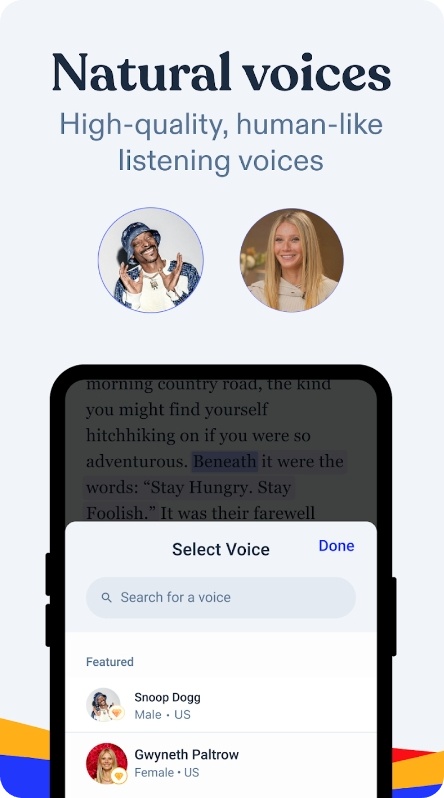 VoiceAI
Prep for an app that's here to jazz up your audio game. Say bye to boring voice clips and hello to personalized audio magicYou will be blown away by the eerily realistic voices it renders. You can finally have your fave celebs read to you, sing to you, or even rap for you with just a few clicks.
It lets you easily manipulate the speed and pitch of the voice to make it sound even more authentic. Plus, with the ability to add custom text, the possibilities for entertainment are truly limitless.
Gone are the days of muffled or distorted audio messages. The app boasts top-notch audio quality, so you can finally record crystal-clear messages that will have everyone asking, "Wait, was that really you?"
And let's not forget about the music lovers out there. This app lets you make the coolest song covers using a variety of voices, including those of famous rap artists. So if you need an app that is freakishly accurate and simple, this might be the one.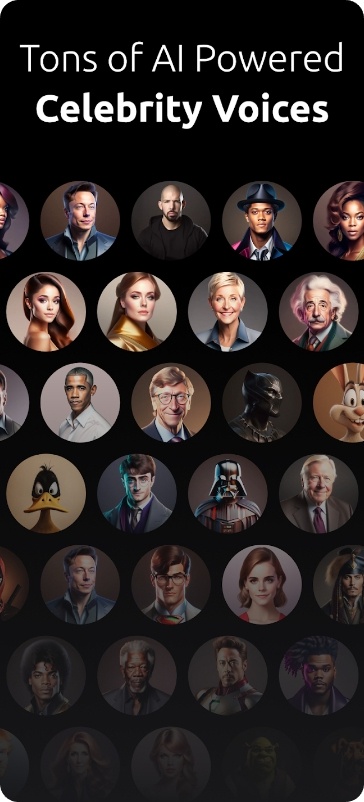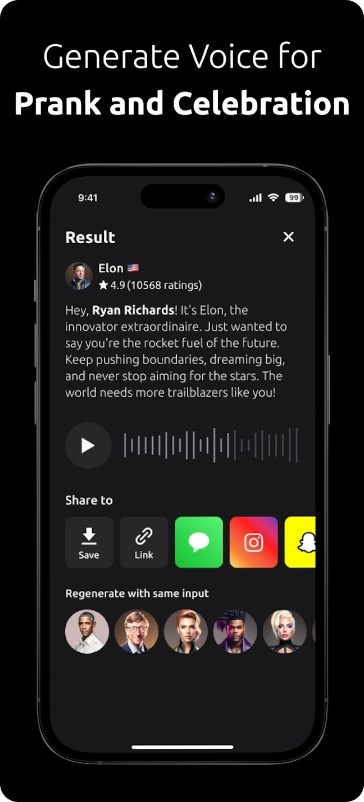 AI Music : Song Generator
This app is the ultimate wizard's wand for music buffs to conjure up original tunes with the enchantment of AI. Cue the tune, tap your prompt, pick a style, set the duration, and voila! You've got a masterpiece cooked up by the genius of AI that's ready to charm the world.
Need a creative boost? The app will jumpstart your inspo with fully generated songs or snippets to ignite your next musical adventure. With genres ranging from rap to pop and rock, the prospects are as infinite as your imagination.
You can also use it to make covers, giving classics and contemporary hits a mind-blowing musical makeover. Redefine your fave tunes with unique instrumentals and vocal FX, and let your style shine through experimentation.
The Discover page of the app will serve up personalized suggestions, from AI for meditation to AI rap music. Unleash your inner creative maestro, harmonize with the musical brilliance of AI, and unleash the true symphony of music-making potential. It's the leading playground for true music buffs out there.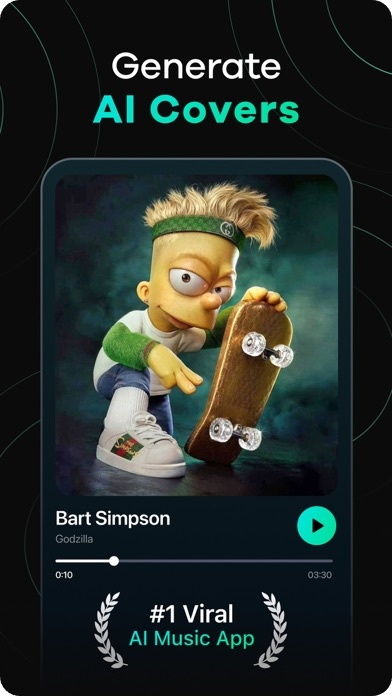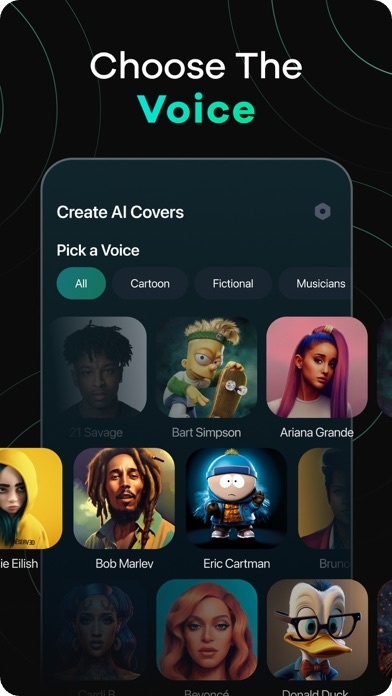 Music AI
Have you ever wished that you could sing like a rockstar or rap like a pro? And while we can't all be born with an ideal pitch, this app is here to help!
With a few simple clicks, you can turn your voice into any style you can imagine. And when we say any style, we mean it. From pop to rock to rap, the app has got you covered.
It's even got a tool that can make you sound like your fave singer. So, if you've ever dreamed of singing like Jay-Z, now's your chance! But here's the real kicker: you don't even need to be a pro to use this app. It's ideal for newbies who want to test out their vocal abilities, as well as seasoned musicians who want to take their skills to the next level.
And if you're someone who struggles with pitch, don't worry. The app will make you sound like a pro with just a few tweaks. And let's talk about the infinite palette of expressive vocal styles. You can play with genres, tones, and emotions to make things that truly reflect who you are as an artist.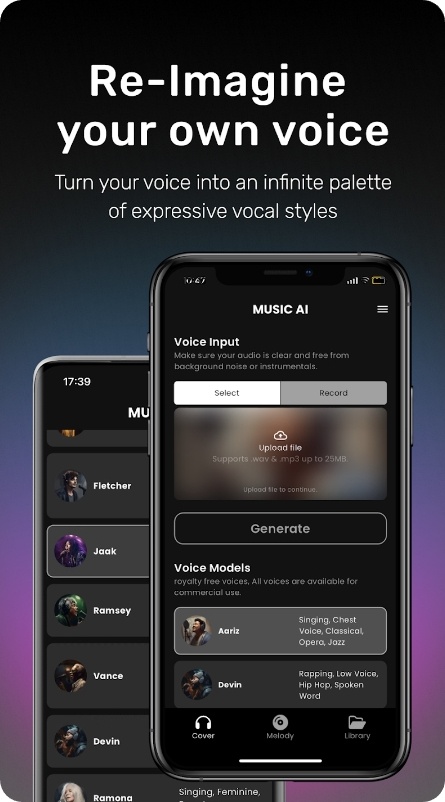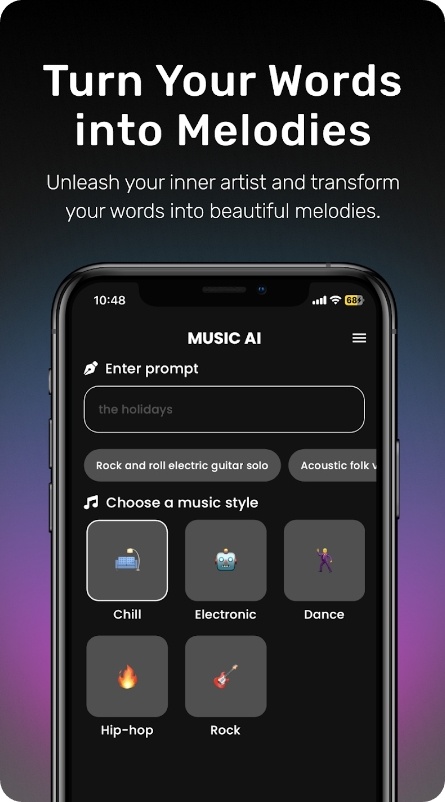 You may also check: 13 Best Female to Male Voice Changers
Celebrity Voice Generator
To wrap up, we have an app that lets you play with the voices of your fave celebs and maybe even make a track or two. Well, it's not made for that and it doesn't make music, but with enough effort, you can surely make it work.
Let's talk about the incredible selection this app offers. From classic movie stars to current chart-topping musicians, you can find almost any voice your heart desires. Want to hear Sarah Jessica Parker read a recipe? Done. How about hearing Snoop Dog read your favorite poem? You got it!
It also runs on a rather powerful voice imitation tech. It makes a pretty realistic portrayal of any artist of your choice and the attention to detail is unmatched. You'll find it hard to believe that some of the dialogues weren't recorded by the celebs themselves. It's all just a testament to how much AI tech has come along.
Overall, this app is a one-of-a-kind delight that combines entertainment and tech in a fun way. It's a gem for any pop culture buff or anyone who loves to play around with new technology.