Trading is a great way to make a profitable investment that requires an extensive knowledge base. Market trends are constantly changing, so it is illusory to follow them on your own in real-time.
The right app contributes to traders' opportunities, as well as the speed and accuracy of responding to price fluctuations. To keep a finger on the pulse of the market you may try these best trading price alert apps for Android & iOS.
Stay informed on the stock market to understand where to invest with these best apps like VectorVest for Android & iOS.
Bloomberg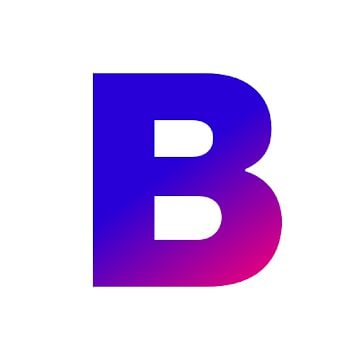 Bloomberg is the official app of the financial information agency. You can use it to track economic events and read expert reviews.
The app allows you to be the first to find out important news from the stock market and finance. It is possible to track events related to in-demand topics, such as cryptocurrency.
The service displays relevant market data for each region, which will be useful for financiers and investors. There are stock indices, futures, bonds, commodities, and currencies.
This program allows you to create watch lists for various financial instruments. You can add and check your portfolio. It is possible to put securities in it, such as stocks, mutual funds, ETFs, currencies, and so on.
The Bloomberg app contains current news about financial industries, technology, politics, and other topics. You can read the opinions of experts and analysts. It also has a selection of useful audio and video content.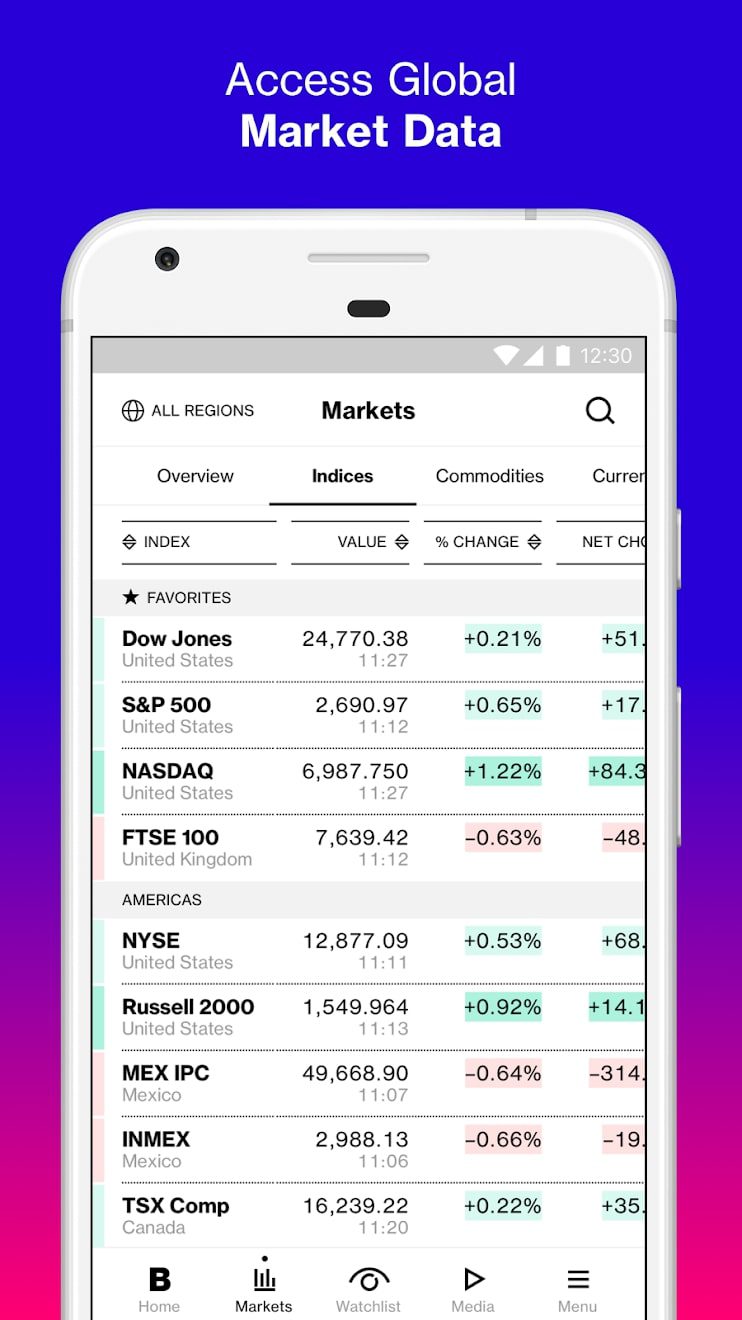 You can watch Bloomberg Television Live without a cable or satellite subscription. There is an option to track videos related to important news. The utility contains reviews by financial analysts. Listen to podcasts by experts in global finance, business, economics, and investments.


You may also like: 9 Best Scrum Project Management Apps for Android & iOS
Investing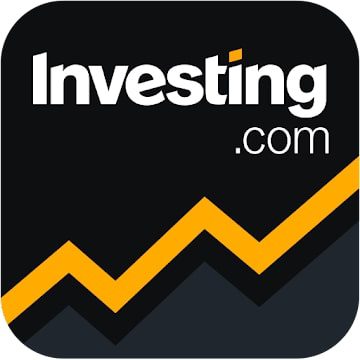 With the Investing app, you keep track of current events in the financial markets.
The app provides access to financial and analytical tools. It is possible to track the value of assets. Check streaming quotes and get real-time updates on financial instruments from world exchanges.
Use customizable charts to display the essential data in detail. You can use this service to track your own financial assets.
Track information about stocks, bonds, currencies, interest rates, options, and futures. Notifications are sent when prices change and new analytical articles are published.
The service is regularly updated with business and investment news. You can view video reviews and analytics of international financial markets.
The utility supports an enormous number of financial instruments. To access the full functionality, you need to sign in using your Google account or Facebook profile.
This app has an economic calendar, which keeps you informed on all future market changes. Use it to customize the display of information about world events based on personal interests. Add individual financial instruments or assets to your portfolio.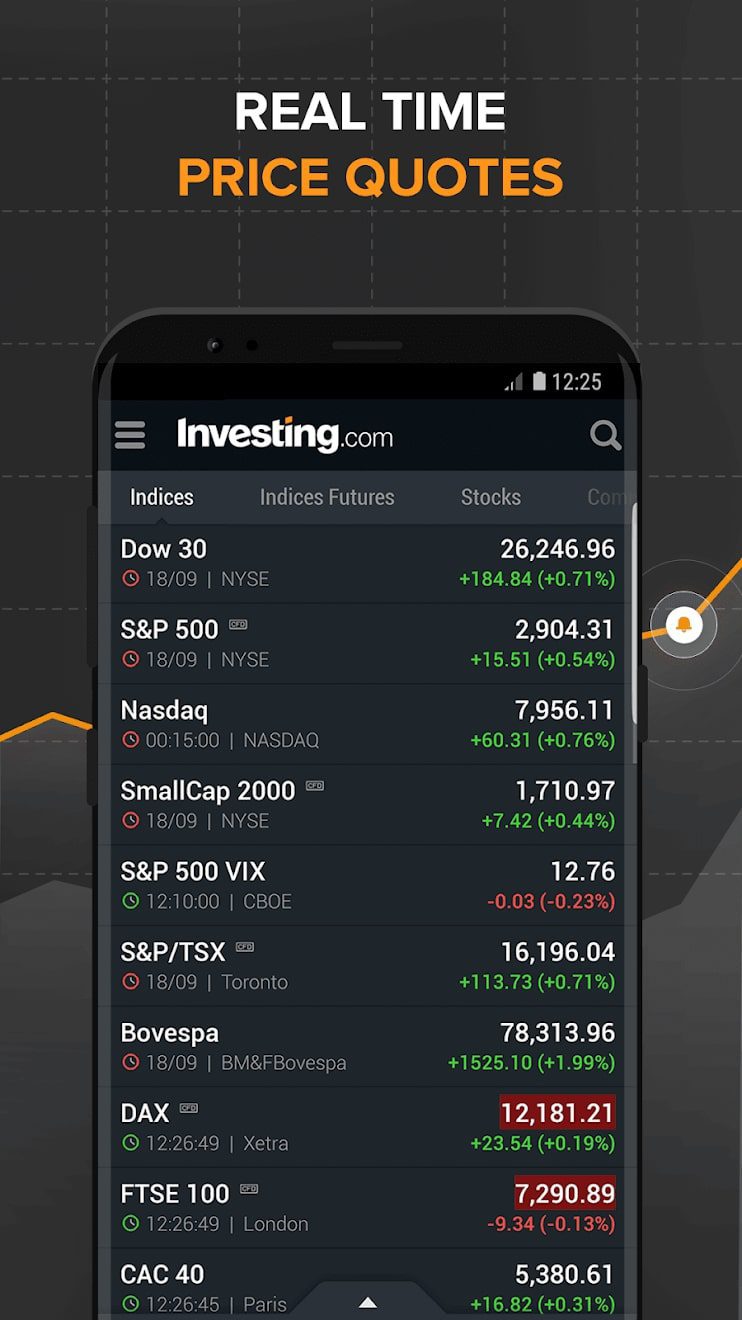 The program allows you to use the reporting calendar, technical analysis, quotes, charts, and other tools. You can check exchange rates, stock market indicators, indices, and much more.


Yahoo Finance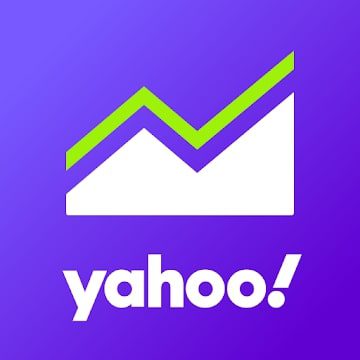 With the Yahoo Finance app, you can track the stock prices of the companies you are interested in. Find out the latest news about them as well as compare different securities.
Follow other users' investment portfolios and get full access to all information. Once you subscribe, you'll have access to daily trading ideas.
The platform will tell you where and how much to invest. Thanks to this feature, you can track your own data and respond to research provided by third parties. By doing so, you get more detailed information about available investment opportunities.
There is also a "fair value" analysis function. Here you can check the growth rate of earnings as well as its type.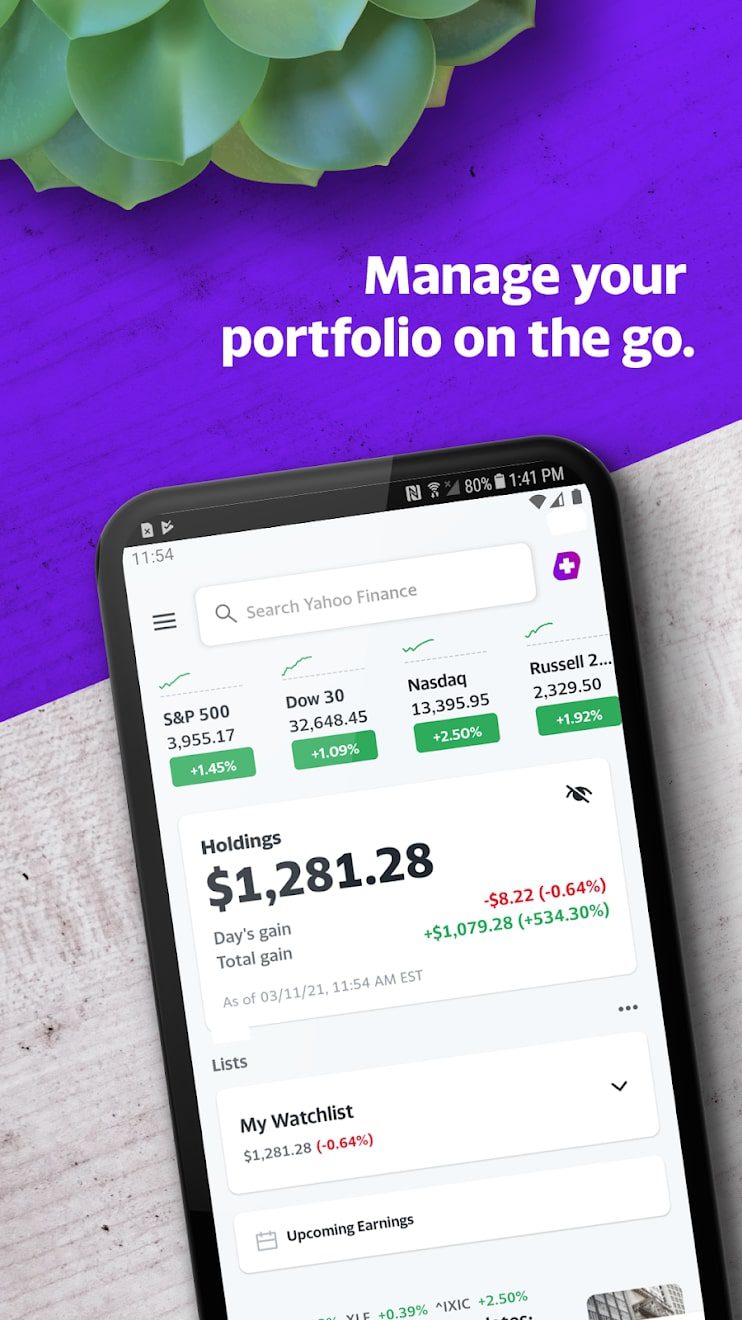 With the ability to keep track of this data, you can more accurately determine if it is wise to invest. Conveniently, this tool can be used for all your stocks and trades.


Robinhood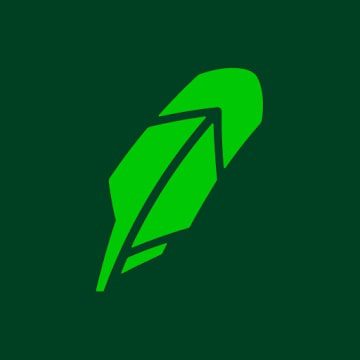 Robinhood is in all reviews of trading price alerts apps because it is really outstanding.
This is a free platform where you can trade stocks of companies and exchange-traded funds without paying for them.
What's more, this platform gives you the ability to make personal lists of bonds that interest them. Thus, you will get the current information about market data and quotes.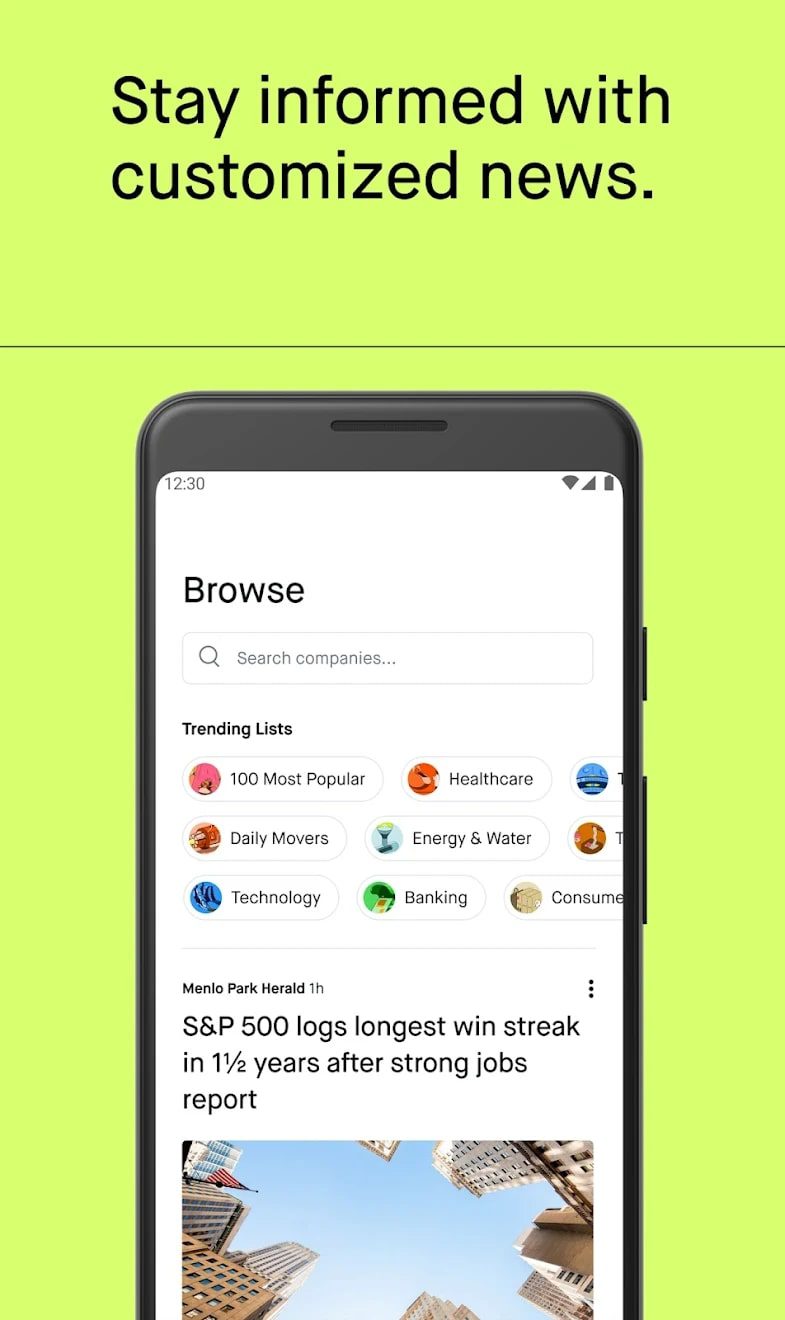 Robinhood is an excellent and modern app with a user-friendly interface. If you are going to trade on the stock market, you cannot do without this program.


Stocktwits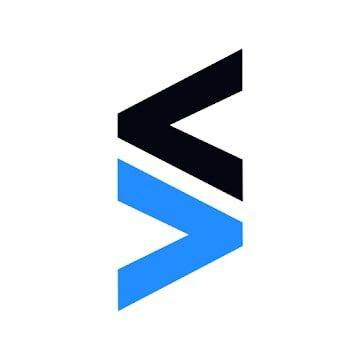 Stocktwits is a Twitter for stock analysts. Anyone can post here about the stock market and current changes.
The great advantage of StockTwits is that many of the world's largest investors consider it a valuable tool. This service allows you to find out what users think about the bonds in a moment.
It also provides reliable information about trending stocks and market news. This helps investors keep up-to-date with everything that is happening with the profit stocks.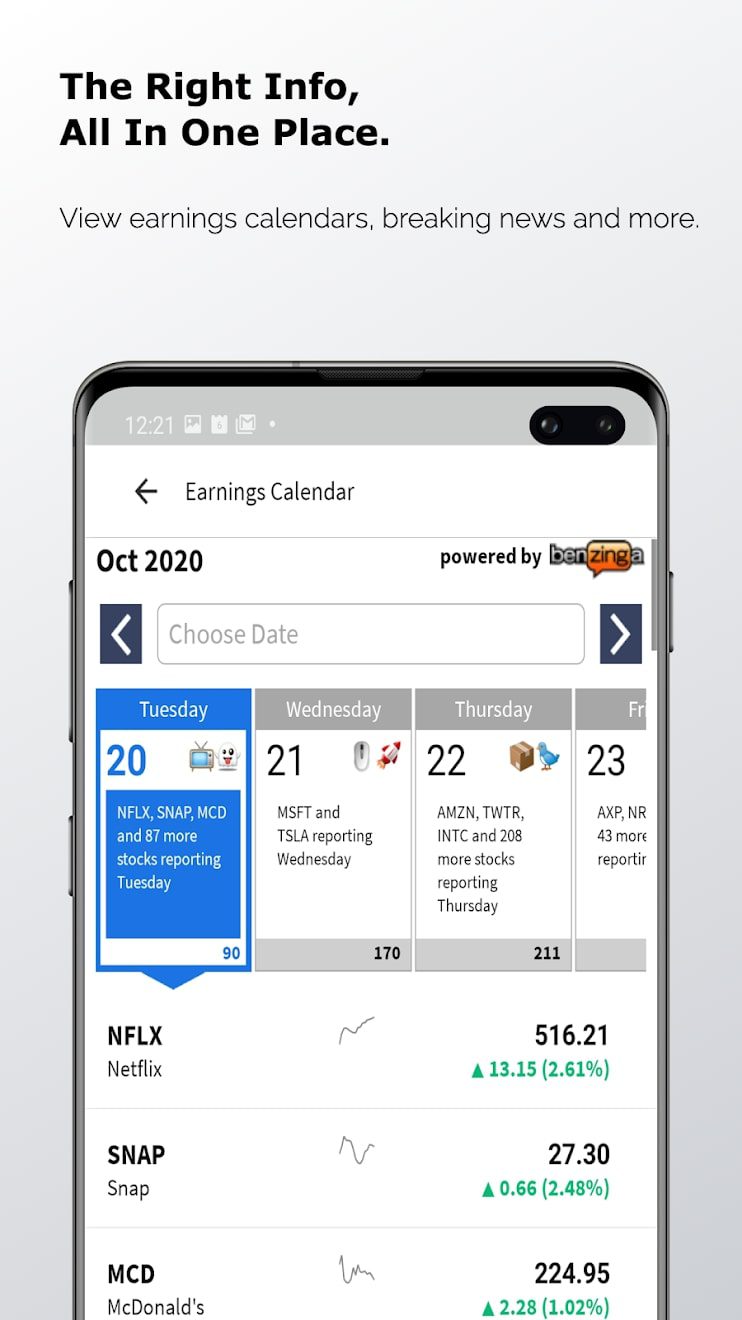 StockTwits has actually become an open channel for sharing information about investing. Thanks to it, traders and investors can cooperate beneficially.


eToro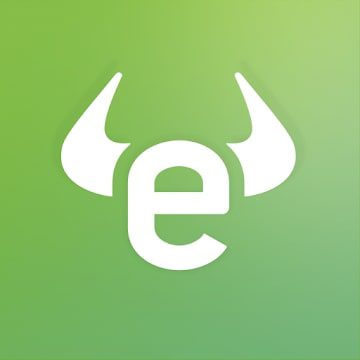 eToro is a great crowdsourcing platform that is a lot like StockTwits but with only one important addition. It allows not only to communicate with famous traders but also to directly follow their trades.
eToro has a user base of several million people from 170 countries. You can thoroughly examine the portfolios, earnings, and transaction history of any of them.
Each one has its own rating and risk score based on other users' evaluations. This way, everyone can see how safe and secure the trades they make are.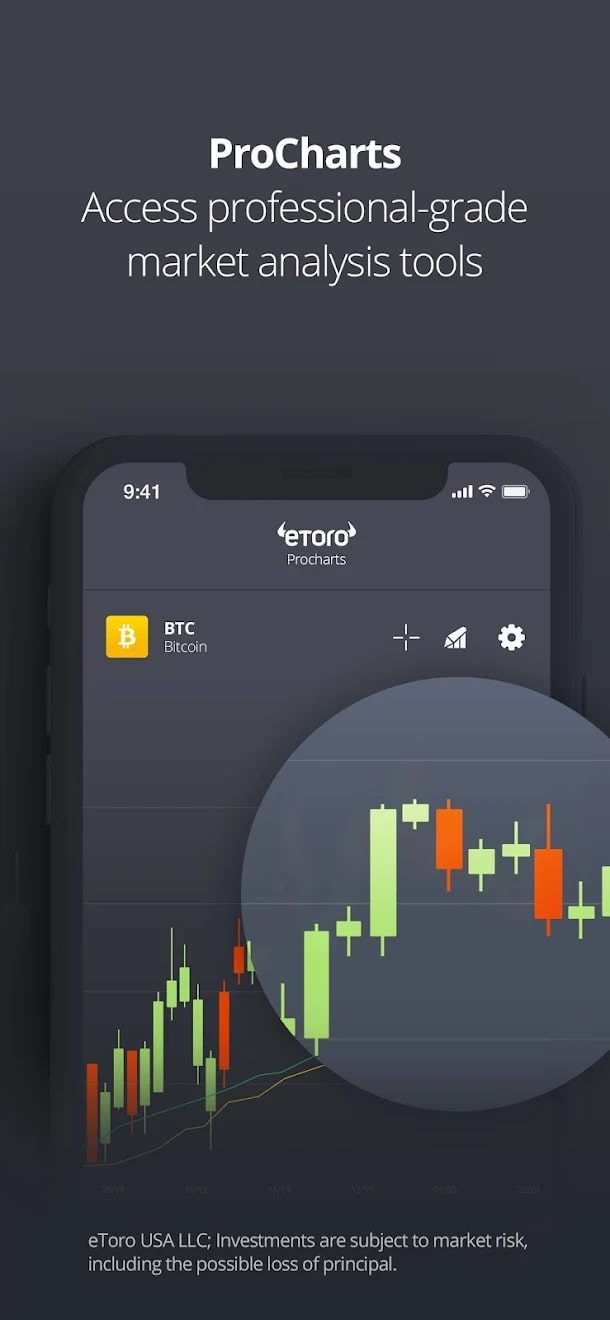 If you want to learn and earn simultaneously, then this app is made for you.


You may also like: 9 Best Apps Like Klarna (Pay Later Apps)
StockTraderPro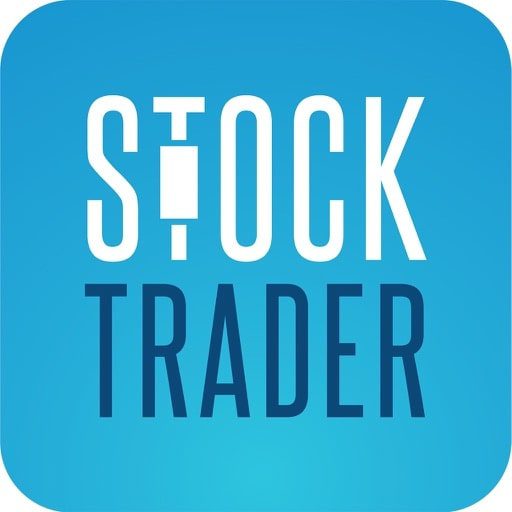 StocksTraderPro is considered one of the best mobile apps for tracking current quotes.
It is astounding for monitoring different portfolios, and even getting full-screen charts. Everything is sent in push notifications.
Stocks Trader gives you full access to most American brokers. It allows you to track aspects of financial activity and even provides a trading simulator. So, you can learn how to trade without risking real money.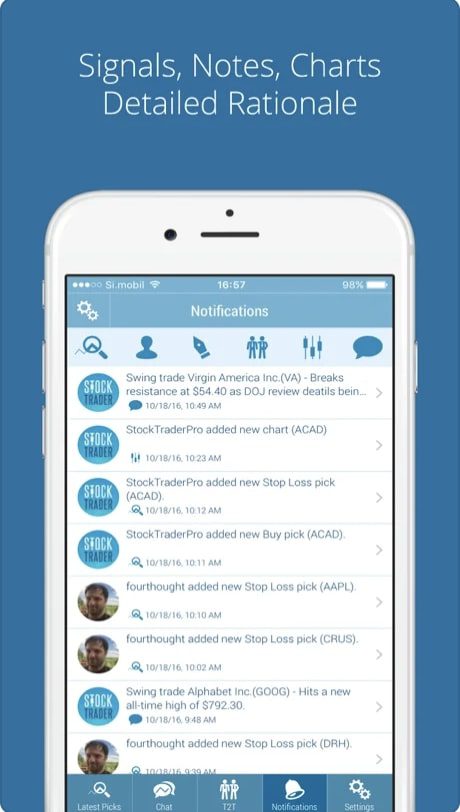 The full version of the app is expensive, but the free version is enough for beginners who want to try their hands. Along with Robinhood, this app should be installed on every trader's phone.

Webull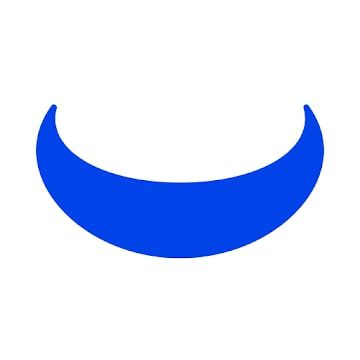 The Webull app gives you the opportunity to become a trader in the stock, options, and cryptocurrency markets.
The utility offers a rapid start, zero commission for many transactions, free initial access to higher levels, and up-to-date data.
The app is the official mobile client of the resource of the same name. The main page allows you to track stock exchange quotes of major indices and cryptocurrencies.
Tap on the name of each item opens a separate page with charts and detailed data. A swipe to the left takes you to a tab that shows the state of the markets. There are American, global, and cryptocurrencies. Here you can also view major stock indexes.
Besides, there are charts and lists of companies whose stocks are rising or falling in value. Another tab is dedicated to economic news. The last page is devoted to the menu. Here you can set up notifications, view the list of tracked favorites, check the calendar and log in.
Registration in the service is possible with Google and Facebook accounts. It is required to start a trader's card and take part in trading. The app offers free second-level starter access and a trial subscription for three months. There are prompts for placing trades, including voice prompts.


CoinGecko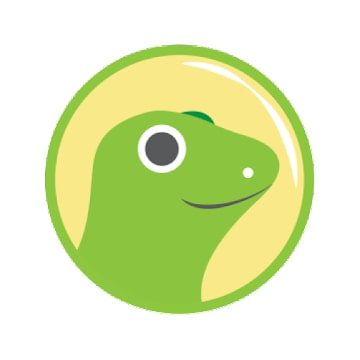 CoinGecko is the official app from the eponymous cryptocurrency exchange. Use to get the most detailed reviews of cryptocurrency markets.
Here you will get pragmatic recommendations, news, and other materials. The utility is a collection of useful information for beginners and professional traders.
The app provides real-time access to market data on available cryptocurrencies. It also contains up-to-date information on more than six thousand coins.
You can use the app to track digital asset derivatives, including perpetual and futures contracts. There is a possibility to learn about the latest news related to cryptocurrency. Verified sources of crypto news agencies are used to select content.
The app displays the current exchange rate of coins, trading volume, and market capitalization. There are also trust ratings, historical price charts, and so on.
You will be able to create a list of preferred cryptocurrencies and set up personalized price alerts. Management of a coins portfolio with different labels is also accessible.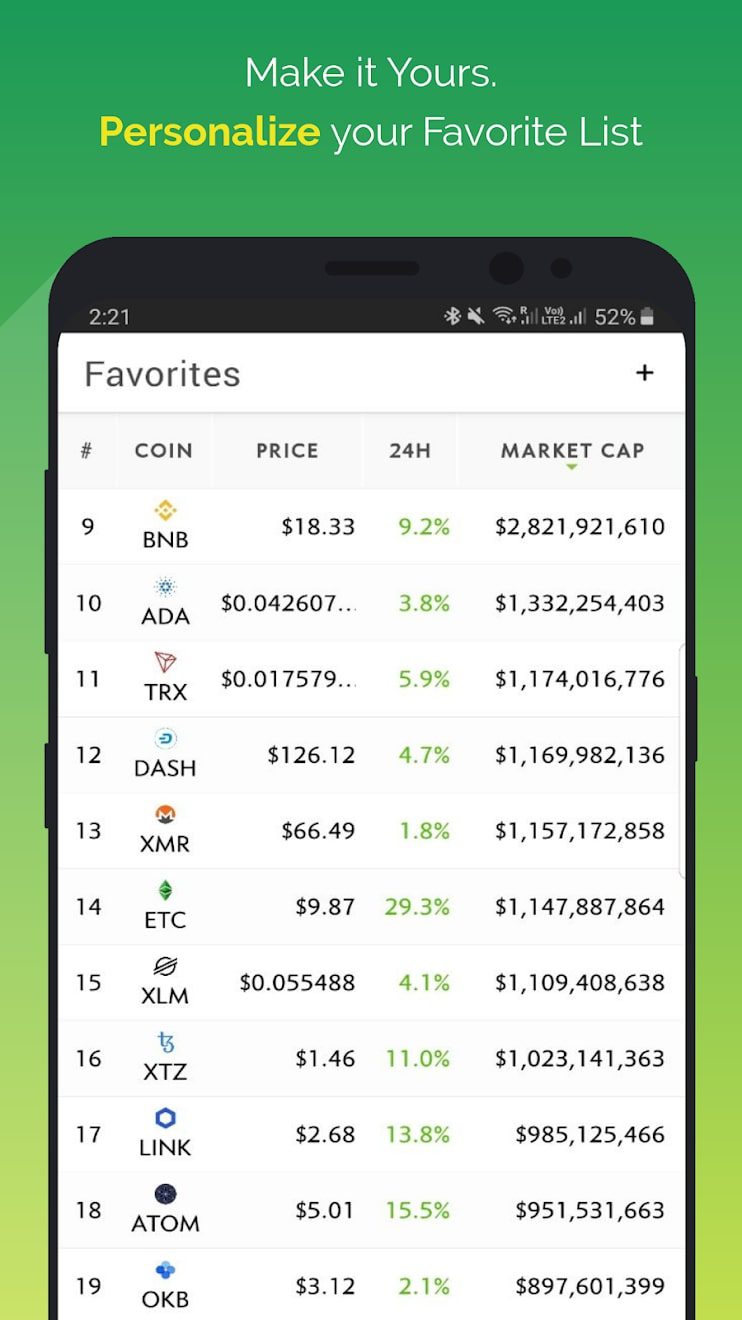 The utility is connected to more than 400 exchanges around the world. Futures and perpetual swap contracts are supported, as well as synchronization with the cloud. The app allows you to calculate the size of profits and losses using a built-in calculator.


Crypto App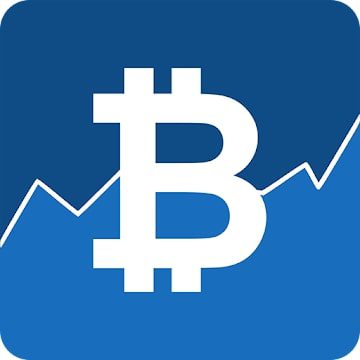 The Crypto App allows you to track the ongoing exchange rates of all cryptocurrencies. It offers conversion options, setting up rate change notifications, and the latest news.
From the main menu of the app, you can go to the feed with the displayed current rates. Here you can select the necessary ones and move them to the list of favorites and view your portfolio and wallet.
Using the app is possible without creating an account, but getting a virtual wallet is necessary. This means that you have to give your email address or Google account information.
From here you can also go to the section with the latest news. They display the newest events in the cryptocurrency markets. The built-in converter in the utility accurately recalculates the rates.
The menu item responsible for analytics displays the dynamics of exchange rates for the period of time selected. The basic functions of the app are free, but they can be expanded by paying a fixed amount.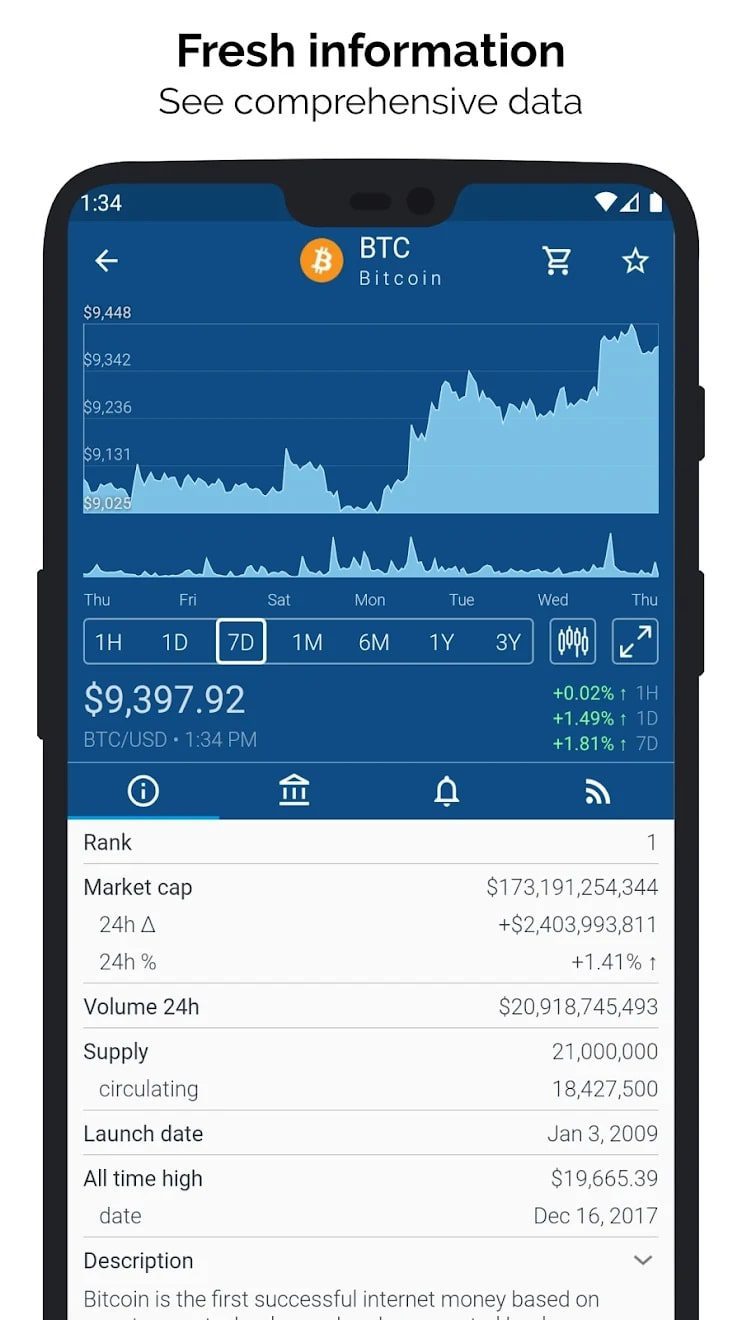 You get the ability to create many wallets, advanced notifications, and the absence of advertising. This tab allows you to configure notifications, news update intervals, and the design of the app.


You may also like: 9 Best Apps like Possible Finance for Android & iOS
CoinMarketCap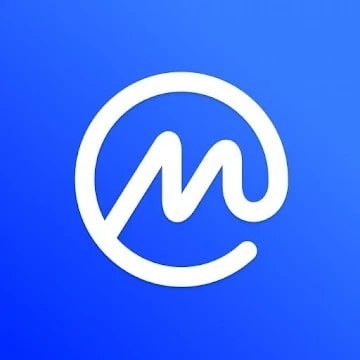 In CoinMarketCap you get present rates and other information on most existing cryptocurrencies. Track the dynamics of price increases and decreases.
On the main page, you will find the full ongoing information. See how much a unit of a particular altcoin is worth in relation to the dollar or Bitcoin.
There are many extra filters. For example, you can sort cryptocurrencies by price, name, rating, and price change over the past 24 hours. Additionally, it is possible to add cryptocurrencies to favorites to always be aware of their current quotes.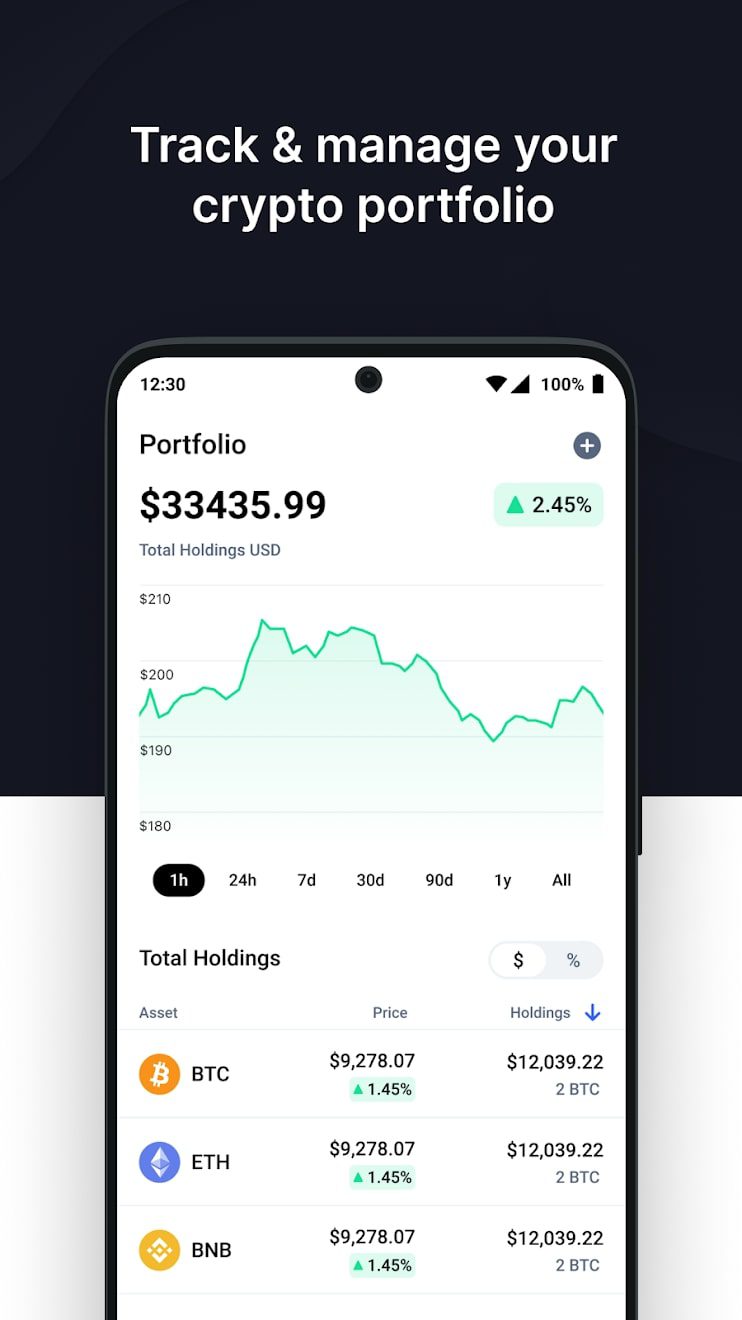 CoinMarketCap is considered one of the most reliable providers of cryptocurrency data. Here you will find a full description of any digital currency, creation date, total capitalization, and much more.