Ready to capture an ideal headshot? Whether you're a budding actor, an influencer, or want to look polished on your documents, we've got something for you.
We've scouted the best headshot photo apps (Android & iOS) you could try. Say goodbye to subpar lighting and amateurish pics – with these apps, you'll be able to enhance your snaps to perfection.
These apps cover filters and tools to showcase your personality in every shot. Some of them even let you make headshots for official documents without leaving your house. Let's dive in!
Canva
If you've ever needed to make a presentation or any graphic at all, you've probably tried this app already. Sure, you may know it as a digital design tool, but did you know that it can also help you make a killer headshot?
The app comes with an impressive Ai tool that can take any image you love and turn it into a pro headshot. Say goodbye to worrying about what you're wearing or what the bg looks like. The AI can transform it all with just a few clicks.
And the best part? If you want to switch things up and change your outfit or bg, it won't require almost any effort. Just type in what you want and watch the app do its magic. It will generate 4 options for you based on your prompt. And if none of them are quite what you were hoping for, you can always try again.
And once you're satisfied, just crop the pic to match the resolutions you need. This tool is for pro subs only, but you can use a trial to check it out.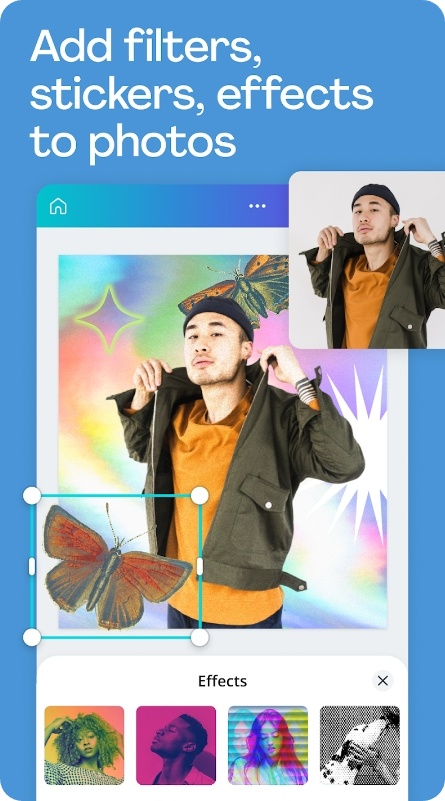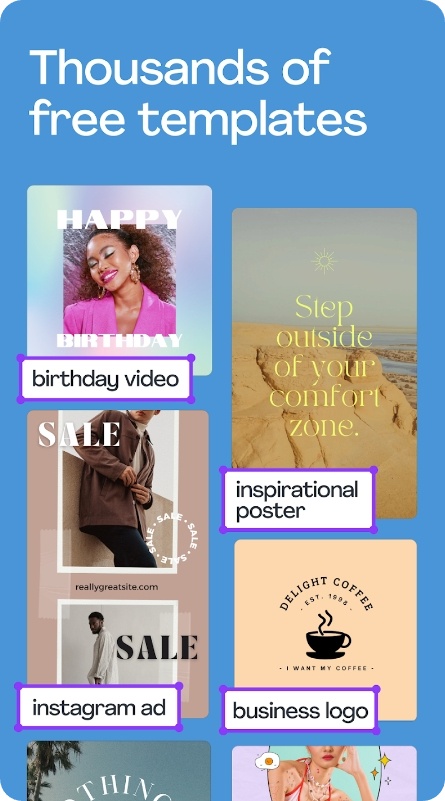 You may also like: 13 Best Apps to Change Clothes on Pictures
Lensa
This app is here to help you get an ideal headshot. It's a portrait retouching magician, providing all the necessary instruments to boost your selfie game. Want to get rid of those under-eye circles? No problem! You can easily achieve a fresh and rejuvenated look.
And for those of you obsessed with your eyebrows, the app lets you sculpt and shape them to perfection. But that's not all! The app also lets you adjust the effects for snaps, creating flawless shots every time. For instance, it can adjust lighting and get rid of any unwanted blur.
Plus, you can quickly ensure that your teeth are shining bright. A touch of the Art Photo Contrast Editor can adjust lighting and get rid of any unwanted blur, while the teeth whitener editor ensures that your pearly whites are always shining bright.
Feeling funky? Play with hair colors and add a little motion to your selfie with the bg changer. You can also use it to get a quick plain bg.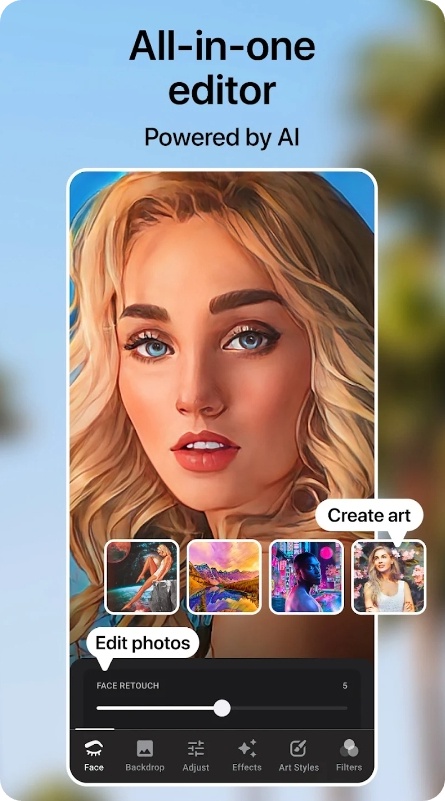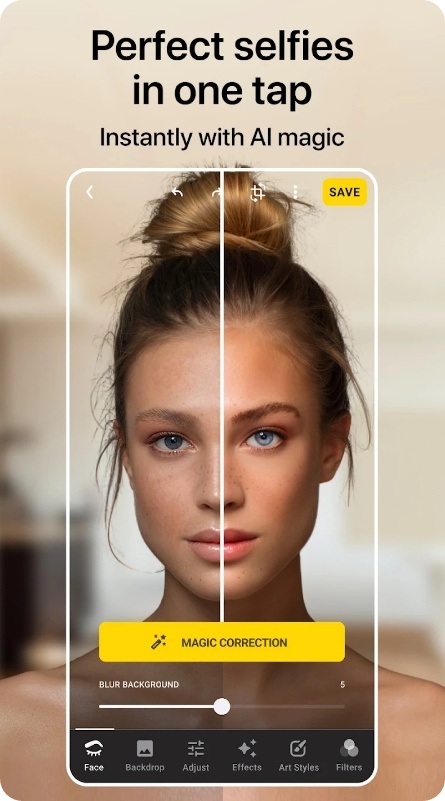 Passport Photo
Need a hassle-free way to get your passport or ID pic? This app will help. It's a treat when it comes to getting a quick and cheap headshot. It boasts a friendly UI that can guide even the most technologically challenged of us toward a pro-looking pic fit for any official document.
And the coolest part? You don't need any editing skills! Thanks to the power of AI, the app automatically adjusts and enhances your snaps to ensure they meet official standards. This means no more fussing with a clunky camera trying to get the shot.
Plus, you can take as many snaps as you like and try until you're satisfied. Thus, the app gives you peace of mind that you've got the best possible result.
And don't get us started on the range of doc types this app supports! Whether you need it for ID, visa, or driving license, you can do it here. Plus, it caters to both adults and children, making it a no-brainer for the entire fam's needs.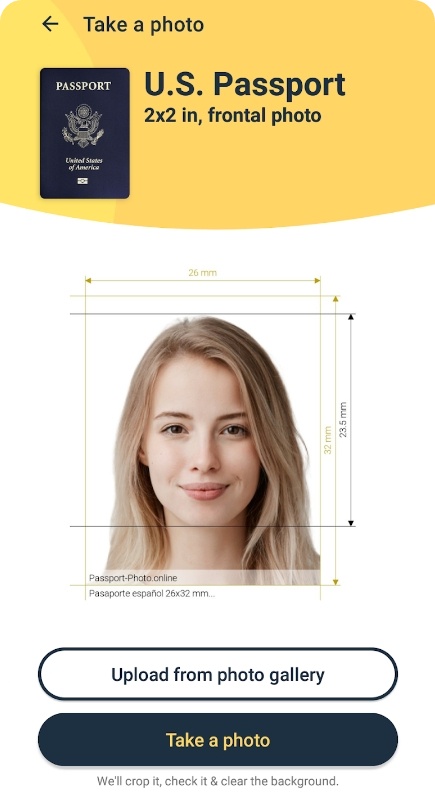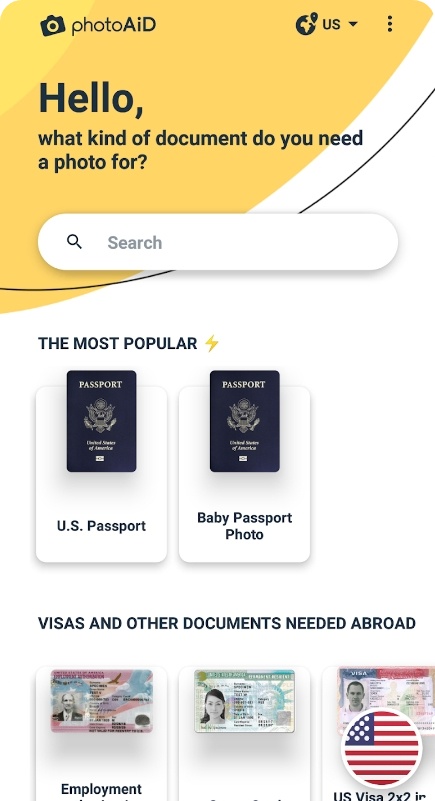 Passport Photo Maker
This app lets you save some serious dough on getting your passport shot taken. It offers all the basic tools you need to get a compliant headshot for any country in the world and lets you save money by mixing multiple snaps into a single sheet of paper.
And that's not all. The app covers all standard printing paper sizes, so you can use whatever works best for your needs. It lets you save tons of dollars by printing pics instead of visiting expensive retail locations.
But perhaps the best part of this app is how easy it is to use. You don't need to be a pro photographer to get an ideal shot. Simply snap a pic using your phone's cam or pick one from your cam roll. Once you're done, the pic is ready to be printed, and you'll be pleasantly surprised by the quality.
The app does have a paid version, but the free one is fully usable. The ads are there too, but they are not too annoying.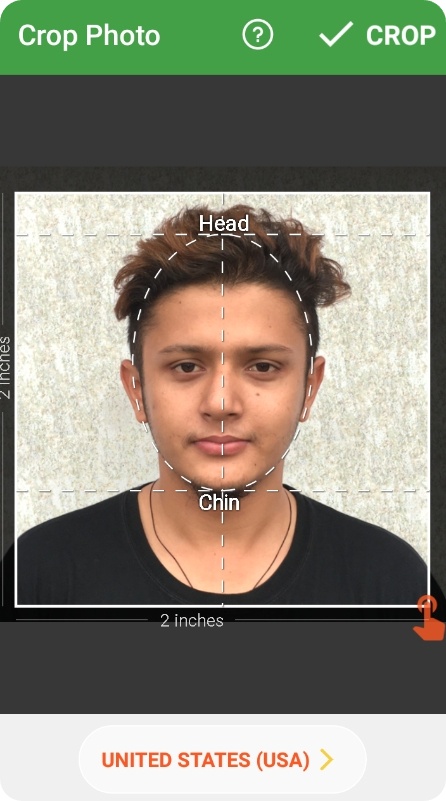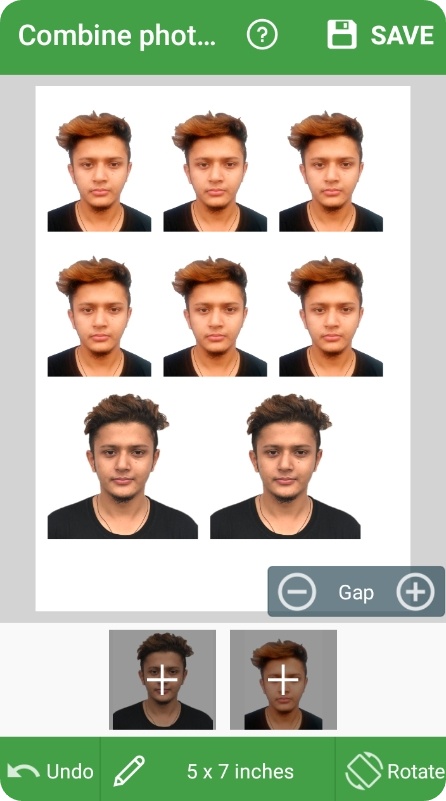 ID Photo
If you're the kind of person who ends up hating their headshots every time, don't get past this app. It lets you quickly and easily format, print, or save headshots for all kinds of docs.
In fact, the app covers templates for over 100 countries. No more worrying if your pic will meet the official standards: this app has it all checked for you. And if the requirements change, they will be instantly updated, so no worries. And there are also templates for all the popular job application formats.
Plus, you can pick one of the paper sizes manually. There are tons of options, and you can make a custom one if needed. And if you don't want to print directly from the app, you can order the pics later from the photo lab of your choice online.
The next best thing about this app is the multitouch gesture that lets you adjust the position of the snap and zoom it as needed. The mechanics are simple, you'll quickly figure it out.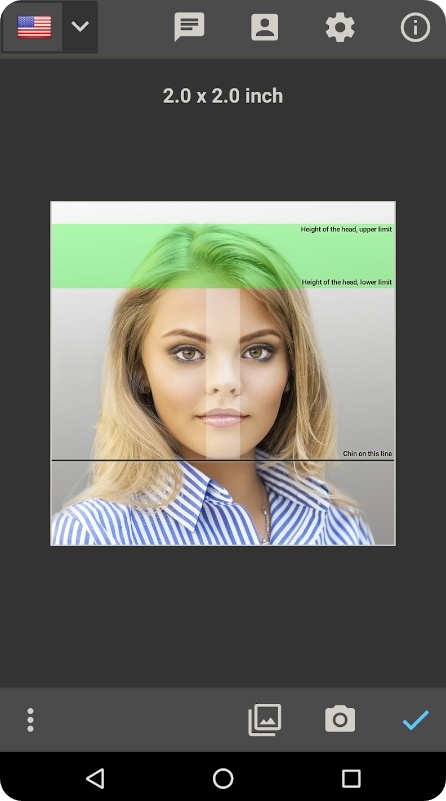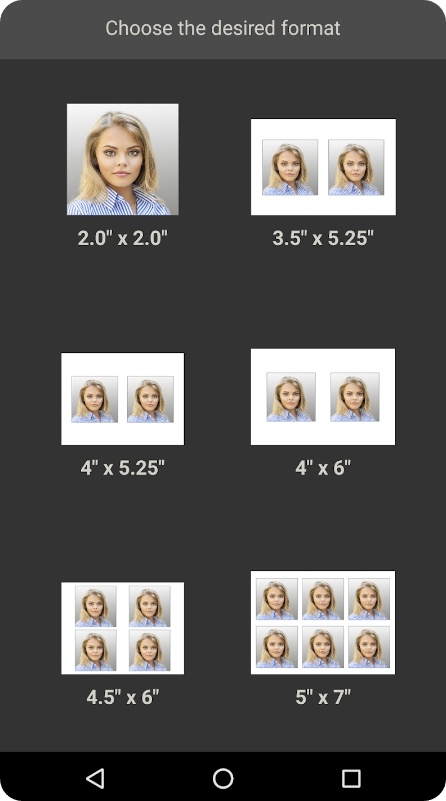 ID Photo & Passport Portrait
This app will surely take all your headshot struggles away. No more struggling with dull cutting or searching for accurate specifications. It automatically detects your portrait and takes only 3 mins to make an ID shot. And the best part? You can take your portrait again and again until you're satisfied!
The shooting guidance makes it easy to operate, even if you're not the most tech-savvy person around. You may rather snap a pic right away or use a pre-made one, it's up to you. Otherwise, it can be easily cropped, and you can switch the bg within a few secs. You can even add annotations if needed.
It has templates for all kinds of stuff aka IDs, visas, resumes, resumes, and all that. Plus, it provides a variety of sizes, including multi-national passports and visas! So whether you're preparing to travel the world or just updating your resume, this app has got you covered.
The tone regulation lets you improve the snaps and make them look pro-made. And with the ability to save them in different formats (jpeg, png, webp) and resolutions, you'll have all the options you may need.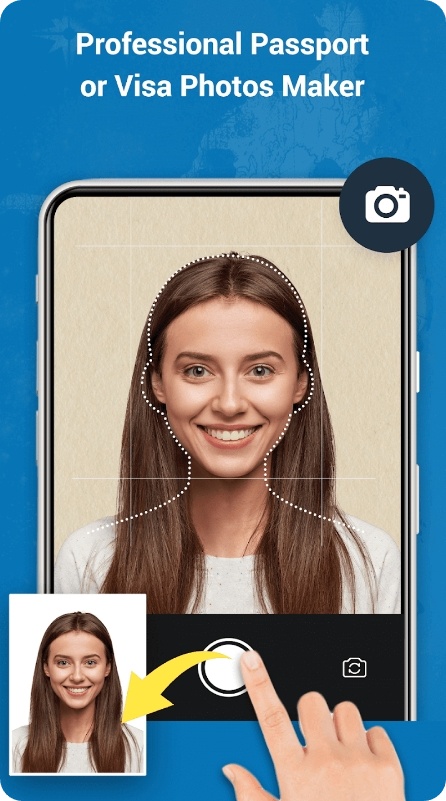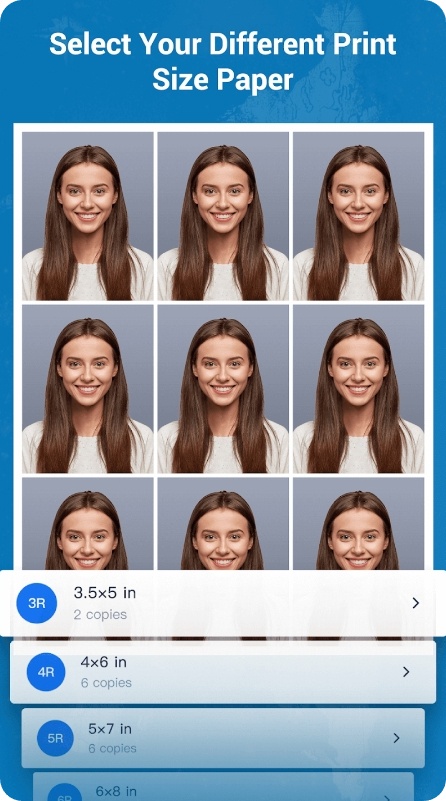 Check also: 11 Free Apps to Enhance Photo Quality
Passport Photo App
Tired of awkward passport shots that honestly make you want to crawl into a hole? This app will change that. It's a gem for taking and editing your passport pics. Firstly, it lets you erase and switch bgs in a blink of an eye. Say goodbye to tacky white bgs or unflattering lighting: this app will automatically blur out the bg and make you look like a million bucks.
But that's not all! There's a smart enhancer that corrects all the imperfections and enchants your facial features. Say hello to a glowing complexion and a brighter smile! Plus, there are over 100 sizes you could try, so you can easily make headshots for any doc.
There are also guidelines to help you get the best result every time. It's also here to ensure your pic will meet the strict standards of passport offices. You can thank us later when you breeze through customs.
But wait, there's more. The app even lets you manually edit your snap and tweak the saturation, vibrancy, and brightness to your liking. Plus, you can pick a bg color that suits your prefs.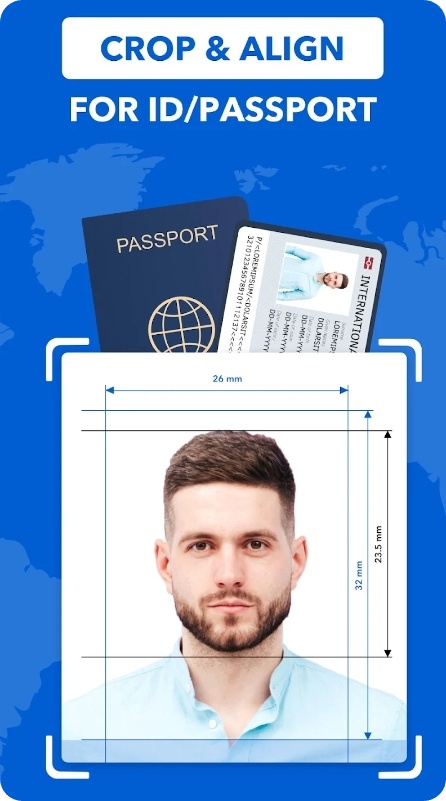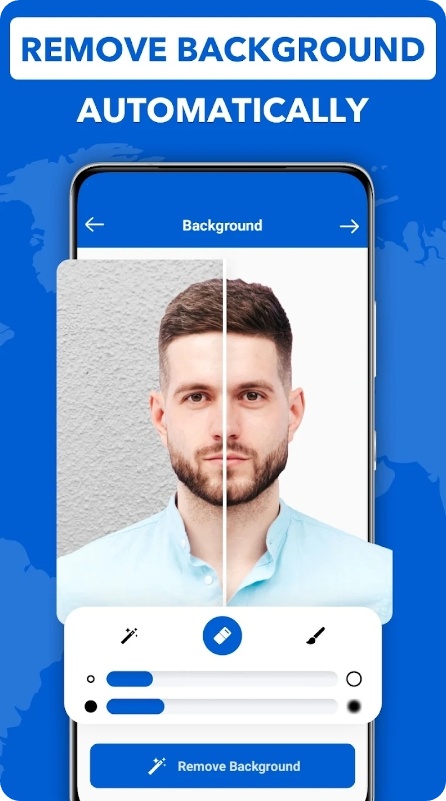 MyHeadshots
This app is originally made for actors, and it's a great tool for making HQ headshots. You'll get to add pics from a cam roll or snap fresh ones and edit them to match the standards. The app covers a full-on editor that lets you enhance your snap in many ways.
You'll get to remove blemishes, smooth the skin and crop the snap to your desired size. But the app doesn't stop there! You can modify every aspect of your headshot, including font, color, and placement of your name. There's a borderless or traditional bordered look to showcase your headshot in a way that suits your style.
You can even use it to make a resume. The app comes with a tailored editor for acting that allows you to pick from a variety of format styles. You can include all the info you want about yourself and your agent, personal physical characteristics, and much more.
And, if you already have a resume, no problem! You can easily import a PDF to keep everything organized and in one place.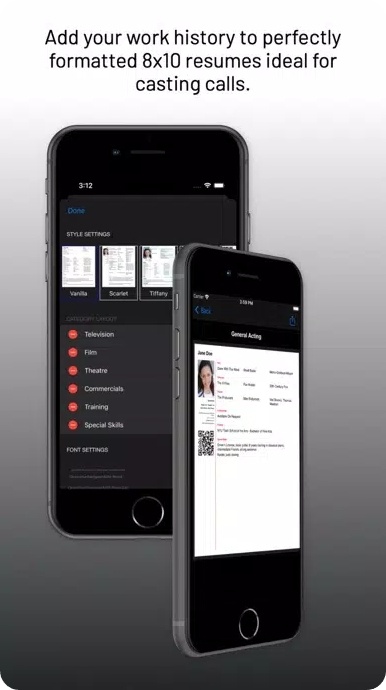 Passport Size Photo Maker
This app gives you a hassle-free way to make pro headshots without leaving your house. It covers templates for the docs of over 150 countries, so you're all the way covered. The app has ID and visa standards, and it gets updated if there are any changes.
This nifty app turns your regular pics into HQ passport-sized ones. With advanced tools, you'll be able to make your snap look like they've been taken in a studio, all from the convenience of your own phone.
The app lets you switch the bg, alter the white balance, brightness, and more. Thus, you can tailor the results to your needs and make sure you won't be hating on your ID for the next couple of years.
But that's not all! The app also saves you money by combining pics into a single piece of paper, making it easy to print without overspending. You'll even be able to share your pics with local printing shops to get them ready quickly and conveniently.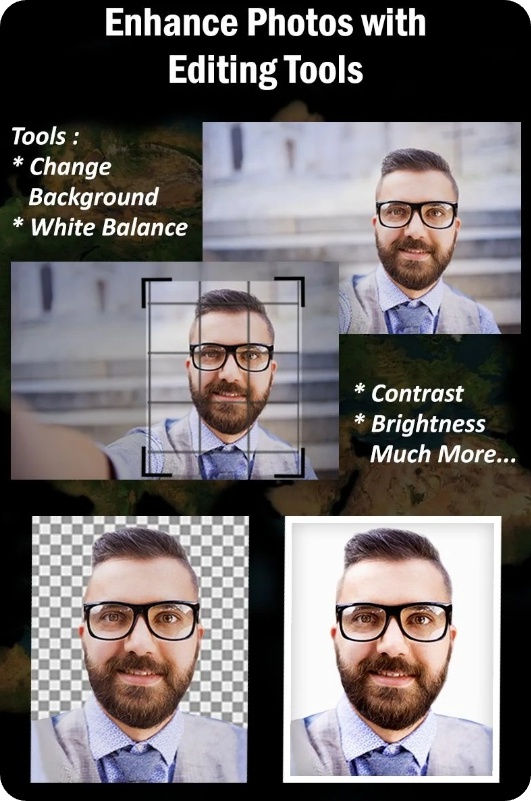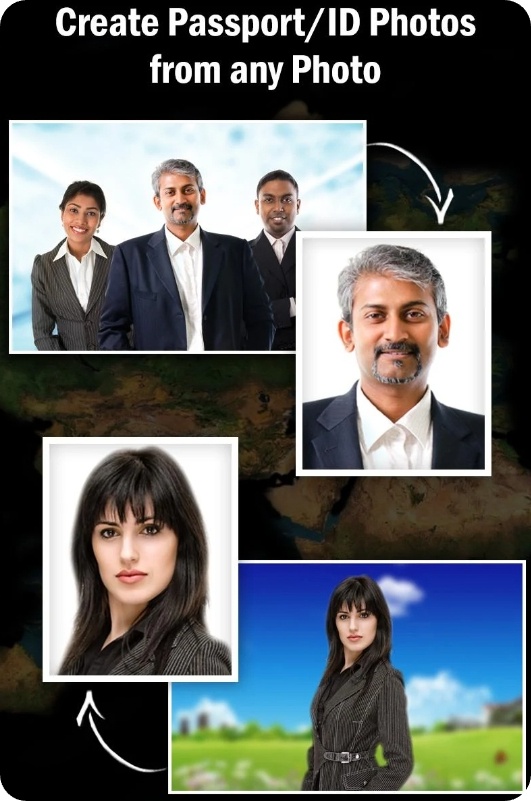 Phocus
Seeking an app to give your headshots an extra edge? This might be the one. It has all the tools you need to make stunning portraits that reflect your style and taste. One of the standout aspects of this one is the ability to blur the bg of your snaps. Say goodbye to distracting details and hello to beautifully crisp subjects that pop right off the screen.
You can also use portrait filters to give your images a unique, personalized look. It also comes equipped with a depth editor and color curves, letting you fine-tune your snaps to the finest degree possible.
Make sure to try the studio lighting tool for an even more wow factor. It's the easiest way to get a pro-quality shot. Perhaps the coolest function of this app, though, is the ability to style transfer bgs and foregrounds separately. This means you can switch the bg of your snap without affecting the main subject. Talk about sleek and seamless!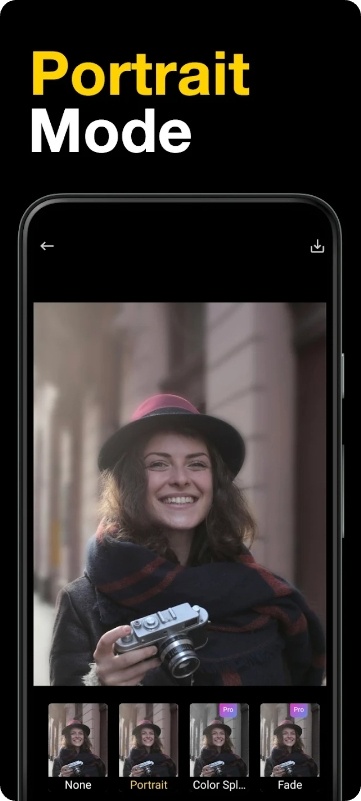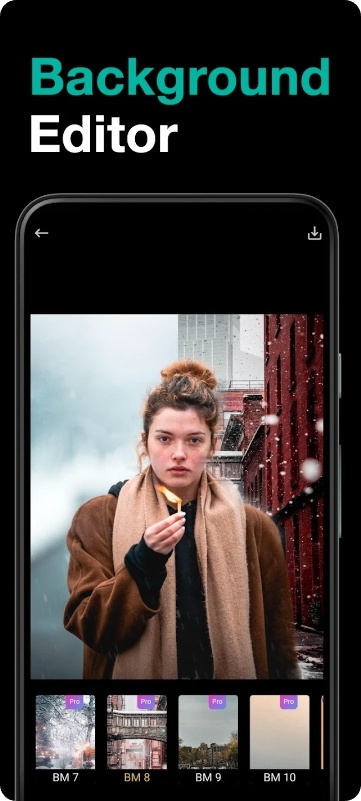 AI-Photo Passport Photo Maker
Well, the name of this one fully reflects its concept. Here's an app that will take away the struggles of getting your headshot taken. It's time to say goodbye to the long waiting lines, high cost, and frustration. This app is the one-stop solution for all your doc pic needs!
It covers a vast scope of templates for various types of docs such as visas, IDs, green cards, and so on. And it doesn't stop there! This app also serves as a resizer, cropper, and bg remover. You can use it to make the pics look just like you want them to. Say goodbye to finicky photo shops and hello to the convenience of AI techs.
Not only is it a time and money saver, but it also offers a 100% guarantee of approval. You can be sure that your snaps will be accepted by the authorities. And best of all, you won't be charged until your photos are ideal.
Above that, you can make both infant passport pics and ones for adults. You can find most types of biometric snaps in this app. It truly is comprehensive.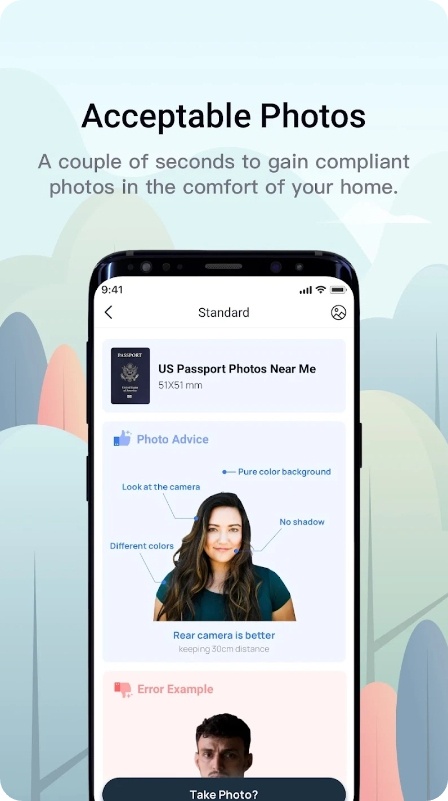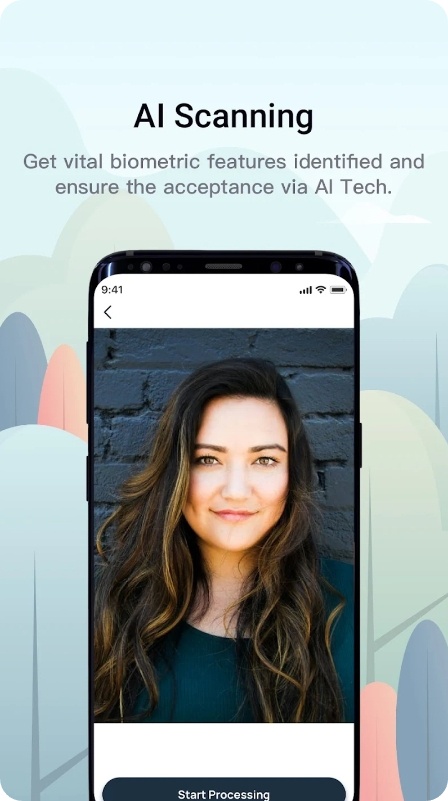 Passport/VISA Photo ID Maker
It's a one-stop shop to make and edit your headshots with ease. This app covers standard sizes for IDs and visas of all countries around the world. Whether you are looking to make a passport for an upcoming international trip or edit your VISA requirement snaps, you can do it here.
The most commonly used sizes are covered, but what sets this app apart is the ability to make a user-specified custom size. No more worrying about your pic not meeting the requirements: this app will take care of it for you.
You'll also get to align and rotate the pics and edit them to get an ideal result. You can re-make the pics as many times as you like before saving the final copy. And if you want to add a personal touch, you can even add a required border before sharing.
But wait, there's more! The app lets you add a signature to the pic if needed. And all of that without spending a dime.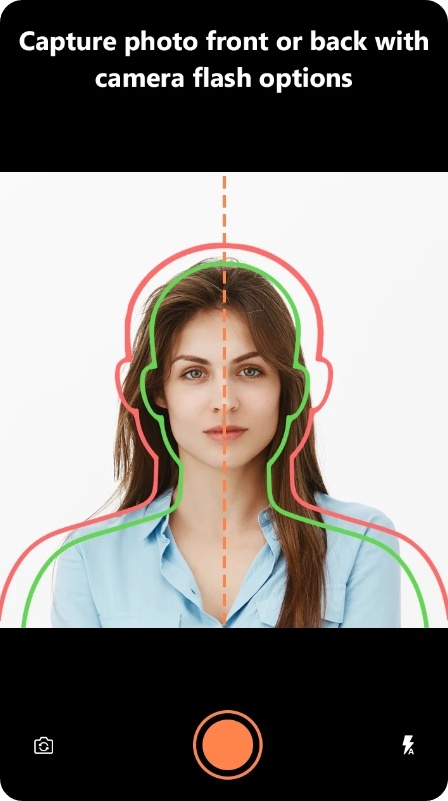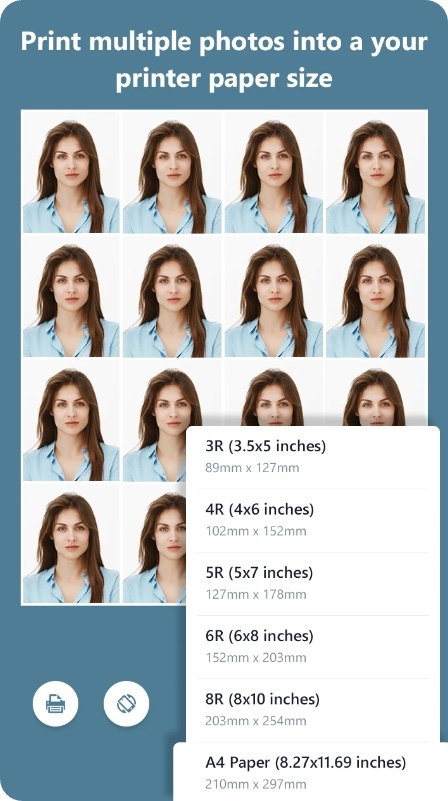 You may also check: 12 Best Cut and Paste Photo Apps
Passport Photo&ID
To wrap up, there's a handy tool for making headshots with minimal effort. One of the key perks of this one is the incredible range of photo templates available. No matter what type of ID or official doc you need a pic for, this app has got you covered. From passports to visas and even green cards, the auto bg switch makes the editing process a breeze.
The accuracy o the face recognition is also impressive. It makes bg switch a breeze, and you can get an ideal shot without any awkward blurry edges or weird shadows. The app also offers a scope of bg colors to suit your prefs.
You can also save the pics in HQ here. None of the editing affects the quality, so you'll get polished pro-looking snaps right away. It also covers diverse formats for all countries. And let's talk about the easy-to-use interface. It only takes four simple steps to make and size your ID pic.