Are you tired of lugging around a bulky binder of sheet music to every gig or rehearsal? Say hello to the future of the organization! We've scouted top sheet music scanner apps for Android & iOS you could try.
These apps let you save and make music sheets that are conveniently stored in one place. With these on hand, you'll never have to worry about losing a page or forgetting your music at home again.
These apps are gems when you need to quickly digitize your sheet music lib. You'll get to access them at any time and edit the sheets as needed. Let's dive in!
Sheet Music Scanner & Reader
This app helps you scan sheet music with minimal effort. It has a magic built-in cam that can recognize over 30 instruments, from piano to violin. One of the coolest aspects is the ability to playback from any image in your cam roll or PDF. The optical recognition tech is speedy and accurate, making it a breeze to learn and practice your fave songs.
And, if you're having trouble with a particular measure, simply tap it and watch as the notes and symbols are marked as they're played.
But that's not all! The app covers numerous exporting files and audio formats. You can even export to cloud storage platforms if needed. Whether you're a newbie just learning to read music or a pro needing a handy tool, it's definitely worth checking out.
Speaking of capabilities, the app can recognize a variety of symbols, from treble to music notes, duration dots, and repeat signs. It's great for playing individual staffs separately, like the right or left hand on the piano, or all the choir voices. Sure, there are some limitations here and there, but overall it's a must-have for any music enthusiast.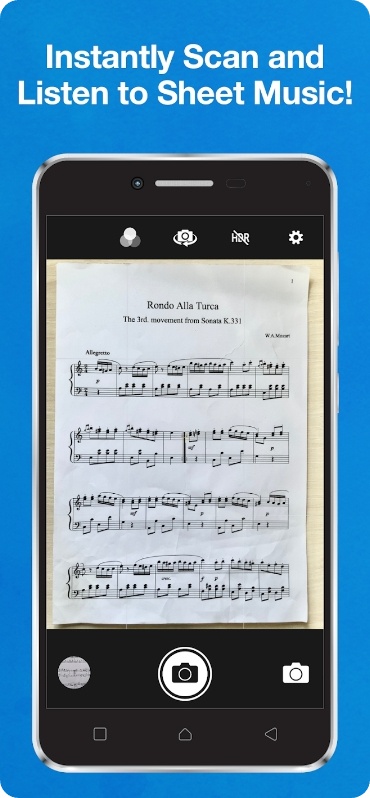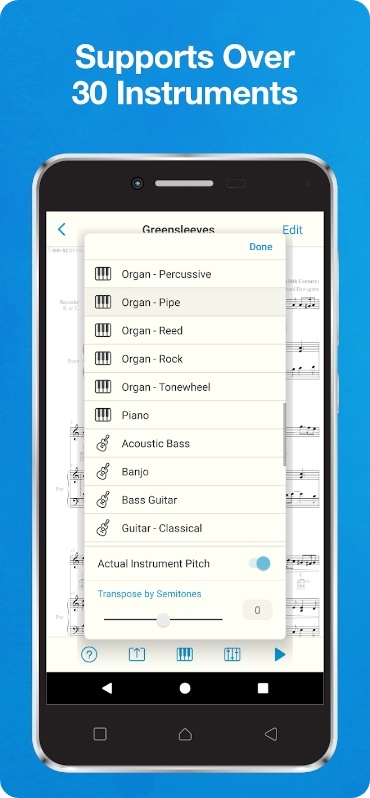 You may also like: 11 Free Apps Like Tempo To Edit Music Videos
PlayScore2
This app takes sheet music reading to the next lvl, letting you snap pics or import PDFs and play the music right back to you! It has a measure-by-measure scrolling, so you'll find yourself able to interact with the music in a way that's both intuitive and accessible.
But what sets it apart is its ability to adjust volume, instrument, and transposition for each staff. You can even make playable score docs that anyone can play back using the app's free player.
And for those who like to tinker with the finer points of sheet music, the app lets you do that too. It covers trills, slurs, repeats, and all the other things, so you'll find everything you need to bring your melodies to life.
But perhaps best of all is the ability to read and play all kinds of tunes straight off the page. From songs to solos, chamber, and orchestral music, this app has all you need to get started on your musical journey. With its unparalleled ease of use and wealth of tools, this app is sure to become a staple of your music toolkit in no time!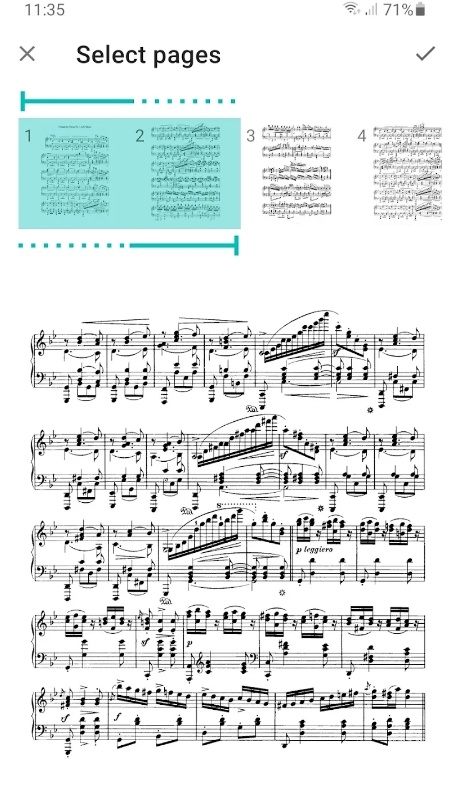 MuseScore
This app is a one-stop shop for all your sheet music needs. It lets you access over 1.5M pieces of free sheets. So no matter what instrument you play or what kind of music you're into, you'll find smth useful here.
Browse the extensive catalog by instrument or filter for compositions that suit your needs. Solo? Band? Ensemble? Orchestra? They've got it all. And don't miss out on scores for your fave composers, whether they be classic or contemporary. When you find smth you love, add it to your faves to easily access it later or share it with your pals.
But the real magic of this one comes when it's time to practice. There's an interactive player, you can play along immediately and adjust the tempo to your liking. And with the dedicated practice mode, you can learn note-by-note and zoom in to see every detail.
There's also a full-on songbook, and you can save and keep your fave melodies offline. No more worrying about whether you'll have access during your next gig or lesson. Plus, now you can load scores from your device or cloud.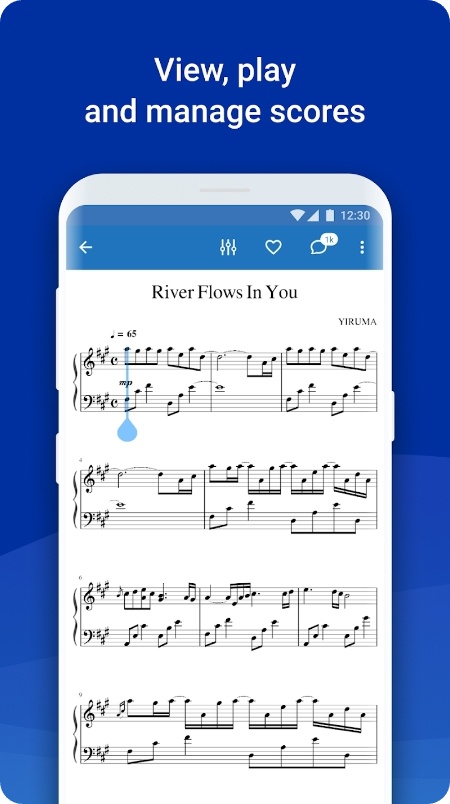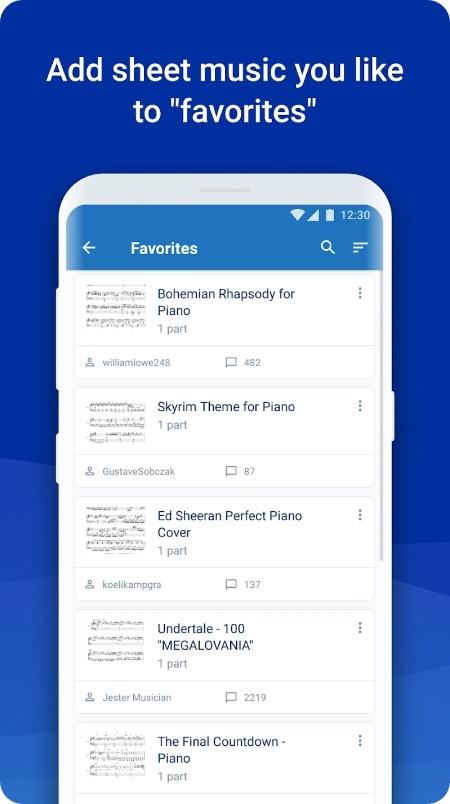 digitalScore
This app will help you manage your extensive notes lib and take your performance to the next level. It covers over 400K public domain scores, so finding the right sheets has never been easier. Thanks to smart filtering options, you'll be able to locate exactly what you need in no time at all.
And if you've got paper scores lying around, you can easily digitize them using the cam. But it is more than just a lib. There are efficient organizational tools like custom folders and tags, so you'll be able to stay on top of your scores like never before.
And thanks to the app's ability to sync across numerous devices, you can rest assured that you'll always have access to your melodies no matter where you are. You'll also get to turn pages smoothly, without any interruptions. And if you need to make annotations on your scores, there are intuitive annotating tools too.
Plus, the app will help you stay motivated. You'll get to set goals and monitor your productivity to stay focused on your musical success.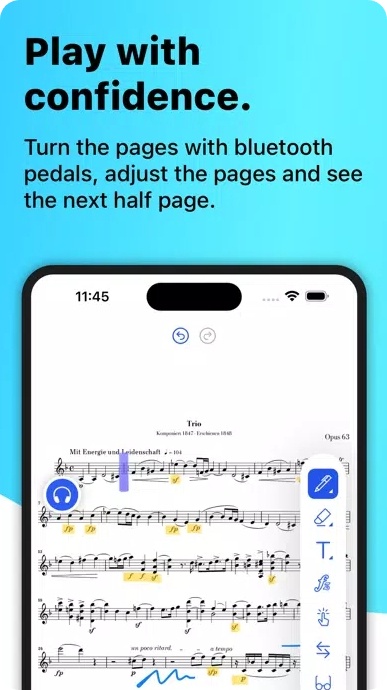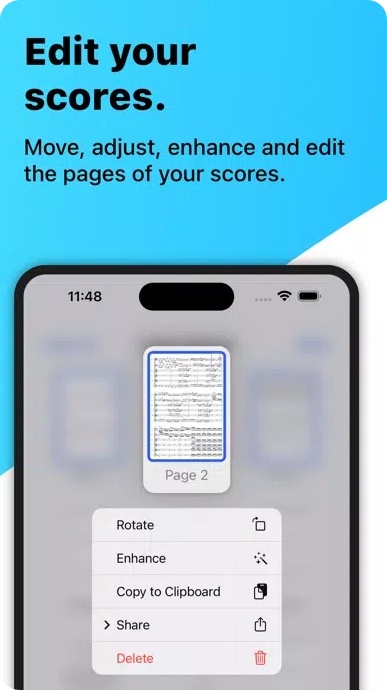 Melody Scanner
This app is a game-changer for all aspiring musicians out there. This app has made it possible to transcribe your fave song covers, mic recordings, and audio to sheet music with such ease and flawless precision.
What's amazing about this one is that you can view the transcribed tunes in various formats like classical score, piano roll, or guitar tab. And the best part? You can playback the sheets and listen to the result, just like that! Once you're happy with how it sounds, you can save it in any format and share it if needed.
The app also lets you sync with the desktop version, so you can pick up where you left off. But here's the thing – this app isn't without its limitations. For example, note recognition can't separate diverse instruments. So, if you record several instruments playing simultaneously, you might not get the best transcription results.
Also, this app won't detect 100% of the played notes with 100% accuracy. But hey, that's just nitpicking for smth that's unbelievably useful!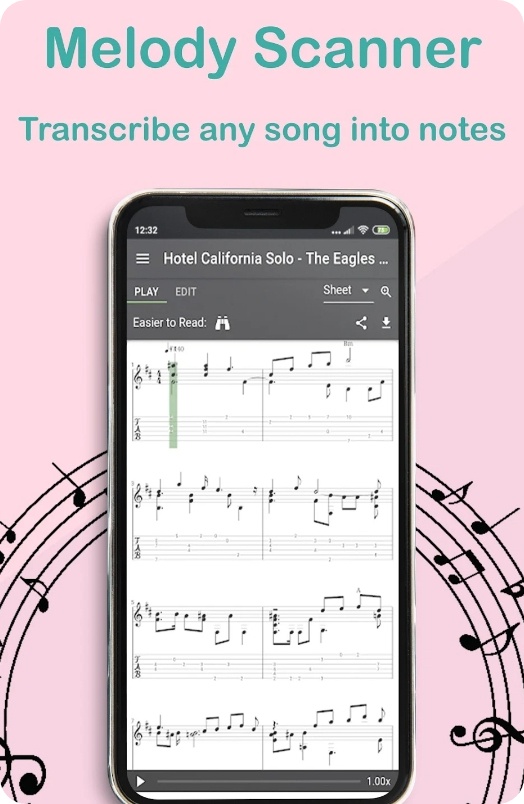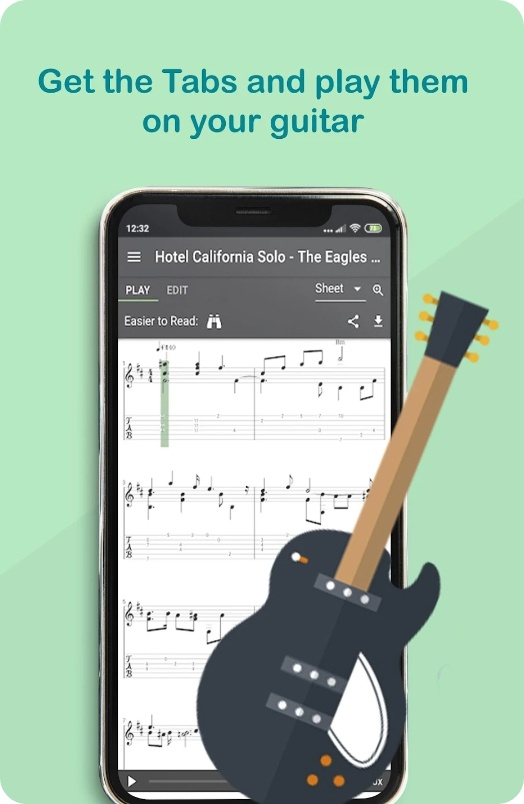 Check also: 5 Best Last Minute Music Concerts Tickets Apps
Newzik
Tired of sifting through stacks of sheet music and trying to find that one elusive piece? This app will change the way you organize, practice, and perform melodies.
First off, let's talk about organization. Say goodbye to messy stacks of sheets with no rhyme or reason. This app lets you tag scores and make custom lists, grouping diverse versions or parts for easy access. And with the ability to upload from your PC or scan print scores, all the essentials are always at your fingertips.
But the organization is just the beginning. The app takes interactivity to the next lvl. It lets you turn your PDF and paper scores into interactive ones. It also does auto page-turning and dynamic multitrack accompaniment. And with the ability to record yourself, you can monitor practice with ease.
And let's not forget the creative tools it covers. You can make custom markings with any layers and symbols to annotate the sheets exactly how you want them. And with all the basic tools like tuners, metronomes, and mixers, you'll always be in ideal pitch and timing.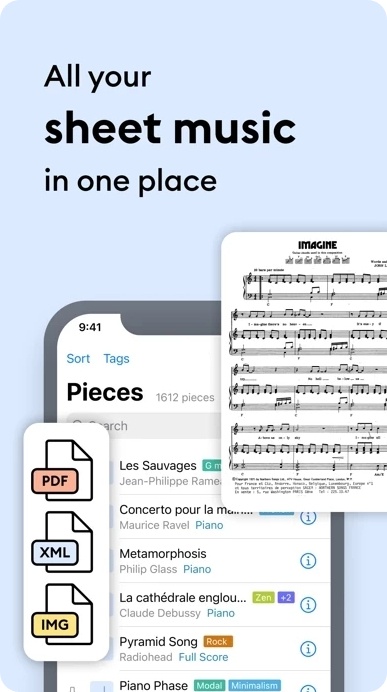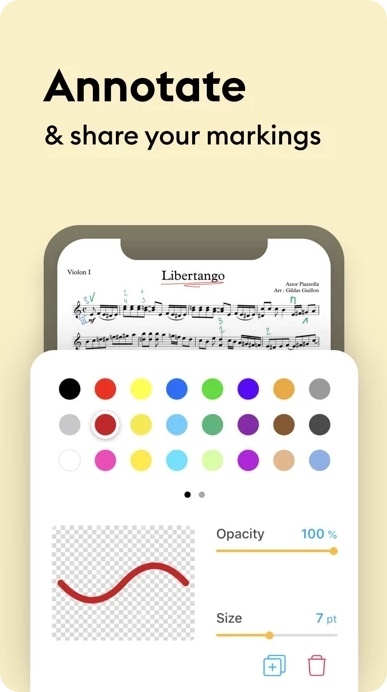 Musicnotes
This app is the ultimate solution for all your sheet music needs. You will surely attest to the convenience and reliability of this app. With instant access to the largest lib of HQ sheet arrangements, you can take your passion for melodies with you wherever you go.
The app lets you arrange your tunes into folders and set lists for quick access and easy navigation. Plus, with the ability to scan sheets you already own, you can put your entire lib of scores at your fingertips. And there are also over 400K arrangements for you to get here. These are not free, though, so keep that in mind. Each purchase includes one print and lifetime access to the app.
But the real magic of the app lies in its built-in tools to master the music. Say goodbye to the headache of transposing songs to fit your vocal range or musical style. The app lets you easily switch keys at any time. Plus, with instant tempo and playback adjustment, you can learn new sections with ease.
And, if you're practicing with a group, you can regualte the volume of instruments to fine-tune your sound. You'll get to make notes and practice anytime using the playback tool for accompaniment.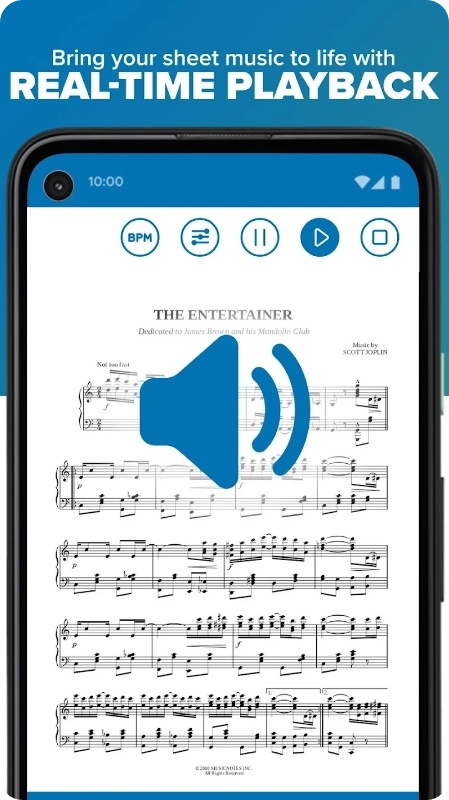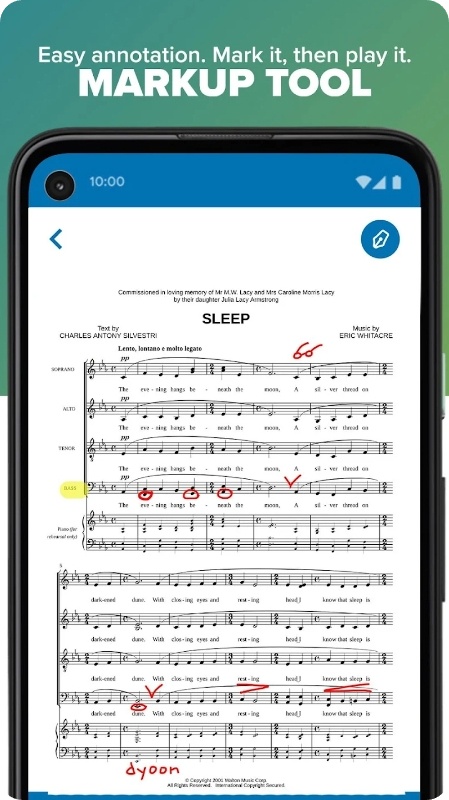 Tomplay
This app will accompany your music practice. It covers a vast scope of tailor-made tools that make practicing your instrument a breeze.
One of the standout aspects of this one is its pack of over 60K scores. All of these come with HQ recordings to accompany your playing. No more relying on low-quality MIDI tracks, with this one, you get the real deal. You'll also get to adjust the tempo as needed to adapt to your pace and prefs.
And don't forget to record yourself playing and listen back to the performance to estimate it later on. Need to make notes on your score? No problem, you can add annotations and print out your scores with your personalized markings.
For those tricky passages that require extra attention, you'll get to loop specific sections of a piece so that you can practice them endlessly until they're just right. And for those who need a bit of help with tuning, there's an integrated tuning fork.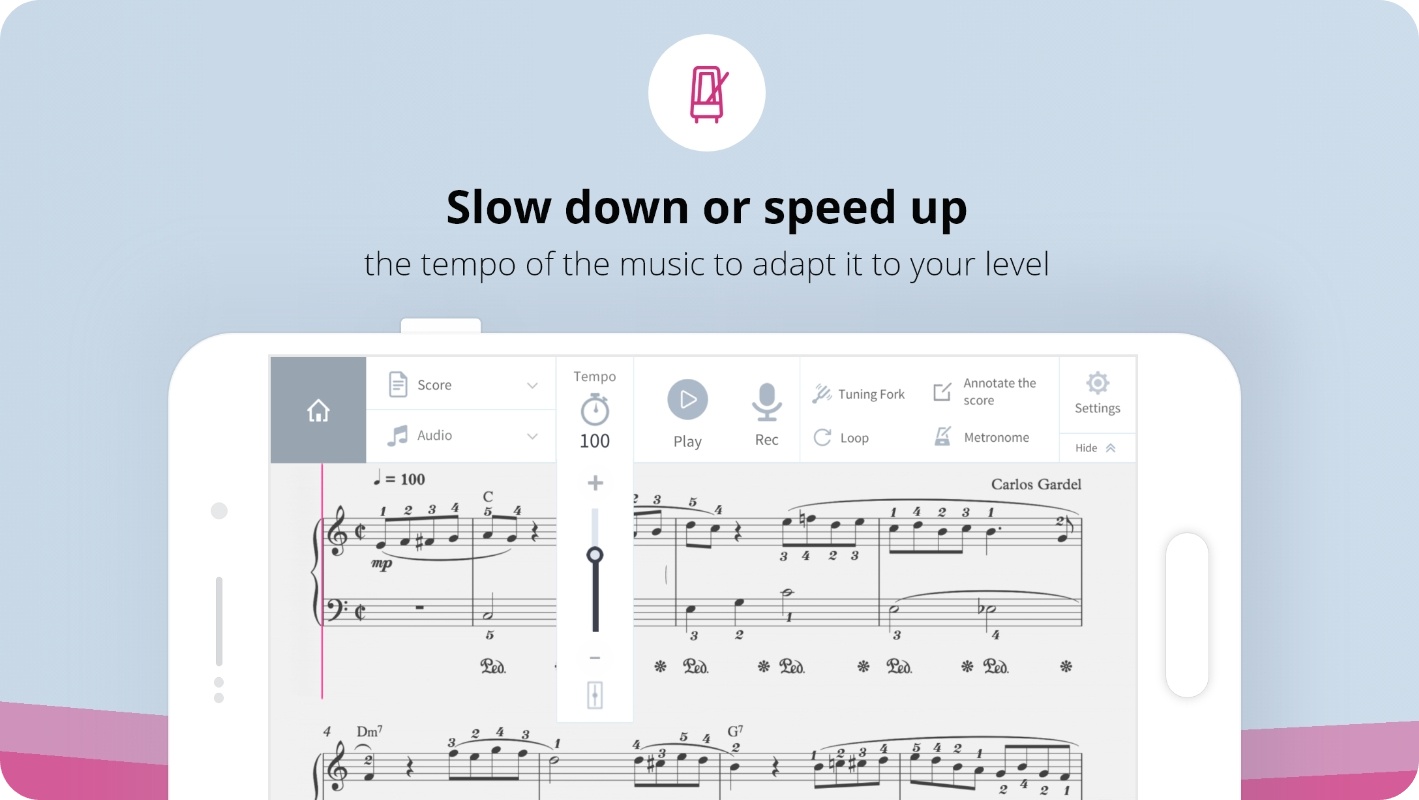 Flat
If you're someone who loves composing music but hates the cumbersome and daunting music notation software, this app is precisely what you need. This is an ideal tool to bring your melodies to life while on the go.
The app boasts a clean and intuitive UI, making it easy for even the most novice users to navigate. It even enables you to read and write notation and guitar tabs together. One of the standout aspects of this one is real-time collaboration. It lets you get feedback and collab with other composers in real-time.
You can also easily share sheets online with other users. You can even import these in diverse formats if needed. And with over 100 instruments covered, all your musical needs are well-catered for.
Inputting notation is a breeze, too. There are tons of notations in multiple toolbars, making it easy to adjust your compositions. You can even add chords with the auto-completion function. The app lets you transpose by key, tone, and interval, which is ideal for harmonies.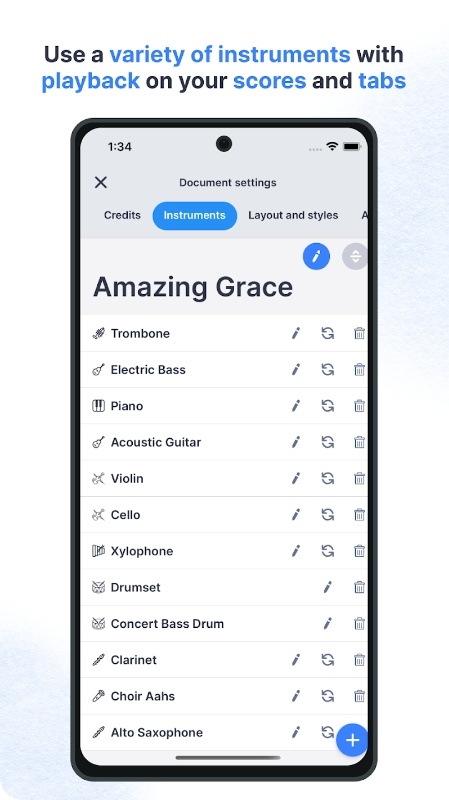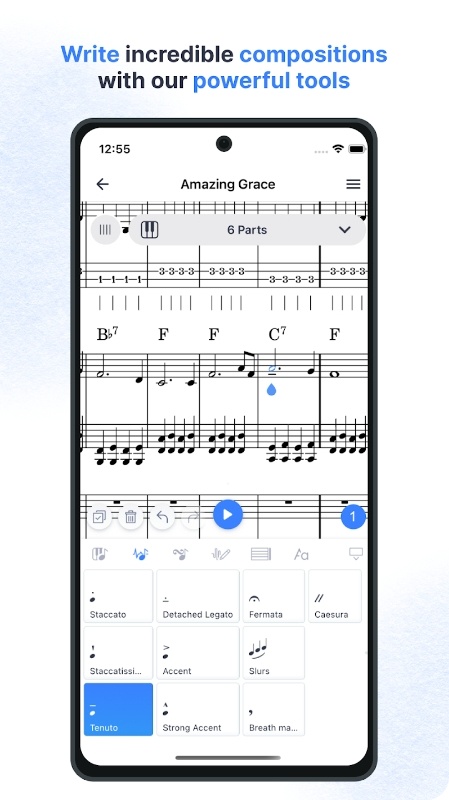 You may also check: 11 Best Apps Like Garageband
Complete Music Reading Trainer
To wrap up, there's an app that lets you read sheet music. It's made to help musicians of all lvls boost their exp. There are over 250 progressive drills covering all seven clefs, so you get to decide which lvls and chapters are relevant.
It covers mixed clef drills and even arcade mode where you can hone your skills. And with five octaves of actual grand piano sounds, you'll feel like you're playing the real thing.
But what sets it apart is its game-like design. Earn three stars in each drill to complete a chapter, or strive for five-star scores. And if you don't want to follow the pre-established path, you can even make and save custom drills.
Use this app to make full custom training programs and invite pals or students to join them. And with cloud sync, you can pick up right where you left off on any device.