Here is one question that haunts us: How do people actually feel and think about us? When we are not sure about it, we miss something all the time. How about dealing with this right now?
There is a pretty reliable way – find out how people name you in their contact list. One can smile in the face, holding the poison behind his back, but people do not lie to their smartphones.
Most applications that allow you to track tags associated with your number have one important limitation. They usually show a general list of your names, without pointing who specifically calls you in one way or another. This is due to privacy.
You may also like: 11 Best Apps Like CallMultiplier for Android & iOS
But this can be dealt with. Just give your number to your new acquaintance and see in a short time what name appears in the list of your tags. That is how you will learn how this individual will have named you.
There are only two requirements for such applications: they must really work and not be too annoying with ads. And right now we will tell you which ones do the best job with their tasks, and what additional useful options they provide.
Let's get down to business.
1. Getcontact by GETVERIFY LDA
The undisputed leader, combining wide functionality, pleasant design, and excellent operation. Available on Android and iOS devices.
After downloading and installing the application, link your Google or Facebook account, or create a new one by entering an e-mail. Then enter your phone number and receive a confirmation code by WhatsApp, Telegram, or SMS – you choose on your own. Send the received code back and behold, you are a new Getcontakt user.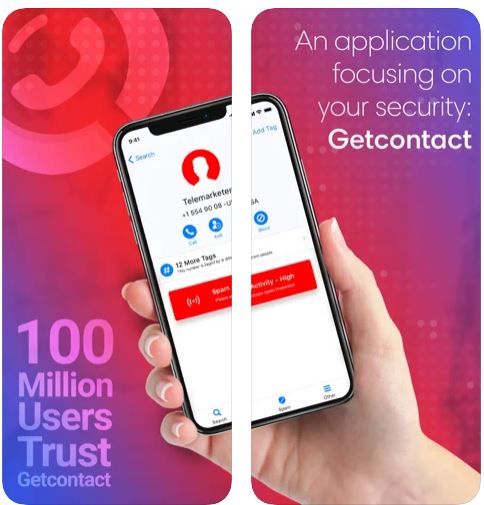 At the top of the main screen, you see a field for entering a search number. Below you can see Recent calls, the roll of the people on your contact list who also use the application, and the thing that interests us the most: the My
Tags section. Here you see the names that people give you on their contact lists. Expand the list to see all tags. Again, you only see what they name you, but not those who do name. Privacy and ethics, yes, again. We have already mentioned this above.
Now it's your turn to find out about your people's reputation. Scroll a little higher back to the Who's Here section. Next to each contact from your list, you will see the number of tags, which marks how many times this person is recorded on someone's phone.
Someone is more popular, someone is less, and this may already make a difference, for example, if you choose a specialist to get a service from him or her. But it is even much more interesting how people name them.
Are there any among them who are dishonest about work or payments? You can browse 100 numbers per month for free, and this is enough for everyday use.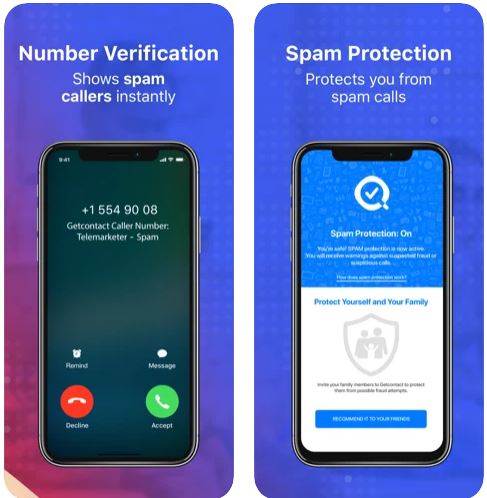 Sometimes you will need to view an advertisement by entering an investigation number. The Back button helps out then.
What else does Getcontakt offer?
Call manager, spam protection, identification and analysis of your incoming callers, blacklist, interesting statistics, a lot of settings. Identification, even if you are called by a person, not from your contact list.
Nice and clear interface and reliable operation. Responsiveness of the technical support team.
There are even more options for a premium account. For example, the ability to find out who is viewing your tags.
Are you interested? Try this. Or, wait, there's something else on our list.


You may also like: 35 Games to Play Over Video Calls (Ultimate List)
2. Me – Caller ID & Spam Blocker by NFO LTD
The next app on our list is popular and appreciated by many users. It really shows how people name you, moreover, which of the people gives these or those names. True, there is one limitation – in order to find out a specific person who assigned you a name – an individual must use this application too.
That is fair, because the application operates within the ethical framework, and does not collect data of people with no such permission.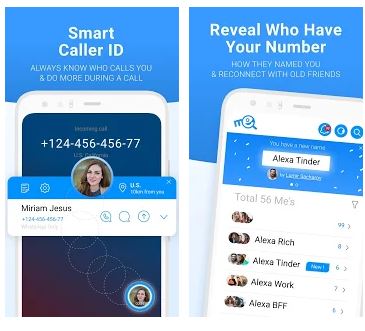 Fortunately, the ME is quite popular and a lot of people use it, so you will have enough contacts in it for sure.
After a quick download and installation of the app, enter your phone number in the registration window. Then select the channel to receive a confirmation code – WhatsApp or SMS. Enter the code.
Then you are asked to link your Google or Facebook account or create a new one by specifying an e-mail. Now you are taken to a screen where you are presented with information about the permissions the application needs to operate. All reasons for permits are respectfully explained.
After giving permission, you are taken to the main screen, where there are three tabs at the top: Favorites, Call Log, and Contacts. The application offers a lot of fun and useful options, but we are primarily interested in how we are registered by others, so we go to the Contacts tab.
Select the Names button and view the list of names that your people have assigned to your number. And besides, you can see who has your number recorded at all.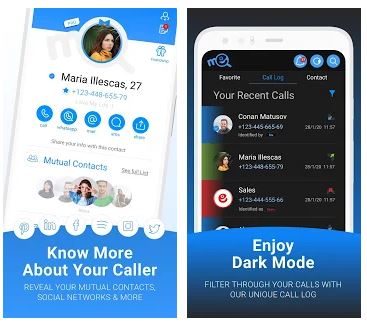 In addition, the ME can fully perform the work of your telephone assistant. By setting it as your default call manager, you can make calls to them instead of the standard ware. Identify income callers, block and filter spam.
It so happens that you need to complete a short correspondence on the case in WhatsApp, but you do not intend to never deal with this person again? And you have to waste time to add it to your contacts, and then delete or litter the contact list. And with the ME, you can correspond with WhatsApp, without entering the individual into contacts.
All in all, the ME by NFO LTD is an application that is quite worthy of your attention, and will probably come in handy for you.


3. Who – Caller ID by Cascadia Labs
This application will allow you not only to find out about the reputation of the people around you by their names in the contact lists but also to get more detailed information.
Email, business contacts, age, area of residence, and even a previous address – you can get a complete file on a person within the law of the country where you are located. Of course, all this is only possible if the person
you are interested in has ever linked the relevant data in open sources. Nobody can forbid to be secretive.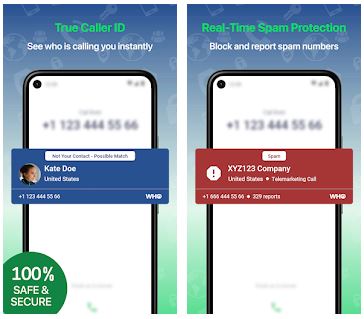 How to get information of interest in the application?
After downloading and installing the application, grant it the necessary permissions.
On the main screen, choose which data you want to enter for the searching – your own or someone else. As you can search by name or e-mail, not just the phone number, in the app. Once selected, enter the number, or the above information to the request field. Click Search and wait a minute. The app iterates over its base of eight billion records to give you the result.
And now – the individual you are interested in has been found. You can immediately see his or her country of residence. Click on the box to expand the list of available information about the person.
Most of the information you have to pay for. But the detailing offered is noteworthy. You can find people all over the world.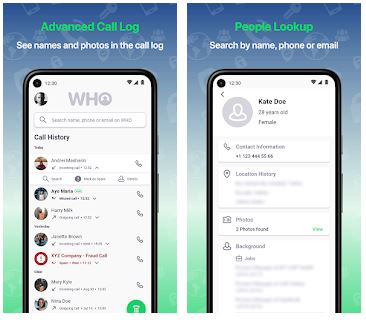 The WHO also offers spam protection by identifying unknown numbers right while calling. Even if the caller is not on your contact list, the application identifies it. That allows you to identify calls from fraudsters, advertising, and other calls, including automatic ones. You can block or filter them.
The app appearance is pretty and the interface is clear. Some of the users point out the relatively high cost of the application, but this is a matter of goals. If you need an application to pamper, that's one thing, but if you need information for a serious business, the board won't stop.
Perhaps more valuable, you can find people who have been in your life before, but with whom you have lost touch.
Thanks to the details of the data provided in the WHO, you can do that.

You may also like: 9 Best Speed Radar Gun Apps for Android & iOS
4. MiCaller Spam Blocker by MiCaller
The next contender for a place on your smartphone is focused mainly on checking whether you are considered a spammer. Thanks to an extensive database, the application allows you to check if you have already bothered someone with your calls and SMS when you need to do them for work. The database, however, is somewhat inferior in detail to previous competitors.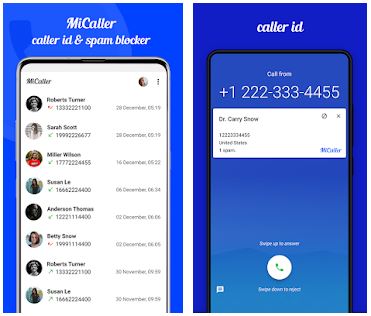 The execution is as simple as scrambled eggs in the morning. Once downloaded and installed the ware, and allowed it the necessary permissions, enter the phone number you are interested in on the main screen – yours, or someone else's. Then click on the Search button below.
If the number is already in the database, you can find out some information about the owner, whoever he or she is.
The paid version allows you to get more information by clicking the eye icon in the bottom row.
The MiCaller also allows you to identify each incoming caller. Its absence in your contact list is not a hindrance. And if the caller is from it – you can hear how the application calls the contact by voice when the individual calls.
Use the app to block or filter advertising calls and other unwanted calls.
You can reach contacts directly from the MiCaller – set it as a call manager.
The appearance of the app is pretty nice and the interface is very simple and clear. The app does not torture you with an abundance of ads. Users note the stability of the operating system.

5. Caller ID: Tags+ by Omega Technology
A very easy-to-use application. When you first log in, it prompts you to register, for which you can choose WhatsApp, Telegram, or SMS channel.
You receive a confirmation code and send it back. That's it – the registration is complete. Now you can use the application.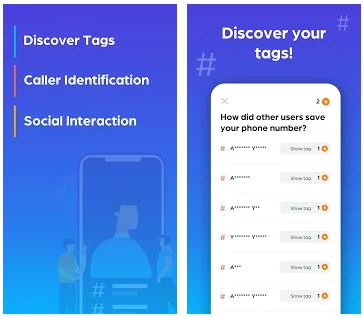 You get one coin for having completed the registration, and this is enough to view several tags for one phone number.
On the main screen, you see the Search by number field at the very top. Enter the number whose naming you are interested in. Here you will have to watch an advertisement. It doesn't matter – tap Back and view the list of this number other people's records. The list contains only capital letters, to view the full name, click on it. The coin you have got is enough for you to view about five name tags.
It's not only your number that you can enter but also any other one you have known. That is a great way to check the reputation of a person who just gave
you a contact. If too many people call this person bad names, maybe you shouldn't mess with him or her?
An excellent application for monitoring your own and other people's reputation for a long time. But you should buy coins for this. There is a system of discounts, so the more you buy at a time, the less you pay per unit.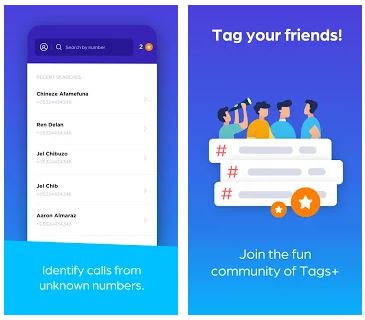 In addition to the search box, you see your search history on the home screen. So you can always return to the information that you have already used to remember or to clarify.
The design is simple and clear, the letters and numbers are large enough, you don't need to strain your eyes.
As for additional options, Caller ID: Tags + by Omega Technology provides identification of the incoming call number, including when the caller has anonymized it.
Two things are worth mentioning about the disadvantages. First, the application often fails with an error message. It doesn't matter, you just need to press the button you want again. It probably also depends on the quality of the internet connection. Second, almost all use of the application is paid, and it seems to some that it is quite expensive. Ponder for yourself.

You may also like: 9 Best Library Management Software for Windows 10
6. Caller ID by Sync.ME Caller ID
If you make someone tired of your calls and SMSes worse than the autumn rain – look for yourself in this application. If someone else annoys you like a fly that cannot find an open window all the time, you'll probably find information about them here too. But if you're a nice guy, then you're not going to be famed with the Caller ID Blocker.
The application does not require complex registration. Download, install – and you can operate. Just do not forget to provide it with access to calls and SMSes.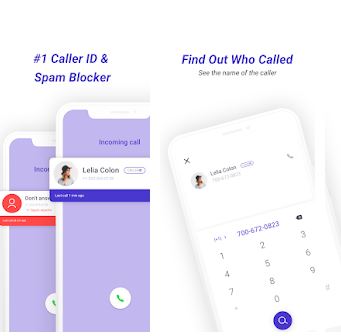 You are immediately taken to the screen with the call history. At the very top, you see the bar for entering the phone number that you want to find information about. If the number is in the spam database, you will see the name of the owner and the sum of spam reports linked with it.
If you get the message "Information not found" – the number is relatively clean. However, nothing stops you from marking it as a spammer on your own.
If you want to get more from the Caller ID, check out the bottom icon bar. You will see that you can make and receive calls, have a list of favorite contacts, add and search contacts, edit and merge them, add to the spam database, and so on.
Set up a conversation recording, and you do not need to keep ready or frantically search for paper and pencil when the other person dictates important information to you. And if there are disagreements in the future, the record can be presented to prove you are right. If you are afraid of receiving threats on the phone, or have some kind of conflicting phone calls, this function cannot be overemphasized.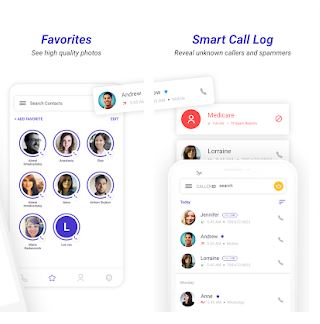 Configure the details of blocking spam calls and hidden numbers, as well as the device action when receiving a call from such numbers. The call can be rejected, or just muted.
The application will remind you of missed calls and answer callers with a prepared message when you cannot answer them.
The appearance is quite nice and the screen theme choice is available. The user interface is pretty self-explanatory.
The pro version offers to please users with some extra functions.