Tired of staring at blank walls and struggling to imagine what paint would look best? There are so many things to consider here: lighting, furniture, and all that.
Luckily, we've rounded up the best room paint visualizers for Android, iOS, and Windows you could try. These let you see exactly what your room would look like with diverse shades without ever having to lift a paintbrush.
Some of these apps even let you experiment with exterior design if needed. Not only will you save yourself time and effort, but you'll also have fun playing around with all the options. Let's get into it!
Paint my Room
This app is here to set you free of the constant second-guessing that comes with the decision to paint your room. It will completely revolutionize your paint-picking process. Gone are the days of endless swatches and color samples, this app will do the work for you.
Just take a snap of the room and start testing paint shades with just a single tap. And if you want to be absolutely sure, there are additional tools available for more precision.
One of the coolest aspects of this app is its ability to visualize the color of the facade of your house. It can be rather challenging to imagine what a certain shade of paint would look like on the exterior cause it mainly depends on the lighting. But thanks to this app, you'll be able to test the option at any time.
It's not just about aesthetics though. The app gets the power of color on our emotions, and that's why they've made it their mission to help people feel good in their own homes. They want us to have a space where we feel comfortable and happy, and that starts with picking the right color.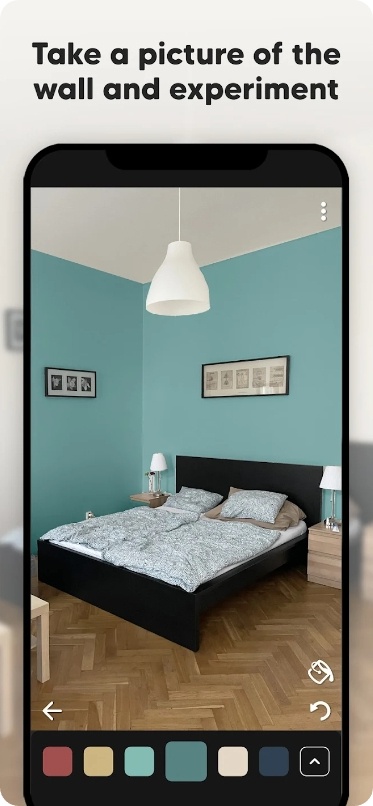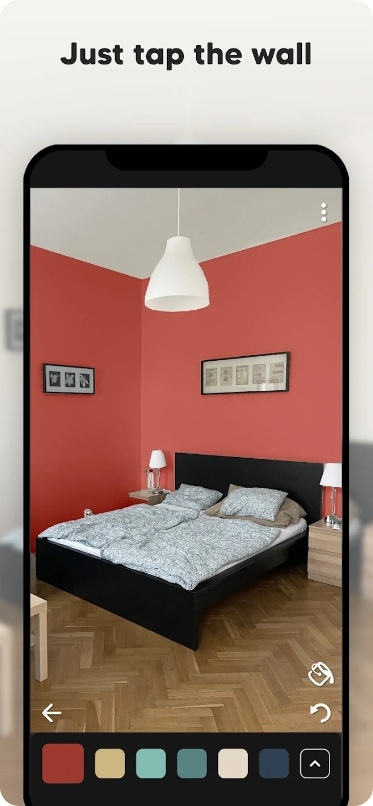 You may also like: 13 Best Furniture Design Software
Homestyler
It's a multitasking app that will help you accomplish your dream home renovation. With this one, you'll be able to layout your space and redecorate your rooms with little to no effort. No need to be skilled at all, the app is quite easy to use.
It covers 3D cloud indoor and real visual panorama renderings, so you'll be able to see exactly what your space will look like before you even start making changes.
This app also boasts a huge lib of stuff. And to make things even more handy, you can find the furniture you've browsed at real furniture stores like IKEA, and use them in your designs. It won't work with paint, though, so you'll need to stick to what the app offers.
You can even work with your own place here. The AR mode lets you scan your surroundings, giving you the power to remodel and re-decorate with a touch of magic. Curious how that shade of paint will look? Try it out and see!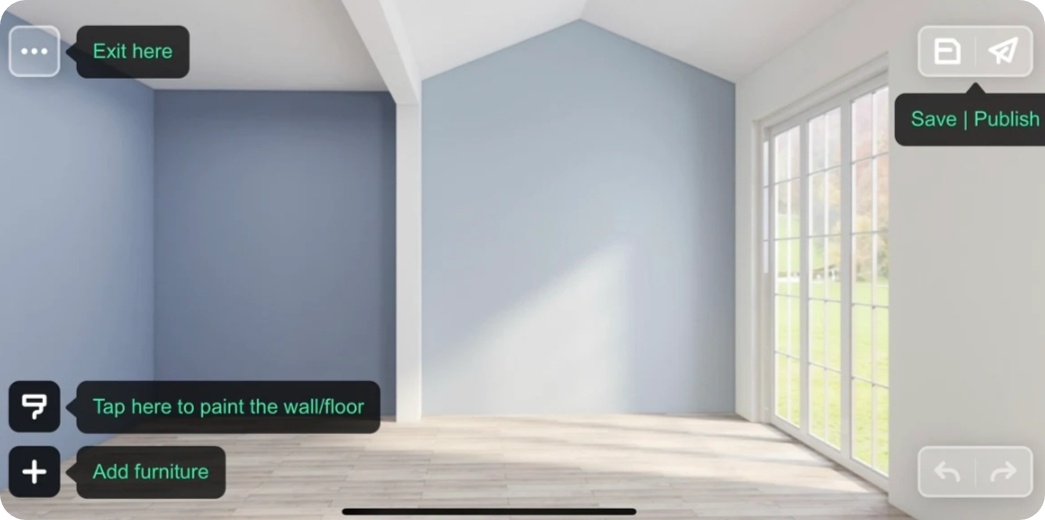 Glidden
This app is here to turn your vision into a reality! As an AI-powered paint visualizer, it takes all the guesswork out of your hands and gives you a stunning virtual image of your home before even starting the painting process.
One of the top perks of this one is its UI. With just a few taps, you can apply any shade to pre-uploaded pics. You can also take a quick snapshot of your room if you want to be extra precise. Plus, the app gives you access to an extensive lib of paint, so you can compare and contrast to your heart's content.
But here's the real kicker, you'll get to order paint directly from the app! So say bye to the hassle of going to the store and trying to remember which shade you want. With this one, it's as simple as selecting your hues, adding them to your cart, and checking out.
Of course, like anything new, there might be a bit of a learning curve. But trust us, it's worth it. And if you need some extra help, there are plenty of resources out there to guide you along the way.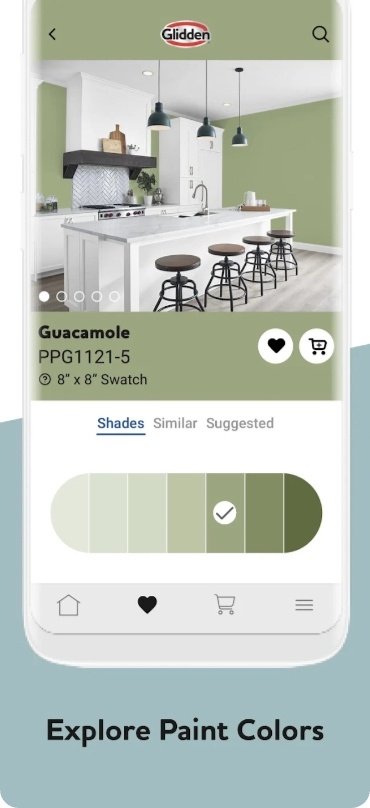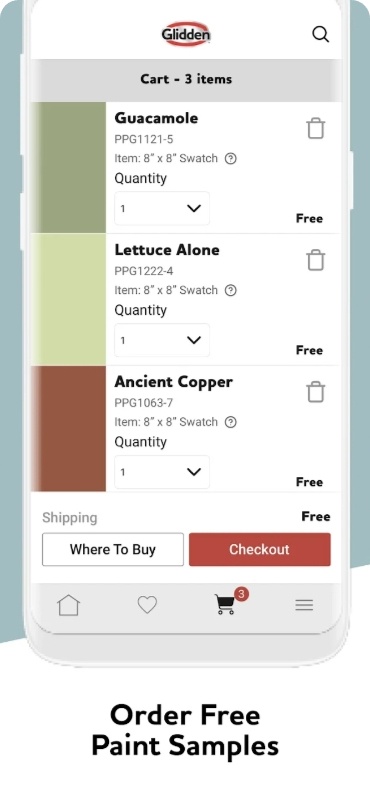 Project Color
Wanna give your place a fresh coat of paint but struggle to find the ideal one? This app is here to help! It will make the pain selection easier and more fun than ever before.
It lets you browse through tons of options. And not only can you find the color, but you can also see what it would look like in rooms and settings.
But what if you have a specific color in mind and don't know where to start? No problem! You can search by name or number and view them right in the app. And if you're still not sure, the app even allows you to match colors to items in your space or anything else that inspires you.
One of the top aspects of this one is the inspo page. If you're feeling stuck on what to pick, simply scroll through the popular ones and get suggestions based on the mood you want to set in your room. Feeling bold and adventurous? Try a fiery red or a deep, rich purple. Want to create a calm and relaxed atmosphere? Consider a soothing blue or a soft, airy gray.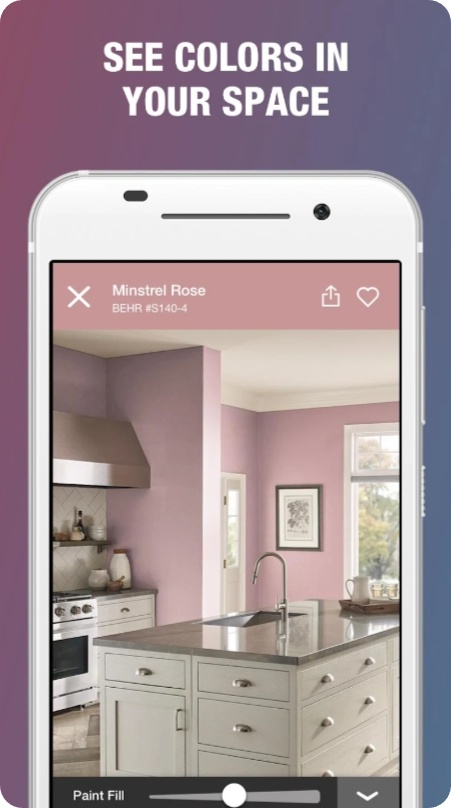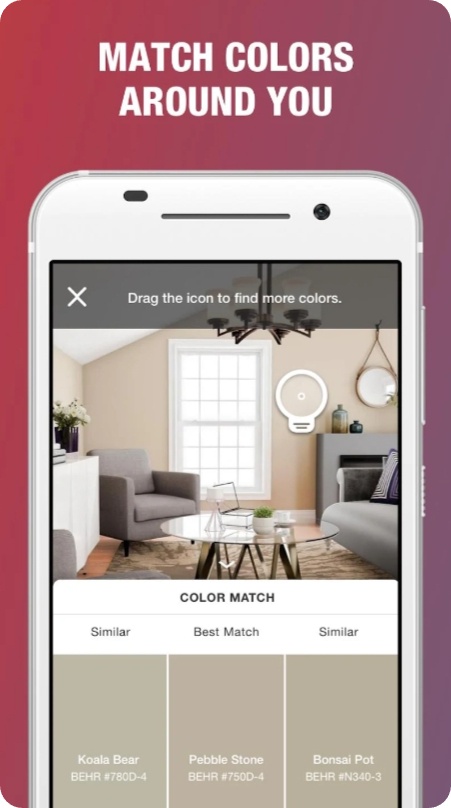 Color Portfolio
This app is a blast to use, and you'll be hooked on making stunning paint combos for your wall with it. Just remember to take pics that are at least 1200 px X 1200 px so that the app works smoothly.
Once you add a pic, the real fun begins. You can make up to 5 zones with distinct shades here, it's like painting without the mess! And if you're not sure which shades you want to use, the app covers an excellent description of how they complement each other. Who doesn't need a little inspo now and again?
You can adjust the opacity and work with sample rooms to get the best idea of how the paint will look. It's like having a personal interior designer in the palm of your hand.
Alrighty, here's the deal: when it comes to using the app, there are a couple of nifty things you should have up in that noggin of yours. Make sure your pics are HQ and match the software's resolution to avoid any issues. While it's not a major issue, it can be a bit of a bummer if you're stuck trying to figure out why your image isn't working.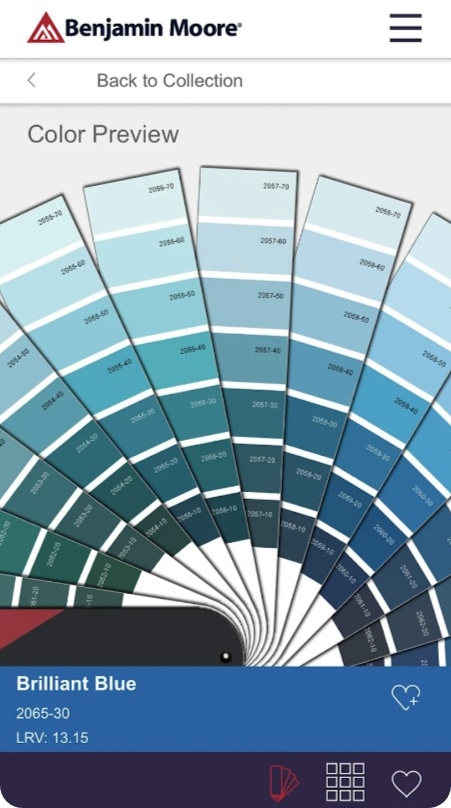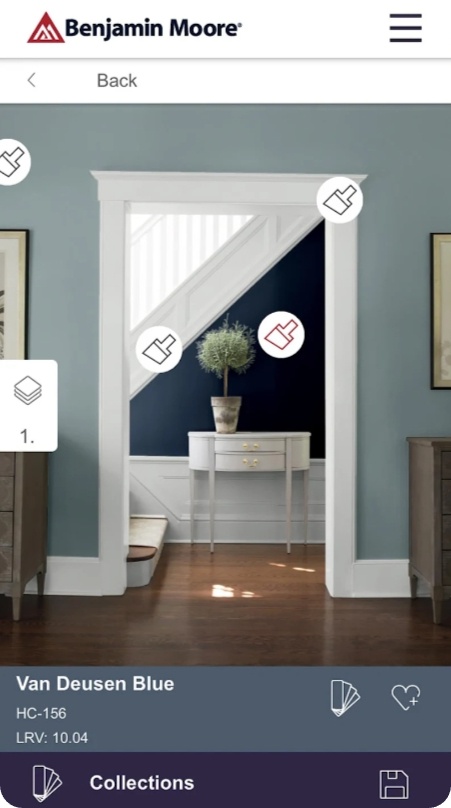 Check also: 11 Best Room Size Calculators
ColorSmart
This app is ideal for those who need help picking from among the myriad of paint schemes. The app's UI is incredibly user-friendly, which is a huge plus for people who aren't tech-savvy.
Just pick the sample room that resembles your home and start experimenting with combos. The touch of a button will lead you to endless adjustments, and voila! You'll be able to see the paint that is right for you.
One of the best aspects of this one is that it covers a comprehensive idea of how the shades are likely to look throughout your house. You can explore and select from an enormous range, and you won't ever run out of options. Plus, it's extremely addictive to play around with combos, even if it's just for fun.
There are several preloaded room options available in the app. However, the only major downside to using it is that you can't upload your own pics. So, if the preloaded rooms don't resemble your rooms in any way, it can be a bit of a bummer.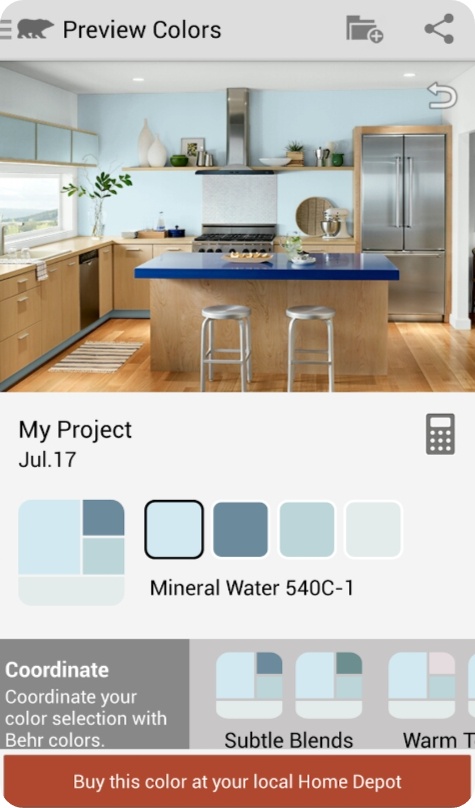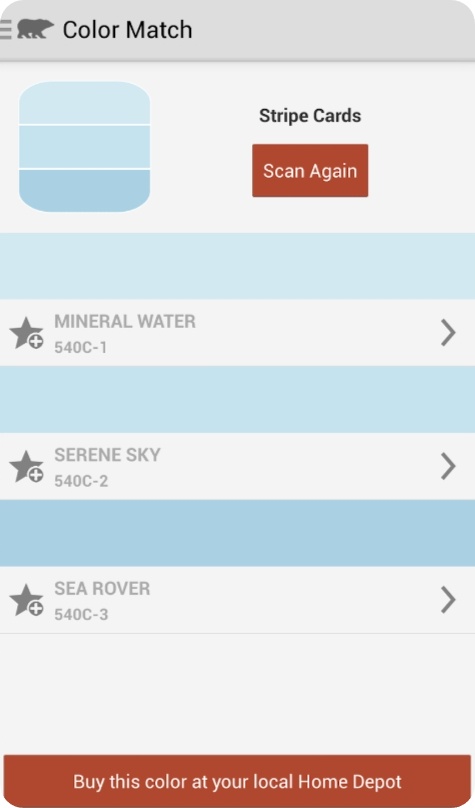 My Room
This app is here to help you get the most out of your walls. It will change the way you pick wall paint and textures, and you don't need any skills to use it.
All you need is to snap a pic and test out shades and textures with just a few taps. You'll find loads of options and combos that will inspire your creativity and help you achieve a flawless look and feel for your space.
Whether you need to brighten up your office or revamp your bedroom, this app has got you covered. And if you are not sure which shade to use, don't worry! The app comes with pre-made samples to guide you through the process of selecting the best paint for your walls.
Plus, it covers diverse floor and ceiling textures to help you visualize what the place will look like. All of these can be added with one tap, and there are no limits here. Once you are satisfied, you can save the pic for later. Isn't that amazing? You can compare combos and decide which one is best for your space.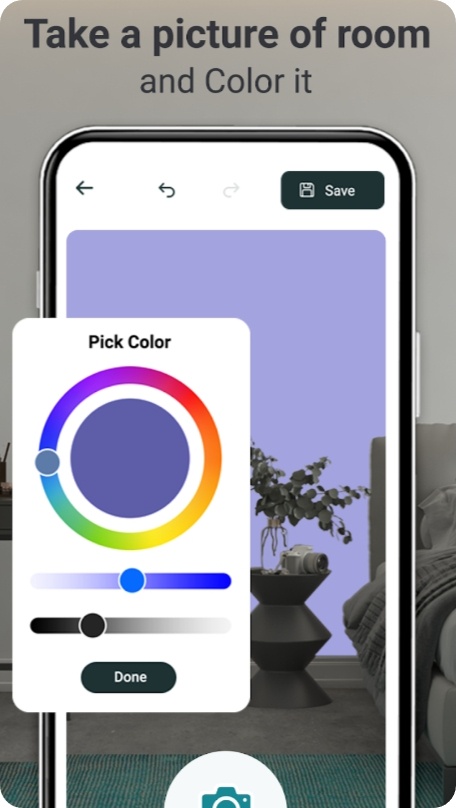 Wizart
Tired of playing home improvement guesswork? Meet this app, the AR-based tool that'll have you saying "bye" to endless trial and error.
With this one, you can visualize products with little to no effort. Just snap a pic of your room or pick from pre-uploaded interiors. No more trying to imagine how that funky wallpaper will look only to find out it clashes with everything else. You simply snap a pic of or use a pre-uploaded option, and pick the product you want to visualize.
This app is a great tool for home decorators and designers, too. It helps improve your business reps with a 5x conversion rate increase. Your clients can now be confident in their purchases thanks to a sense of certainty before buying.
And the best part? You can adjust the app with your brand elements, making it stand out and giving your clients an unforgettable experience. You can even purchase products through the app too, streamlining the entire process. And all of that won't cost you a dime. Cool, right?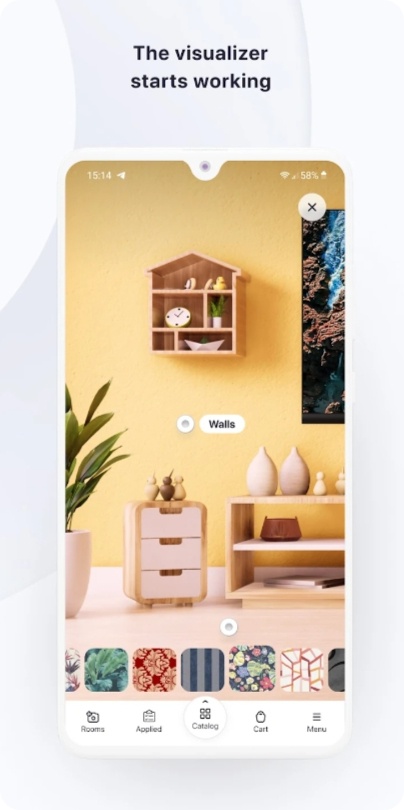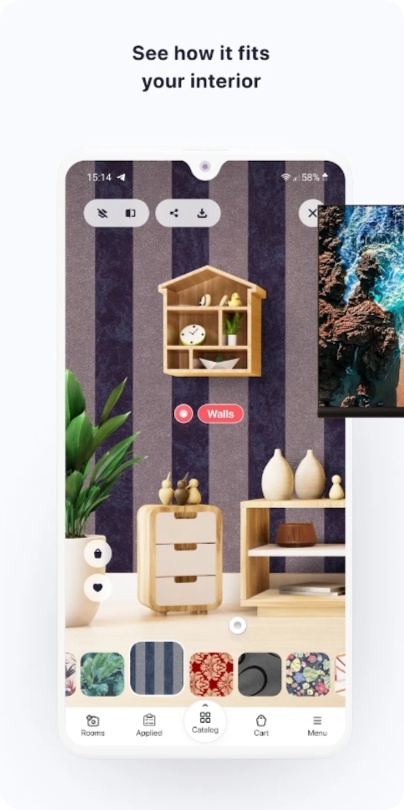 Flexa Visualizer
This app will take away the second-guessing that comes with wall painting. It's a gem for everyone who is planning to remodel. Not only can you explore countless paint options from your couch, but it even dabbles in AR for added convenience.
With just a few taps, you'll be able to see any shade in real-time on your walls, which means no more frustrating trips back and forth from the paint store.
The app also gives you the ability to save and try out inspiring shades from the world around you. Whether it's a stunning sunset or a colorful flower garden, the app lets you capture the essence of your fave tones and try them out in your own space.
Oh, and did we mention it? This app has the entire Flexa product and color range up its virtual sleeve. No more settling for mediocre shades when you can dive into an endless sea of captivating colors. Worried about commitment? Fear not! Order testers right from the app and give your chosen shade a test run before going all-in.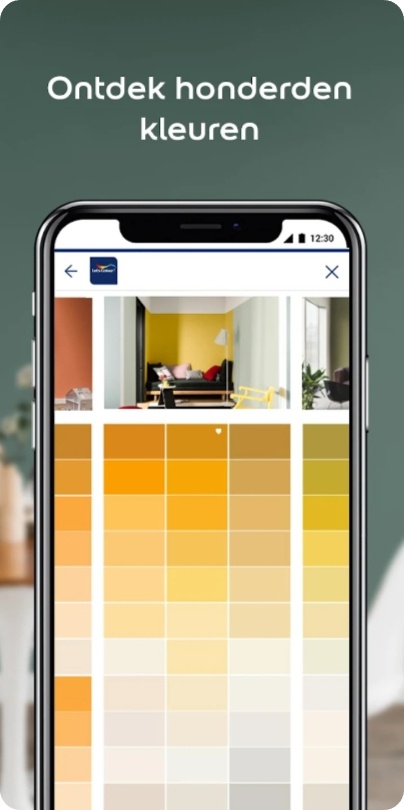 Planner 5D
Here's an app that will help you turn a dusty old house into a chic designer's paradise. It will surely revolutionize the way you approach home design.
Let's break down some of the tools that make it worth trying. First off, the app is incredibly user-friendly – even if you're a complete amateur, you'll be able to navigate the drag-and-drop tools with ease. And don't worry about not having any skills, the app makes it easy to make a completely unique home.
But what really sets it apart is the catalog. With over 6K items, you'll be able to browse everything from furniture to decor to appliances. You can adjust the color of every object, and it applies to walls too. The app is rather versatile, so you can switch between unit systems.
And when you're finished, you can save realistic pics of your projects that will leave your friends and family in awe. It also works offline, so you can use it at any time.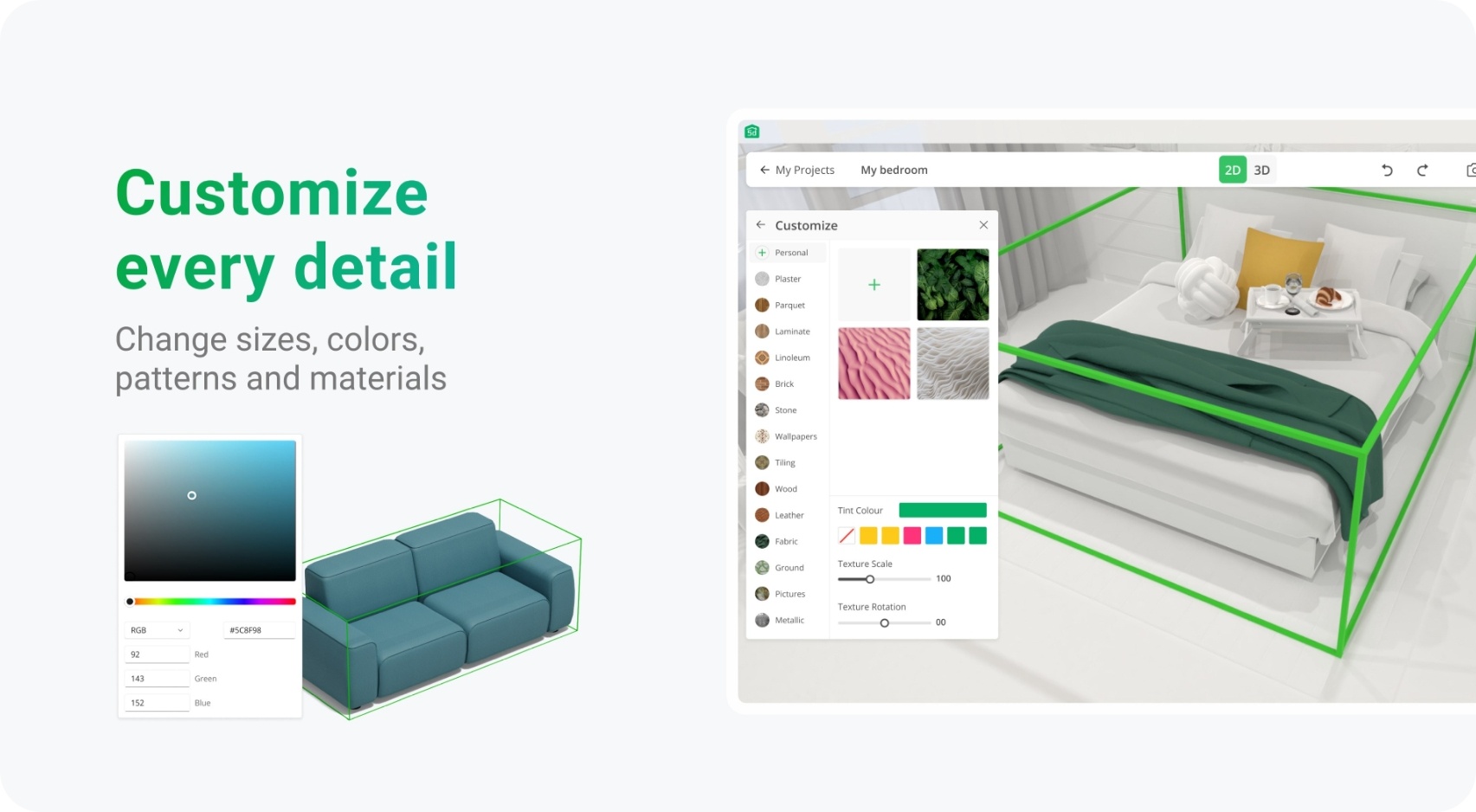 You may also check: 9 Free Window Desing Software
Home Design 3D
To wrap up, we have an app that will help you find the design that works for your place. It lets you do everything, including flow plans, with no skills required.
The floorplan tool is a real gem, you'll get to make a fully adjustable blueprint in just a few secs. Want thinner walls? Sure thing. Need a corner for privacy? You got it. And the best part is, it's all in 2D and 3D!
Now, onto the fun part. There are tons of options for furniture and accessories, so you can finally have that aesthetically pleasing, Pinterest-worthy home you've always wanted. You'll get to alter everything, including the walls, but you won't get to visualize anything with AR.
It's not that much of a problem, really, as you can make a 3D model of your space. You will get to add custom pics, though. Have a specific wallpaper in mind? You can add it with a few taps. What about textures? Yeah, that will work too.